Jackpot: Episode 19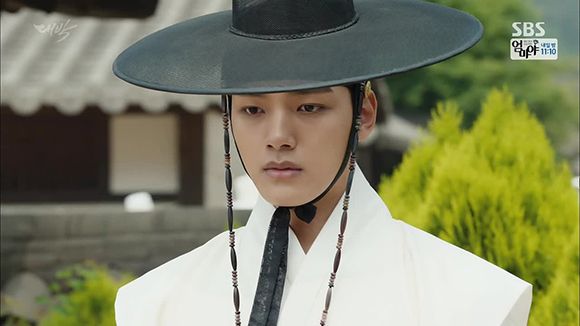 If you thought our resident terrible villain was good at evading consequences for his actions before, think again—he's a master at it now. Best of all, he needs very little help to do it, since whatever he says, goes. Without a king to chase him and without a prince to take initiative, Injwa gets to kill whoever he wants with impunity and still manages to get people to trust whatever comes out of his mouth like he's never lied before. That's talent.

EPISODE 19 RECAP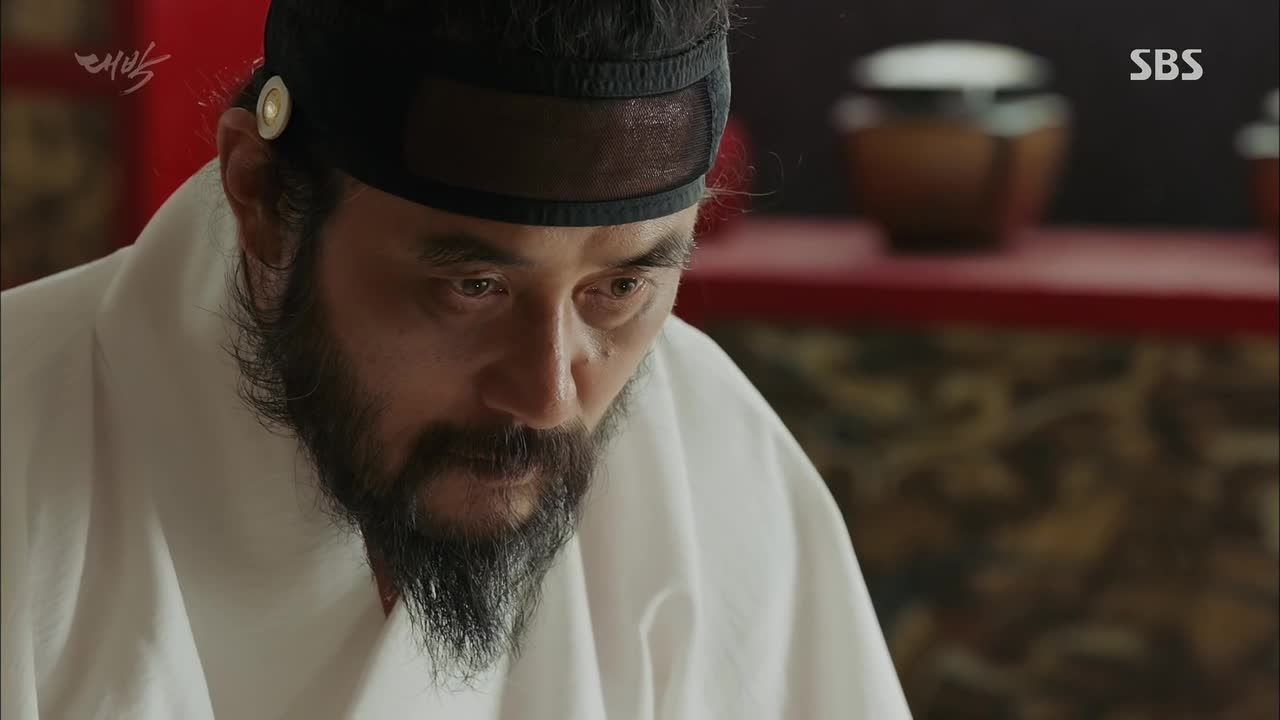 Chae-gun has to report his failure to kill Injwa to the king, claiming that it was because of Dam-seo's sacrifice that he couldn't carry out the king's order. The king can only wheeze about the ill-fated relationship he and Injwa share.
He doesn't know the half of it, since we return to see Injwa killing his favored son, Prince Yeonryung, in cold blood. In the absence of royal guards or any type of security, Injwa orders the few attendants of the prince to dress him in his burial clothes.
Since he owns the prince's quarters now somehow, Injwa is able to invite the three leaders of the Soron faction over to see the coffin containing the prince's body. Okay, how is any of this happening?
The ministers are outraged at the sight, at least until Injwa coolly explains that he's done them all a favor. Besides, he claims that there's no proof tying him to the prince's death (HOW), and that this can become the Sorons' golden opportunity to oust Prince Yeoning and the Noron faction.
Minister Kim Il-kyung isn't having it, but Injwa reminds him that he promised to give him a sword he could use against the Norons—this is that sword. Minister Kim is of the mindset that the water's already been spilt (aka the deed's already been done), so they may as well use it to their advantage.
When Chief State Councilor Kim Chang-jip and the other Noron leaders arrive, Minister Kim interviews one of the prince's attendants about what happened. Having been coached by Nameless, the attendant only says that he saw a young man enter the prince's quarters.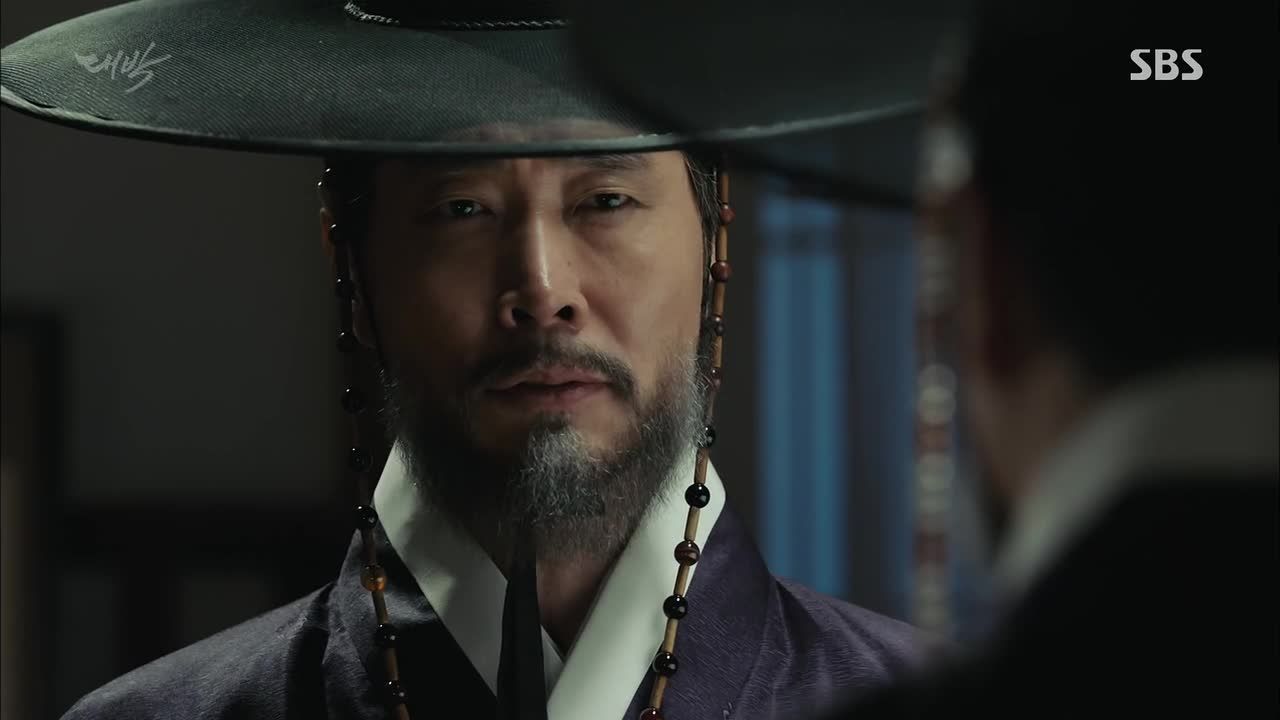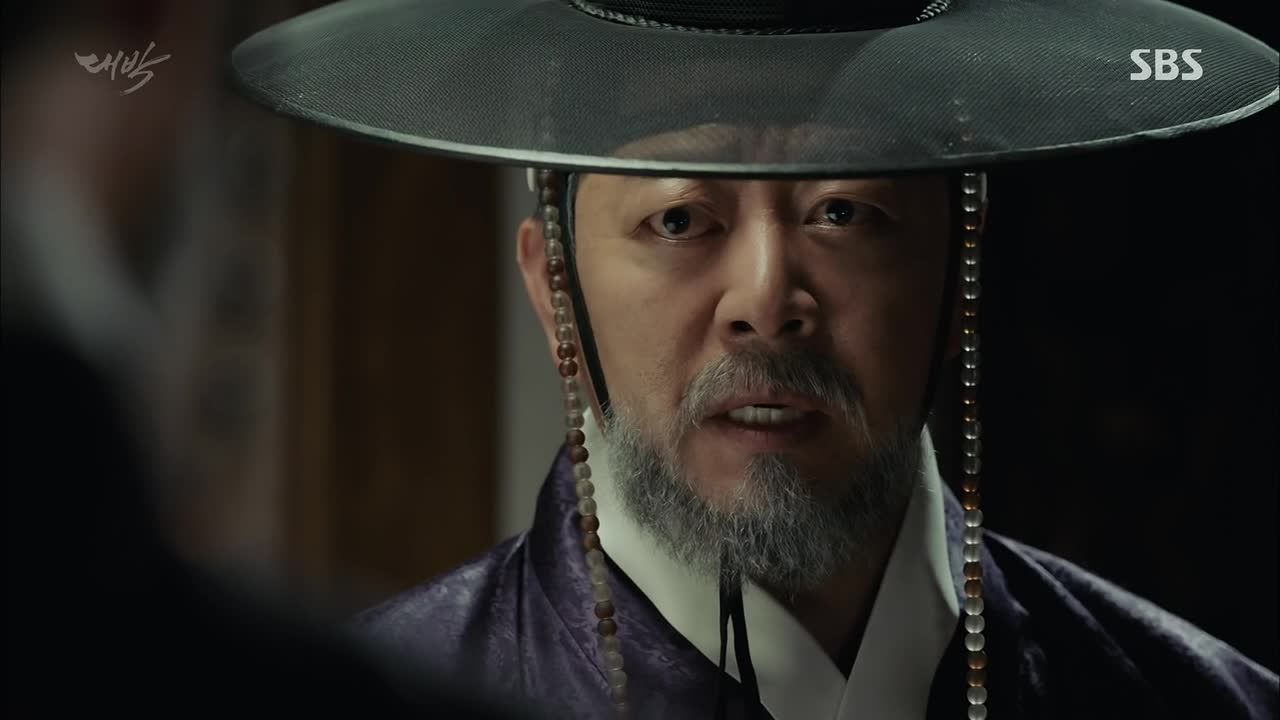 The statement is meant to incriminate Prince Yeoning without actually calling him out, but Councilor Kim aptly notes that Minister Kim and his people were there in the dead prince's quarters before he and the Norons arrived. So if anyone should be incriminated, it certainly can't be the Norons or Prince Yeoning.
Surprisingly enough, Minister Kim proposes a deal with Councilor Kim Chang-jip to work together just this once. If they join hands, they can protect both Prince Yeoning from untoward accusations as well as Crown Prince Yoon.
Dae-gil finds Prince Yeoning thoroughly drunk and suffering from an existential crisis over the death of his mother and Dam-seo—he doesn't even know about his dead brother yet. He's worried that the brother currently sitting across from him will leave him too, since everyone he loves leaves him.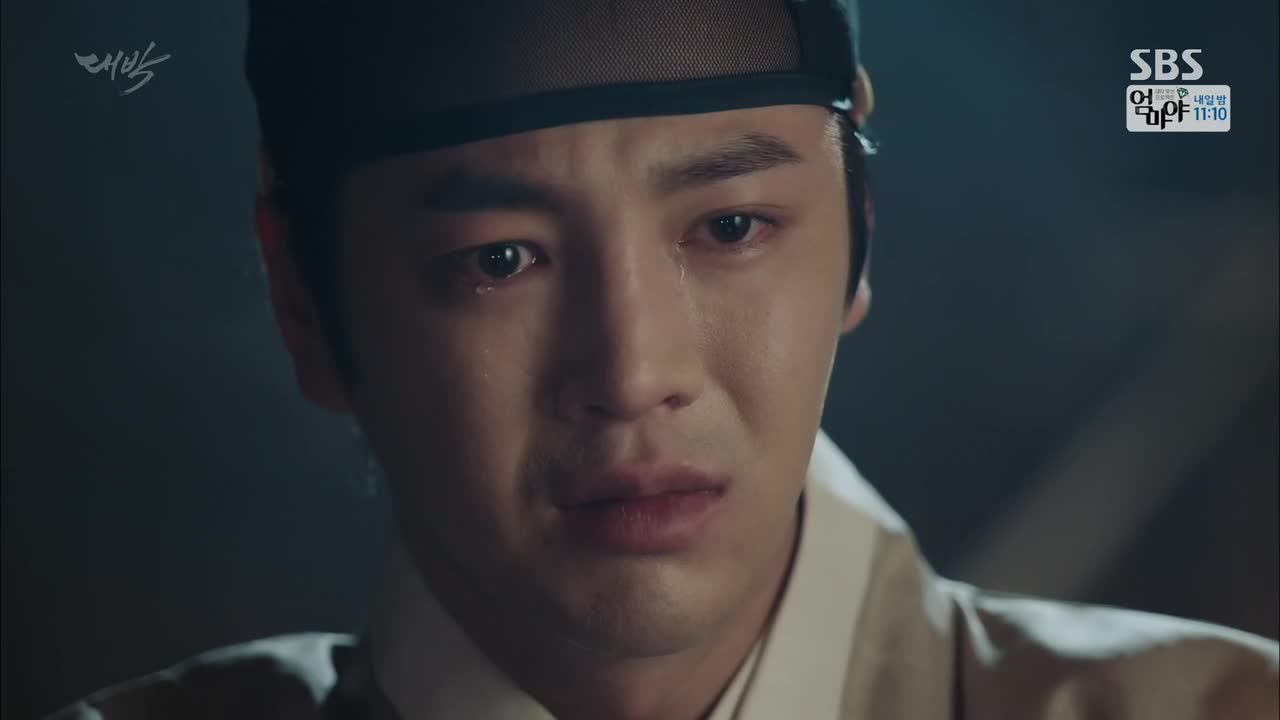 With one shoulder under his, Dae-gil helps his drunk little brother home, eventually passing him off to his loyal bodyguard. He too broods once he gets home, until Chae-gun arrives. Oh, right—I forgot they lived together. This is going to be awkward.
Dae-gil tells Chae-gun that Dam-seo's death wasn't his fault, since she chose to do it. He just doesn't understand why it all had to happen, and what Dam-seo did so wrong in her life to have such a pitiful death. His mentor advises him to just cry and get it all out, which Dae-gil does, echoing Yeoning's sentiment about how he always loses the ones he loves.
As he cries about being unable to protect those he cares for the most, Chae-gun puts a comforting hand on his shoulder. "You did all that you could," he tells him.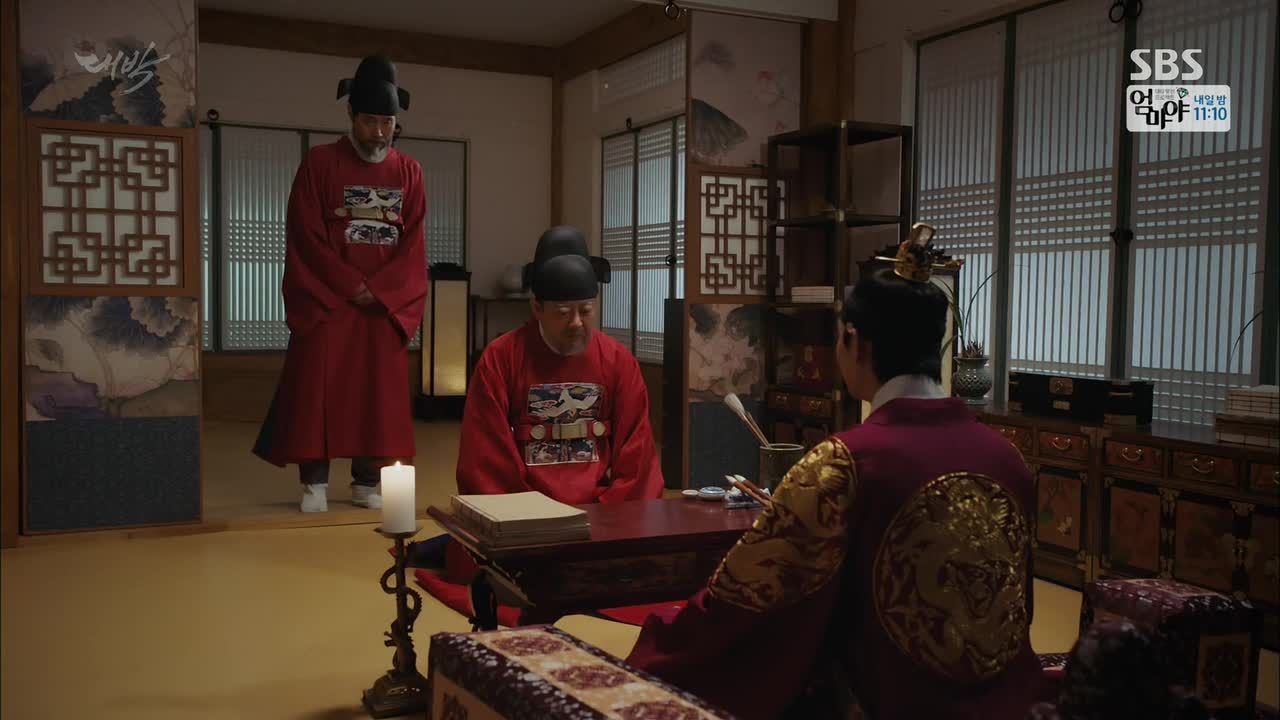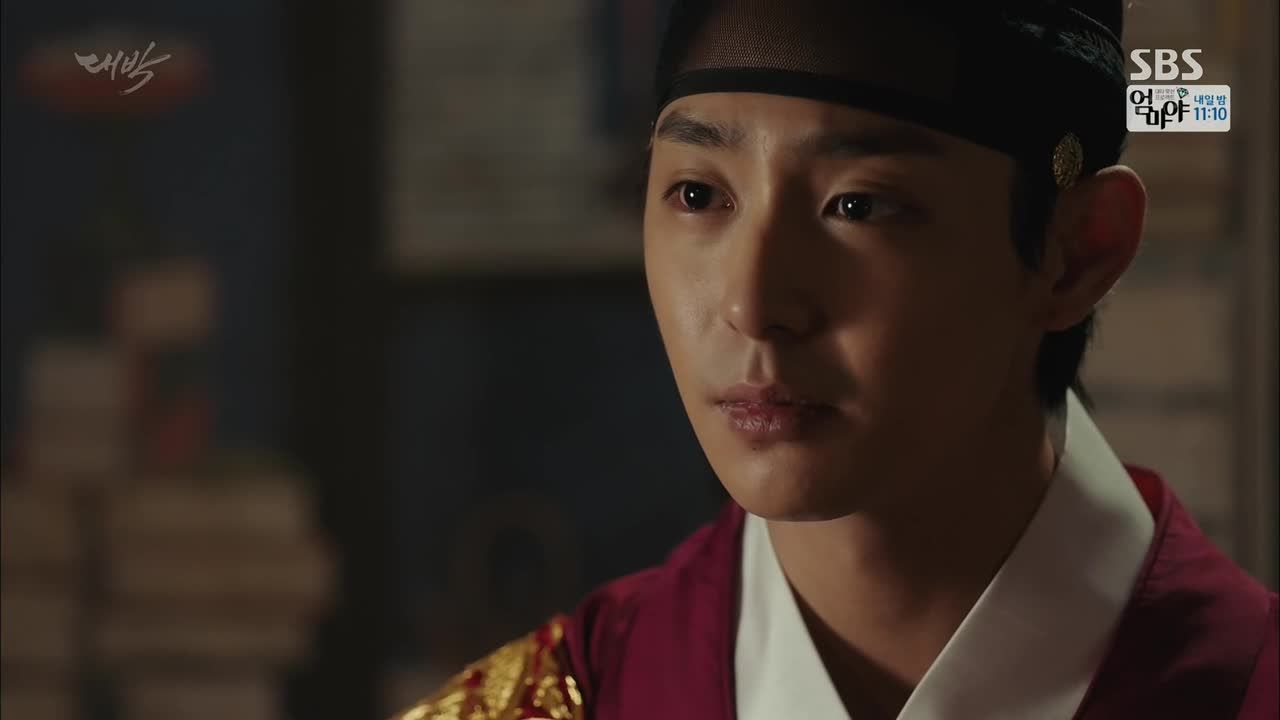 Crown Prince Yoon seems thoroughly unsurprised and eerily unperturbed when Minister Kim informs him of Prince Yeonryung's death, which he accepts as being due to indigestion. Somehow, Injwa's been able to influence the police and the royal doctors into spreading this lie, which everyone seems to buy outright.
The Norons and Sorons have been working together to help facilitate this lie, though they make it clear to each other that their alliance will be short-lived. They still have to figure out how to deal with the king's wrath once he finds out, but that's a task to be dealt with in the morning.
Prince Yeoning finds out about his brother's death that next morning, as the news begins to spread amongst the people in the capital. Hong Mae hears of the death and remembers how Jin-ki came to her for a last-minute coffin, seemingly putting two and two together. Because she provided the coffin and could be incriminated, she orders her right-hand man to start following Injwa around.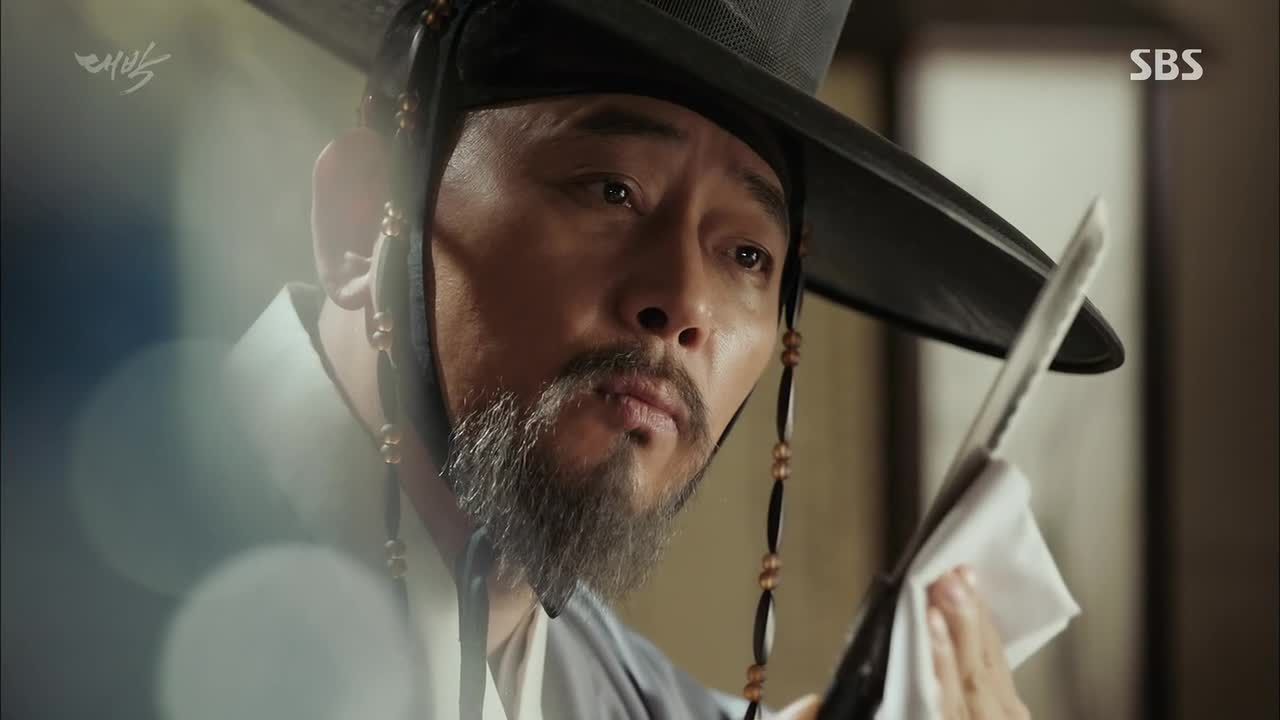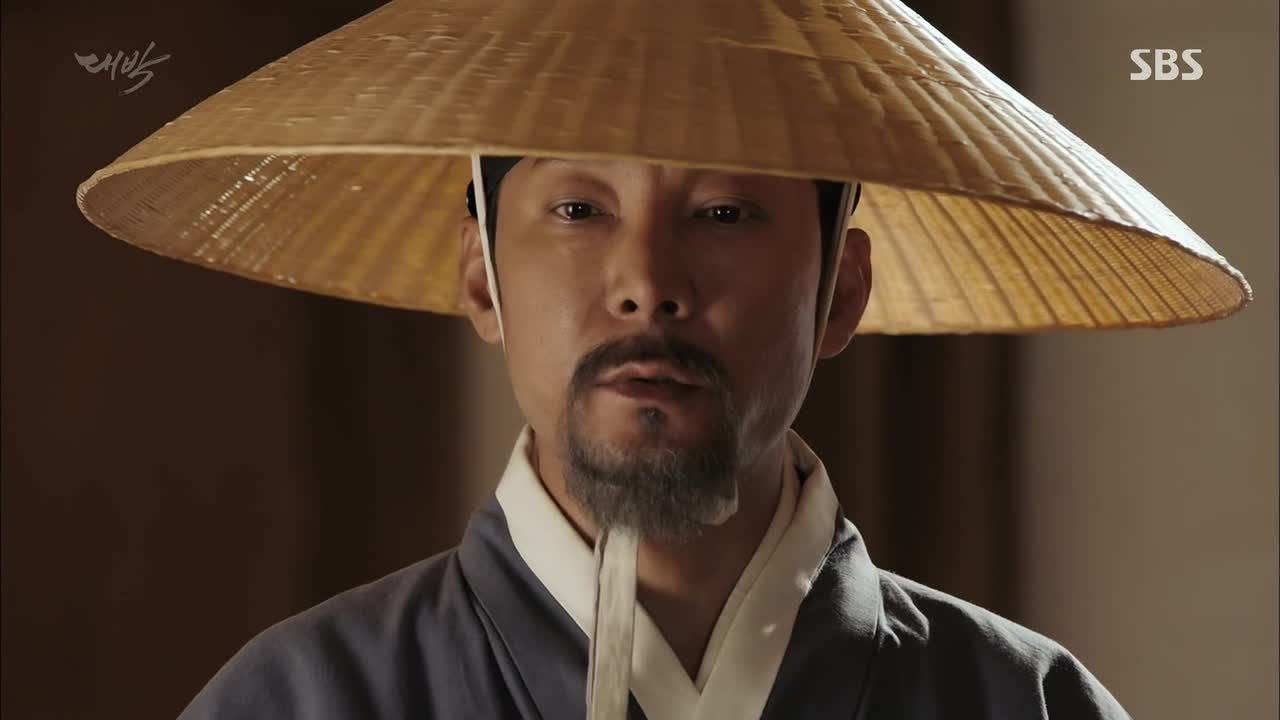 Nameless asks Injwa if he plans on killing the king next, which Injwa says he'll have to do—he was waiting for the king to die on his own, but since he's stubbornly holding on, Injwa plans to do something about it. It's Traitor Jeong who tells him to wait for the king to die naturally.
Crown Prince Yoon reports Prince Yeonryung's death to the ailing king, claiming it was due to indigestion. Chief State Councilor Kim Chang-jip confirms this, saying he checked into it himself. King Sukjong, being the only sane one still around, orders that the prince's body be brought into the palace for his own inspection, only it's not allowed.
Traitor Jeong has finally decided he wants to join hands with Injwa, but in order for Injwa to make sure Jeong has thrown away his ambitions to take the throne for himself, he has him stamp the blood oath he writes out. Jeong cuts his palm and stamps the oath, which they both drink to.
Injwa gives the blood oath to Traitor Jeong as a sign of good faith, since Jeong can take the oath to Injwa's other half—a man introduced via chyron as PARK PIL-HYUN—should something ever happen to him. As for what Traitor Jeong can give him in return, Injwa says he doesn't need to give him anything, and that he should actually just throw him away.
Prince Yeoning confronts his older brother about the suspicious circumstances surrounding Prince Yeonryung's death, asking him to investigate the matter further. The crown prince seems to know the death is fishy, but makes it very clear that the reason for Yeonryung's death has to be indigestion. Any other cause of death would reflect badly on Prince Yeoning.
Yeoning hears the same line of argument from Councilor Kim, who tells him that he has nothing to gain from investigating Prince Yeonryung's death. The realization dawns on Prince Yeoning that they all think he had something to do with it, since he had the most to gain—but whether he did or didn't, the Norons are willing to protect him.
Dae-gil and Seol-im watch as royal officials take from the people the things which Prince Yeonryung gave out of the kindness of his heart, which gets explained to us by two random onlookers. Dae-gil wants to help, but Seol-im stops him.
Prince Yeoning attends his little brother's funeral, and apologizes to his memory for being unable to investigate the truth behind his death. Injwa attends as well, all smug as he lauds how good and humble the prince was, to give all his land and assets away to the people.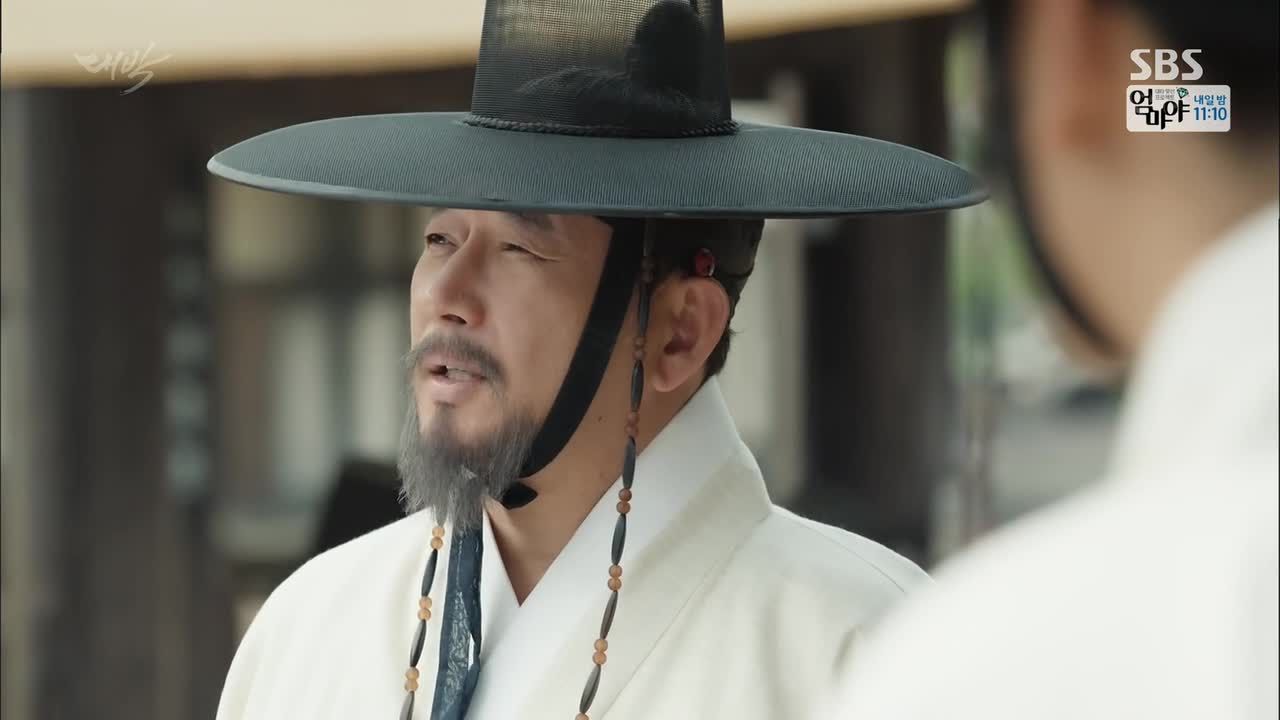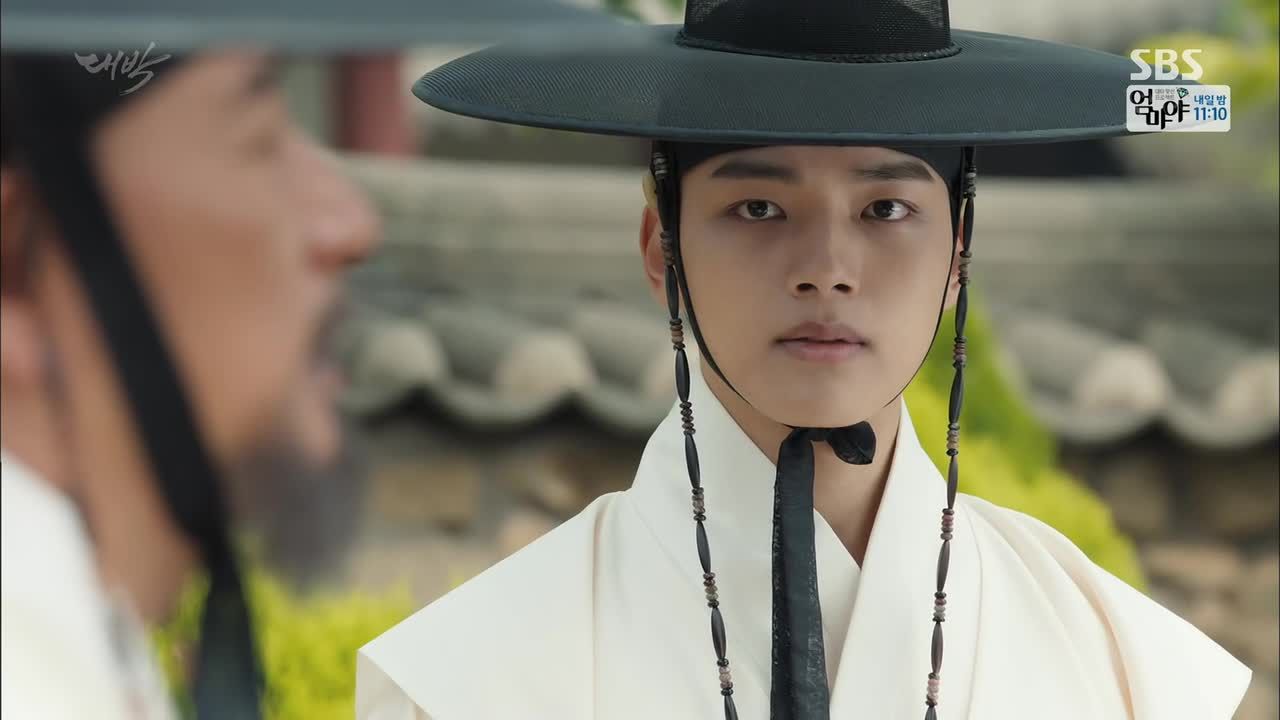 But Injwa wonders what Prince Yeoning will do now that there are only three brothers in line for the throne, now that Prince Yeonryung is out. Yeoning is confused at first, since he knows of only himself and Crown Prince Yoon, which is when Injwa cuts in to say that the third brother is one he knows very well.
Prince Yeoning knows he's talking about Dae-gil, but refuses to believe it. Is he refusing to believe that they're brothers, or that Dae-gil might try for the throne? Because I thought we already established the former.
Dae-gil catches his father sneaking around the market, and pulls him aside for a private chat. His father only reminds him of what he said to him before—about his life belonging to the people now—but Dae-gil needs him to arrange a meeting between him and Traitor Jeong.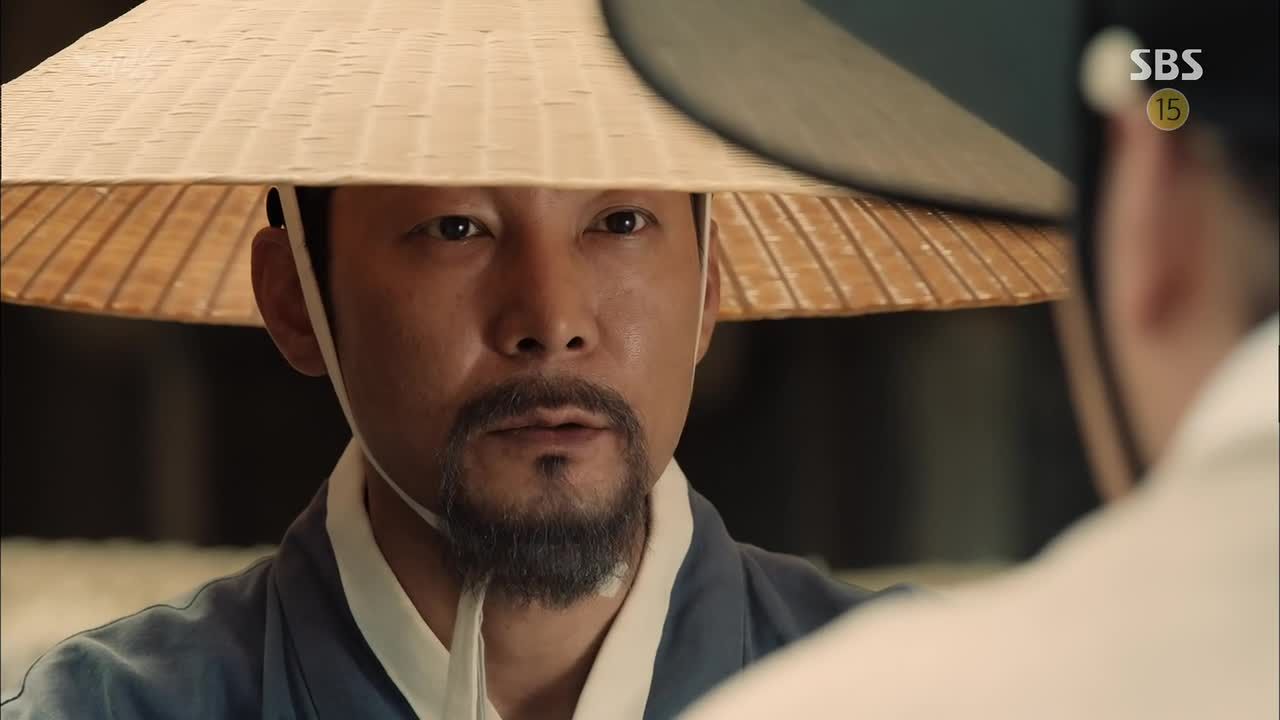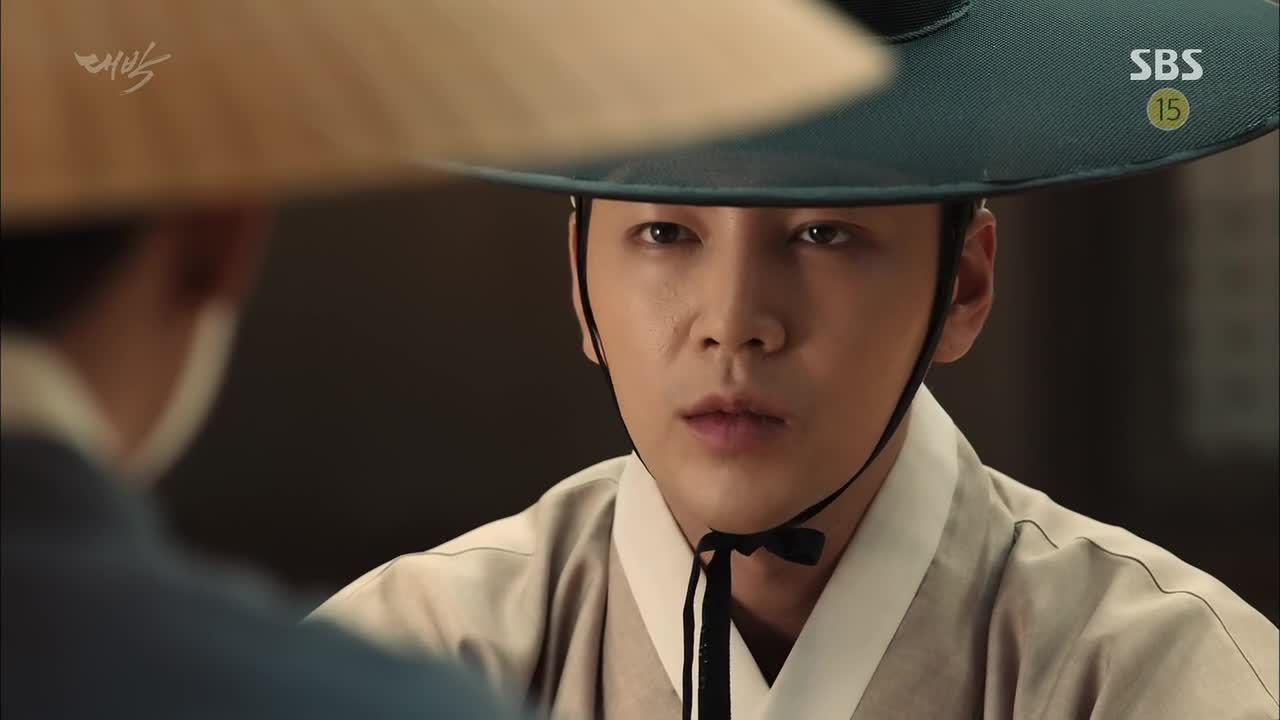 Man-geum accomplishes this through a series of silent looks and exchanged messages with his compatriots(?), leading to Dae-gil finding Traitor Jeong waiting for him. Jeong wastes no time in telling Dae-gil that Injwa killed Prince Yeonryung, and that Prince Yeoning is trying to cover it up.
When Dae-gil asks why Prince Yeoning would do such a thing, Traitor Jeong brings up King Sejo, who ascended the throne only after a bloody coup, and King Taejong, who also killed his brothers in order to become king. That's how the royal court is, he claims, and Prince Yeoning is no different. (But then why not say it was Prince Yeoning who killed him, and not Injwa?)
Traitor Jeong tries to justify his traitorous ambitions by claiming that it's all for the good of the people without actually saying how or why. He also claims that Dae-gil is the only one who can complete their great cause by starting a rebellion and becoming king, which technically isn't treason when he's of royal blood. He'd just be taking back what's supposed to be his.
It seems like Dae-gil is baiting him into spilling the whole plan without intending to follow through on it, though Traitor Jeong sweetens the deal by offering to give him Injwa if he allies himself with him.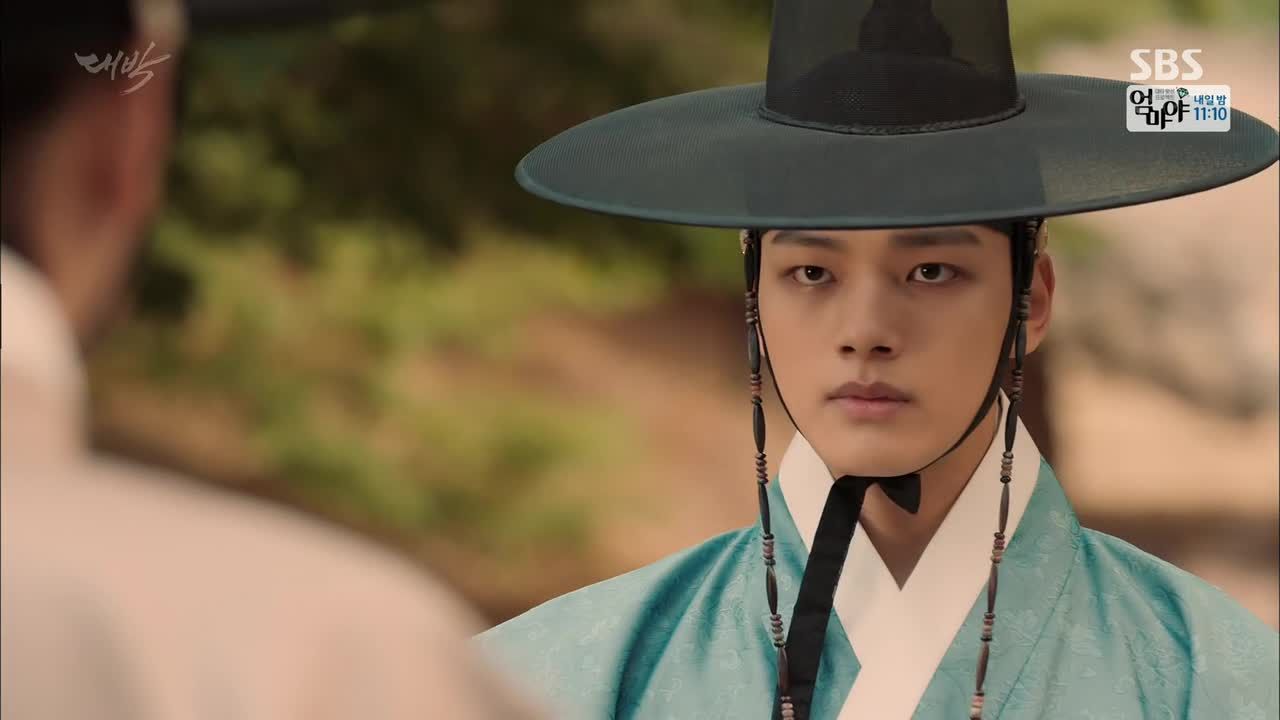 Prince Yeoning allows what Injwa suggested about Dae-gil to poison his thoughts, leading to a tense conversation between the two brothers as Dae-gil asks him why he's covering up for Prince Yeonryung's death when it was Injwa who did it.
Yeoning, who never needed a reason to suspect Injwa before, now asks if Dae-gil has any proof to support his accusation. He may or may not know about Injwa, but is putting it aside in order to have peace within the palace—his father is very ill, he says, and stabilizing the government comes first and foremost.
Dae-gil calls him out for being so calm about his own brother's death, turning over the table between them in his rage. Was Prince Yeoning always like this? "That is how politics is," Prince Yeoning replies, his own rage barely suppressed. It's enough to make Dae-gil suspect that Yeoning is just glad to be rid of the thorn in his side that was Prince Yeonryung.
"Then have you never lied to me? Have you been completely honest?" Yeoning fires back. When Dae-gil says he's never lied to him, Yeoning instantly asks who his biological father is, and jumps all over him when he's silent.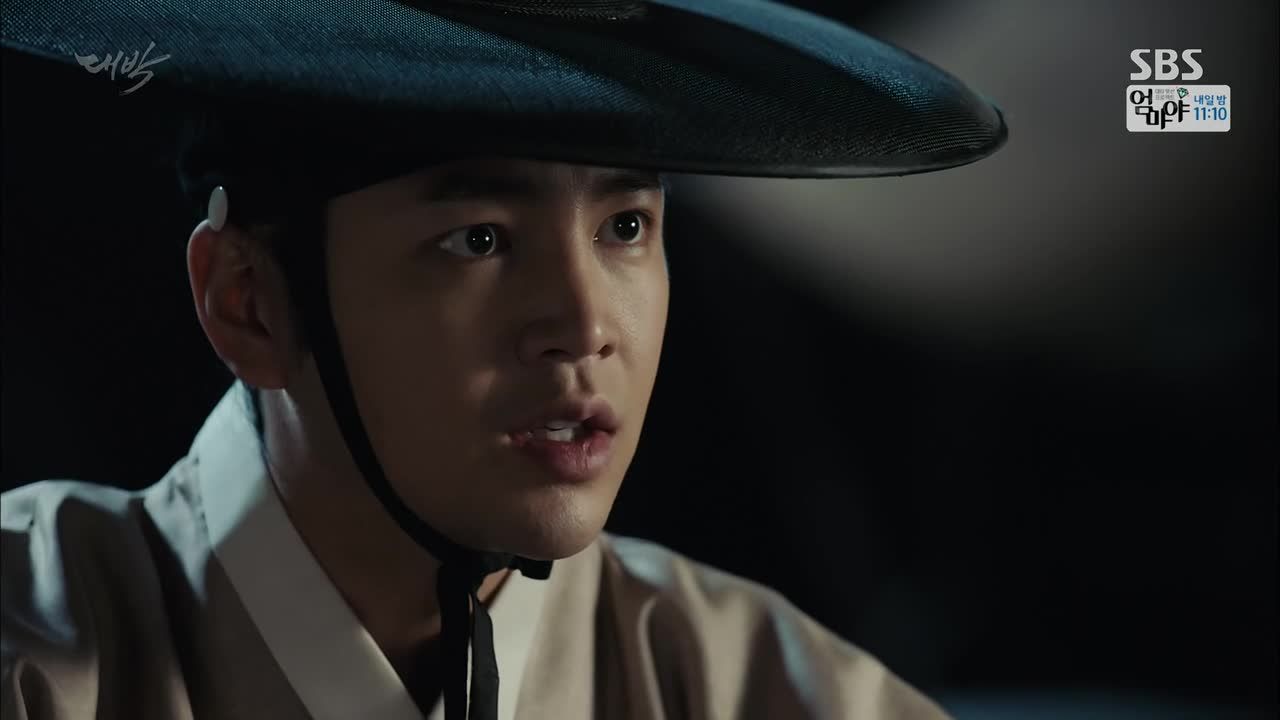 When Dae-gil replies that Man-geum has been the only father he's ever had, Prince Yeoning grits out that he asked about his biological father, challenging him not to lie. Dae-gil remains silent instead, which only makes Yeoning more distrustful—he also heard from Injwa that Dae-gil met with Traitor Jeong, and now supposes that it's actually true when Dae-gil again responds with silence.
Feeling betrayed, Prince Yeoning angrily asks why he hid the fact that he was the king's son, and from him of all people. What did he want to gain by becoming close with him? Dae-gil tries to argue that who his father is doesn't matter, only for Yeoning to disagree—if he had known they were brothers, he claims, he would have never opened up to Dae-gil or made him his friend.
Dae-gil takes this to heart, and says that he understands Injwa's great cause now. Their country is rotten, he adds, and Prince Yeoning is no different from the rest of them. Wait, wait, why is everyone suddenly acting like Injwa is trustworthy now?
Yeon-hwa and Seol-im find it suspicious that the land and assets Prince Yeonryung gave to the people were seized the day of his funeral, meaning that it had to have been orchestrated beforehand. Dae-gil seems to suspect Prince Yeoning, which makes him think of what Traitor Jeong said about overthrowing the entire, corrupt government.
But since all of Prince Yeonryung's assets belonged to the government, it's not unlawful for the government to take them back, which is what the two girls found out during their investigation. That's when Dae-gil declares that he'll be joining hands with Traitor Jeong—he's tired of all the corruption, and wants to do something to help the people.
So Dae-gil meets with Traitor Jeong that night to offer him a deal: if Jeong cuts his ties with Injwa, then Dae-gil will become the king the cause needs him to be.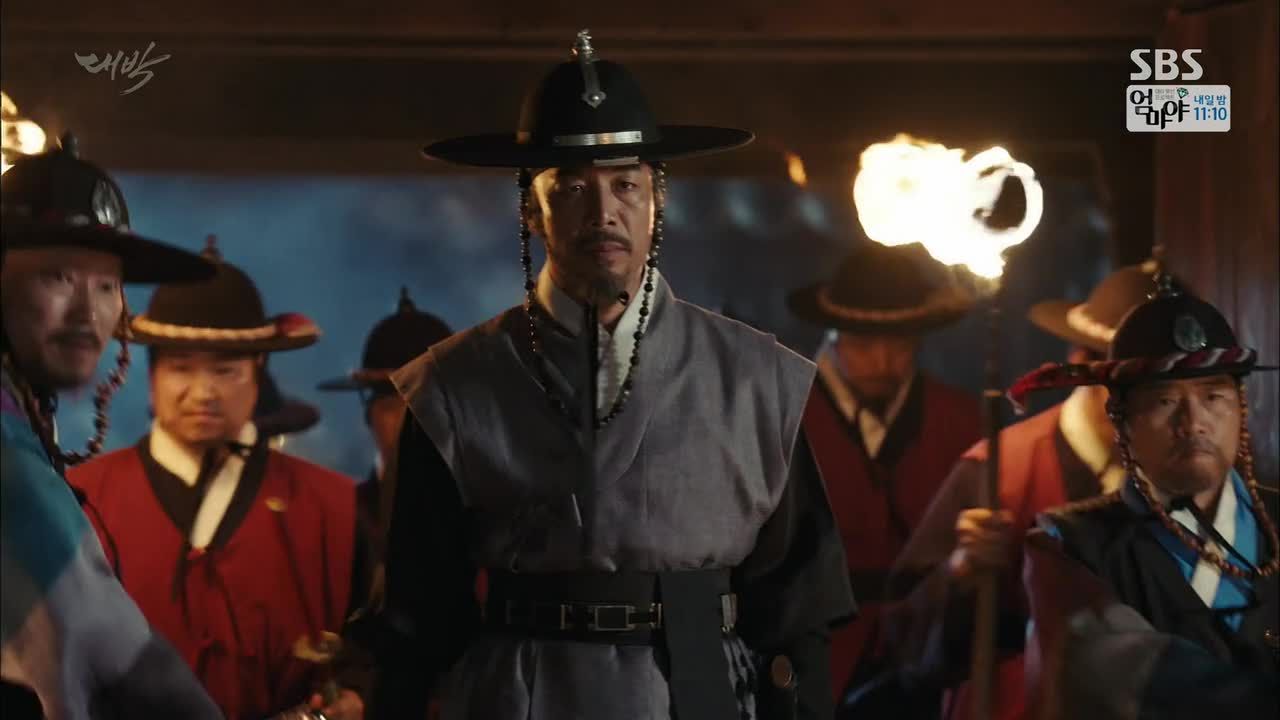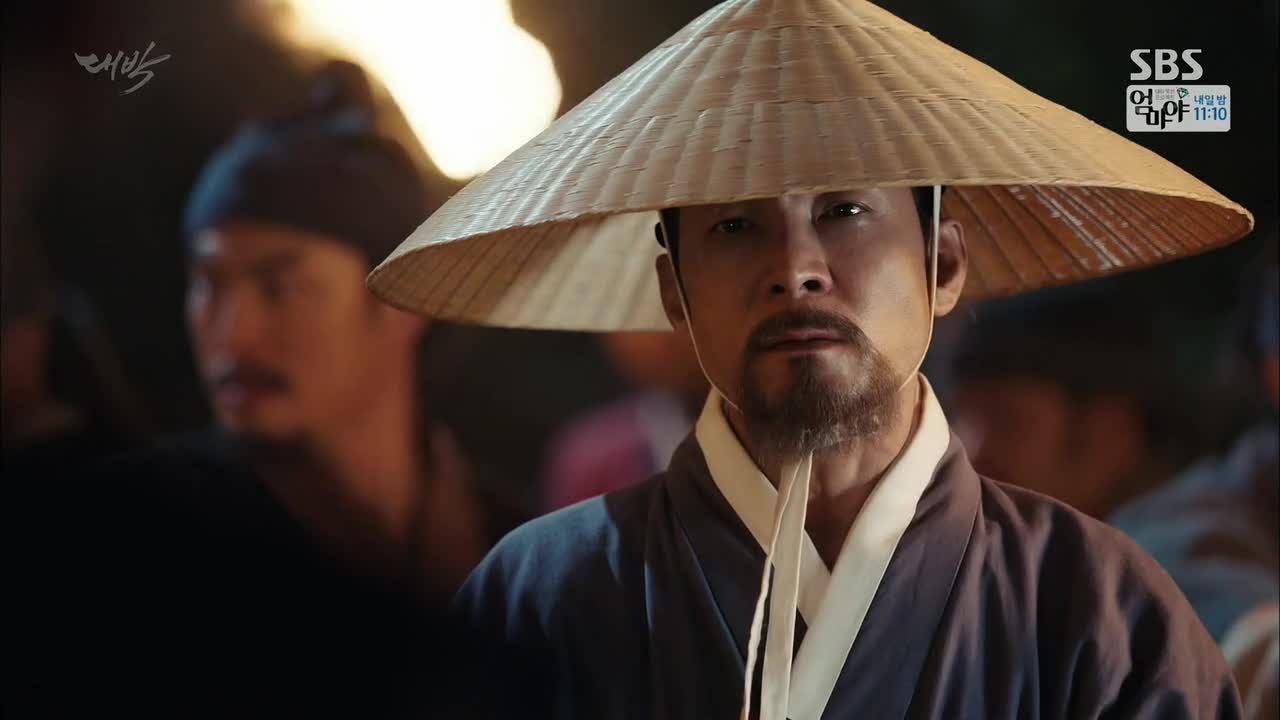 Traitor Jeong has Dae-gil blindfolded so he can be brought to a secret compound in the woods, which is where all their comrades will gather when the time comes. In order for Dae-gil to prove that he means what he says about joining their cause, Traitor Jeong challenges him to make a business transaction that night.
In front of wagons of stolen goods, Dae-gil hands the head soldier the money he was promised, and in return, checks out the merchandise for trade. That merchandise seems to be what was confiscated from the people after Prince Yeonryung's death, which Dae-gil says belongs to the people and should be returned to them.
Just then, the closed gates burst open, and common people wielding pitchforks and other homemade weapons come pouring through. Traitor Jeong realizes too late that Dae-gil set him up, just as Chae-gun and his men come in to make the arrest.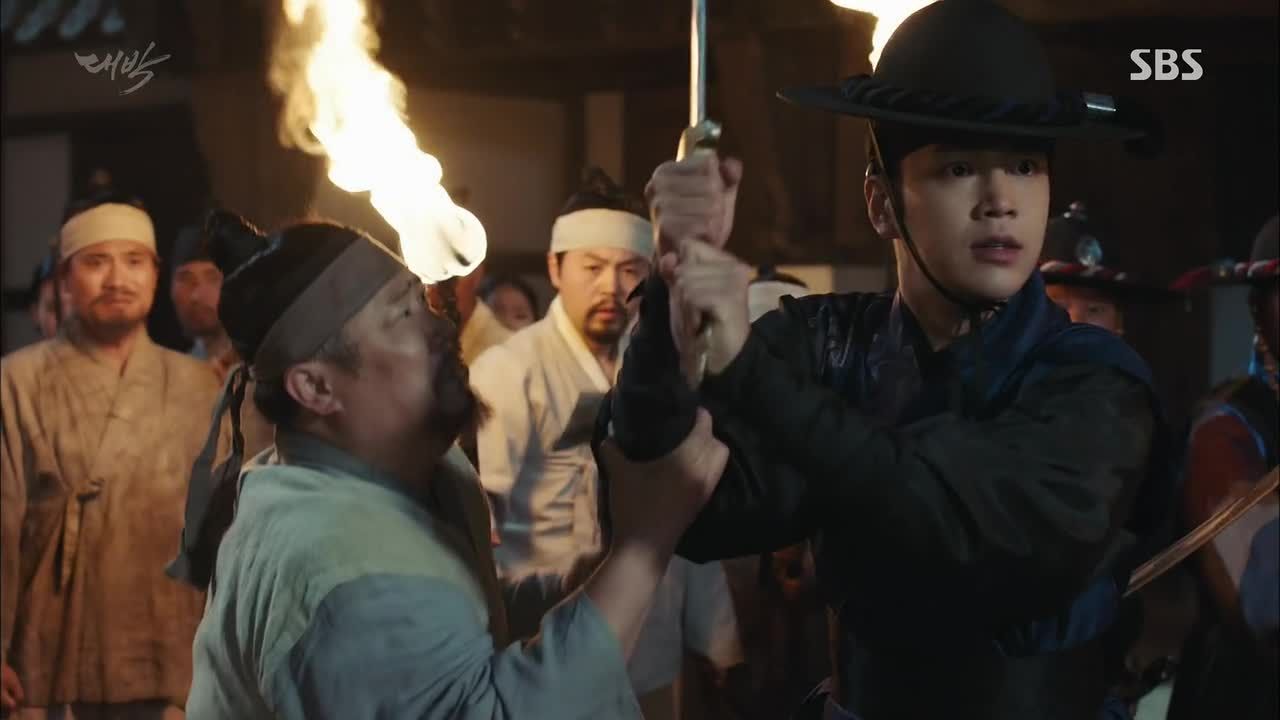 Through flashback, it's revealed that Dae-gil strategically dropped tujeon cards for Chae-gun to find as he was being led to the compound blindfolded, since he'd heard from Hong Mae that Injwa and Traitor Jeong had made a blood oath.
Since Yeon-hwa and Seol-im had also found out that Traitor Jeong seized the late Prince Yeonryung's assets, he'd conceived of this very plan to catch him and make him pay for what he did. In the present, he tells Traitor Jeong that he was never interested in becoming king, and that he only ever had one cause in his heart: to make their nation into a proper one for her people.
Traitor Jeong tries to cut him down, only for Dae-gil to swiftly disarm him. But just as he's about to kill him, one of the commoners stops him on the basis that he shouldn't have to dirty his hands with blood. Jeong escapes, only to fall straight into Prince Yeoning's trap.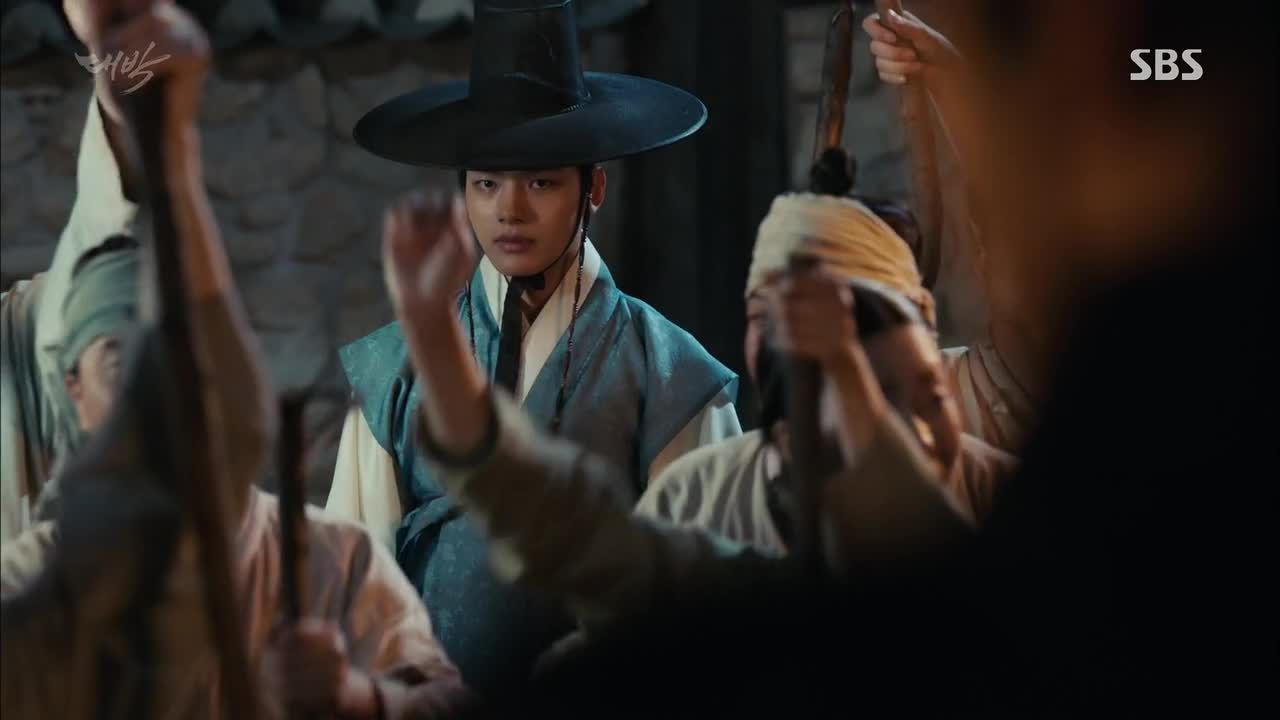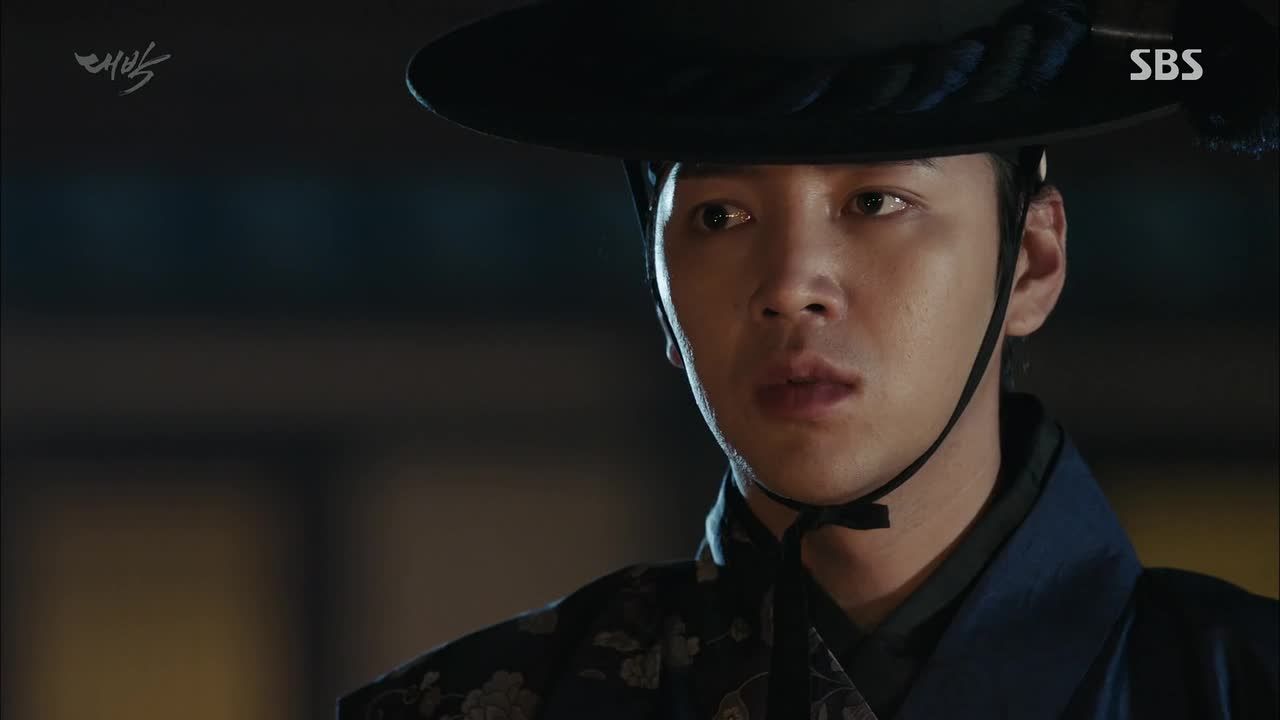 Prince Yeoning arrives in time to see the people cheering for Dae-gil, and the two brothers grudgingly acknowledge each other as Chae-gun admits that he brought Yeoning in on the scheme.
In Traitor Jeong's compound, Dae-gil finds evidence of the opium used to slowly poison the king. He hands it over to Prince Yeoning, who confirms it before deadpanning that the king will be soo impressed that Dae-gil caught Traitor Jeong at the scene of the crime and found this evidence to incriminate him.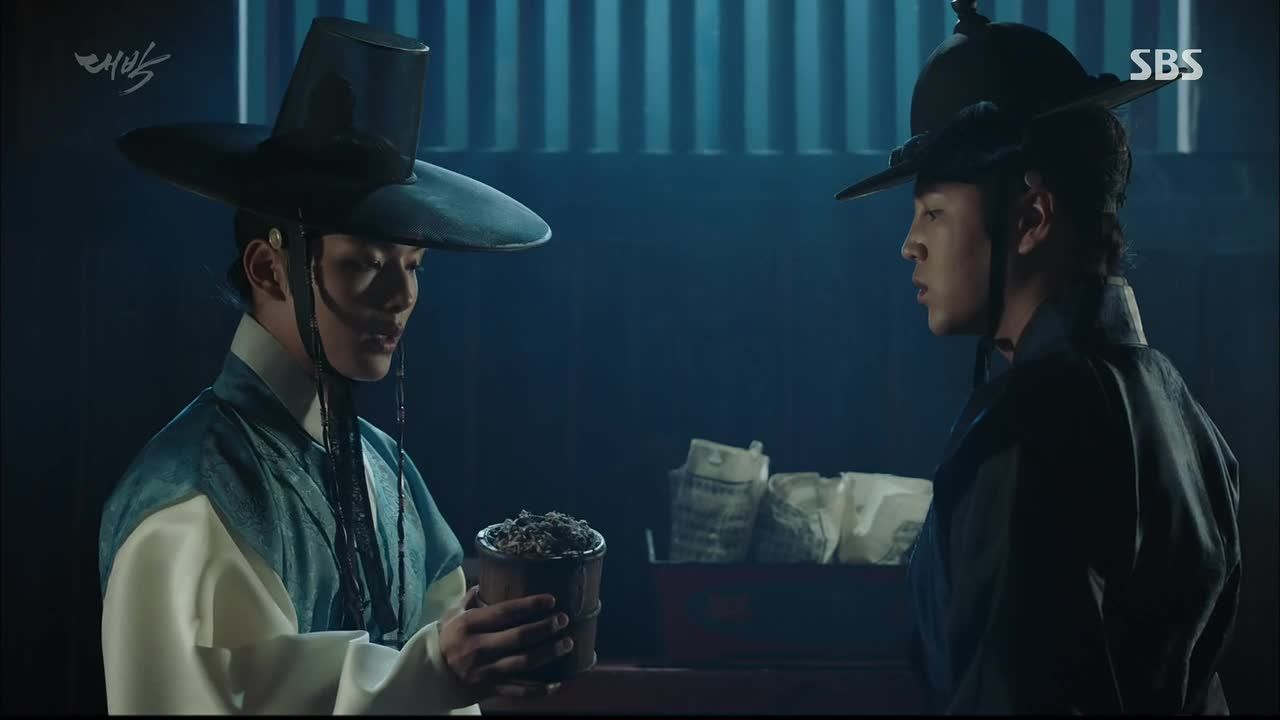 "I did not do it for the king," Dae-gil says, implying that he did it for the people. Prince Yeoning takes some issue with this, since working for the people is the king's job, but seems to soften a bit when Dae-gil says that his only goal has been to catch Injwa. To do that, he needs to find the blood oath that Traitor Jeong signed.
Knowing this, Injwa is determined to find the oath first so that it can't be used against him, but neither party has any idea where Traitor Jeong hid it.
Prince Yeoning tells his father that Dae-gil arrested Traitor Jeong, and the king rejoices as best he can while dying. He has Dae-gil brought to him so he can ask what he plans to do with his life, making it clear that he doesn't want Dae-gil to continue to live as a gambler.
After gaining permission to speak honestly, Dae-gil tells the king that he wants compensation for the brutal life he's lived, though he doesn't want there to be any connection between himself, the king, and Lady Choi. He only wants to live as a citizen of Joseon, and nothing more.
King Sukjong beckons him closer, so that Dae-gil passes through the silk screen to kneel before him. "Yeongsu-ya," the king calls him fondly, which is the princely name he was given at birth. "An older brother must act like an older brother, and a younger brother must act like a younger brother. That is the way of things. That is the basic moral obligation that must be maintained in this world."
After promising to keep his words in mind, Dae-gil leaves a bit stunned, wondering as he sees Prince Yeoning whether he should be a subject of the nation, or an older brother. The two brothers share a long, silent look before the crown prince arrives, and briefly acknowledges Dae-gil's arrest of Traitor Jeong.
The ailing king, in an effort to get his affairs in order before shuffling off this mortal coil, asks the crown prince what he'll do about Prince Yeoning once he becomes king. There's no doubt the Norons will try to put Yeoning on the throne, so if that happens, what will Crown Prince Yoon do about him?
"The fate of a prince is that he must win the war amongst his brothers to survive. The fate of a king is that his life begins only after his father passes away," King Sukjong wheezes. If Crown Prince Yoon does answer, we don't hear it.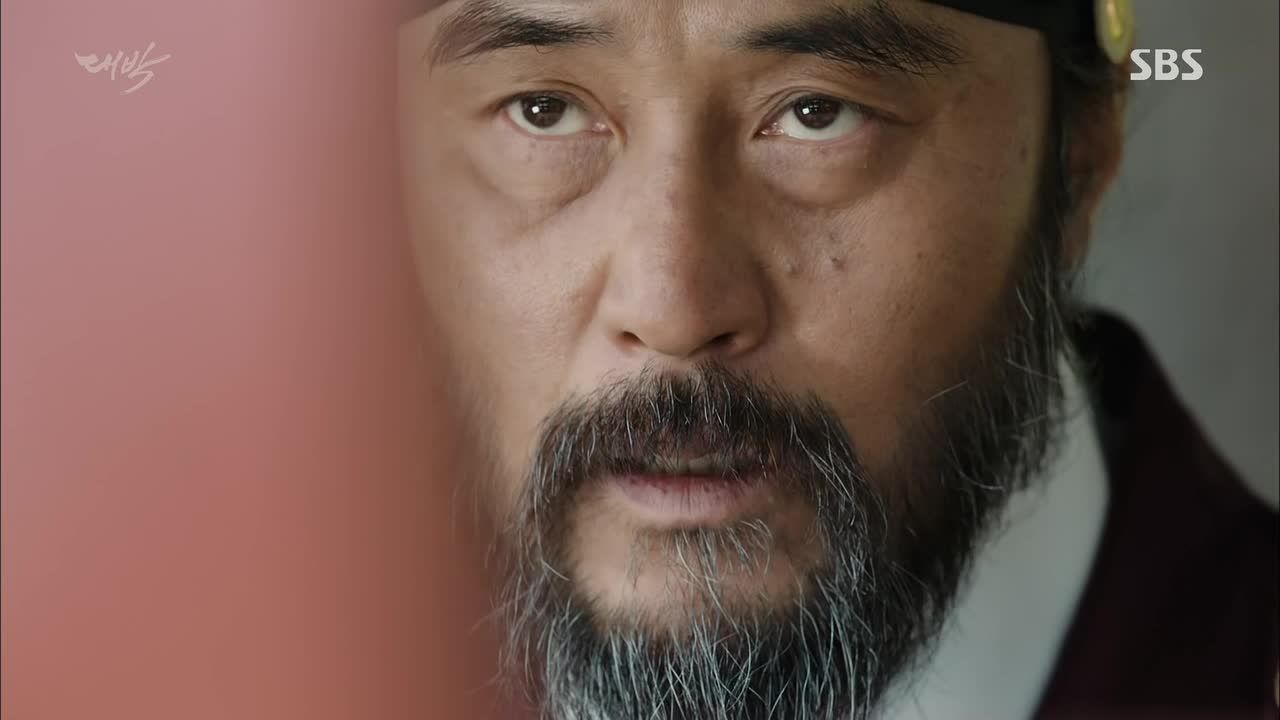 The next morning, the king advises Prince Yeoning not to make an enemy of Dae-gil, nor should he join hands with him. He just has to accept that he and Dae-gil have different paths to take.
But King Sukjong also makes it clear that he wants his son to survive and to take care of himself, since he will come to sit on the throne and lead Joseon. Then, looking up, the king remarks, "Truly, life is but a moment."
He takes one last heaving breath, and passes on. The death knell tolls, the sound reverberating within the palace and without, reaching Dae-gil outside the palace gates.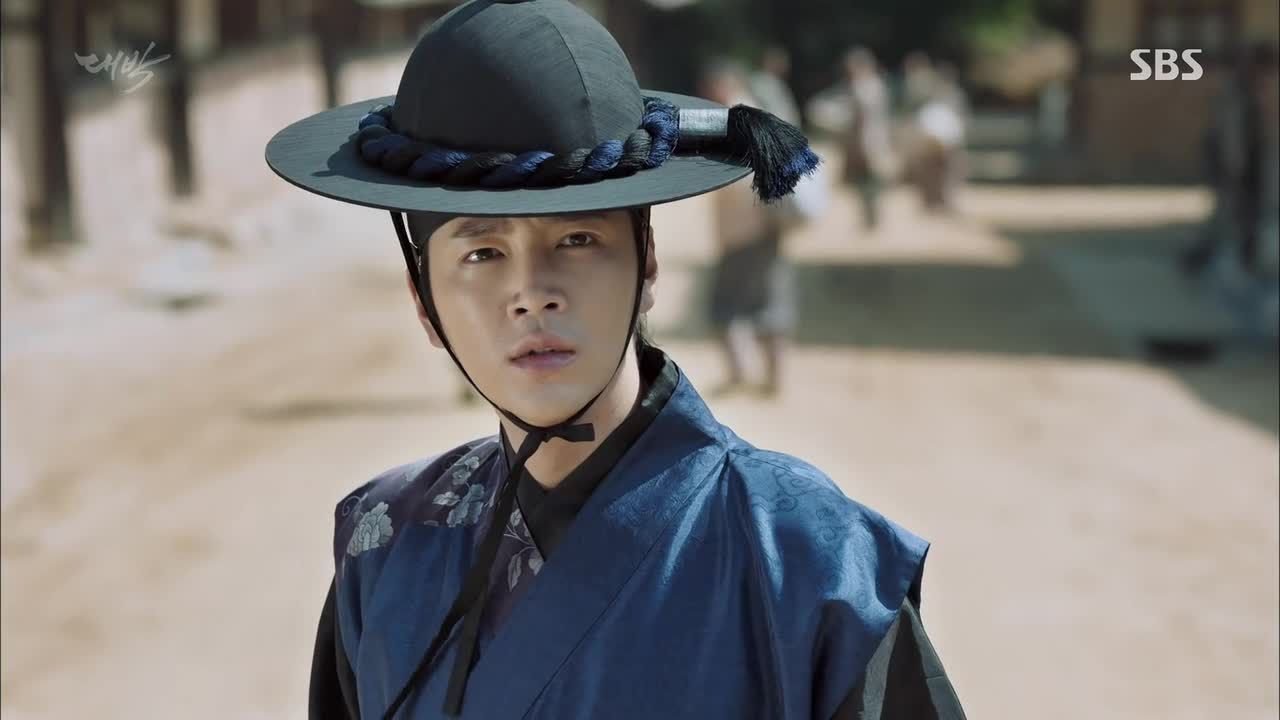 COMMENTS
It was really touching to have that one moment where the king acknowledged Dae-gil as his son by calling him "Yeongsu," and an even added bonus that their relationship (or lack thereof) was never melodramatically milked past the point of recognition. They knew who they were to each other, but by the time they knew it, it was too late to do much about it. And it worked that Dae-gil was never eager to embrace his real father, or vice versa—it would have been uncharacteristic for both of them, which they both seemed to understand.
Most of the subtext in that relationship can be attributed to Choi Min-soo's amazing performance, which is likely why the show was reluctant to part with him in the first place. But his passing needed to happen eventually if the story was to move forward, because there's a lot left to cover if the show wants to make it past King Gyeongjong's (Crown Prince Yoon's) reign and into King Yeongjo's (Prince Yeoning's), since we started out with the Musin Revolt of 1728.
And while the king's death was a poignant moment for the show, the rest of this episode was pretty mind-boggling. It was unbelievable in the first place to have Injwa kill Prince Yeonryung in cold blood without attracting anyone's notice, but it's absolutely insane that he got away with it just… cause? Even if he got the Norons and Sorons in on it, it's all too much to take in that they were able to buy off the royal doctors, the guards, and every other curious mind that must've wondered how on earth a previously healthy young prince just up and died.
And he died from an enormous slash to the chest, no less—there was literally blood everywhere! How did Prince Yeoning go from using chemicals to investigate crime scenes for even the smallest hint of blood to just accepting that he couldn't investigate his brother's death? Even if he had to stop asking questions for his own good, which he did, it's completely unlike Yeoning to stop caring about justice and the truth. Where did the hardheaded, impertinent youth go? More importantly, why would he have any reason to doubt Dae-gil telling him that Injwa killed his little brother? It's not like the other explanation for his death made any sense, and the Yeoning we knew would have known better than to believe otherwise.
There's the possibility that Yeoning knew all this to be true, but kept his own feelings in check because he could be suspected in his brother's death. Like it's no less suspicious that one of his rivals to the throne died randomly, how would it not be of any use whatsoever to find evidence to incriminate Injwa, who committed the murder with witnesses? Also, doesn't it defeat the purpose of his revenge on the king if Injwa never takes credit for the crime?
What's most disheartening about all this is that if Injwa got off scot-free from something as blatant as killing a prince, then there really is no set of rules in place to ever bring him to account. He'll keep getting to skirt by doing whatever it is he wants without consequence until the script decides otherwise or the story just ends. The sooner we give up on hoping his comeuppance will happen any sooner (or at all), the better. At least Dae-gil didn't turn crazy for power on us, though—that's one silver lining I'm happy to keep holding onto for as long as the show allows, even if there should've been a moment of realization for Dae-gil when he found out that Injwa killed a prince of Joseon after he saved his life. Details, details.

RELATED POSTS
Tags: Choi Min-soo, Episode 19, featured, Im Ji-yeon, Jackpot, Jang Geun-seok, Yeo Jin-gu, Yoon Jin-seo