Jeon Ji-hyun, Lee Min-ho team up in new SBS drama Legend of the Blue Sea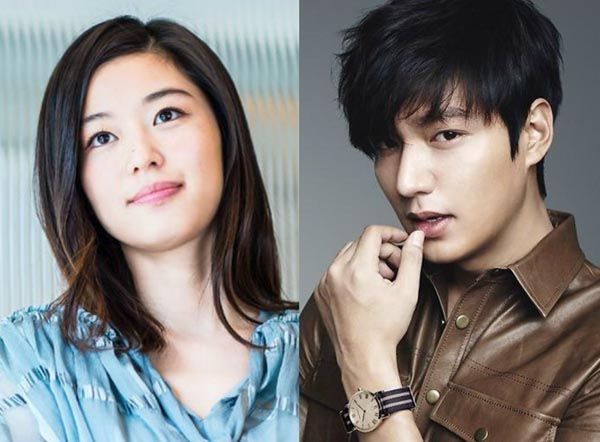 It's happening, it's really happening: Jeon Ji-hyun is re-teaming with her You From Another Star writer, Park Ji-eun, for a new drama co-starring Lee Min-ho (Heirs), with a high likelihood of him reuniting with his City Hunter director, PD Jin Hyuk. Is China even going to be able to handle the excitement? I half expect the country to sell out of every single thing featured in the drama within its first week.
In fact, reports state that this project is already attracting the highest-ever sum for a Hallyu drama licensed in China, having received an initial offer for licensing rights from a Chinese distributor at $50,000 USD per episode. This is nearly double the current top amount, which was Descended From the Sun at $27,000 USD per episode. That's pretty remarkable, given that nothing's been filmed yet, or divulged beyond the barest details. Although, considering that the popularity of their projects did lead to the production of an honest-to-goodness Chinese drama named Heirs From Another Star, it probably shouldn't be surprising.
The casting of the actors had been previously reported as possibilities, but now we have a confirmation for Jeon, Lee, and writer Park, while PD Jin is named as a probable director. We did know he was talking to writer Park about working together, and the project has been picked up by SBS (where PD Jin is contracted), so I'm fairly confident that we can expect him to confirm. We also have a (working) title for the project and a basic premise: It will be titled Legend of the Blue Sea, and it's based on the story of the Little Mermaid—the Hans Christian Andersen version, that is, not the sunnier Disney interpretation.
That doesn't mean it'll necessarily be a sad story (I expect the opposite, in fact); Koreans and Korean dramas just have a penchant for the story of the sad mermaid who loved a prince unrequitedly, and disappeared into bubbles when she couldn't bring herself to kill him to win back her own life. K-dramas are a sucker for the angsty romances, but I'm pretty sure we can count on a happy ending. Lest there be rioting.
Legend of the Blue Sea is planning for a 20-episode run on SBS in October.
Via Sports Donga, My Daily
RELATED POSTS