Beautiful Gong Shim: Episode 8
Nothing seems to go right for dear Gong Shim, who feels like a defective seed that never blooms no matter how hard it tries. Love can't be in the air if self-love ceases to exist and she's about ready for some change, but what about the people who like her just the way she is? Meanwhile, a crucial detail in the kidnapping case is unearthed, but it could unravel some uncomfortable truths.

EPISODE 8 RECAP
Gong Shim points to the plant Dan-tae gave her and reckons there's something wrong with the seed because nothing's sprouted yet.
Gong Shim: "No matter how hard I try, it's destined to stay buried in the dirt without getting the chance to bloom, right?… It's just like me! No matter how hard I try, it's no use. It's too much like me."
She breaks down in tears, and Dan-tae places a comforting hand on her shoulder before embracing her, his eyes glistening with tears of his own. Jun-su arrives, but leaves wordlessly after spotting Dan-tae consoling her.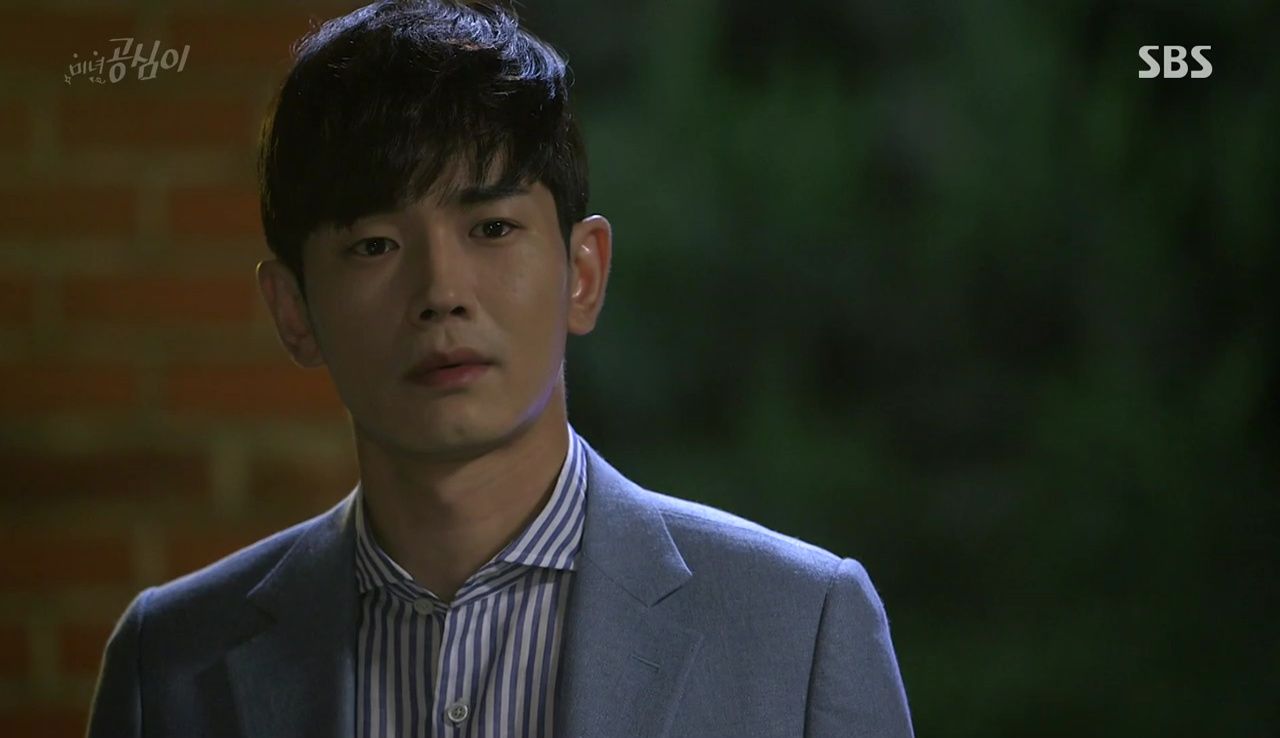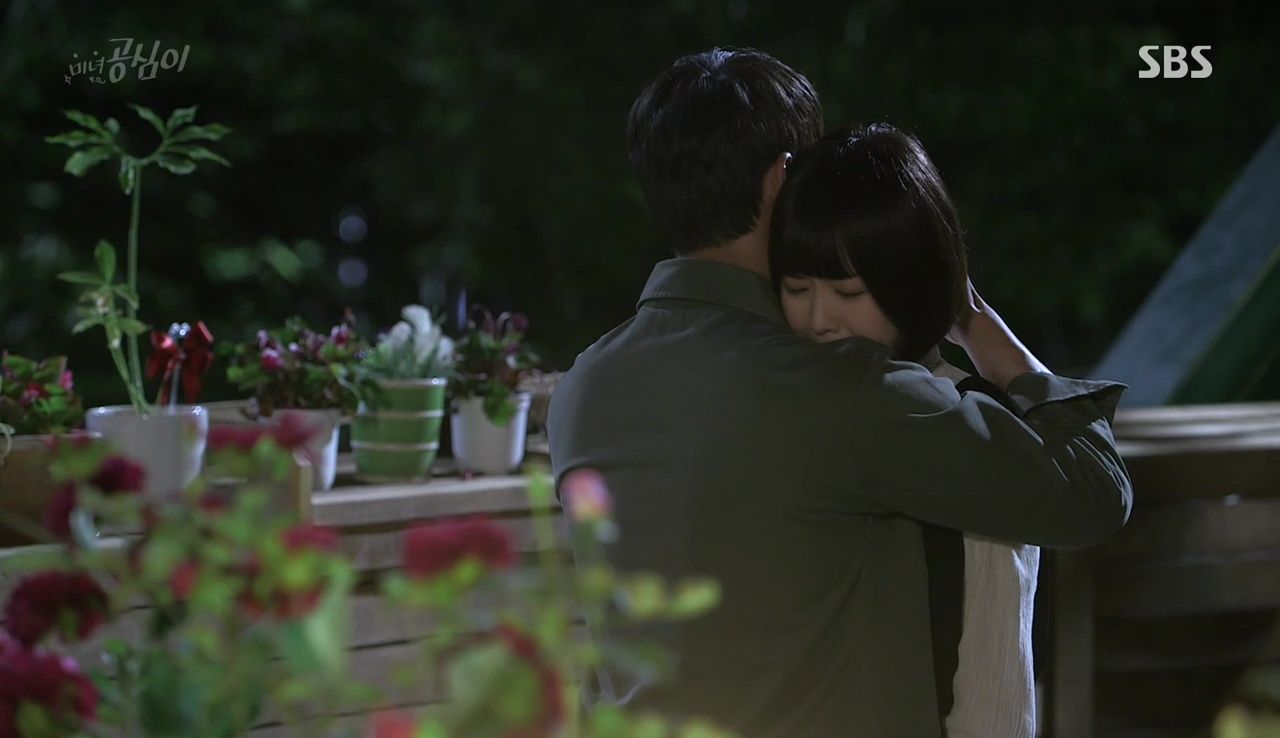 The next morning, Dan-tae transfers Gong Shim's plant to a new pot and muses that once it blooms, things will start looking up for her. He hears the door close below him and rushes downstairs, thinking it's Gong Shim, but it turns out to be her dad, about to take out the trash. Dan-tae asks why he doesn't have Gong Shim do it, and Dad points out that she left for work. Knowing she was fired yesterday, Dan-tae wonders where she is. He calls her, but her phone is off.
Gong Shim's on an early morning mountain hike. Meanwhile, Dan-tae's at his office eating lunch, concerned when she continues not to answer her phone. An idea strikes, and he decides to send her an unflattering selfie.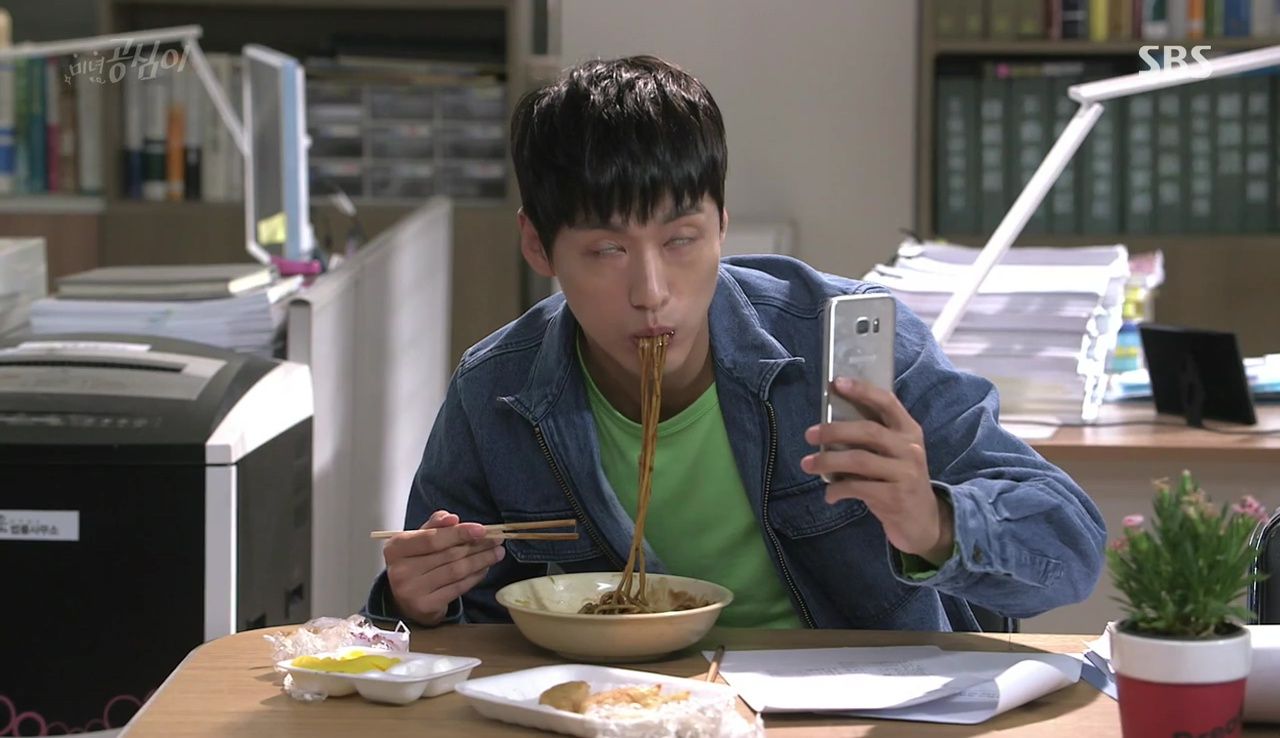 Gong Shim reaches the summit and beholds the view. She reflects on how small and discouraged she felt down there, and a tear trickles down her cheek.
On the bus ride back, Gong Shim opens Dan-tae's text, which tells her to call him if his selfie made her laugh. It does make her smile albeit momentarily.
Dan-tae stands around Gong Shim's usual path to work, waiting for her to appear, but she walks right past him without his noticing. She expected as much since she's wearing a longer wig and turns back to face him.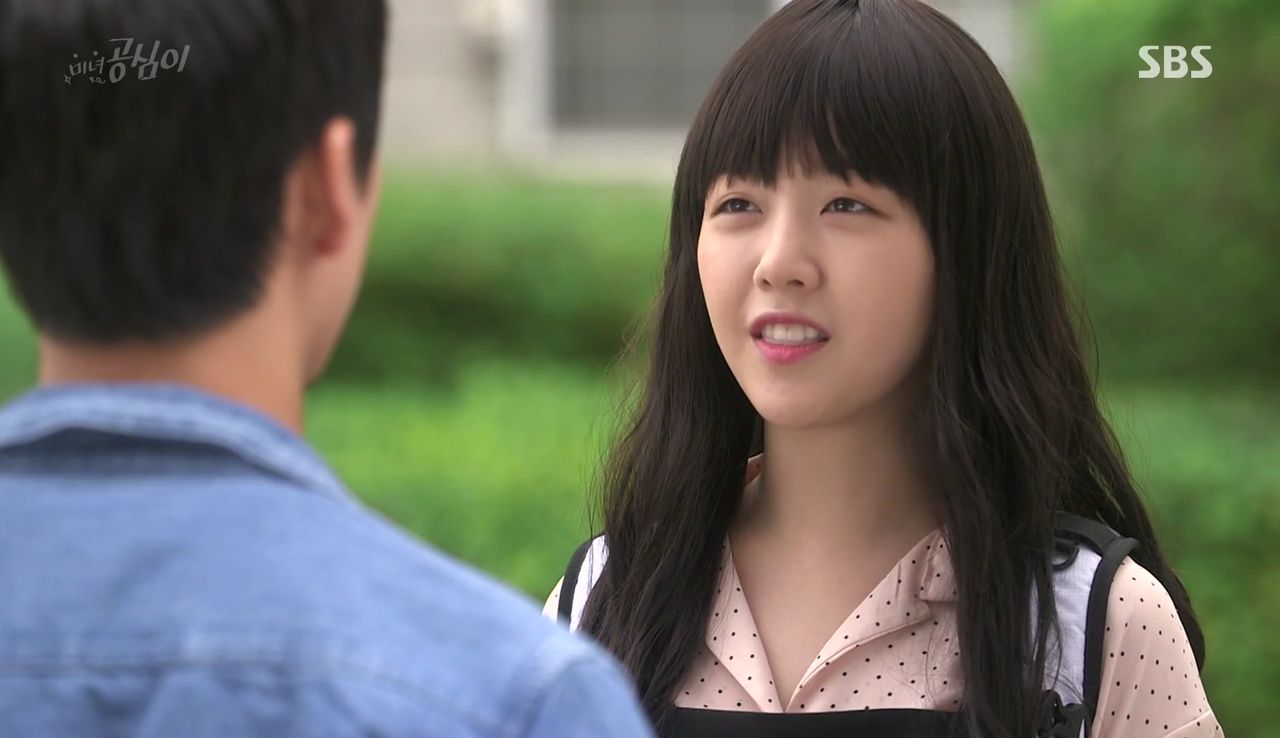 She wanted to try a new look to uplift her mood and says it worked. As she leaves to switch back to her usual wig, Dan-tae expresses relief that she's faring better than expected.
Gong Shim finds it odd he never asked her why she cried last night, and Dan-tae simply states that it's up to the person whether or not to divulge. Moreover, he knows she didn't cry because something good happened, so why ask about something obviously negative? He figures she would've said something if she wanted to talk about it.
She says he sounds like an adult when he's like this, and Dan-tae feigns offense, offering to show his ID as proof of his maturity and informing her that he's so contemplative, his nickname is Mr. Thoughts. She reminds him that he's now back to acting childish, heh.
She knows he's aware of her unemployment and suggests that he doesn't ask for details because she won't disclose any. Dan-tae says he won't and encourages her to stay mum.
As they get up to head home, Gong Shim wryly tells him she never responded to his text because the selfie wasn't funny. Dan-tae's incredulous as she walks away from him with a big smile on her face.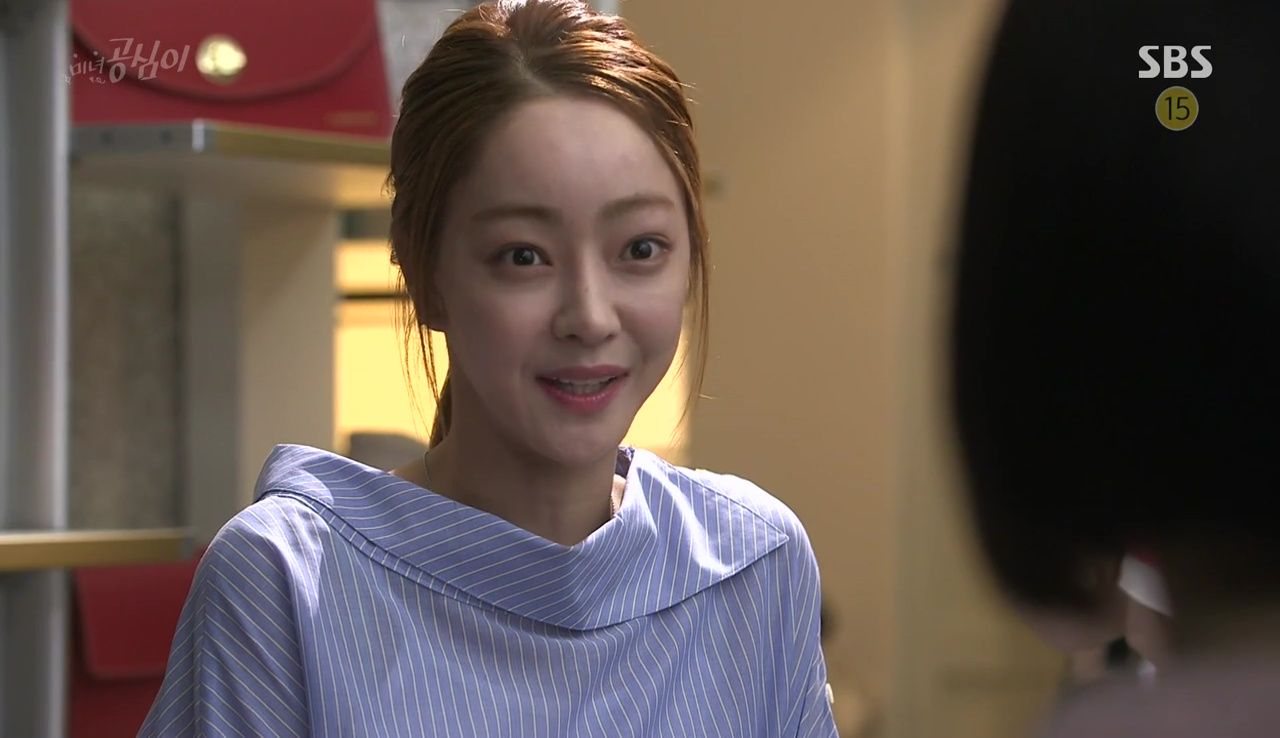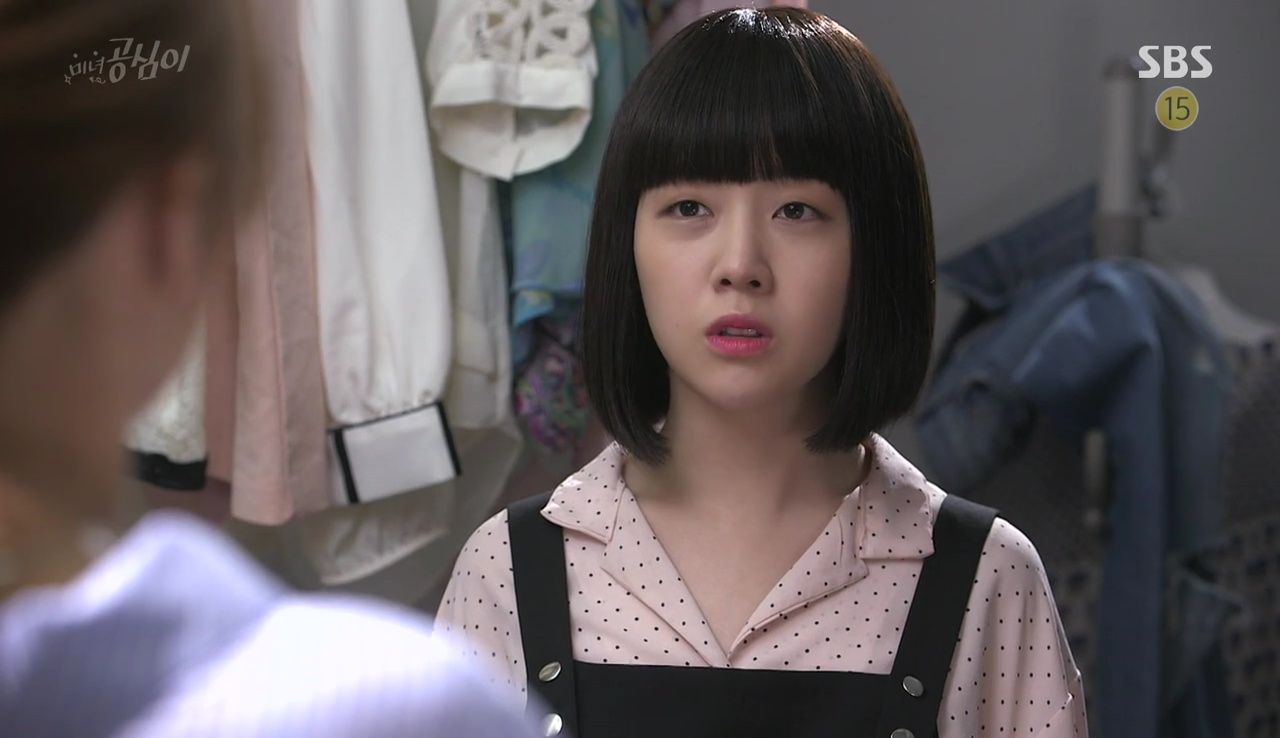 At home, she apologizes to her bewildered parents for quitting her job and states that it wasn't the right fit for her. Gong Mi overhears this and concludes that it's a good thing, since her employment at Star Group bothered her. Ugh.
Gong Mi goes to her sister to pry for more details, but she doesn't get any. Gong Shim wonders about the band-aid on her unni's arm (from rescuing Jun-su in the fire), but Gong Mi lies that she injured herself while exercising. She also adds that quitting was the right move and that she'll help her find a new job, and Gong Shim is surprised by her sister's concern.
Jun-su texts Gong Shim asking to meet, and apologizes repeatedly for his mother unjustly firing her. Gong Shim reassures him that she's fine; the job wasn't right for her in the first place, and she promises to treat him when she receives her first paycheck from a more suitable job. Dan-tae happens upon their meeting and silently observes them from behind a wall.
Gong Shim heads out again when her college sunbae notifies her about a job opening and bumps into Dan-tae. He finds it strange that she's going to an interview for a "distribution company" in the evening and bringing a large duffel bag with her. He wonders if it's a pyramid scheme…
And lo and behold, a greasy-haired individual addresses a room full of people, including Gong Shim, and assures them that their pyramid scheme suspicions are incorrect; he points to their giant logo as proof and emphasizes that they're star-shaped, ha.
Everything the man says screams fraud — "No matter what, you're guaranteed a monthly income of $10,000!" — and even Gong Shim doesn't buy his ridiculous exaggerations. A quick-thinking young man manages to escape the room, but when Gong Shim tries to flee, her sunbae blocks the door. Everyone's phones are confiscated so they're all stuck in what is very clearly a pyramid scheme with no way out.
Dan-tae happens to catch the young man who escaped. He confirms that he just left a pyramid scheme and nearly died because of the sunbae that fooled him, which is all Dan-tae needs to hear to know that Gong Shim is in a major pickle.
The greasy man encourages everyone to invest in order to be hired, and Gong Shim informs him that she has no money in an attempt to be excused. Unfortunately, it doesn't work because he reminds her that she can get a loan, lol.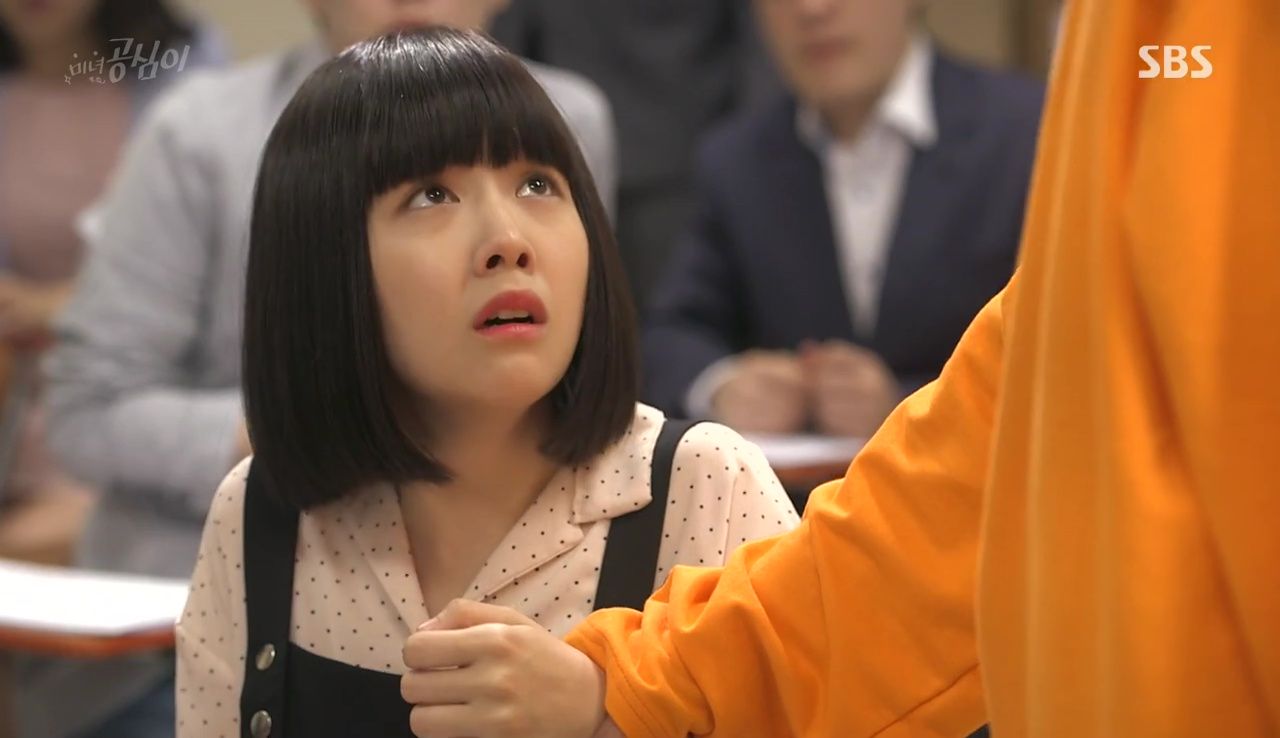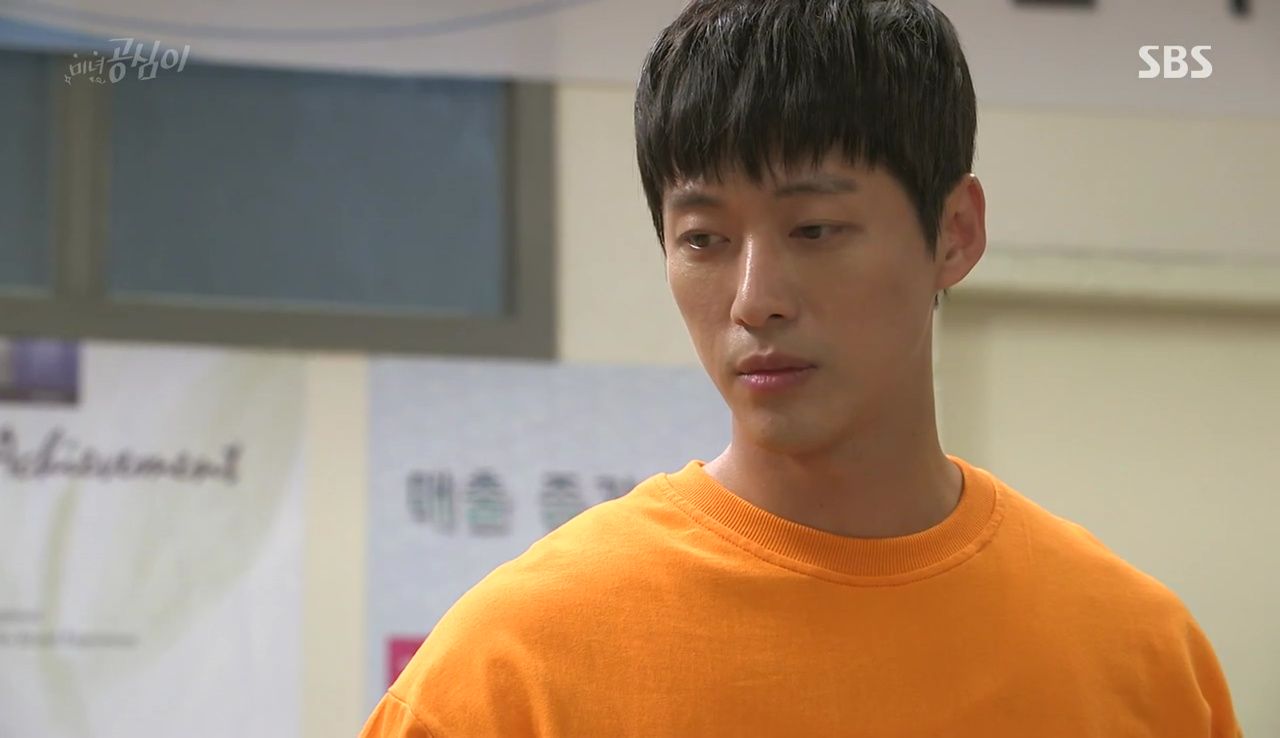 Just then, Dan-tae enters the room and announces that he's here because of an illegal pyramid scheme report. Gong Shim's face is a cry for help as he orders everyone to leave quickly. The sunbae and the greasy man try to stop Dan-tae, but they're no match for his swift punches. Dan-tae takes Gong Shim by the hand and leads her out, and the rest of the victims follow suit.
Dan-tae chides her for being so gullible to a very obvious scam, and Gong Shim retorts that she's like that when offered jobs. She's embarrassed by her inept self, and thanks him for saving her before walking away. Dan-tae calls out to her that he was once scammed into buying ten jade mats. Aw.
Dan-tae meets with Jun-su's grandmother and shares his findings. Grandmother is certain the same man called her twice, and Dan-tae concludes that the caller must've traveled from the Philippines to Korea in between those calls. Dan-tae says the phone call from Korea originated from a nearby phone booth; there's blurry CCTV footage of the area that'll need to get cleaned up to identify the man who called her.
Jun-su's mom and her brother (Uncle Butterfly Tattoo) run into Dan-tae as he walks out of grandmother's office. He greets them pleasantly, but they're immediately suspicious of the work he's doing for her.
They listen to the recording that was captured on Uncle's phone, and are troubled by Dan-tae's investigation into Jun-pyo's disappearance. Uncle tries to assuage his sister, and figures that if Jun-pyo were still alive, he'd have come for them sooner. He also mentions that Jun-pyo lost his memory and his ability to speak after witnessing his mother die. If he hasn't been found after all these years, then he must be dead. Jun-su's mother asserts that he must never be found or alive, or else they'll have to go back to the way things were.
Uncle visits Dan-tae's office for more intel. While Dan-tae's aunt is on the phone, he spots a photo of Dan-tae standing next to his father, whom he recognizes as Sergeant Ahn.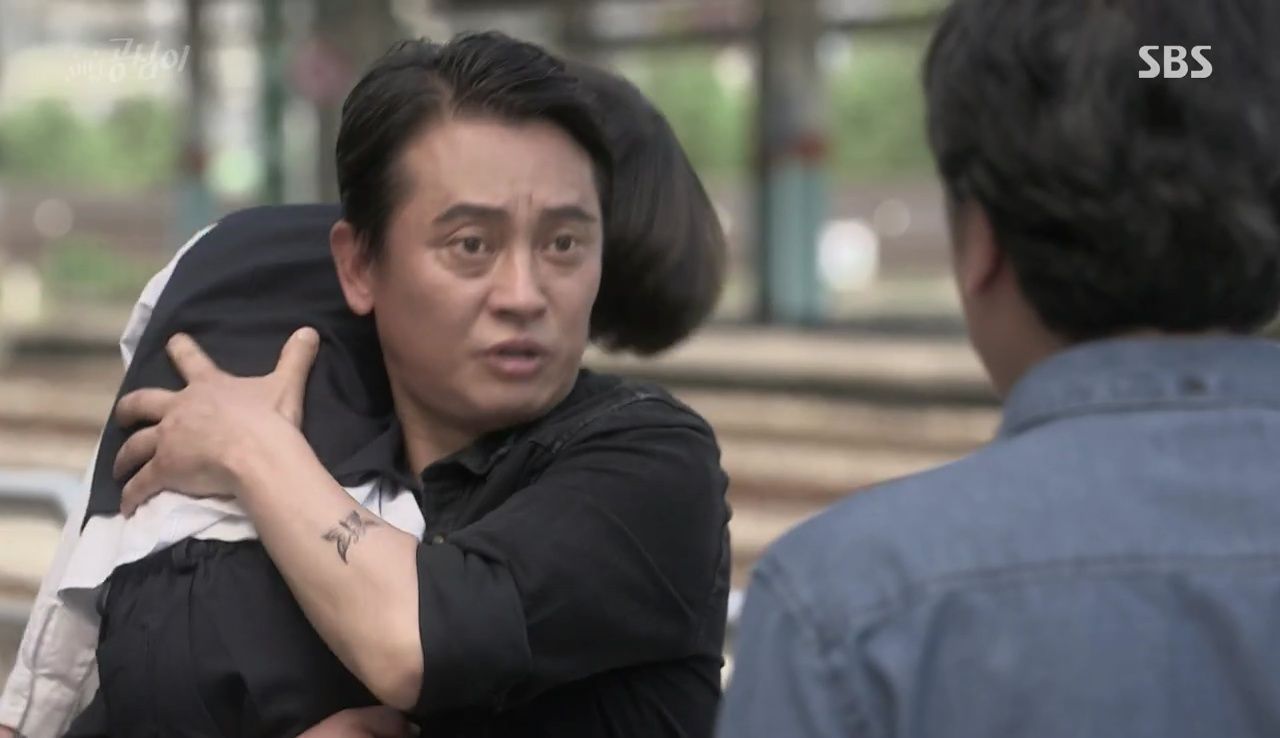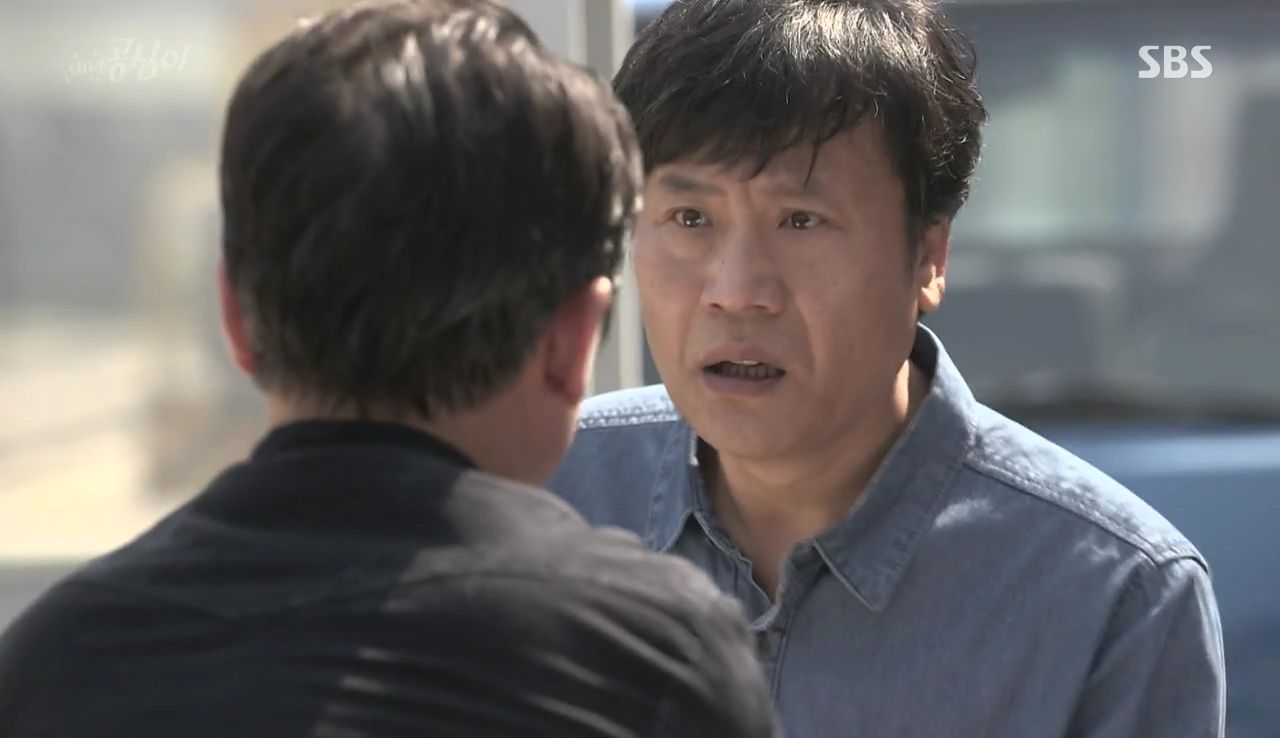 We flashback to the day of Jun-pyo's disappearance. Uncle had snatched Jun-pyo and made Sergeant Ahn take care of him for a day, leaving him with a wad of cash.
The next day, Sergeant Ahn had overheard Uncle reassuring his sister over the phone that he'd kill Jun-pyo or dispose of him somewhere. This compelled Sergeant Ahn to lie to him about losing Jun-pyo.
Back in the present, Uncle is stunned to find that Dan-tae is Sergeant Ahn's son, and he abruptly leaves, visibly shaken.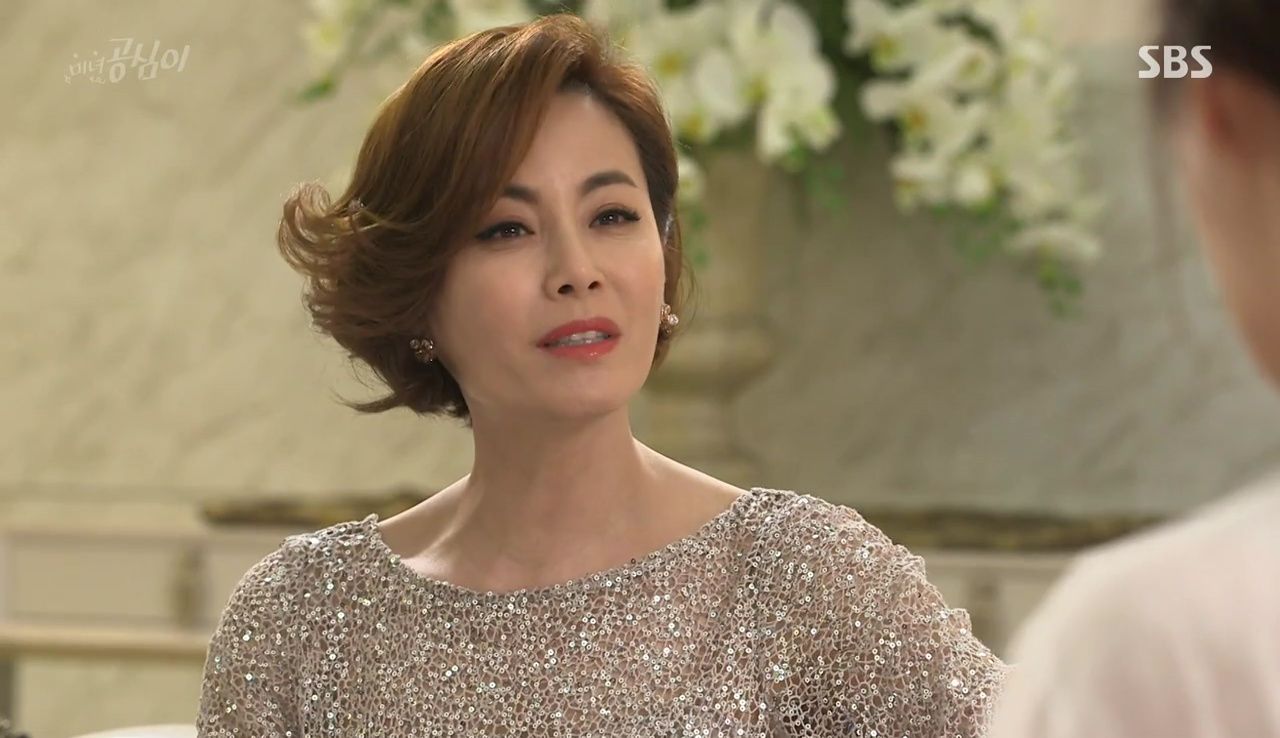 Gong Shim's mom and Jun-su's mom (Jae-boon and Tae-hee) meet up, and Tae-hee agrees to purchase a few skincare kits. Jae-boon's excited that Tae-hee's rich husband will be treating everyone at tonight's pageant gathering, but Tae-hee says he won't be able to attend since he has to hire a new secretary after she fired his most recent one.
Gong Shim's mom is alarmed to hear this and almost loses her cool after learning that Gong Shim hadn't quit, but was in fact fired. When asked why, Tae-hee replies that she tried to get friendly with her son and didn't know her place. Mom is clearly devastated to hear this, but she manages to put up a front and thank Tae-hee profusely when she decides to purchase fifty more skincare kits from her for the charity bazaar.
But at home, Jae-boon tearfully updates her husband on Gong Shim's unfair firing and regrets not standing up for her daughter while Tae-hee was bashing her.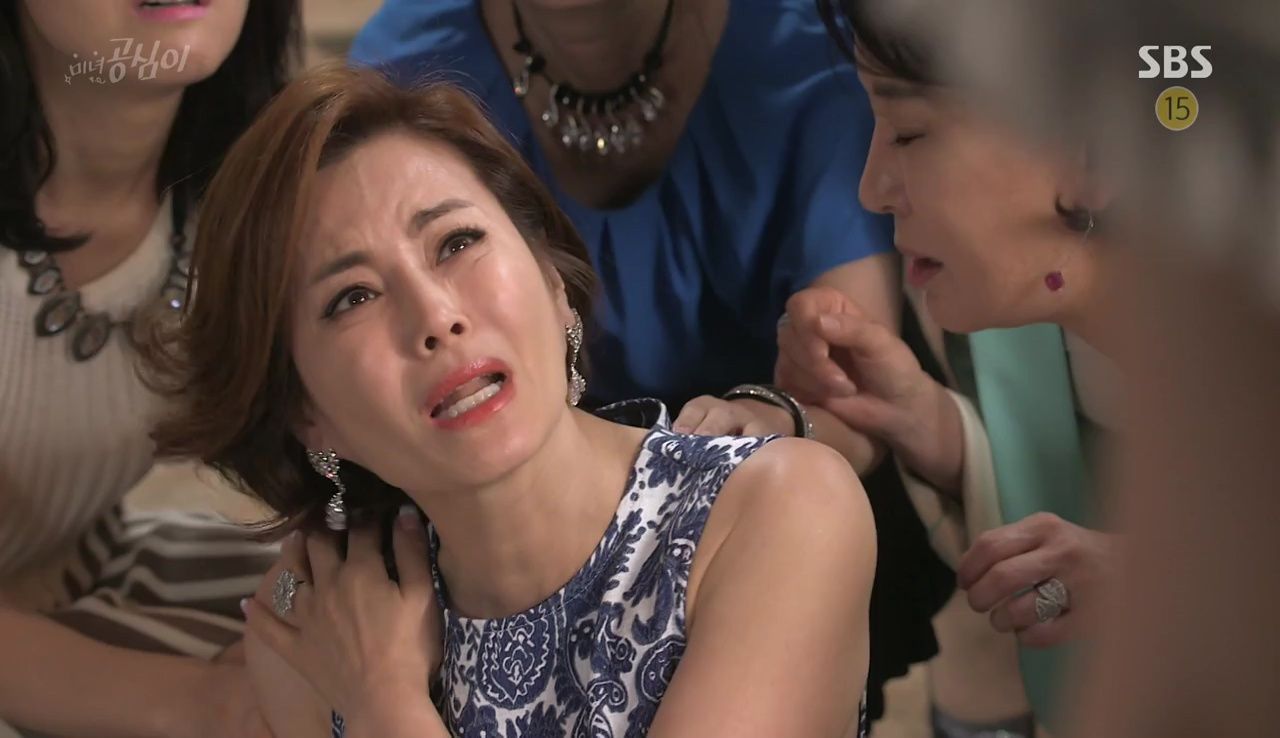 The next day, Tae-hee arrives to the gathering looking chic. Jae-boon arrives next, wearing ordinary clothing and looking like an ajumma, livid. She stares daggers at Tae-hee, who suggests she soften her glare if she wants to continue working in sales. But in response, Gong Shim's mom grabs her and throws her down onto the hard floor. Wow.
Jae-boon shouts that this is just deserts for looking down on her daughter, Gong Shim. Tae-hee is startled to learn that Jae-boon is Gong Shim's mother and tells her friends to call the police, but rethinks it when Jae-boon threatens to tell the media how Gong Shim was wrongfully dismissed. Jae-boon orders Tae-hee to return all the skincare kits she purchased because she refuses to sell anything to her.
To thank Gong Mi for saving their son, Jun-su's parents offer her a job at Star Group, and Gong Mi happily accepts. Meanwhile, Gong Shim's waitressing at a BBQ restaurant, where Jun-su comes to see her and orders takeout.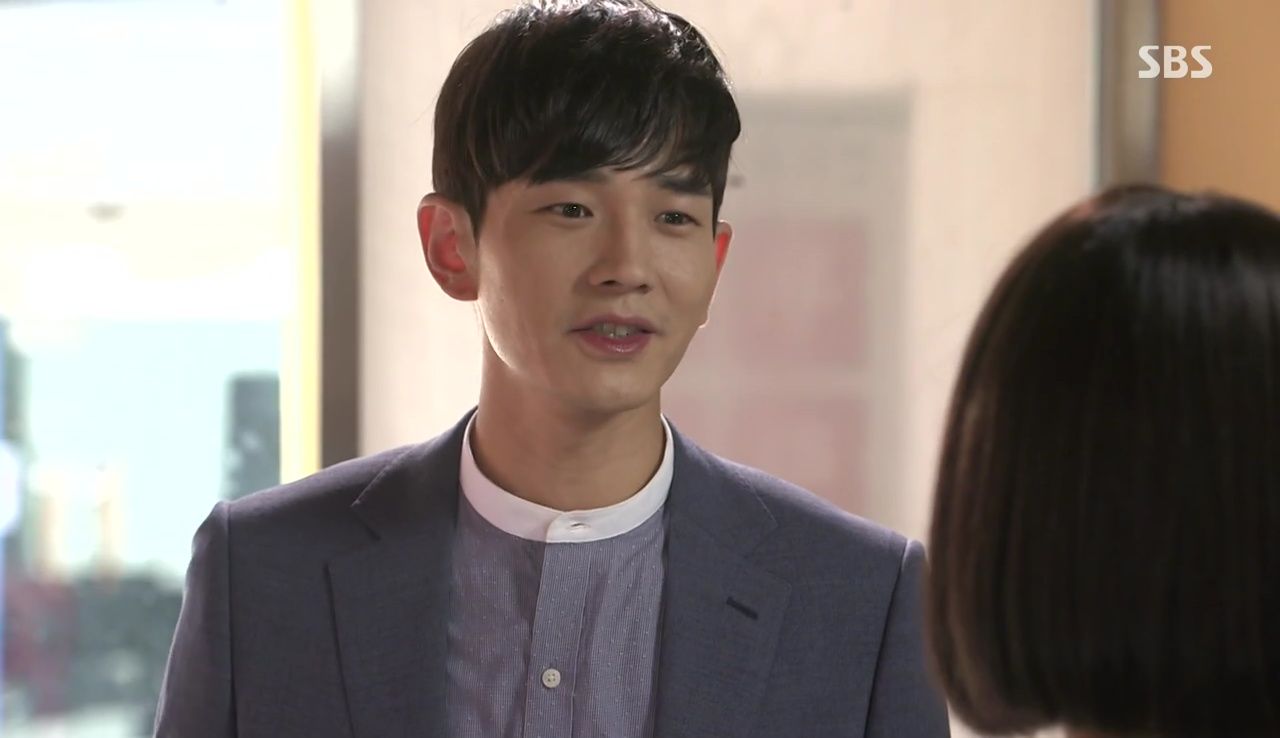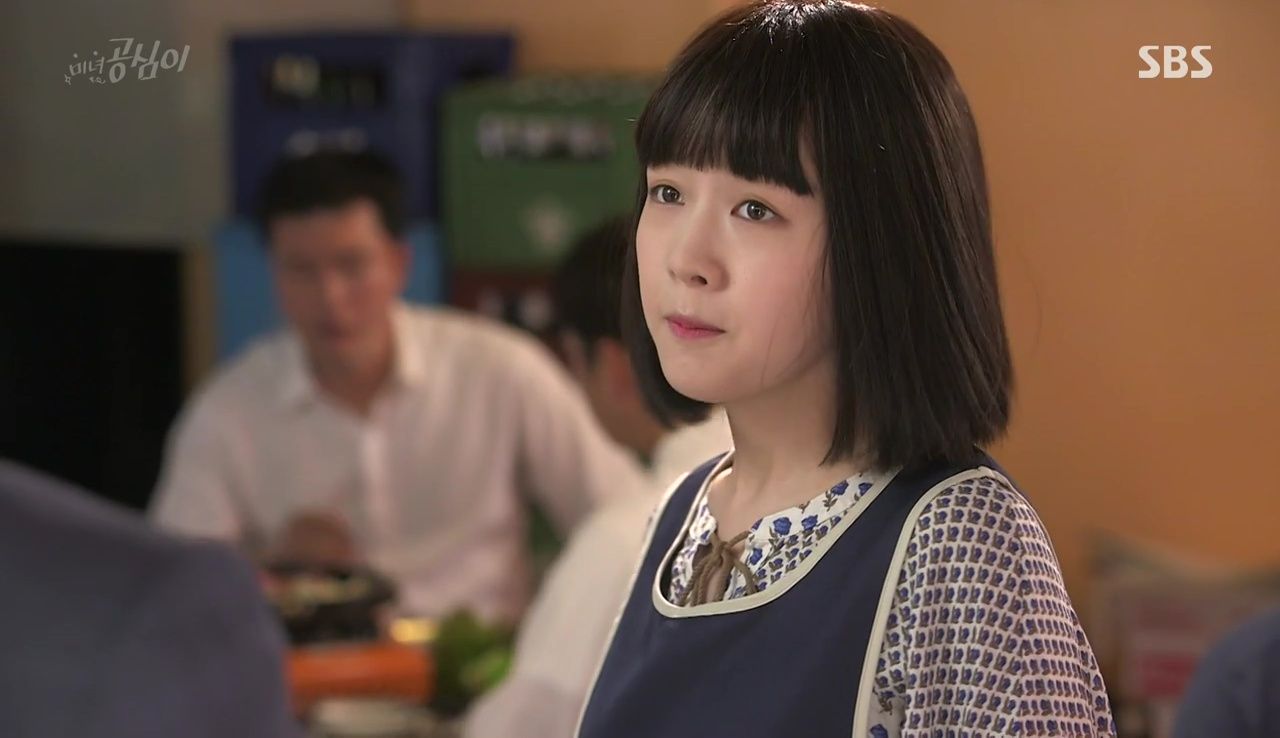 Tae-hee calls for a truce after hiring Gong Mi to Star Group, and orders Jun-su to invite her to his restaurant's opening. He does as he's told, and Gong Mi's thrilled to be invited.
She dresses to impress for the restaurant opening, but her outfit is sullied when she collides with corn-dog-clutching Dan-tae. She shrilly accuses him of ruining her outfit on purpose, while he calmly states that they both should've been more careful. Gong Mi picks up the corn dog Dan-tae dropped and uses it to smear ketchup on his shirt before storming off. Real mature.
Jun-su's family dines at the new restaurant and admires the beautiful interior. Jun-su thanks grandmother for showing up, but she utters that she's only here for business.
Gong Mi arrives late after needing an outfit change and is eager to enter the restaurant when she sees Dan-tae chatting it up with Jun-su inside. She's thrown by his presence and their close friendship.
Dan-tae greets Jun-su's grandmother, and she's delighted to see him. Tae-hee eyes him suspiciously from afar and is not pleased with Gong Mi's no-show.
Dan-tae and his aunt order lunch at an old joint, and the server hands Dan-tae an envelope his father had left behind. Inside is his father's passport; this makes his aunt apprehensive because it means Dan-tae's father isn't in the Philippines like he said he'd be. Dan-tae, however, assumes his father had one reissued to leave for his trip.
After finishing up at the restaurant, Gong Shim sits down to eat with Jun-su. She's doing most of the talking and eating to fill up the awkward silence, when out of nowhere, Jun-su blurts out asking if he can like her. He's earnest in his confession, but Gong Shim is speechless.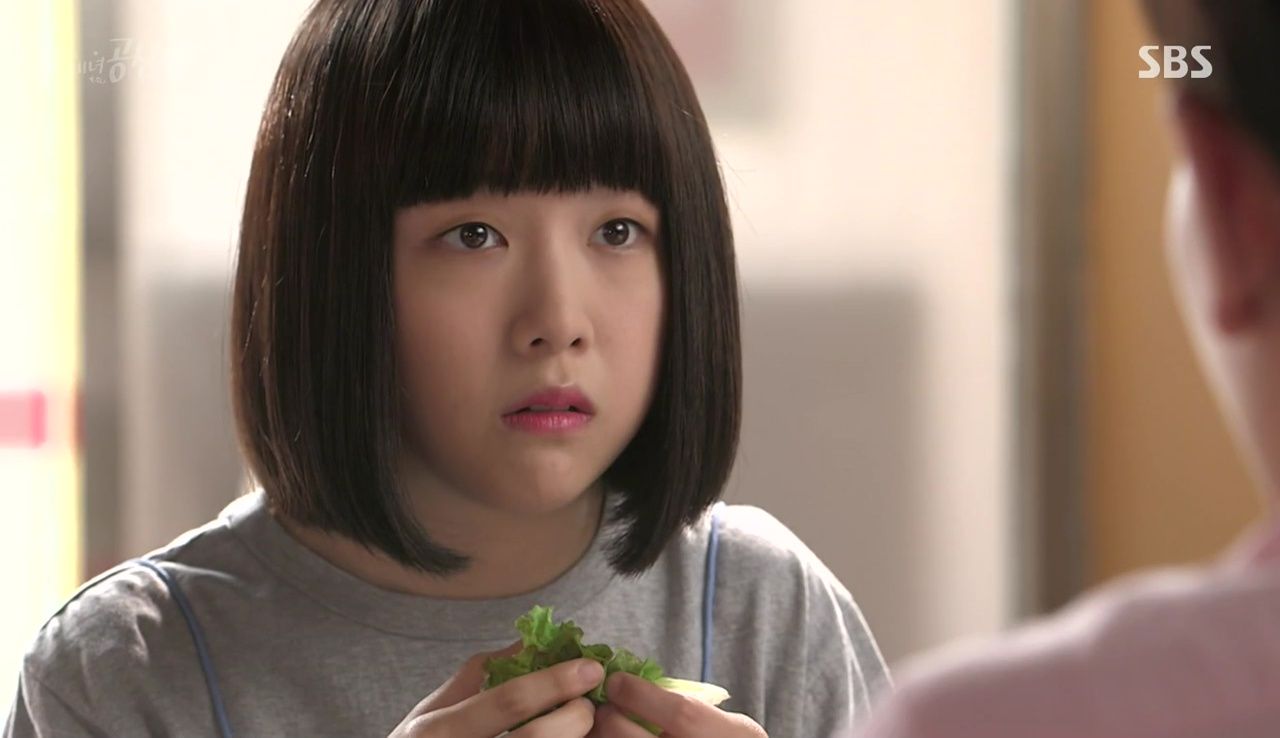 Later, Gong Shim stands on the rooftop reflecting on the times Jun-su complimented her and fixed up her chair. She's got a lot on her mind and Dan-tae notices. He encourages her to vent, but she says she's fine.
Dan-tae realizes that his room has flooded again, but he doesn't seem upset in the slightest because he gets to crash at the Gong abode. Gong Shim says she'll call a plumber this time, and Dan-tae quietly mutters that he wouldn't mind another flooding, ha.
He winks goodnight at Gong Shim, but it causes her to shudder and ask if his eyes hurt. Later on, she gets up to get a glass of water and notices Dan-tae sleeping on the couch with his arms crossed and his blanket on the floor. She proceeds to cover him with the blanket when he frightens her with a "boo!" She doesn't find it funny, but he pushes the blanket off so she can tuck him in again. He turns on the aegyo, but Gong Shim merely gathers up the blanket and chucks it at his face.
Later in the night, Dan-tae smiles as he detects someone pulling the blanket over him. He pulls the "boo!" stunt again — only to get slapped in the face by Gong Shim's father! HAHA.
The next morning, Dan-tae has to use the laundry machine, and Gong Mi's surprisingly civil as she adds his clothes in with the rest of the family's. It's awkward between the two, but she apologizes for her past behavior and hopes they'll get along since they're neighbors. It kills her to do this, and he's surprised by her unexpected courtesy.
Gong Shim and the rest of her family are astonished by Dan-tae happily deboning a fish at the breakfast table with his bare hands. He happily offers it to the family and smacks his oily fingers. Everyone's grossed out by it, but he doesn't seem to notice as he lovingly places a fish eye (considered a culinary treat in Korea) atop Gong Shim's bowl of rice.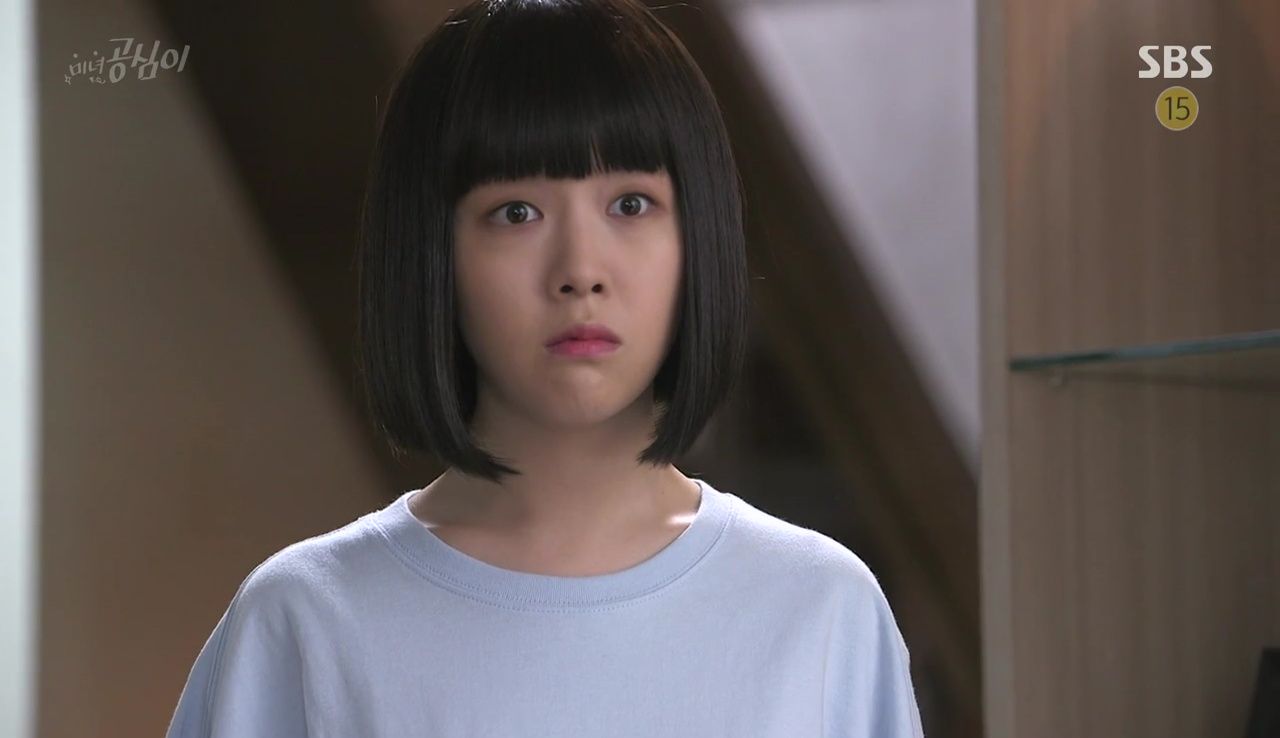 Dan-tae is glad to see that his plant has sprouted, but Gong Shim doesn't share his joy. She reveals that she's been offered a job, but it requires her to move to Jeju to a horticulture farm. After she spends two years there, she'll be able to work at the headquarters in Seoul. She accepted the job because it's relevant to her major and figured it'd be a good opportunity. In response, Dan-tae's hands fly to his head, overwhelmed by the news.
Jun-su thinks back to how his dinner with Gong Shim ended, post-confession. Gong Shim had responded by saying she needed time to learn how to love herself; because she's so inadequate, even if someone likes her, she'll assume it's because they feel sorry for her. Despite Jun-su's attempts to convince her otherwise, Gong Shim states that she's grateful for their friendship, but will need to work on believing she's worthy of being loved by someone.
Back at the rooftop, Dan-tae finally sputters that Jeju is too far, but her flight has been booked and she's set to fly the day after next. He insists she shouldn't leave like this, but Gong Shim admits that she's ashamed of herself and wants to do well on her own for once.
Memories of Gong Shim keep him up that night, and he calls her up to the roof to gently explain why she shouldn't leave.
Dan-tae: "I understand why you have to go to Jeju, but right now, I'm going to be selfish and speak only for myself. Don't go to Jeju. When you're here, I see you every time I open the door. While I'm eating breakfast, I can see you leave for work. When I'm lucky, my room floods, and I can go to your place and see your face there. I really liked that, but if you go to Jeju, then I can't have that anymore. So don't go to Jeju. If you really go, I don't think I can handle it."
Gong Shim's at a loss for words, and Dan-tae urges her to tell him tomorrow that she won't be leaving.
The next day, Dan-tae examines the CCTV footage and sees, to his shock, that it's his father leaving the phone booth. He checks the stamps in his father's passport and discovers that the dates and locations match the timing of the two phone calls, which means the man he chased after near the tree was indeed his father.
His aunt texts Dan-tae's father, letting him know that the tree in Yangpyeong will be removed tomorrow so he should act accordingly. She informs Dan-tae about the removal as well.
Dan-tae is certain his father took Jun-pyo, but the lingering question is: Where is Jun-pyo now? He knows his father is wary of uprooting the tree and wonders what lies beneath it.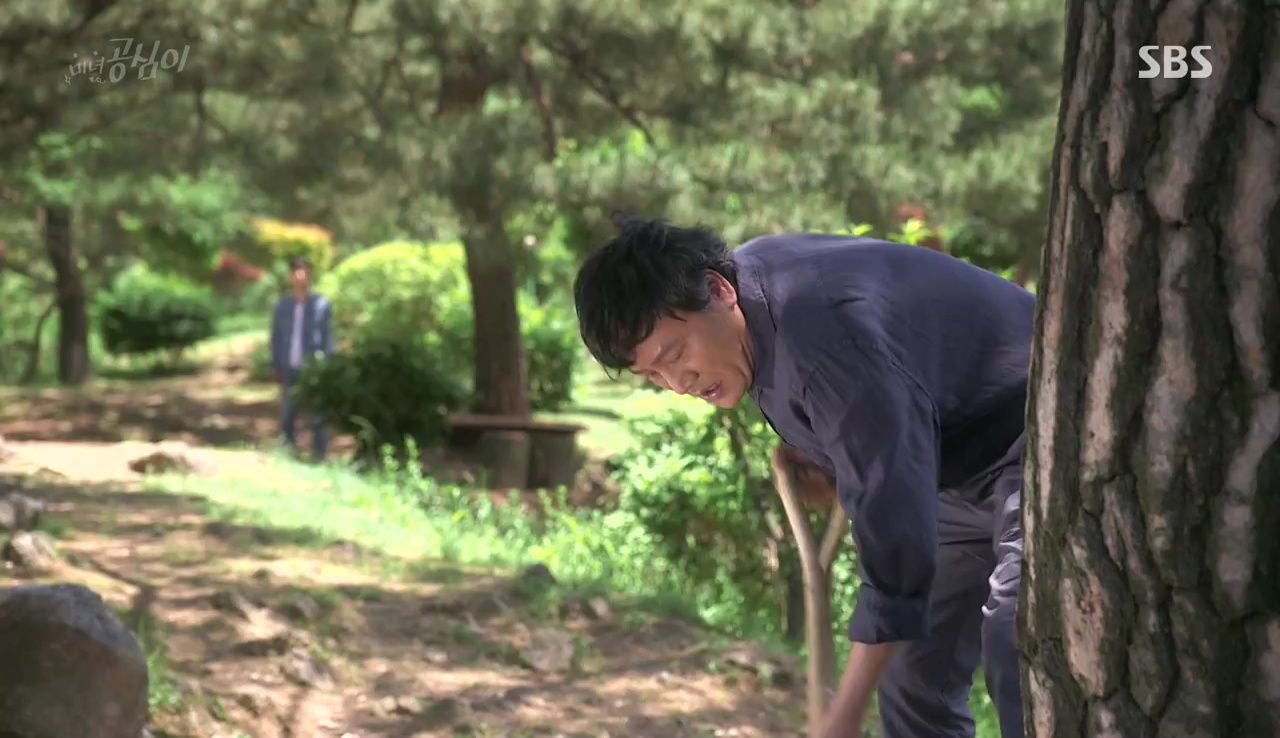 The next day, Dan-tae watches from a distance as his father digs up soil at the base of the tree. He assumes the worst as a look of pure horror crosses his face. He walks away from the scene, unnerved.
Back at home, Gong Shim's on the rooftop when she suddenly turns her gaze, surprised by what she sees.

COMMENTS
What did you see, Gong Shim? Why that face? Props to the show for knowing how to raise anticipation for the next episode. Now we must (im)patiently wait.
Some major events took place in this episode that will inevitably propel both the love story and the birth secret story. Starting off with the former, I really didn't expect Jun-su's confession to happen so soon. It literally came out of nowhere, prompted by nothing really. I do believe it was sincere, if a bit random since it was spur-of-the-moment. However, his line about liking her because he just really likes her was pretty weak, especially in comparison to Dan-tae's confession.
Dan-tae's confession was personal, heartfelt, and specific, basically the antithesis of Jun-su's, and he didn't even explicitly say that he liked her because he didn't have to. He conveyed that he wouldn't know what to do without her, that he'd miss her dearly, and that says a great deal more than a mere "I like you because I like you," because the deeper meaning is such that he needs her. His confession was, like he said, "selfish," but I think he interpreted her wanting to move as a chance to run away from everything that reminded her of how lacking she is, and he wanted to make it clear that she didn't need to because he likes her just the way she is.
I do commend Jun-su for admitting his feelings to Gong Shim because all his life, I'm sure he was stifled by his mother and her skewed worldview. He probably never had the luxury to openly feel the way he feels and act without restraint because of the luxury he was born into. We've seen him say what his mother wants to hear, but do the exact opposite/what's right once she's out of view. He's a grown adult, but his mother tries to puppeteer him every chance she gets, unsuccessfully reminding him that he's above the rest when all he wants is to be on the same level as everyone else. Although he may sometimes come across as rather vanilla, I do like that he's a nice chaebol for a change. Kindness isn't always boring.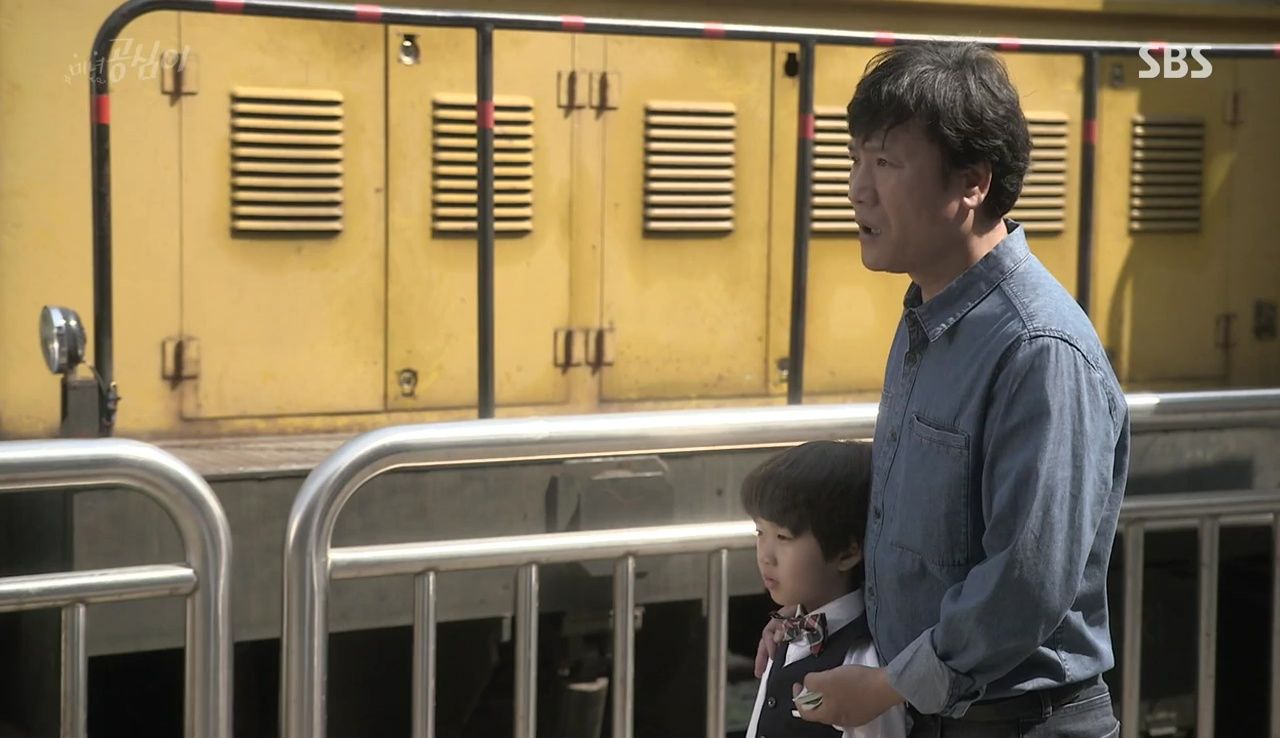 In regards to the birth secret story, Dan-tae now knows his father took Jun-pyo, but is obviously missing a huge chunk of the story involving Jun-su's mother and uncle, as well as the fact that he is Jun-pyo. I think he reacted the way he did when he saw his father shoveling near the tree because he automatically assumed the worst, which in this case would probably be dead Jun-pyo. Everything he knew to be true about his life is now looking as if it isn't. The truth will be a devastating blow for our Dan-tae, who up until now, has been nothing but happy-go-lucky, and for that reason, I'm sort of dreading his impending breakdown.
Last week, there were many unanswered questions about the extent of Tae-hee's involvement in Jun-pyo's kidnapping, and from the looks of this episode, she seems equally if not more culpable than Uncle. The sibling duo is on the same page; they prefer Jun-pyo missing forever or, better yet, dead; as things stand now, they get first dibs on the inheritance and Star Group shares. That's pretty malevolent if you think about it. The death of Jun-pyo's mother may have been an unplanned accident, but kidnapping their family member is downright cruel. Sergeant Ahn saved Jun-pyo, even though it meant growing up with a new identity.
The most heartbreaking moments of this episode centered around Gong Shim. She really doesn't give herself enough credit, and it hurt to see her claim that she's ashamed of who she is and unworthy of someone else's love because she doesn't love herself. Part of me feels like she said that to Jun-su knowing full well his mother would never approve of their relationship, but I think she meant every word she said. She just doesn't see herself the way Dan-tae and Jun-su do, unfortunately, and her recent string of mishaps — i.e., gas station assault, Star Group firing, pyramid scheme — don't do her any favors. I can see why the job opportunity in Jeju would be appealing; she'd be turning a new page in her life by leaving behind all that's familiar. And frankly speaking, the familiar hasn't been all that great. The feminist in me loves that she's willing to take the plunge on a major life change, but the drama junkie in me thinks she probably won't end up leaving for Jeju, for one reason or another, because she and Dan-tae can't be separated, per dramaverse decree.
The biggest surprise came from Jae-boon, Gong Shim's mom. Where did she learn to judo? That judo flip was amazing! Her fiery defense of Gong Shim was a long time coming, but it came when it mattered. It won't undo the inferiority complex ingrained in her daughter after years of putting her in Gong Mi's shadow, but I'm glad she stood up for Gong Shim and realized that her daughter doesn't deserve to be treated so poorly just because she's not a constituent of the wealthy elite.
Gong Mi continues her Gong Meanie streak. She was relieved when Gong Shim left her job because then she wouldn't have to worry about Jun-su's family finding out about her relation to Gong Shim. It also meant Gong Shim would no longer get in the way of Gong Mi's pursuit of Jun-su. How very selfish. She may have been nice when Dan-tae crashed at her home, but I think she did that after learning how close he is with Jun-su; she'd probably want to be on his good side. Also, her parents were nearby so being mean to their overnight guest wouldn't be the best idea. Her eye-for-an-eye approach with Dan-tae's corn dog was so petty; she actually took the time to stoop down, grab the corn dog from the ground, and rub it against his shirt like a crayon. Had she been a kindergartner who didn't know better, I would maybe have sympathized, but she's an adult and a lawyer at that. Surely she should know by now how to control her emotions.
While this episode was quite sad, the funny moments still evoked laughter. The "star-shaped" scheme was hilarious, shady scammers and all. I actually jumped when Dan-tae frightened Gong Shim as she was covering him with a blanket, and I loved when his second attempt to spook Gong Shim backfired and resulted in a slap from Gong Shim's startled father. I squirmed along with the Gong family when he was getting touchy with the fish, but I gotta hand it to Dan-tae for unabashedly being his odd self and wearing his love for Gong Shim on his baggy sleeve.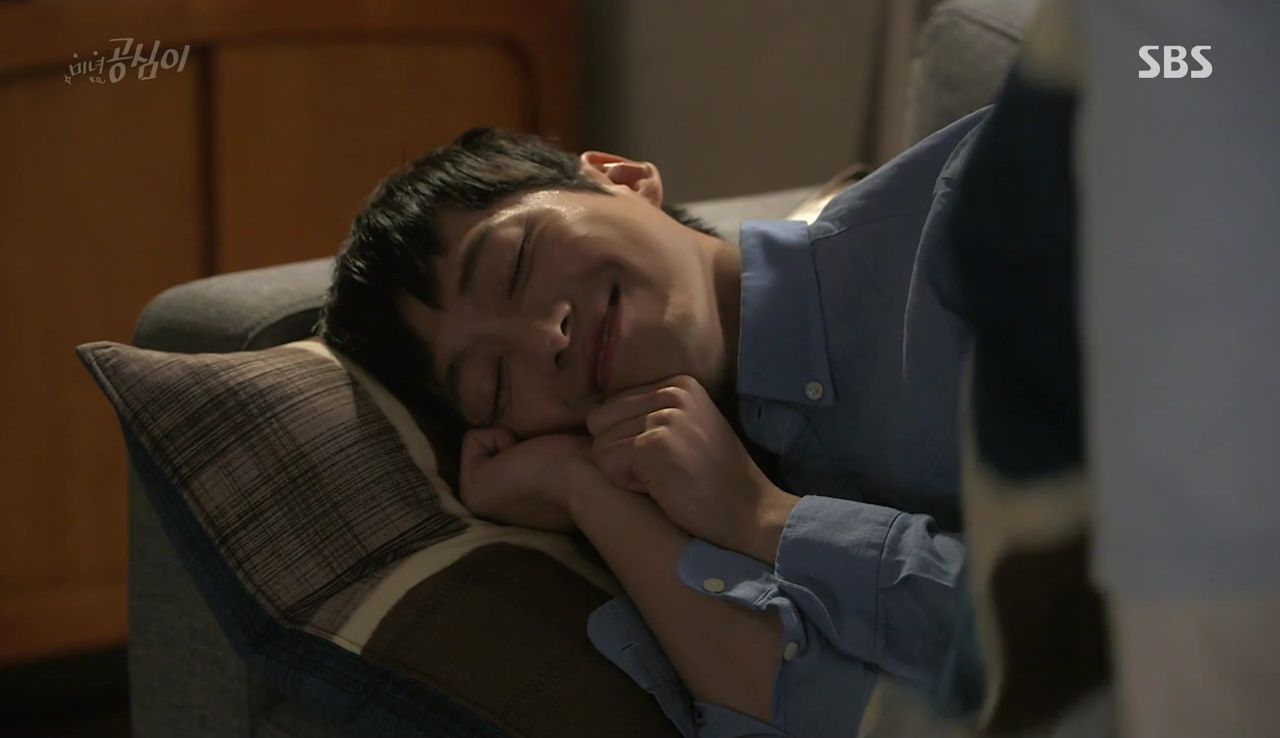 RELATED POSTS
Tags: Beautiful Gong Shim, Episode 8, featured, Minah, Namgoong Min, Ohn Joo-wan