Spill the Beans: Confiscated drama-watching devices and frightened parents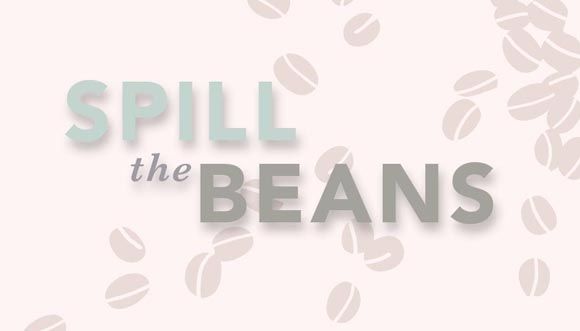 Far be it from us to tell you that dramas aren't important, but stay in school, guys! Do your homework! Once we find the opening to the fourth dimension, y'all will be the first to know, but until then, those flower boys aren't going to do the studying for you! (Trust us, we've tried.)
To submit your story, email us your stories, and we'll keep sharing them as long as you guys keep sending them in.

It's okay, yuja. We know the struggle. (Dare we ask what the other half is, though?)
So I was mostly dismissive of kdramas for a really long time, despite being born to a Korean household of intense drama fans. My parents immigrated to Canada when I was a baby and it was difficult to watch kdramas for probably a long time. But once they found out how to get them (primarily VCRs, CDs from a sketchy Korean supermarket in those early days), they went really nuts with it. The problem was, we only had one TV. With my parents hogging it during primetime, I could never watch my American shows. Plus, if it was something my parents were into, it couldn't possibly be any fun for me, right?

So growing up, I just wasn't interested. That is (dun dun), until my mom started watching Boys Over Flowers. I don't think I even really liked it. I distinctly remember wanting to punch Gu Jun-pyo in his smug little face. But god, if nothing else, it was SO ADDICTING. I needed to know what happened. Too bad my mom decided she was bored of it. So I had no choice but to find it and watch it myself. And I did. And then I started watching Coffee Prince. And then You're Beautiful. And it was like the dormant crazy kdrama fan genes were activated. There was no going back…

Since then I've:
– Accidentally ended up marathoning a 12-episode drama in basically one sitting until literally fainting from exhaustion.
– Stolen my neighbour's wifi (ours was down) to watch the last episode of Two Weeks.
– Gotten my phone confiscated for trying (and failing, thanks to shitty wifi) to watch kdramas during class.
– Gotten my iPad confiscated for trying (and failing) to watch kdramas during class.
– Locked myself in a suite bathroom at a party so I could watch the last episode of Healer in peace.
– Scared the shit out of my roommates, sobbing on the living room couch at 2 A.M., trying to watch Queen In-hyun's Man through my tears. (This has happened multiple times since then but they are no longer fazed)
– Finished 123 episodes of High Kick 3 in the span of about 10 days.

THIS IS NOT EVEN HALF OF IT. I BLAME MY PARENTS.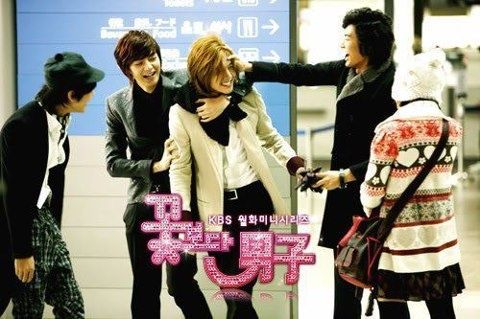 The drama love is strong with jyh:
Hello Dramabeans,

I've been actively reading this twice every single day (once before sleeping and once when I wake up) since five years ago, when my addiction for Korean dramas officially started. I've been watching Korean dramas on my local television channel since ten years ago, but they only showed long and dramatic crazy family dramas and the occasional sageuk, so I was never in love with it but still watched it with my family.

One day, my then-best friend (current frenemy due to stuff that happened) was going crazy about a boy named Lee Hong-ki and Jeremy who was the same person from You're Beautiful. After her annoying encouragement, I gave it a try and didn't like it. I was thirteen back then and I found it so childish, but I discovered a gem: Jung Yong-hwa. I fell in love with him despite his straight-faced acting and was so eager to see him back with more dramas. He did come back a year later with Heartstrings which I didn't enjoy… (I still love him like crazy.)

Secret Garden was the real first love Korean drama for me, the first ten episodes bored me but I was crazy in love with Episodes 10-20 and I rewatched the whole drama series about twenty-five times and I just couldn't move on. When I finally moved onto My Girlfriend is a Gumiho, the same process and agony occurred once again. (I stayed up all night watching dramas and I also got retained twice because I did zero studying).

One of the dramas that made me literally go crazy was Master's Sun. I was so in love I stayed up all night waiting for the subs and I cried in school when it wasn't out yet, LOL. The power of love.

I've watched a total of at least 100 dramas (including Taiwanese dramas) since ten years back. I have no regrets, despite my report book saying otherwise.
We're more than glad to have you aboard, Mae Pearl. Thanks for the love!
I was reading an article about another person who became interested in Korean culture, and I too have fallen in love with Korean dramas. I was in middle school when Boys Over Flowers came out, and my best friend who was Korean always talked about how cute the four flower boys were. I was like eleven and had no idea what she was talking about, so the idea of having to watch something in another language had me very skeptical until one day when I was super bored at home and decided to go online and look up this Korean drama she kept going on about.

Well, it was very addicting to say the least, and I began to watch it every week, all excited that two episodes aired instead of just one like over here in the USA. After it ended, I looked up more and found You're Beautiful, Full House, and more until my whole life involved a daily dose of Korean dramas. Soon, I found this amazing website with recaps that allowed me to relive the dramas by reading, and soon my reading comprehension skills went up and I started to want to know everything about Korean culture.

I remember crying my eyes out while watching A Werewolf Boy with Song Joong-ki, who is my favorite. I've never been to Korea, but I do write blogs about Korean dramas and kpop music videos I love. I've made so many new friends online and in person who have this same feeling of interest and devotion to this amazing culture. I want to thank Dramabeans for always keeping me updated on my favorite shows and showing me that I'm not alone in this addicting kdrama world.
Ana Beatriz is a great example of a drama fan who gives back to her community, as she shares below:
Let me try explain how my addiction to dramas started and became a big part of my entire life…

Everything started in a sunny day (well, every day is a sunny day in Brazil, but ok) of 2010, my second year of high school. The year had just started and, as usual, the classes were mixed up so there was a lot of people that I didn't know in my new class. One of these people was a friend of one of my friends so I also became friends with her. That new friend had a sister and my new friend's sister had just discovered the wonderful world of dramaland. She was in the time of addiction when you want EVERYONE around you watch the dramas you love, so she gave me A LOT of DVDs with A LOT of dramas, Japanese mostly, and told me to watch "when you have some time."

Yes, I had some time so I gave it a try. BEST THING I DID EVER… OR MAYBE NOT. I watched everything in matter of weeks! That was it. I was addicted and could not do much about this anymore. After that, I watched dramas back to back like crazy. (REALLY! My mom was really worried about it. HEHEHE.) The following two years was like this, dramas all the time. I just talked about dramas. I was practically living off them. (Luckily it didn't compromise my grades). After this two years, there was nothing subtitled in Portuguese that I hadn't watched, so I started to watch dramas subtitled in English (even if my English was not that great).

Dramafever and Viki had started to become popular, so I could watch a lot of dramas in "real time," and thanks to Facebook I could "meet" other people to share my craziness. Everything was great until I realized that just few people could watch the dramas I could watch. Either because of the access to Dramafever and Viki or because they couldn't understand English, so I thought: "Bah, I can do this much for my people, I can subtitle these dramas and let people be happy." And then I started a fansubber. It was me alone at first, but, after some time, more people came to help and we could form a great team.

My initial idea was to subtitle dramas that were airing in Korea, and it worked very well. A lot of people supported the idea, a lot of people were happy with this and, in some time, the "old fansubbers" started to subtitle the dramas in "real time" too, following the new trend I had started. Everything was great and still great for us. My love, our love, for dramas allowed us to not just to watch and enjoy, but also to help people enjoy them, and that feels great. The fansubbers have grown a lot in the past years, as well as the team. I'm still the leader, or the "Boss" is how they call me, but now we are a group of twelve, working on five parallel projects and some others "cold" projects.

In 2014, I went to Korea as an exchange student so I could fulfill my dream and the dream of many others. It was a great year, perfect actually. I could understand a little more about culture and costumes and I could finally live in the reality we just see in dramas.

These days, time is a little complicated. I'm in university during the morning, in work during the afternoon and at home working on subtitles or watching dramas during the night. How do I have time for all this? Well, you can sleep just four hours and use the time you "lose" in transportation to do something useful, like study or translate, or read… There is always time for something you really love. Yes, I should really get a boyfriend, but, nah, I'm ok with it. HEHEHE And, of course I have time for friends and family. I get out too! I even go to parties on the weekends! So dramas are a big part of my life, like 80%, but I do other things too…

Just to finalize, I would like to say that, during all these years, I've been reading Dramabeans and keep being amazed by how you guys can express all my feelings in a recap. This blog has contributed A LOT to my addiction and had showed me that I'm not alone in this world, so thank you a lot! Really love you, guys! That is it! Please forgive any english errors. Bye bye!
(Since a specific drama wasn't mentioned, I inserted a picture from A Love to Kill, which helped to jumpstart my drama addiction.)
Classy Glass shares her experiences with others who've come into the fold. We can all thank King Sejong the Great for making Hangul so easy to learn!
I have two stories to share, but both are not mine; they're my friends' stories, who have been extremely influenced by Korean dramas and Korean culture.

So my first friend is Vietnamese, and I saw her practicing writing the Korean alphabet in her notebook. So I asked her why she was writing Korean, and she told me her entire story. She got so into Korean dramas that she wanted to learn the language, and I was actually pretty impressed by that. She then proceeded to ask me if I watched some drama and we would fangirl about it together. When she signed my yearbook for that year, she wrote "saranghae," (obviously with Korean letters) though she funnily spelled it wrong and wrote "salranghae." I pointed out her mistake. The next year she signed my yearbook, she wrote it correctly.

My second friend I met in gym class, and she's African American. That class, we weren't doing anything significant so we were screwing around and whatnot. I happened to see her phone case and there was a Korean word on it (can't remember what, though) and the handwriting was really good, so much so that I actually thought the second friend was half-Korean. Turns out she just really liked kpop and Korean dramas, so much so that she actually learned the language and is pretty fluent in it. I'm Korean, and I think she's actually better at Korean than I am.

But yeah. Ten years ago, I remember when I told people that I was Korean, they would ask where that was. Now, Korean media and culture has so much influence throughout the world that people even learn Korean just to further indulge in the culture. It's pretty amazing.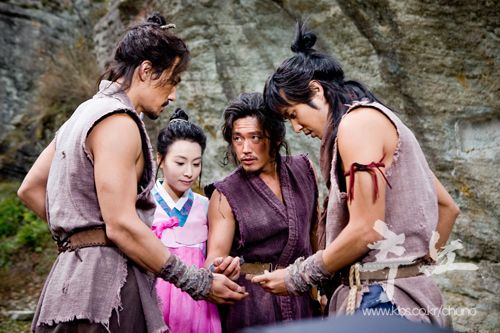 Okay, that last picture was also from one of my biggest addictions. We can't help the ones we love! We'd love to hear more of you guys' stories, so feel free to email us and submit them.

RELATED POSTS
Tags: Spill the Beans