Running Man: Episode 308
Coming in second to last will be no easy task this week, especially when so few people know about the true objective. There are two secret agents among the group, trying their best to keep their own covert mission under wraps. While that's going on, the others will be busy using their brains to remember old classics, testing their taste buds for hidden ingredients, and practicing their hand-eye coordination.
EPISODE 308. Broadcast on July 17, 2016.
There's a secret meeting ahead of today's opening between Myuk PD and our first guest: actress Kim Hee-ae. She's here to promote the upcoming weekend drama Second to Last Love, and will be operating as a secret agent with her own personal mission to complete.
Doing so will earn her healthy food items and a gold prize, and Hee-ae understandably perks up at the mention of gold. Her mission: Make sure that the Running Man cast member who chooses the second to last number between 1-9 (see what they did thur), which is 8, get second place overall.
But she better be on her toes, because there's another secret agent running around these parts.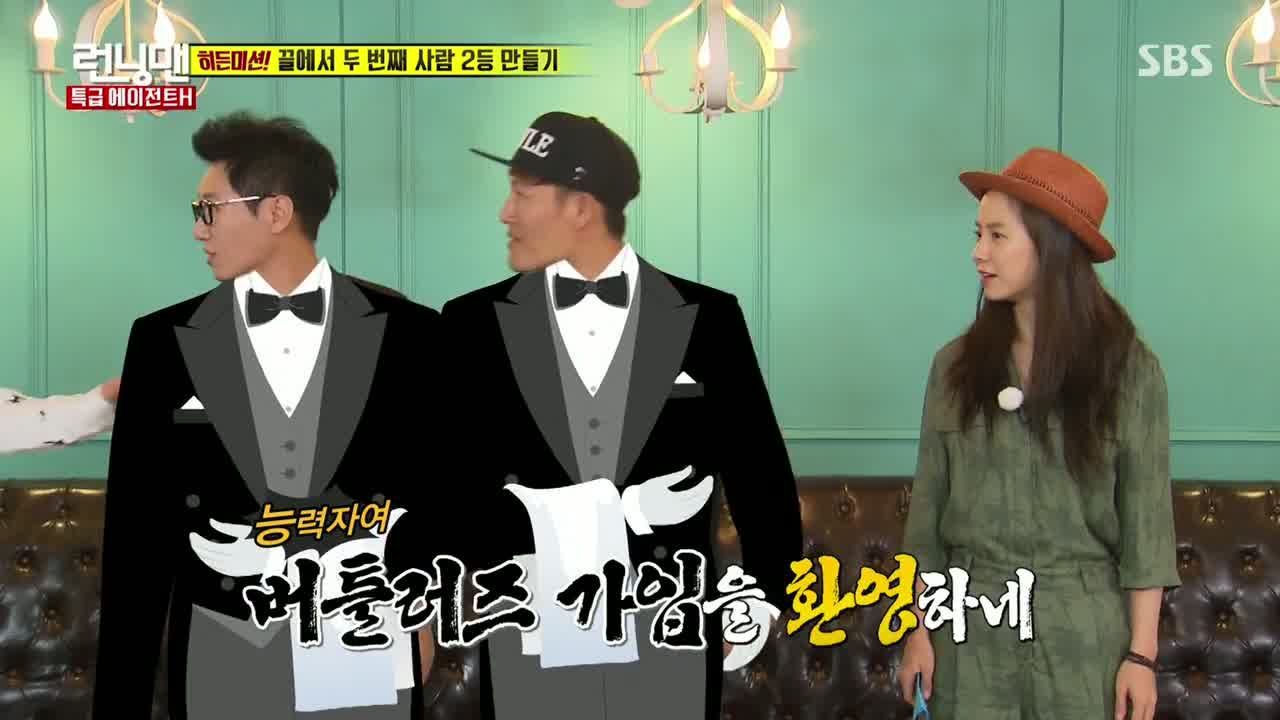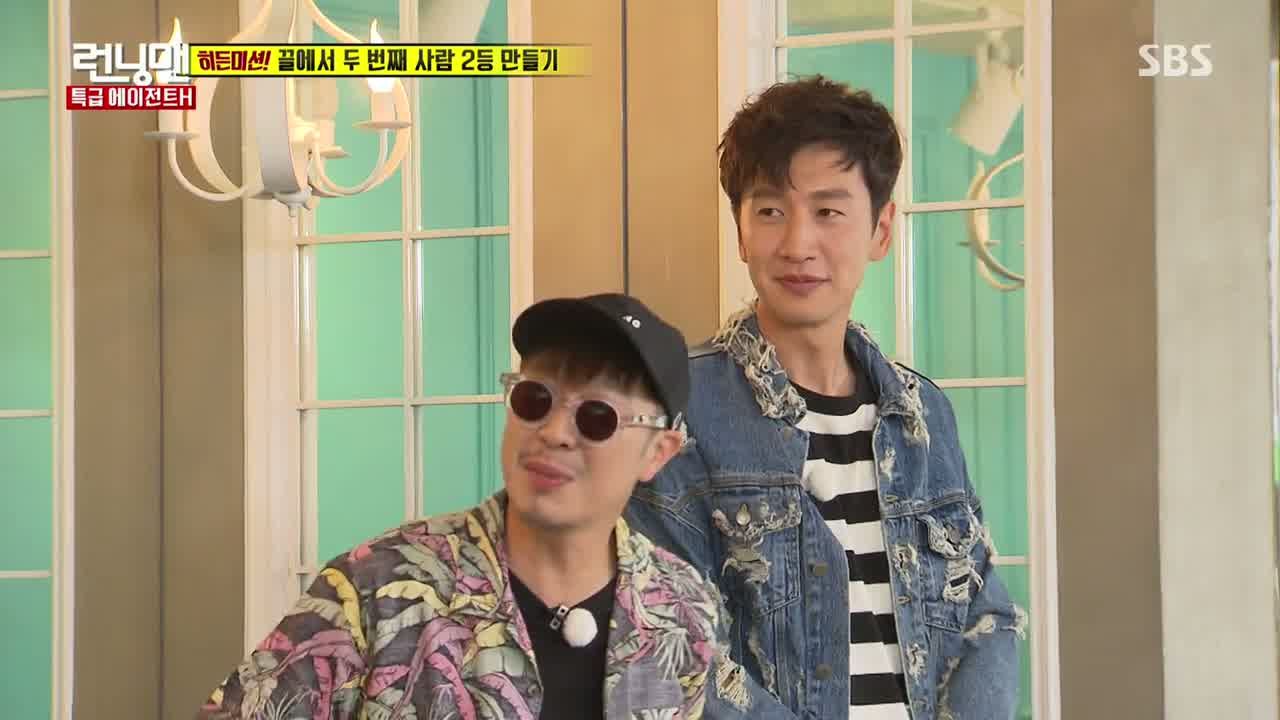 Then it's time to catch up with our Running Man cast, who all randomly choose a number. We quickly learn that Haha is No. 8, and Jae-suk teases him for his tropical shirt and round sunglasses when they line up inside.
They'll be split into three teams today—Jong-kook finds himself sandwiched between the Easy Brothers. There's some confusion when Ji-hyo enters stating that she's No. 6, and as it turns out Kwang-soo misread his number "9" for a "6".
Which means our team breakdown is as follows: Pink (Jae-suk, Gary); Yellow (Suk-jin, Jong-kook, Ji-hyo); and Blue (Kwang-soo, Haha).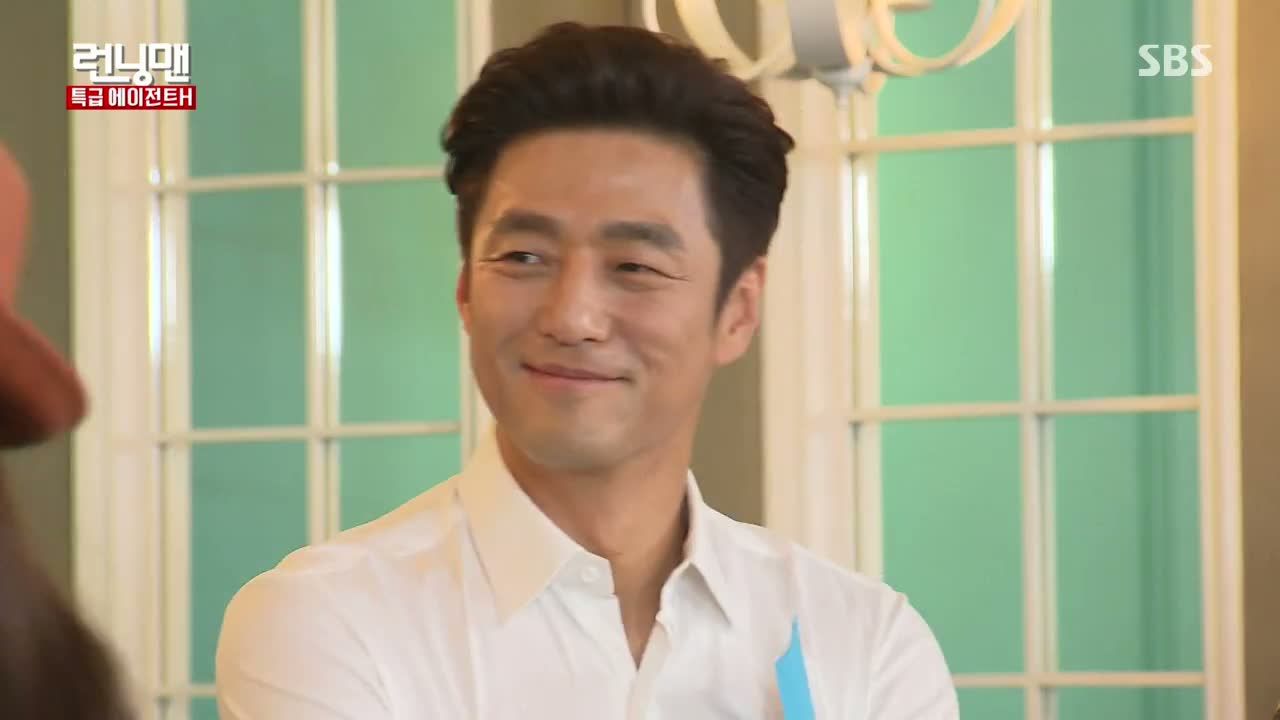 Our next guest's arrival completes the Blue Team: actor Ji Jin-hee. Agent H aka Hee-ae automatically joins the Pink Team, and she's ready to get the games started.
While everyone admires at the luxury health food goods, Hee-ae make sure to check out who's No. 8 and scan for the other secret agent. Once they're in the car, she shares how the staff nipped her worries about not understanding the rules to the mission in the bud by explaining that Suk-jin (who's older than her) still doesn't understand as a fixed cast member.
Cut to: Suk-jin, who doesn't know the framework in today's race. Lol.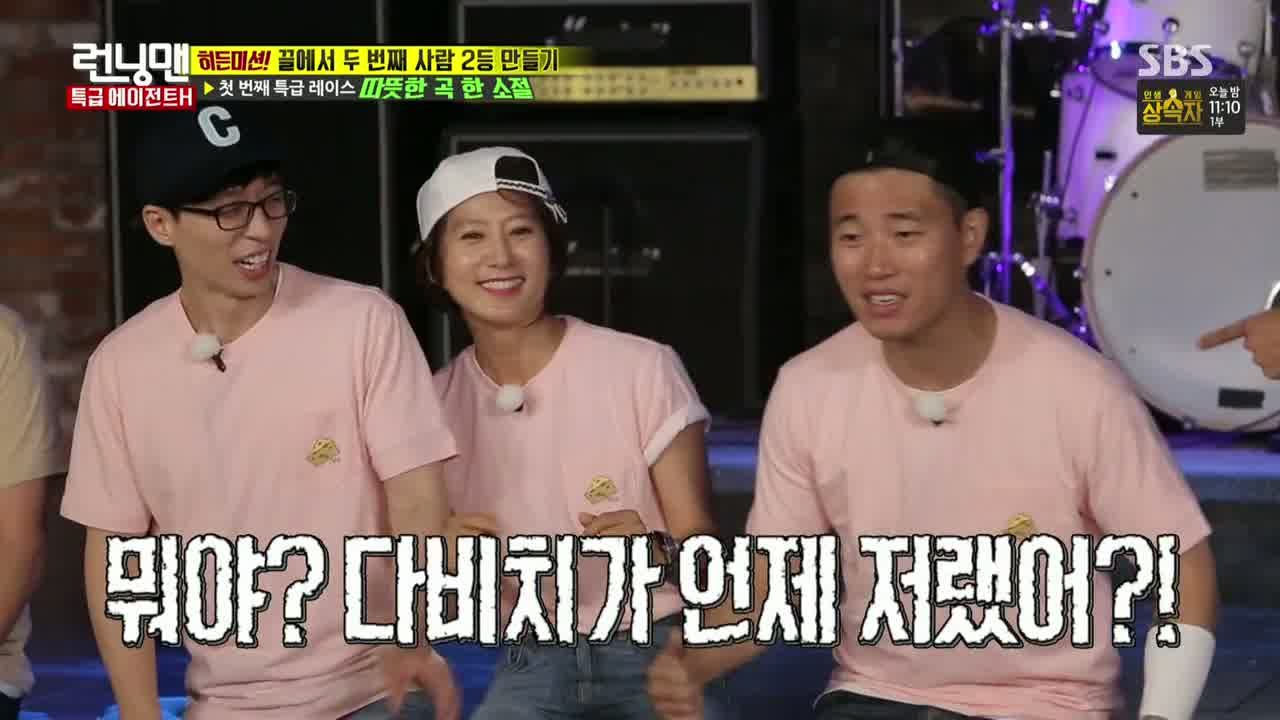 Everyone gathers together at the first mission location, where Jin-hee's suspicion radar is already on high alert. It's a three-legged music quiz where our teams will collectively guess the correct song and artist. Getting the answer wrong, however, means a blast of air to the face.
Round 1 will tackle songs from the 2000s, and Kwang-soo recognizes the first song from the first few bars. Both the Blue and Yellow Teams fail to answer together, though they all cry out when Gary doesn't quite get Davichi's "8282" (pronounced pal-yi, pal-yi) right: "He said 'hurry, hurry' (bbari, bbari)!"
Haha argues that Gary doesn't even know the melody, and Jae-suk quickly whispers the catchiest part of the tune into Hee-ae's ear. In the end, the point doesn't count.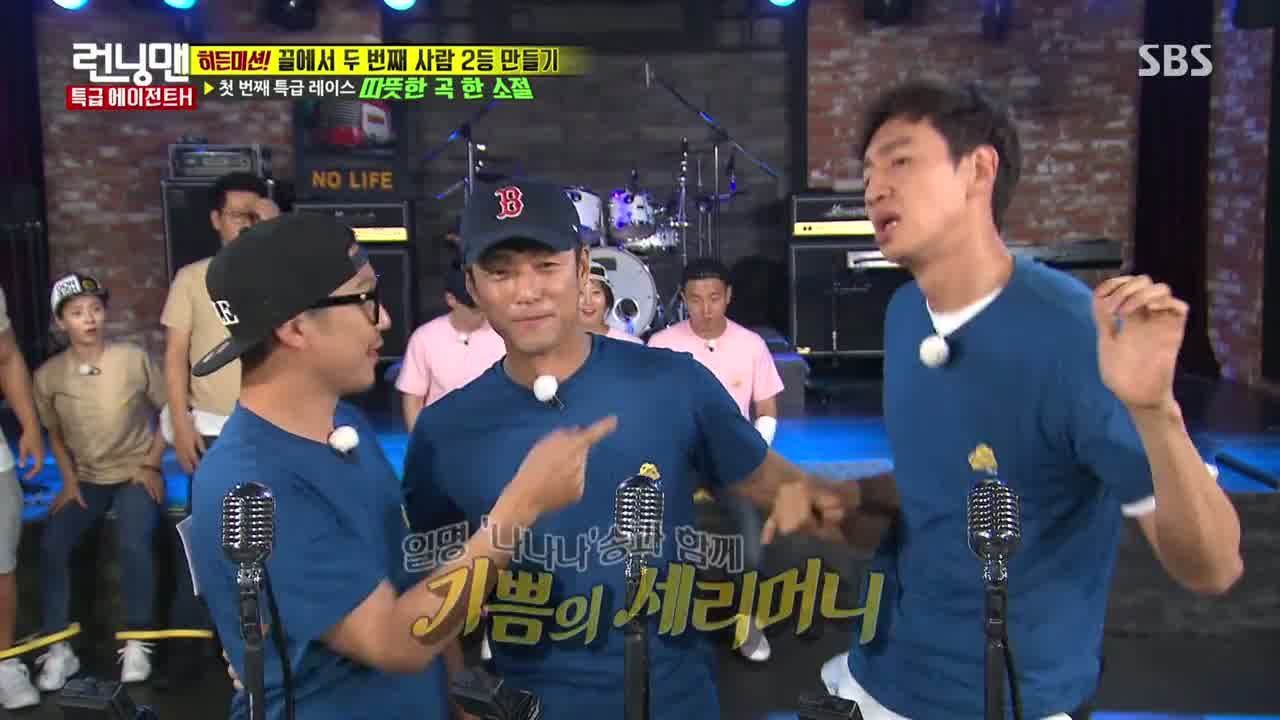 Both Haha and Kwang-soo know the artist to the next song, but that's not enough. The Pink Team gives the correct answer of Ivy's "Sonata of Temptation", and Kwang-soo correctly identifies Chaeyeon's 2004 single "Two of Us."
The others are quick to point out that Jin-hee doesn't know the dance, but that's when Jin-hee opts to copy his partners' dance moves. The Yellow Team picks up a point to tie up the game, then the next song is Kwang-soo's go-to at the noraebang… which the staff promptly cuts out. Hehe.
Everyone recognizes the next tune and the Blue Team celebrate after making their guess, only to learn that it's incorrect. The Yellow Team swoops in for Baek Ji-young's "I Won't Love" and scores another point with Rain's "It's Raining."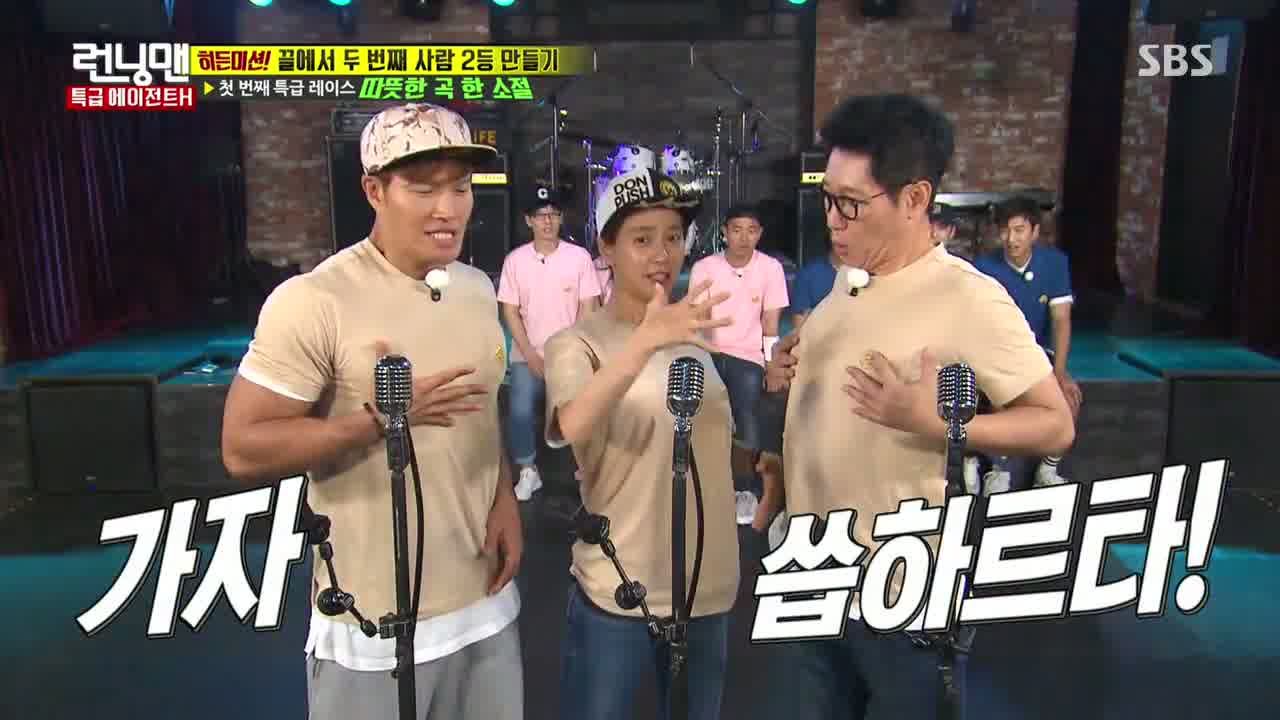 Gary knows Brown Eyes' "Don't Go, Don't Go" since he's the lyricist, and then Hee-ae seems to know the piano melody of the next ballad. She takes a shot in the dark, but that's wrong, then everyone rushes to the mics when they hear the first few words.
It's Park Sang-min's "One Love", and not only does the Yellow Team get that question correct, they also scoop up another point with Jewelry's "One More Time." So the Yellow Team wins Round 1 with five points (but getting 3 points for the overall game).
Round 2 will tackle songs from the 1990s, and the Pink Team correctly identifies the first single as Kim Jong-seok's "You Do Not Answer." The Pink Team hops up before they formulate an answer for the second song, then the Blue Team gives the correct answer: Lee Jung-hyun's "Change."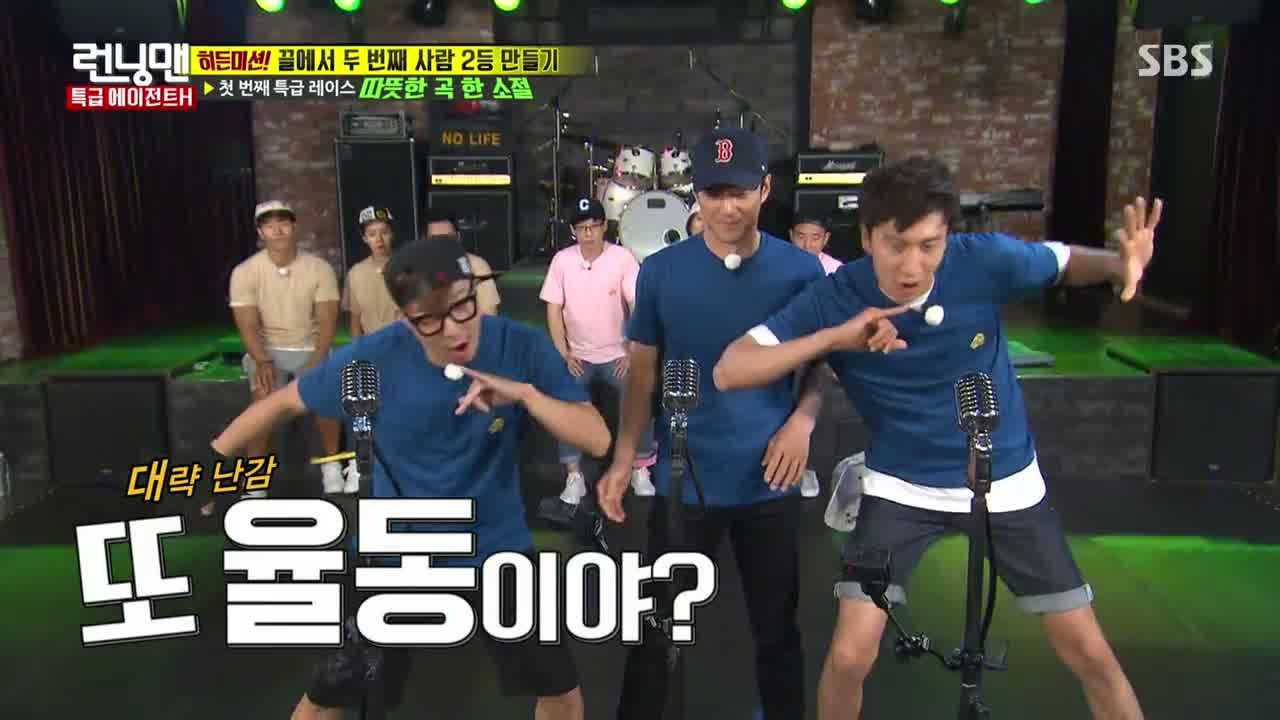 And while Kwang-soo and Haha know the choreography, Jin-hee sweats and stands in place. The Pink Team scores two more points to lead with 3 points, then we skip ahead to when the Pink Team are one question away from winning Round 2.
The Yellow and Blue Teams hop forward without a second thought, and they're oddly courteous to one another, allowing the other team go first since they have no idea what the song is themselves. LOL.
Both teams run up once they hear the first few words of Marronnier's "Cocktail Love," which Ji-hyo incorrectly identifies as "Marronnier's Park." The Blue Team swoops in to grab that point, and somehow after the two rounds, all the teams are tied in overall points.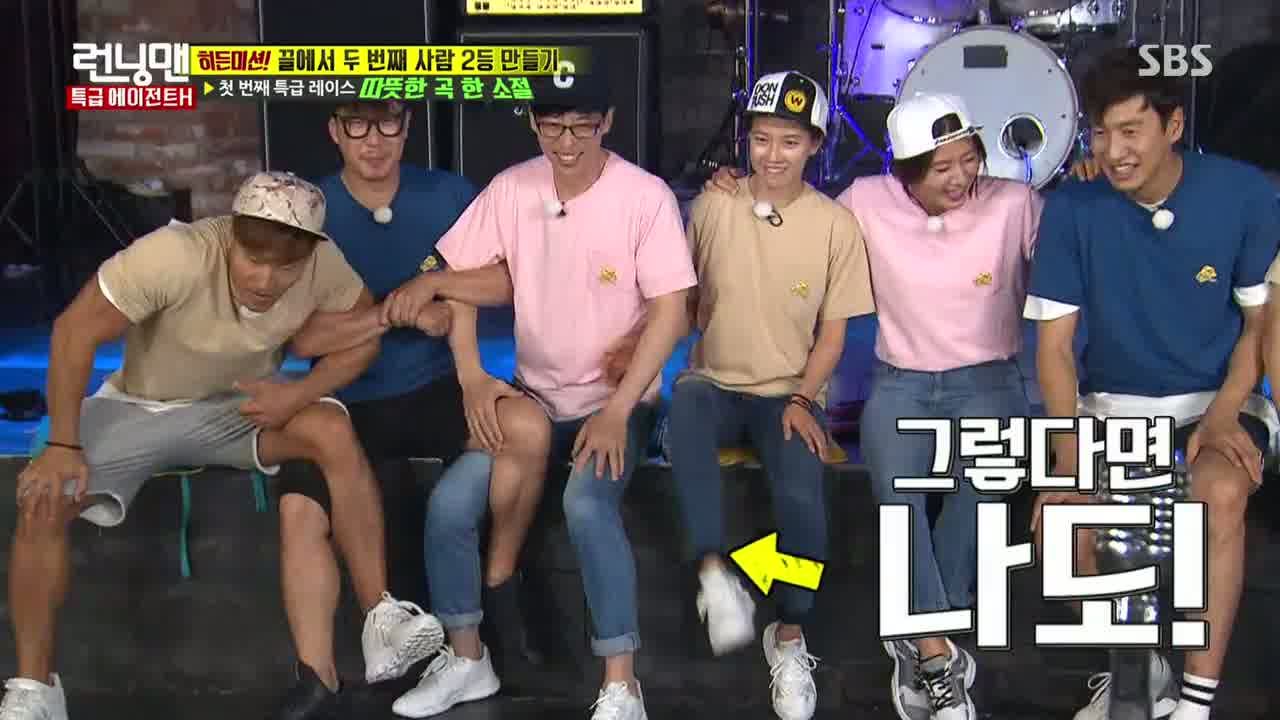 So we move on to Round 3, where our teams' feet are all separated. Kwang-soo readily identifies Girl's Day's "Something," while Jong-kook knows his favorite song, Kim Bum-soo's "Last Love" right away.
Since Jong-kook sings it so often, Jae-suk asks that whoever that song might be dedicated to in Jong-kook's heart return to him soon.
They decide to eliminate two mics and mix up the seating arrangement, which means that Jong-kook, Haha, and Jae-suk have wrapped their limbs around one another to prevent the other from moving.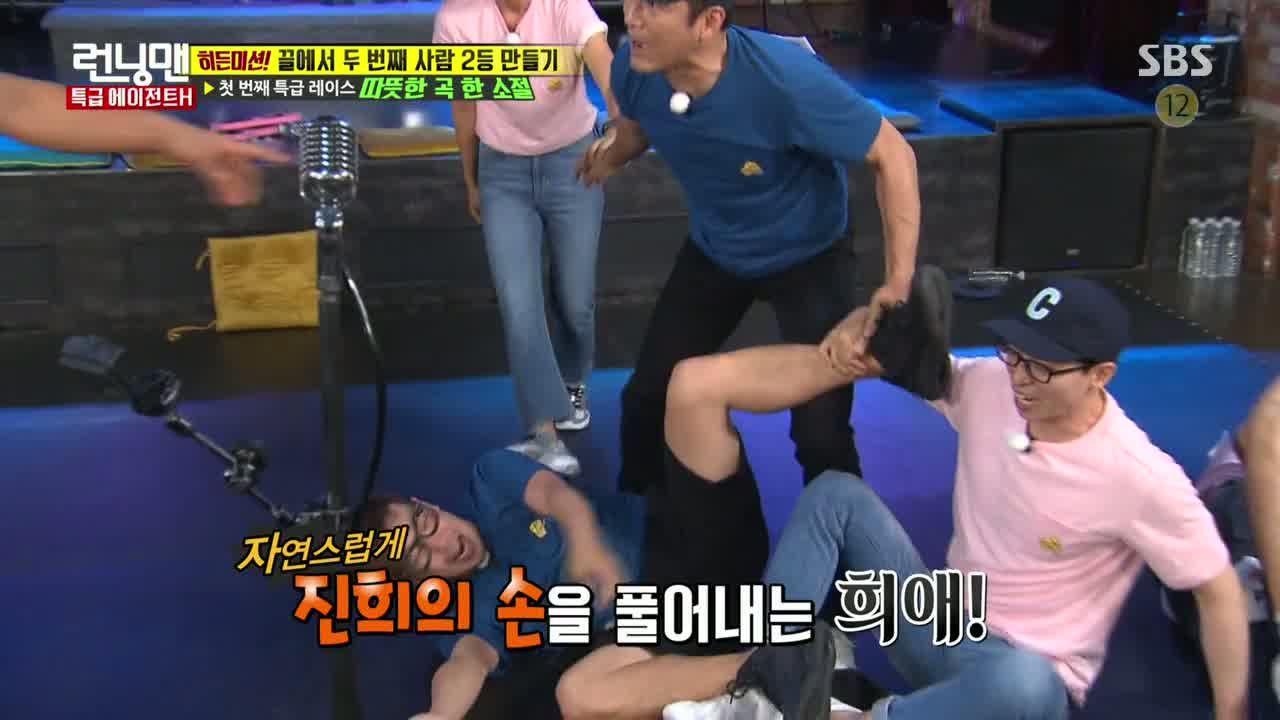 Still, Jong-kook is first to run up to the mic to call out Buck's "Barefoot Youth." The score is tied 1:1:1, and Jong-kook manages to get the second song right too (Kim Gun-mo's "Speed"). So that means the Yellow Team get first place and secure exchange tickets.
Now it's a fight for second place, which means Hee-ae needs to sabotage her own team so that the Blue Team wins. There's a lot of pulling and running, but then Hee-ae lets go of Jin-hee's hand.
That allows Kwang-soo to step up to the mic and give the correct answer of BoA's "No. 1."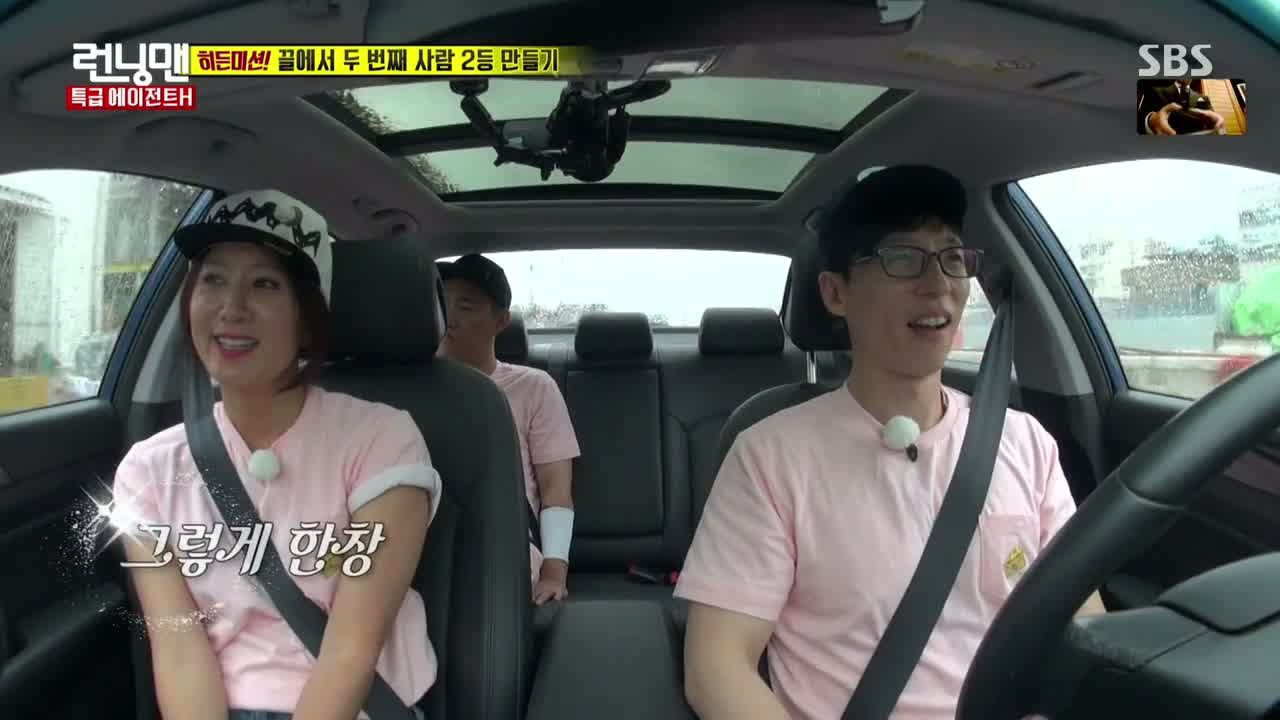 On their way to the next location, Jae-suk says it's a shame there weren't more hip-hop related questions, which is Gary's forte. He does share that his wife is often saddened that his busy schedule doesn't allow him to take proper family vacations, but he does seek to spend as much time at home when he can.
Hee-ae says her two children are in the throes of adolescence, and the two parents share their feelings about child rearing.
Their next stop is a marketplace, where the teams sit down and are told to enjoy the plate of ddukbokki set before them. Jin-hee whispers that they need to get an accurate count of the ddukbokki, which is a faily good guess for their next game.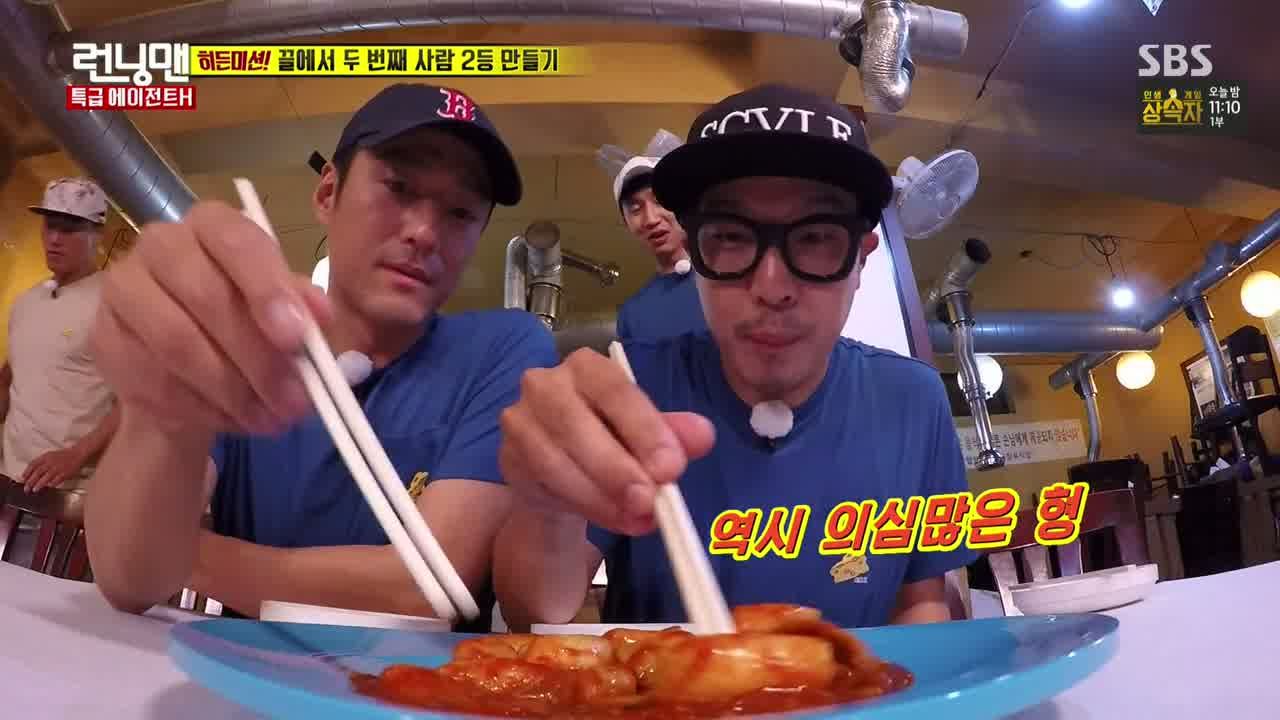 Here the teams will need to acquire all 14 ingredients in the ddukbokki they just chowed down on. They're told 7 of the 14 total ingredients, and there's an extra catch: the feet of one person on their team must never touch the ground.
Jin-hee whispers one possible ingredient to his teammates, but everyone else isn't so sure. Each team has 10 minutes to go grocery shopping, and we learn that Jin-hee had whispered that there were walnuts in the sauce.
Myuk PD reveals the ingredients one by one once everyone gathers together again. The Pink Team is the only one who didn't buy red pepper flakes, but they do have onions.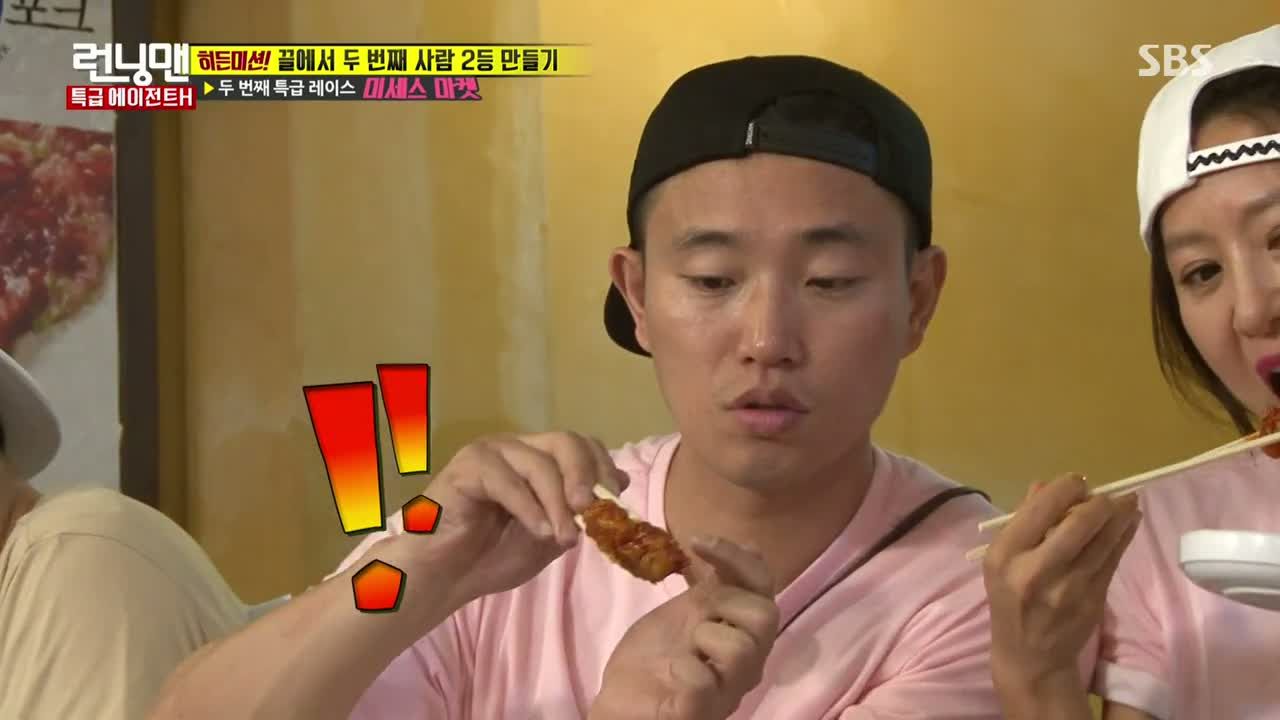 None of the teams thought to buy curry powder or pear juice, but everyone picked up walnuts. The Blue Team is called out for buying more than 7 ingredients, though they're quick to turn it around by saying the crew should be impressed by how they managed to buy so much.
All the teams are awarded 1 point for Round 1, then they all sniff their second dish. Hee-ae bursts laughing when Gary thinks there's grain powder in the chicken. But as it turns out, Round 2 has nothing to do with ingredients—in fact, their new task is to buy the dish's weight in fruit.
Both the Pink and Blue Teams return with their fruit first, and Myuk PD allows them to either bite into or cut away what they consider as extra weight. So Kwang-soo takes a bite of the pear (Jae-suk: "Shouldn't you wash a fruit before you eat it?") and Jae-suk slices off a portion of the melon.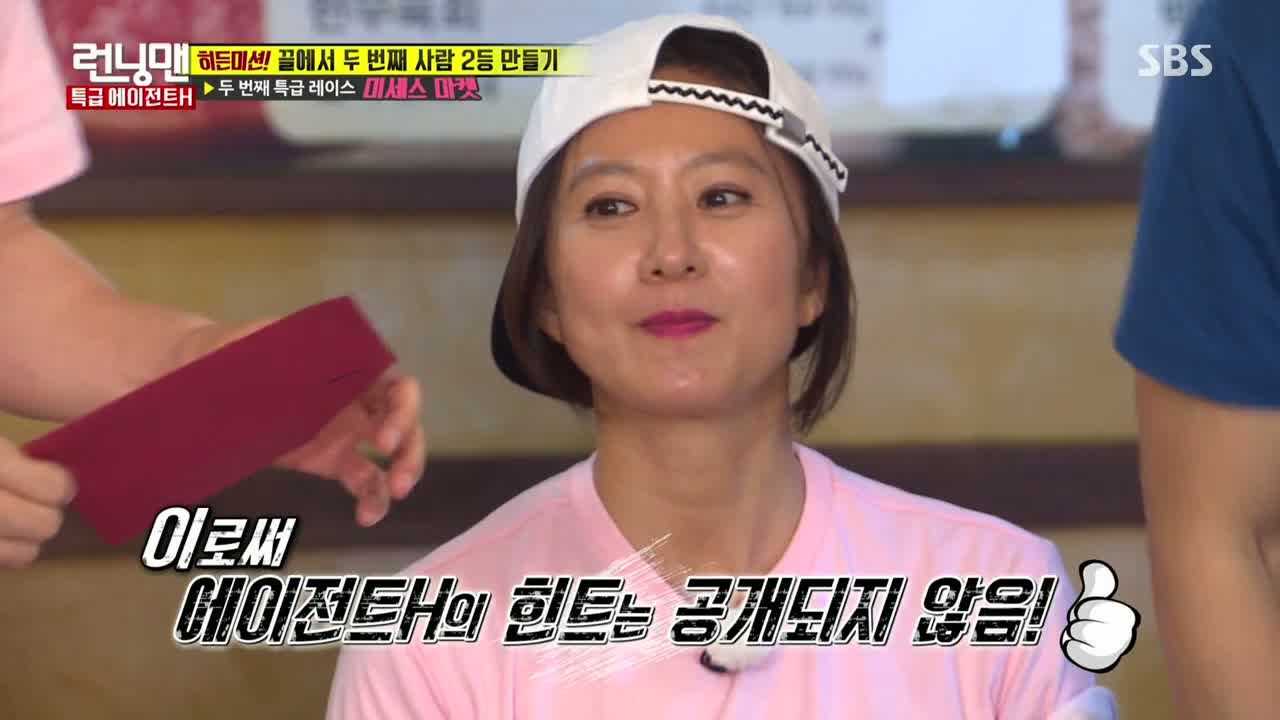 Haha and Jin-hee has to stop Kwang-soo from eating the whole pear out of hunger pangs. Everyone learns that the dish weighed 820 grams, and the Blue Team's half-eaten pear comes out…. Well, about half. Hahaha.
Fortunately for them, the Yellow and Pink Team come in around the 400 grams mark too. But there's only one team who came closest, and that's the Pink Team with 498 grams.
Somehow the score is 4:3:2 with the Yellow Team in the lead. Much to Hee-ae's delight, the Blue Team is still in second place.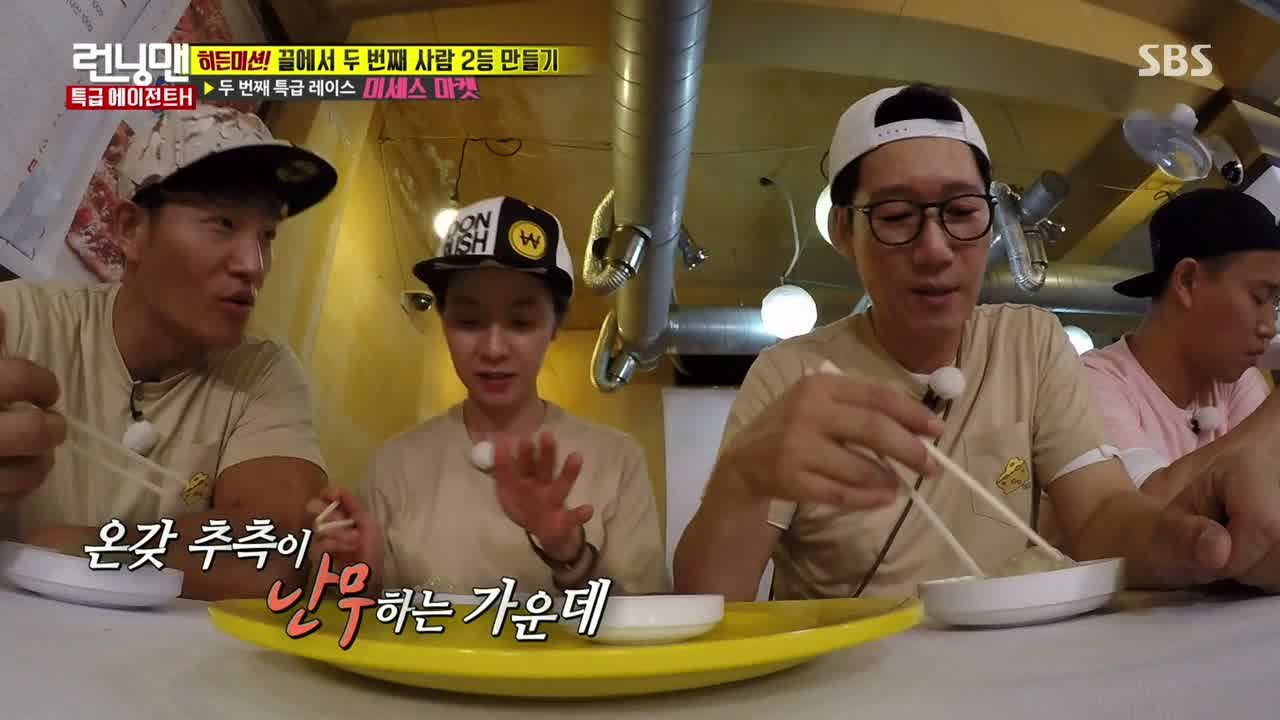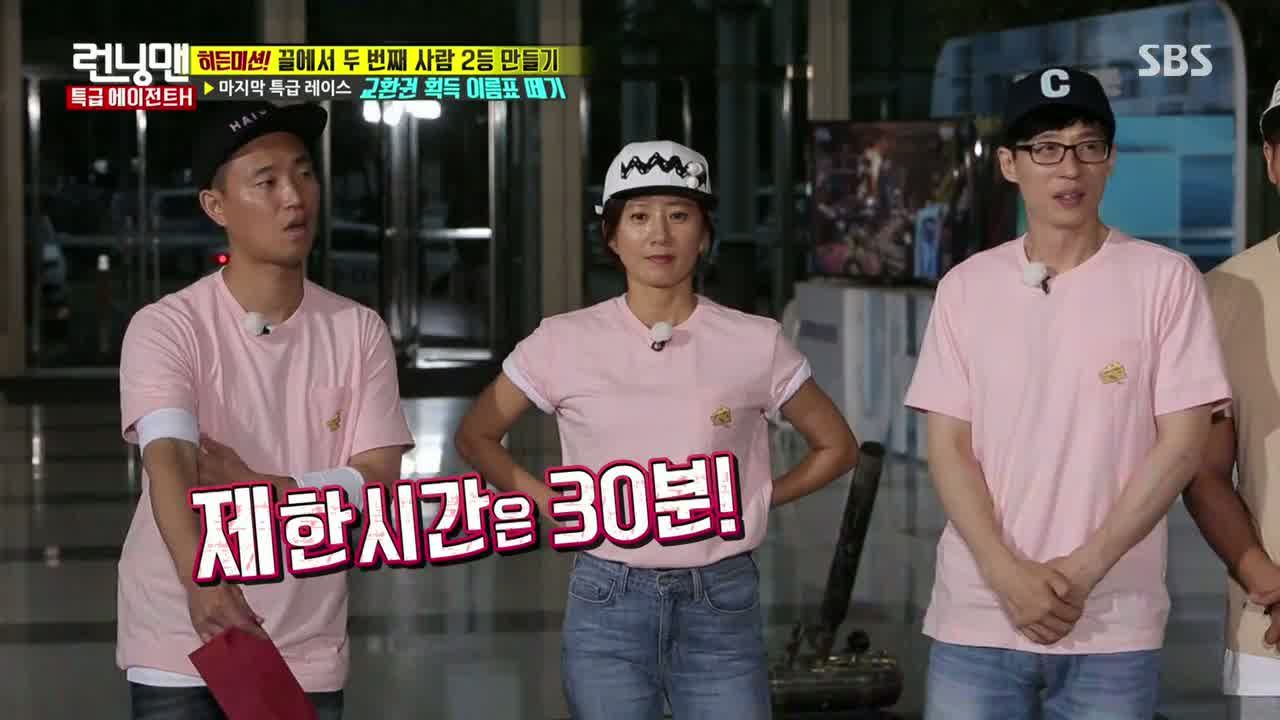 Round 3 is a plate of dumplings, and the Blue Team wins by clearing their plate the fastest. The Pink Team still win the marketplace mission, with the Blue Team coming in at second place.
It's about 5:00 PM when the group returns to the SBS building for their final mission. It's an Exchange Ticket Nametag Rippin' game, where everyone will be placed in separate rooms and told to escape within 30 minutes. If they're unable to, they're automatically eliminated from the nametag ripping portion.
There are three exchange tickets on the line for this final mission, and we learn that JIn-hee had already deduced one key idea about today's game—that the true winners are whoever comes in second.
Their mission is a version of beer pong, where they need to sink in five ping pong balls into five separate cups. Hee-ae gets frustrated while Kwang-soo throws the whole bowl of balls, hoping that some of them will land in the cups.
HA—one of Ji-hyo's balls aimed for the center sinks into the cup to her far right. Jae-suk is first to complete his mission, but doesn't feel very confident about heading out into the wild first.
He's given a card that tells him there are two suspicious people within today's group, and they've been given hints about their identities throughout the day. When Kwang-soo is second to complete his task, he suspects Jin-hee…
… who is busy trying to make sure that his dongsaeng Kwang-soo gets to eat prime Hanwoo beef. Speaking of whom, Kwang-soo runs into Jae-suk who also suspects Jin-hee. That has Kwang-soo think of Hee-ae, and how she might be in cahoots with her co-star Jin-hee.
Hee-ae tries asking the VJs about where her teammates is when she roams the halls. Eventually, everyone is out on the prowl, but she's yet to run into a single soul.
She does happily run over to the Yellow Team in the lobby, who tell her that she's currently outnumbered. She's just happy to see familiar faces and Jae-suk whispers her over.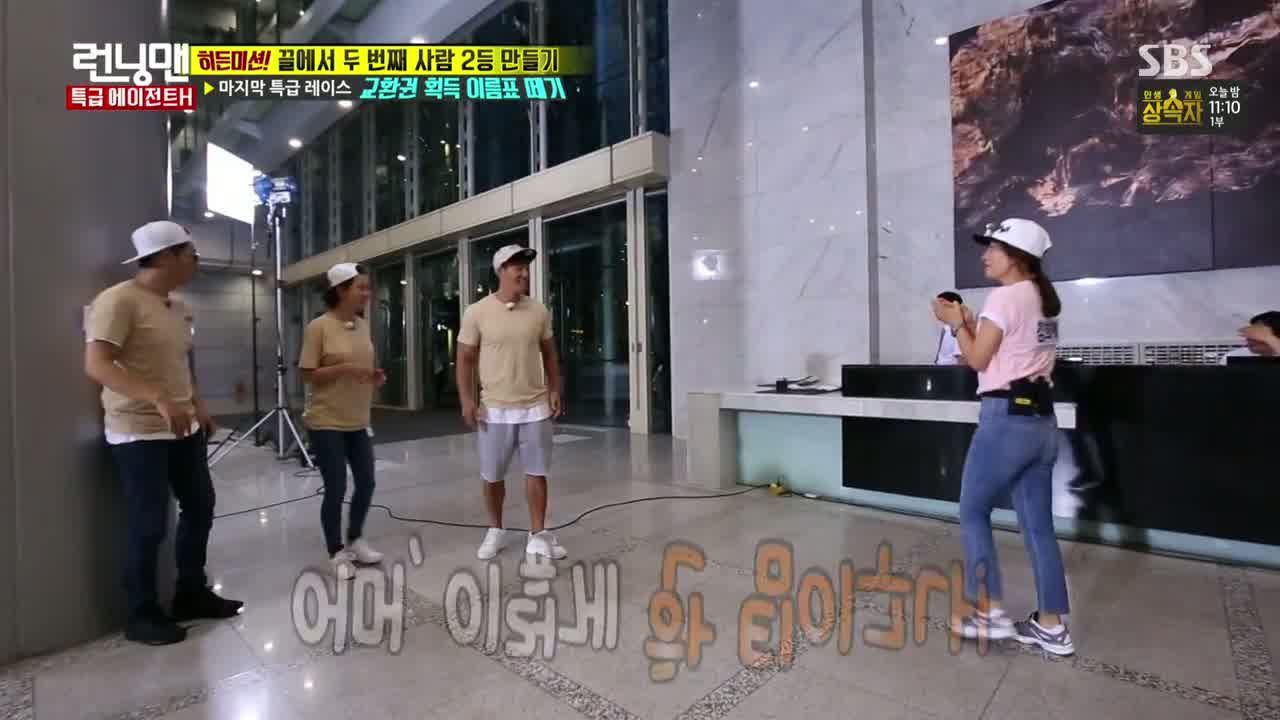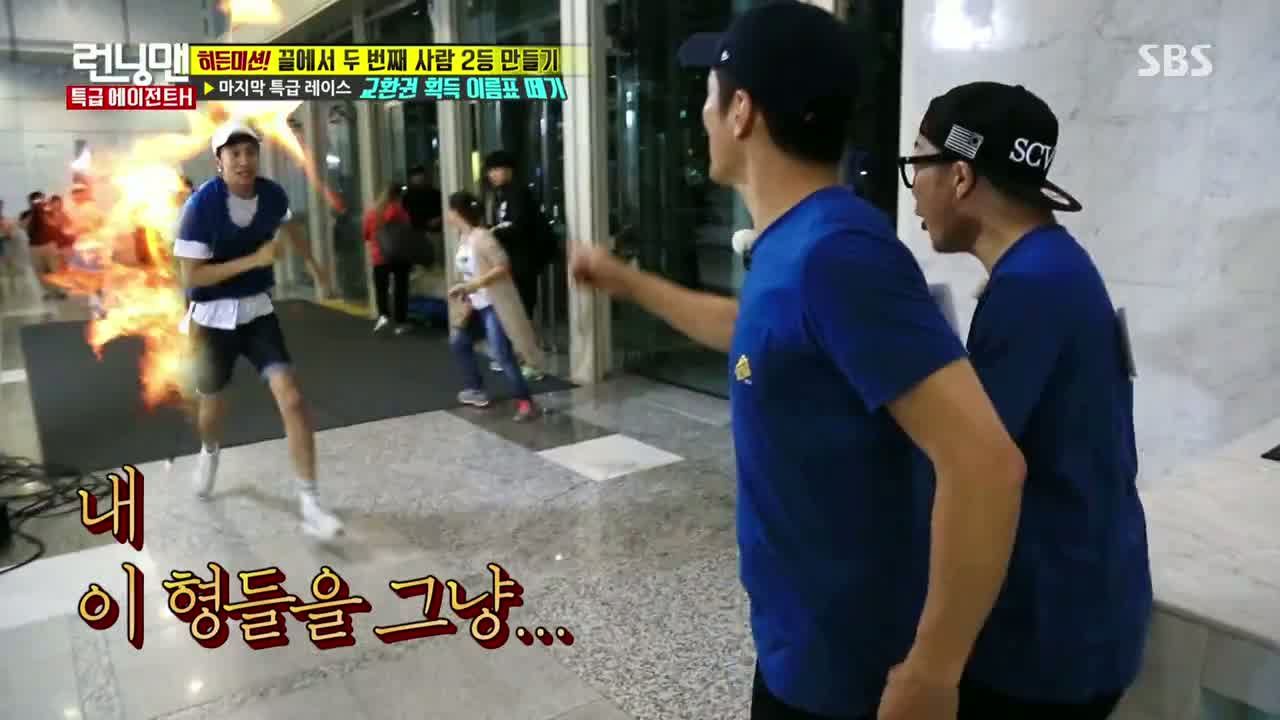 Everyone stands around the lobby, not knowing what the real objective in the game is. Kwang-soo asks Hee-ae about the secret mission outright, but she plays dumb. The other teams feel that the all-male Blue Team is currently the strongest, so when Kwang-soo makes a run for it, Haha and Jin-hee agree to give him up.
Needless to say the Betrayal Icon feels a deep sense of betrayal himself before Jong-kook pounces on him. Instead of helping, his fellow teammates just look on until he's eliminated.
But Kwang-soo's nametag is clean, so he was innocent after all. Whoops? Haha wonders why Kwang-soo even ran away then before thinking that Jin-hee could be the second agent.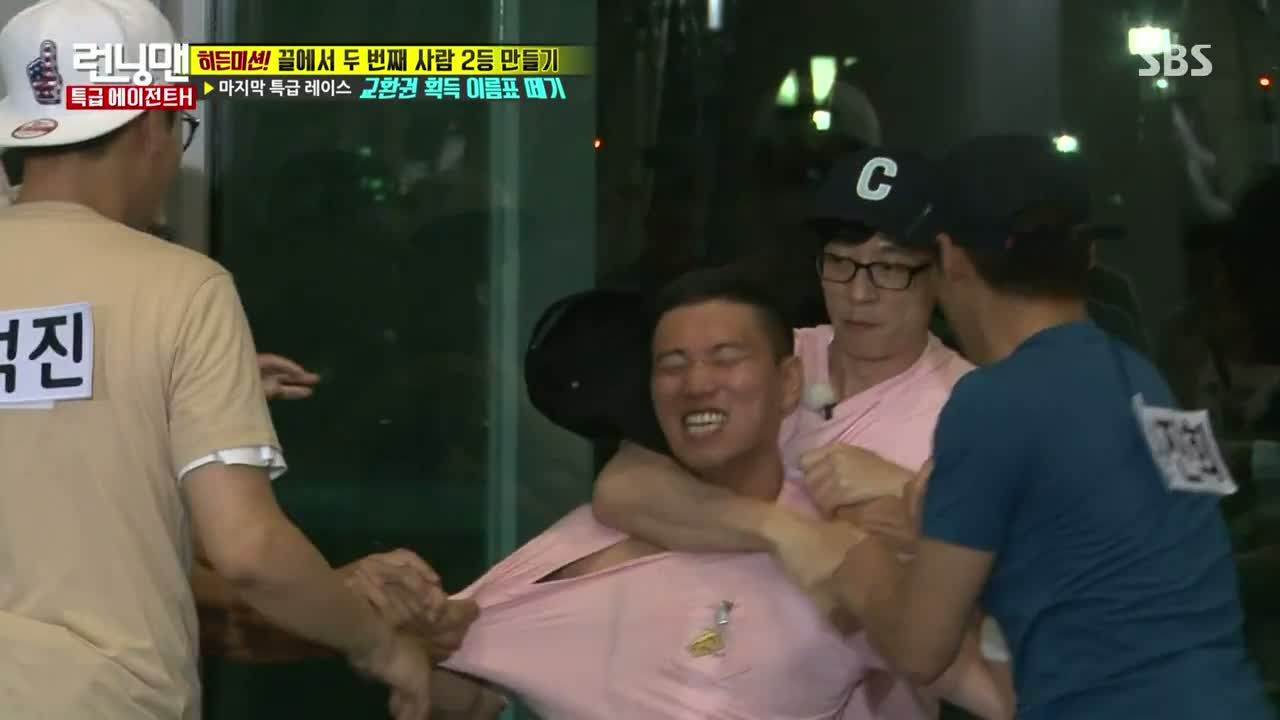 Soon the Pink Team is surrounded, and Hee-ae falls to the ground in defense. She motions everyone else away, and Jin-hee lunges for Jae-suk's nametag. The other teams drive Jae-suk and Gary into a corner, and then Gary is eliminated.
Jae-suk, however, manages to worm his way out and help Hee-ae back up. Hm, could he be the second agent? Gary: "I think YOU tore off my nametag, Jae-suk hyung!"
Jin-hee confirms it, having seen the entire sequence unfold before his eyes. The video footage checks out as well, and Gary shares his suspicions about Jae-suk with Kwang-soo in jail.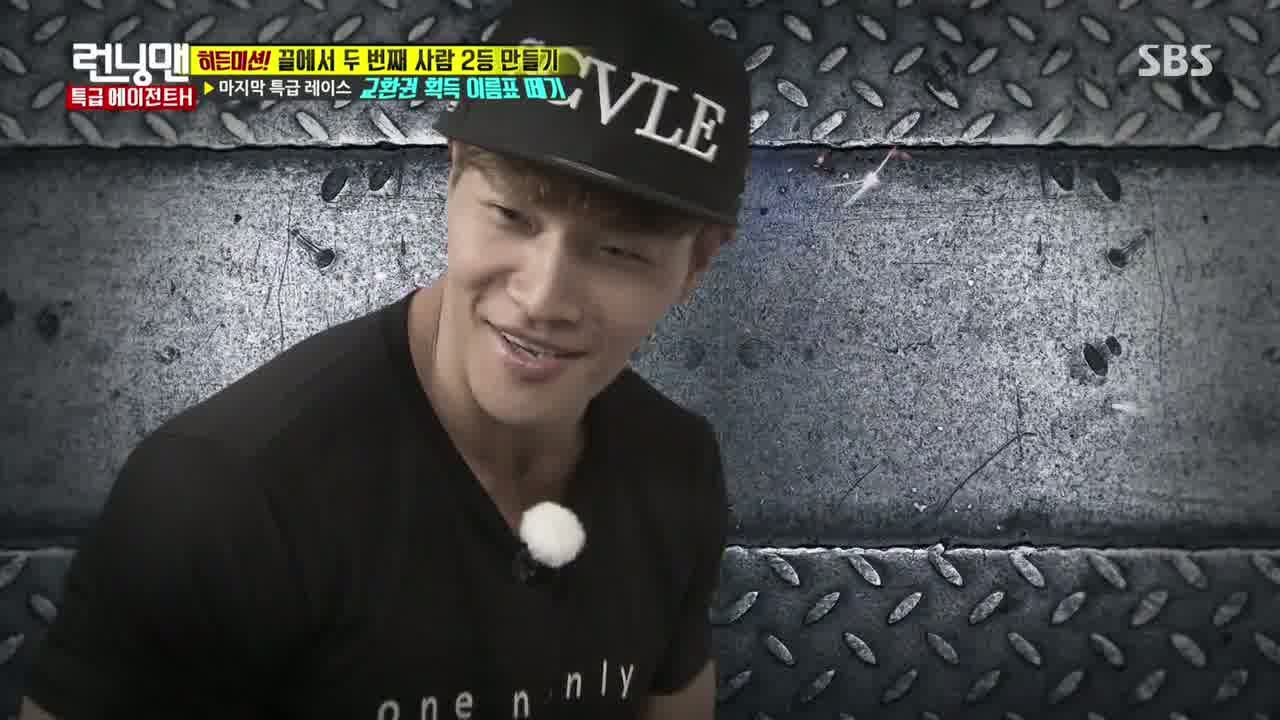 So Kwang-soo checks their visitor passes, which lists a few key hints. The particular mention of "Tiger" has them thinking. Could it be Jong-kook?
Turning the clocks back to the secret meeting this morning confirms it, as Hee-ae yelps to see the "one n only" Jong-kook. Kwang-soo is the only one between them who knew what "special compliment" meant (as in, Hee-ae's trademark show of affection through pinching someone's cheek).
Hee-ae and Jong-kook are focused on making sure Haha gets second place. Hee-ae then rushes toward Ji-hyo to rip off her nametag, but her hands slips in the attempt. She runs back in genuine terror, hiding behind a cameraman.
When Jong-kook instigates the next round, Hee-ae looks for an opportune moment to enter the fray. Haha eliminates Suk-jin, then moves on to Jong-kook.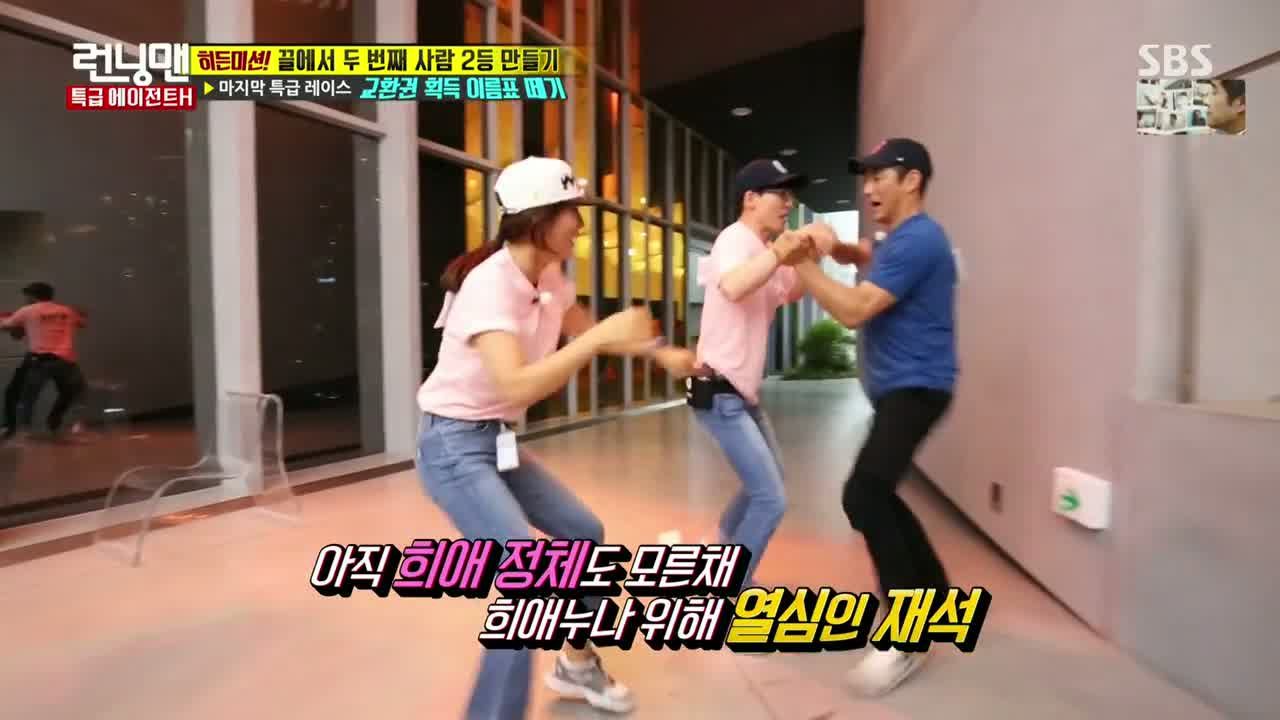 Jong-kook keeps his back faced to the crew after his elimination. Jin-hee rips off Ji-hyo's nametag, then Jae-suk rips off Haha's. This means the secret agents fail their separate mission, and Jin-hee motions Hee-ae away so he can take on Jae-suk.
Still, Jae-suk manages to tears off Jin-hee's nametag in the end. Our victor is the Pink Team with five exchange tickets, and they get first pick on the goods.
Myuk PD finally reveals the secret mission, and how it was the agents' job to make sure that Haha was always in second place. Even if he wasn't the second to last man standing today, everyone is sure to remain first in our hearts.
RELATED POSTS
Tags: featured, Haha, Ji Suk-jin, Kang Gary, Kim Jong-kook, Lee Kwang-soo, Running Man, Song Ji-hyo, Yoo Jae-suk