Wanted: Episode 5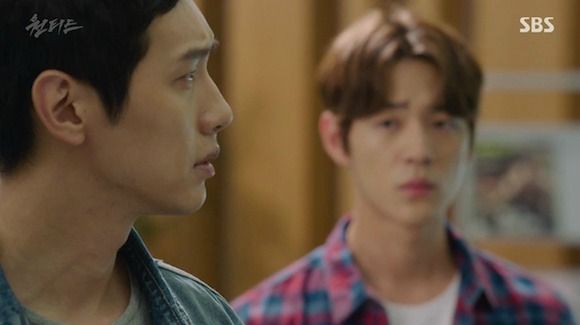 This hour our characters struggle with the implications of following the kidnapper's every request, and of perhaps going even further than he asks in order to try and outsmart him. As they try to solve the third mission, more than one of our main characters is faced with the ghosts and regrets of the past. Time is ticking, and things just keep getting more complicated. But how does it all connect?

EPISODE 5 RECAP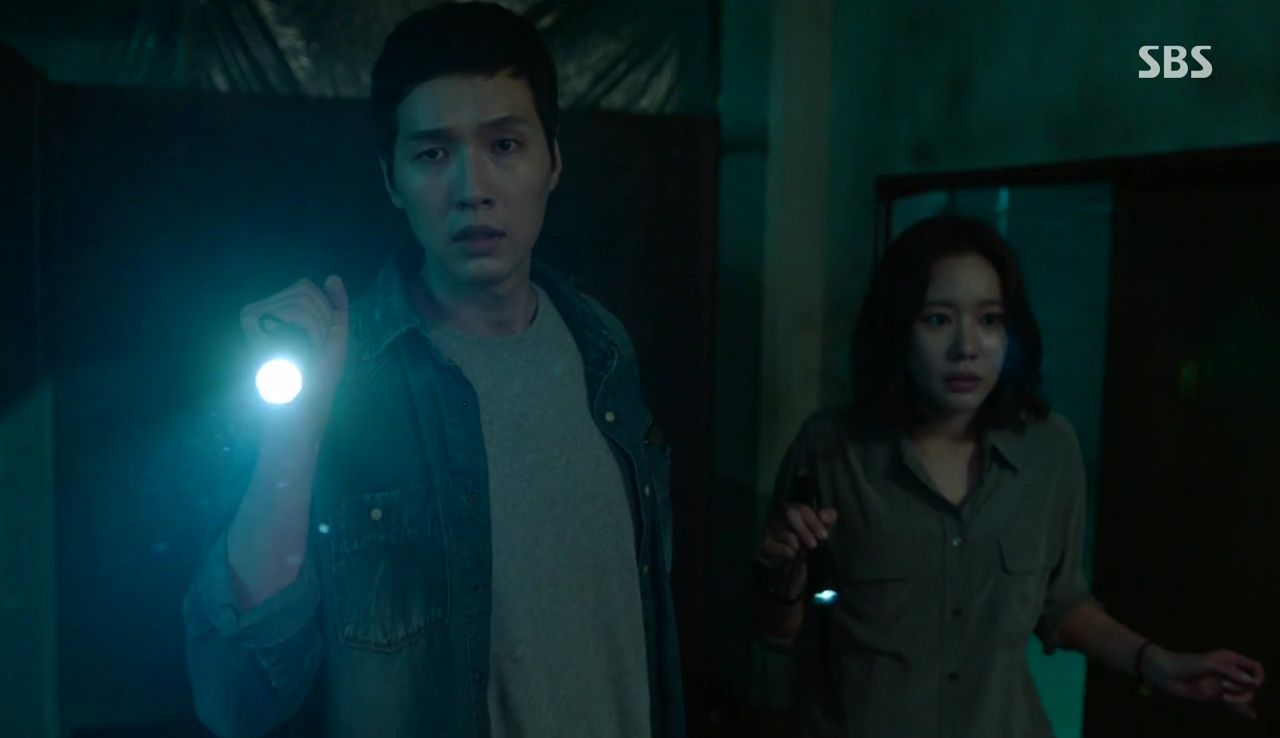 Seung-in and Hye-in head in to the building where they've been told they'll find evidence that Hyun-woo is still alive. A love song plays, leading them into a room where Seung-in pans his flashlight over a laptop on a chair in the corner. Beside it on the floor is the body of a man, kneeling with his face to the wall and hands tied behind him.
Seung-in flashes back to another body found in a dark room, tied up the same way.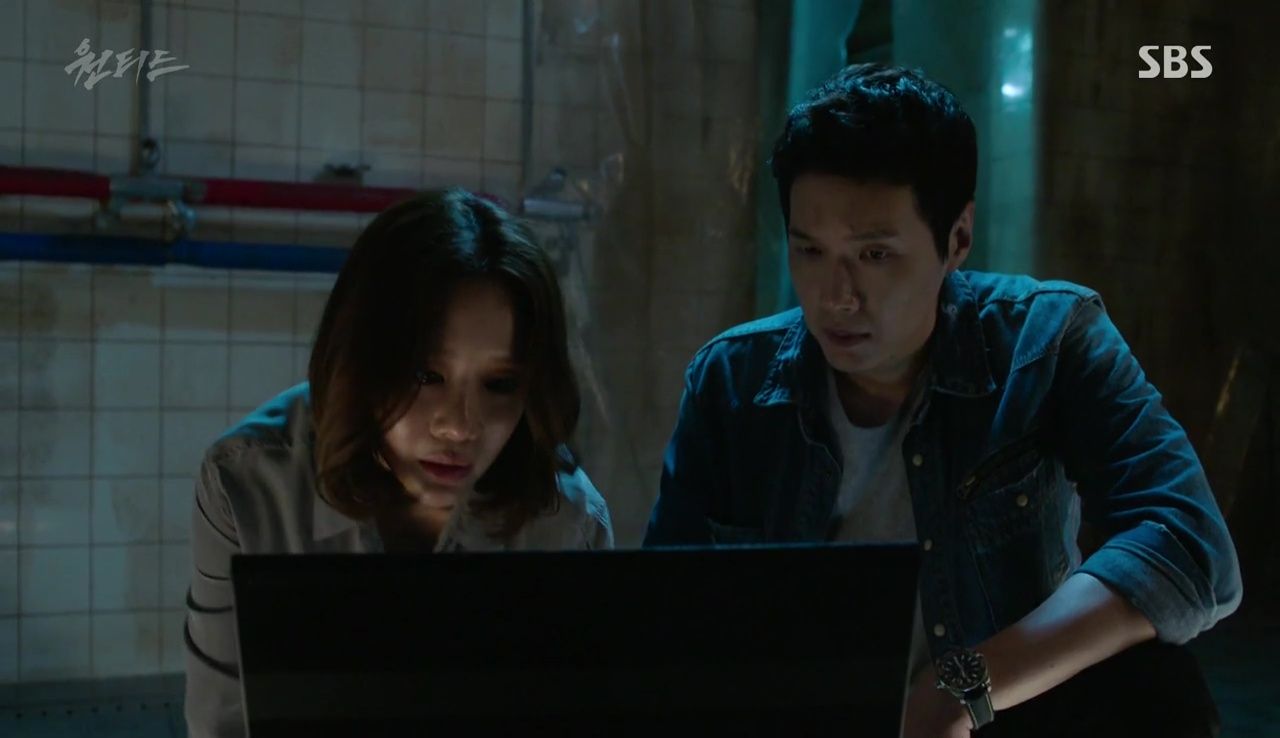 Hye-in sees the body, screams, and falls to the floor. She raises her flashlight beam to read the spray-painted words: Third mission. Find the murderer that killed this person. She crawls over to Seung-in and grabs his leg, breaking him out of his trance. He helps her stand up, then goes over to the laptop and plays the video. It shows today's weather forecast, then pans over to Hyun-woo, blindfolded and lying on a mattress, in the very same room they're in.
Hye-in sobs. Seung-in tells her to call her manager to come pick her up, as he needs to stay. Hye-in says, "I don't know this person. What does he want us to do with someone who's already dead…" Seung-in tells her he'll let her know as soon as he has information, and to go home for now.
Once she leaves, he calls someone, telling them he's alone and that they can come right away. Then he collapses to the floor and starts to cry as he looks at the body. "Hyung," he sobs as he sees the body from his past in his mind's eye. He screams.
The next day, the police are at the crime scene, collecting evidence. Seung-in stands watching with Captain Jung, Mi-ok, and Young-gwan. "It's Jo Nam-cheol, isn't it?" Seung-in says to Captain Jung. He points out the positioning of the corpse, which is exactly the same as the previous case, and which had never been released to the media. They were the only ones who knew about it.
At UCN, Dong-wook posts the previous day's ratings in the meeting room: 22.1%. When Hye-in tells them of the third mission, Dong-wook and Writer Yeon head to the crime scene to film.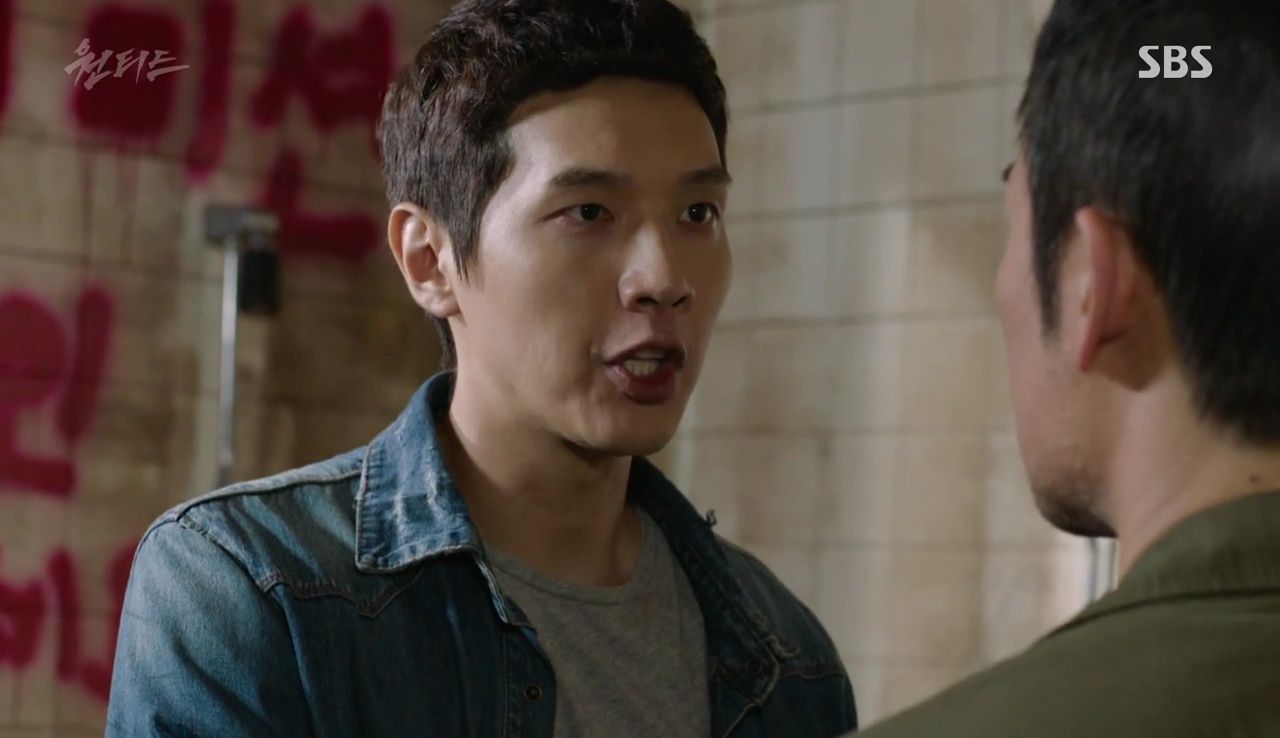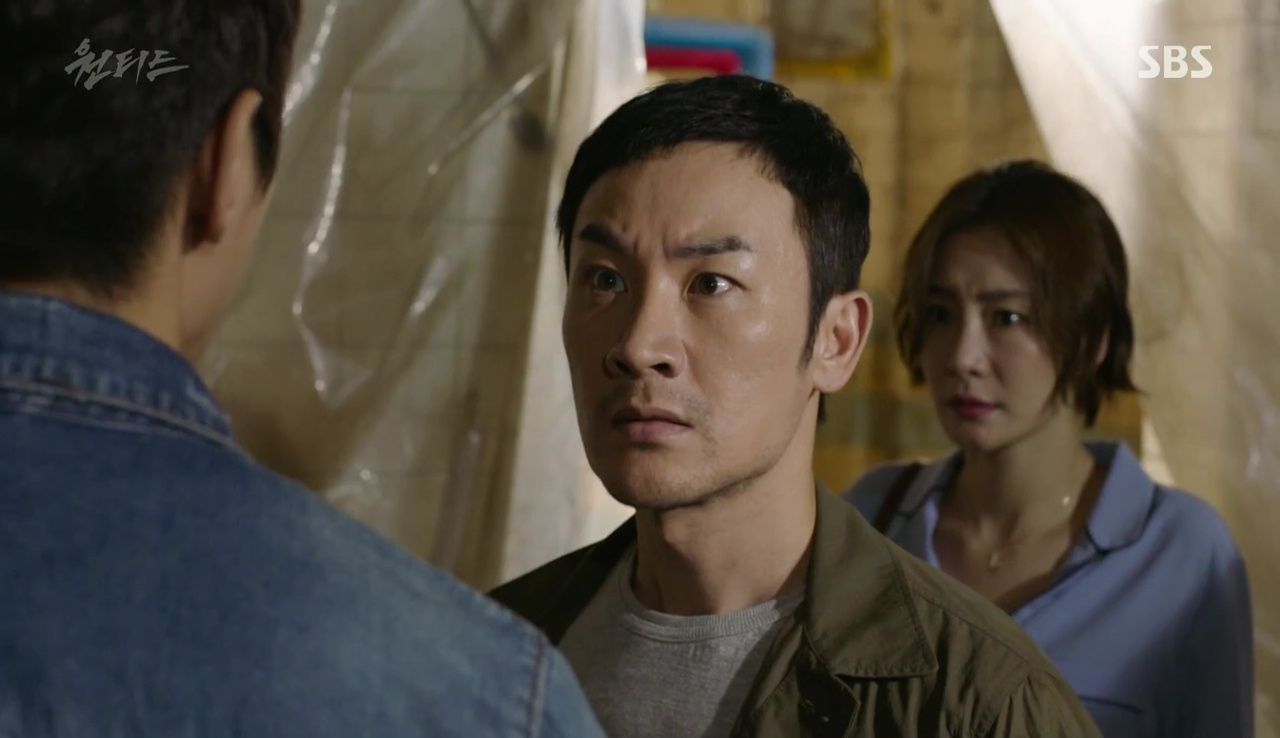 Captain Jung allows them in, saying he has orders from above to cooperate with the broadcast, but Seung-in stops them, arguing that they can't film the crime scene of a murder, and that having the mission is enough.
Mi-ok, however, tells them to shoot—this could be a message the killer wants on broadcast. Though Seung-in protests, Mi-ok remains firm: the missions can be hints to discover the criminal's pattern, so that they can save Hyun-woo. Seung-in relents.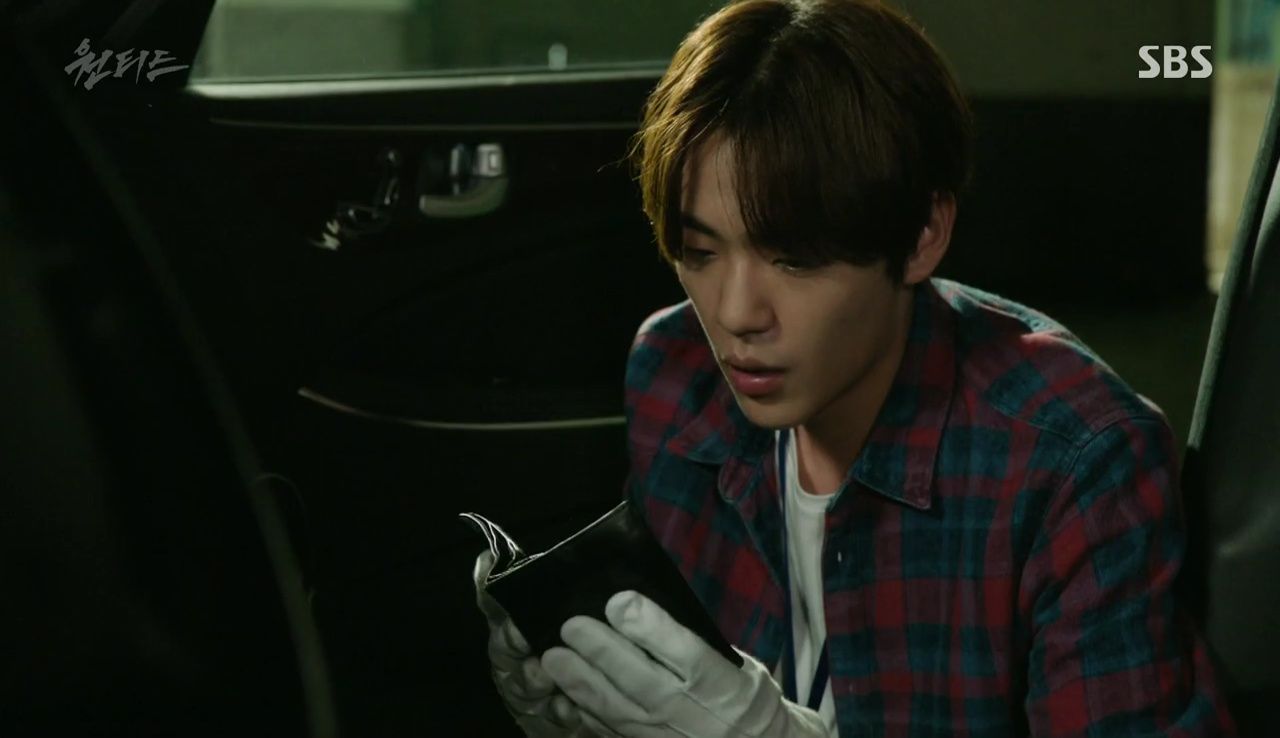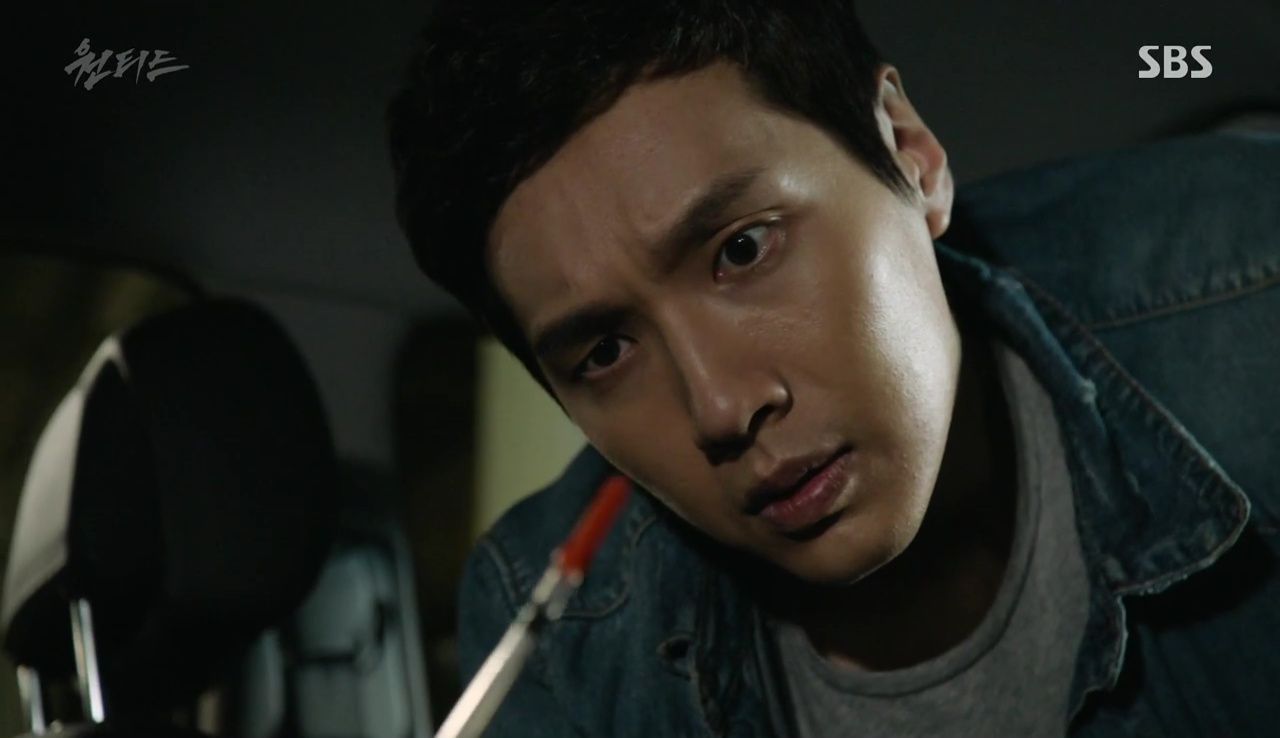 The police officers discover a car in the parking garage nearby, so Seung-in and Young-gwan head over to investigate. They discover the victim's wallet in the car. His name is IM HYUNG-SOON, and the car was rented in his name. Seung-in finds a used syringe in the back, and hands it to Detective Park with the assurance that it's potassium chloride.
On his way out, Seung-in tells Mi-ok that since Jo Nam-cheol killed Im Hyung-soon as soon as he was released on parole, he must have had a personal grudge against him. Mi-ok says she'll look into it, and tells him to take care of himself: "If something happens even to you, I—…" But Seung-in tells her not to worry.
At UCN, the production team watches a news report about Dr. Ha's arrest and the investigation into his crimes. According to the report, Dr. Ha plans to hold a press conference about a secret Hye-in is hiding later today.
Dong-wook tells Hye-in that she should reveal the secret first, instead of being the victim of a witch hunt. Hye-in says that she doesn't care what happens to her, but if SG group finds out about Hyun-woo's parentage, they'll take him away.
"Think about that after Hyun-woo is found safely," Dong-wook tells her. "If people turn their backs on you, the show will be ruined. If the ratings drop, Hyun-woo will get hurt." She asks him to give her some time.
Hye-in asks Jung-ho to block Dr. Ha's lawyer. She reminds him that her only condition when they got married was for him to help her raise Hyun-woo. That's why she did everything he wanted, she claims, even appearing in any television or variety show he asked.
Jung-ho tells her not to act like only she made sacrifices, and that he's the only reason she was able to work as an actress at her age. Refusing her request, he hands her two sets of DNA test results. One shows that he and Hyun-woo are not related; the other shows positive paternity with HAM TAE-YOUNG. "Why did you—…" she stutters.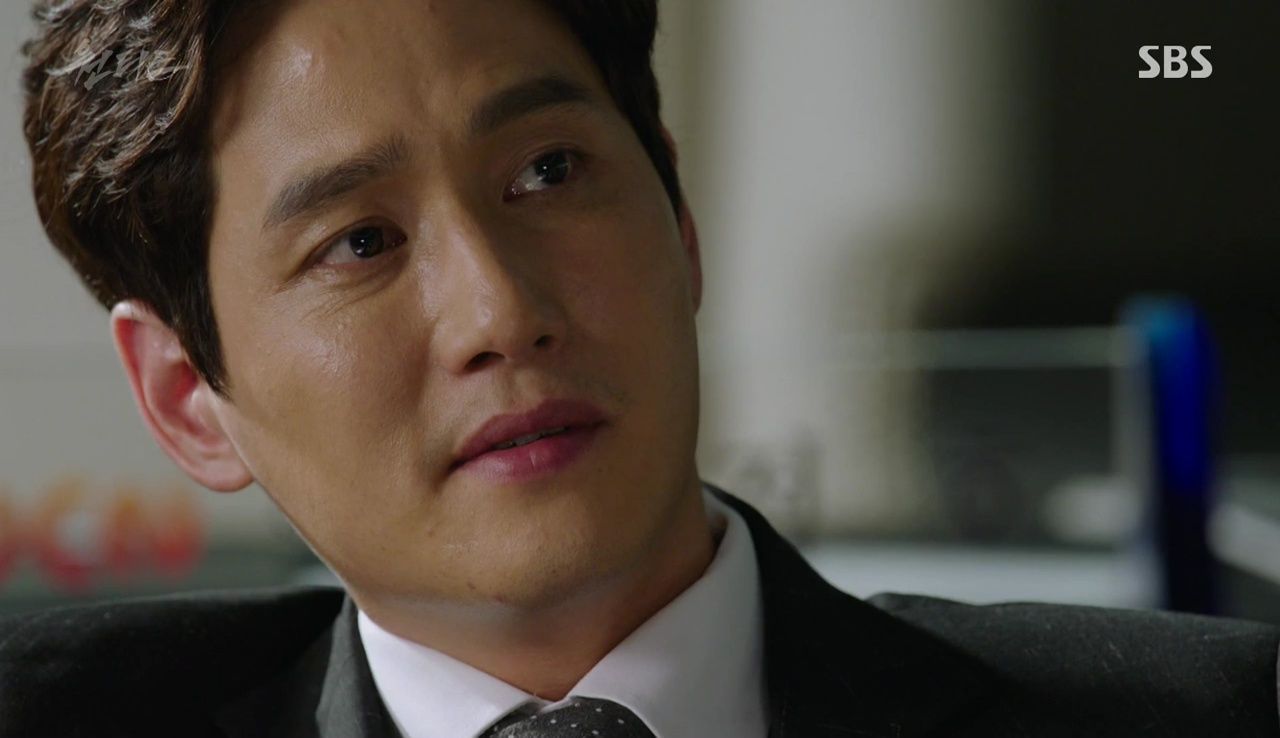 He says he had Dr. Ha prepare it a while back, thinking he might need it someday when she betrayed him, as she did when she announced her retirement. It's not bad to take this opportunity for SG group to find out, he remarks; wouldn't they help the broadcast find their own grandson?
"I guess I chose the wrong method from the start," Hye-in says. "Right," says Jung-ho. "To you, I'm not a person, nor am I a husband. I was just a method to protect Hyun-woo. Did you think I wouldn't know that?"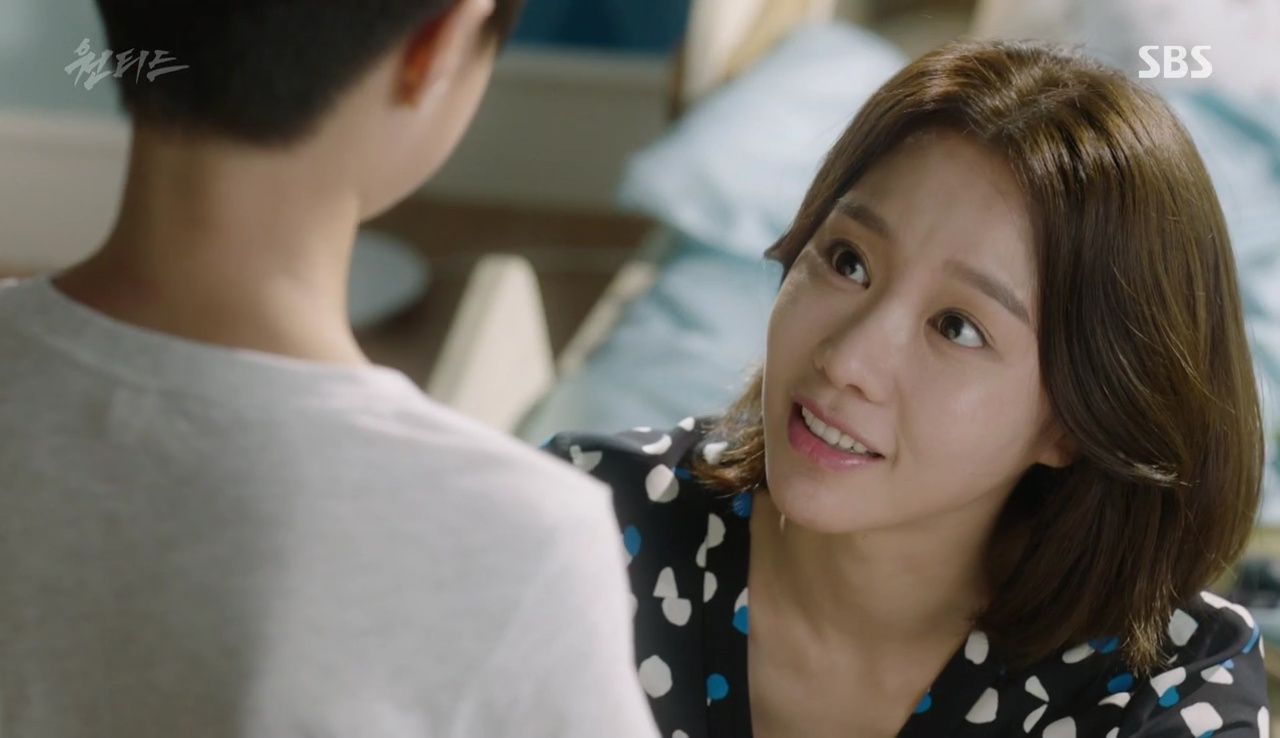 Hye-in flashes back to a memory of Hyun-woo, when he had asked her, "Does Dad hate me?" When she told him no, that his dad loved him, he had shown her a picture he had drawn for Jung-ho that had been crumpled and thrown in the trash. Hye-in had reassured him that it must have been thrown away by accident. She'd then shown him two pairs of baby shoes that his father had bought when she was pregnant as proof his father wanted him.
Now, Hye-in calls someone she refers to as "Brother-in-law" and asks him to meet her as soon as possible—she has something to say.
Seung-in and Young-gwan look over visitation records from Jo Nam-cheol's time in prison. Young-gwan points out a possible girlfriend from the list—she wrote to him once a week, and visited him frequently. They'll start with her.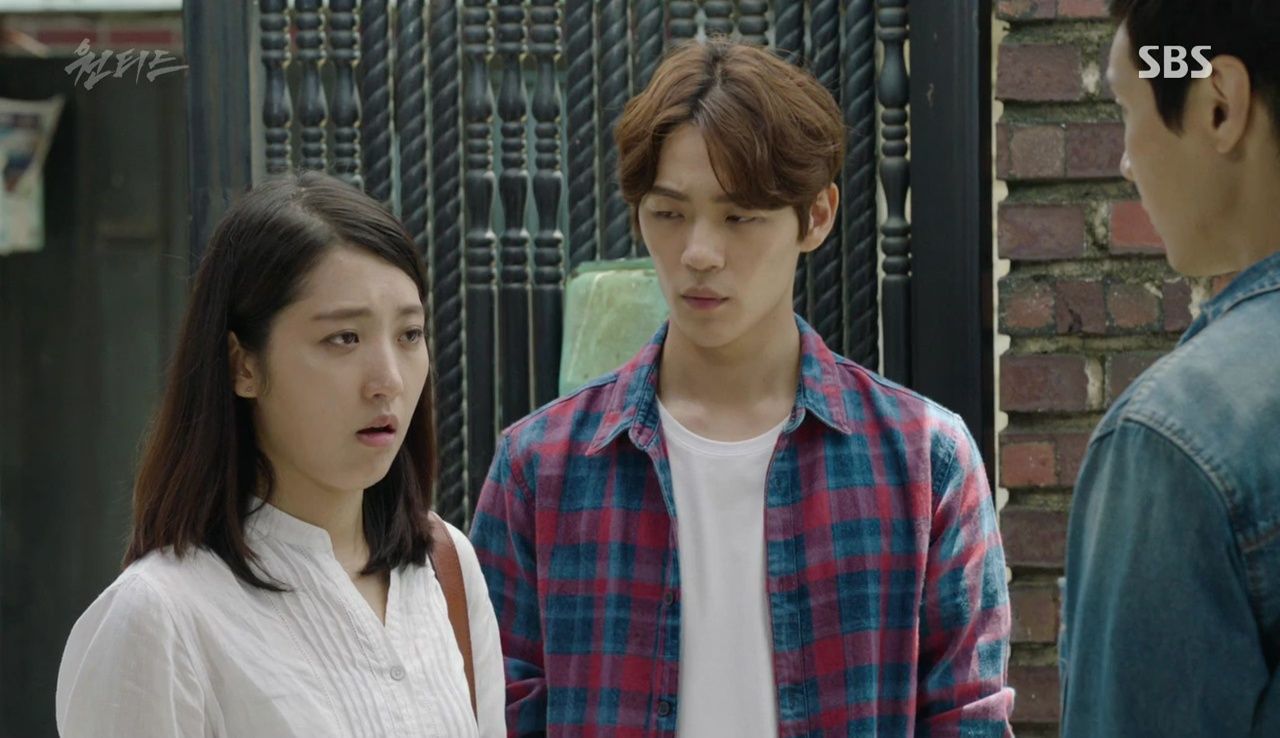 They head over to the woman's address. No one answers, so Seung-in jumps the wall. In the bedroom, he finds an open laptop and he finds the most recent email from Jo Nam-cheol. Among the e-mails telling her about his new job, there's one about bottles of potassium chloride, along with a contact number.
Meanwhile, Young-gwan has been keeping watch outside and calls Seung-in when he sees the young woman returning to the house. Seung-in confronts her, and asks when she last saw Jo Nam-cheol. She says she hasn't seen him since the night before last, when he left for a job.
Seung-in tells her to converse normally with Jo Nam-cheol if he calls, adding that her boyfriend is a murderer and could be dangerous. She denies it, but looks shaken.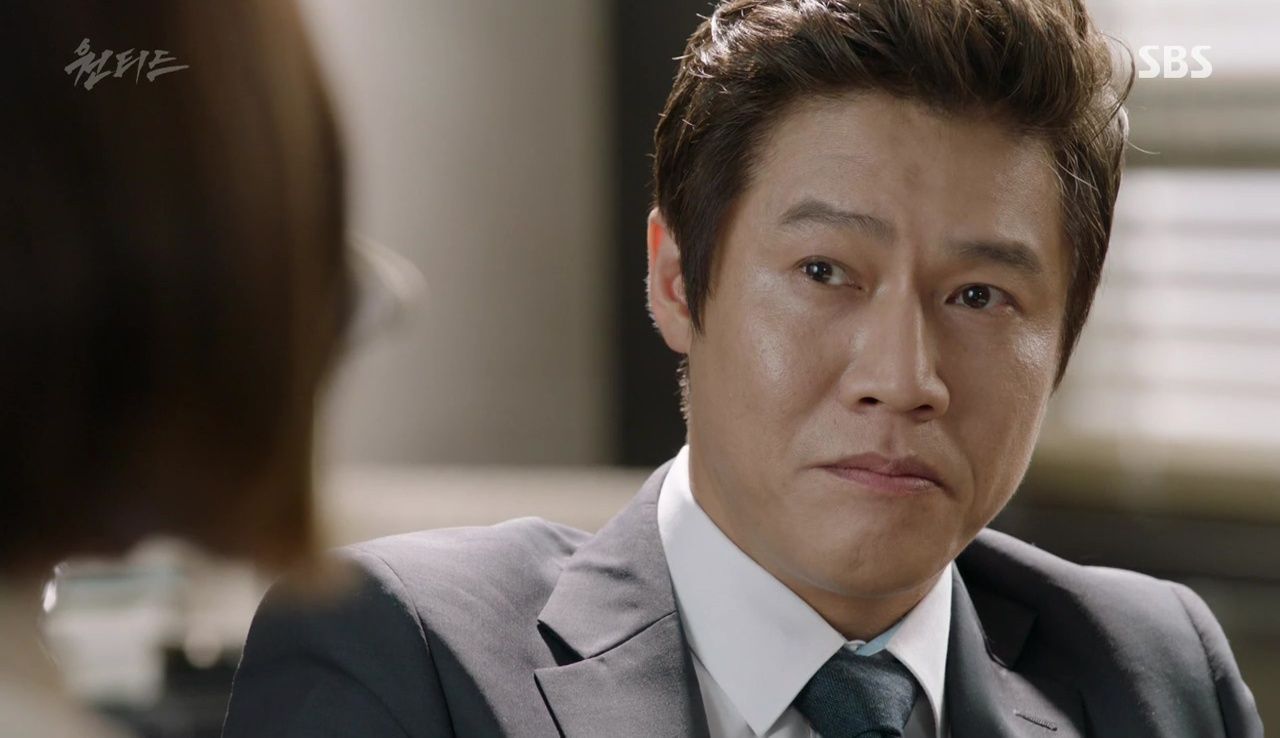 Hye-in meets with her former brother-in-law. He admits he was angry when she went abroad to get married right after his brother died, but he's glad to see her. She confesses that she was five weeks pregnant when her husband died, and that he also knew about the baby. She shows him the DNA test results.
On the way back Manager Kwon asks her how it went. He apologizes, confessing that he actually already knew about Hyun-woo. He avoids telling her how he knew, but says that the timing was enough to make him suspicious.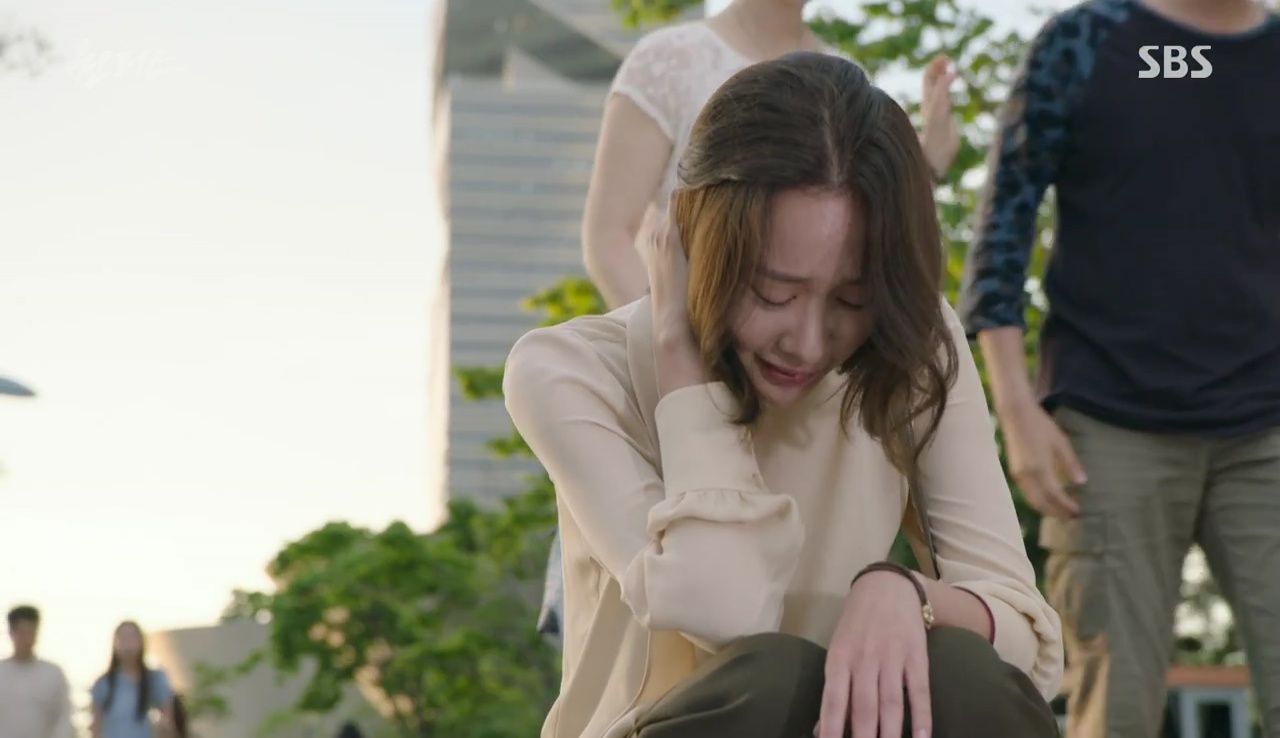 She agrees that could be possible, but inside she's thinking of the hidden cameras she's found in the car and at home, and the suspicious coincidences surrounding her manager recently. She asks him to stop the car.
She gets out, telling Manager Kwon to go ahead to the broadcast station; she just needs to talk to Seung-in about something first. Once he's gone, she collapses to the ground, crying. After a moment she picks herself up and grabs a taxi.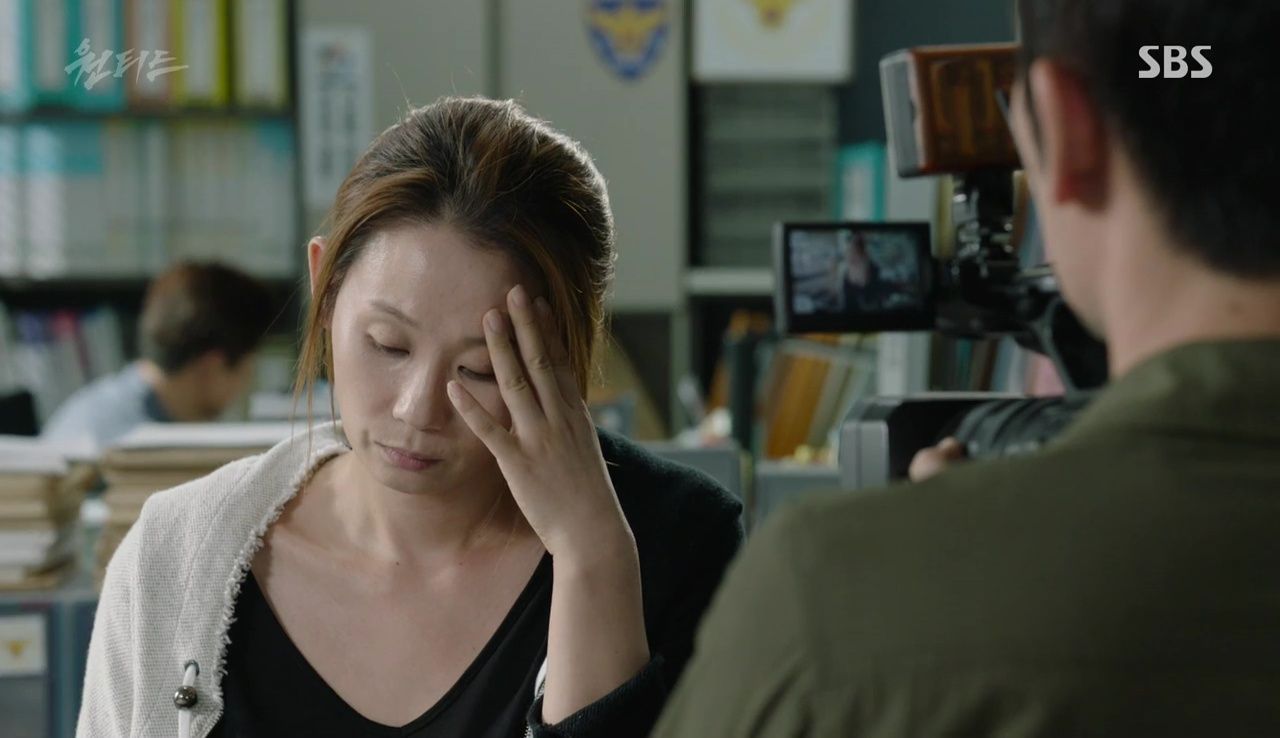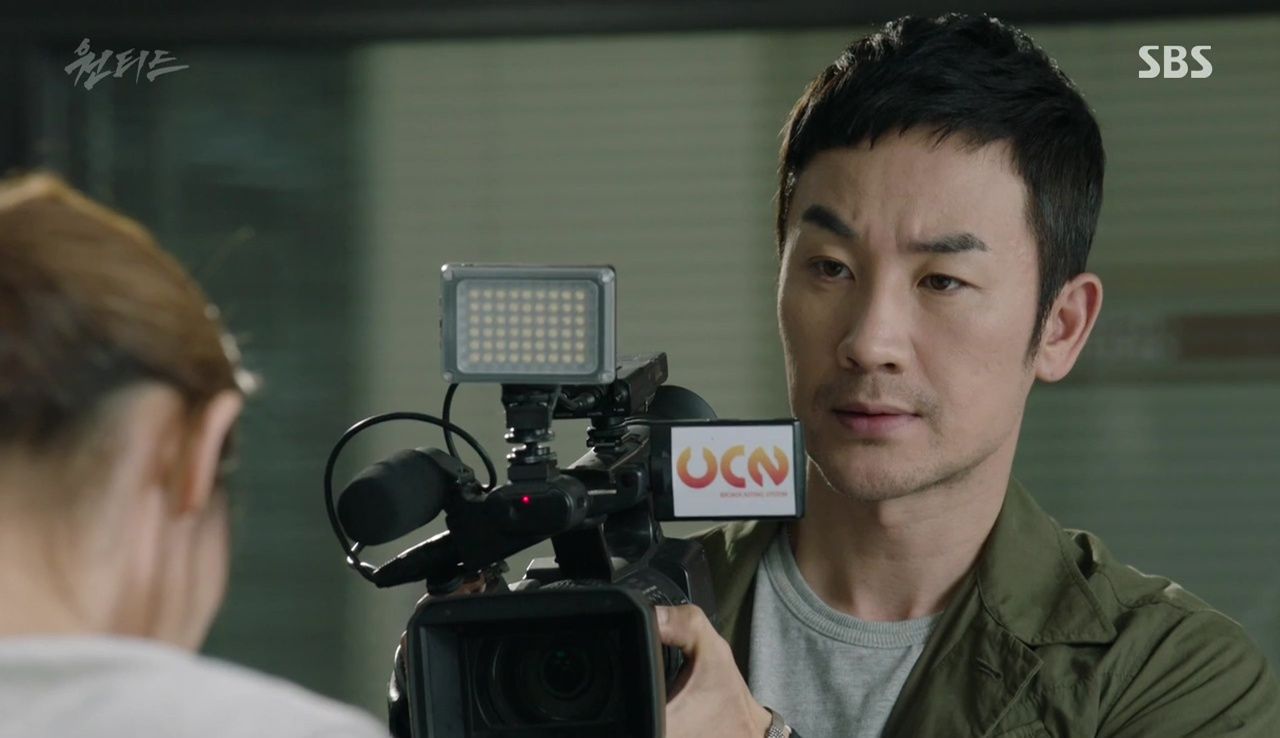 At the previously announced press conference, the media waits for Dr. Ha to reveal Hye-in's secret, but a representative comes out to say that it was all a misunderstanding. Reporter Jang decides to find out the truth on his own.
Dong-wook and Writer Yeon go the police station, asking for at least the name of the suspect so they can broadcast that and protect Hyun-woo. Captain Jung protests that the detectives are in the process of staking out the suspect's address, and they don't want him to go into hiding.
Mi-ok says it won't make a difference, since Jo Nam-cheol won't be going back to that house anyway. He only sees women as tools, and he's already used his girlfriend to get released from prison. He also didn't get rid of the corpse, so he knows the police will be looking for him. Dong-wook trains his camera on her, but she covers her face and tells him to just use her as a reference.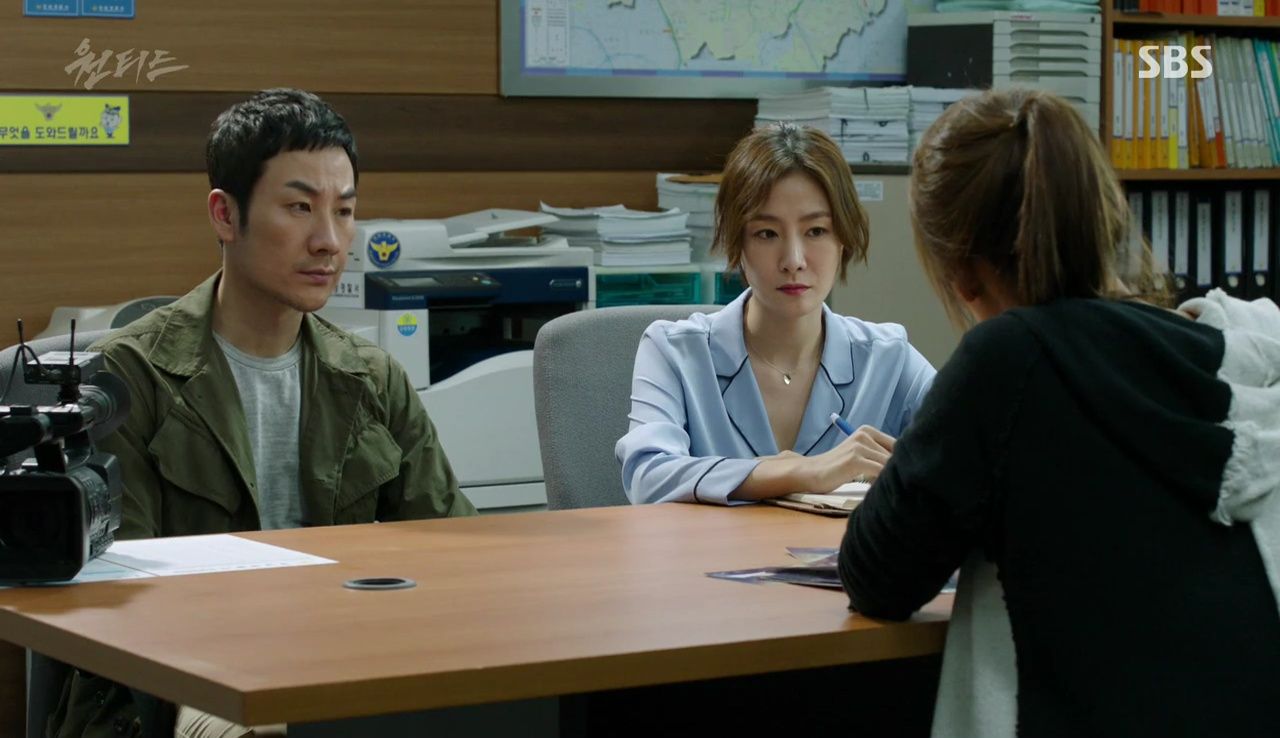 Mi-ok tells them the reason they are focusing on this suspect is because the murderer left the same signature as Jo Nam-cheol seven years ago: the posture of the body when it was found, and the use of potassium chloride. It's possible that Jo Nam-cheol was hired to do the killing, she adds, although he never admitted anything.
In this case however, the victim was killed and then moved to echo the posture of the murder victim from seven years ago. "Rather than Jo Nam-cheol doing this on purpose, this is the kidnapper using the corpse to lure us to Jo Nam-cheol." Dong-wook wonders how the kidnapper could have known Jo Nam-cheol killed Im Hyung-soon, and whether he was at the scene. Mi-ok says it's possible if the kidnapper targeted specific criminals to begin with.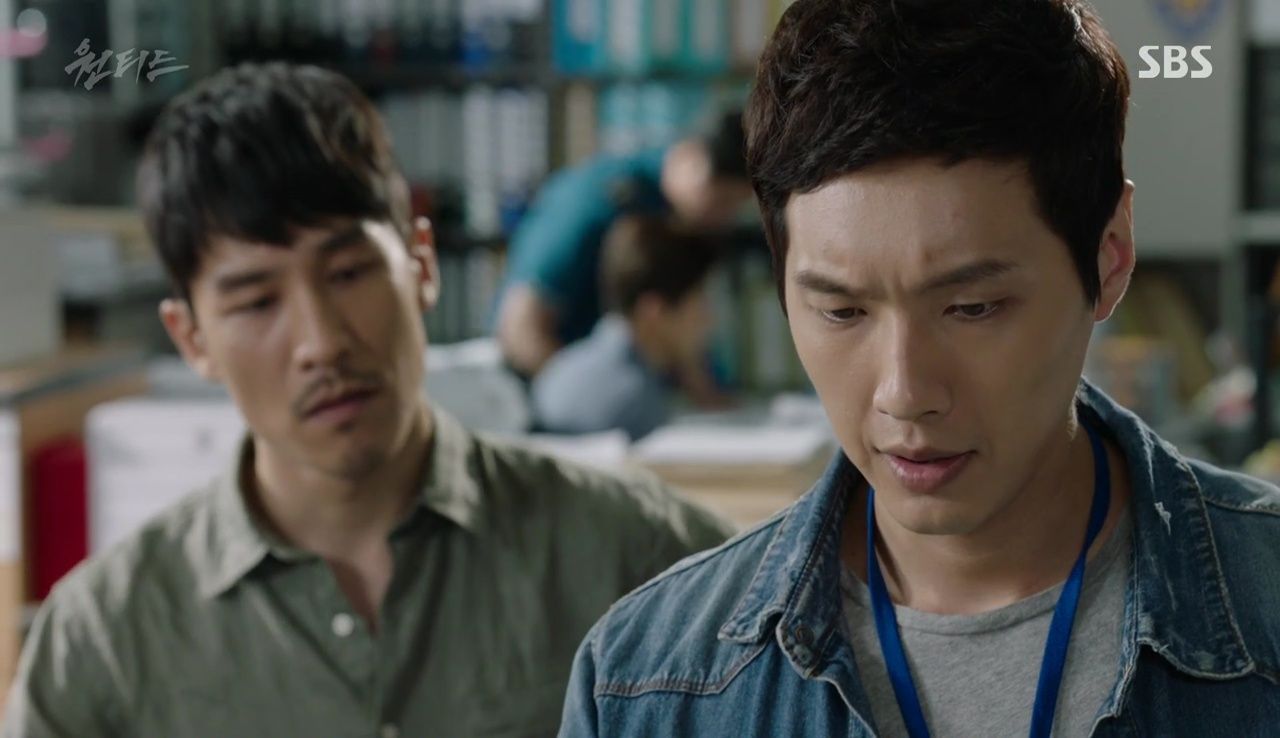 Seung-in meets with the black market pharmaceutical dealer from Jo Nam-cheol's girlfriend's e-mail to ask if he has potassium chloride. At the dealer's shiftiness, Seung-in insists that he'll pay double, causing the dealer to admit that someone bought his stock of potassium chloride yesterday. When Seung-in asks if that person was Jo Nam-cheol, the dealer makes a run for it, but Young-gwan is there to cuff him.
When they take the drug dealer in to the station, Detective Park shares Im Hyung-soon's phone records. Seung-in checks that against the number he got from Jo Nam-cheol's girlfriend, and sees that the two talked on the phone the day before the murder. He concludes that kidnapping and contract murder are likely out.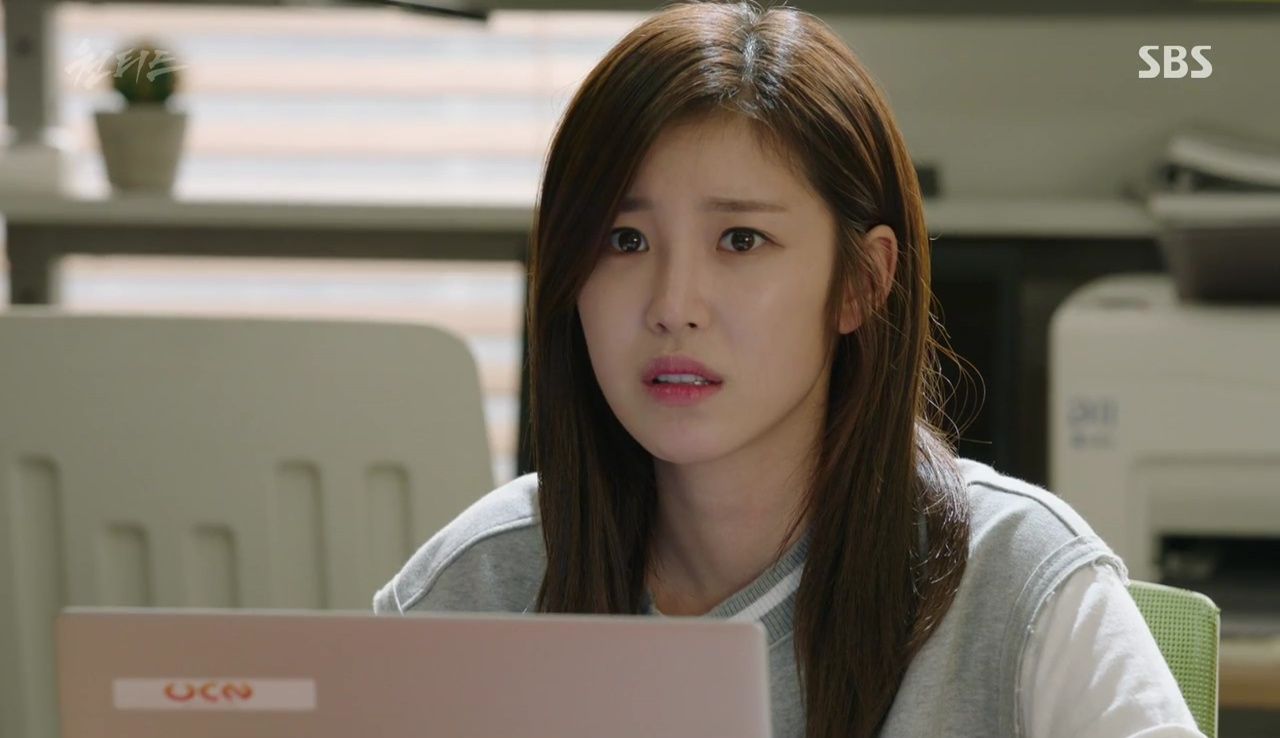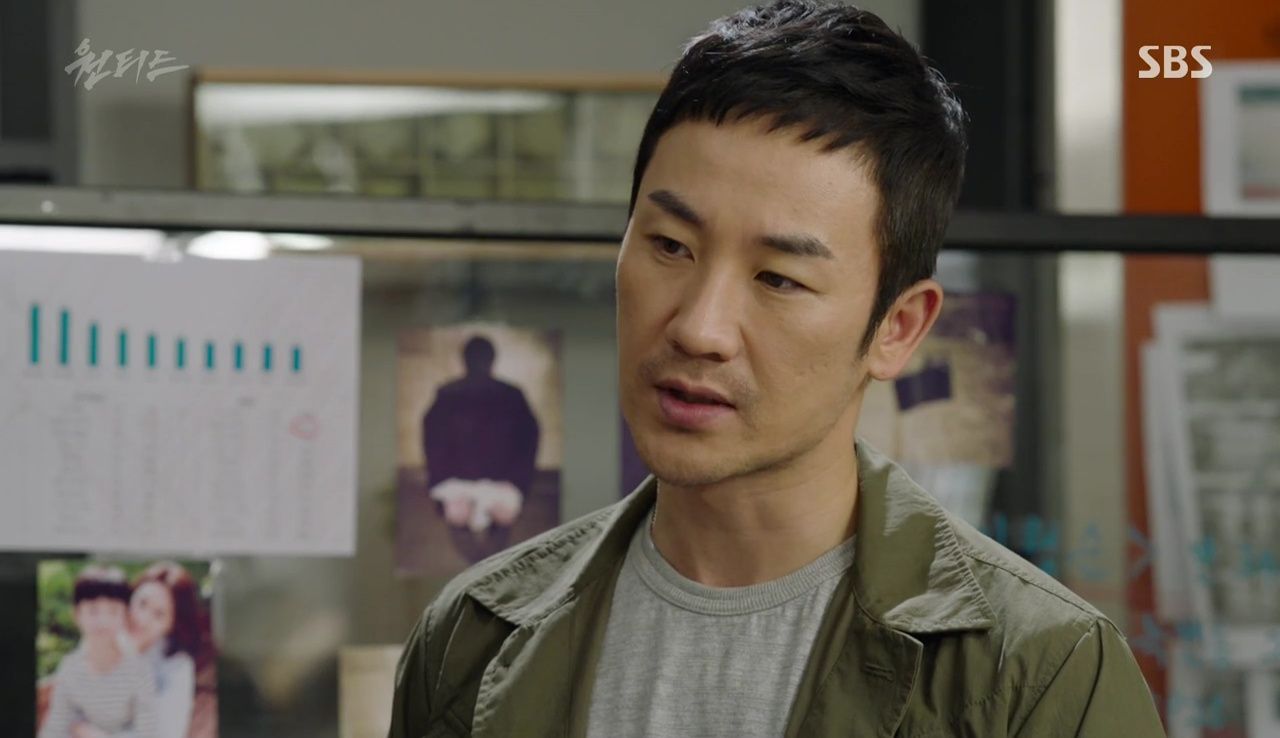 At UCN, the production team prepares for the day's broadcast. Writer Yeon comments that it may have been better for Dr. Ha to do the press conference. Even if they reveal the murderer as Jo Nam-cheol, she wonders if people will be curious about that. Bo-yeon says people are curious, but word on the internet is that Hyun-woo may be dead because today's mission hasn't been revealed yet.
Dong-wook says that what's important isn't whether Jo Nam-cheol killed Im Hyung-soon, but why the kidnapper wanted them to find Jo Nam-cheol. That's what they have to make people curious about. If they find that reason, Joon-gu agrees, they'll be able to find Hyun-woo as well.
Just then Reporter Jang drops by to talk to Dong-wook. He asks why there hasn't been a preview for tonight's show. Is something wrong? He shows Dong-wook his notes, telling him he's going to write a book once the show is over. He knows Dong-wook barely managed to save his career with this show, and if Dong-wook just lets him join the broadcast team and gives him some behind the scenes information, he'll make them heroes in his book.
Dong-wook asks if Reporter Jang is willing to write articles the way they want while the show is on air. Reporter Jang assures him he will, and remarks that the investigation team on this case makes for a good story too. When Detective Cha Seung-in was a rookie, he says, he was teamed up with Mi-ok. A senior officer died, they caught the criminal, then split up. Dong-wook thinks of how emotionally involved both Seung-in and Mi-ok have been in this case, and asks about what happened seven years ago.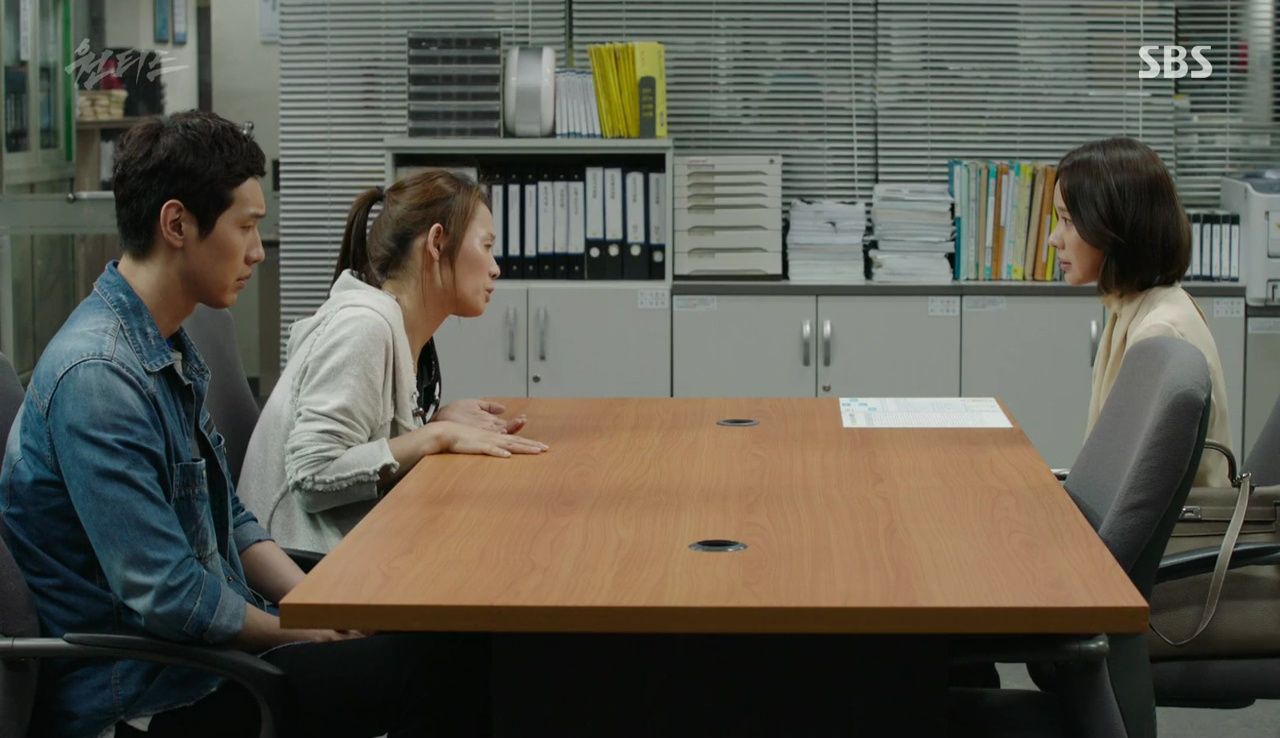 Seung-in sits at his desk at the precinct, taking out an old book of investigation notes. He opens it to a page where he's written, I've never felt so incompetent. The things that a detective can do are so small and insignificant. Hye-in arrives, telling him she couldn't go to the broadcast station and she couldn't go home, so she came here. He takes her into a conference room with Mi-ok.
Hye-in tells them about the hidden cameras she found in her car and all over her house. She says she suspected her husband at first, but her manager knows a secret that only a few people close to her knew. Mi-ok asks her what that secret is. She tells Hye-in that the criminal probably chose his mission targets before the show began. He has been monitoring them, uncovering their crimes and then exposing them. He's probably targeted her in the same way, finding out everything about her life in order to use her for his ends.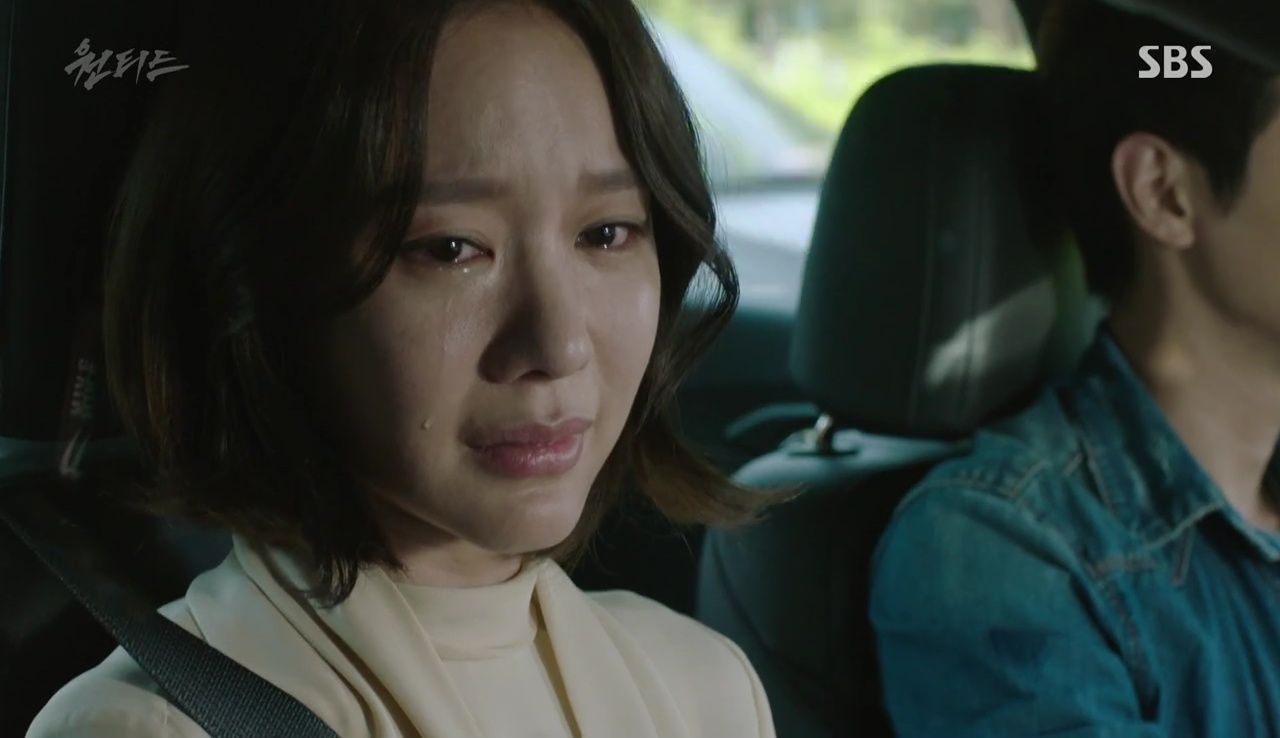 "Then, in the mind of the criminal," Hye-in asks, "is there a commonality between me and those people?" Mi-ok says the answer to that will allow them to figure out his motives and to get ahead of him to find Hyun-woo. She urges Hye-in to try to find a connection.
As Seung-in drives Hye-in to the UCN broadcast station, she asks him if a sin she committed that the criminal wants to reveal is the reason for Hyun-woo's kidnapping. "No," he replies. "Hyun-woo was kidnapped because someone used a child for his scheme. Don't trust anyone. Not your husband, not your manager, not the broadcast team. Jung Hye-in, you can trust me." He tells her not to try and solve things herself, but that she can come to him any time.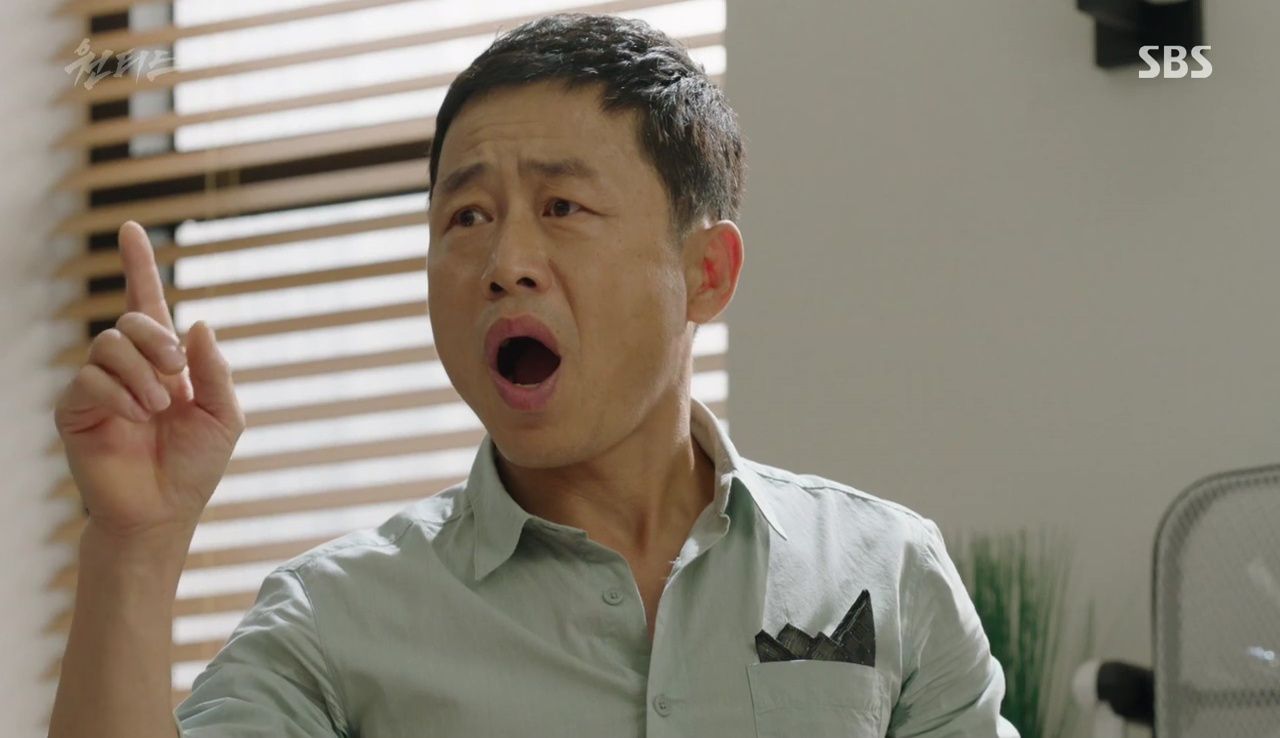 Dong-wook tells his team that they will focus on Seung-in for this episode, bringing in his previous connection to Jo Nam-cheol. Bo-yeon notes how creepy it is if the kidnapper purposely did this to pull in even the investigation team.
Writer Yeon replies that if they can make the viewers feel that way too, they'll succeed. Dong-wook tells her to use Reporter Jang's notes to write up some dramatic scenes while he gathers some actors. Joon-gu says he will create a public search for Jo Nam-cheol.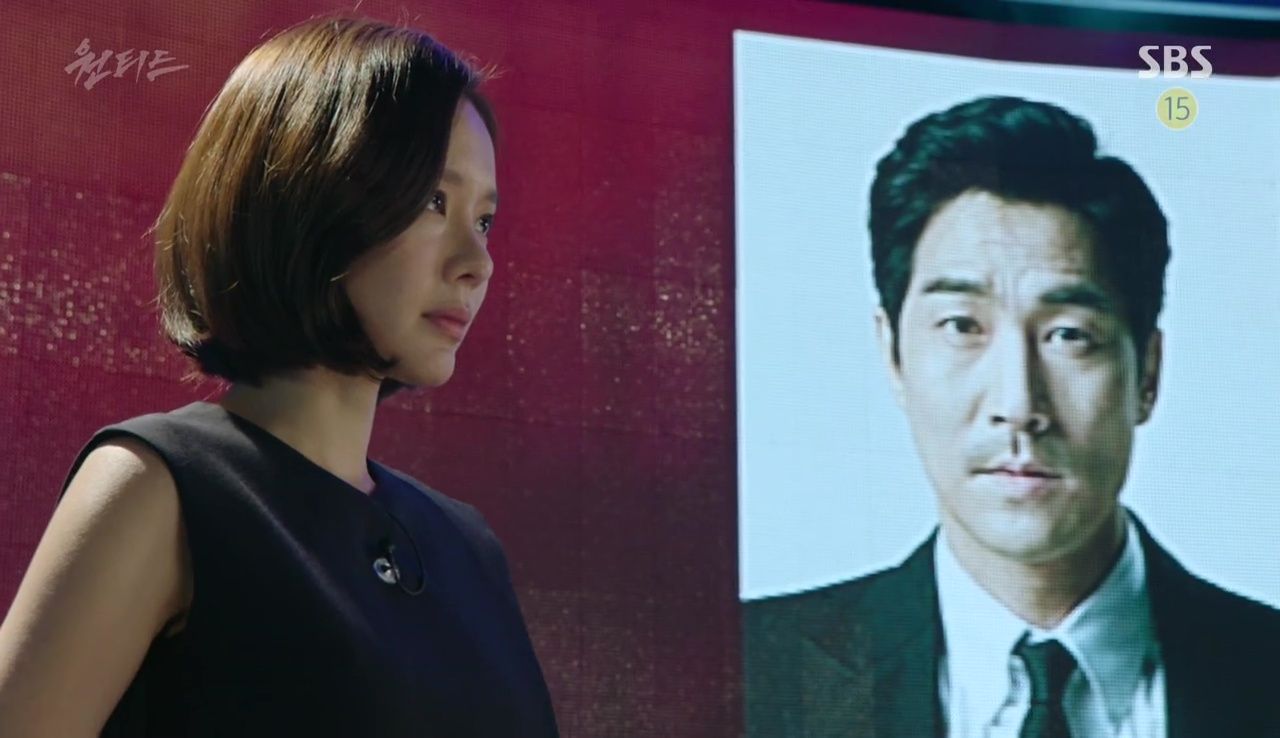 10 p.m. Showtime. Hye-in is in the studio again, narrating their discovery of evidence that Hyun-woo is alive, as well as the body that was found with the third mission. With Jo Nam-cheol's photo and information on the screen behind her, she announces a public search for the murder suspect. She pleads with viewers to help, saying tearfully that if they can't find the murderer before the show ends, Hyun-woo will be in danger.
She shares the evidence of the case, as well as Mi-ok's conclusion that the kidnapper recreated the signature of a murder from seven years ago. She compares the two cases, and says the link is the detective working on them both, DETECTIVE KIM, who also had a special connection to the victim from seven years ago.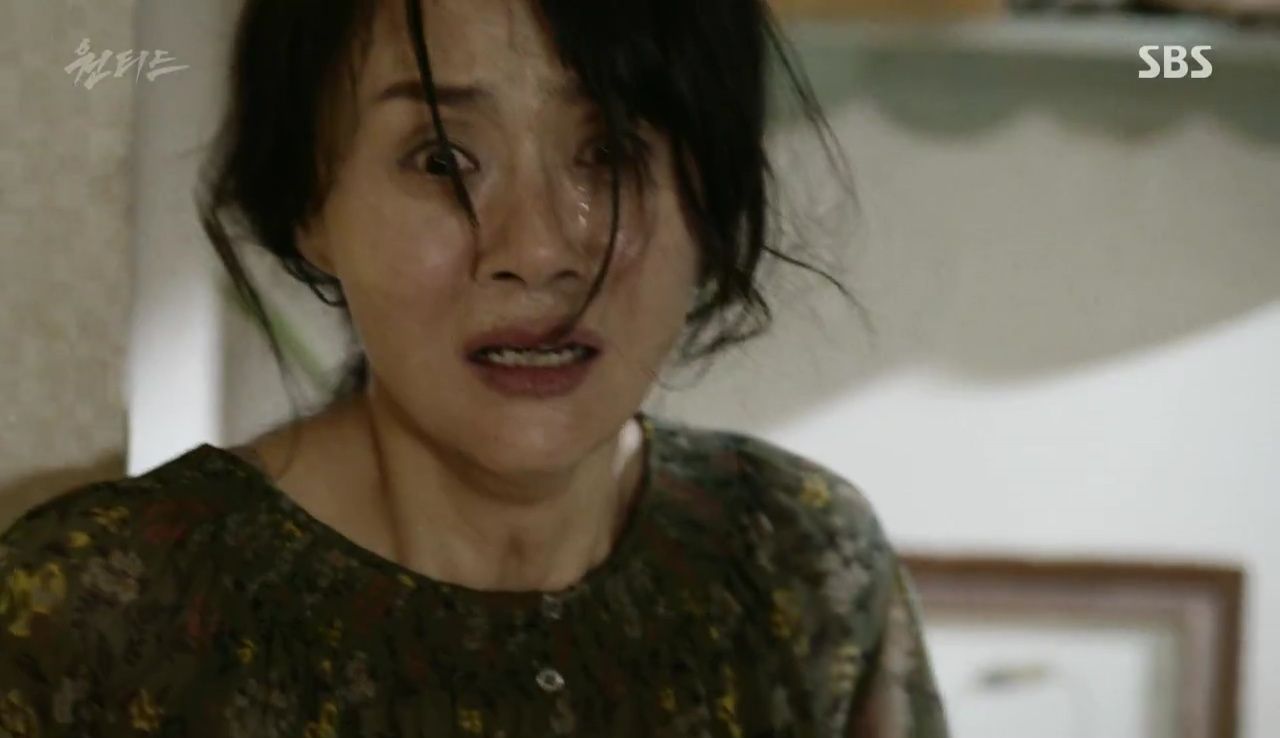 We see a scene from the past. High schooler Seung-in walks in on his dad beating up his mom, and restrains him. Seung-in tells his mom to run, as his father beats him brutally. Dad continues to threaten Mom as she escapes, and Seung-in struggles upright, grabs a vase from a table, and breaks it over his father's head. His father calls the police on him, telling the detective to put him away. Seung-in tells the detective he's fine, but his mom has nowhere to go—can he look after her? He stands and offers his hands to be cuffed, and the older man sighs.
Seung-in watches with teary eyes as Detective Kim's body is shown onscreen, Hye-in narrating, "For a boy that no one protected, Detective Kim gave a helping hand."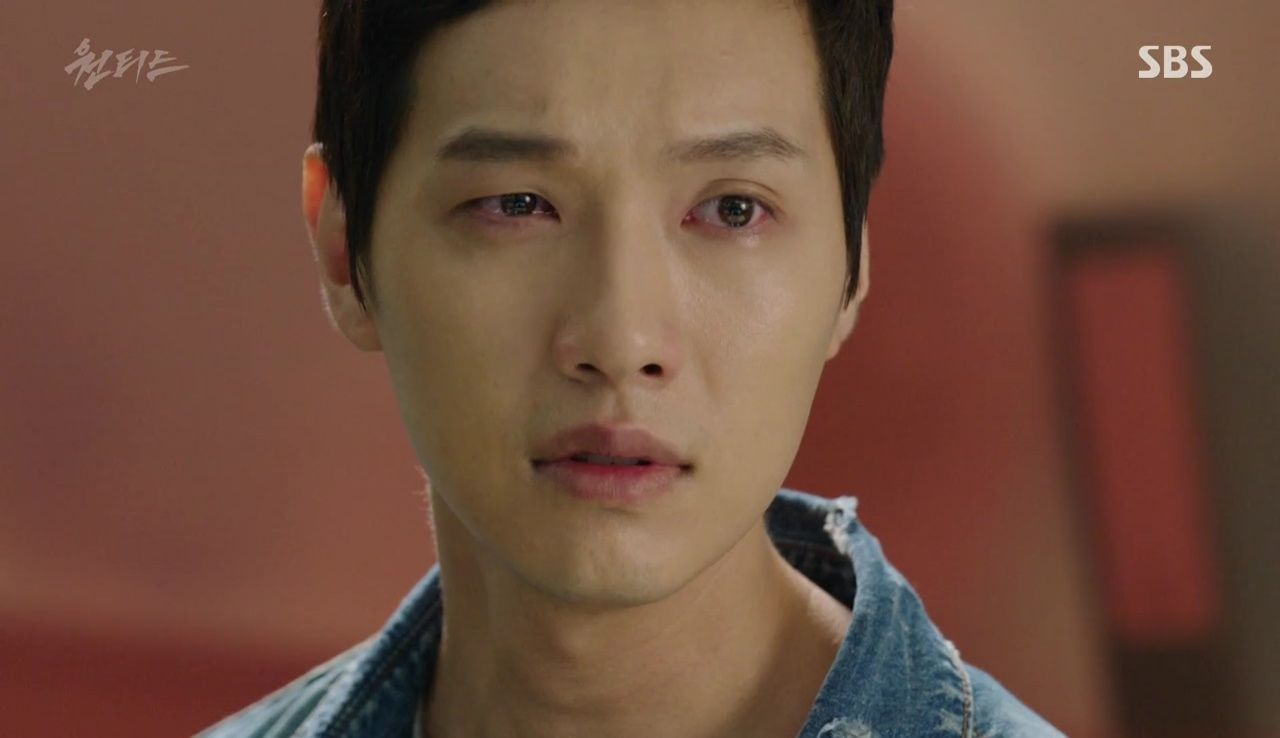 We see another flashback, this time with Detective Kim scolding a rookie Seung-in for going after a criminal without a warrant. His anger disappears when he sees Seung-in's battered hands, and he makes him sit while he applies ointment to the cuts, still grumbling at him affectionately. Mi-ok sits near them, finishing Detective Kim's sentences. Detective Kim suddenly gets a phone call and rushes out.
Hye-in narrates that without telling his protege or partner, Detective Kim had been unofficially hung up on a case. The three of them had been out for dinner when the older man had left to buy cigarettes. Forty minutes later they got the call, and Seung-in found the body of his sunbae, his hyung, his father figure, dead.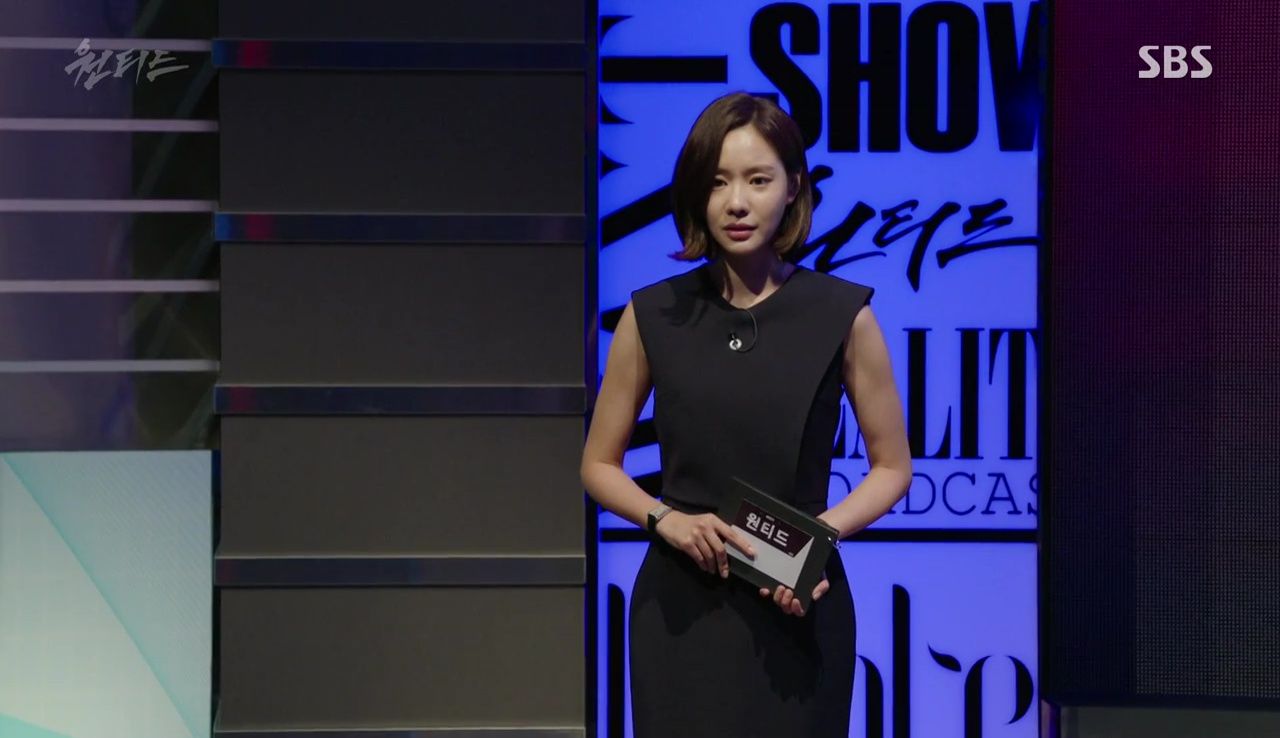 Hye-in poses the question of why the criminal would recreate this case. The only way they can find out is if they find Jo Nam-cheol, which will get them one step closer to finding Hyun-woo.
Dong-wook tells Joon-gu to keep an eye on the tips and that he's headed to the crime scene. If Seung-in is able to arrest Jo Nam-cheol there, it'll be the perfect ending, so Dong-wook says he'll film it on his phone and send it to Joon-gu.
But before he can leave, Seung-in storms in and grabs him by the collar. "Forget about the fact that you used me. That picture… Sunbae's mother is still alive! How do you think a mother would feel, watching the way her son died on TV?!"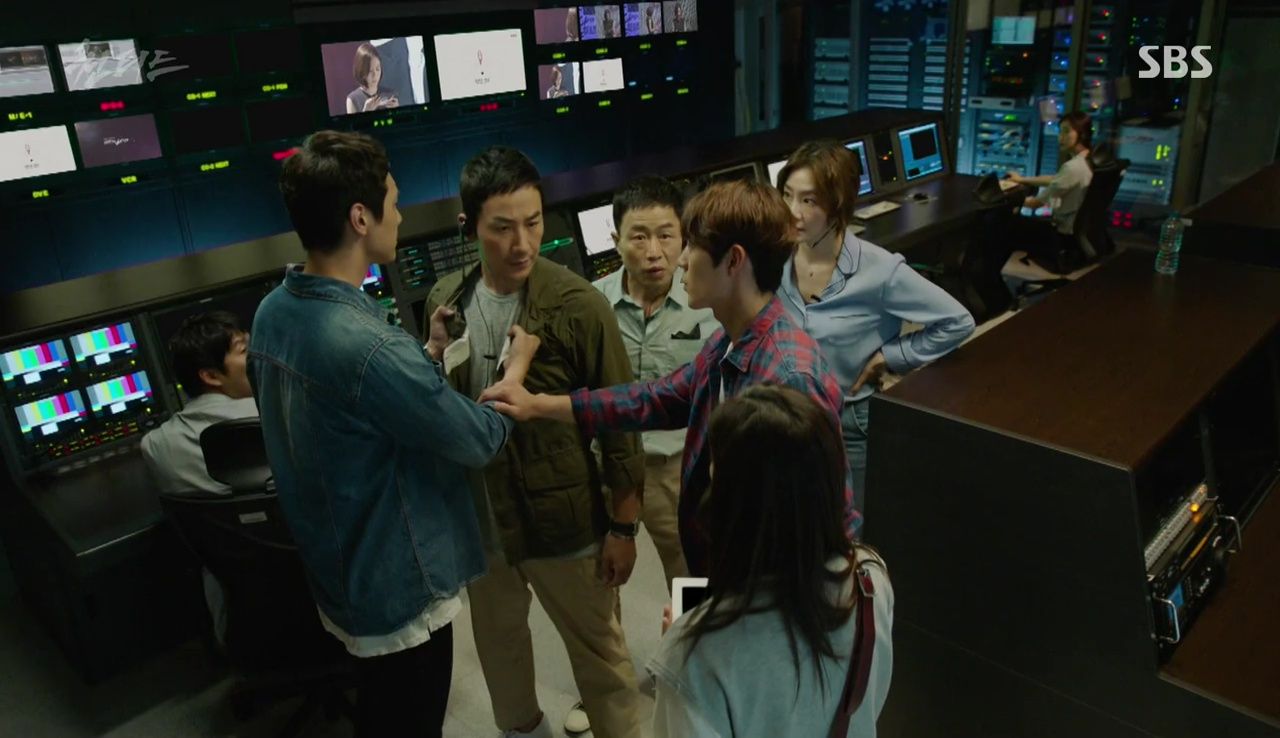 Young-gwan and Bo-yeon rush in, saying they found Jo Nam-cheol in a shopping mall. Seung-in and Young-gwan run out, followed closely by Dong-wook and Writer Yeon. Joon-gu and Bo-yeon stay at the station, announcing on air that they've got information that Jo Nam-cheol is at a subway station, hoping to buy the police some time before he catches on.
Jo Nam-cheol sees his picture on the broadcast and calls someone, telling him he's thirty minutes late to meet him. "I need the money you promised me!" The man on the other end says he's the most wanted person on live TV right now, so they'll have to wait till things cool down.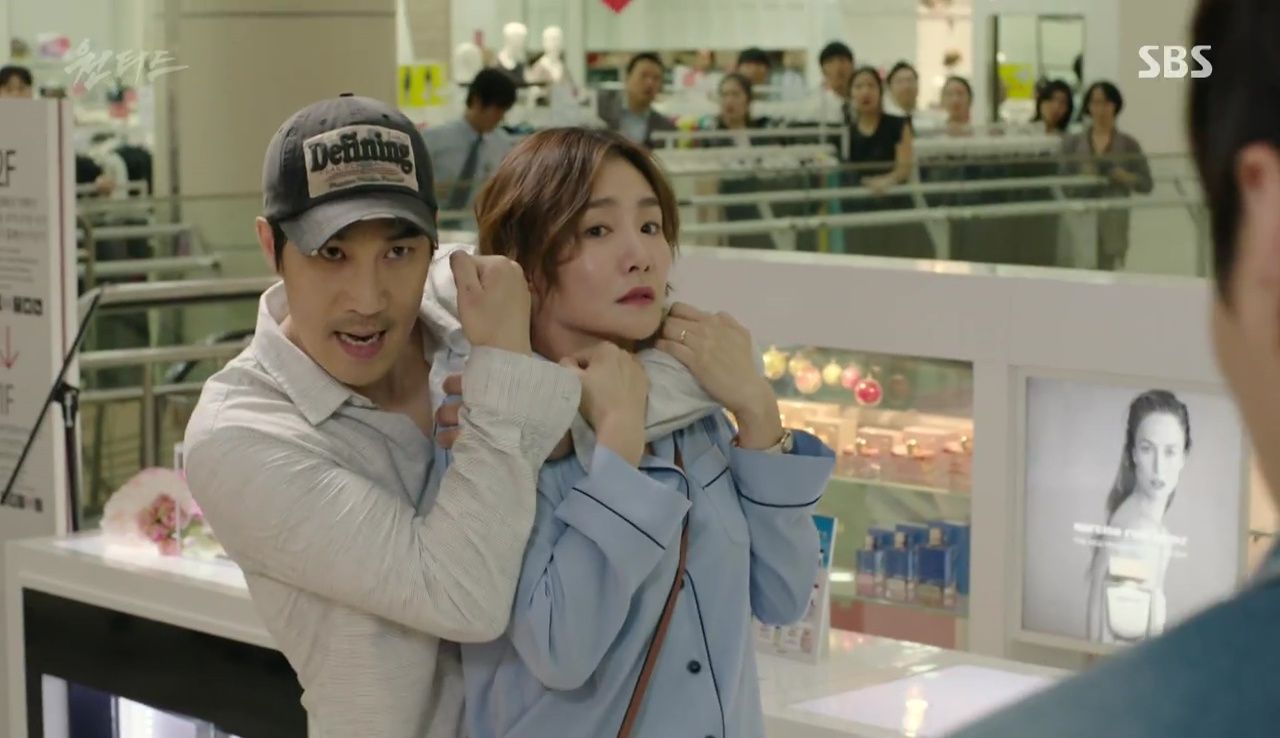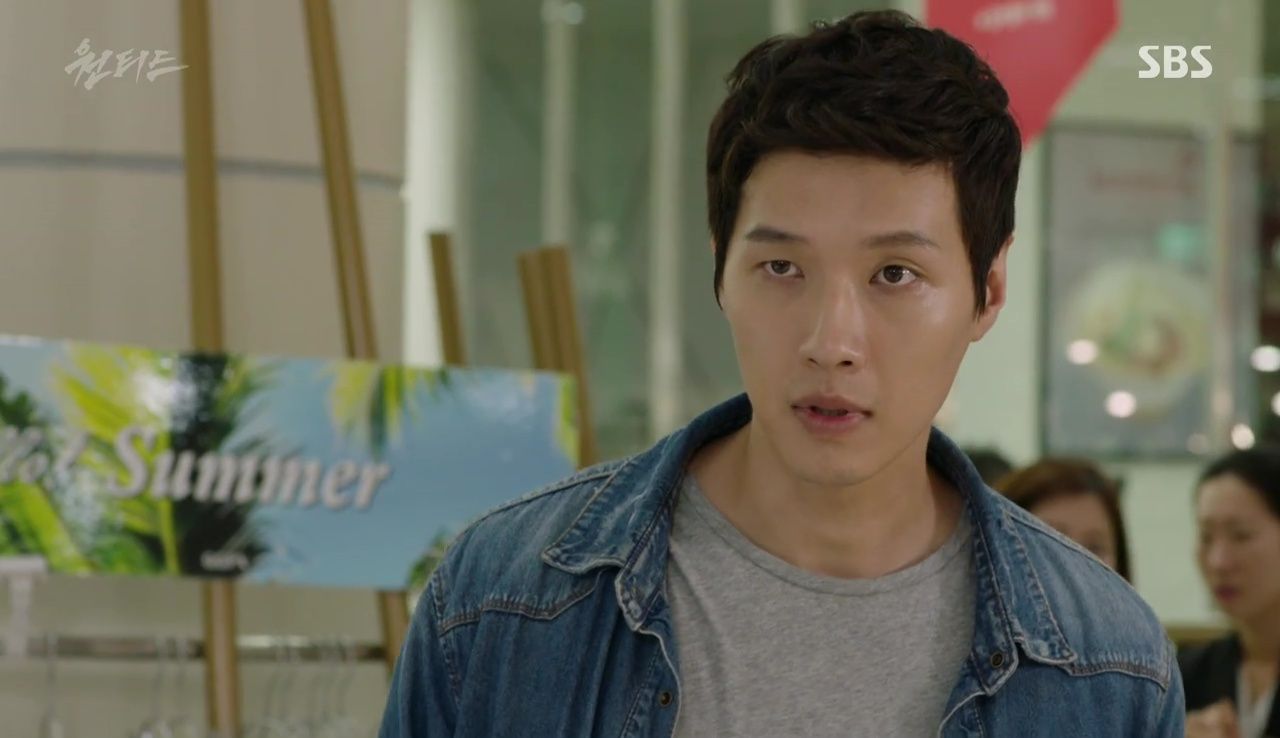 On his way out, Seung-in spots Jo Nam-cheol and gives chase. They run through the mall, Dong-wook and Writer Yeon following; she's filming the pursuit on her cell phone. Cornered, Jo Nam-cheol suddenly grabs Writer Yeon around the neck and takes out a syringe. He uncaps it and holds it at her neck.
"Good looking detective, we meet again," Jo Nam-cheol says to Seung-in. "Our ill fate is really out of the ordinary." Seung-in tells him to let Writer Yeon go. She also pleads for him to let her go, telling him she'll help him escape. If he kills her, he'll be shot to death. She trembles as she looks over at Dong-wook, who is still filming.
Young-gwan yells and pulls out his gun, and Jo Nam-cheol turns them both suddenly in his direction. Seeing his chance, Seung-in grabs Jo Nam-cheol's arm from behind, freeing Writer Yeon, and tackles him. He pushes him to the ground and cuffs him.
Back in the studio, Hye-in announces the completion of the third mission and takes her earpiece out. She looks into the camera and speaks in banmal.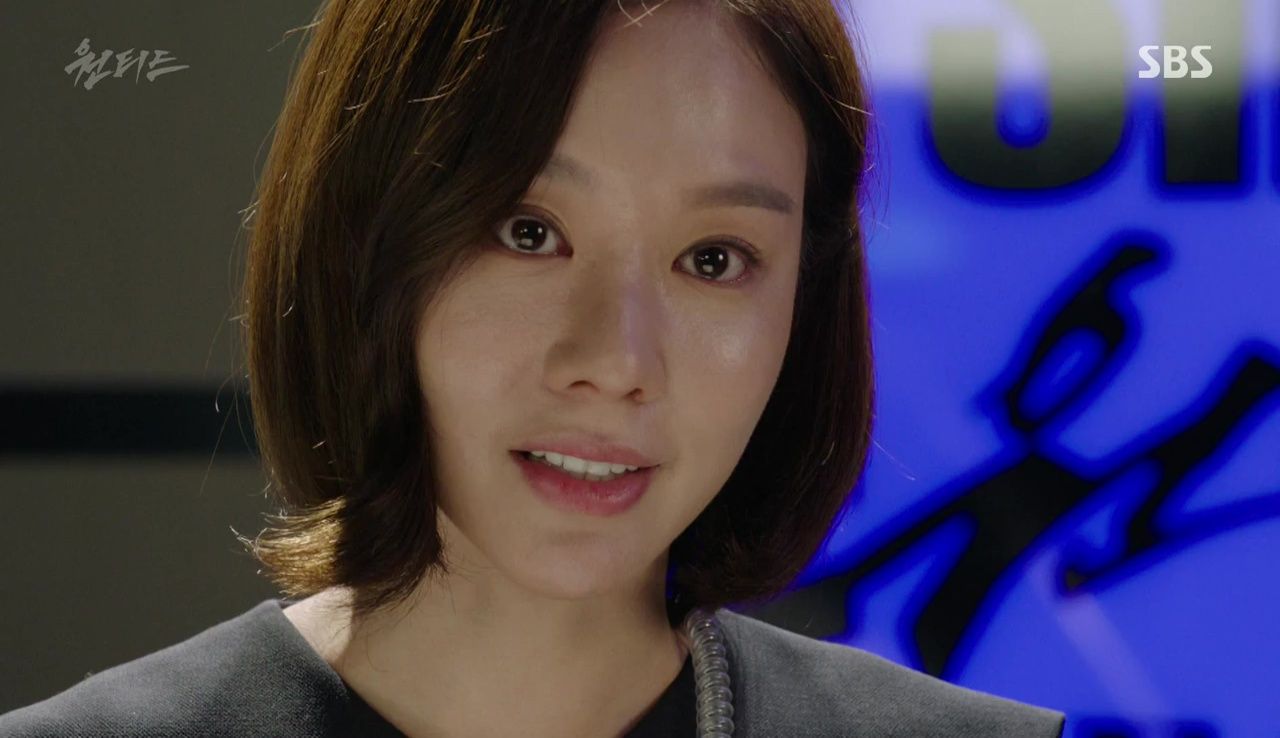 Hye-in: "We've completed three missions so far. Are you trying to punish people who committed sins? I'm starting and ending this broadcast, so I must have committed some sin too. I don't know what my sins are. So don't drag other people in. Reveal my sins first starting next episode with your methods, so we can reach the ending you want faster."
The broadcast ends. At the mall, Seung-in puts a smirking Jo Nam-cheol into a cruiser, Dong-wook steadily filming. A paramedic leads Writer Yeon to an ambulance.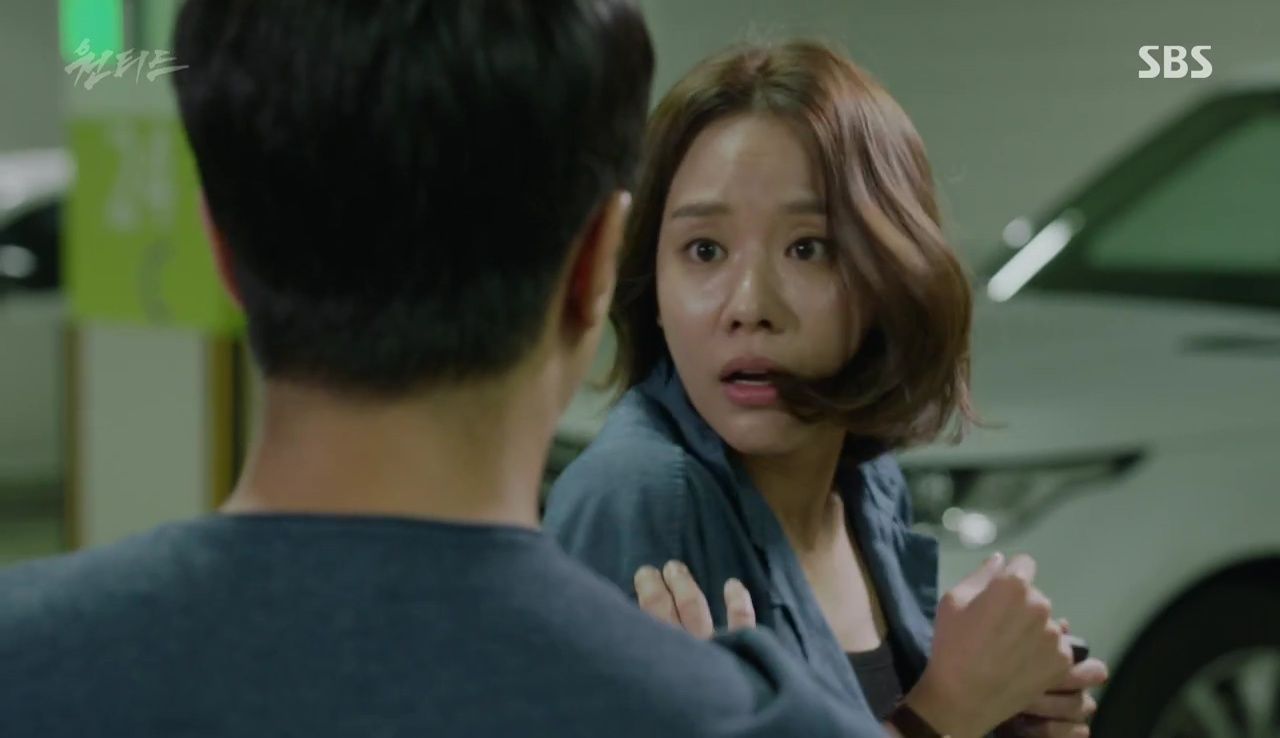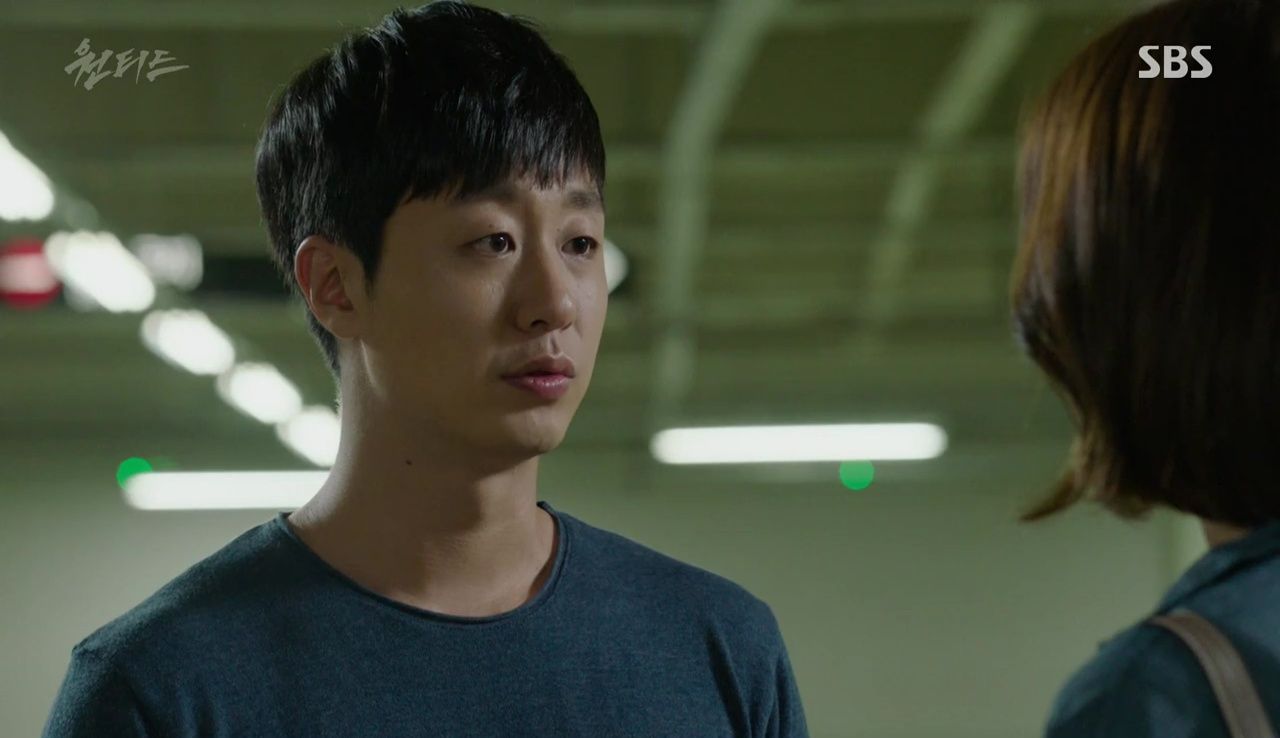 Manager Kwon grabs Hye-in's shoulder as she walks to her car, startling her. He asks her if she's ready to go. She says she's tired and wants to go home alone for a bit, and asks him to stay with the production team as the mission will probably come quickly this time. He agrees, and watches her leave.
Seung-in and Young-gwan are driving back with Jo Nam-cheol when a car comes out of nowhere and crashes into theirs, sending them spinning. Somewhere else, Hye-in gets into her car looking frightened, and calls Seung-in.
We see the detectives' car again. Both are unconscious, and only a pair of bloody handcuffs remain in the backseat. As the phone continues to ring, Hye-in looks in the rearview mirror to see a masked man, but her cry is muffled by the cloth he holds over her nose and mouth.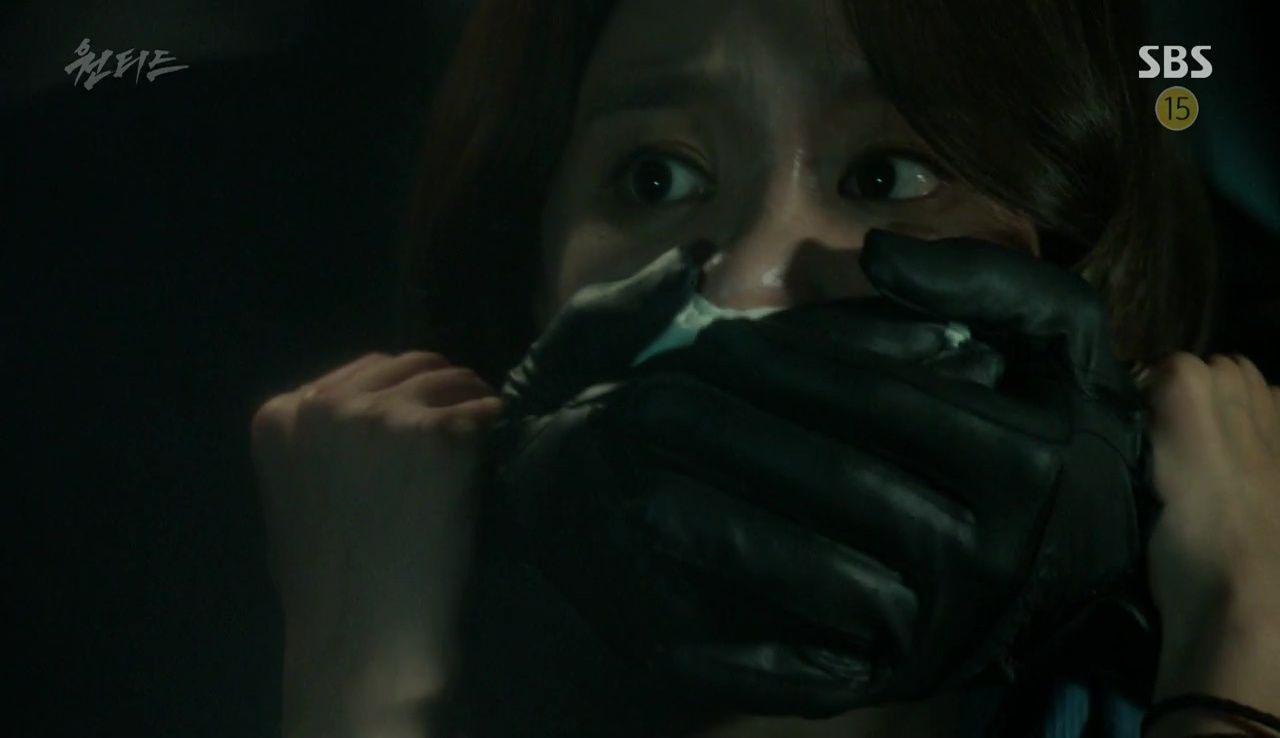 COMMENTS
This episode really centered around Seung-in. He's been the heart of the show all along, both for his unwavering sense of morality and his empathy towards the victims of crimes above all else. Those traits are rare in the world of Wanted, where so many of the characters are motivated by various self-interested reasons of their own, and are willing to sacrifice sentiment and even reputation to reach those goals. Seung-in, however, is an example of a cop who is well known for catching his man, and even for breaking the rules without compunction. What makes him different from the team at UCN is that he's never compromised his personal ethics while doing whatever he can to catch the bad guys.
It's obvious that his avoidance of hurting others at all costs comes from his childhood, where he had to witness his father beat his mother. He's clearly taken some kind of personal oath to protect the weak, the victims, and those who can't speak for themselves. That's why it's so devastating to see his personal pain be used by the Wanted team for their show, exposed for the world to see on television. And yet his only thought when he saw the show was not for his own feelings, but those of Detective Kim's mother, having to see her murdered son's body displayed in such a horrible way.
It also made me a little disappointed in Hye-in for the first time. Until now I've understood her desperation, and have been on board with her willingness to use rather questionable methods to fulfill the kidnapper's requests. But her exposure of Seung-in's traumatic past, coming so soon after his promise to her that she could trust him no matter what, felt like a betrayal. At the very least she could have asked his permission, or even warned him, instead of blindsiding him so cruelly. In previous episodes I got the sense that the production team's hands were tied, but in this one there was a slimy feeling of them taking advantage, of sensationalizing Seung-in's story when they didn't necessarily have to in order to fulfill the mission.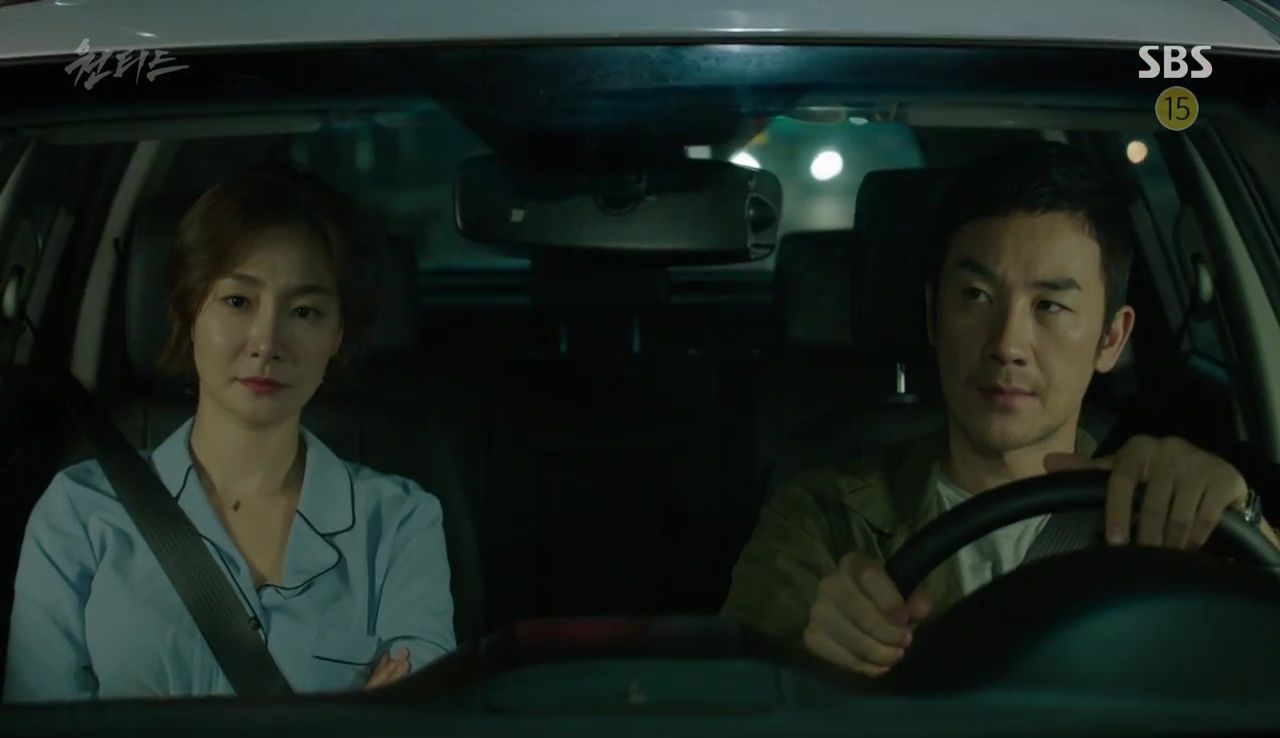 This is a more minor point, but I found it interesting to note the contrast between two sets of partners in this episode: Dong-wook and Writer Yeon versus Seung-in and Young-gwan. It's been obvious since the start of the show that Dong-wook and Writer Yeon are friends that have worked together for years, and have a lot of respect for each other professionally. And yet that long, comfortable relationship fell apart in this episode, as Dong-wook focused single-mindedly on getting his footage even as Writer Yeon trembled in fear for her life. You could almost see her affection for him crashing to the ground during the hostage incident and afterwards, as she was led forlornly to the ambulance. He didn't even bother to ask if she was okay once the excitement was over.
Seung-in and Young-gwan, on the other hand, have just started working together, and in episode one Seung-in was still a bit annoyed by this kid who came out of nowhere and begged to be on his team. Yet in this episode we see Young-gwan anticipating his requests, watching him carefully in order to have his back, and basically being a perfect sidekick. Add to that the way he watched with puppy eyes when Seung-in tearfully watched his past being used for TV fodder, and this kid has got my heart. I really loved the moment after Seung-in confronted Dong-wook about the broadcast, when they had the clue about Jo Nam-cheol, and Young-gwan just gently held onto his arm to bring him out of his anger and remind him of what needed to be done. Now that's a real partner.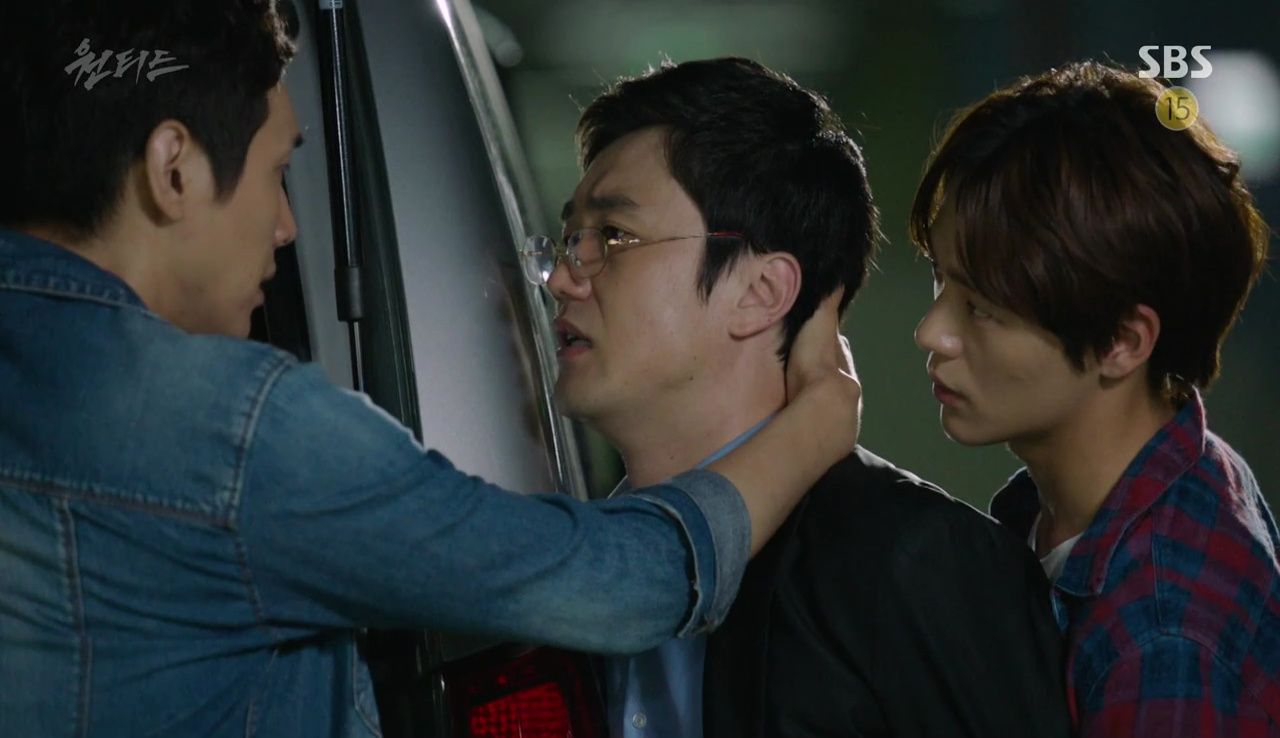 RELATED POSTS
Tags: Episode 5, featured, Ji Hyun-woo, Kim Ah-joong, Uhm Tae-woong, Wanted