Cinderella and the Four Knights: Episode 3
Cinderella has officially entered the palace, and there's no turning back. While living in a beautiful mansion with four wealthy and handsome men may seem like the ultimate dream, the transition isn't so smooth and seamless. It's a bizarre living arrangement, and not everyone is on board with it. While Cinderella could get used to the lavish meals, the other aspects of luxury are harder to accept. But she didn't sign up for a luxurious retreat; she's got a job to do and boys to turn into men. Chop, chop!

EPISODE 3 RECAP
Trembling and sopping wet from the rain, Ha-won enters Sky House carrying her mother's urn. Bodyguard Lee wordlessly drapes his jacket over her shoulders and leads her to her room.
Ha-won sits in a tub filled with water, still in her clothes. She numbly reflects on the revelation that she's not the child of her father before submerging herself in the tub, as if to wash away the miserable truth.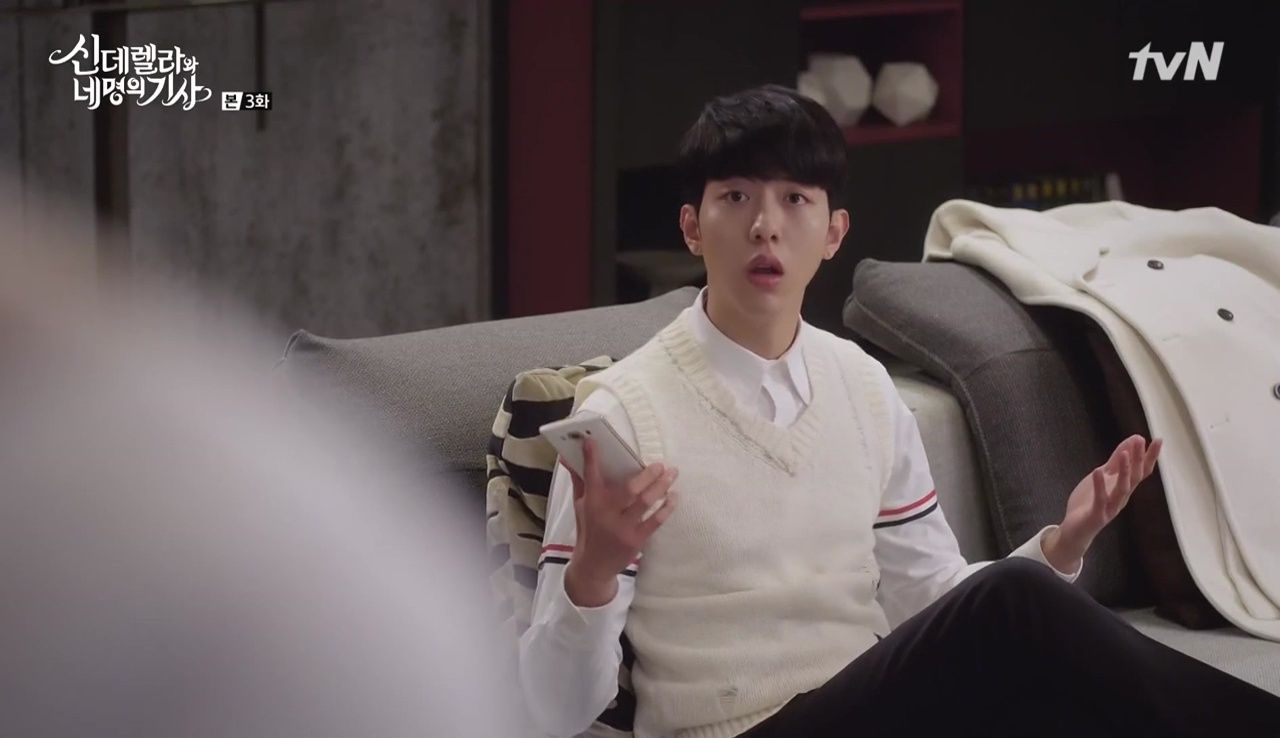 All three grandsons are gathered in the living room, and Bodyguard Lee relays Grandpa's orders: "Ms. Eun Ha-won will be living here at Sky House with you all, beginning today."
Naturally, this takes them all by surprise. Hyun-min has qualms about Ji-woon living at Sky House because he didn't want to live here in the first place, but Ji-woon retorts that it's also nonsensical for Hyun-min to live in the same house as his fiancée. Seo-woo's discomfited by the idea of living with a girl.
Bodyguard Lee makes clear that dating is absolutely forbidden in the house, which confuses Seo-woo since he believes Ha-won and Hyun-min are actually engaged. Hyun-min pulls Bodyguard Lee aside, away from his cousins, and convinces him to let the others continue to believe that the engagement is real since it's "safer" that way.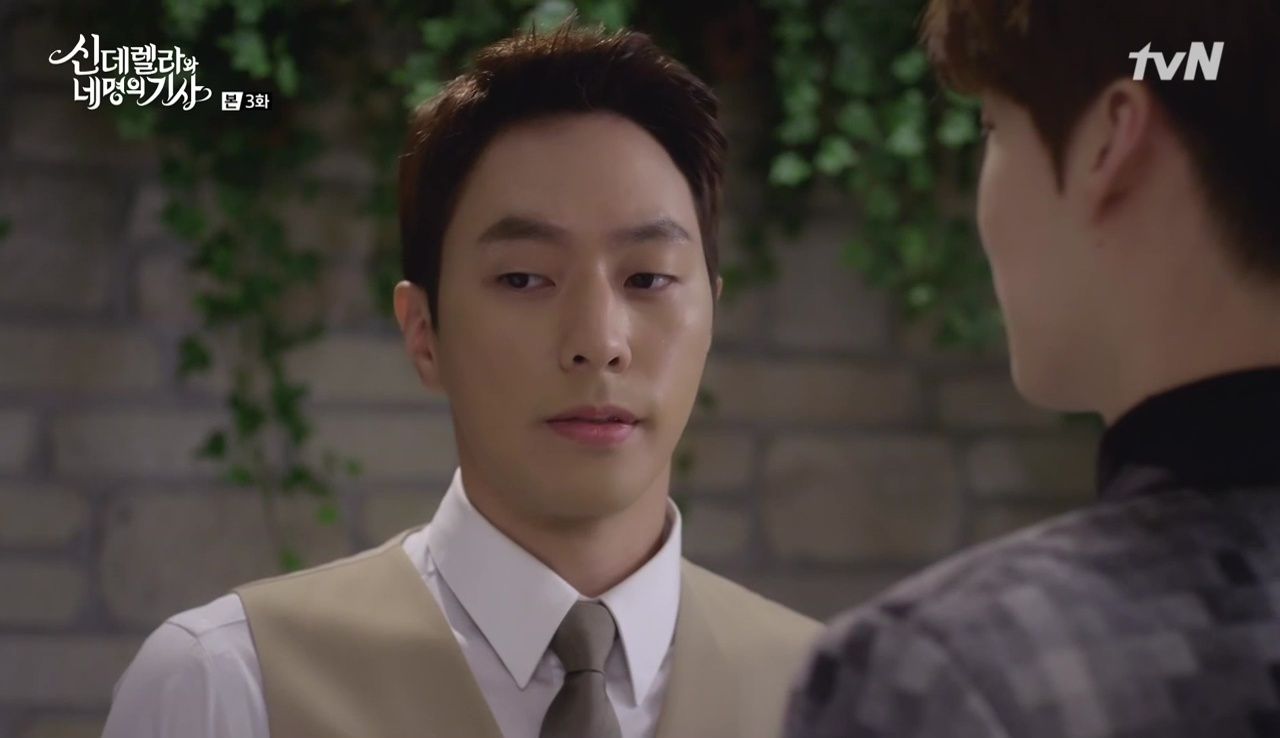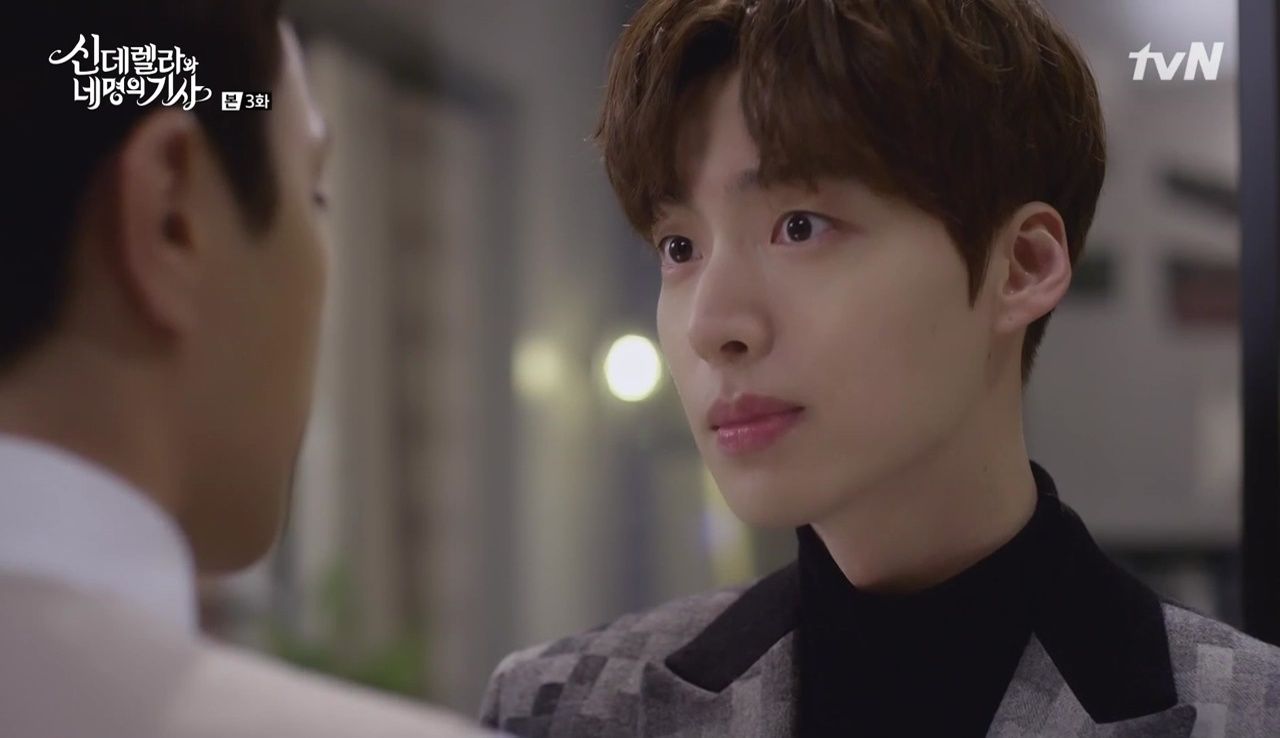 Bodyguard Lee is unconvinced, but Hyun-min promises that he can stop them from breaking the rule and even vows to give up all his credit cards should anything happen. Bodyguard Lee acquiesces and resumes the meeting.
Bodyguard Lee emphasizes the no-dating rule, with Hyun-min chiming in that he's the exemption, even though Seo-woo points out that he's the most dangerous.
After bathing, Ha-won enters her spacious and elegant bedroom. She places her mother's urn underneath her vanity, and reassures her mother that this is only a temporary spot. The sound of Ha-won's empty stomach disrupts the moment.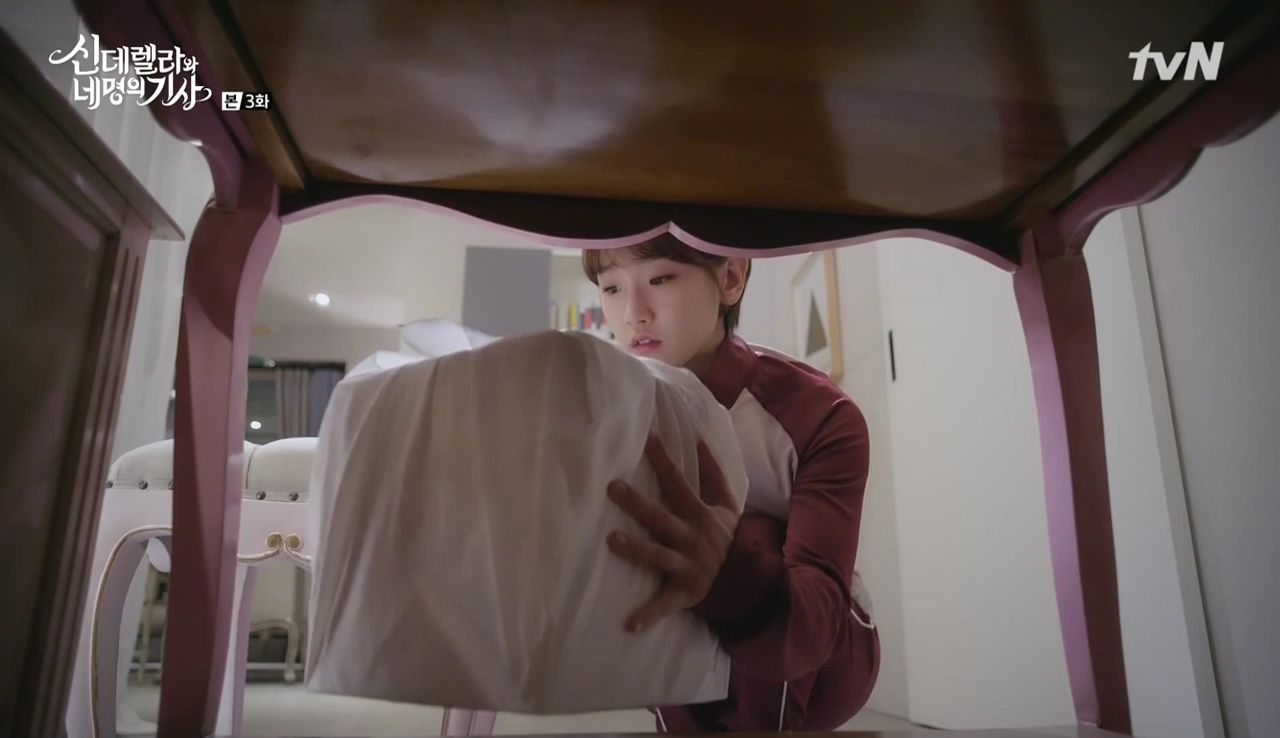 Bodyguard Lee stops Ji-woon in the hallway and reminds him that he's now chosen to live as Kang Ji-woon, but Ji-woon corrects him by saying that he was coerced to live as a Kang. Bodyguard Lee doesn't understand why Ji-woon's trying so hard to live as Han Ji-woon, but Ji-woon replies that he only returned to Sky House to find out the sort of man his father was, the man who abandoned him and his mother and forced him to live as a Han.
Ha-won opens the fridge to find some food, but is stopped by MS. BEOLGYO, a no-nonsense housekeeper who wonders why Ha-won is sneaking around. Ms. Beolgyo warns her that the boys will give her a hard time if they find her like this, so she leads Ha-won to another space that's much cozier and less luxurious. Ha-won comments that she actually prefers this place over Sky House.
Bodyguard Lee appears and is surprised to see Ha-won in Ms. Beolgyo's quarters. He chides Ms. Beolgyo for mistaking Ha-won as the new help when she's really the Chairman's special guest. The housekeeper apologizes profusely, but Ha-won isn't offended and tells her not to worry.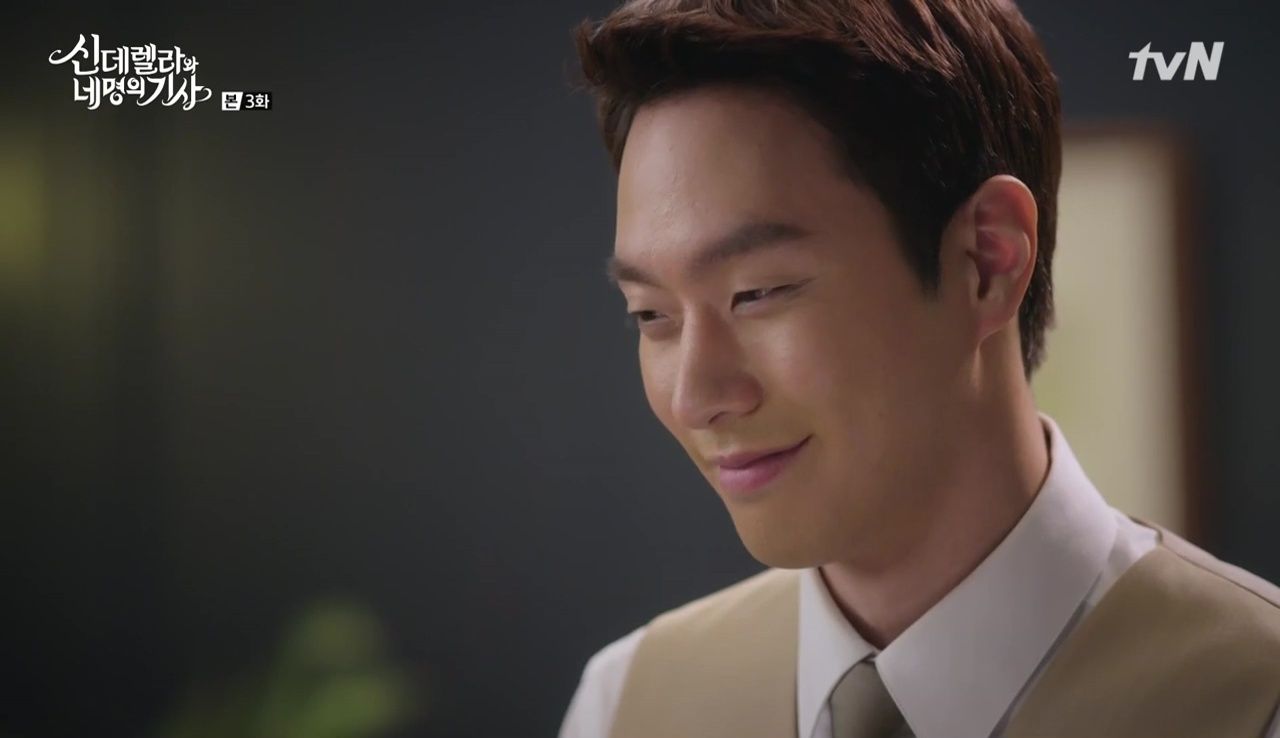 Bodyguard Lee walks Ha-won back to Sky House. Ha-won thinks he was too harsh on Ms. Beolgyo, especially since she's much older than Ha-won, but Bodyguard Lee repeats that everything he does is the Chairman's command; all the estate's employees must treat Ha-won with reverence whether she likes it or not. Suddenly, Ha-won's stomach growls.
Bodyguard Lee expertly whips up four main dishes for Ha-won. She excitedly digs in, and gives him a thumbs up for his culinary expertise.
After dinner, Hyun-min reminds her to act like they're still engaged. Ha-won scoffs, but he insists it'll be safer for her that way since she's the lone girl living in a house full of guys.
She asks him to raise both hands, and he complies. Ha-won swings at him, but Hyun-min dodges and catches her instead. He smiles at her surprised expression and reiterates that he'll protect her. She then runs into Ji-woon who pointedly asks her how much money she accepted this time around.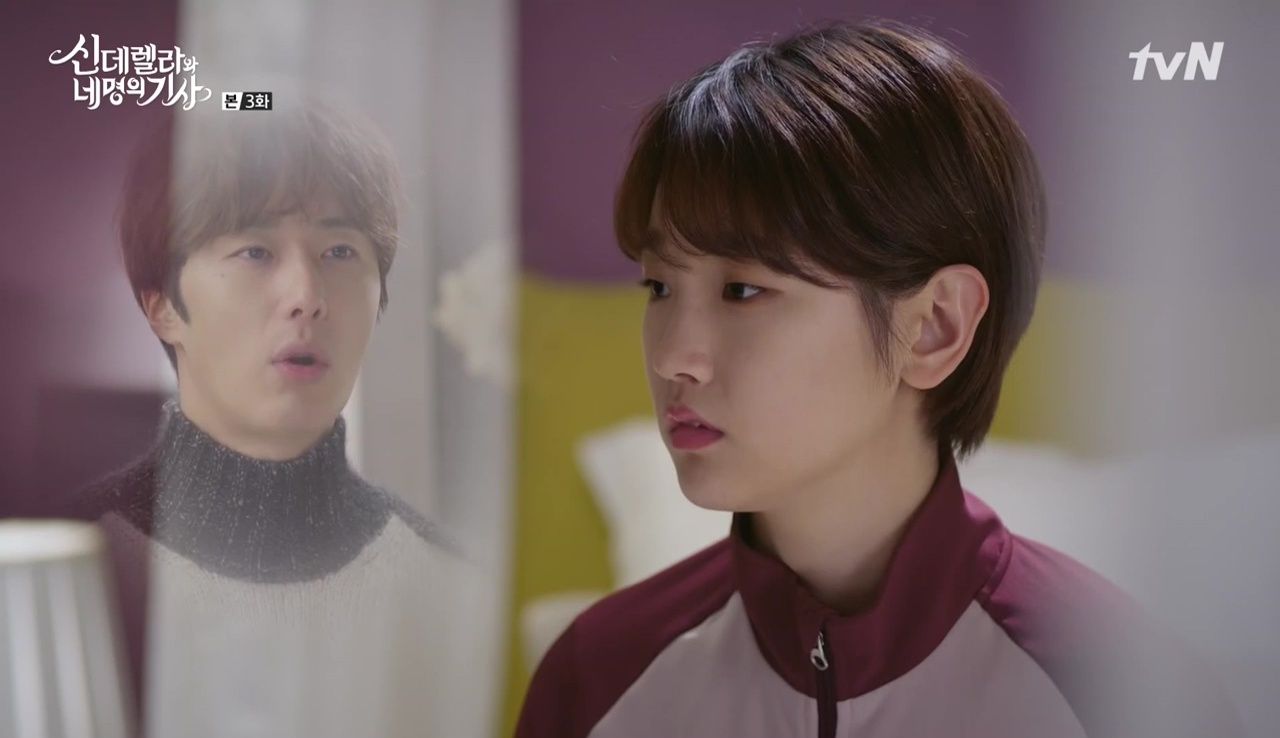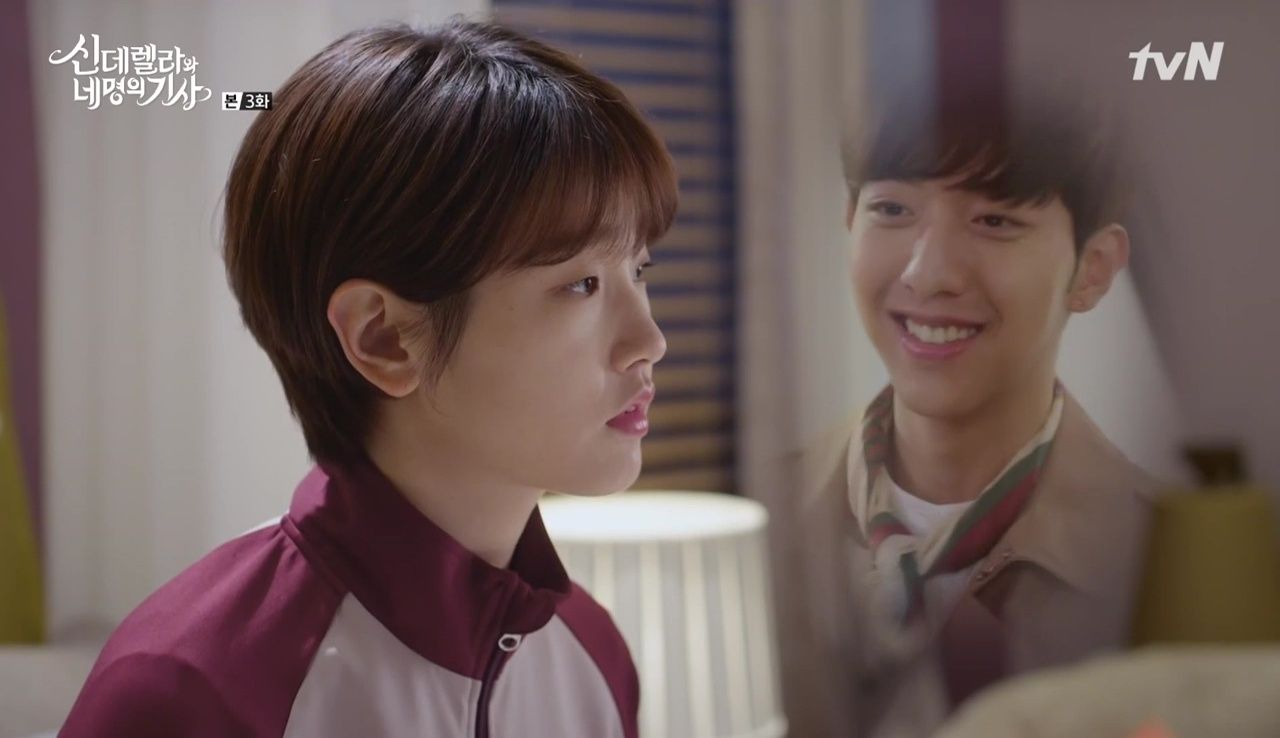 Ha-won tries to get comfortable on her new bed, but she's restless. She remarks that Ji-woon is a jerk, Seo-woo actually makes her feel at ease, but Hyun-min is a playboy who gets on her nerves. She notes that she's not crazy enough to even consider dating any of them. (Girl, you say that now…) Ha-won moves from the bed to the space underneath her desk and sleeps there, finding comfort in the small space.
Ji-woon and Hyun-min are both out for a nighttime stroll, and as expected, tensions flare when the two run into each other on the same path. Hyun-min wants to know why Ji-woon returned to Sky House, and Ji-woon suggests they see as little of each other as possible. The two go their separate ways, and Ji-woon stops before a solitary entrance.
He pushes past the overgrown shrubbery and slides open the door to a dusty room; a large tarp covers everything inside. Ji-woon muses that the space hasn't changed one bit, and unearths a photograph of himself as a child with his mother. It brings tears to his eyes, and he's reminded of his mission to find out why he was forced to live as Han Ji-woon.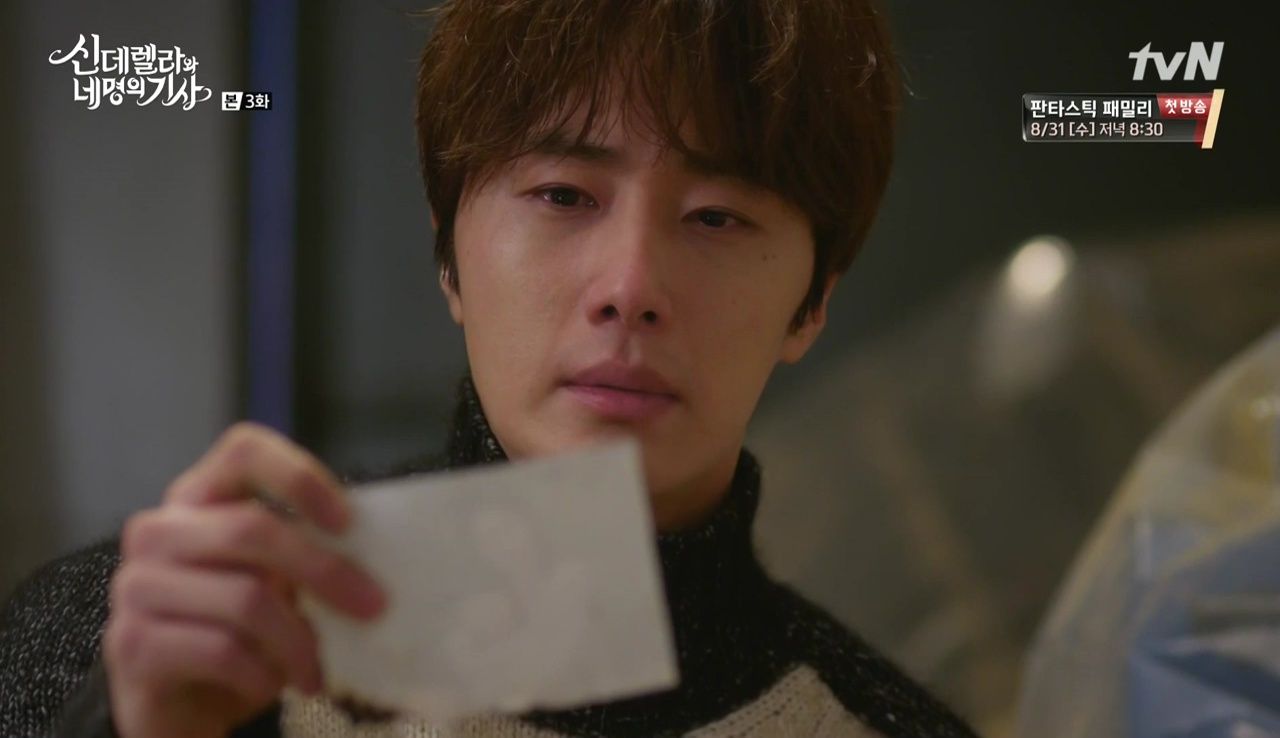 The next morning, Ha-won steps out of her room and realizes that her blinds were open the whole night; the inside of her room is completely visible from the outside. Adding to her shock is the fact that Ji-woon and Hyun-min's bedrooms are on either side of hers. She's surrounded on all sides! So much for privacy.
While Ha-won explores Sky House in broad daylight, the estate's employees are busy maintaining the compound. Ha-won is amazed by the extensive breakfast spread (I spy a lobster for breakfast). She sits herself down at the table and waits for the others to arrive.
Bodyguard Lee informs her that none of the cousins will show up; the three of them have yet to dine together, so Ha-won should go ahead and feast. A video call comes in from Grandpa, who greets Ha-won with an "Aloha!" while clutching a cocktail. He checks in from Hawaii to see how her first night at Sky House was, and gives her her first mission, which is to have all three cousins eat together.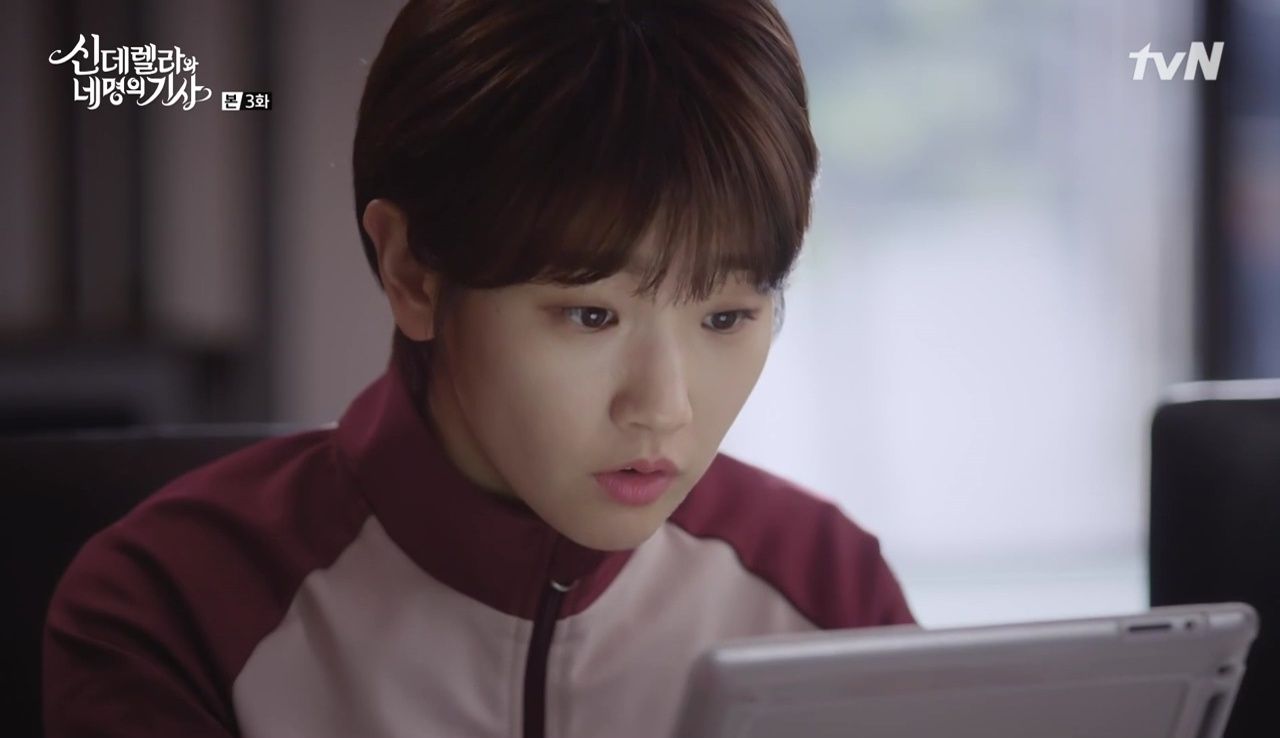 Bodyguard Lee presents Ha-won with the contract Grandpa drew up, detailing how missions work. For every mission successfully completed, Ha-won will receive a bonus that will be proportional to the mission's difficulty. If she fails the mission, she must leave Sky House. And for the 427th time, he adds that dating in the house is strictly forbidden.
Ha-won's "father" warns Stepmother not to let Ha-won in when she comes crawling back. Stepmother timidly asks if his previous wife really did cheat on him, but he angrily cuts her off. Once inside his truck, he receives a call from a person who saw his missing person flyer and knew the person in question; they arrange to meet. The flyer features Tae Kwon Do Master KANG YOUNG-JIN who used to live at Yeongak Apartment, Unit #308 in 2006. Ji-woon's daddy, is that you?
Bodyguard Lee pays Stepmother and Yoo-na a visit in order to collect Ha-won's belongings. They're shocked by his Haneul Group affiliation, along with the fact that the Chairman personally invited Ha-won to live at Sky House.
Back at Sky House, Ha-won beams at her contract before putting it away; she feels as though she's about to do some extraordinary work and is eager to get started. "What's so hard about getting them to eat together?" Ha-won remarks. She looks around the living room and notices there's no trace of a single family photo in this huge house.
Just then, Seo-woo surprises her with a bouquet of dried flowers, the white rose bundle for her mother that she had been searching for. She's grateful for his gesture, and he takes a seat beside her. He wonders if something happened to her last night since she seemed upset, but she chalks it up to her getting caught in the rain.
He assumed something happened with her family "just because," which leads Ha-won to realize that Seo-woo had deleted her text messages on purpose, and not inadvertently like he said he did. Seo-woo tries and fails to backpedal, and Ha-won muses that Yoo-na's text messages must've been particularly nasty for him to have done that.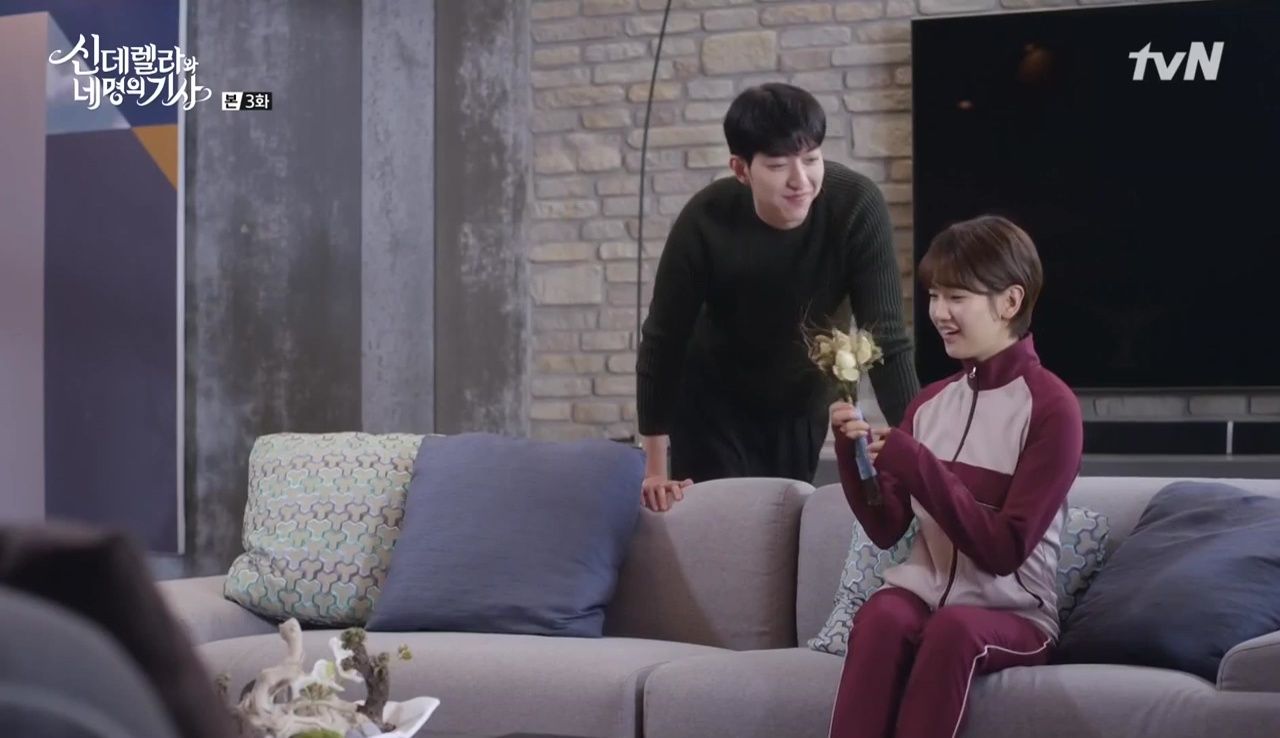 Seo-woo comes clean and admits that he deleted her texts so her feelings wouldn't get hurt, causing Ha-won to smile. He wonders if she and Yoo-na are actually sisters since their relationship seemed so strained, but Ha-won chirps that hers isn't as bad as his relationship with his two cousins; she still ate with her family even if it was to keep up appearances.
She suggests that they all eat together, but Ji-woon's warm greeting of "Whatchu looking at?" effectively puts an end to that idea. Ha-won quietly follows Ji-woon outside and into his hidden room. Meanwhile, Bodyguard Lee returns to Sky House with Ha-won's belongings, but leaves them outside to tend to another matter.
As soon as Ha-won enters his space, Ji-woon makes it very clear she's not welcome. He tells her to stop hanging around him and wonders what made her think it was okay to live at Sky House. Ha-won answers that she came to Sky House to protect something that's important to her, and Ji-woon immediately assumes that "something" is money, or that she's here to seduce him.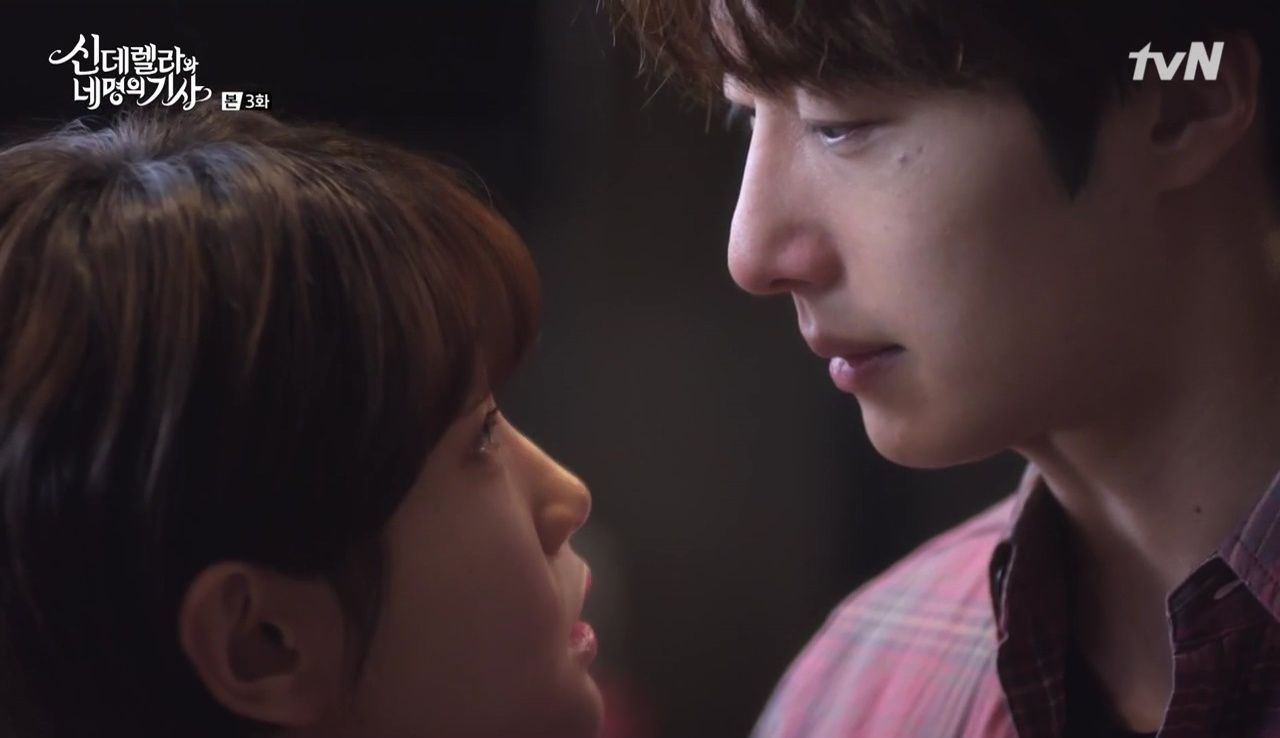 Ha-won thinks he's crazy, and then inexplicably, he pulls her toward him and whirls her around. Their faces are inches apart. Ha-won warns him not to touch her again before running out. Ah, Ji-woon had his reasons.
There was a sharp saw protruding from a tool box behind Ha-won, which is why he had suddenly yanked her towards him. Ji-woon sticks it back in and closes the box. In her hurried state, Ha-won runs right into her suitcase, knocking all her belongings into the stream. She frantically grabs the floating contents and enters the cold water to salvage her stuff.
Hyun-min thinks she's crazy for trying to salvage "garbage," and Seo-woo worries that she'll catch a cold, but Ha-won continues to collect everything from the water. Seo-woo has a brilliant idea and returns with a net. He helps her out of the stream, and Ha-won insists the two should head inside since it's cold.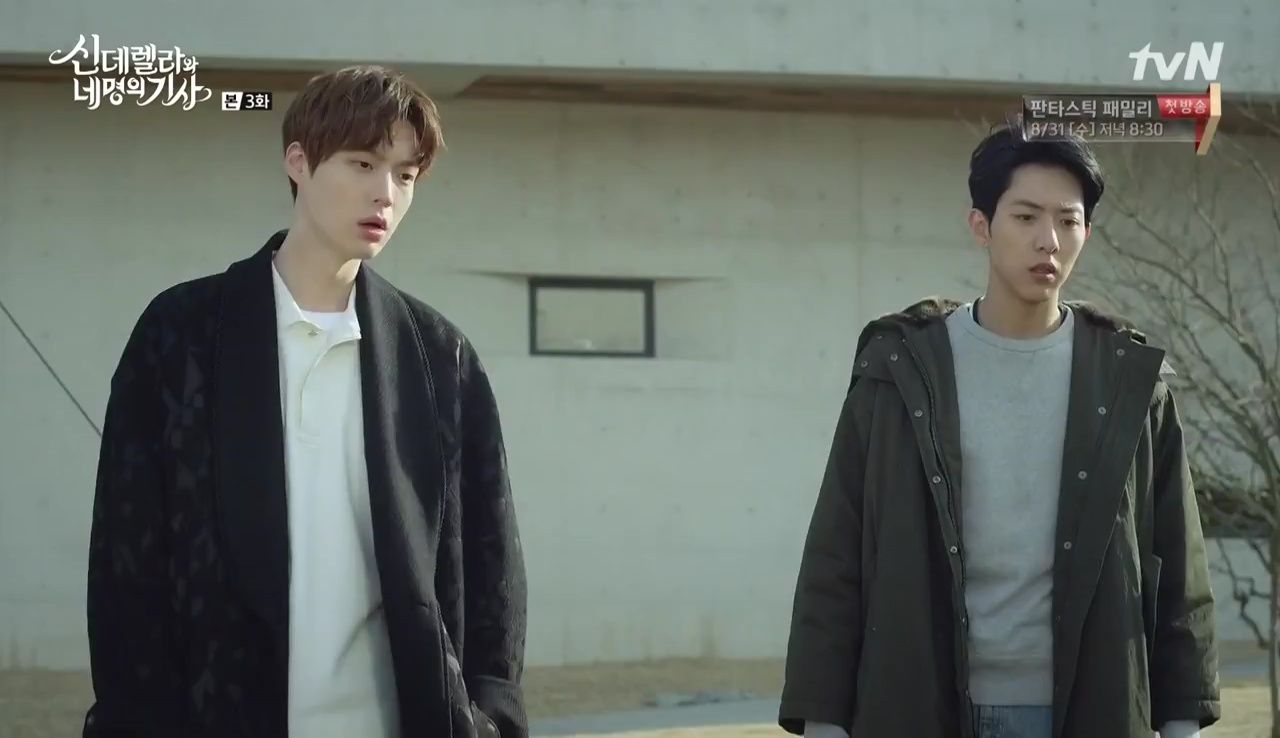 Right as she's about to use the net, Ji-woon arrives and asks if she came to Sky House to be treated like this. He hands her the white rose bouquet she dropped in the stream and advises her to take care of things on her own instead of concerning other people. Hyun-min assures Ji-woon not to worry since he'll do all the worrying, and Ji-woon wonders if Ha-won is Hyun-min's new toy. Seo-woo plays Switzerland for the umpteenth time and breaks up the argument; he informs Ha-won that the two always bicker like this.
Ha-won shouts at all of them to stop worrying about her and drags her wet belongings back into the house. Once inside, she watches Ji-woon enter his room and turns her gaze back to the bouquet he retrieved for her. His shoes and pants were wet.
Ha-won dries all her stuff using a hairdryer, and Bodyguard Lee apologizes for neglecting her belongings. Cut to an upscale shopping center.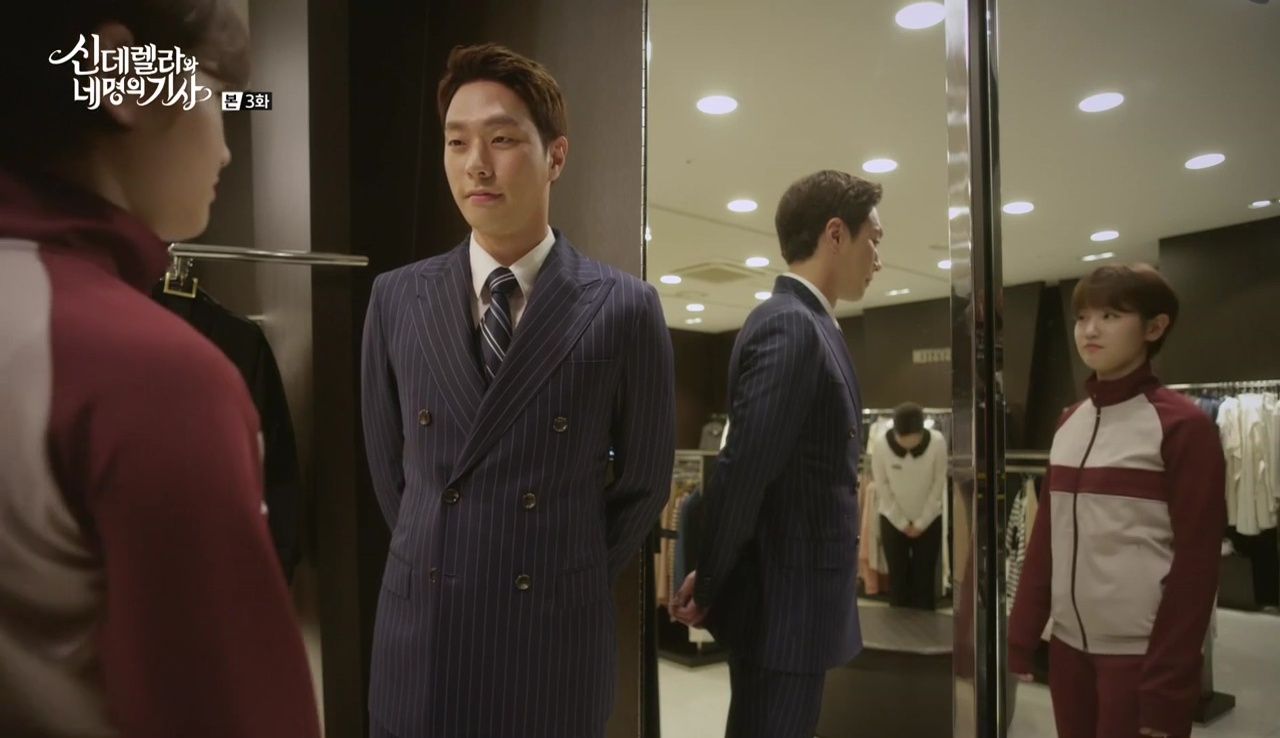 Ha-won asks Bodyguard Lee if they're filming Pretty Woman right now and insists that she's fine with her one tracksuit. Bodyguard Lee once again states that it is the Chairman's command, so he decides to pick out some outfits for her and suggests that she rest at a cafe.
Ha-won accidentally bumps into an older woman, causing the woman's crocodile purse to drop. The woman causes a scene and demands that Ha-won pay for the scratch on the $30,000 purse. Ha-won's at a loss for words when Hye-ji steps in and challenges the woman's assertion that it's a real luxury purse. Hye-ji inspects the bag and calls out the woman's bluff, much to Ha-won's relief.
Ha-won and Hye-ji have a pleasant chat over coffee. Ha-won thanks Hye-ji for getting her out of that purse ruckus and asks her how she knew the purse was a fake. Hye-ji replies that people who do a lot of needlework recognize the difference and adds that she plans to major in fashion design in college.
Hye-ji guesses correctly that Ha-won isn't from "that world" as well, which surprises Ha-won, because she assumed Hye-ji came from wealth, too. She explains that she and Hyun-min grew up in the same neighborhood, which is why they've been close ever since. Ha-won stammers when Hye-ji asks about how she and Hyun-min met. Hye-ji muses that Hyun-min's never referred to any of his girlfriends as his fiancée, and assumes that Ha-won must be happy dating him.
Ha-won struggles to respond when Bodyguard Lee arrives clutching several shopping bags in each hand. Hye-ji's surprised to hear he shopped for Ha-won and asks if this was Hyun-min's request, but Bodyguard Lee answers that Ha-won is now a resident of Sky House, and that it's his job to take care of her. Shocked by this news, Hye-ji excuses herself.
Ha-won feels burdened by all the clothes, but Bodyguard Lee utters his go-to phrase — "It's the Chairman's command" — and says it's his job to take care of her. He apologizes on behalf of the boys, but Ha-won refuses to accept such generosity. She grudgingly takes one of his shopping bags and drags Bodyguard Lee out to return the rest.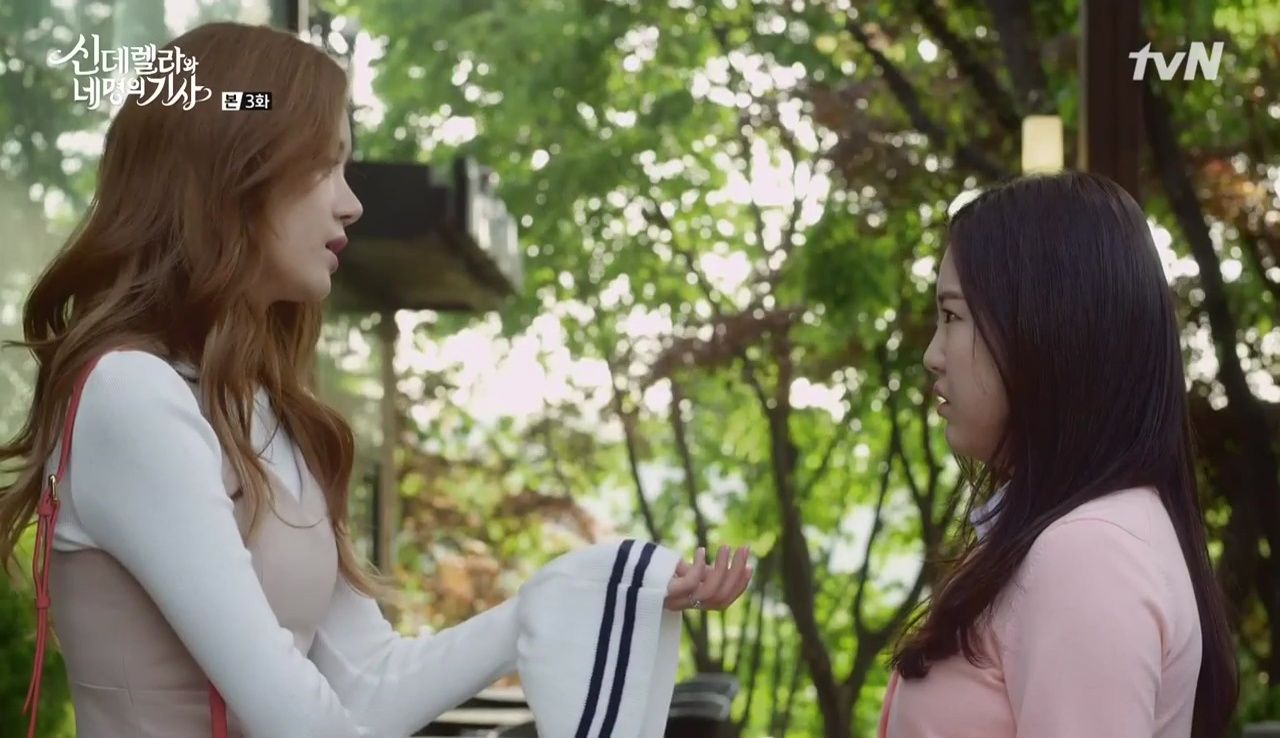 Yoo-na visits Ha-won's barista friend HONG JA-YOUNG at the cafe. She snatches Ja-young's phone to find proof of Ha-won's living situation at Sky House. Yoo-na examines the photos Ha-won sent, but when she tries to grab the phone from Ja-young again, her hand falls into the garbage bag, and well, as Ja-young informs her, she may have gotten handsy with three-day-old, soiled toilet paper.
Seo-woo finds Ha-won's bankbook on the floor and remarks on how "cute" it is. He flips through the pages and is shocked to find that she only has eight hundred won remaining after paying over three million won to Haneul Columbarium.
After returning all the clothes, Ha-won assures Bodyguard Lee that he doesn't need to worry too much about her; she's just a part-timer who's had her fair share of difficult experiences. Bodyguard Lee turns to her and states that she's not merely a part-time employee; she's a precious guest of Sky House. This brings a smile to Ha-won's face (and mine), and she pumps herself up and exclaims that she will do everything she's tasked with.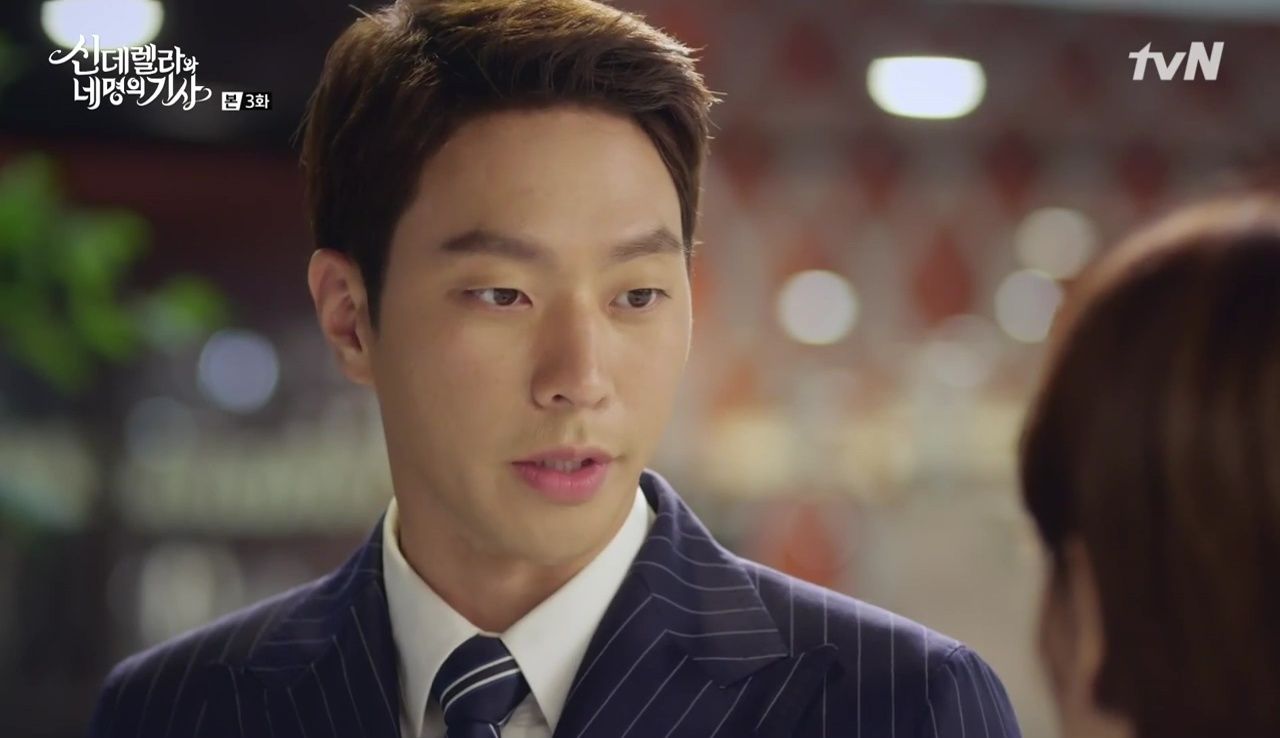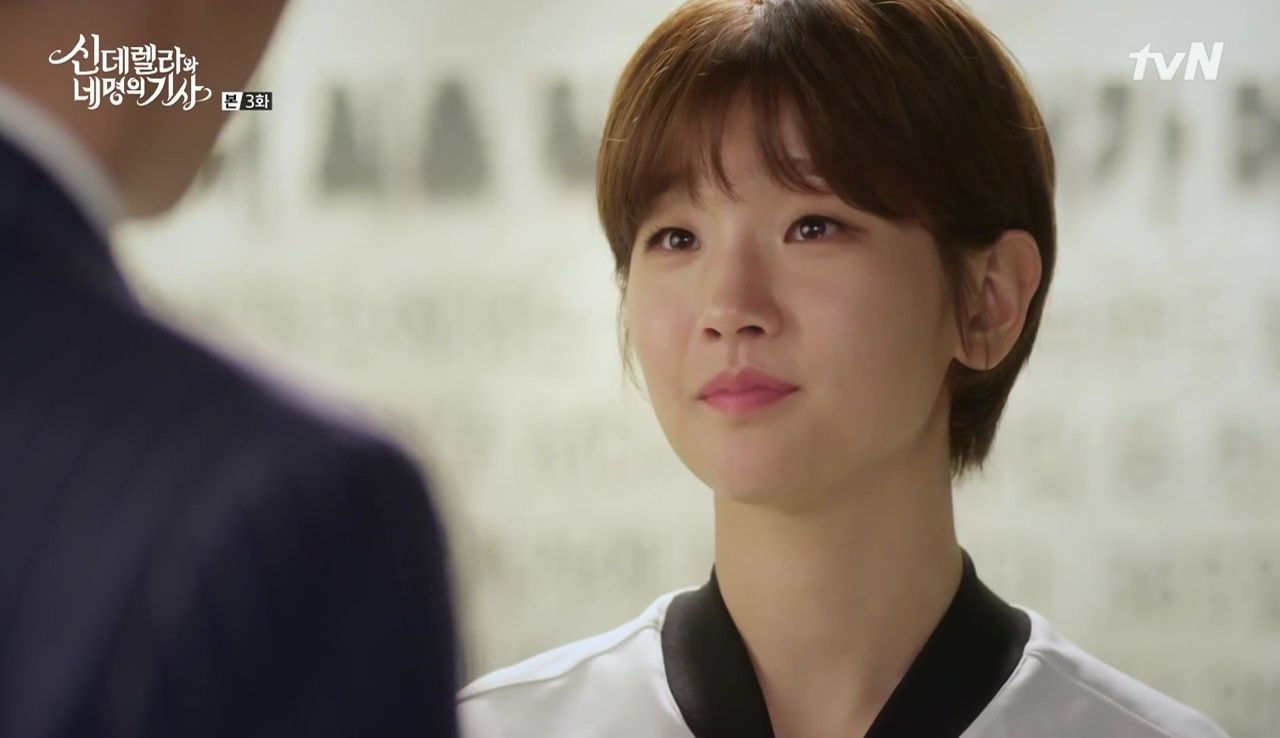 Hye-ji mulls over Bodyguard Lee's words about Ha-won living at Sky House, and she's thoroughly puzzled. Ji-woon meets her at an art exhibit, and confirms to Hye-ji that Ha-won is living at Sky House. Hye-ji wants to speak to Hyun-min face-to-face for an explanation.
Back at Sky House, Seo-woo returns the bankbook to Ha-won and apologizes for looking inside. He insists he had to in order to find out who it belonged to, and Ha-won grins, saying that no one else in this house would carry around a bankbook like that. Touché. Seo-woo notes that he keeps learning all her secrets bit by bit, and he reassures her that it's normal for high schoolers to be broke.
When asked what the deal is with him and his wealthy cousins, Seo-woo struggles to come up with an answer, but Ha-won says it's fine that their worlds are so different; after all, they'll only be overlapping temporarily.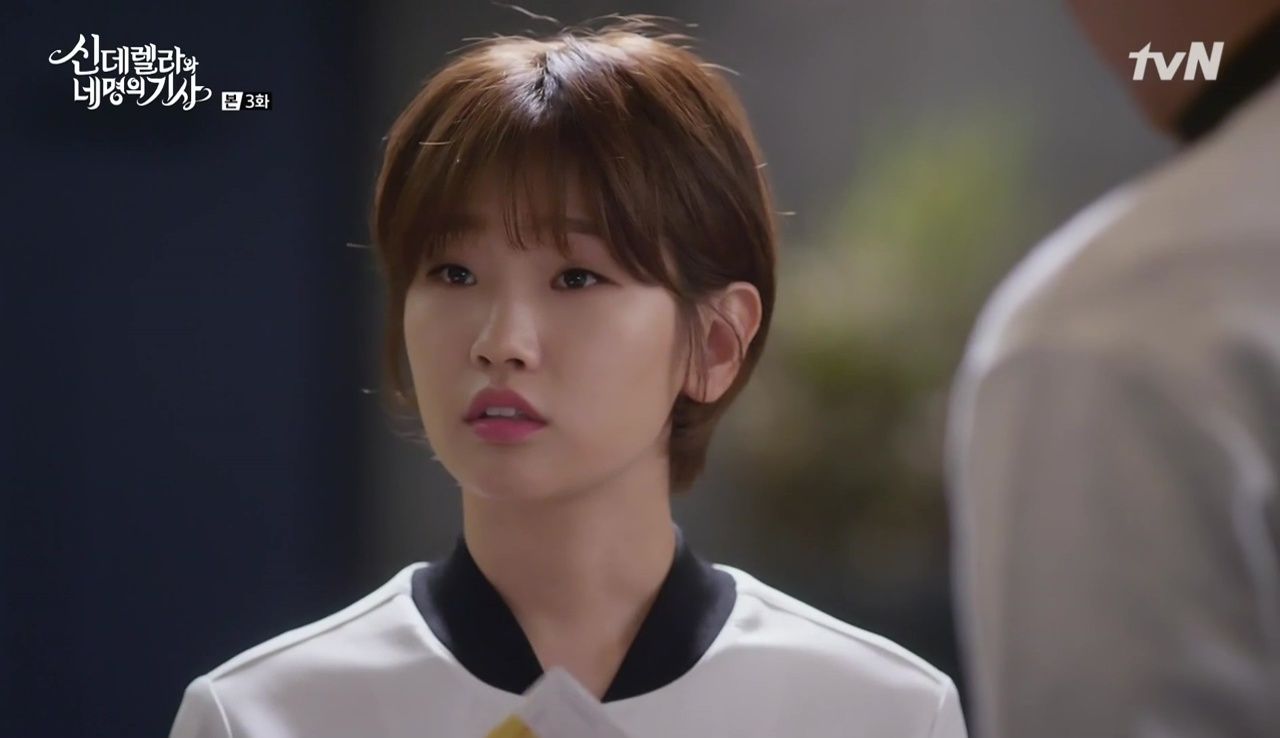 That statement strikes Seo-woo as a bit odd, and he asks if she's an even bigger Casanova than Hyun-min, who plans to break off the engagement early. Ha-won stutters a bit before ordering him not to pry so much.
Ha-won finds a box of golden skincare products on her desk, and guesses that they're from Bodyguard Lee. She ignores a call from Hyun-min and nestles herself under the desk to go to sleep.
Her phone keeps buzzing with text messages from him; he wants her to visit his room so he can give her something, but Ha-won doesn't give in. Hyun-min's baffled by the blatant disregard, a first for him.
He gets up and knocks on her wall until she opens the door. He leaps over the railings, grabs her school uniform, and walks toward her with a pair of scissors behind his back. She asks him to hand over her uniform, but he eggs her on to get it from him or else he'll snip the sleeves so it's spring/summer ready.
Left with no choice, Ha-won reluctantly enters his room, and Hyun-min remarks that she is the first girl to ever do so. He continues to hold her uniform hostage, and Ha-won compares him to the customers that come to the convenience store after 4 a.m.; they're either early bird employees or good-for-nothing partiers who come on strong.
He's offended by the comparison, but Ha-won works on cornering him. She educates Hyun-min on how she deals with customers that mess with her. She reciprocates their actions equally, "violence for violence." Suddenly, she places her hands over his arms and brings her face close to his, as if about to kiss him.
He closes his eyes, so ready for it, but Ha-won head-butts him in the mouth instead. He finally offers her the uniform, but just as she's about to grab it, he shifts it away from her grasp and catches her fall. He looks into her eyes and tells her that she's becoming more and more… amusing. He moves in for a kiss.
At that moment, Ji-woon and Hye-ji arrive. Ji-woon notices Hyun-min mere moments away from kissing Ha-won, so he quickly plants himself in front of Hye-ji and holds her face so she's looking straight into his eyes and not the couple behind him.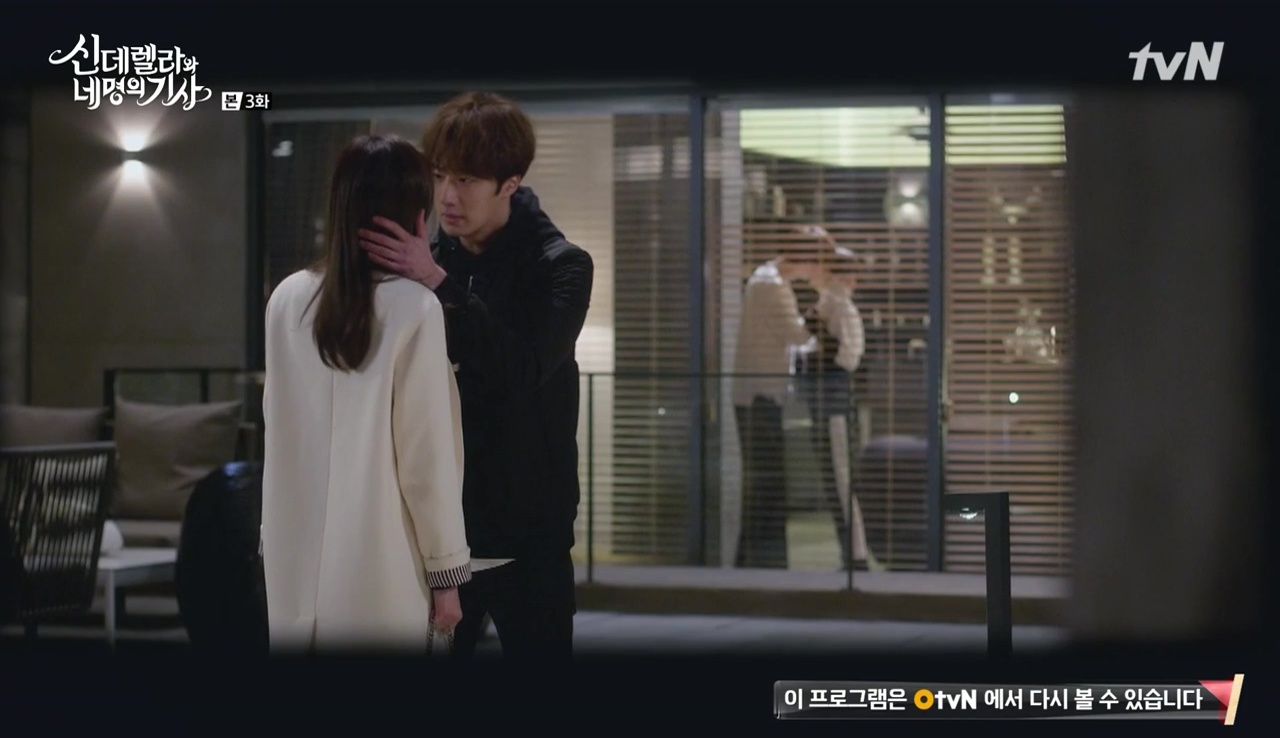 COMMENTS
The pace has picked up ever so slightly now that Ha-won is living in Sky House and has been given her first mission. The story can finally kick into gear! While there was a bit more focus on Ji-woon in this episode — he has a secret rec room! — I'm not sure if we learned that much more about his past except that Ha-won's "father" is searching for him, for reasons unknown to us at this moment in time. I know Ji-woon's the first male lead, but in terms of likability, he's dead last; he seems to be experiencing a very delayed bout of puberty with "go away" printed across his forehead and ingrained in his speech as he leaves behind a trail of angst everywhere he goes. Protecting Ha-won from the saw sticking out from the toolbox and entering the shallow depths of the tiny stream to grab her precious bouquet didn't really tip him over to swoonworthy level yet.
Bodyguard Lee and Seo-woo, on the other hand, have proven themselves to be mature and chivalrous gentlemen; they're closer to resembling "knights" than Hyun-min and Ji-woon are. We learned that the cool and stoic bodyguard is a fantastic chef and is capable of cracking a smile. More than once! His protection of and respect for Ha-won may be "the Chairman's command," but it's evident he truly does care for her and recognizes how special she is. I loved that moment when he told Ha-won she wasn't "just a part-timer." I'd like him to tell me I'm precious, too! Anyway, moving on…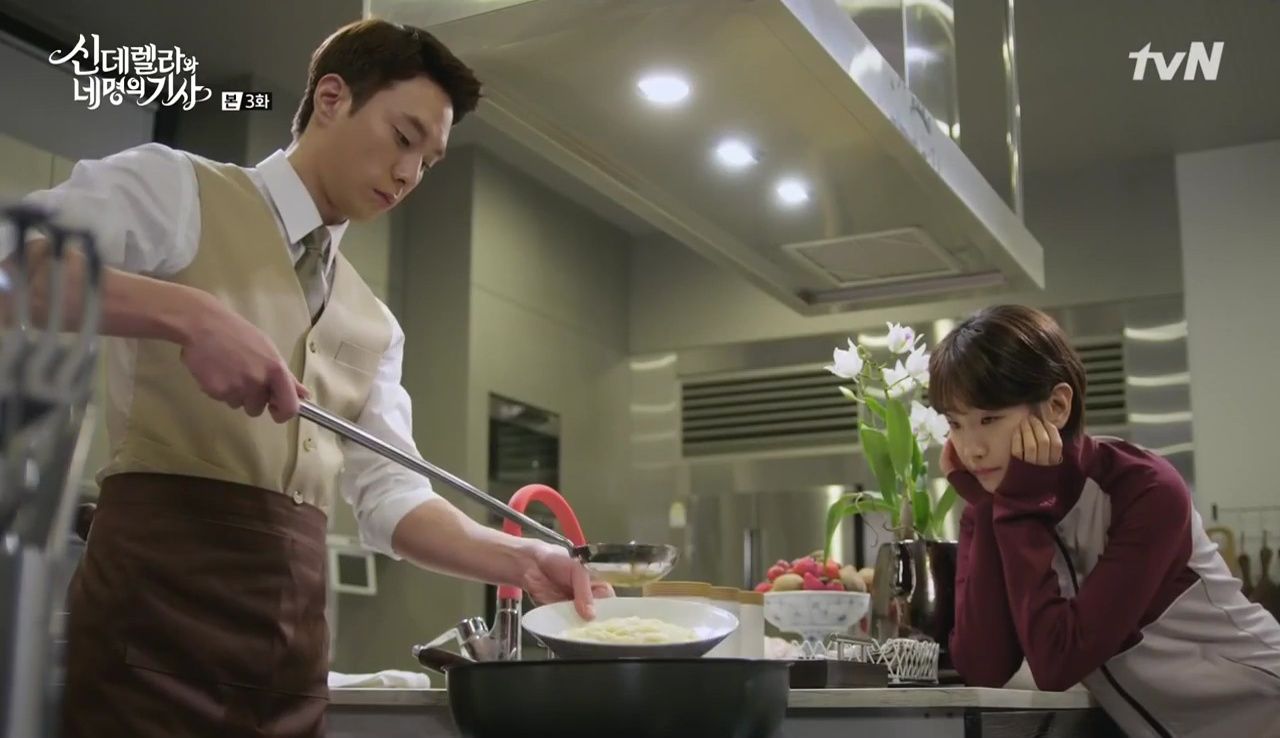 Seo-woo is the genuine and considerate nice guy. While that may sound boring on paper, his moments with Ha-won were fun to watch. When Ha-won was in the stream collecting her skincare samples, it revealed a lot when Seo-woo was concerned about her catching a cold and Hyun-min kept telling her to stop saving junk. How cute was Seo-woo when he was failing miserably to convince her that he really did delete her text messages by accident? And how thoughtful of him to bring a net for Ha-won; he could've gotten it sooner when she hadn't already collected 90% of her belongings, but I appreciate the courtesy. I feel for Seo-woo the most because he doesn't really have a beef with Hyun-min or Ji-woon, but because Hyun-min and Ji-woon have a beef with each other, he's sort of on his own, awkwardly in the middle and always warning them to cut it out. I'm sure that gets old fast. It's nice to know that Ha-won can put her fist and guard down when she's with Seo-woo or Bodyguard Lee.
Hyun-min continues to amuse me the most with his ridiculous lines ("Wanna have some caviar and ramen with me?) and antics, brandishing scissors and holding Ha-won's uniform hostage. There's a reason why we fall for the bad boy, and Hyun-min in particular is amusing because he's so unabashedly full of himself and delusional, but not mean-spirited. It's interesting to see him simultaneously struggle to understand Ha-won and feel immediately attracted to her because she's so different. Also, Ahn Jae-hyun is clearly enjoying himself with this role, which makes for good viewing.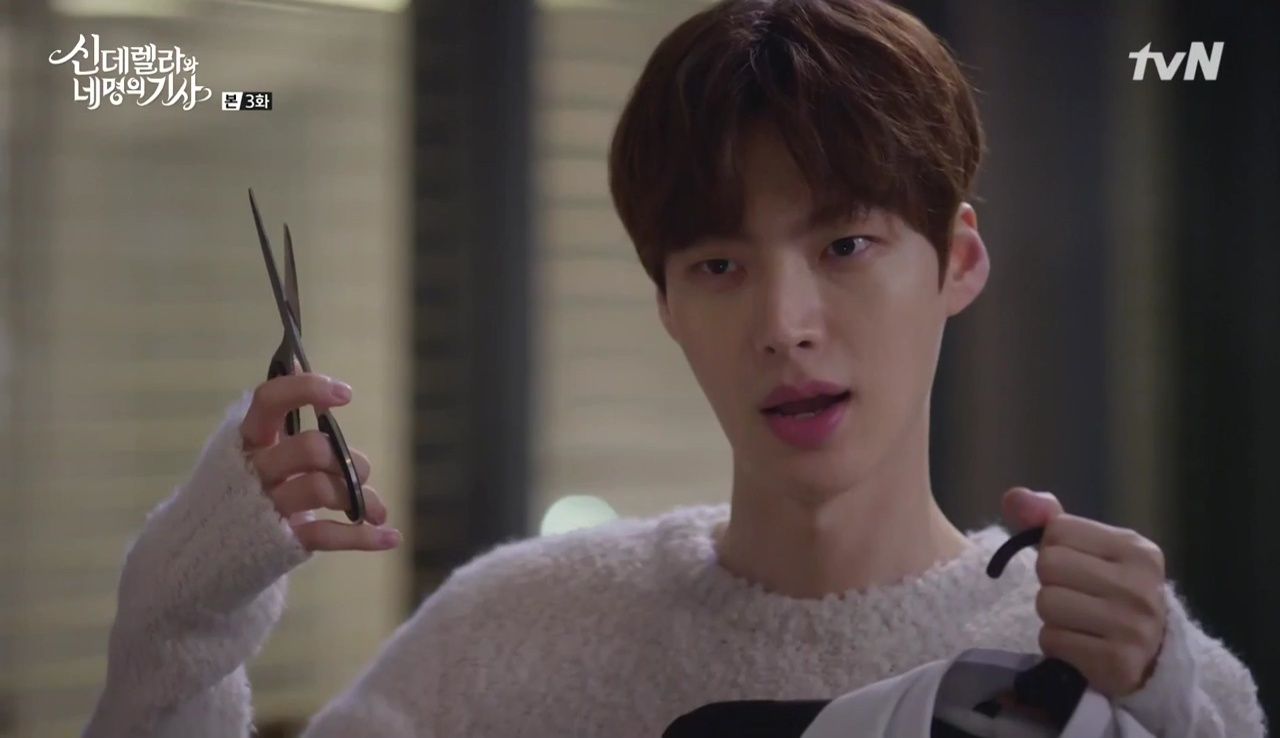 As for Hye-ji, I'm glad she saved Ha-won during that crocodile purse hubbub, but now I'm starting to think that her kindness toward Ha-won has less to do with her actually being a nice person, and more to do with her trying to figure out what differentiates herself from Ha-won since Hyun-min chose Ha-won as his fiancée. She probably feels that she's lacking some unique trait or quality that Ha-won has. Hye-ji has an unhealthy obsession with a guy who either toys with her when he needs to or doesn't even give her the time of day because he's not interested in her at all. I want to know why Ji-woon cares for Hye-ji so much and why he seems to be okay with being her little spy and feeding her Hyun-minformation. Doesn't he find her infatuation a little pathetic? He can barely stand Ha-won, who hasn't really done anything to him, but he'll do anything for Hye-ji. I don't get it.
I still find the slo-mo and sparkly sound effects to be laughably cheesy and unnecessary, and sometimes I wonder if Ha-won actually felt flustered after being flipped around by Ji-woon and Hyun-min, or if it's just the music that's misleading me into believing that she did. I think it's too early for her to feel the glimmers of a crush if it's concerning Ji-woon and Hyun-min, so I hope she doesn't lose her spunk right away.
This wasn't the most eventful episode since Ha-won didn't embark on her first mission yet. We were just shown how Ha-won was settling into Sky House and the life of luxury with some difficulty. I actually wish there was a fun Pretty Woman scene with Ha-won and Bodyguard Lee, but I also saw the merit in not having one; she not only protested the new wardrobe, but actually returned everything with the bodyguard. She means what she says!
Cinderella and the Four Knights continues to be an easy and sufficiently enjoyable watch, a nice show to tune in to when you're not feeling extra judgmental, or feel the need to have your mind properly stimulated. Sometimes, simplicity with a dollop of cute and a generous pinch of unrealistic romance is the perfect recipe for viewing pleasure.

RELATED POSTS
Tags: Ahn Jae-hyun, Cinderella and the Four Knights, featured, Jung Il-woo, Lee Jung-shin, Park So-dam