Police Unit 38: Episode 16 (Final)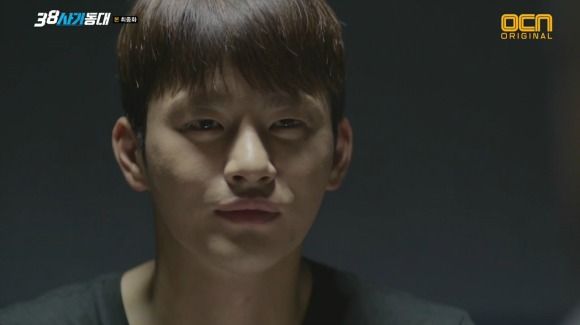 How many times can a show blow your mind before there isn't any mind left? When you think there just CAN'T be any more twists, Police Unit 38 ups the ante once again, taking a whole new direction as the past collides with the present in one last, all-out, life-or-death showdown between the bad guys, the other bad guys, the not-so-bad guys, the maybe-bad guys, and our resident bears. But when your philosophy is to fight until you win…surely it's only a matter of time?

FINAL EPISODE RECAP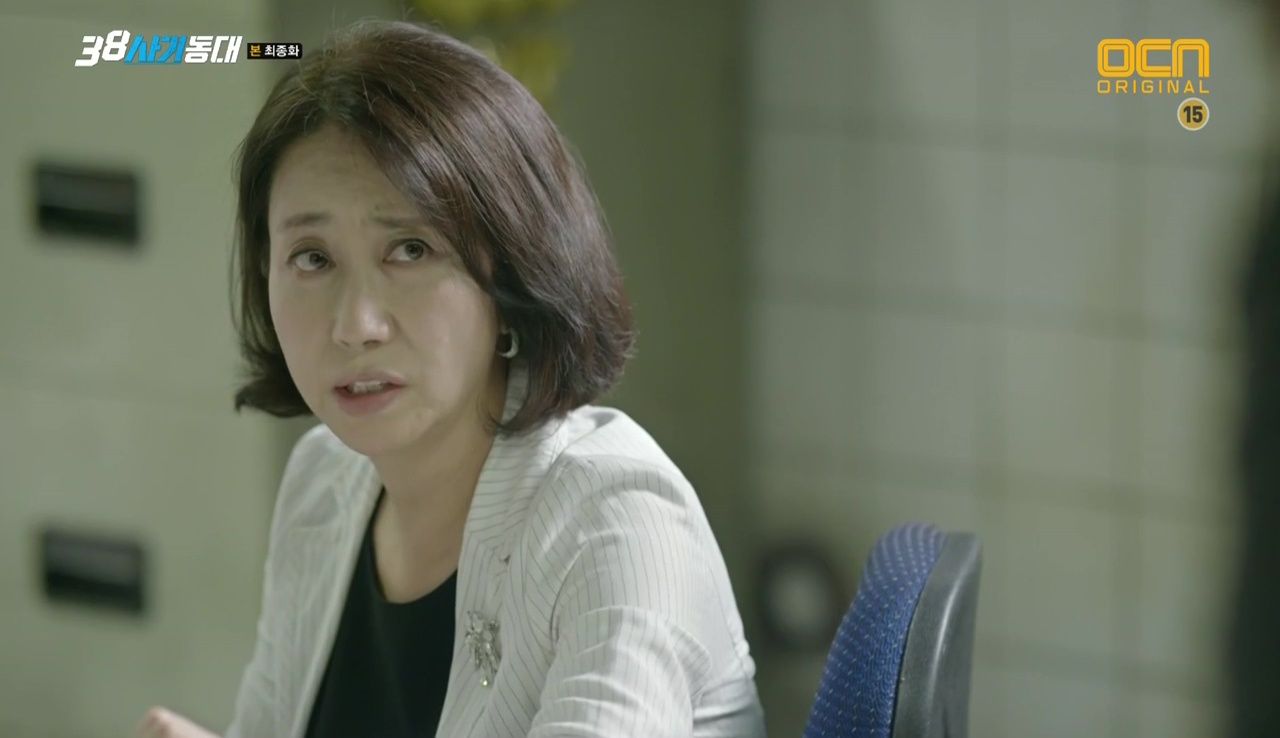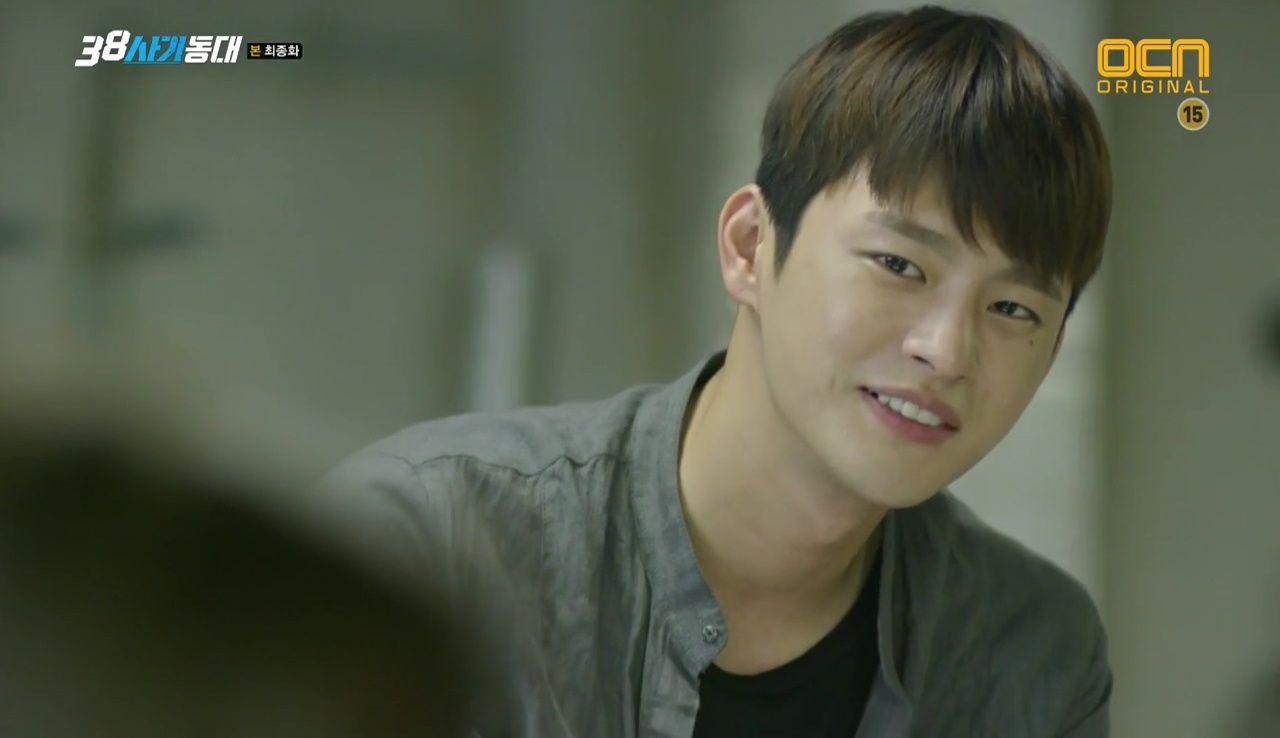 Jung-do wraps up his council of war at the Freezer and thanks Madam Noh for agreeing to the plan. He sends Mi-joo along with her, but before they go, Sung-il instructs them to each save themselves, should things go wrong.
Afterwards, the two men remain in silence, Jung-do with his head bowed, until Sung-il asks if he's not going to tell them the whole plan, since they'll be hurt when they find out later. "So what if they get hurt?" Jung-do replies, raising his head with a half-smile, "Ajusshi, I'm a con artist." But despite his words, it's clear he cares.
Madam Noh parts with Mi-joo with the warning that this scam could end them all, so she should find her own way out. She and Ji-yeon drive away, and Madam Noh agrees when Ji-yeon says they should do as Chairman Wang tells them.
Sung-hee phones Sung-il to tell him that the mayor has found out the relationship between Chairman Wang and Jung-do. Jung-do immediately receives a call from Mr. Kim, which has him turn wide eyes on Sung-il. But Jung-do leaves casually, with a reassuring touch on Sung-il's shoulder. Once outside, however, he rushes to his car and takes off.
Jae-sung's eyes widen greedily at the bag stuffed with banknotes from Chairman Choi, who now asks him what his great tidbit is. Jae-sung asks him if he remembers Kim Min-shik (Sung-il's dead brother-in-law), and Choi recalls him as the man who tried to take him down via President Bang, but then killed himself.
"Who said that it was suicide?" Jae-sung asks. He reveals that President Bang killed him, and Mayor Chun covered it up as suicide. Choi starts to chuckle, and a hooked grin spreads across Jae-sung's face.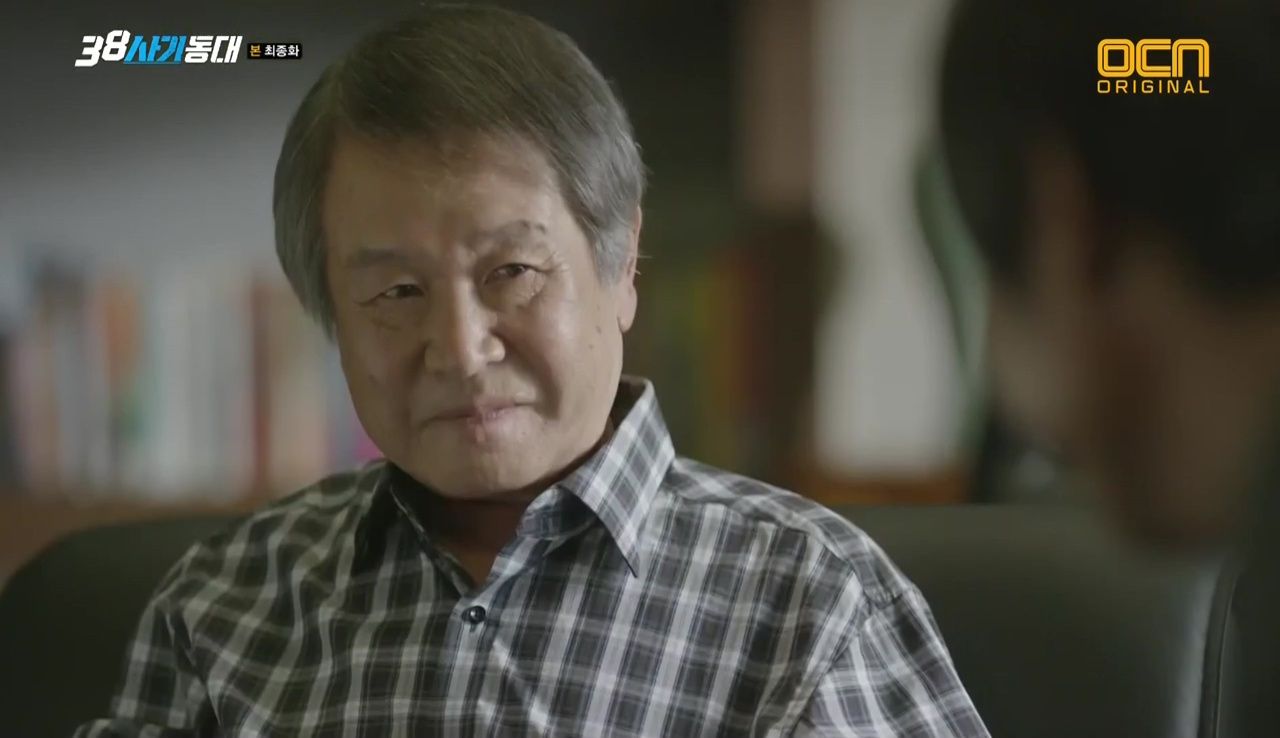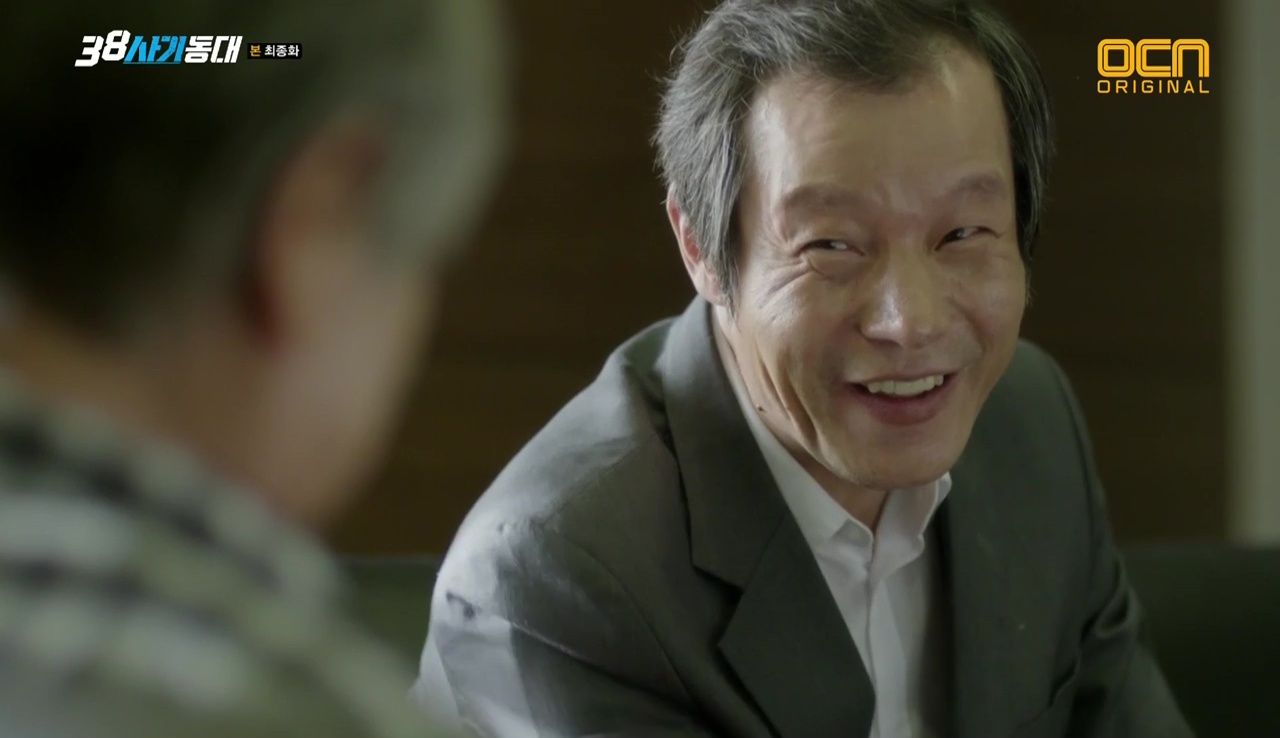 Mi-joo ignores a call from Hak-joo, Madam Noh's warning on her mind, and enters a police station. Meanwhile, Sung-il remains alone at the Freezer, and we now see Jung-do had told him to wait there until "that person" comes.
Madam Noh receives the fateful call from President Wang telling her that he's cutting ties with Jung-do, and she should, too. Flustered for a moment, she agrees, just as Ji-yeon arrives with a reporter they called. On the other side, Director Ahn is pleased at this outcome.
The reporter asks her what kind of exclusive she called him here for. Giving him a searching look, she smiles suddenly. There's a swindler for him to catch, she tells him. Noo, don't do it!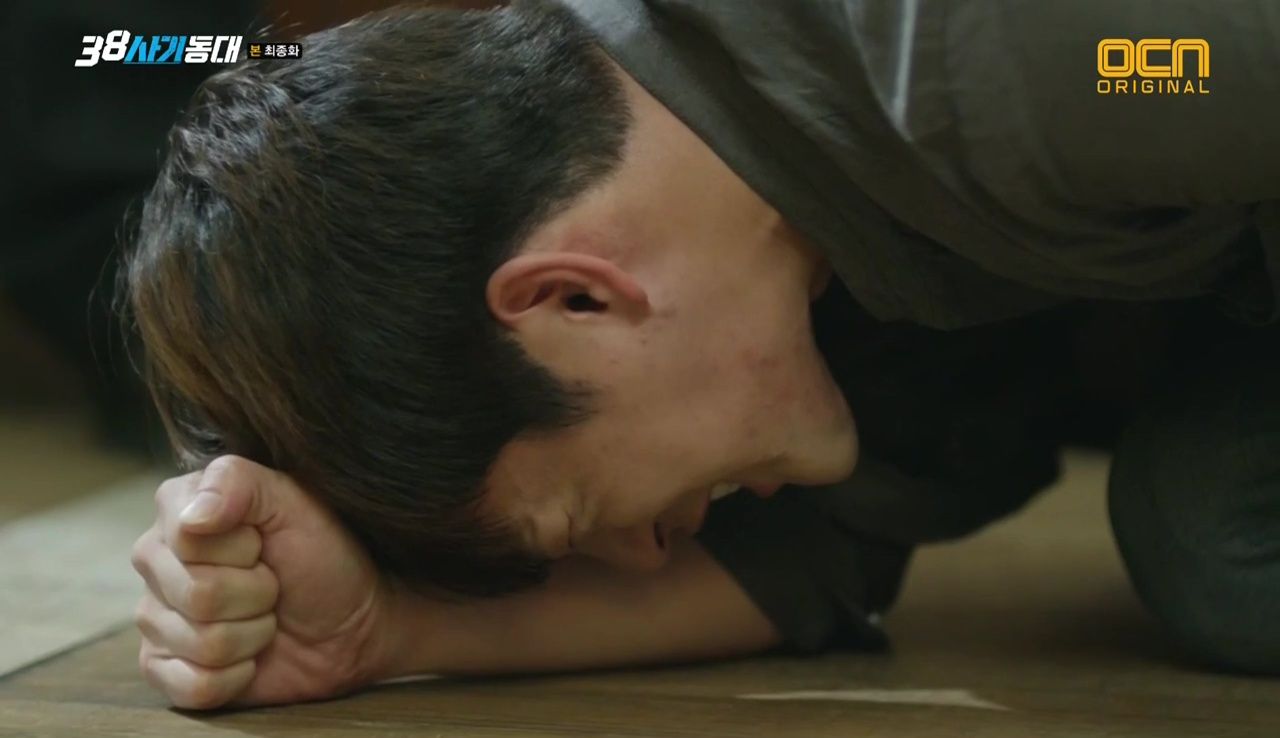 Jung-do arrives at the restaurant where Chairman Wang is meeting Ahn. Mr. Kim refuses him entry, but Jung-do tries to push his way in anyway. Blocked by guards block, he becomes increasingly agitated, screaming and pleading, "Chairman! You can't do this to me!"
Inside, Ahn smiles smugly as the chairman ignores him. Mr. Kim looks dispassionately on as Jung-do collapses from the guards' blows.
Jae-sung still has one more carrot for Chairman Choi, and tells him that for another five million, he can get rid of Jung-do and Sung-il once and for all, and control Mayor Chun forever. Choi is skeptical, and Jae-sung tells him that Ma Jin-seok hasn't yet given up their names. But one word from Jae-sung, and he will, he leers.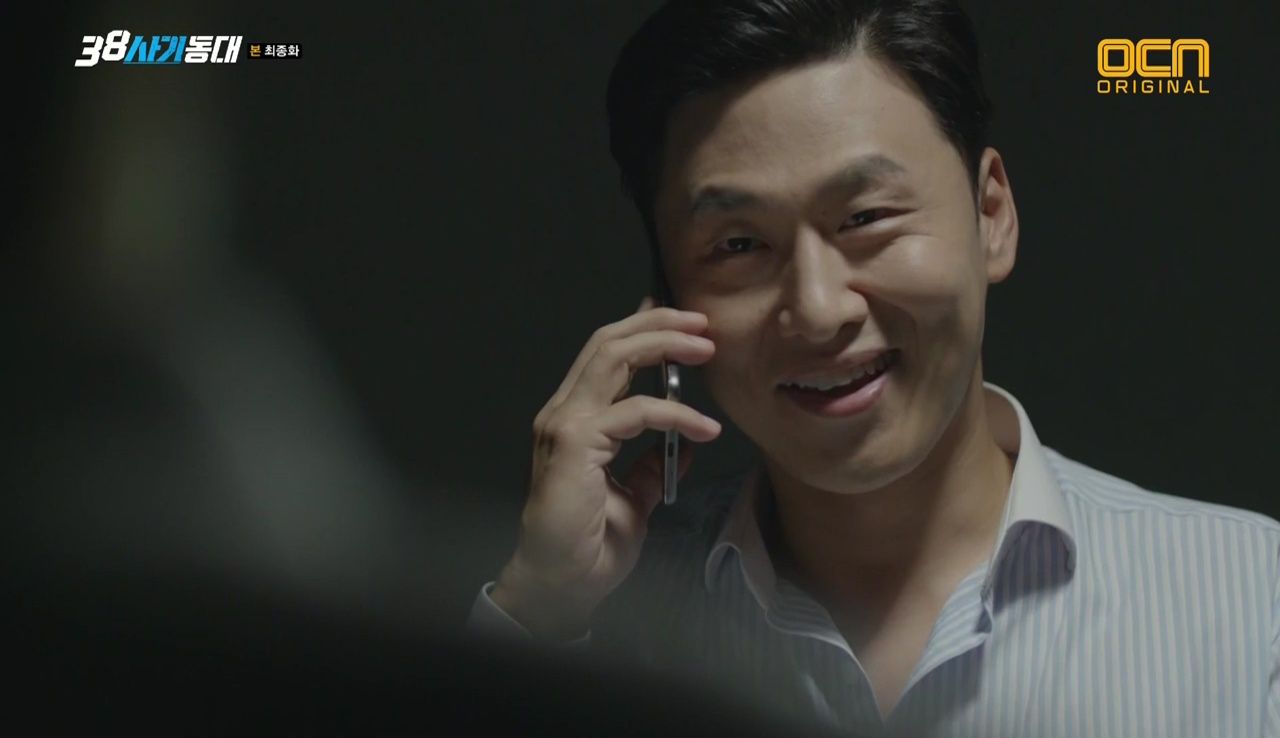 Caught by the bait, Choi eventually agrees, but faffs around saying he'll have it wired over in a few days. But Jae-sung flatly refuses anything but cold, hard cash right now. His hand forced, Choi puts in a call to his chief loan shark to gather the amount and bring it to him.
The agent collects the cash from various locations across the district and when it's ready, Choi phones Prosecutor Park and finds out that Jin-seok has held his silence, even though he was told he'd go free if he named the brokers. The chairman asks for Jin-seok to be put on the phone, and Jae-sung tells him that he's got the money so he's now free to reveal all. Jin-seok turns back to Prosecutor Park with a smirk, ready to name names. Oh Jin-seok, I believed in you!
Jae-sung gloats to Choi that his bag sure is heavy with all that money, and commandeers Choi's men to load it into his car. But Choi has the last word: "That money? It's something I'm just lending to you for a while. It will come back to me again." He warns Jae-sung to watch his back, which makes Jae-sung snort as he leaves.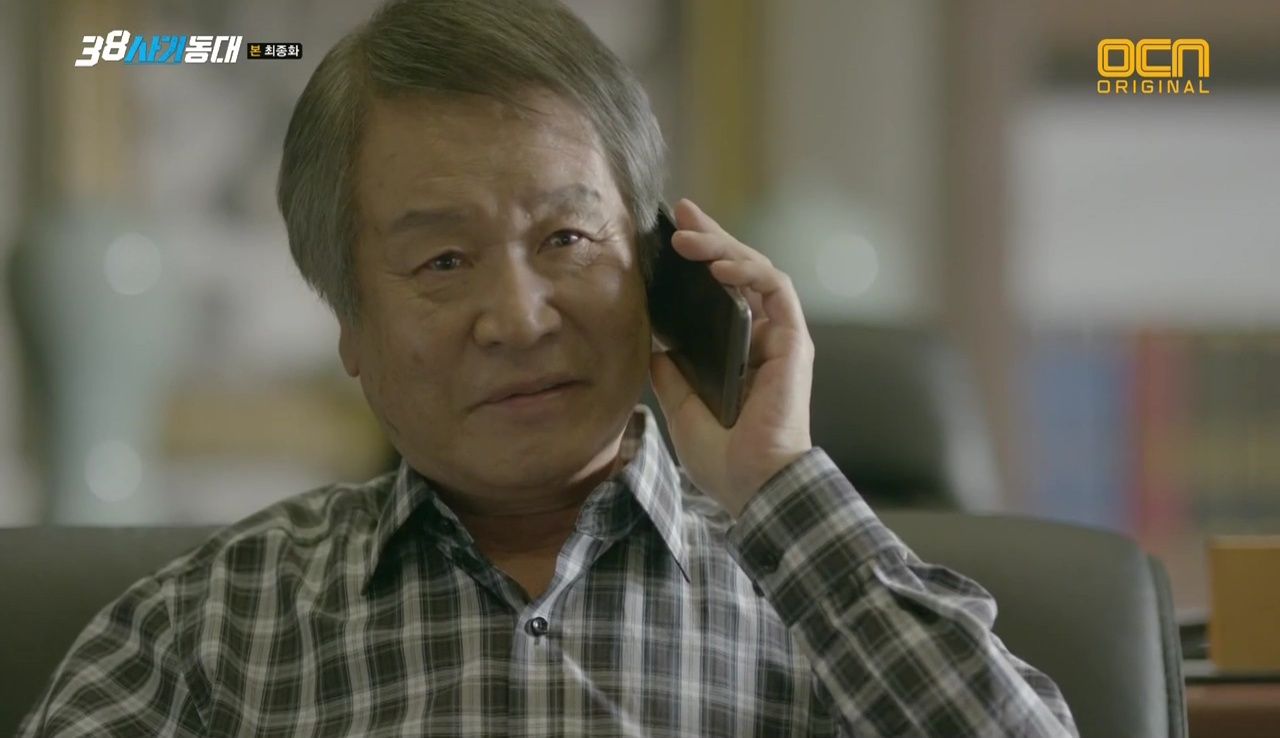 Now we replay the call Choi made to Mayor Chun last episode, revealing that he heard Min-shik's death wasn't suicide after all. Chun recoils in shock, and asks the chairman where he is right now.
Still on the road, Jung-do turns his car around after getting a call from someone. Meanwhile, Prosecutor Park sets out with a team to storm the Freezer, where Sung-il continues his lone vigil. Jin-seok goes free, and arranges to meet Jae-sung to split the money.
Prosecutor Park catches Sung-il unawares. He explains that Jin-seok divulged their names as instigators in the loan-fraud, and asks for Jung-do's whereabouts. Full of worry, Sung-il says nothing and Park orders his arrest.
He's led out in cuffs, and it looks like Jung-do has arrived just in time to witness the scene. Still in his car, he watches from a distance, shocked and tense, as they take him away. He departs in the opposite direction.
Mayor Chun arrives at Chairman Choi's office and asks fearfully how much he knows. Choi replies that he knows President Bang killed him while Chun covered it up. His demand is simple: He wants to be let back into Seowon city's affairs. "And into your life," he finishes, smiling smugly.
Jung-do rushes into the basement of a building—ah, it's Ja-wang's den. He rummages around looking for something, and phones Ja-wang for help locating something. Finding it, he strides back out.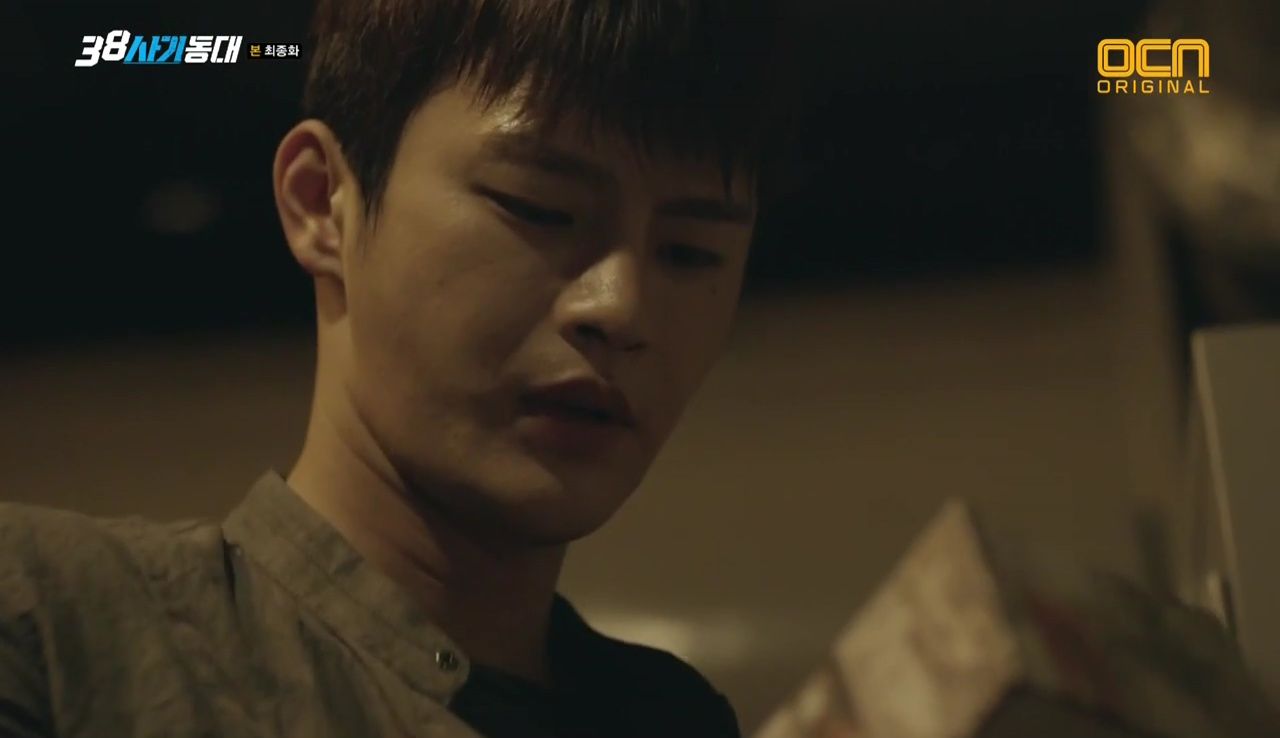 It's Sung-il's turn to be questioned, and Prosecutor Park offers to cut him a deal if he gives up Jung-do. After a long pause, Sung-il asks, "Prosecutor, why have you sworn such loyalty to Chairman Choi?" He says that they're public servants whose salaries come from taxes paid by ordinary citizens. They owe it to the public to work for their sake, not for the private advantage of a privileged few.
Park lets out a frustrated sigh and points out that he's in no position to be preaching to anyone right now. Sung-il agrees, but earnestly asks if the prosecutor will hear him out all the same.
Director Ahn suggests a variety of methods to Chairman Wang for transferring funds to them. But the chairman is adamant it must be cash, since other methods leave a trail. He calls in Mr. Kim and instructs him to amass as generous an amount as he can right away. Ahn is impressed, and the chairman beams, "This is how I do business!"
A stricken Mayor Chun pleads with Chairman Choi to release him, "I really want to become an outstanding mayor." He lowers himself to his knees, and Choi spares him a glance. "You're already an outstanding mayor. There's no one better than you…to me," he says, and dismisses him.
Jae-sung arrives at his meeting point with Jin-seok emptyhanded. He sneers at Jin-seok that since he did all the work, he'll keep all the money. Jin-seok's face darkens, but Jae-sung threatens to spend a few notes and get Jin-seok put away again.
Jin-seok tries cajoling now, but the ex-detective only leans in and tells him to live well. He leaves Jin-seok muttering profanities behind him, while he gloats all the way to his car. What comes around, goes around?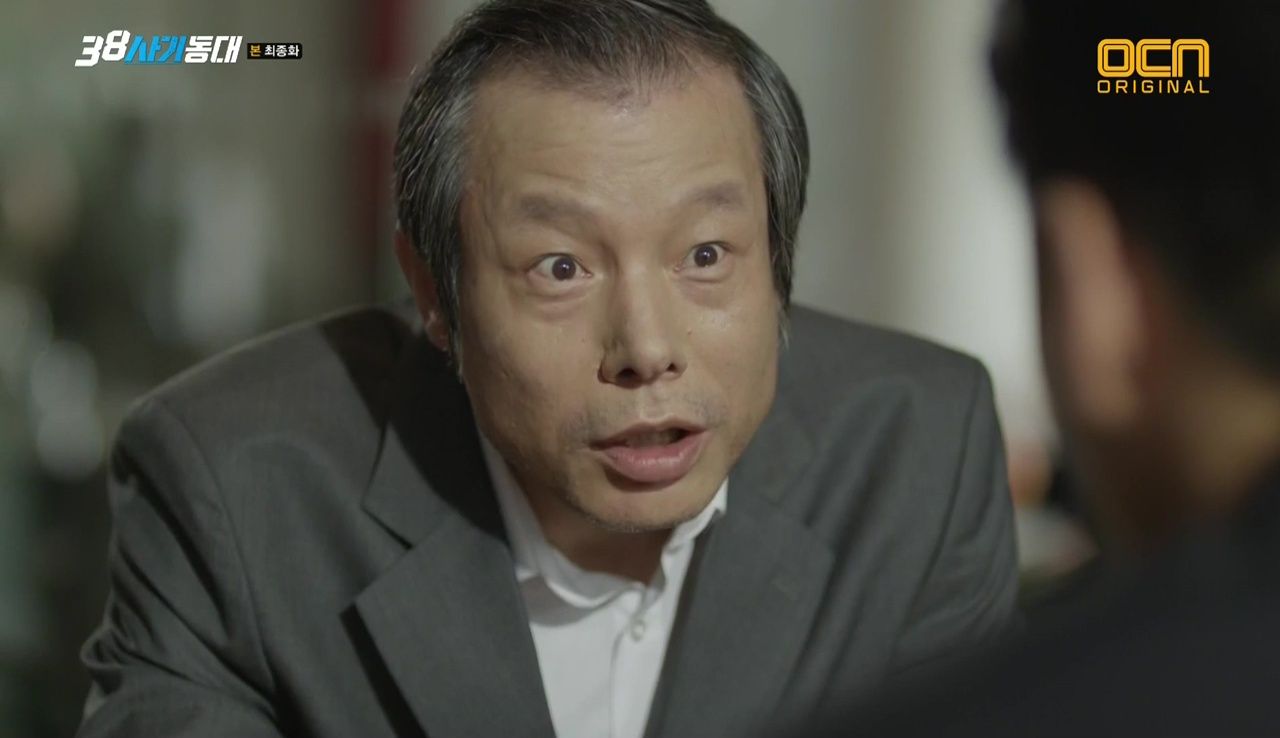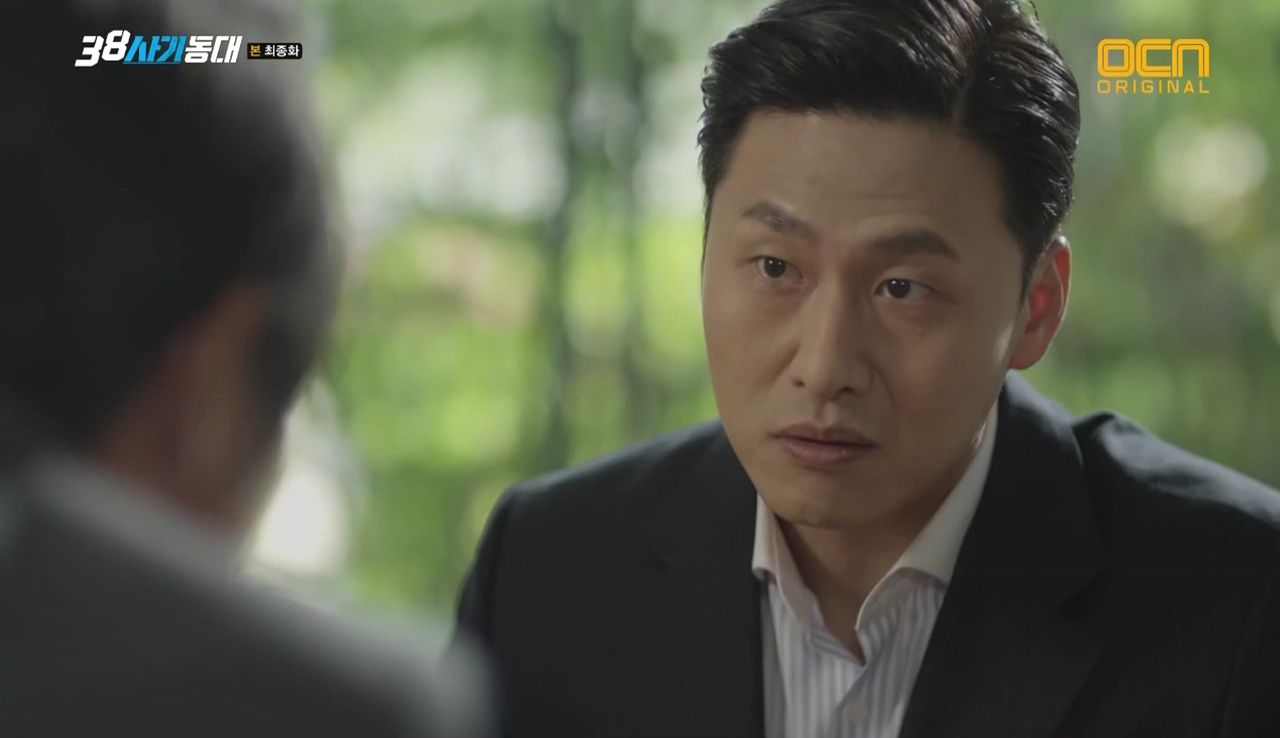 Chairman Wang asks Ahn how he'll hand over the Maseokdong project, but Ahn assures him that Choi won't be an obstacle. Mr. Kim arrives just then to tell them that the money's ready and Ahn readily gives up his car keys, looking more and more like the cat who got the cream. He checks that the money is safely stowed inside, before driving away.
At the tax bureau, Sung-hee receives a call from her father which she's hesitant to answer. He asks her what kind of mayor she thinks he is. He tells her how he thought it would be okay to accept their help just a little back then, in the hope that he could do much more good if he could only become mayor.
In a defeated voice, he tells her that it all becomes a slippery slope. Concessions and favors added up to unfair advantages, and now those things are dragging him down. Sung-hee's only answer is pained silence, and he realizes then that if he had been a worthy mayor, she wouldn't have helped the con-team. "I'm sorry, Sung-hee-ya," he says, eyes full.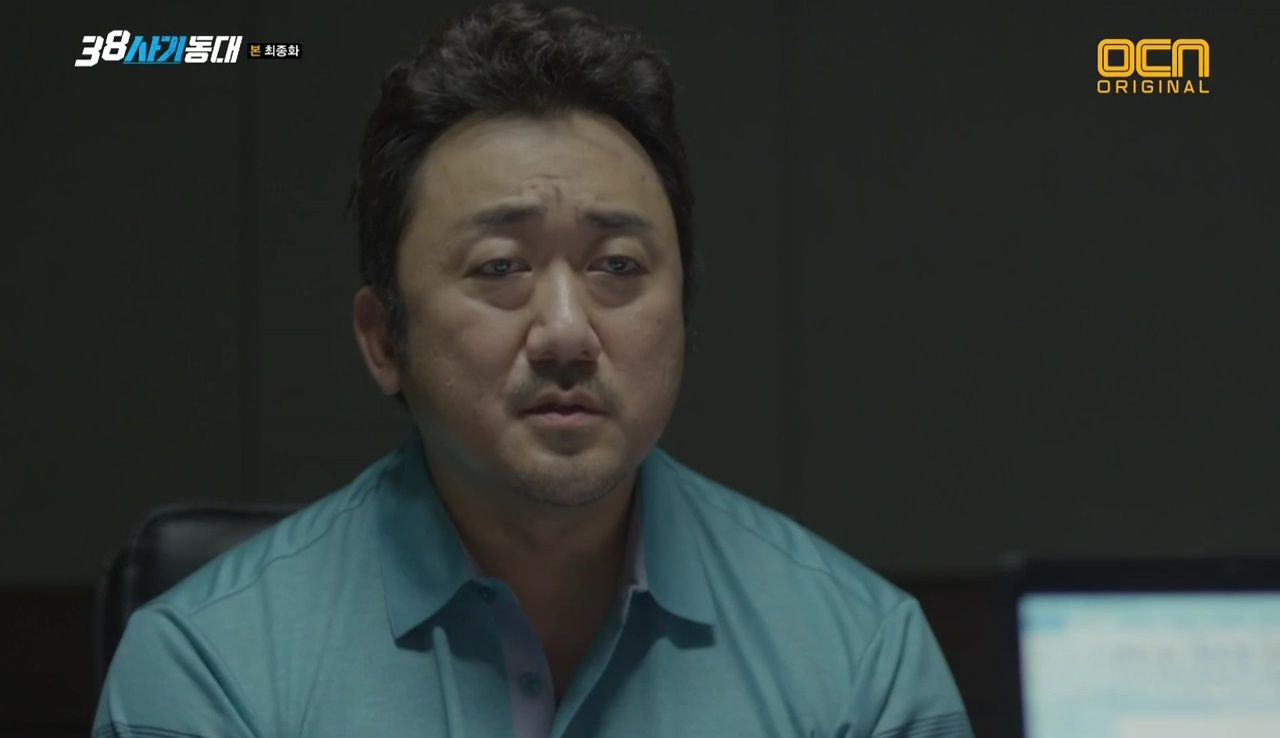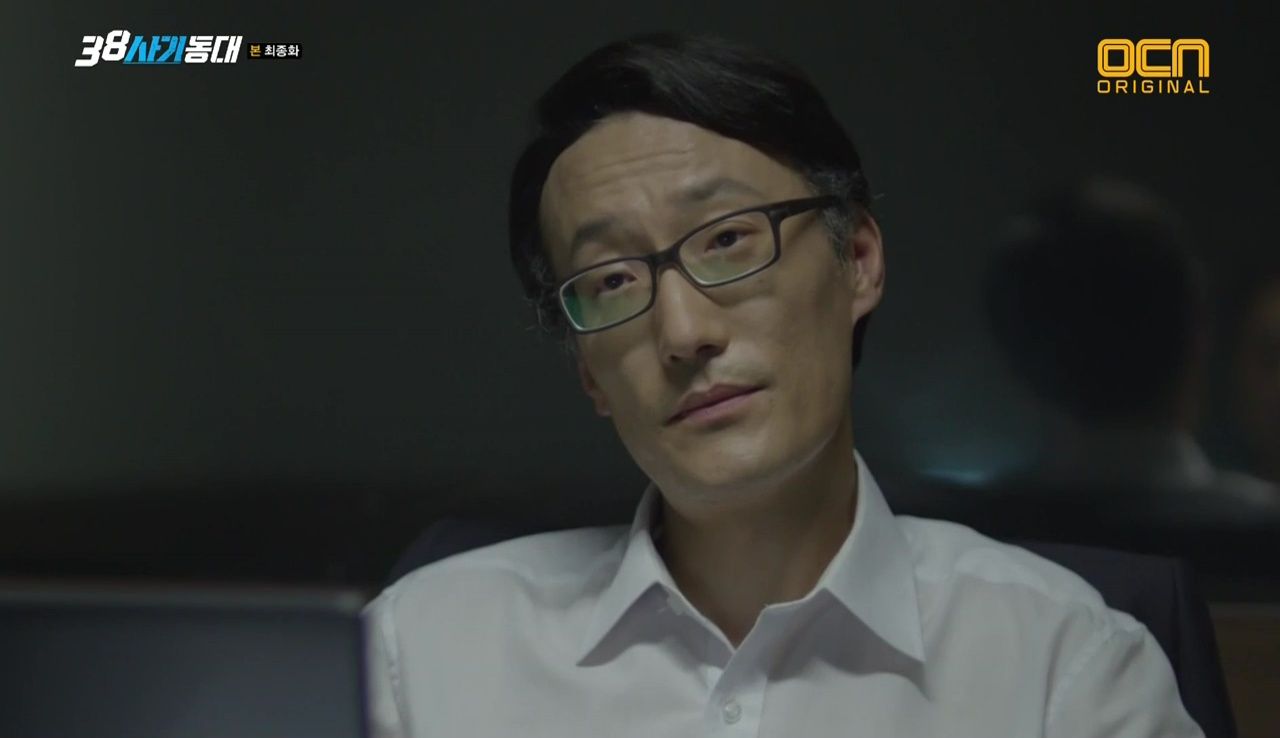 Prosecutor Park asks Sung-il if what he's just told him is true. Sung-il confirms it is, and appeals to the prosecutor to do his job as it ought to be done. "Right now, I'm giving you a chance," he says, eyes hopeful.
Director Ahn reports his successful wooing of Chairman Wang to Mayor Chun. But Chun reveals that Chairman Choi found out about Min-shik. Although he's taken aback, Ahn assures him that he can take care of it. But the mayor cuts in asking just how far they have to go. "To the end," Ahn replies grimly, and tells him to forget Choi and focus on Wang.
The mayor tiredly acquiesces. About to leave, Ahn turns back and tells the mayor to bear it a little longer, "I haven't yet been able to show you the Seowon city I envision." But why does that sound more like a threat?
Chairman Wang returns to Madam Noh, pretty pleased, and asks when something is going to come out. Madam Noh tells him that it should be about now, and she gets Ji-yeon to turn on the TV. By now, everyone is in front of a TV screen, one way or another—the prosecutor, Mayor Chun, Chairman Choi, Mi-joo, and even Hak-joo and Ja-wang. Oh god, the tension is killing me.
We see Jung-do sit silently in his car somewhere, as if waiting, while elsewhere, Jae-sung gets out of his. He pops open the trunk, and his eyes widen…because it's empty. Totally cleaned out. Whaaat.
A special bulletin reports the breaking news that Seowon city's mayor accepted illegal campaign funds. It names Choi as the recipient of a cash fund collected from various illegal lending businesses, and notes he has $100 million in tax arrears. Chairman Choi watches the report agog.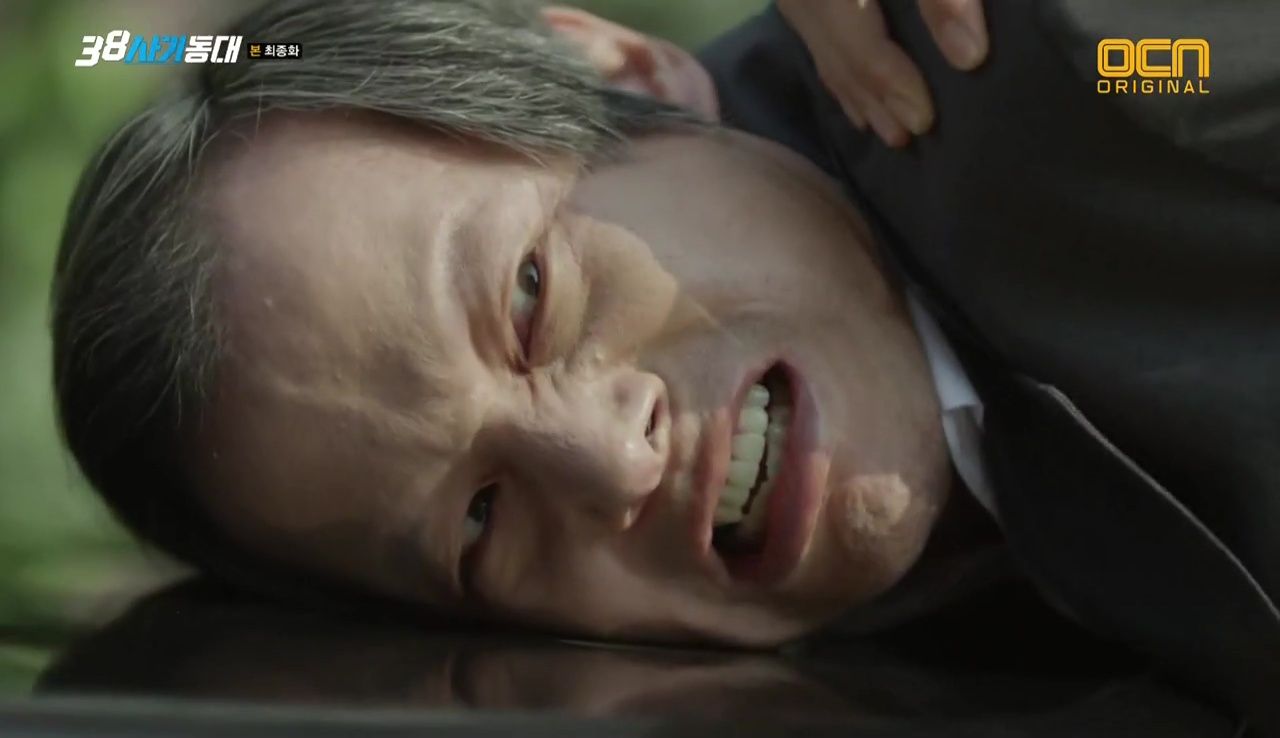 Jae-sung turns around to find himself surrounded by plainclothes police, who arrest him immediately. On TV, the report continues that the money was delivered to a broker. Camera footage shows Jae-sung leaving his car, while a second broker appears— WHAT? NO REALLY WHAT?! It's Jung-do, a cap pulled low over his face.
In his car, Jung-do watches the report unfold…with Jin-seok beside him. What! Laughing a little, Jung-do thanks him, and tells him not to make trouble anymore. Jin-seok promises he's a changed man, and the men part as friends.
And now, the full plan is laid out at last as we return to the council of war from the beginning of the episode. Jin-seok had learned that Jae-sung had met with Chairman Choi, and they figure he's out to sell him information for cash. Madam Noh explains that the cash would have to come from Choi's moneylending activities. And while Jae-sung's on the move with the money, Jung-do says they'll be setting a trap.
The holes are filled in further, and we now learn that the item Jung-do took from Ja-wang's den was some kind of car-hacking master-key. While Jae-sung met with Jin-seok—car keys on the table beside him—Jung-do had followed behind with the device. As soon as he clocks the correct frequency, he heads out and unlocks both cars, immediately transferring the boxes of cash from Jae-sung's car to his. And then he's gone.
They'll take that money to Chairman Wang, Sung-il explains next, who will pretend it came from him, and hand it off to Director Ahn. Since Ahn already found out about their relationship, Jung-so says they'll play it like the chairman switched sides. This way, they conclude, the money that originated from the illegal loan sharks will go to Choi, and then pass through Jae-sung as the first "broker". A second broker will then transfer it from Jae-sung to the Chun campaign, as an illegal donation.
Mi-joo notes that every person in the chain—Chairman Choi, the brokers, Ahn and Mayor Chun—will go down, and asks who the second broker is. Jung-do lightly replies that he bought someone who'll go to prison for them. There is a flaw in your plan, Jung-do.
Wrapping up, he instructs Madam Noh to get the reporter to follow them with a camera, and Mi-joo to report it to the police. Madam Noh looks penetratingly at him and asks if Chairman Wang ordered it and you get the feeling she knows his real plan. "No. It's my decision," he tells her with a smile.
We return to Prosecutor Park's interview with Sung-il. Park points out that without insider testimony, they've got nothing. Sung-il offers up Jung-do as their insider. Impassioned, he tells Park, "If that fellow didn't fight like this, we would never be able overcome those villains."
Mi-joo watches in shock as the news footage clearly shows Jung-do as the second broker. At the hospital, Hak-joo and Ja-wang also recognize him, and perhaps Madam Noh didn't guess after all, because she looks as shocked as everyone else.
Sung-il has one last appeal for the prosecutor: "Who must public officials like us look to? For whose sake and against whom must we fight? Please show the people for once, whose side is the law really on."
Park mulls on those words as he watches the report. Nodding slightly to himself, he picks up the phone and orders Sung-il's release.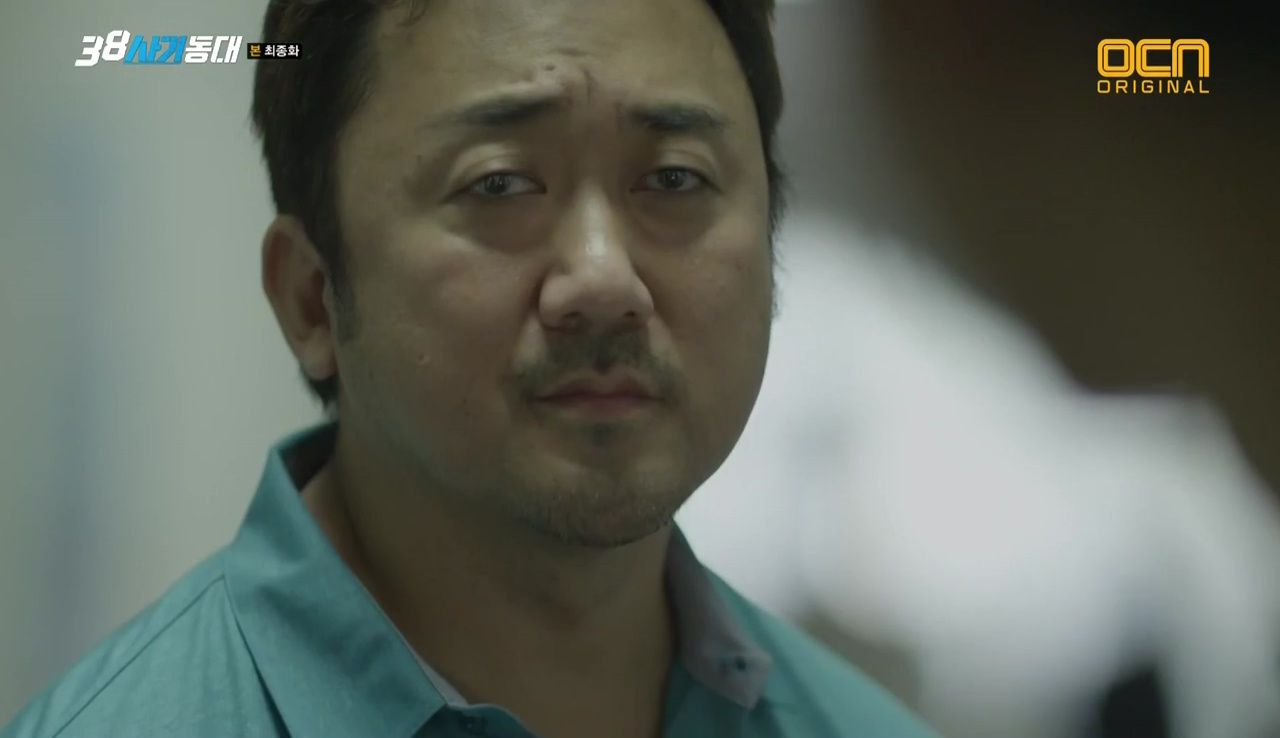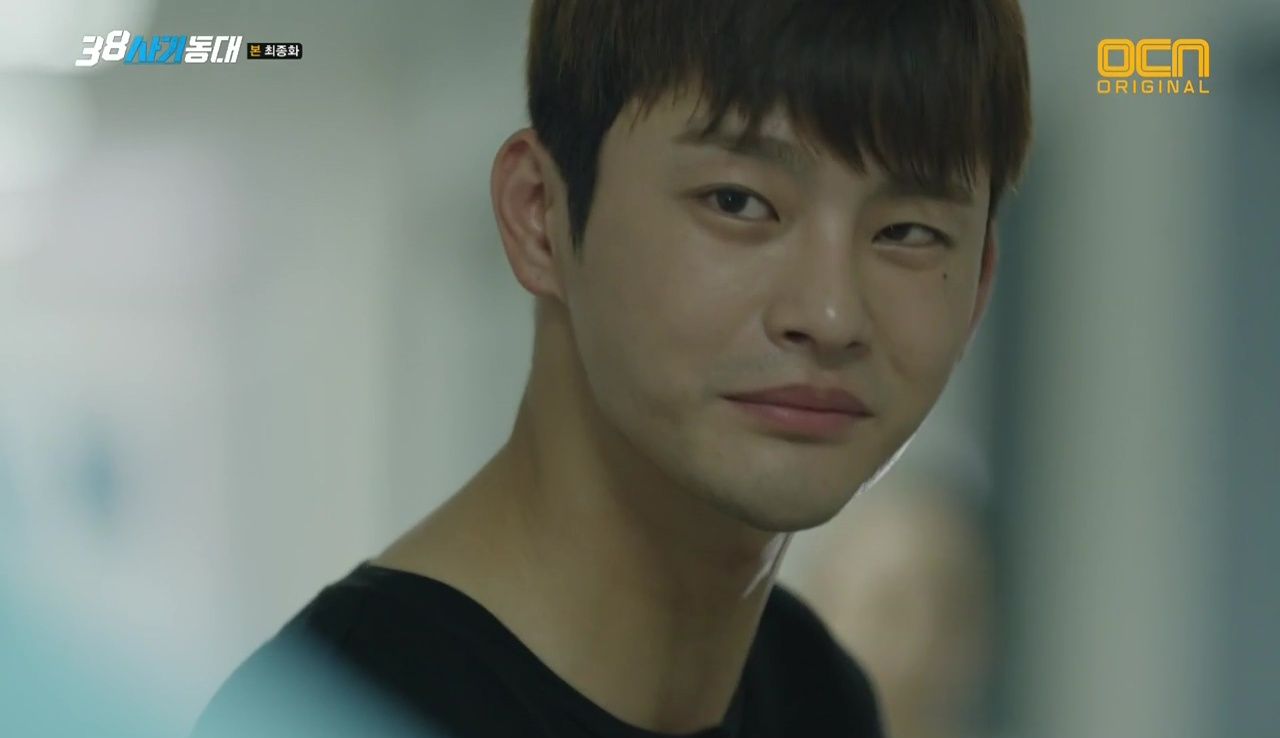 Jung-do walks into the police station, and smiles as he and Sung-il cross paths. Saddened, Sung-il apologizes, but Jung-do brushes it off. He's sorry for not keeping his side of their promise, but reminds Sung-il that he must, "So don't get fired." His composure falters a moment, but he collects himself. "Then let's go our own ways," he tells Sung-il.
But just before he passes on, Jung-do asks Sung-il for one last favor: His father will be coming out in a year, but there's no one to meet him. Of course he'll go, Sung-il says. "Thanks…hyung," Jung-do says, half-smiling and half ready to cry. Pulling his cap back on, he vanishes inside, and Sung-il wipes his eyes. There's something in my eye, too.
Mayor Chun receives an agitated call from Chairman Choi. Chun offers him three options: They can shift the blame onto Ahn, Choi can save himself by destroying the mayor with the truth about Min-shik's death, or they can both go down together. Choi doesn't like the first or third options. Chun replies that he disagrees, and hangs up. Choi barks at his Secretary to get Prosecutor Park on the line, but he's not taking their calls.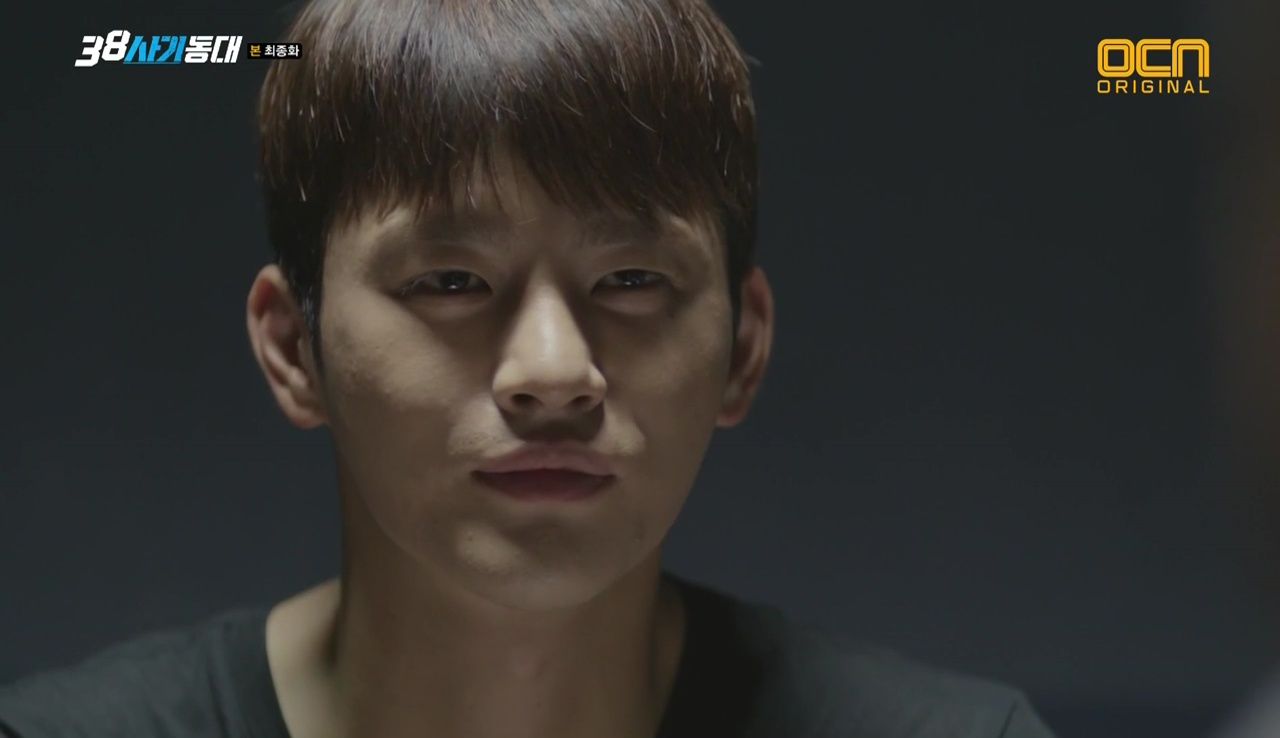 Prosecutor Park arrives to question Jung-do, who begins his confession immediately. He took Chairman Choi's money via Jae-sung, and delivered it to Mayor Chun, he says.
Sung-il comes to see Mayor Chun now that it's over. Chun visibly deflates, and as Sung-il's about to leave, Chun stops him. He confesses that Min-shik was murdered by President Bang, and furthermore, he had covered it up. But to his shock, Sung-il already knows, having discovered everything during his investigation into Chairman Choi.
He admits that he wanted to pulverize him, but first he needed to finish what Min-shik started—what Chun himself had tried to do back then. He wishes Chun could go back to how he used to be, "Back then, hyungnim, you were really magnificent."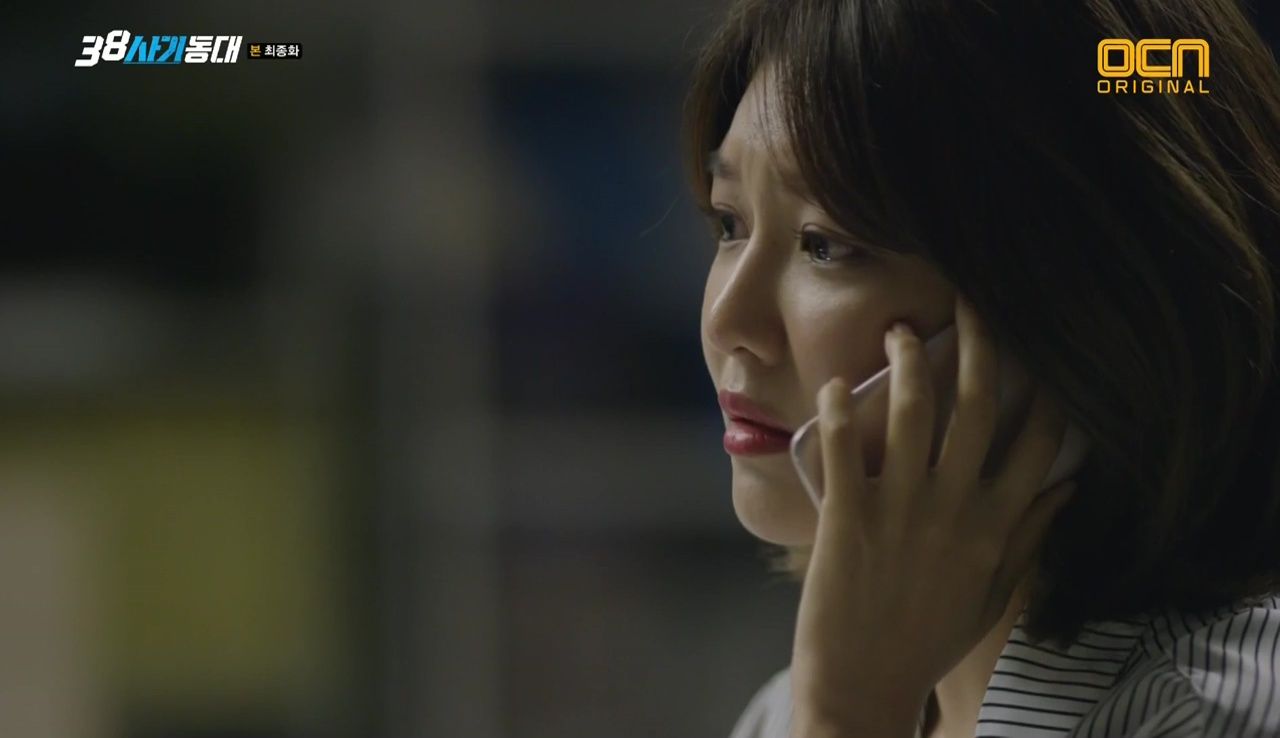 Sung-hee calls her father to answer his question. Quietly, she says that as a mayor, he was how her mother had described him as a husband: well-intentioned, but never there for them. She asks him not to be that way to the citizens. As she hangs up, both their faces are wet with tears.
With new resolve, Chun addresses a press conference the next day, and reveals that it was true that he had received illegal campaign funds. He goes on to disclose the full extent of his and Choi's misconduct over the past eight years.
He says he came to realize that giving up his conscience and going outside of the law were not the way to make the citizens happy. He promises to take responsibility for his wrongdoings and co-operate with the investigation. He also withdraws from the mayoral election, and offers a deep bow of apology. Director Ahn watches the broadcast in his car, convulsing with silent laugh-sobs.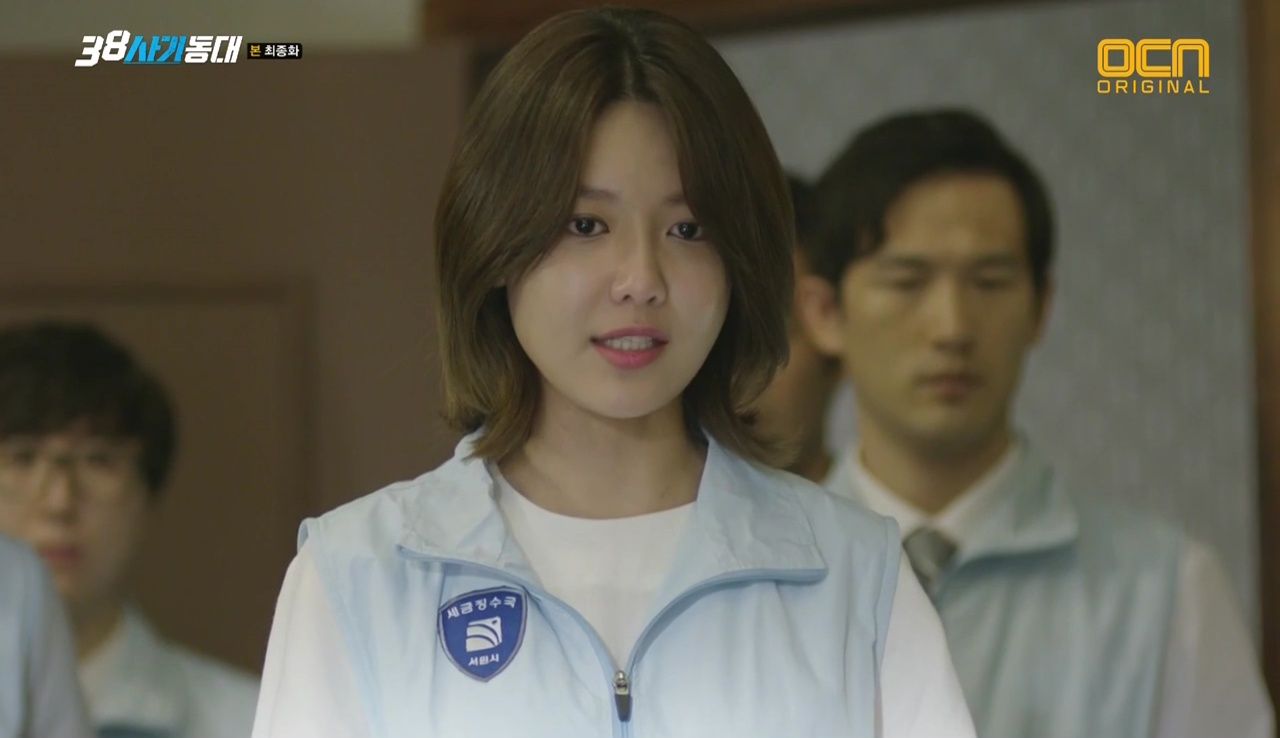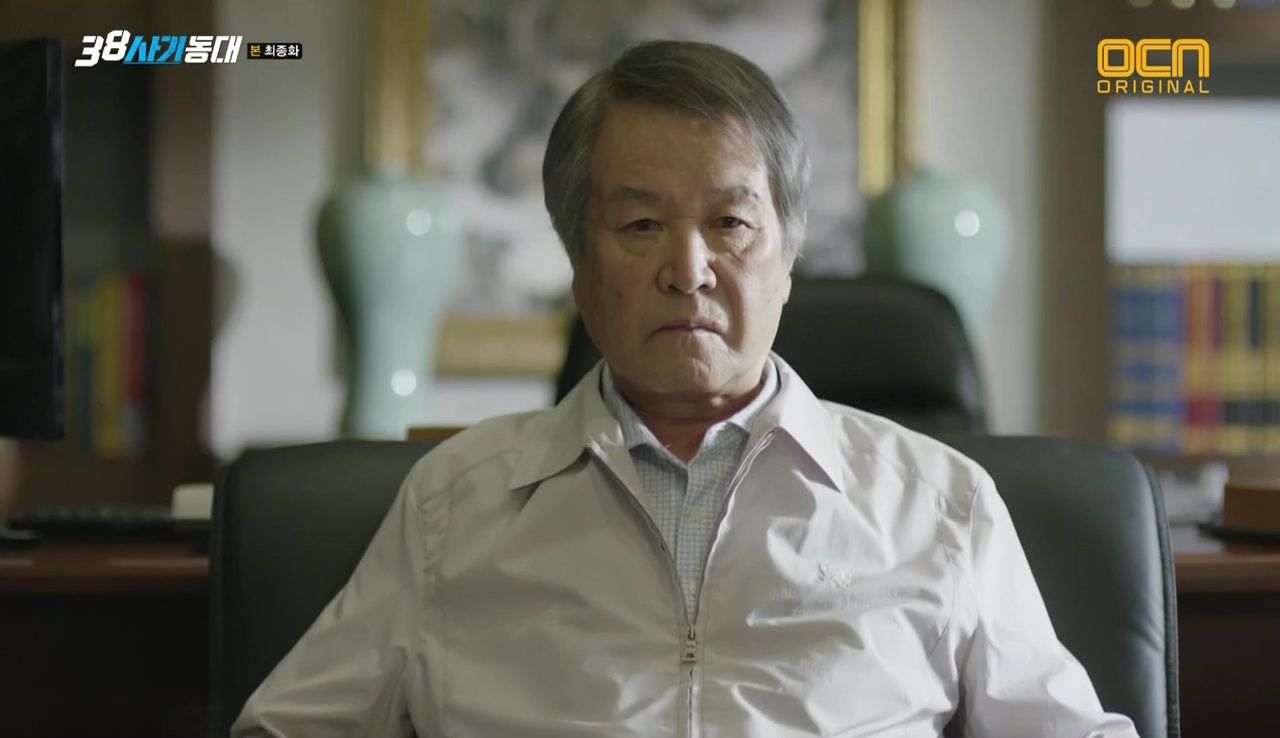 As a last request the night before, the mayor had asked Sung-hee to collect Chairman Choi's $100 million arrears. Her team reach Choi's office, where he stubbornly ignores their arrival. She announces their search and seizure, having confirmed the true extent of his assets. As the operation commences, the screen fades to black.
Sometime later, Sung-il pays Choi a visit in the poor neighborhood he likes to hang out in, and finds the old man bitter. With a diffident smile, he formally pronounces Choi's $100 million tax arrears as paid in full, "Although it took a while." Haha.
At City Hall, Sung-il now enjoys the respect of his colleagues—as Section Chief of Division Two. Aw, yeah! He drifts towards the TV, where a news report announces a rain of cash over a university which had recently suffered from the director's corruption, along with a rumor that said director had recently fallen victim to real estate fraud. Sung-il grins, but not as broadly as Sung-hee does to see him smiling.
Across the city, Madam Noh and Ji-yeon also enjoy the report. Still headquartered at the Freezer, Mi-joo, Hak-joo and Ja-wang (now recovered) eagerly watch the screen, grinning in elation.
EPILOGUE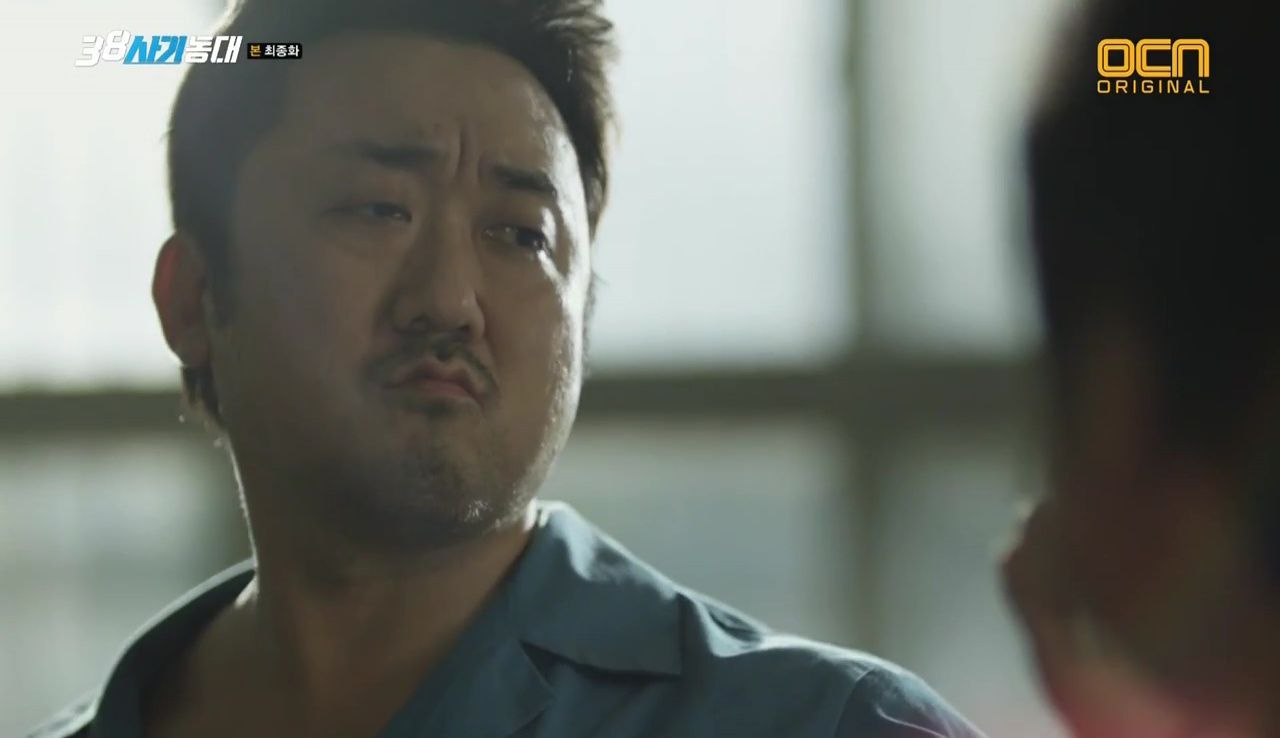 It's meal-time in prison and Jae-sung spots Jung-do chomping down his food. Jung-do finishes up begins to head out. Eyes narrowed viciously, Jae-sung extracts a shiv concealed in his waistband. Just as he's about to lunge for Jung-do, a hand grabs him, and he's disarmed…by Sung-il? What? He punches Jae-sung in the face and says, "I'm Park Woong-chul, you jerk." OH MY GOD, ARE YOU REALLY?
Jung-do, mouth still full of apple, blinks at his savior in shock: "Sung-il hyung!" Woong-chul asks, "Do you know me?" Guards yell at him for causing trouble, and he mutters to himself that he's meant to come out soon. But then he turns to look straight at the camera, eyebrow cocked.
COMMENTS
BEST CAMEO EVER, GUYS. BESSTTTT. For those who haven't seen it, that was a special appearance from Ma Dong-seok's character in Bad Guys, who (as of episode 1) is the total opposite of kindly papa bear. Aww, seriously, my heart was so ready to ache without that epilogue.
I'm thankful that we weren't left with the kind of semi-resolved ending these OCN shows like to torture us with (for subsequent seasons that may never happen but you never give up on! You know who you are, shows.). Everything about this finale—both parts—was just perfect, in what was a lovingly-crafted send-off for a fantastically written show. The care is evident not only in how our characters' arcs conclude, but also in how it stayed true to its overall spirit and concept. The weary world it painted was one where the kernels of hope were buried deep and required introspection and effort to uncover, not just on the characters' parts, but also ours. It exemplifies, to me, what has always set K-dramas apart from the herd, even (or perhaps especially) in genre dramas, with that reflective quality that gives us thrillers with heart and comedy capers with a core of anguish. Those are the things that elevate a show from forgettable to indelible.
If not for the epilogue, my heart would be bleeding for Jung-do, who looked like the loneliest person in the world as he walked into that police station. His cocky veneer has always masked the tragedy of his arc, and his origin story bears a strong similarity to Liar Game's Ha Woo-jin. But it's been clear for some time that he's a far softer target, easily affected and forming strong loyalties. It's these bonds that give him motive, and ultimately govern all he does.
The question of motive has always been central to unlocking the heart of the show, whose entire conceit is built around dissecting the mechanics of what makes people tick. That's the battleground from which twist and counter-twist (and counter-counter-twist) emerge, and that knowledge becomes by far the most powerful weapon, not just for second-guessing people, but for controlling them.
In a way, Jung-do makes Chairman Choi's methods look crude, because his require much more subtlety and a more sophisticated understanding of human nature. Unlike Choi, Jung-do's interest isn't in controlling people outright, but in using their natural behaviors to his advantage. With a few tweaks, of course. Choi might win in a battle of brute force, but in a game of infinitesimally complex moves, that's all Jung-do's.
The emotional current of this episode was carried on Jung-do's choice to sacrifice himself, and it doesn't underplay the dire seriousness of his gambit. Their whole plan was essentially a big gamble, and they knew it. But if there's anything we've learnt from Sung-il and Jung-do, it's that victory demands a price. So does escape, as Mayor Chun discovers, when he realizes that the only way to end Choi's hold over him is to go down with him. His trajectory this episode strangely mirrors Jung-do's, perhaps because both of them want to end Choi's dominion. But that Chun was part of the problem is something it took him all this time to recognize.
From the show's first breath, it has asked whether ends justify means, and I think the mayor eventually becomes one of the most fascinating characters to answer that. Something of a demi-villain at one point, he was the mayor who was bad because he wanted to be good. The irony is that pretty much everyone spends the majority of the show breaking the law—for the greater good and otherwise—but Chun occupies the unique position of holding significant (political) power in one hand, and potentially inexhaustible means in the other. It's an intoxicating combination of circumstances.
Another proof of the integrity of Police Unit's universe is how well it bears multiple, concurrent interpretations. It's particularly well exemplified in the team reunion over the last few episodes. In this final con where they have nothing to gain, they wouldn't take such big risks without better motives. So did Jung-do manipulate them? Somewhat. Did Grandpa move them? Somewhat. But ultimately, it's their own emotions and consciences that make them go the distance, not pragmatism. Was Hak-joo's return to the fold for the sake of the team? Absolutely, among other things. I enjoy how it suggests that loyalty—or perhaps betrayal—is the more powerful currency among thieves. There's a level of intangibility to it that someone like Choi will never comprehend. And if Jin-seok isn't living, laughing proof of that, I don't know what is.
The ending scene before the epilogue strikes a chord of both humor and hope, as you realize that they don't go back to their old ways, but go forward into new ways. I would have been disappointed if Sung-il put his conning behind him. That reduces it to little more than a plot point, when the reality of the characters is that they've endured a years-long crucible that has fundamentally changed them. But if I had to make a complaint, it would be that the female characters were underused, although it's offset somewhat by how well they're written. Sung-hee, Mi-joo and Madam Noh prove consistently intelligent and resourceful, and are never treated as accessories for a hero's (or anti-hero's) journey.
There's a particular joy in watching a show that revels in its cleverness, but its true soul lies in how much life the characters have: All the plot in the world doesn't mean anything if we don't care about the people. But over the past few weeks, we've watched our team failing, adapting, and making the unlikeliest of saves. We watched them patiently bide their time and we agonized for them. And that's that best kind of show. Long after you forget the details, you still remember how it made you feel. And this show? It made me feel all the feels.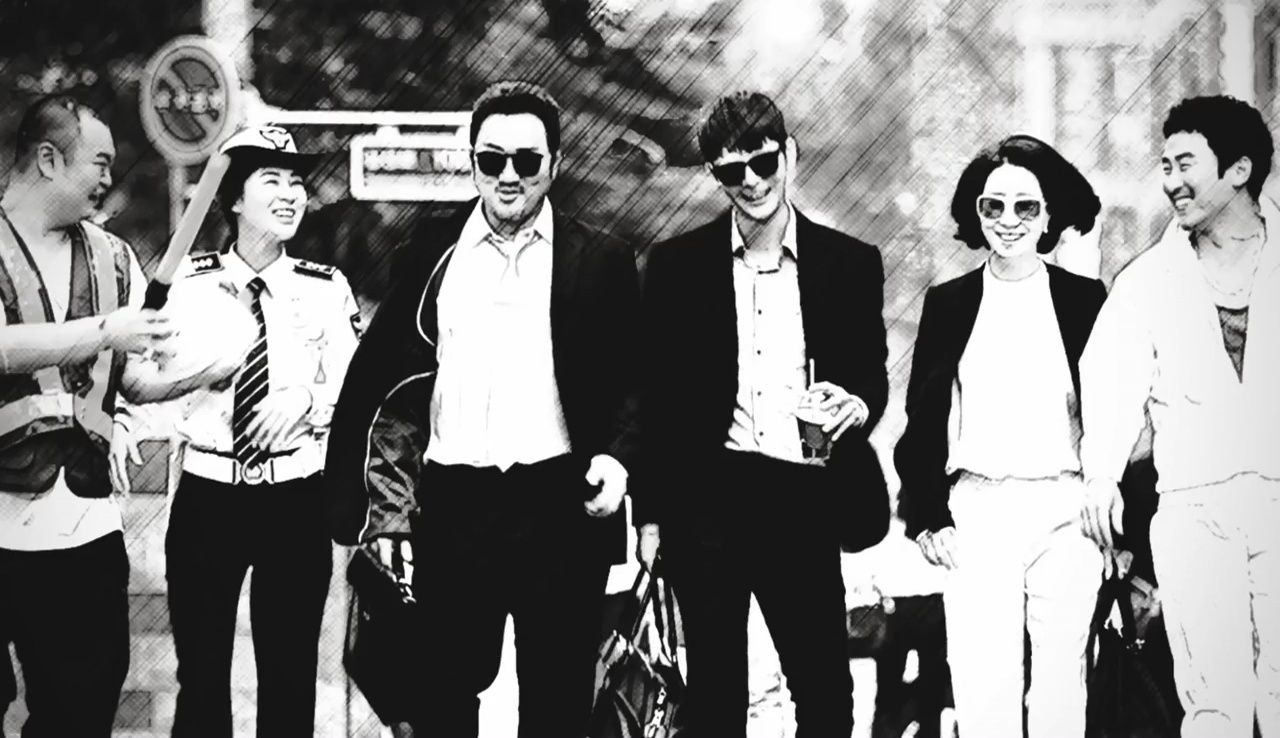 RELATED POSTS
Tags: featured, Ma Dong-seok, Police Unit 38, Seo In-gook, Sooyoung