Cinderella and the Four Knights: Episode 10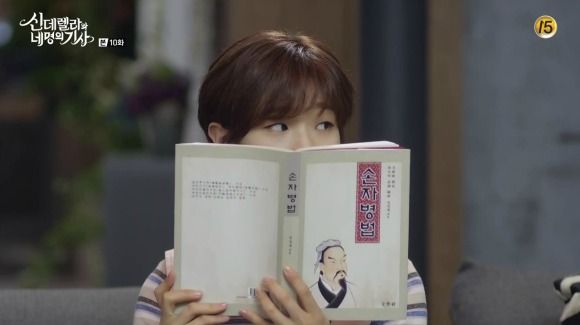 Confessions, denials, crushes, and unrequited loves abound this week, as our Cinderella and her knights navigate the murky waters of the heart. Having no prior experience with the land of love, Ha-won will find herself thrown off the deep end. Thankfully she's unafraid to use every weapon in her arsenal to fight for what she wants. But it will always take two to tango, and it's hard to dance when your partner is looking at someone else.

EPISODE 10 RECAP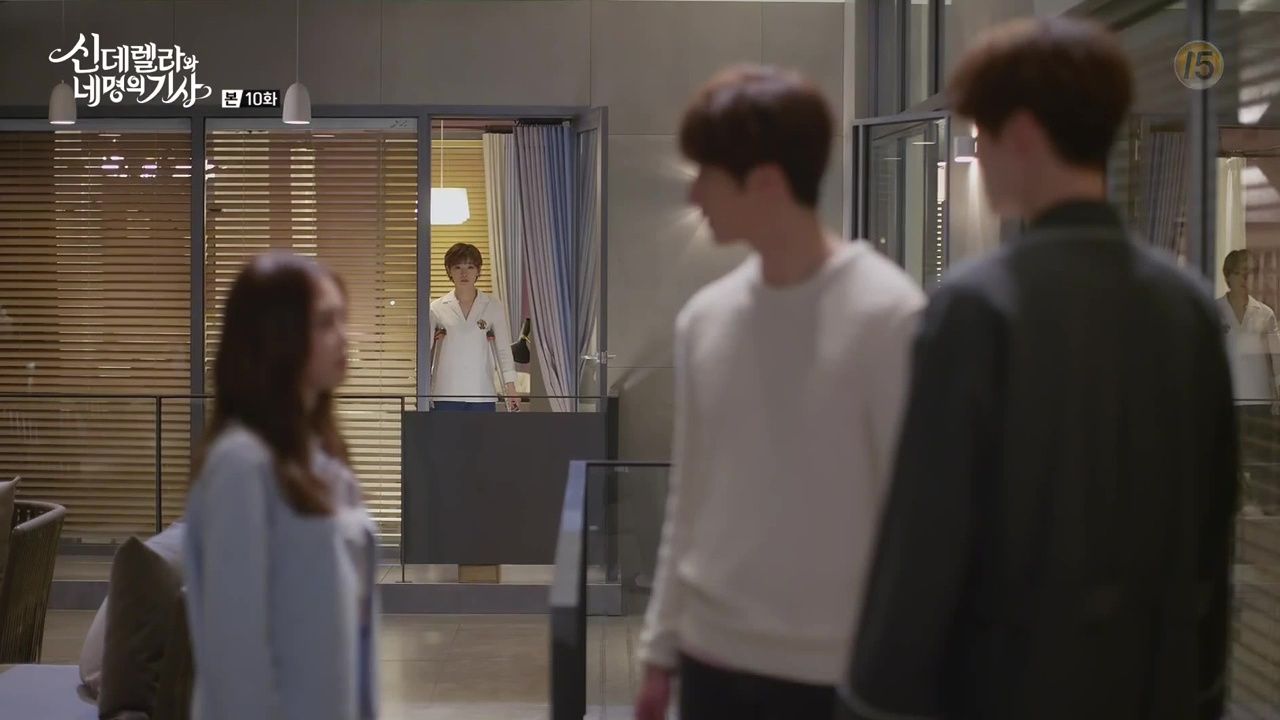 Ji-woon, Hyun-min, and Hye-ji stand in a literal love triangle as Hye-ji tells Hyun-min she wants to take a break from him, asking Ji-woon if he'll accept her. Unknown to the three of them, Ha-won watches from her room, having followed Ji-woon to return his watch.
Hyun-min stares at Hye-ji for a moment, nearly shaking with emotion. Then, without a word, he retreats to his room and slams the door. After Hyun-min leaves, Hye-ji tells Ji-woon that he doesn't have to answer her right now and bids him goodnight, slowly walking off.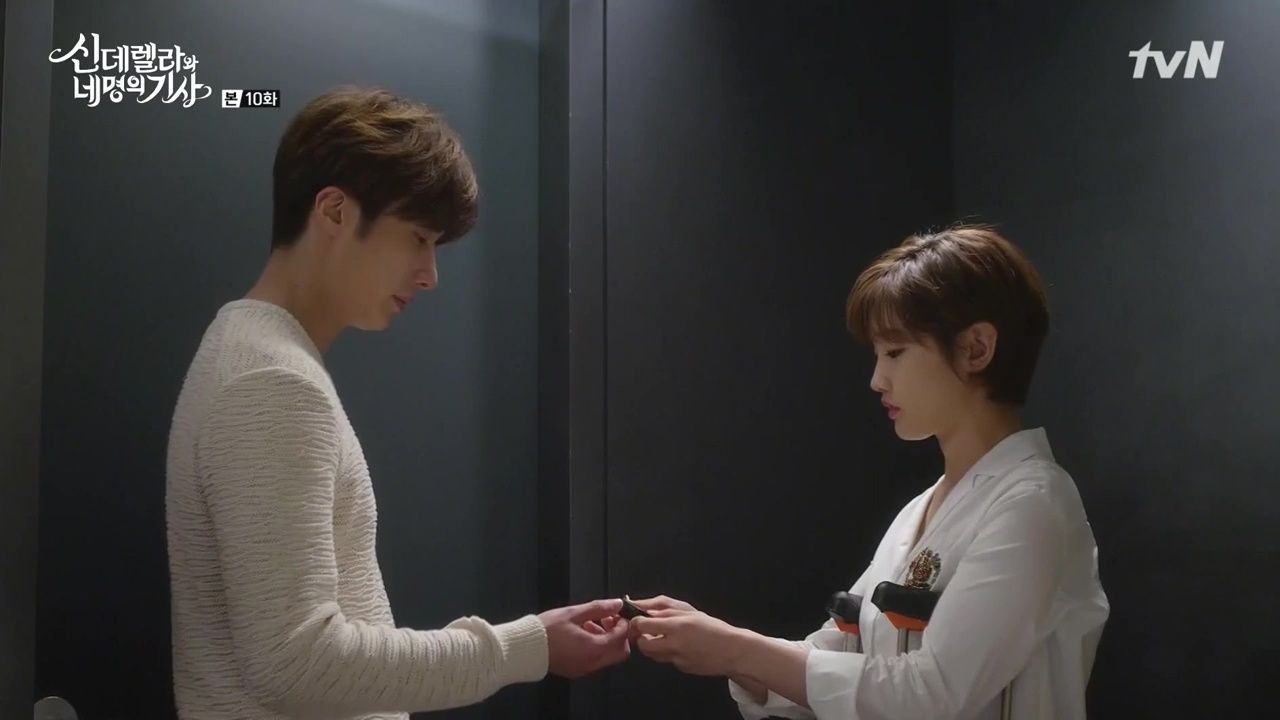 In a daze, Ji-woon turns back to his room and locks eyes with Ha-won. They both freeze for a moment before Ha-won calls out, "I wanted to give this back to you," hobbling over to hand him the watch.
Mustering up a small smile, Ha-won guesses that Ji-woon must be happy, since he liked Hye-ji for so long and now they can start dating. Ji-woon just stares straight ahead, not saying a word as Ha-won mutters a quick "Sleep well" and limps away.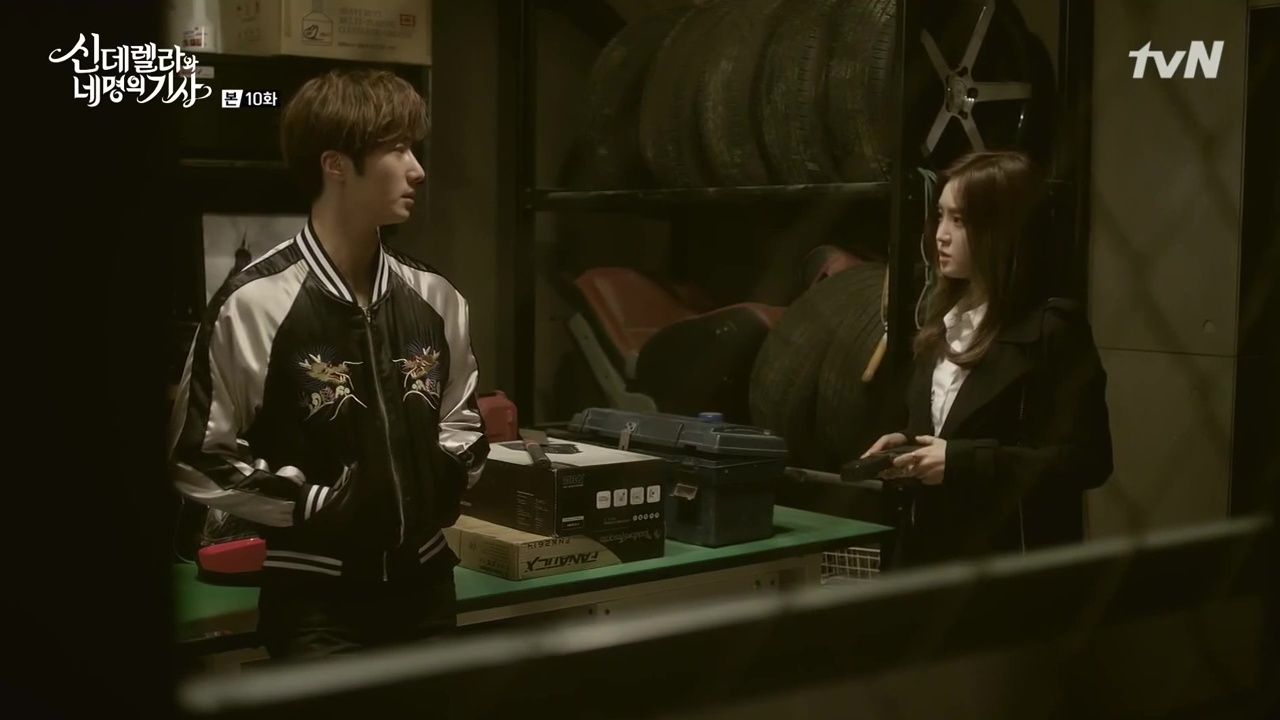 Sleep isn't fast approaching however, as Ji-woon lies in bed thinking back on the first time he'd met Hye-ji. She had been crying outside and Ji-woon had offered to let her cry in the workshop if she needed to, saying he wouldn't bother her.
Hye-ji had taken him up on his offer, and Ji-woon stood outside while she softly wept. The sound had brought on a flashback of when he was a child listening to his mother desperately weeping, her hand covering her mouth to muffle the noise.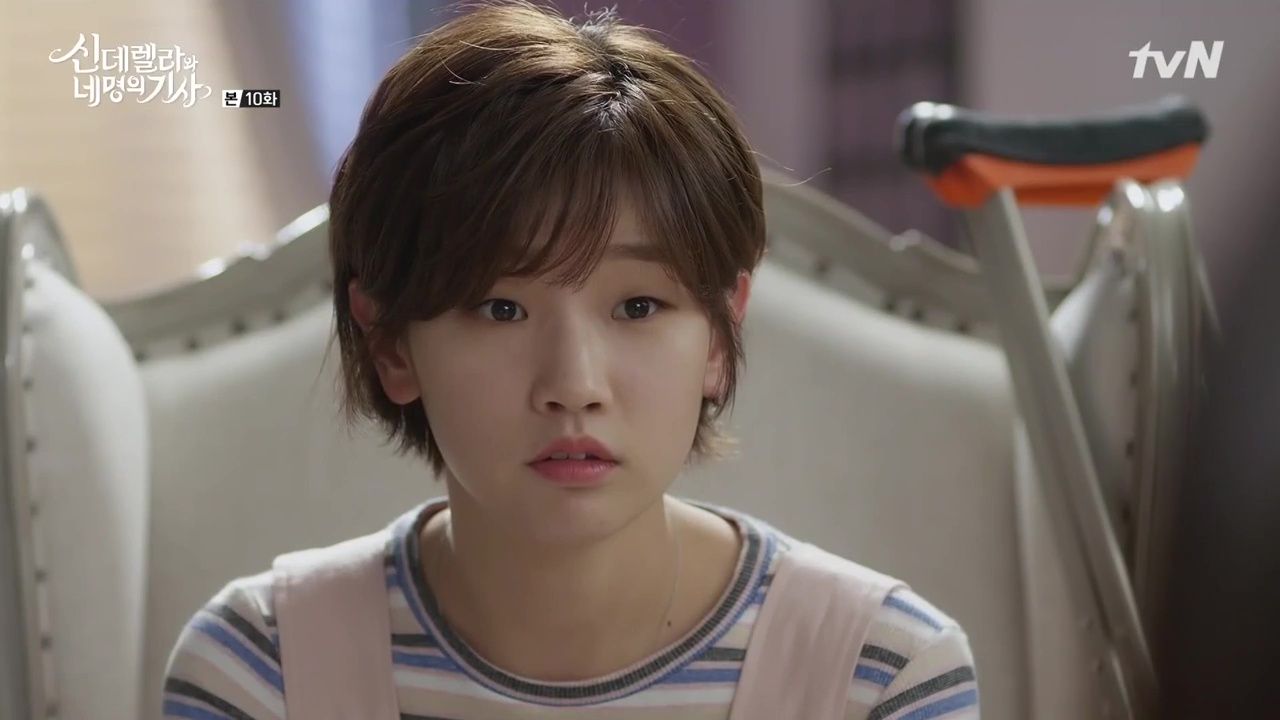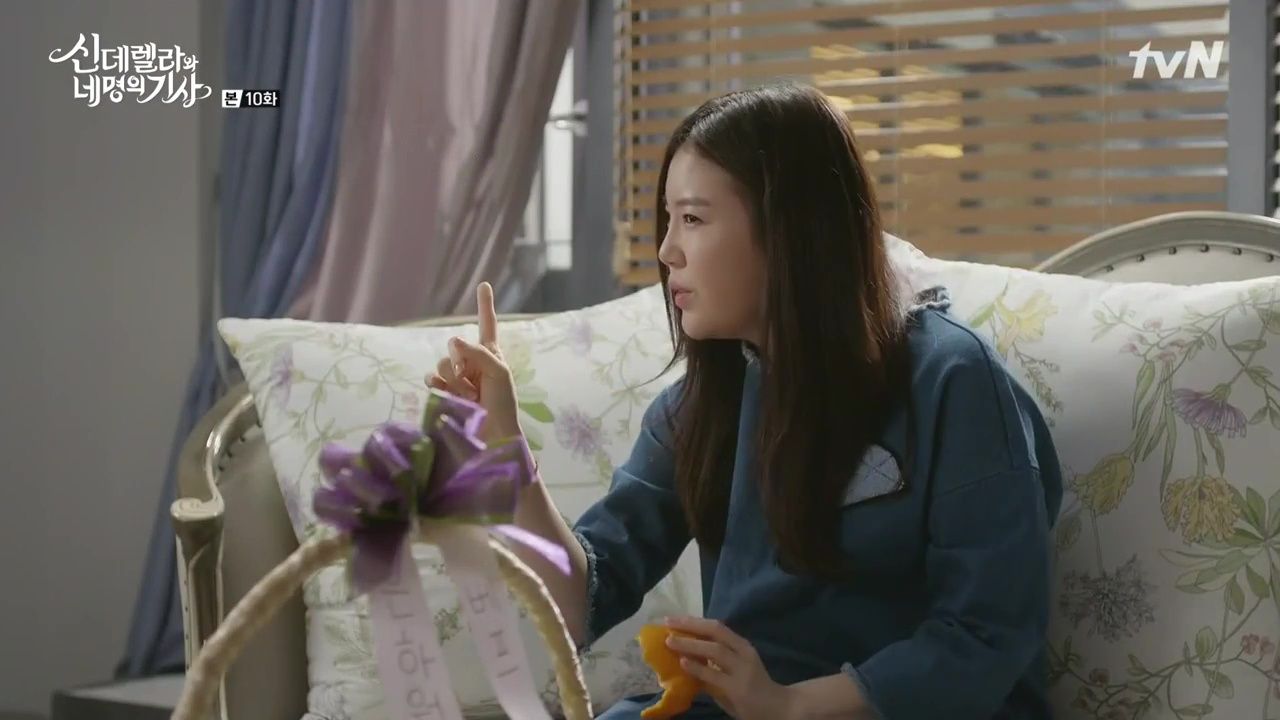 The next morning (in present time), Ha-won mopes as Ja-young provides a much needed breakdown of the situation. She summarizes that Ha-won's "mother's friend's son" received a confession from his crush. She asks if the girl is pretty, and Ha-won nods dejectedly.
Ha-won hastily adds that the "guy" hasn't given his answer yet, but Ja-young thinks it's pretty much a done deal; after all, the girl is pretty. Ha-won indignantly says that being pretty isn't everything, and Ja-young is all, "Uh, yeah it is." Pfff.
However, Ja-young does mention a loophole: If this was a longtime unrequited love, it's possible that the guy may have already developed feelings for someone else.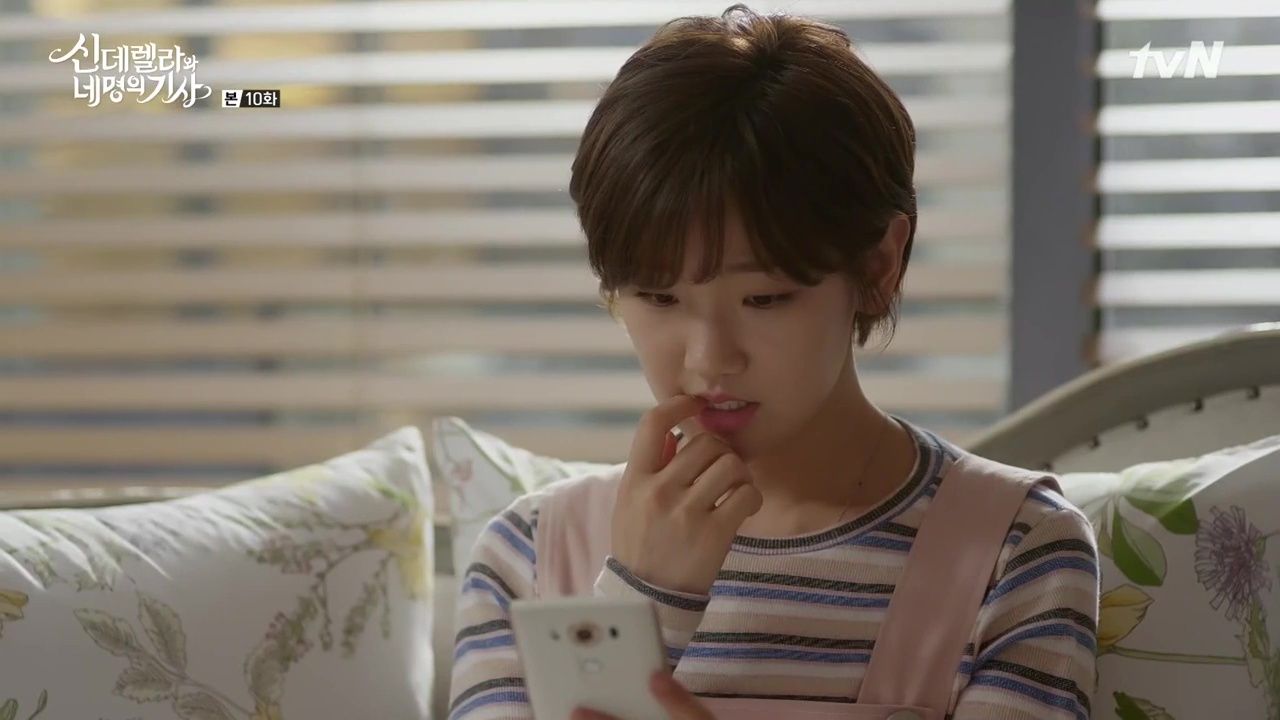 Spying on Ji-woon in his man cave, Ha-won mutters that he couldn't possibly have fallen for someone else since he's always by himself. She continues, "The only girl by his side beside Hye-ji is–" she suddenly remembers their drunken kiss and breaks into a grin, finishing, "…me?"
Needing another opinion, Ha-won turns to the omnipotent internet and posts one of life's greatest mysteries: "How do I know if a guy likes me?"
Anxiously teeth-tapping as she waits for a reply, Ha-won is disappointed by a string of unhelpful answers, before she finds a response advising that if the guy in question doesn't get mad – no matter what you do – then he definitely likes you. Smiling pensively, Ha-won muses, "No matter what I do?" Uh-oh. Run, Ji-woon. Run fast.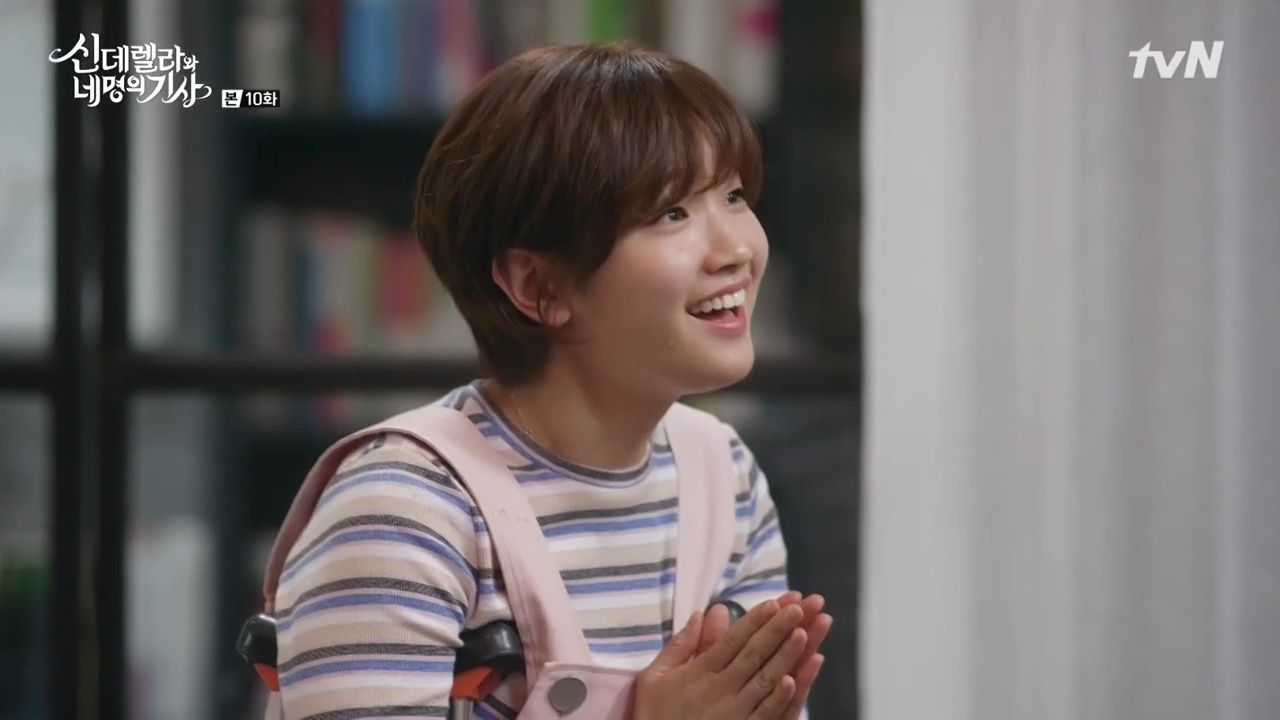 Hiding behind her copy of Sun Tzu's teachings, Ha-won watches as Ji-woon walks by. Waiting until his back is turned, Ha-won chucks the book at his head. Ji-woon spins around to yell at her, and Ha-won holds her hands up with a "Whoops! It slipped." PFFFFT.
Ji-woon grinds his teeth and walks into the kitchen for a drink, where he's cornered by Ha-won. Heh, he actually flinches away from the hundred pound girl on crutches. Ha-won gives him an innocent smile and just stands there as Ji-woon cautiously walks past. She waits until the perfect moment, then straight-up shoulder checks him, spilling his drink all over him.
Not even trying to hide her grin, Ha-won spouts another, "Oh, I'm sorry, I slipped!" Ji-woon barely swallows his rage and stomps away.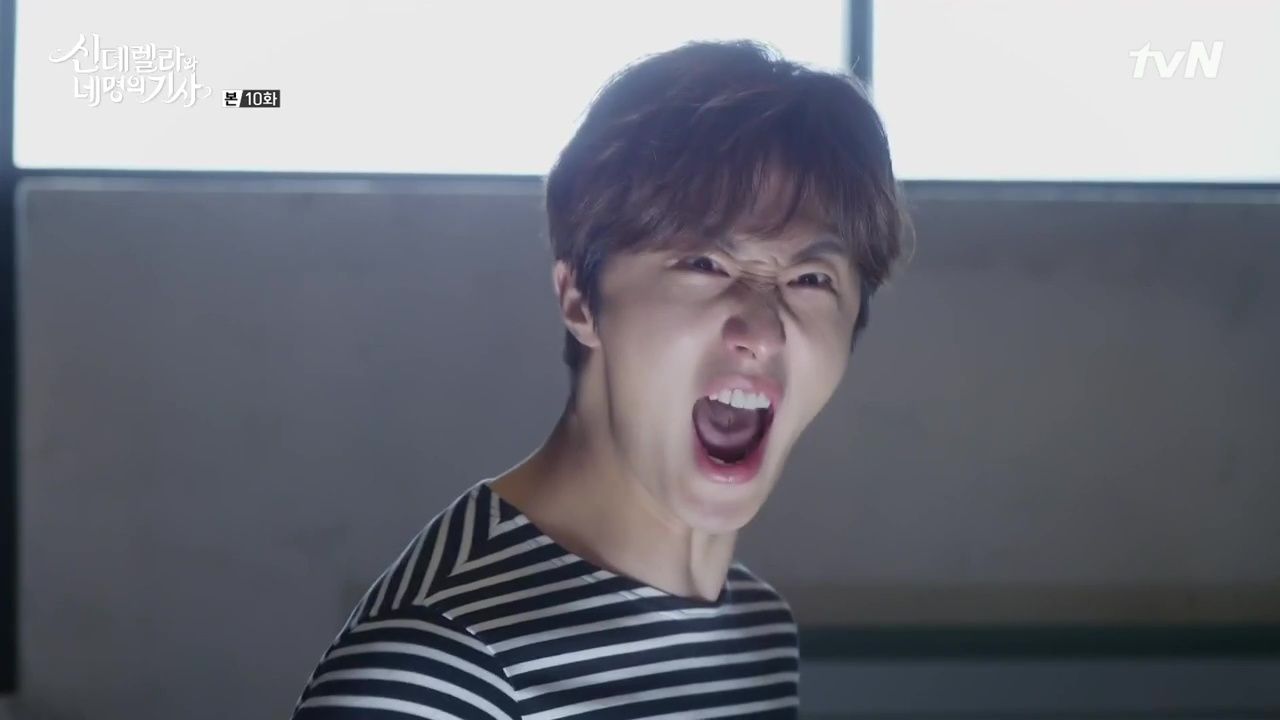 Oh, no. For her pièce de résistance, Ha-won sneaks into Ji-woon's workshop and starts trashing the place, hopping around and grinning as she turns the room upside down. Forget "not getting mad," it'll be a miracle if he doesn't outright kill her.
This turns out to be more than any man can bear, and has Ji-woon roaring Ha-won's name, complete with a tiger growl sound effect.
Hurriedly hopping to her bed, Ha-won dives under the covers just as Ji-woon marches into her room, demanding to know what her problem is.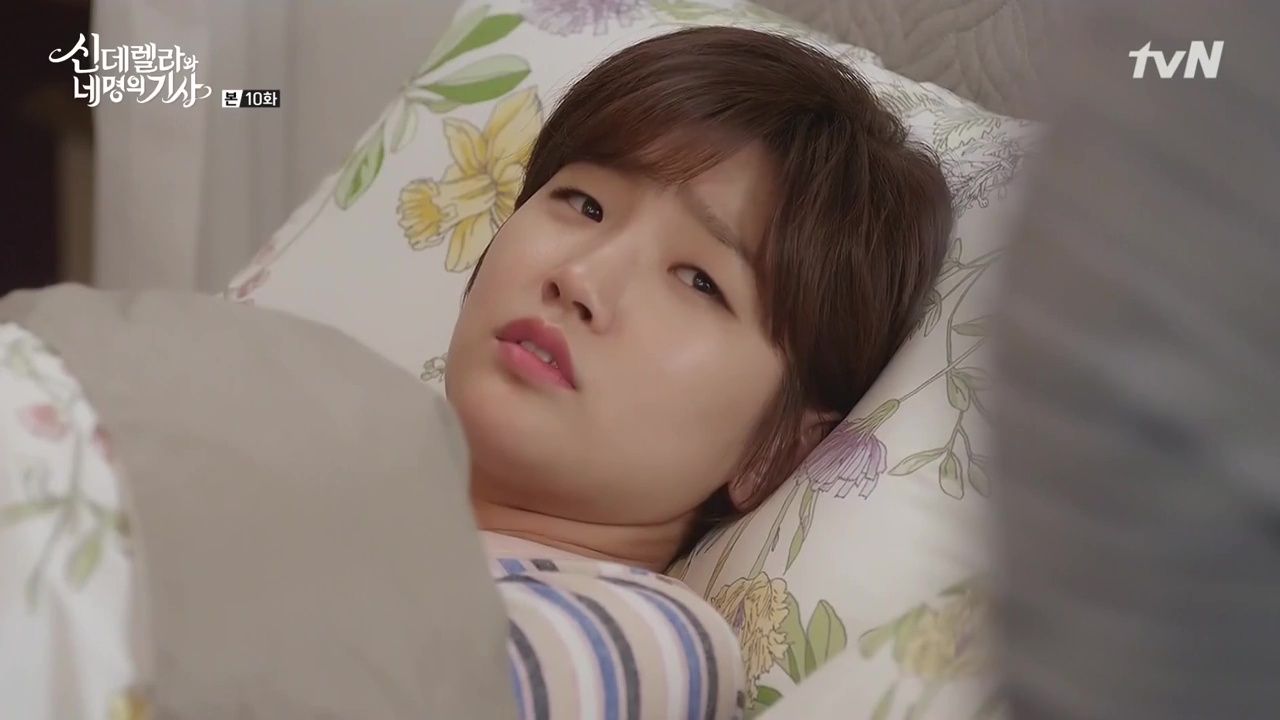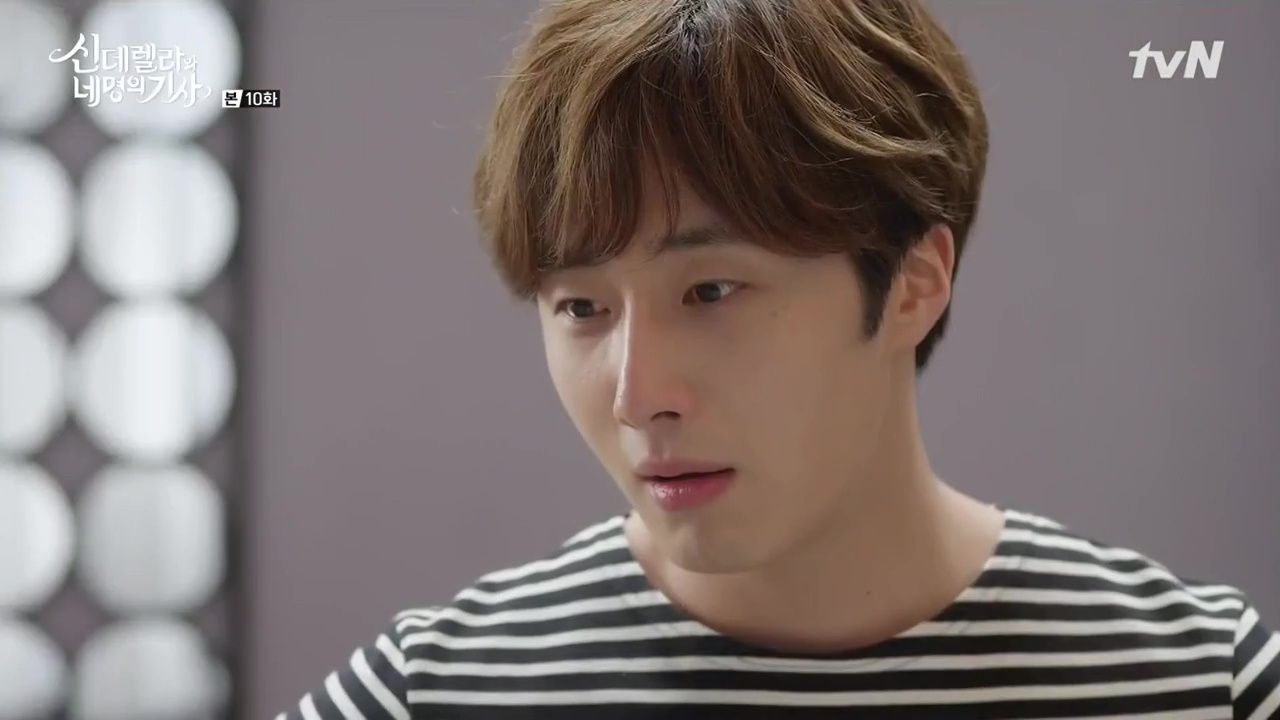 In response, Ha-won rolls over and gives him her best "sick look," piteously asking why he's being mean to someone who is sooo injured. Ji-woon scoffs, amazed at her gall, and asks if she has a death wish. He tells her that if she's bored, then she should just sleep.
Ji-woon turns to stalk off, but he's stopped when an angry Ha-won throws a pillow at his head. He whips around and Ha-won gripes that he doesn't care that she was injured. Ji-woon's face falls a bit as Ha-won points out that he's never once worried about her or brought her something to eat since she was hurt.
Sails fully deflated, Ji-woon leaves the room and Ha-won mutters that he definitely doesn't have any feelings for her.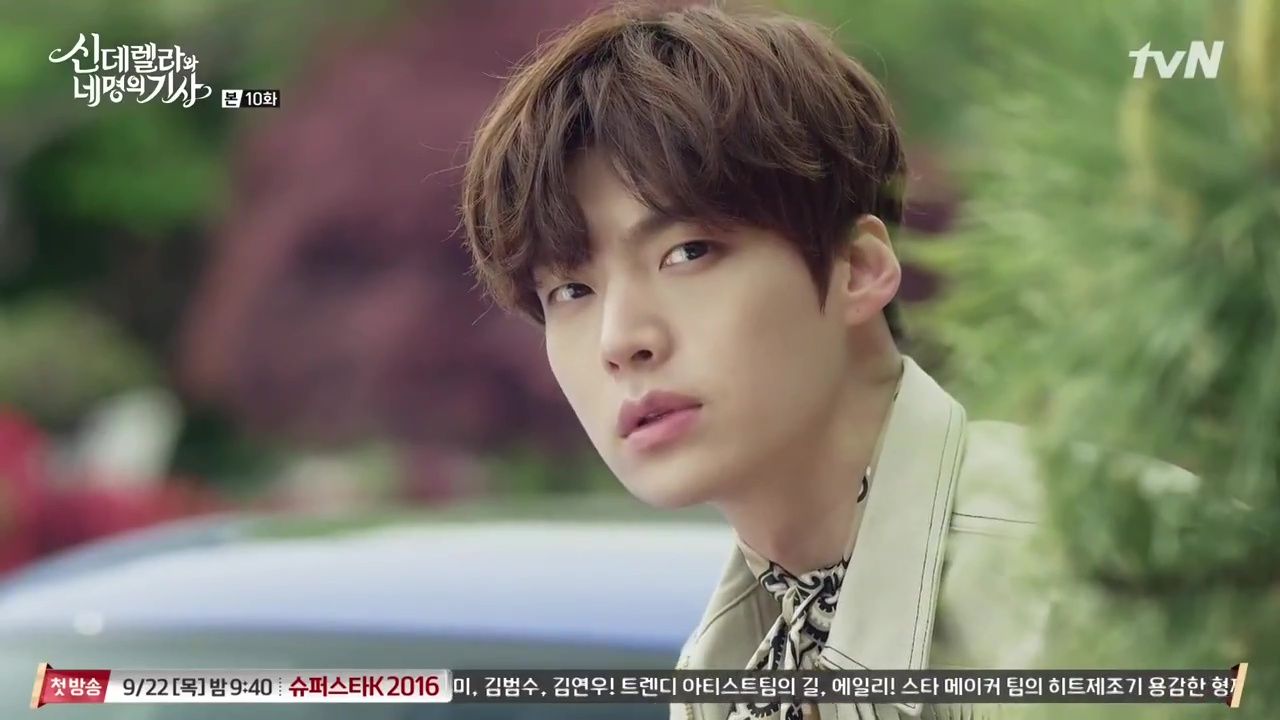 On her way out that morning, Hye-ji notices her parents' mailbox is filling up with bills and final notices. Nearby, a sheepish Hyun-min spies on Hye-ji as she leaves the house.
Thinking back on Hye-ji's decision to take a break from him, Hyun-min confronts her when she returns home. He tells her they need to talk, asking if she's just using Ji-woon to mess with him. Hye-ji denies it, and answers that during all the times she really needed someone, it wasn't Hyun-min by her side, but Ji-woon.
Hyun-min's response is interrupted when Ji-woon joins them, having made plans with Hye-ji. The two go into her house and Hyun-min is left outside.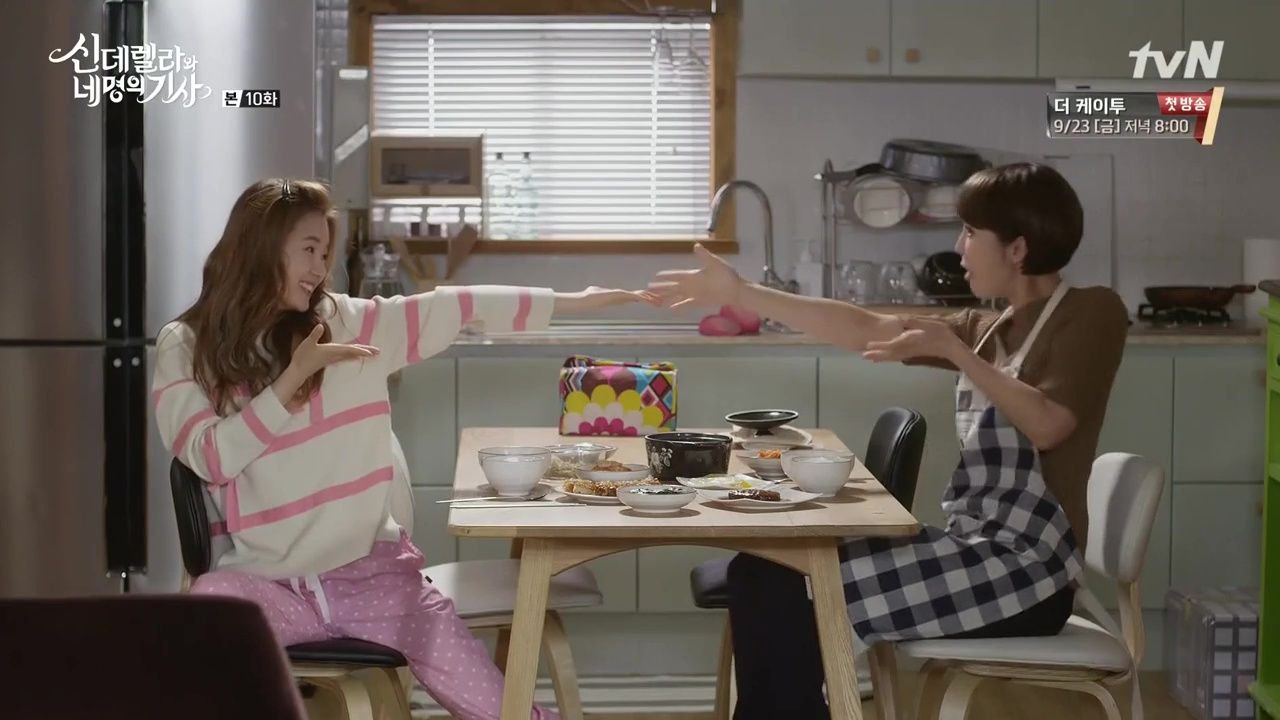 Stepmom and Stepsis are busy being adorably evil as Stepmom shares the gossip she heard about Hwa-ja being married once before wedding Grandpa Kang. Stepsis dismisses it as being just a rumor, but it gives her the idea that Stepmom could use this opportunity to become Hwa-ja's gossip confidant, gaining the woman's trust by sharing all the juicy tidbits she overhears at work.
Back in Hye-ji's shop, Ji-woon asks her if she truly meant her confession from the other night. Recalling Hyun-min's accusation that she is just using Ji-woon to get back at Hyun-min, Hye-ji answers that her feelings are sincere.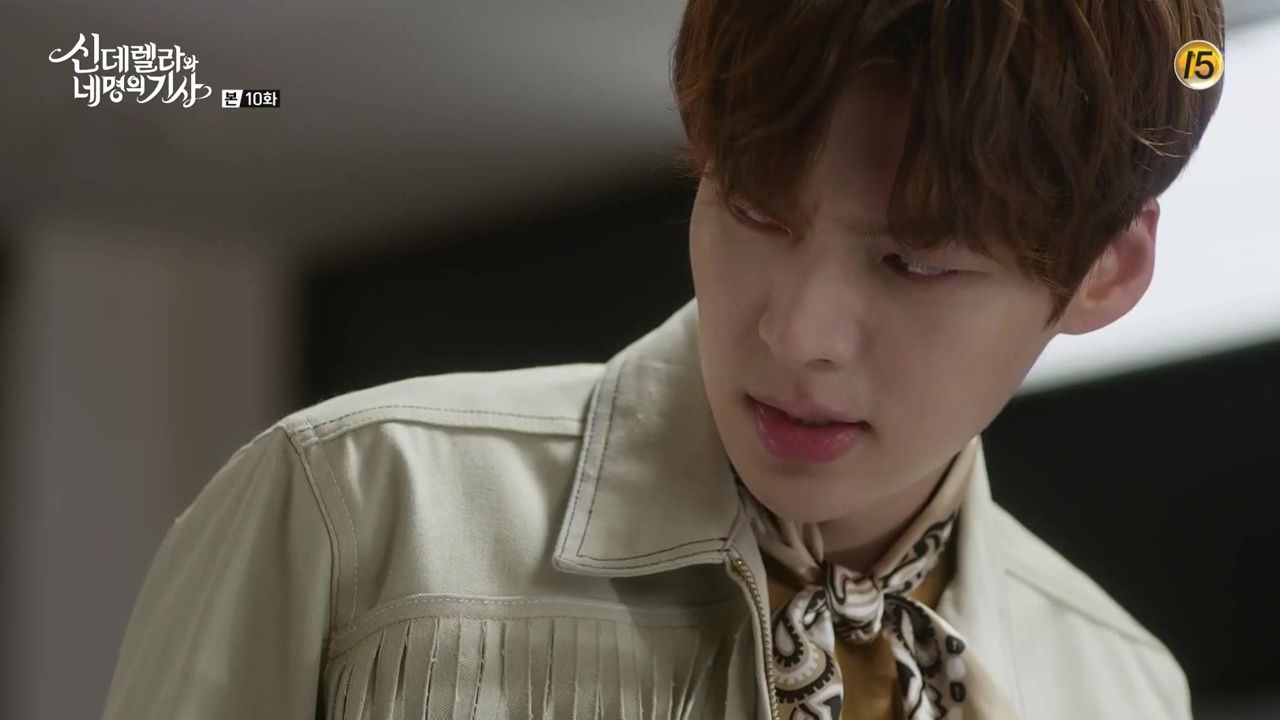 Returning to his room after watching Ji-woon and Hye-ji head off together, Hyun-min has a mini temper tantrum, flailing on his bed and kicking the offending covers. With a glint in his eye, he stares out his window into Ji-woon's room, then rises from the mangled sheets with purpose.
Over in her room, Ha-won is busy talking herself into confronting Ji-woon, deciding to just ask him which girl he likes.
In Ji-woon's room, Hyun-min picks up one of his cousin's beloved car models. Smiling evilly, he drops it on the ground, then stomps it to pieces. Oh, you petty thing. His crushing spree is cut short however, when a voice calls out from the doorway. Wincing, Hyun-min looks up to see Ha-won staring at him. Busted.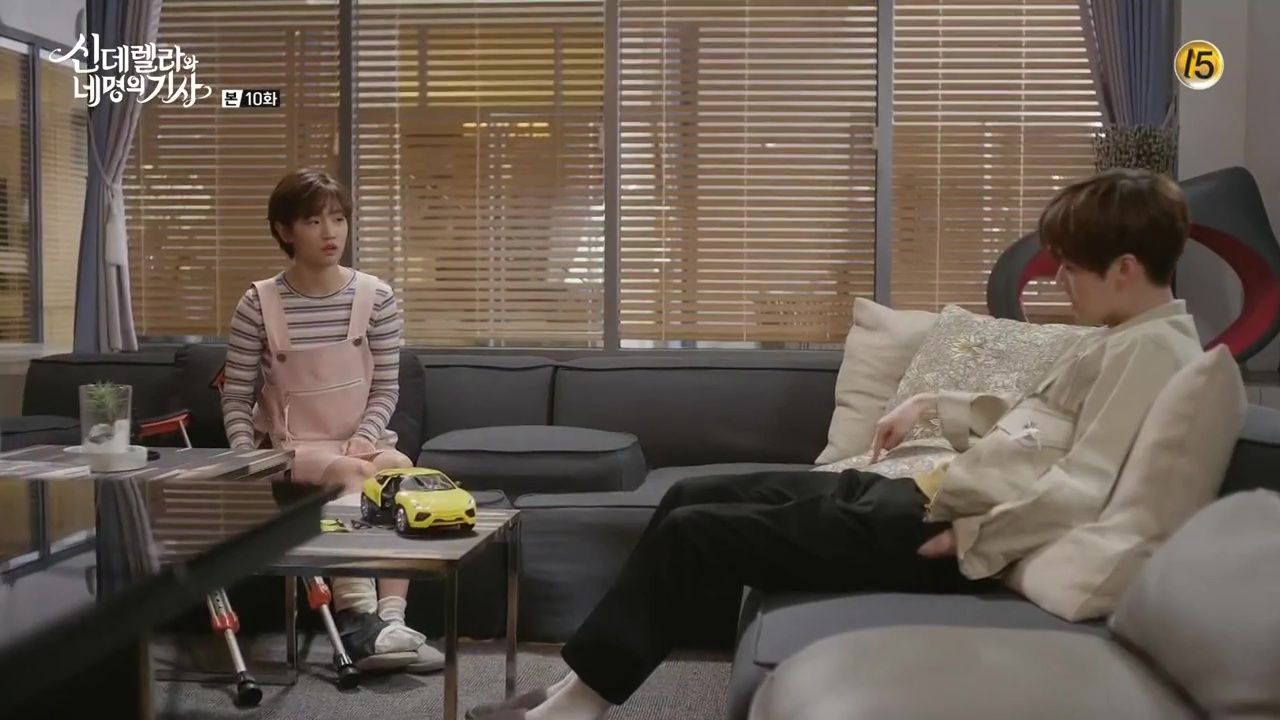 Pouting like a six foot toddler as Ha-won chastises him, Hyun-min mutters that it's just a toy car. Ha-won fires back that the car-loving Ji-woon would consider this murder, which has Hyun-min looking around the room wondering what he should break next. Heh.
Ha-won guesses he's like this because of Hye-ji. She tells him not to take out his anger on Ji-woon, and when Hyun-min insists that he doesn't care if the two of them date, she asks him if he sincerely means that. Hyun-min gets frustrated with her always asking about his sincerity. He starts to leave, but stops to ask why Ha-won came into Ji-woon's room to begin with.
Ha-won fumbles for an answer while Hyun-min, clearly figuring it out, tells her that Ji-woon is with Hye-ji right now. She stutters a bit and Hyun-min pretty much rolls his eyes at her.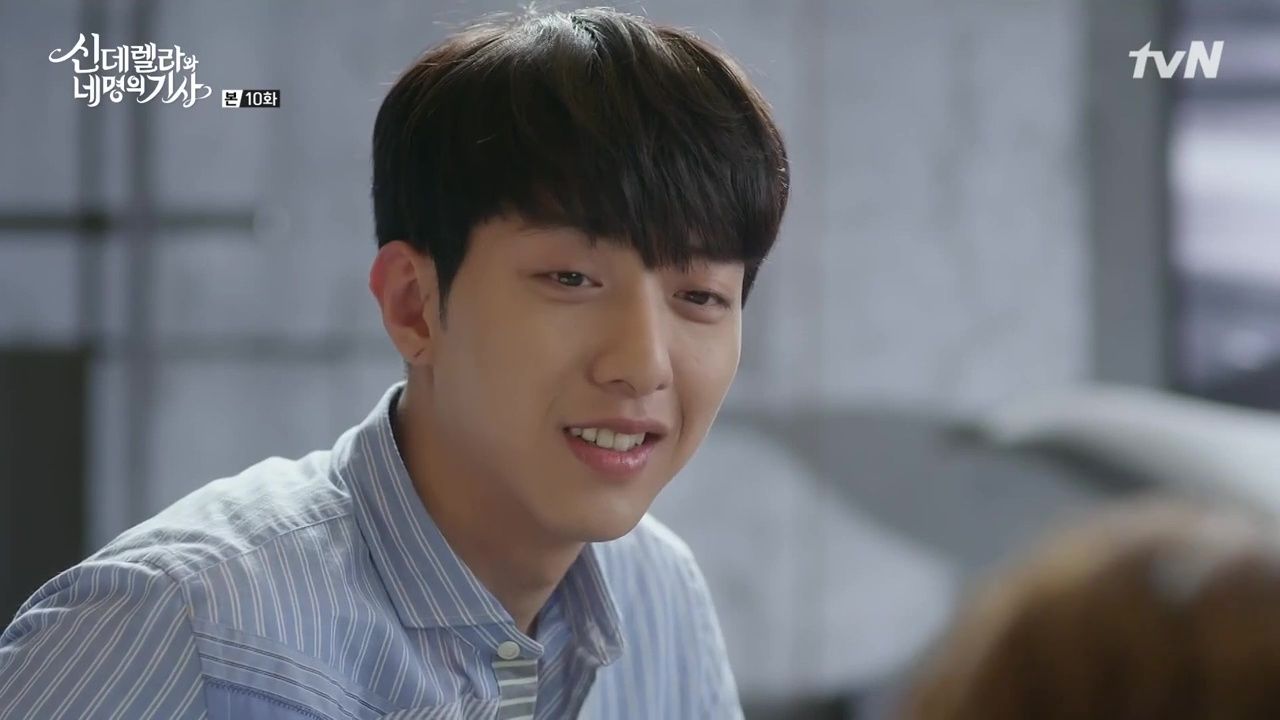 Pining on the couch, Ha-won is joined by Seo-woo, who asks if she wants to hang out. Clearly too busy staring at the ceiling, Ha-won says she'll pass. When Seo-woo wonders what's wrong, Ha-won sits up to ask him if all guys prefer pretty and feminine girls like Hye-ji.
Ha-won admits that she was wondering if anyone would ever like a girl like her. At this, Seo-woo exclaims that there's nothing wrong with her, and if anything, he finds her prettier than Hye-ji. *Melt.*
Ha-won smiles at that, giving Seo-woo a thumbs up.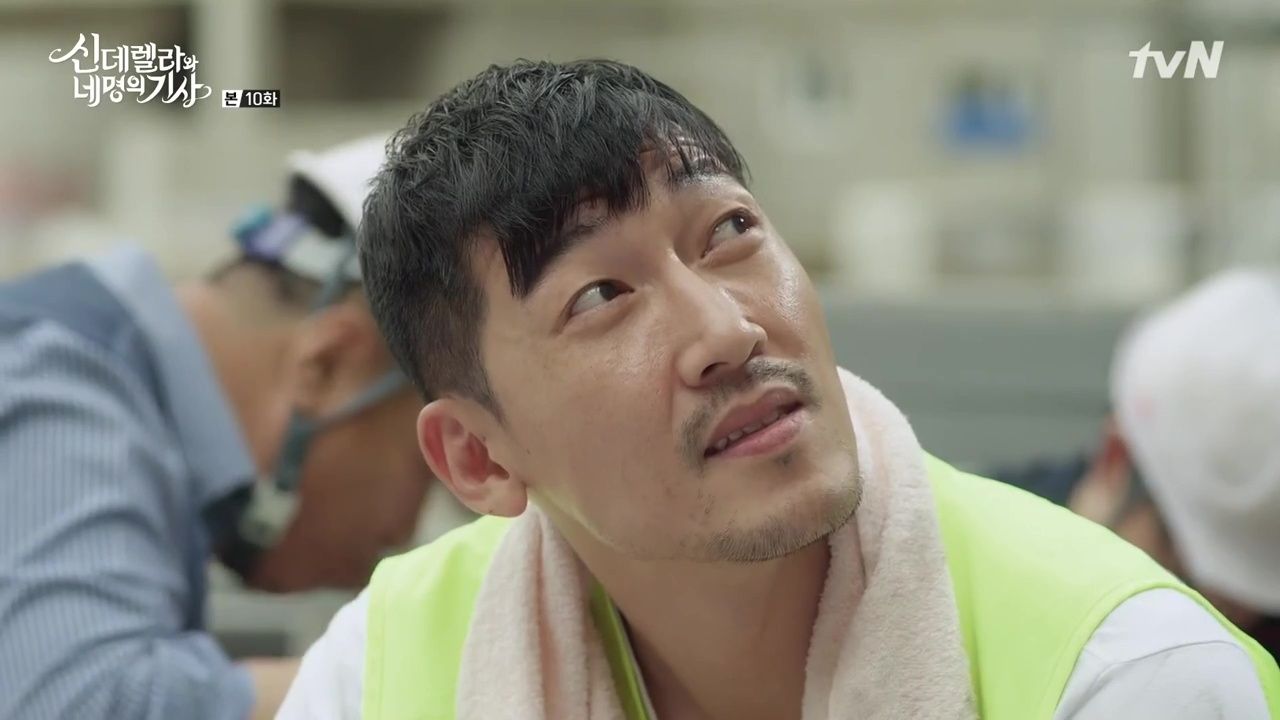 On his way home, Ji-woon thinks about Hye-ji's response that her feelings were real. Looking out the window, he's distracted by a street vendor selling baked goods. The sight reminds him of Ha-won grouching that he never brought her anything.
At his construction site, Kang Young-jin, the man Stepmom confronted about being Ha-won's biological father, shares lunch with his co-workers. He asks his friend if everyone in Hanuel group has a lot of money. He answers that of course they do – Hanuel group even owns the site they're working on now. Young-jin gazes the partially constructed building, a greedy look in his eyes.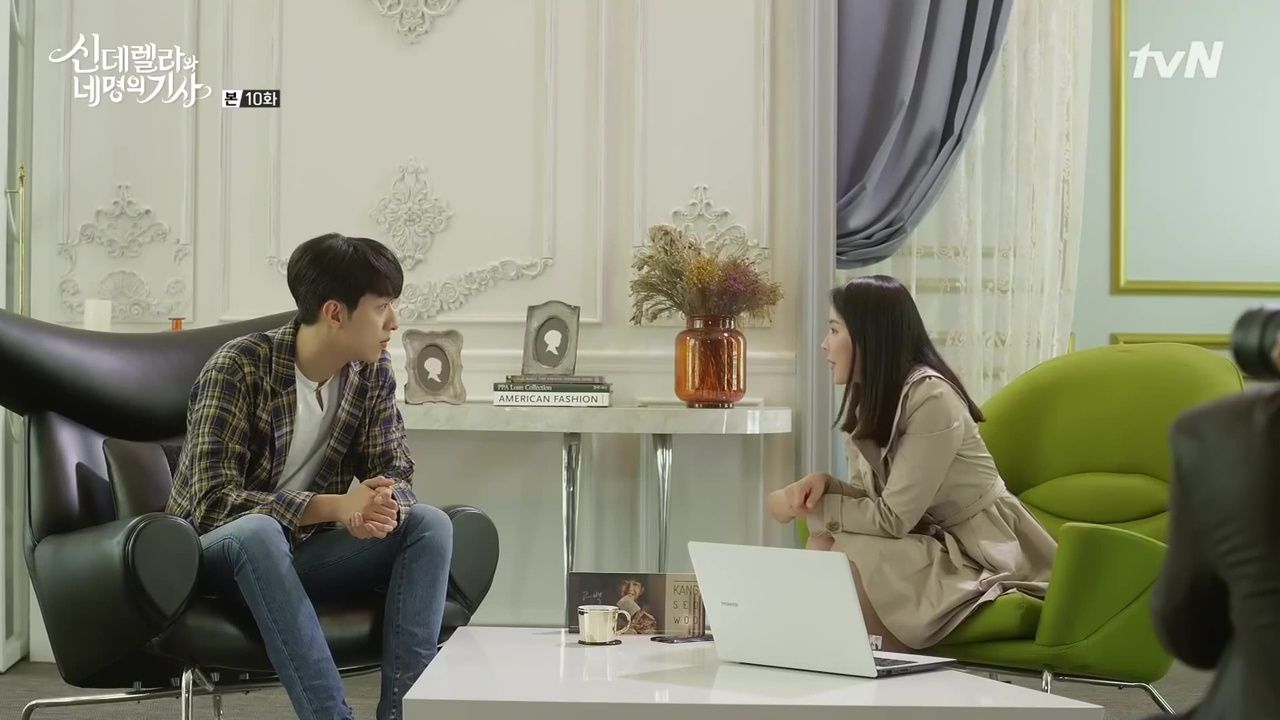 Busy at a photo shoot, Seo-woo poses prettily before sitting down for an interview about his new album. The interviewer asks if he wrote the main track on his album, titled "Confession," about anyone in particular. Before he can answer, Seo-woo's manager jumps in for him, saying there definitely isn't anyone. Nope, no one at all.
The interviewer wraps it up by presenting Seo-woo with a gift: a special coaster. In honor of the calligraphy that he did for his latest album, the coaster will reveal words that he wrote when a heated mug is placed on it.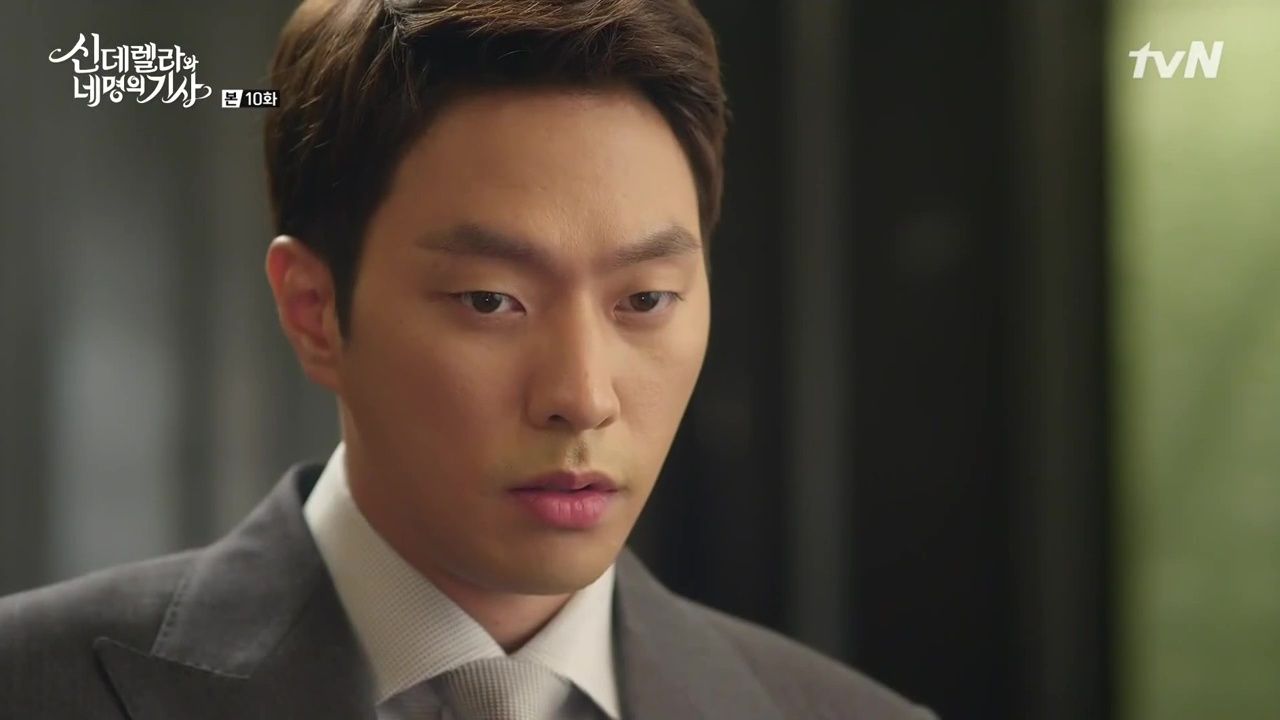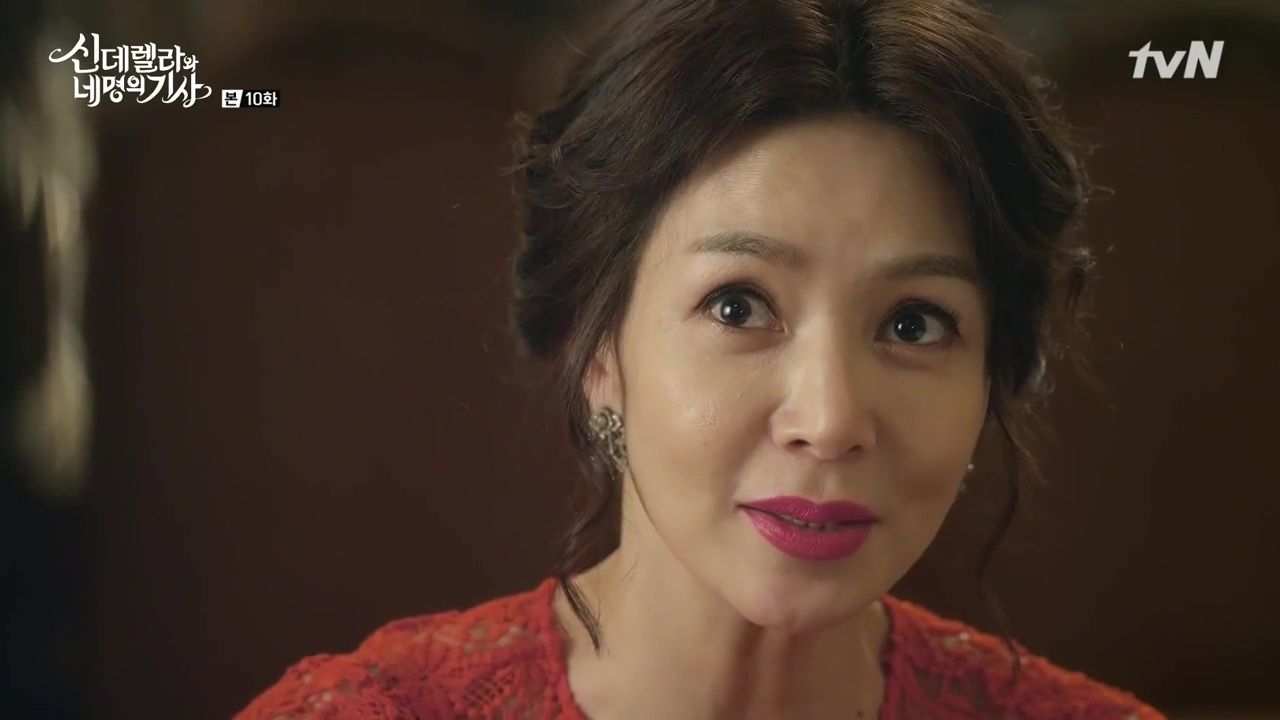 Bodyguard Lee is called into Grandpa Kang's office where Hwa-ja is giving her husband his medication. Grandpa asks Lee if he would chauffeur Hwa-ja to a meeting she has tomorrow. Lee looks decidedly uncomfortable with the request, but he can only bow in agreement.
In the kitchen, Seo-woo eagerly places a hot mug on his new coaster to see what words will appear, but Ha-won interrupts. He's so startled by her arrival that he splashes the hot liquid all over. He quickly flips the dripping coaster over to hide the words and skedaddles from the kitchen. So cute.
Seo-woo retreats to his room, adorably fussing at Ha-won for popping out of nowhere and surprising him… which is when Ha-won pokes her head in his room. Seo-woo quickly schools his face as she crutches her way in. She found his new album on the kitchen counter and apologizes for forgetting about its big release tomorrow.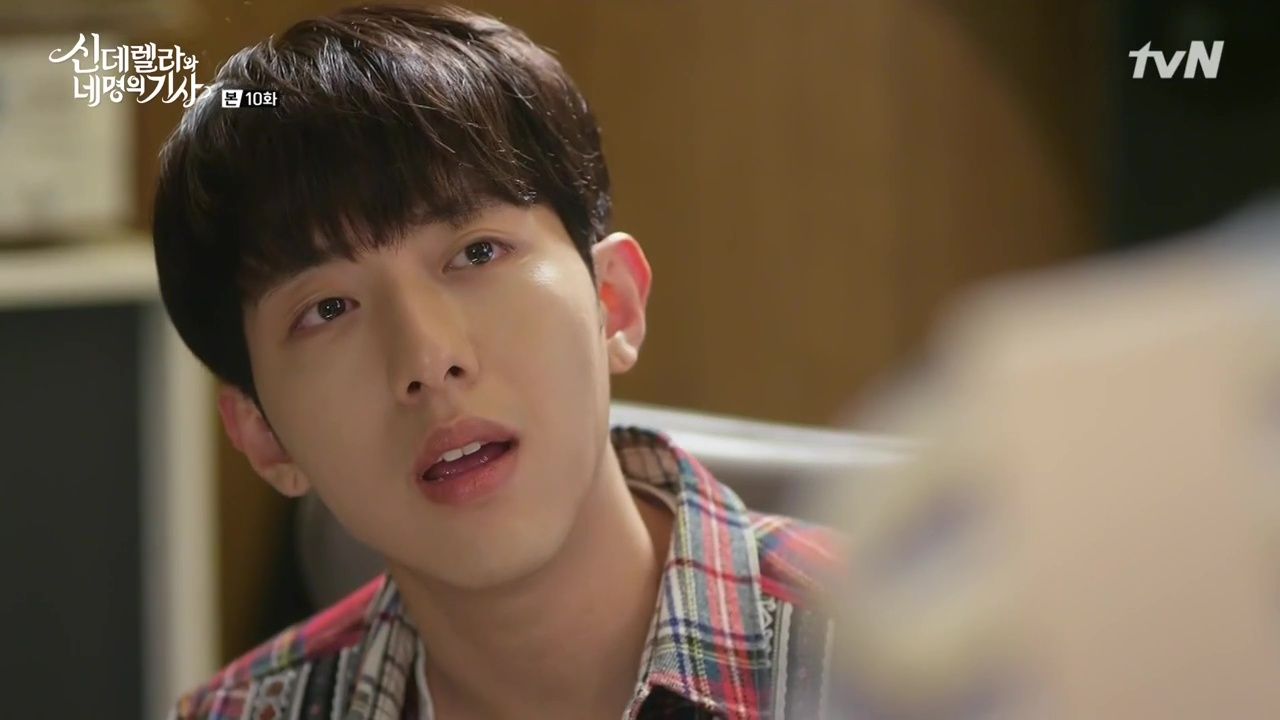 Smiling now, Seo-woo tells her it's all right, and that the album she found was a gift for her anyways. Excited, Ha-won pesters him for a private performance, sweetly cheering him on until he gives in.
Seo-woo sits at his keyboard and starts playing his new song. At first, Ha-won is bobbing her head along. But then Seo-woo looks up at her, heart in his eyes, and keeps singing:
"I'll confess how I feel now,
My feelings, which I can't hide anymore.
That I like you, that I love you,
That you're my everything.
Will you accept my feelings?"
The two lock eyes while he sings, until Ha-won awkwardly stops him. She forces a laugh and says she changed her mind; it'll be better to listen to the song when it comes out tomorrow. She hastily exits and Seo-woo stares after her sadly, pained by her response.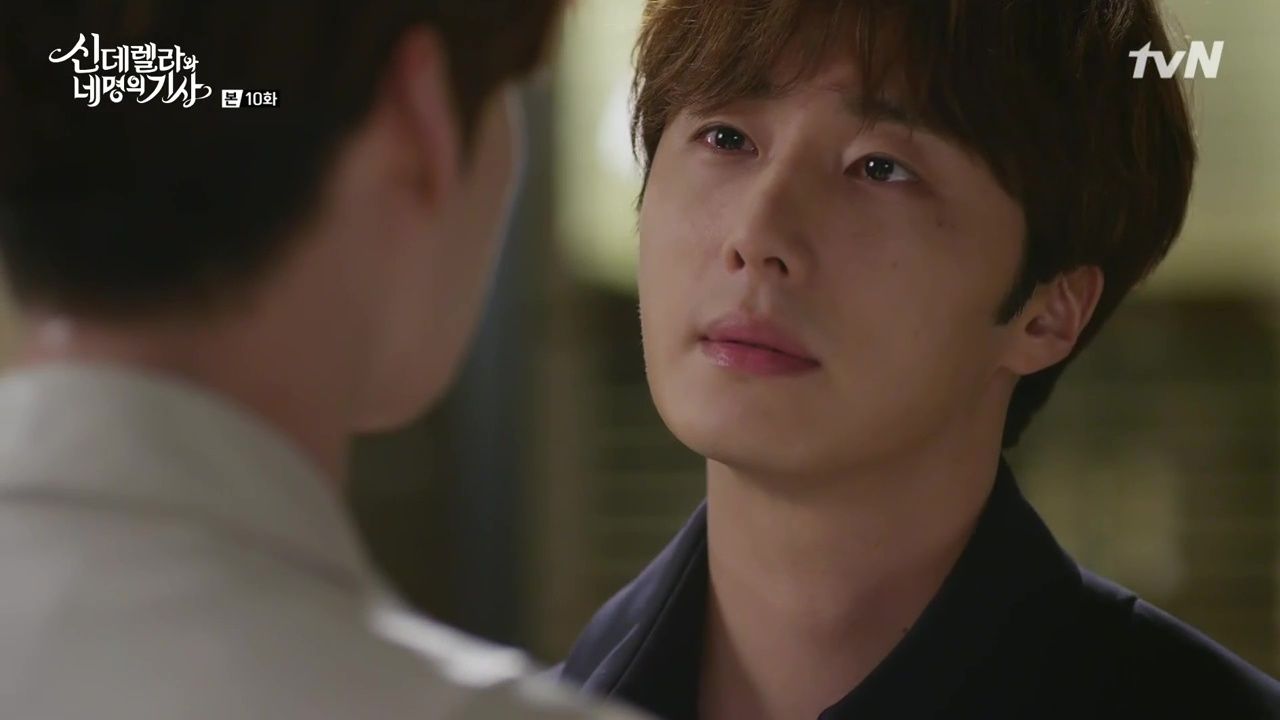 Ji-woon arrives home and grins at the passenger seat where a bag of sweets from the street vendor sits.
In the house, Ji-woon runs into Hyun-min who asks if he had a good time with Hye-ji. Hyun-min is clearly trying to rile his cousin, but Ji-woon just responds that it looks like Hyun-min lost this time.
At that, Hyun-min angrily grabs Ji-woon's jacket. However, instead of getting angry, Ji-woon says that he can see Hyun-min regrets his decision to let Hye-ji go. Looking his cousin in the eye, Ji-woon tells him, "Why not try clinging to her before you end up regretting it even more?" He walks off, leaving Hyun-min staring after him in surprise.
Ji-woon finds Ha-won in the kitchen and presents her with the bag. Ha-won sees the sweets inside and happily asks if it's for her. Ji-woon snarks that it isn't for him, but as he walks away, he turns to say, "I bought you something now, all right? I don't want you claiming otherwise later!"
Later, Ha-won cheerfully munches on her sweets and pours herself hot chocolate, using Seo-woo's coaster. Taking the drink outside, Ha-won doesn't see the word "Confession" reveal itself on the coaster.
In his room, a broken-hearted Seo-woo crosses out the "To Ha-won" dedication he'd made in his lyrics book.
Hyun-min sits at a bar, drawing the eyes of every girl in the room as he drowns his sorrows. One particularly assertive girl joins him, asking why he's drinking so much. Hyun-min distractedly asks if she could choose another guy over him.
When she coos that there's no way, Hyun-min continues, almost talking to himself, "So, why, then? Why is she doing this to me now? She acted as if she'd never leave me, so why is she leaving me for someone else now? Don't leave me." (Since pronouns are dropped in Korean, it sounds like he's talking about the girl next to him, rather than an ambiguous "she.") The girl happily swears she'll never leave him, clinging to his arm and likely hearing wedding bells. Oy vey.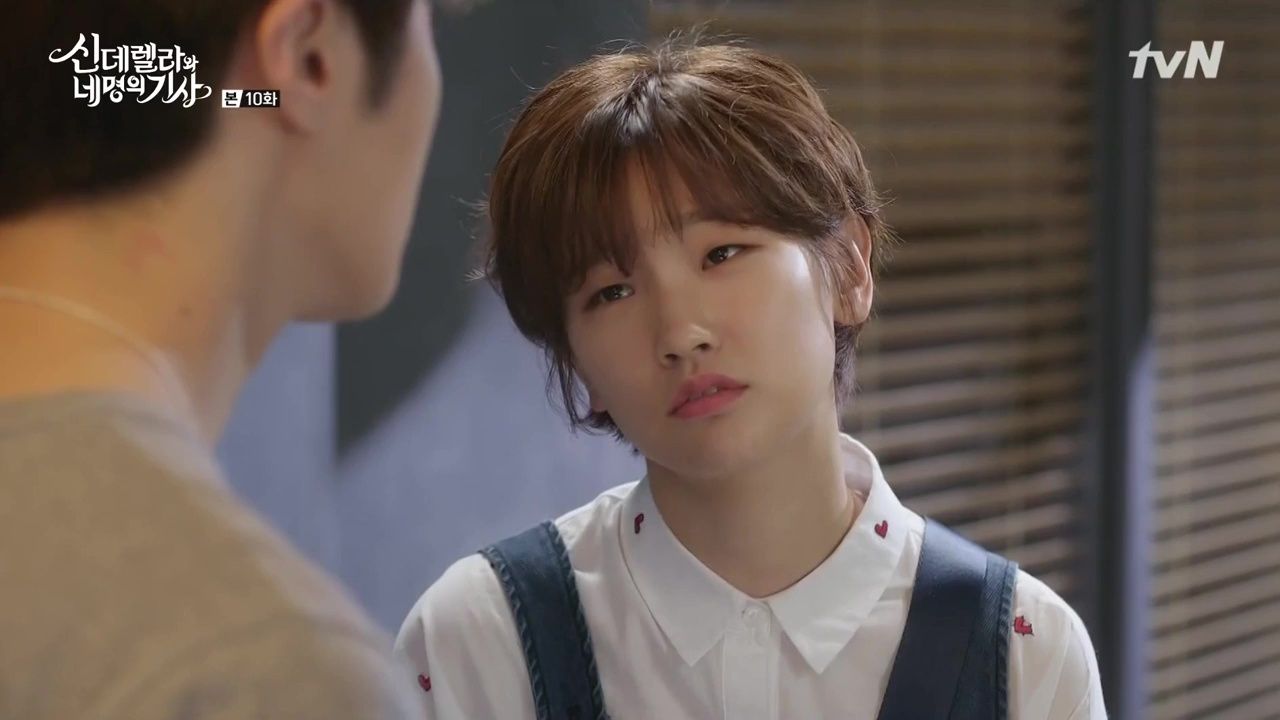 The next day, Bodyguard Lee hovers over Ha-won like a mother hen, worried that he can't drive her to the hospital for her checkup since he's supposed to escort Hwa-ja today. Ha-won laughs at his fussing, pointing out that it's not like she's never gone to a hospital before. When Lee still looks uncomfortable, Ha-won grins suddenly, asking if he'd feel better if someone went with her in his place.
Cut to an exasperated Ji-woon saying, "So, you're telling me to be your escort?" Ha-won rattles off that Bodyguard Lee is busy, Seo-woo has a photo shoot, and she hasn't really heard from Hyun-min since last night, so… he's the only one left! Ji-woon can't help but smile at her logic, but he still says no.
Ha-won pulls the sick card, "You want me to take the bus and the train all by myself, with this leg?" She throws in some serious pouting and adds that she'll have to transfer four whole times. It's a good performance, but unsuccessful.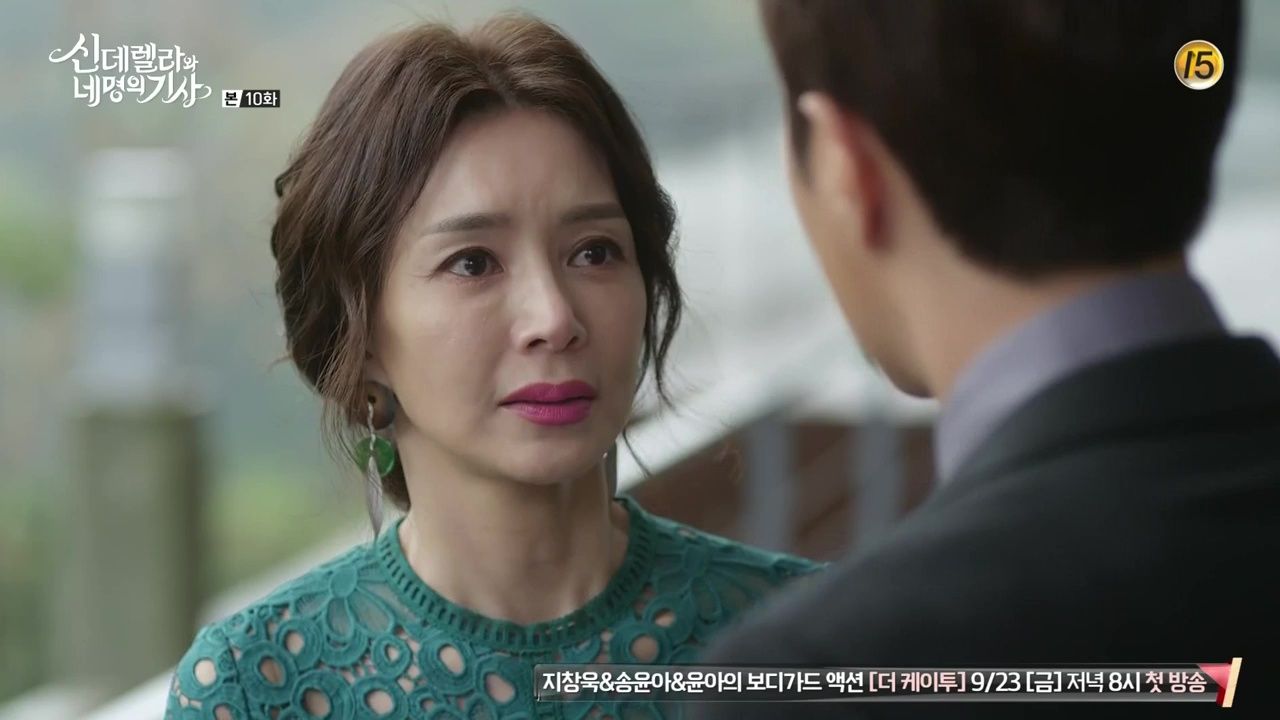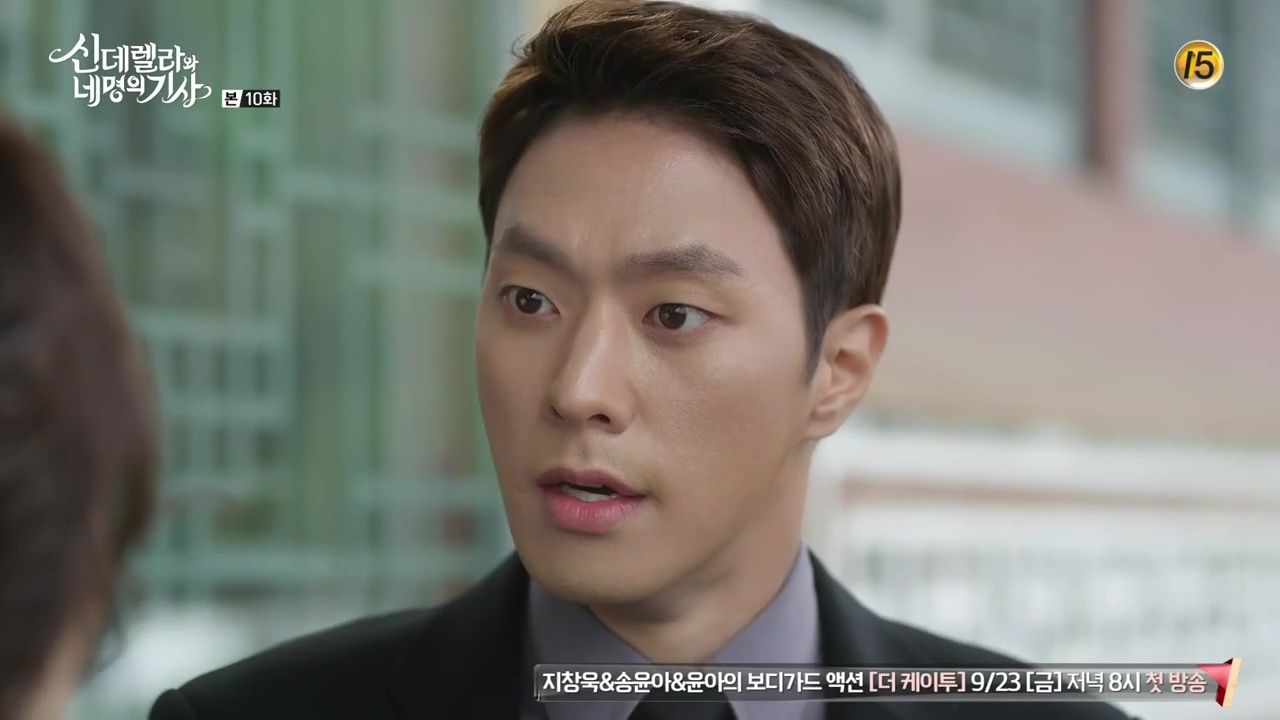 Bodyguard Lee picks Hwa-ja up to drive her on her outing, acting professional in spite of her friendly smile. Escorting her to restaurant, Lee says he'll wait outside, but Hwa-ja asks that he come inside with her. Turns out this was all a carefully crafted plan to get bodyguard Lee to attend a matseon. Hwa-ja happily starts the introductions between the couple, smiling brightly in the face of Lee's simmering rage. Lee makes a polite but quick exit and Hwa-ja chases him out.
Hwa-ja asks how he can leave when she went through so much to put this meeting together, but Lee demands to know why she's doing this. Hwa-ja answers, "My last wish is for you to marry a woman from a rich family and have a fulfilling life. As your mother." (Raise your hand if you called it!)
Hwa-ja says that coming this far with Grandpa Kang was all for Lee's sake, but Lee yells back for her not to use him as an excuse. He turns away and says, in accordance with the promise they made before, that he'll pretend this never happened.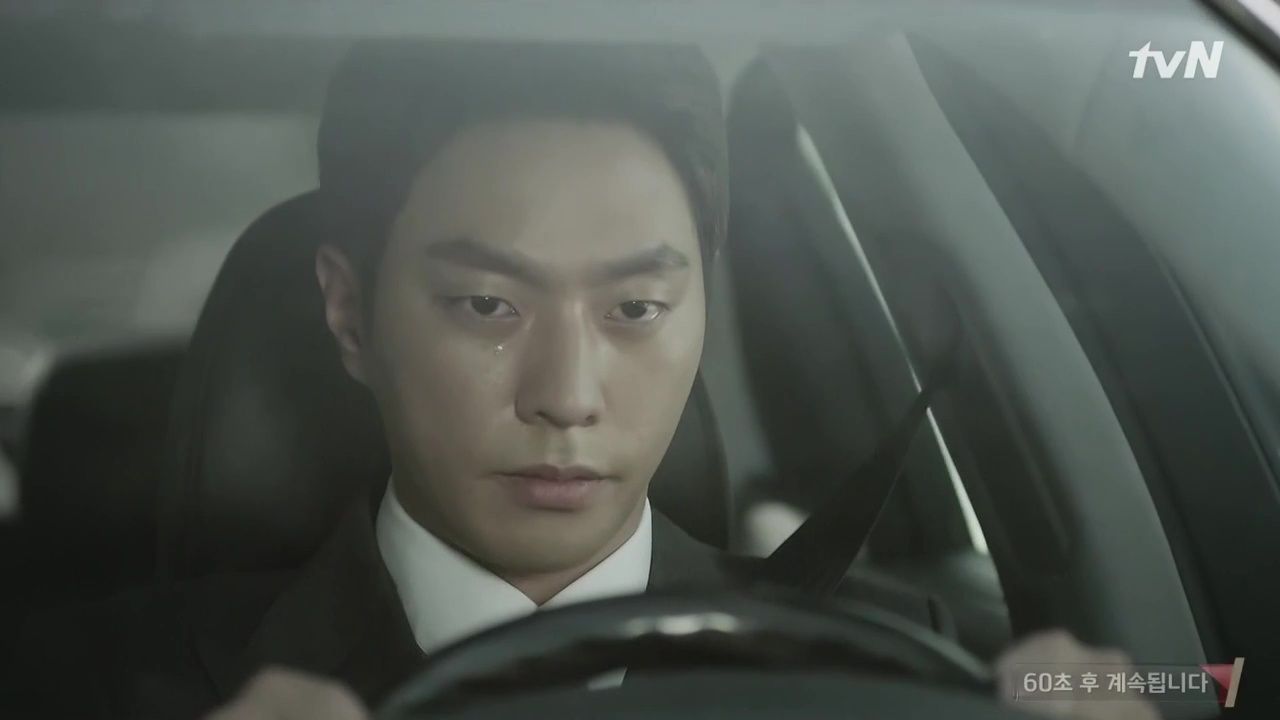 Flashback to some time ago. Grandpa Kang had been having dinner with Hwa-ja when he'd called Bodyguard Lee in, saying he had someone he wanted him to meet. Lee had then come face to face with his mother. Hwa-ja looked unsurprised so she must have known, but Lee could barely hold in his shock.
Driving Hwa-ja home (still in flashback), Lee ignored his mother's attempts at small talk, saying that his mother died twelve years ago. Hwa-ja conceded and asked if he would do her one favor then: pretend he didn't know her, since Grandpa Kang didn't know about her previous marriage. In the driver's seat, Lee's face is wet with tears.
Present day once more, Ha-won hobbles outside and grins to see Ji-woon waiting for her in spite of his refusal. Ji-woon is ready to just go, but Ha-won tries to wheedle him into opening the door for her, making noises like a ninety-year-old granny.
With a big sigh, Ji-woon relents and helps Ha-won with her crutches, even opening the door for her when she smiles expectantly at him. This girl is not afraid to use her cuteness.
As the two pull away, Kang Young-jin steps out from behind a corner. Bringing up Ha-won's picture on his phone, he murmurs, "Looks like our Ha-won grew a lot."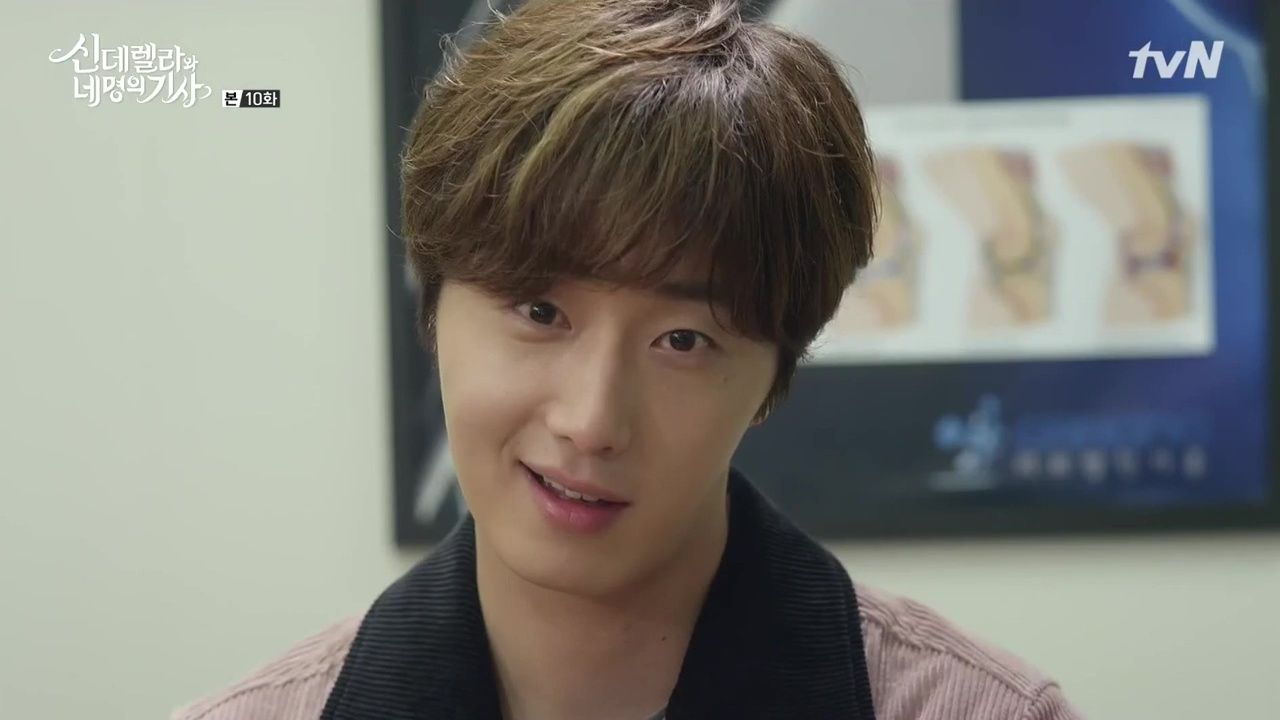 At the hospital, Ha-won is aghast to hear that she's completely healed. Ducking away from the eavesdropping Ji-woon, she frantically whispers to the doctor, asking if he's sure. (HAH!) The doctor assures her that she's fine now. In fact, she can even run if she likes. Oh man, Ji-woon's face is almost scary.
Out in the hallway, Ji-woon grumbles about having to drive a perfectly healthy girl to the hospital, but Ha-won insists that she was still a patient then. Grinning at her, Ji-woon says that she can make her own way home, since she's so healthy now.
He starts to walk away but Ha-won calls after him, asking if it was really so hard for him to do her this favor. Did he hate it that much? Taken aback, Ji-woon tries to say he was just joking, but Ha-won calls him a jerk and runs off. Hah, Ji-woon just chuckles that she's already running after getting her cast removed, and chases after her.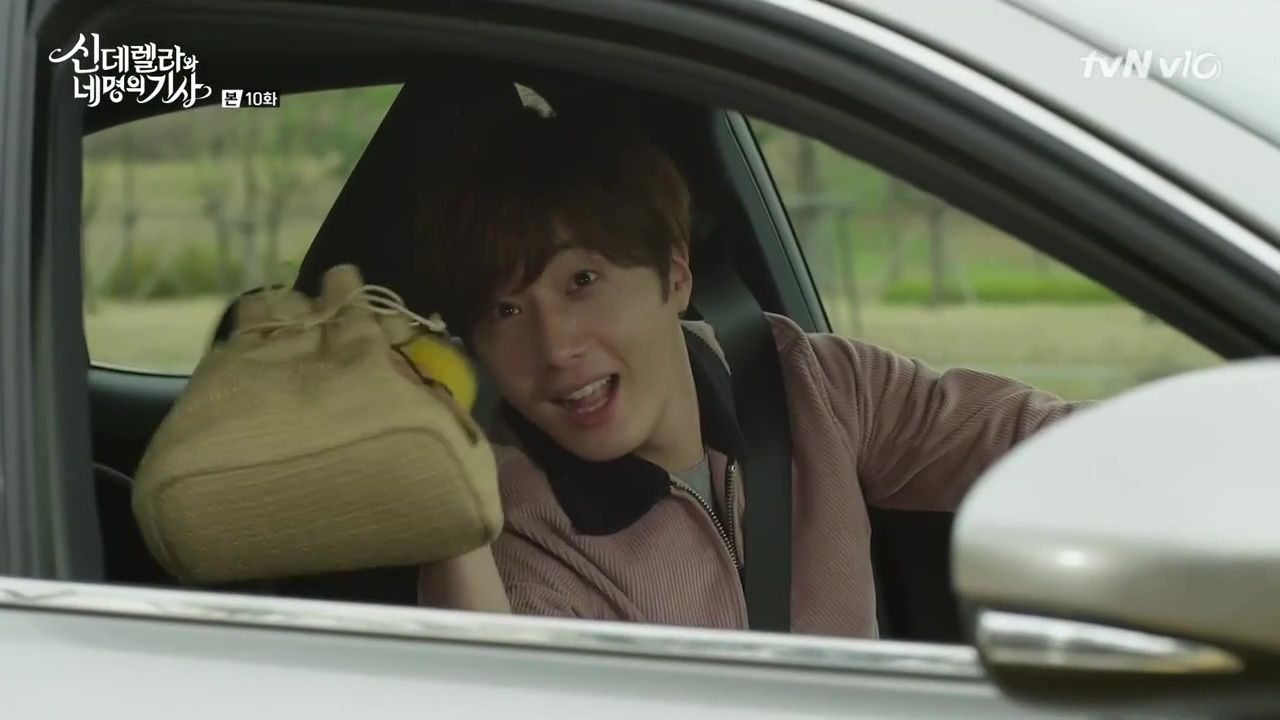 Filled with righteous fury, Ha-won storms outside, only to realize her bag — with her wallet and money for public transportation — is still in the car. Said bag is currently clutched in Ji-woon's hand as he drives around the hospital, looking for Ha-won. He finally spots her walking determinedly.
Ha-won quickly hides her smile when Ji-woon pulls up, answering Ji-woon's "Get in" with an adorable "Hmpf!" complete with sticking her nose in the air. Ji-woon can barely contain his laughter as he slowly drives alongside her, listening as she insists that she can find her own way home. He waves her bag at her, asking how she can do that without her money. Point.
Ha-won amends that she'll just walk then, since the weather is soooo nice. Grinning, Ji-woon parks the car and calls out, "Come with me instead, for a drive." He then voluntarily gets out and opens the door for her. Oh, hello floor. Did I just swoon my way to you?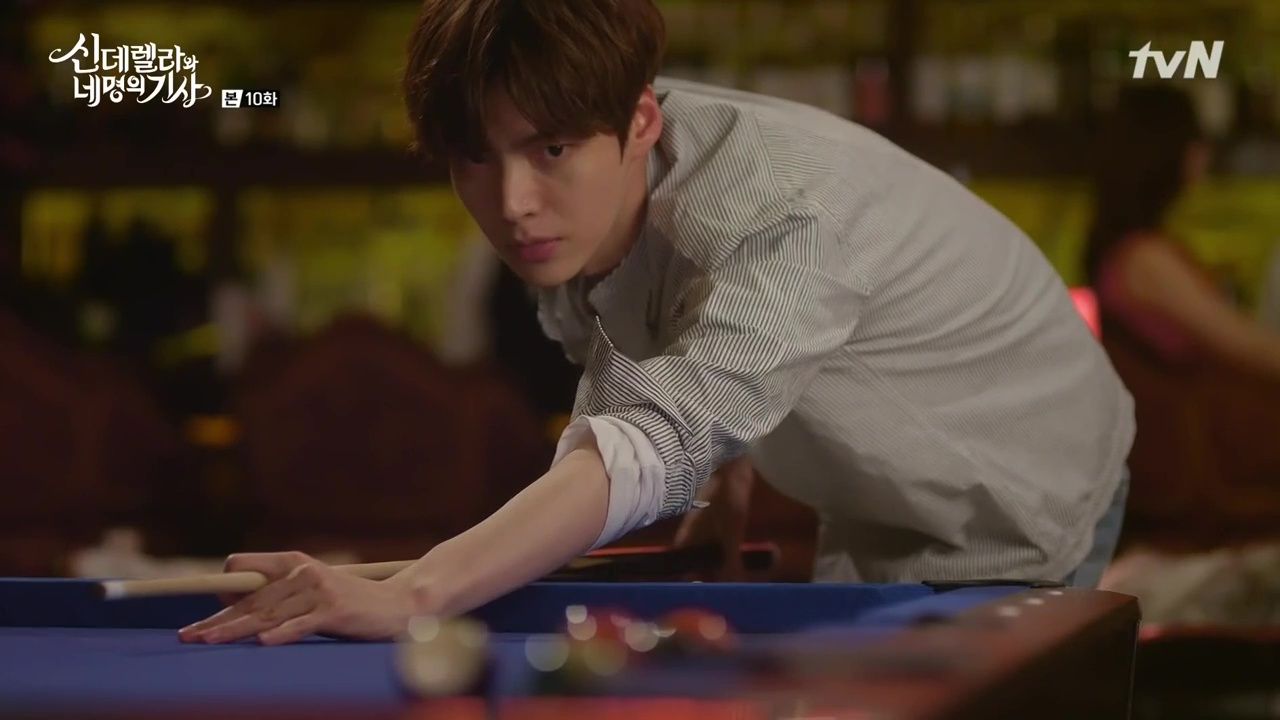 As Ha-won and Ji-woon enjoy a pretty drive, Hyun-min plays pool with his friends, resolutely ignoring two calls from Hye-ji. On the other end, it looks like Hye-ji's family is in some trouble as a bunch of black suited men march through her house, placing red stickers on everything.
Ha-won and Ji-woon pull over to a scenic outlook, and Ha-won is adorably excited while he just smiles at her enthusiasm. He then snatches Ha-won's drink for himself, and she stares as he nonchalantly drinks from her straw. The angel choir chimes in to alert us to the Moment they're having, as Ha-won thinks back to their drunken kiss, getting flustered.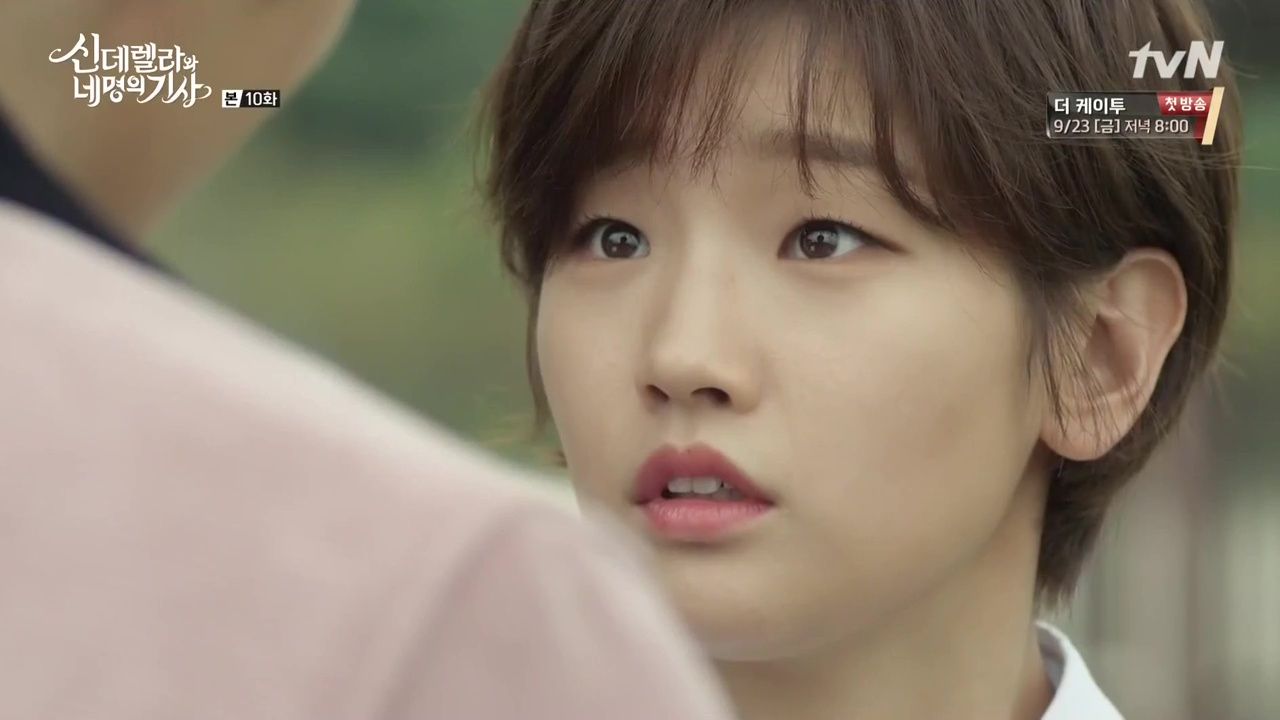 Ji-woon notes Ha-won staring at him, and when she actually starts to fan herself, he grabs her arm and pulls her in close. With a cute, knowing smile, Ji-woon asks if she has something she wants to say to him. Taking a deep breath, Ha-won starts to ask if Ji-woon has someone that he likes, but she's interrupted when his phone rings.
Of course it's Hye-ji calling, and Ji-woon's face falls as he says he'll be right there. Looking regretful, Ji-woon tells Ha-won they need to leave.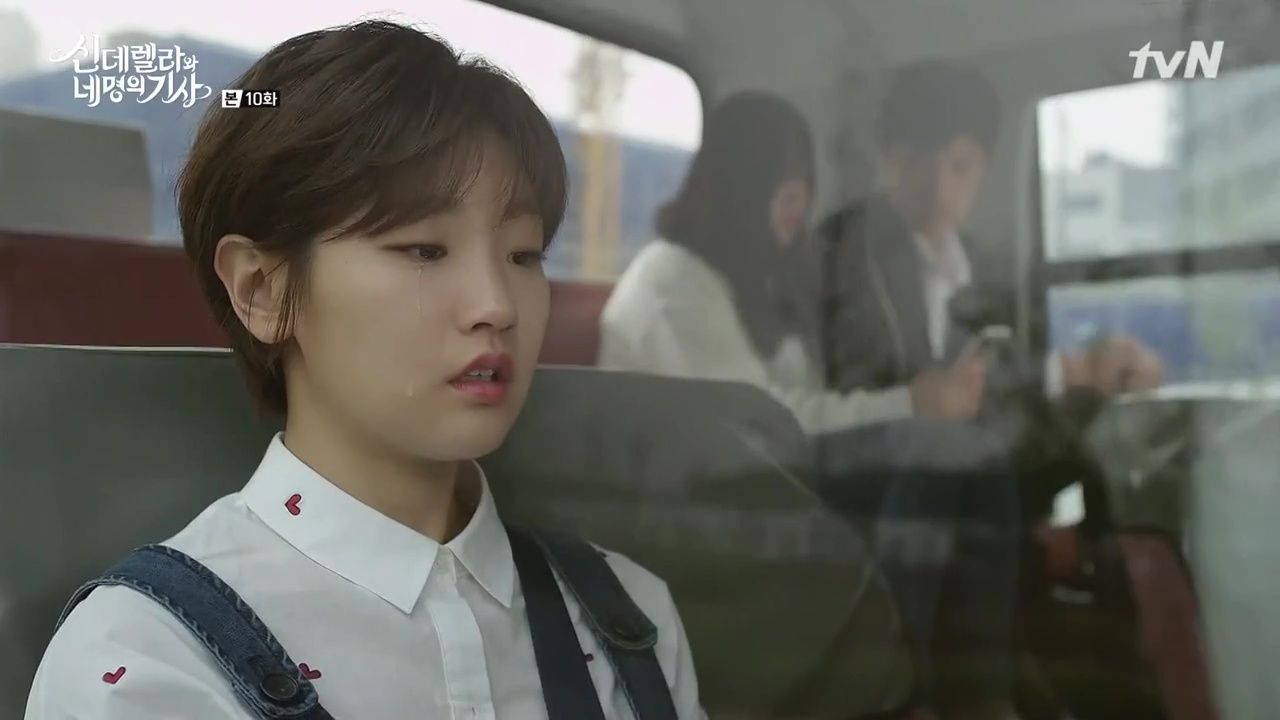 In the car, Ha-won asks if it was Hye-ji on the phone, and if he's going to meet her now. Ji-woon appears torn, but admits that he is. Trying to be cheerful, Ha-won asks him to let her out, saying she'll just take the bus. He refuses, wanting to drop her off, but Ha-won points out the Hye-ji is waiting. Ji-woon gives her this look, but he does pull over, saying a rough, "Sorry," before pulling away.
Ha-won takes the bus back and can't stop a few tears from falling.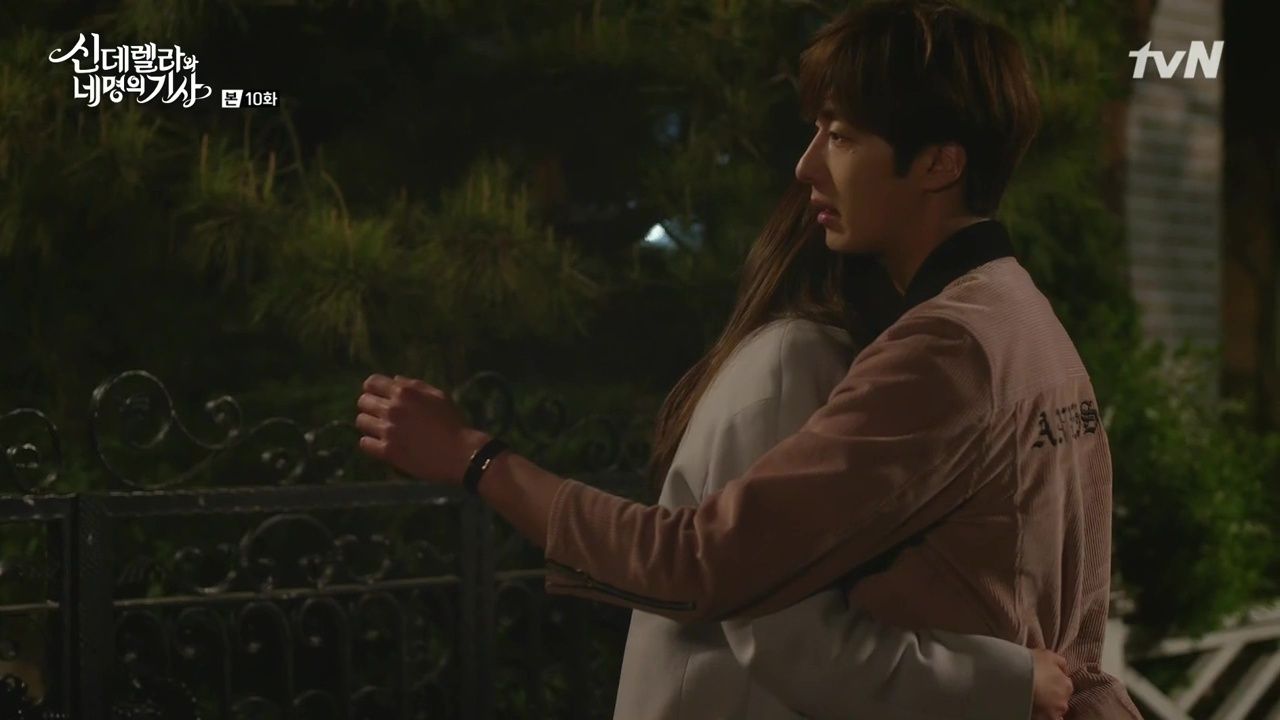 Ji-woon finds Hye-ji huddled and crying outside her house. She tells him that her father was taken away to the prosecutor's office and her house is being repossessed. Ji-woon reaches an arm out to hold her, but she rushes into his hug before he even makes contact. He stands for a beat with his arm still extended, a conflicted look on his face.
Meanwhile, Hyun-min sits in his gaming chair, glaring at his phone and muttering that he would have picked up if Hye-ji had just called a third time. He perks up when the phone rings, but it's his friend, calling to ask if Hyun-min heard the news: Hye-ji's family went bankrupt.
Hyun-min immediately hangs up and calls Hye-ji, but the call goes to voicemail.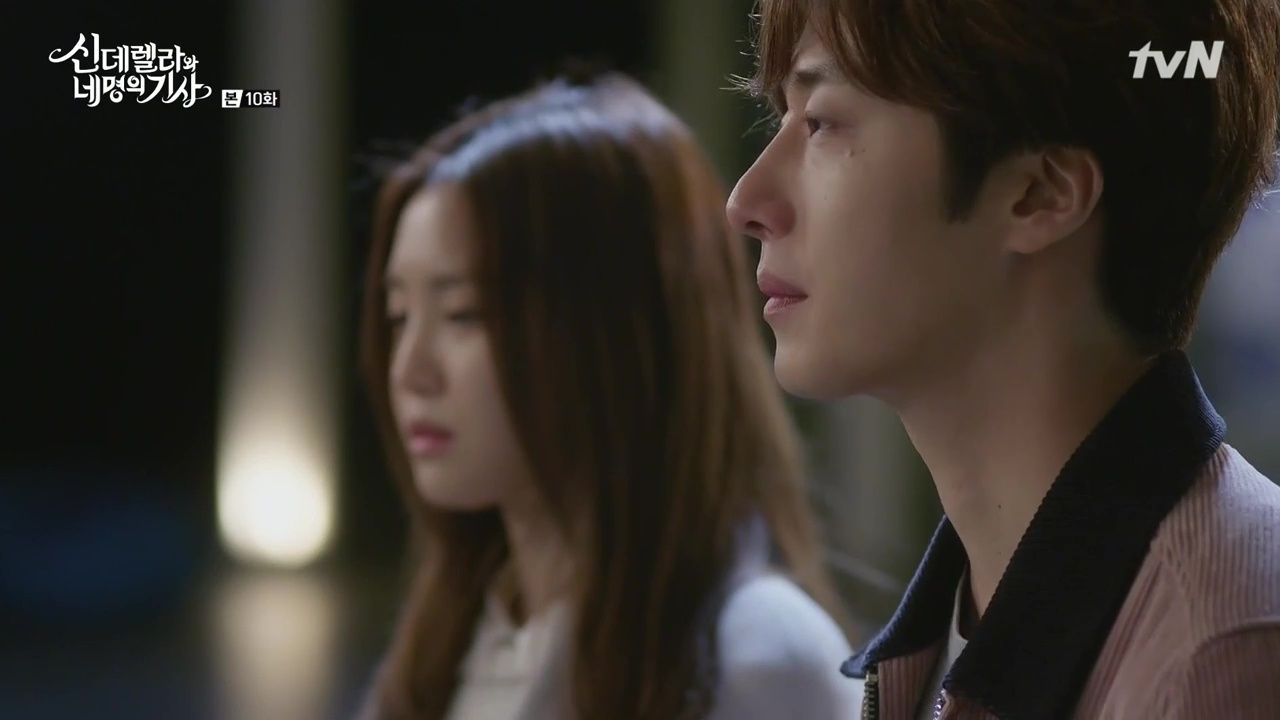 Hyun-min rushes outside, running into Ha-won, who is just returning home. They both turn to see the arrival of Ji-woon's car, looking on as Ji-woon and Hye-ji emerge.
Grabbing Hye-ji's suitcase, Ji-woon pulls her towards the others and informs them that she'll be staying with them for the time being. Hyun-min and Hye-ji stare at each other, and Ha-won looks up at Ji-woon while he gazes down at her.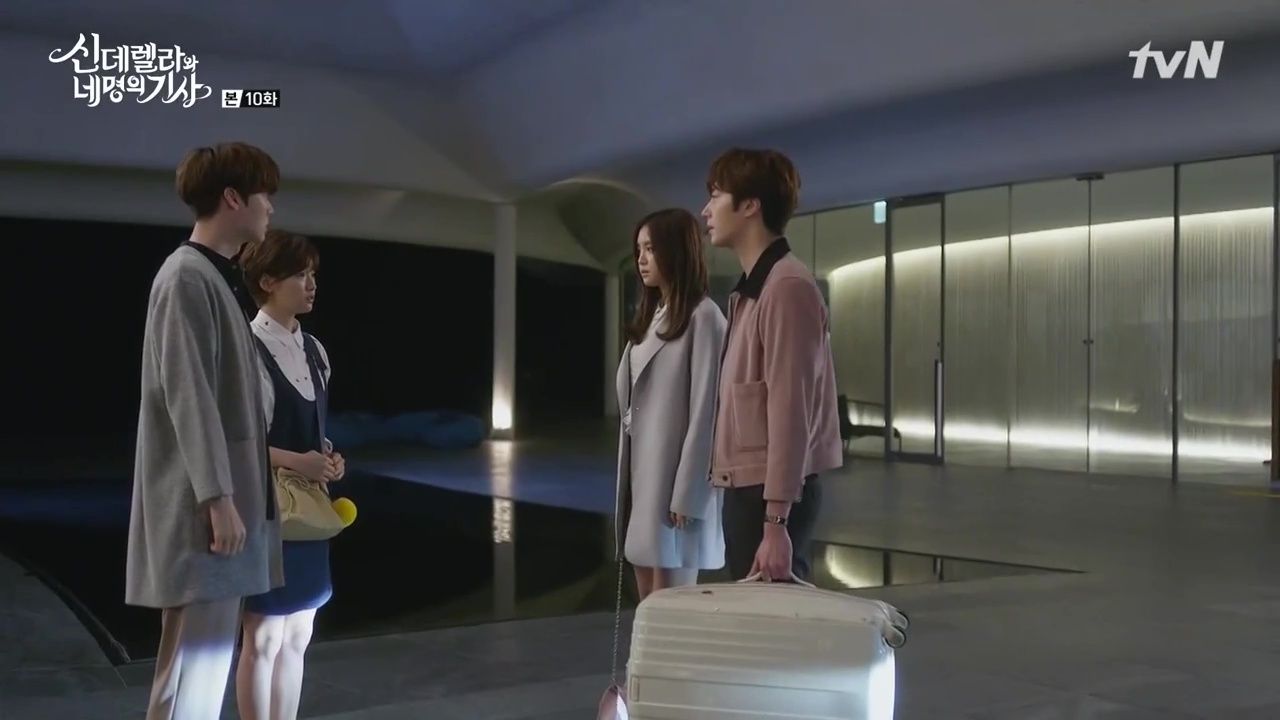 COMMENTS
How to make a love triangle more complicated: Add a fourth corner.
I can honestly say that I just don't care about Hye-ji's character anymore. I kept waiting for the show to reveal her backstory so I could become invested, or for the actress to finally own her emotions, but it's too late now. I give up, and that's okay. She was never my favorite so I was ready to focus on the others and let Hye-ji idly circle the edges of the group, stalking Hyun-min and gazing at old pictures. But now the show has literally thrust her into the middle of things, forcing us to pay attention to a pony whose one trick is crying prettily. I am worried that, while this confession to Ji-woon may have started out as fake, Hye-ji's desire for attention, combined with Ji-woon's empathy for her, could lead to her forming an attachment to him, thus wedging herself even deeper between Ha-won and Ji-woon.
There were a lot of reveals and confessions going around this episode, but my favorite by far was Seo-woo. This kid is going to break my heart, I know it. The way he sang for Ha-won with his heart right there in his eyes, I don't know how she stopped him – or why, for that matter! Bodyguard Lee is certainly badass, and I've warmed up considerably to Ji-woon after his drunken antics and door-opening, but Seo-woo took my heart. It's sad because Ha-won is his first crush, the same way that Ji-woon is hers, and they're both bumbling around adorably. But for one to be happy, the other won't be. His eyes after she cut off his song were so broken, I wanted to pick up all the pieces and put him back together again, like a super pretty Humpty Dumpty.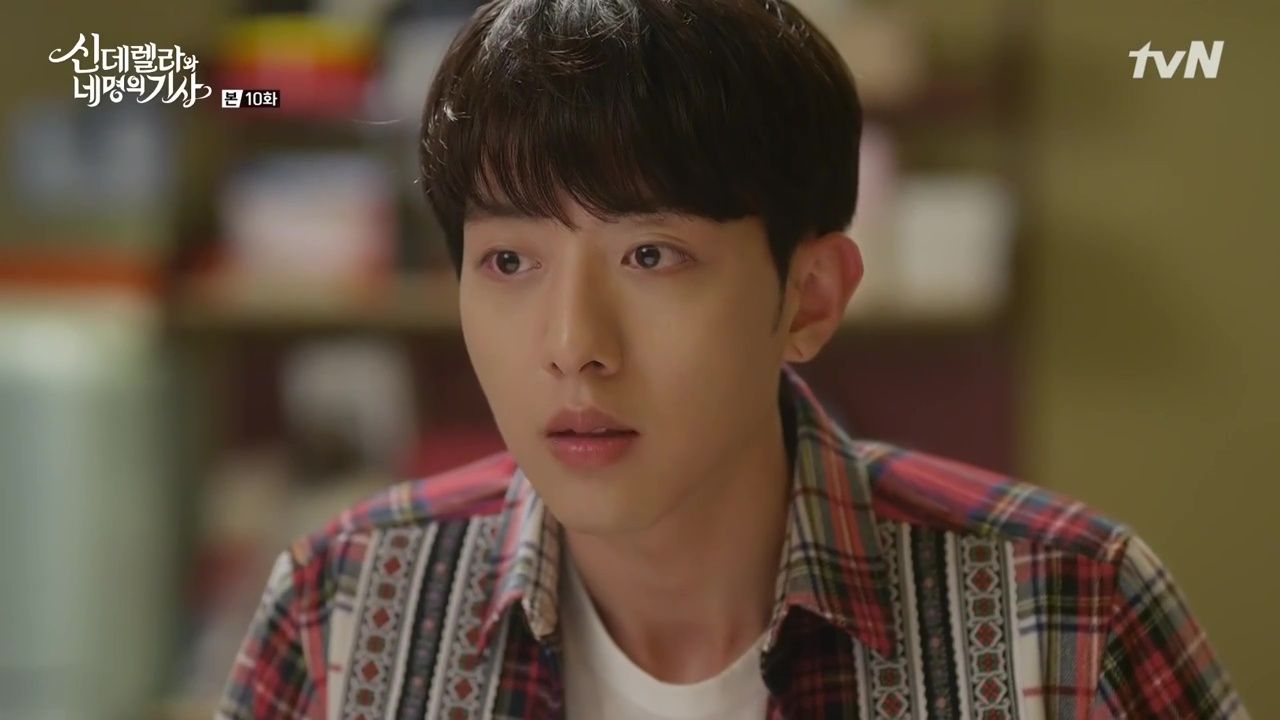 It seems clear that Ji-woon is aware of Ha-won's crush on him. We also know that he remembers their drunk kiss, and given all the stares, awkward touches, gift giving, and door opening going on, I feel confident saying that Ji-woon has feelings for her as well. It might still be in the very early stages, but there's definitely something there. I really believe that Ja-young was spot on with her assessment: Ji-woon's unrequited crush went on for too long and, before he'd even realized it, Ha-won had slipped into his heart. The problem is, he's still hardwired to worry about Hye-ji. He's been her protector — and in love with her — for over a year, and those instincts/feelings don't just vanish. Especially now that we see he subconsciously linked the memory of his mother crying to Hye-ji's tears.
Still, it looks like the main obstacle between Ha-won and Ji-woon will come from Hye-ji, rather than Ji-woon. He was obviously conflicted when he left Ha-won for Hye-ji, and that hug was very revealing in how Hye-ji turned to him, yet he remained still. I don't think that she's really tugging on his heartstrings anymore, so much as yanking on his guilt complex. I just hope he can work through his Hye-ji issues quickly so we can get back to the adorable teasing with him and Ha-won. Between their antics and Seo-woo's sweetness, I'm quickly turning into a swoony pile of goo, and I don't ever want to go back.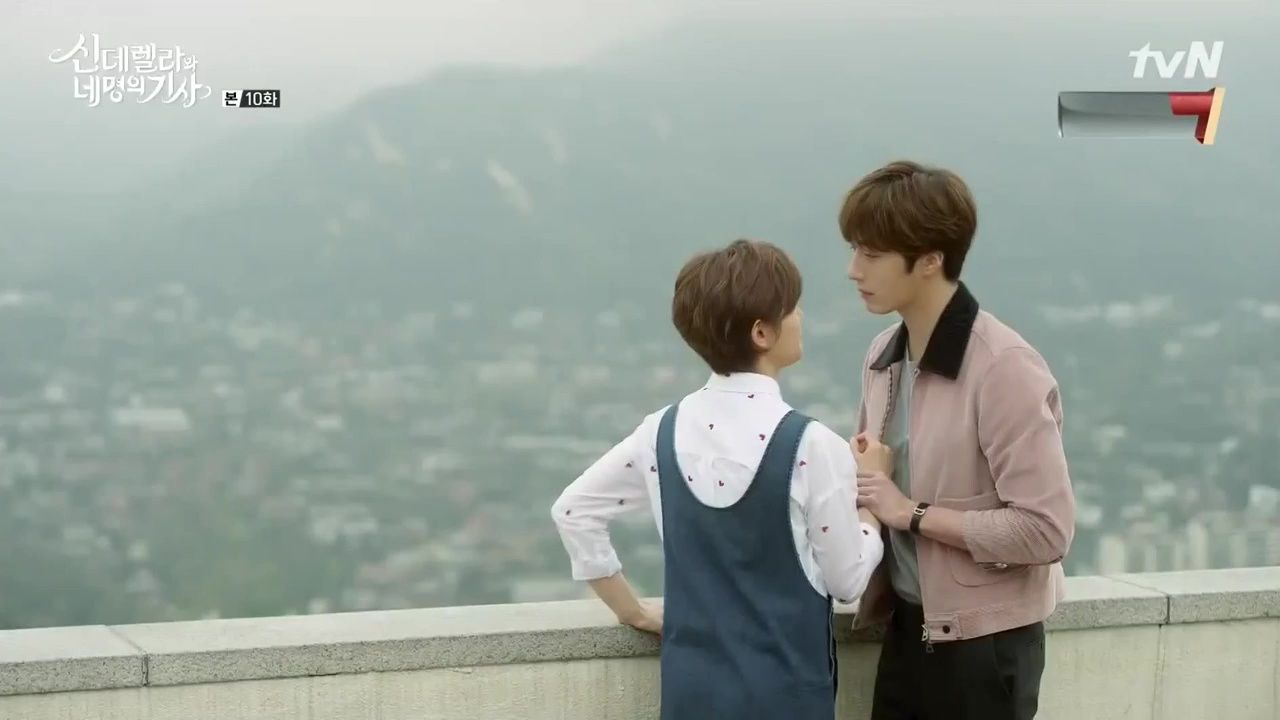 RELATED POSTS
Tags: Ahn Jae-hyun, Cinderella and the Four Knights, featured, Jung Il-woo, Lee Jung-shin, Park So-dam