Jealousy Incarnate: Episode 12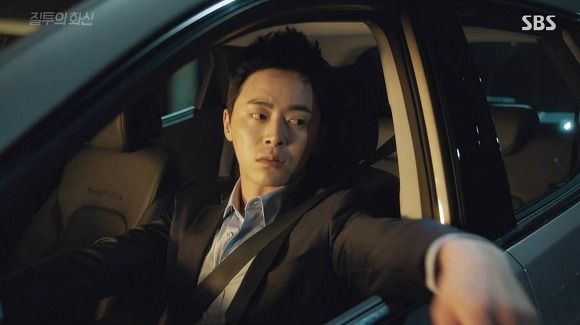 We tap a vein of quiet melancholy this hour as Hwa-shin's regret sets in, deep and wearying. Although I fully believe he deserves it, I can't say it doesn't squeeze the heart a bit, as he practically drowns in the whirlpool of his self-made misery. It's especially terrible because not only does he lose out on love, but he also risks losing his friend. And he hasn't got so many of those that he can afford to be careless. But if adversity shows people what they're made of, what does mud do?

EPISODE 12 RECAP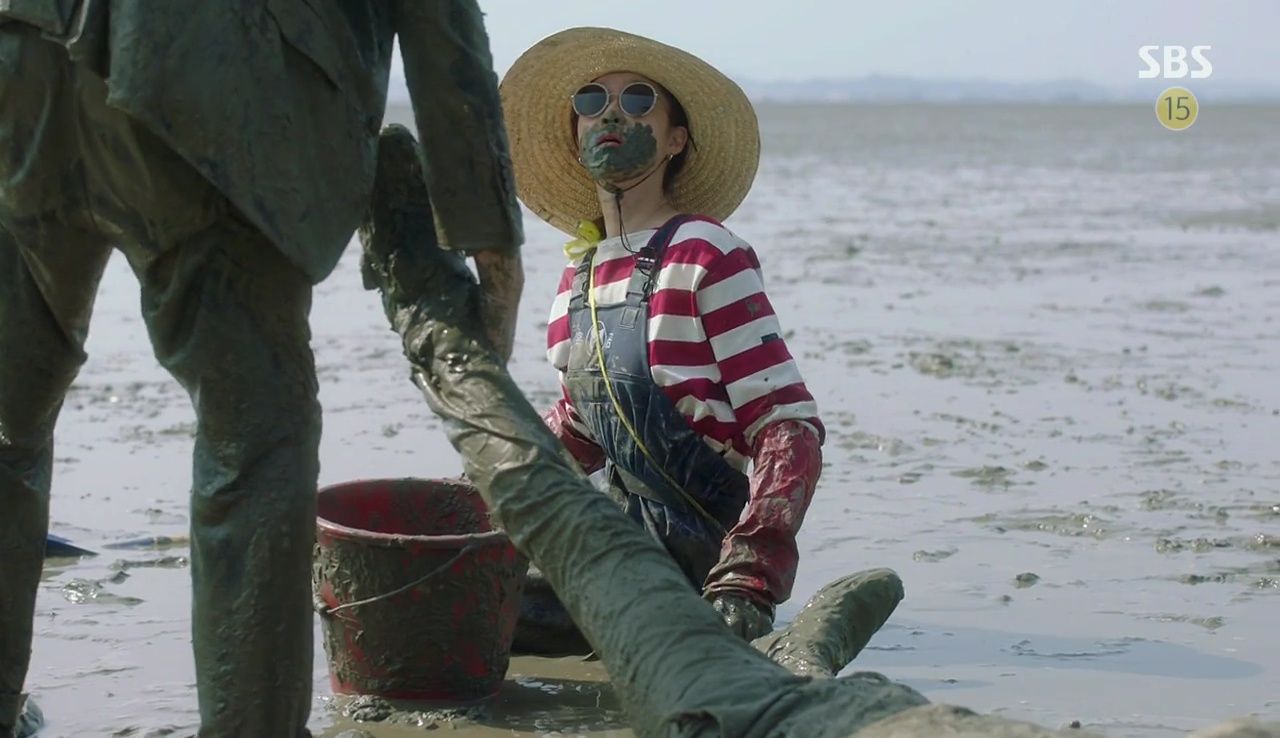 Dragging Hwa-shin on his back across the mudflat towards Na-ri, Jung-won asks if they're even friends now, while Hwa-shin yells back that of course they are. Na-ri remains blissfully occupied digging up little octopuses, and doesn't recognize them for a moment.
Jung-won demands an answer once and for all about who she likes: him or Hwa-shin? By accident, they knock over her bucket and her day's catch goes flying, but Jung-won remains intent on his question. Na-ri howls over her loss—she had been catching them for Chi-yeol—and yells that she dislikes them both. She refuses to leave, but each man grabs an arm and they haul her unceremoniously away.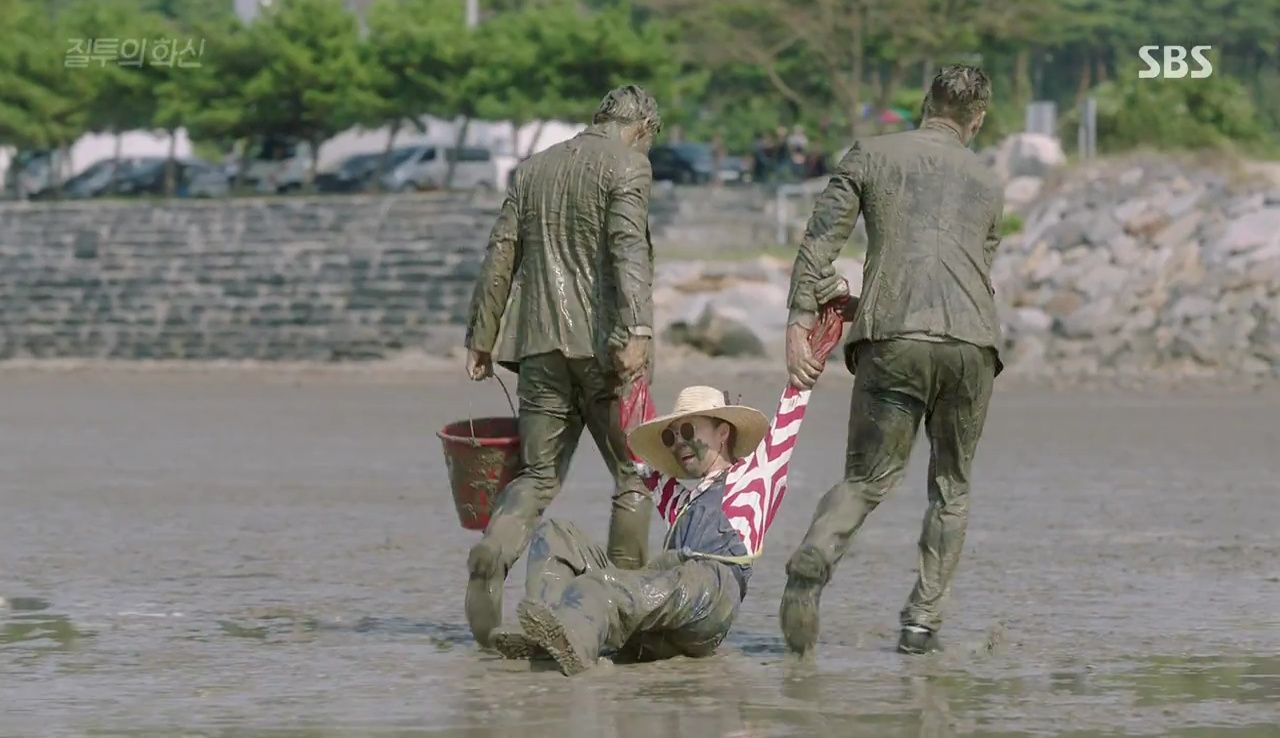 Back on land, Na-ri wonders what the two of them are doing there, and Jung-won points out she invited him because she wanted to have her way with him. Haha. While they make plans to wash off, Hwa-shin leaves by himself, ignoring Na-ri as she calls him back. She wonders if he came to cover Sung-sook's absence, and surprise flashes across Jung-won's face.
Na-ri and Jung-won find an outdoor shower. Holding the nozzle like a gun, Jung-won tells her to put her hands up, and she laughs as he hoses her down. "Look only at me, okay?" he says to her with a grin. But she stops laughing when Jung-won won't stop spraying her. She takes the hose and turns it on him, which has her laughing again.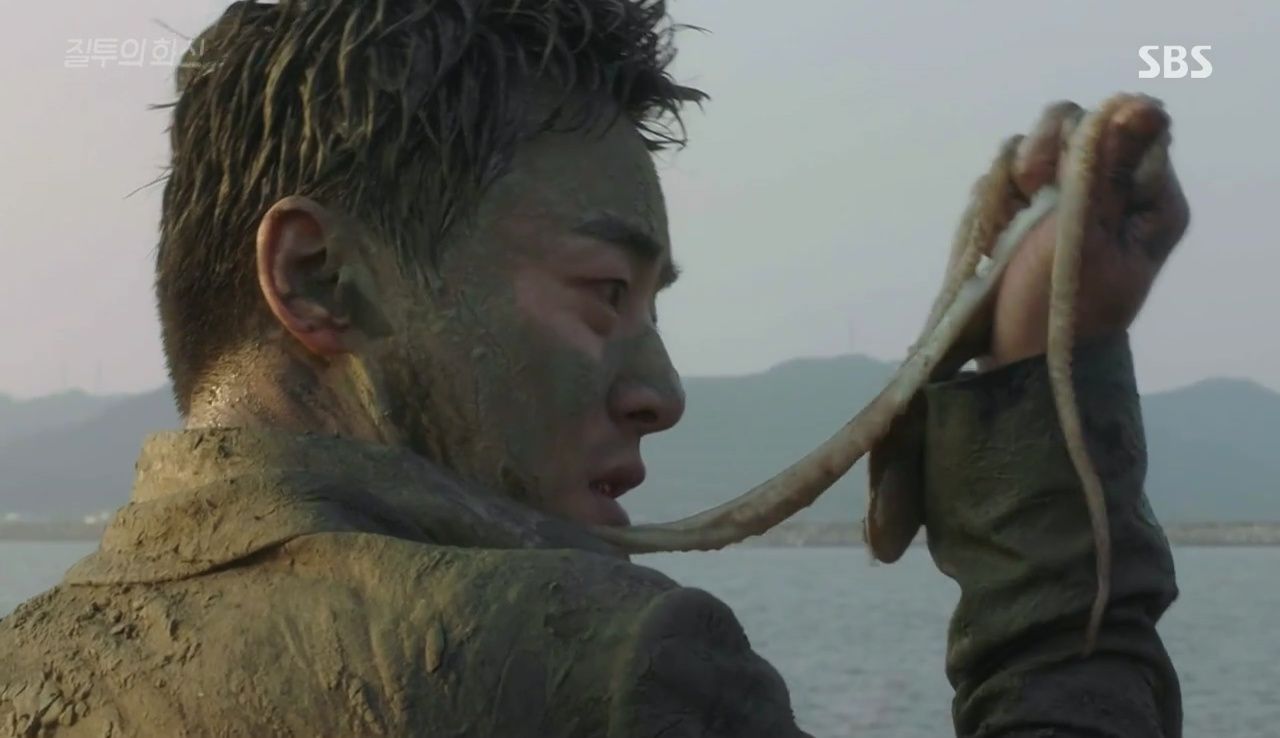 Meanwhile, Hwa-shin makes his solitary way away, and keeps looking back over his shoulder, as if he can hear the echoes of their laughter. Shuddering, he reaches down his collar…and comes out with a little octopus. Half-crying, he wails, "Please, let go of me!" and threatens to eat it whole if it keeps carrying on like this. Oh my lols.
Na-ri discovers a bar of soap and uses it to wash Jung-won's hair, in an intimate yet sisterly moment. Or like washing your dog. In turn, he washes the mud from her face, and tries to get her to blow her nose out in his hand, but she sniffs it up instead, embarrassed.
She agrees when he suggests they go eat, and try as he might, he can't get her to say "yes" casually more than once without her reverting to jondae.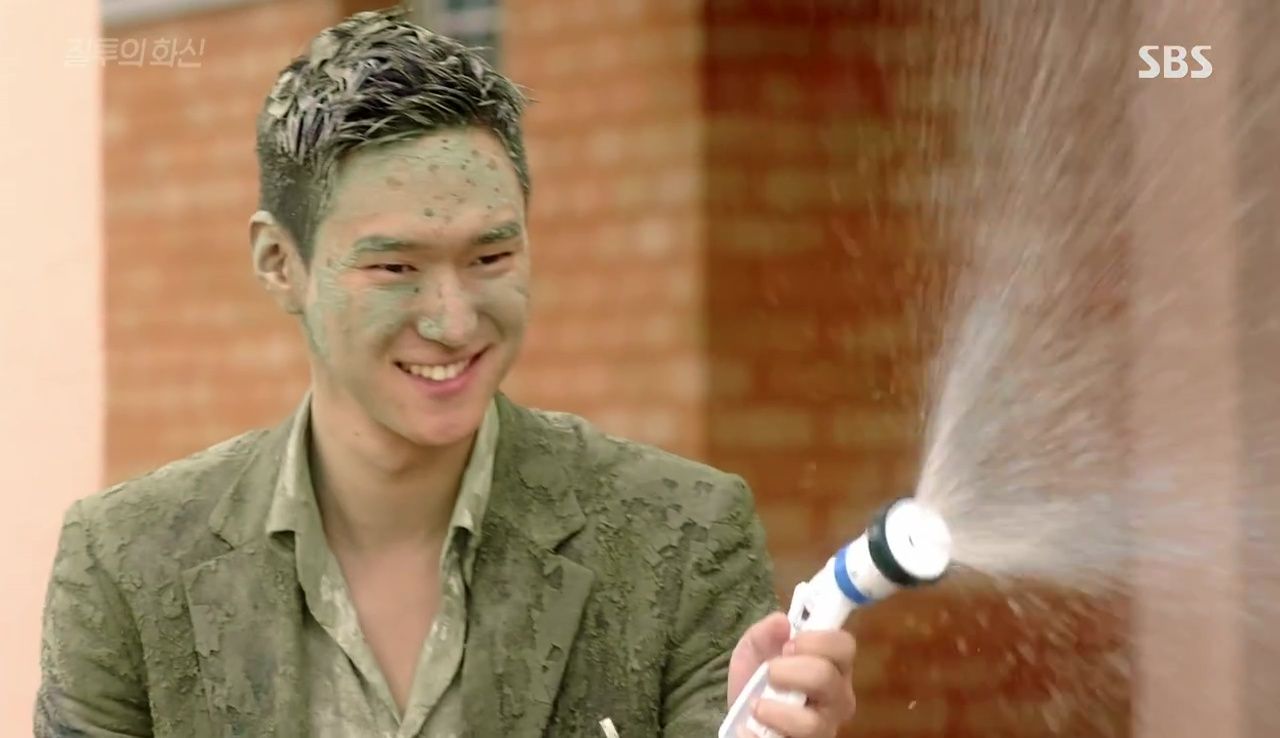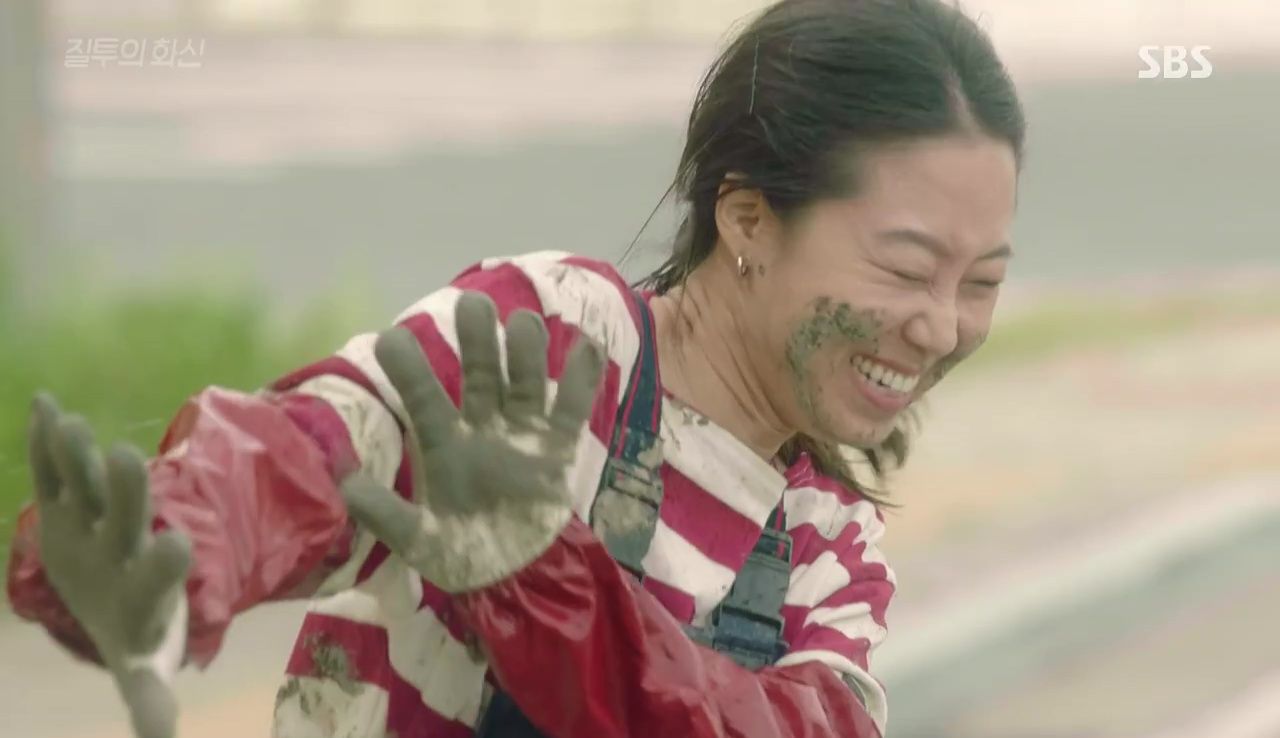 As they leave the kids' school, Ja-young asks Sung-sook how long they'll continue going around like twins, but she's taken aback by Sung-sook's avowal to date Chef and live as a family with him and Pal-gang. Ja-young is convinced that Chef likes her, while Sung-sook points out that he winked at her.
Sung-sook is game to see who can win him, and Ja-young accedes. "Okay. Let's go at it," she says. Gosh, you two. Just kiss and make friends! They smile daggers at each other, and Sung-sook gives her a deliberate jostle as they part ways.
Elsewhere, Chef tells Pal-gang that she can't keep stringing the two women along, and asks her which one she wants as her mom. Dae-goo picks while Chi-yeol prefers Ja-young, and Chef says, "I wish both of them were my wives." Haha, what?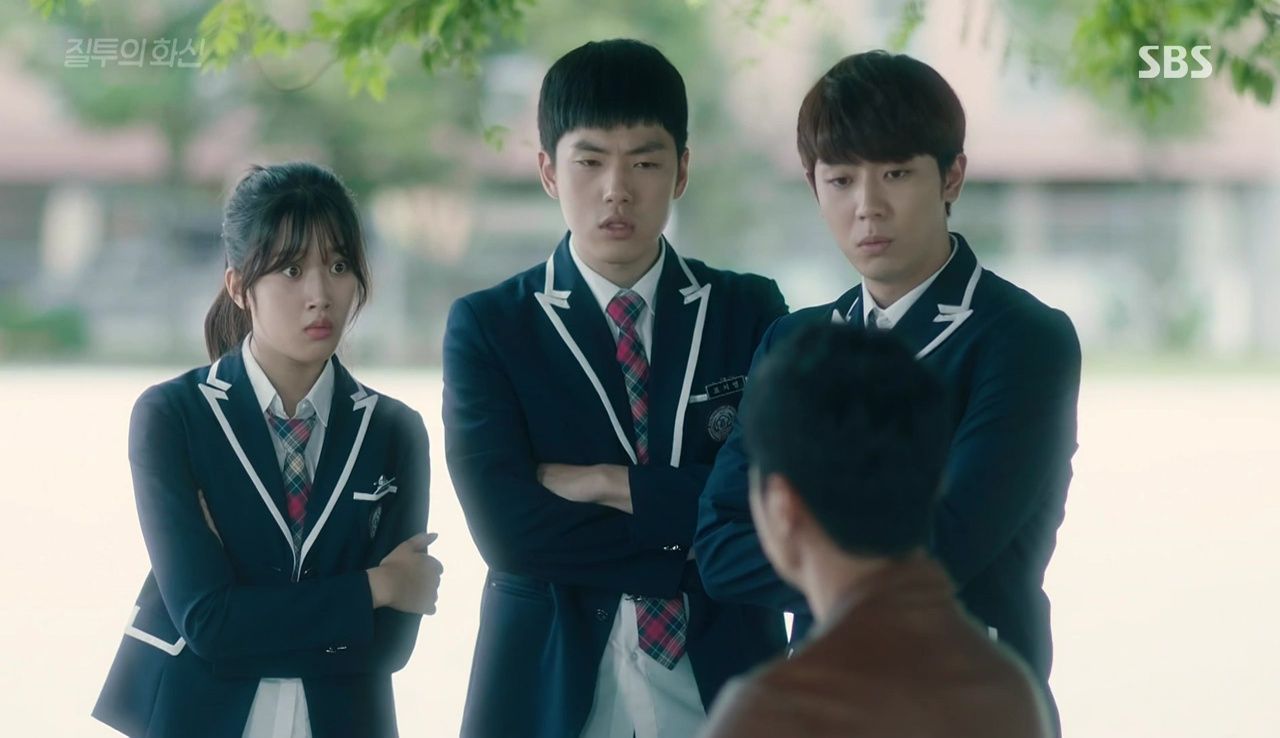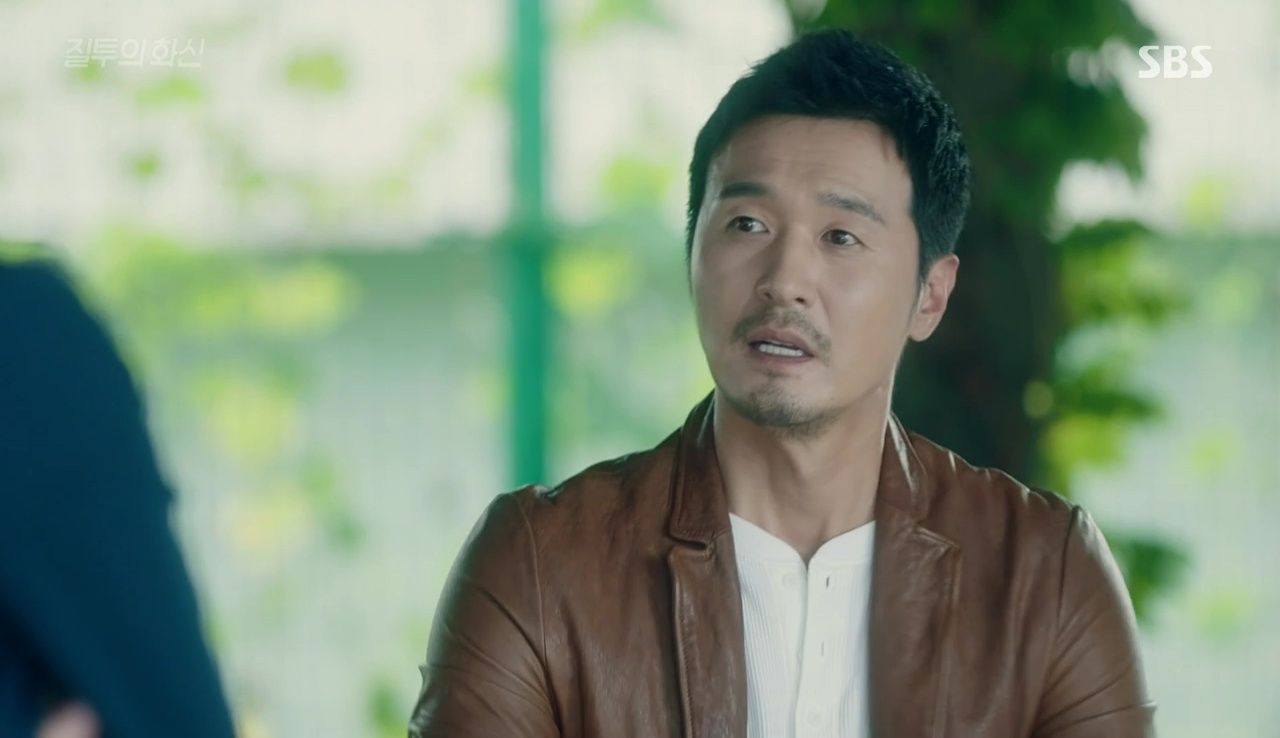 All three teens look at him in surprise. He explains that he was watching them to see who would be better for Pal-gang, and at first, he found them weird. But as he saw them every day, he found himself interested in both of them as women. "Other women aren't able to live with me!" he tells them, but doesn't elaborate any further, despite them asking.
In his lodgings, a cleaned-up Hwa-shin lies feverish in bed, clutching his chest where he had surgery. Na-ri returns and notes his muddied clothes left outside. She opens his door to check on him, but he turns over, away from her. She lingers for a bit before leaving him. Oh, Hwa-shin has the little octopus in a jar of water!
Too much time passes and Na-ri goes to check on Hwa-shin again, this time going inside properly. She finds him burning up, his chest especially hot. She wrestles him up and tells him he has to go to hospital, but he bats her away. "I'll take care of myself," he tells her, "so don't concern yourself and get lost."
Exasperated, Na-ri says that if he refuses to go with her, she'll tell the staff to take him, and expose his secret. She points out that he won't make the anchor position like this either. Hwa-shin falls back on his pillow, dipping in and out of wakefulness, but her cry of concern brings him back for a moment, and his eyes fix on her worried face.
He finally accepts Na-ri's help and gets himself into the car. Just as they turn the corner, Jung-won arrives.
At the hospital, the doctor discovers the markings on Hwa-shin's chest and finds out that he's a breast cancer patient. She thinks he might have seroma, which she explains is a build-up of fluid in the place where his tumor was removed, most likely from post-surgery overexertion. She notes it usually occurs in women with larger breasts, and leaves to run some tests.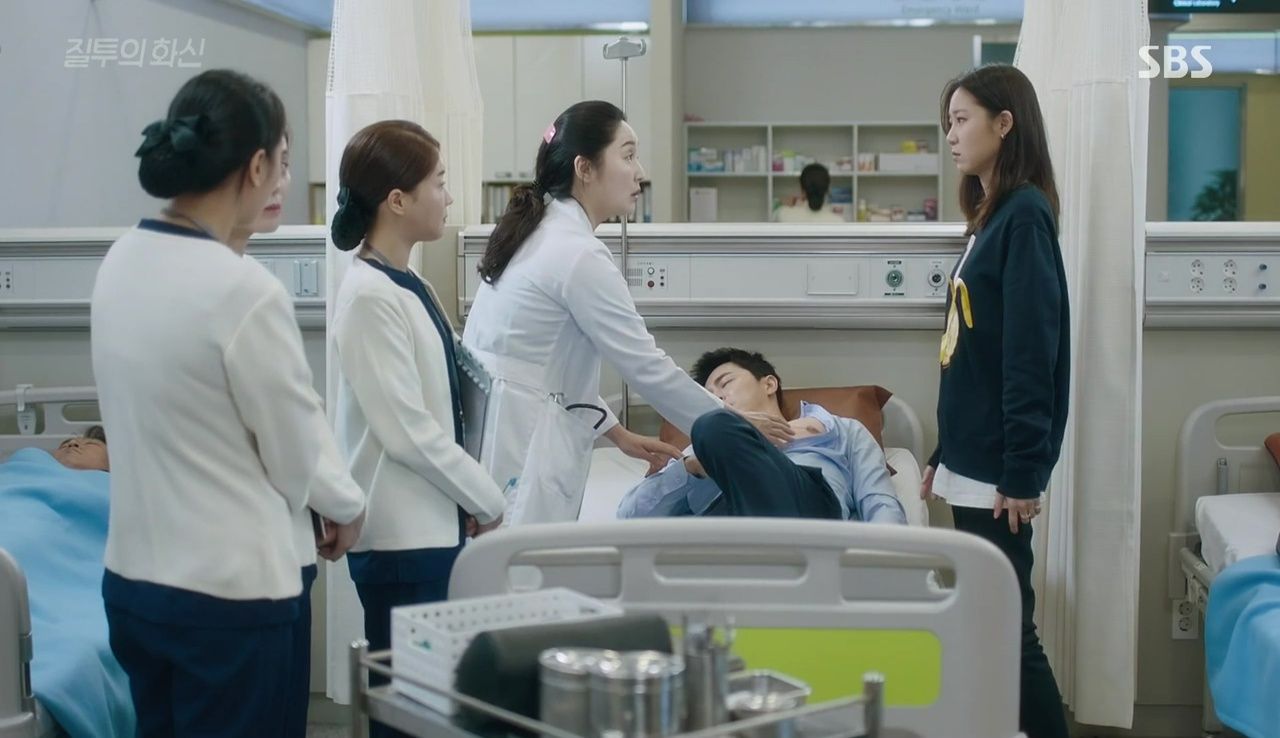 Mindful of their open surroundings, Na-ri draws the curtains around Hwa-shin and tries to get him to drink. He pushes her away, and repeatedly kicks off the blanket she covers him with. "Everything is because of you," he says, and begs her to leave him alone.
His flailing ejects her from the cubicle, but she sets her jaw and goes back in. She draws the blanket over him again, and misunderstanding his distress, glomps him like a starfish. "It's scary, isn't it?" she says, thinking he's upset about possibly having something in common with big-breasted women. The greater his anguish, the tighter she holds him.
"Please," he entreats, "Don't engulf me like…like an octopus. Get off me, I beg you!" But she doesn't. Instead, she speaks soothingly to him, and says her mom got sensitive the sicker she got, too. "Don't hurt by yourself," she tells him.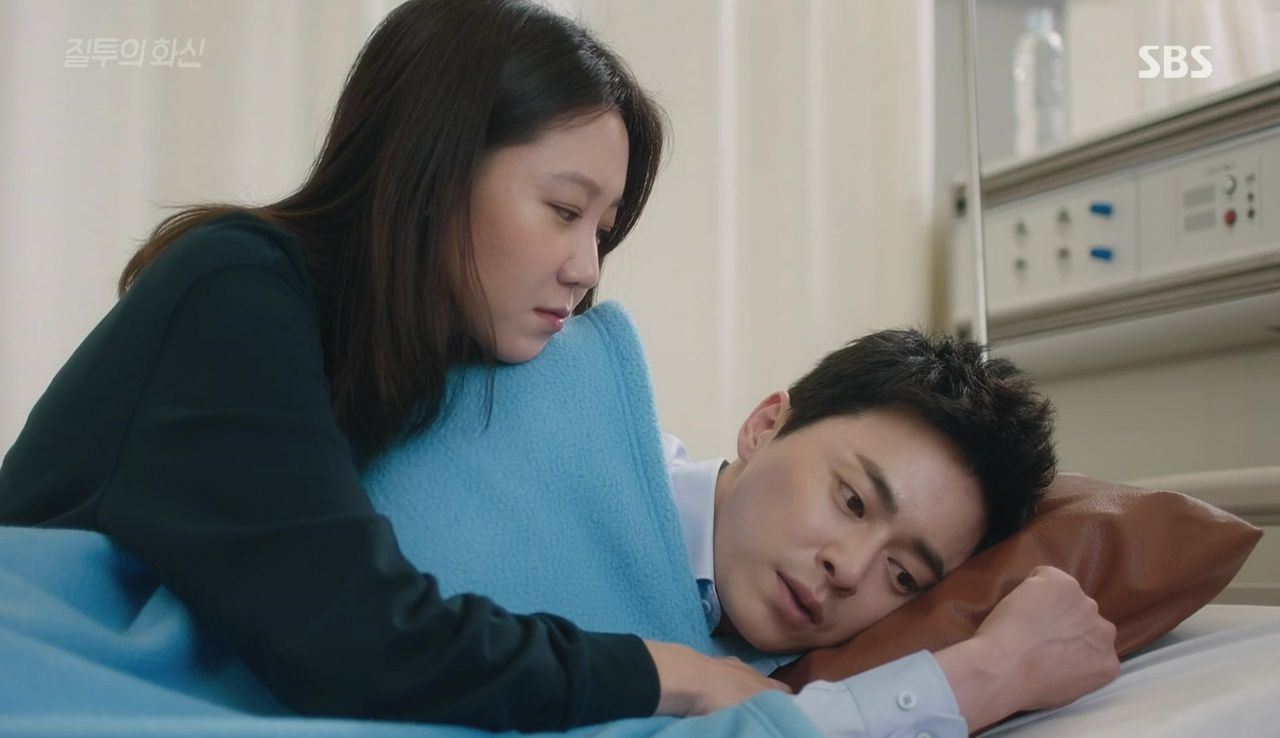 Hwa-shin's agitation quiets, and after a long moment, he asks, "Why are you being good to me?" "Because you're sick, and on top of that, you're all alone…I feel sorry for you," Na-ri replies.
"You're sorry for me?" he asks. "Because I'm pitiful, you're good to me," he says to himself, face closing. He sends Na-ri on an errand back to their lodgings, and once she's gone, gets ready to leave.
Back at the lodgings, Jung-won is unable to reach Na-ri on her phone, which she accidentally left in the car. He asks her whereabouts from a couple of staffers, and learns that she went off somewhere with Hwa-shin. He paces restlessly, waiting for her.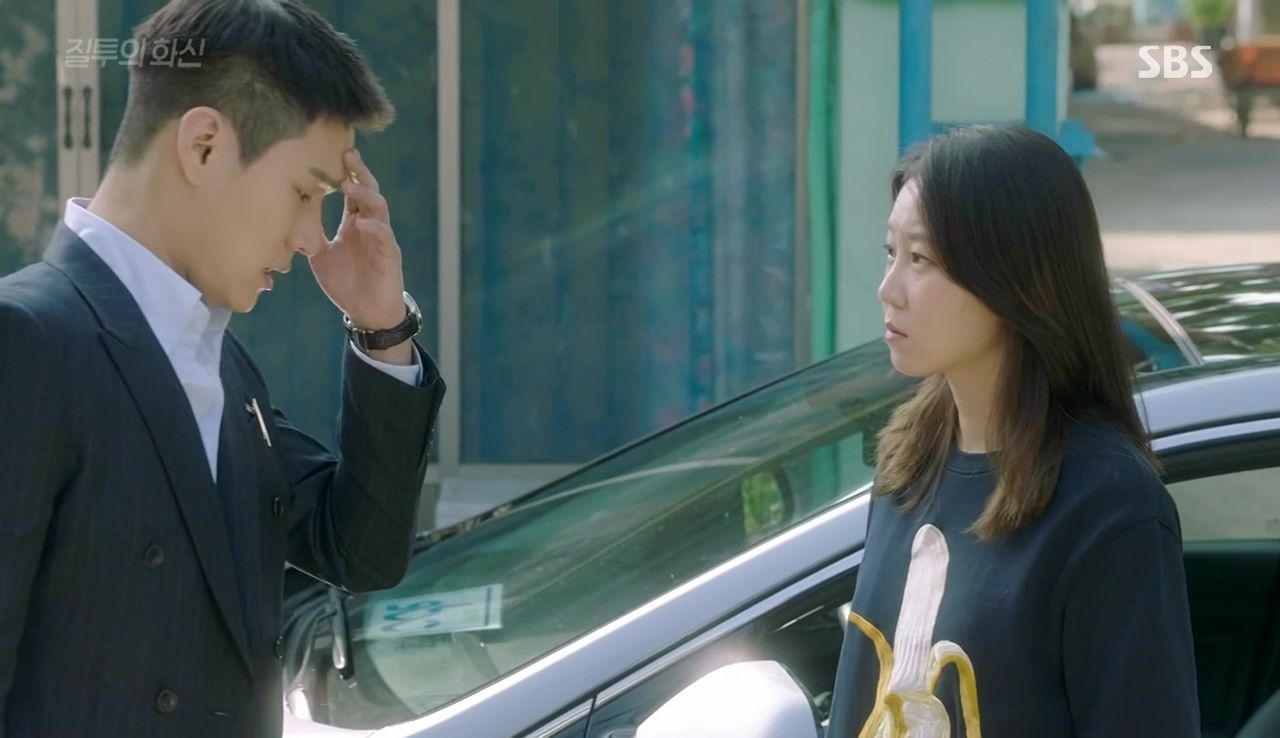 He finally calls Hwa-shin to find out where Na-ri is, but Hwa-shin tells him he's headed back to Seoul. "Together?" asks Jung-won in dismay. Right then, Na-ri's car pulls up, and he yells at her for not answering her phone. But almost immediately, he apologizes for his outburst.
His call with Hwa-shin is still active, and on the other end, Hwa-shin hears Na-ri explaining that she dropped by the local hospital because she felt unwell. By the time she returns there, though, Hwa-shin is gone.
Na-ri sees Jung-won off with a smile that night, but her expression turns pensive once he's gone. Meanwhile, Hwa-shin drives himself back to Seoul, alone and with a heavy heart.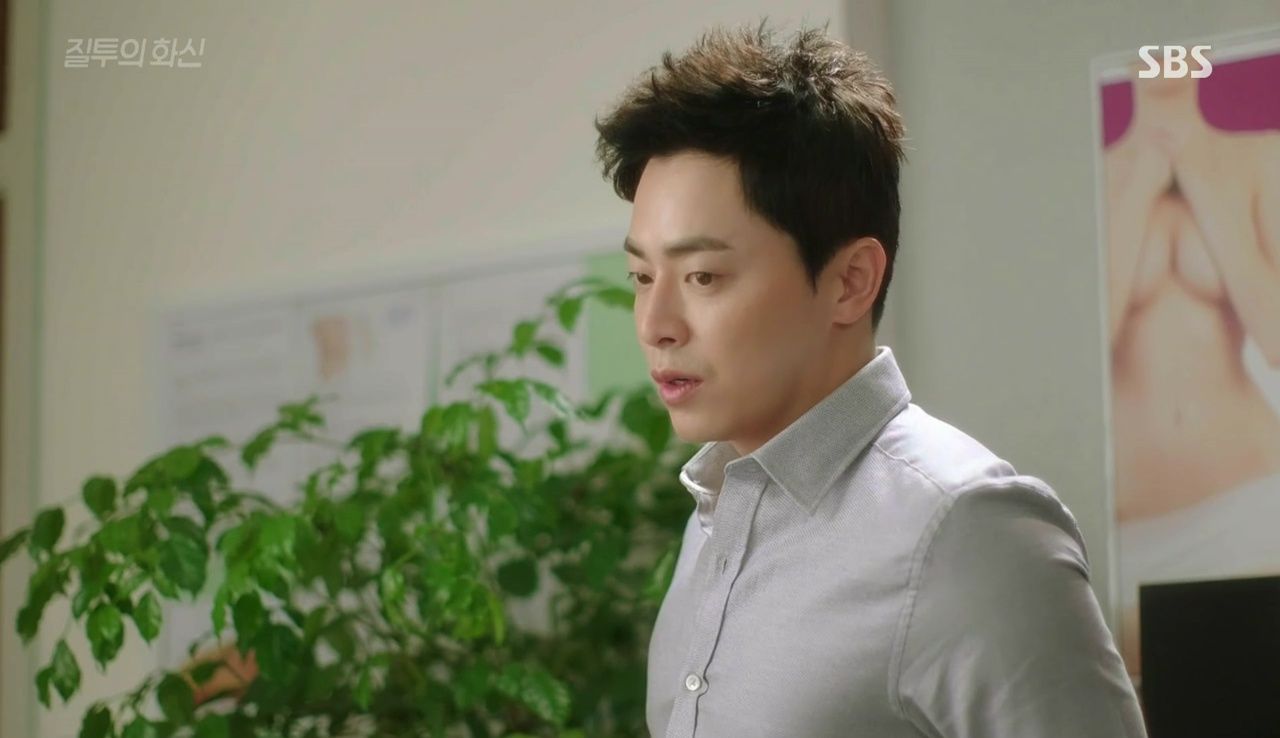 The next day, Hwa-shin checks in with Dr. Geum who tells him that luckily it's not seroma. She wonders why Na-ri's not there. "I'm going to let go of that woman and forget her," he replies, and adds that he hates being pitied. Bwahaha, Nurse Oh yawns at his melodramatics.
That night, Hwa-shin stops off at Na-ri's stepmom's convenience store where little Beom pushes his latest "I love Pyo Na-ri" drawing towards him. Hwa-shin gives the kid the side-eye and says he's not buying tonight.
From her rooftop, Na-ri calls out to Hwa-shin, wondering where he could be when he doesn't answer his phone and hasn't even turned up to work. But he's inside after all, staring at one of Beom's drawings. He turns out the lights.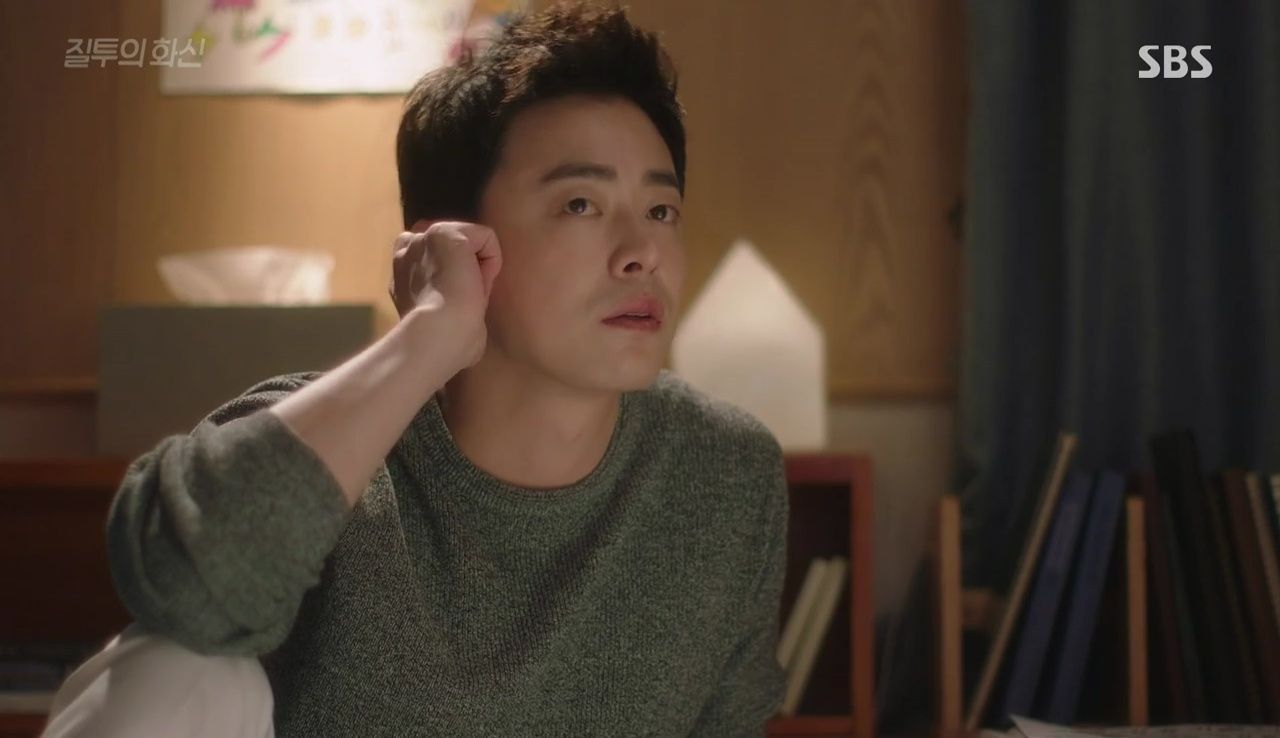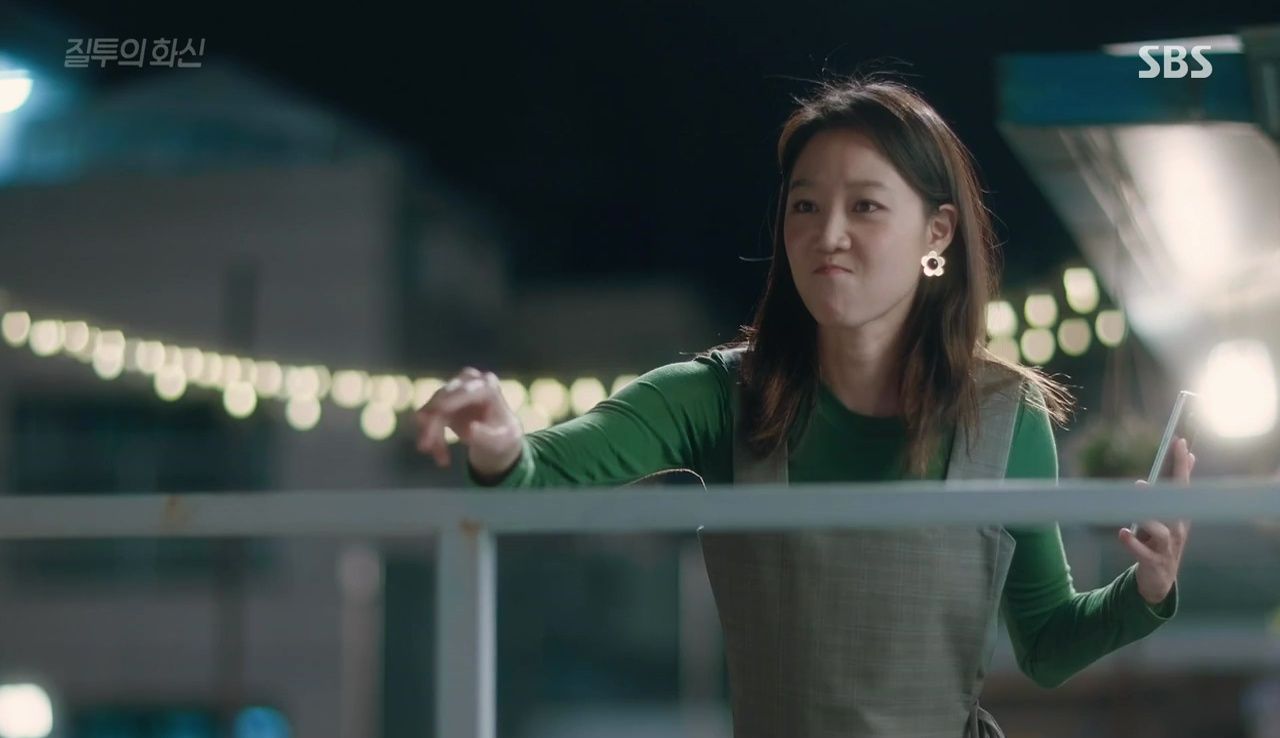 Another morning, Na-ri takes him pancakes through the pouring rain. He doesn't answer her from inside, so she leaves them at his door. In the night, she throws pebbles at his window while calling his phone. It rings where he forgot it outside, but he remains within, steadfastly ignoring her.
At work, PD Oh gives Hwa-shin the audition schedule for the different slots. Hwa-shin says he's only going for the 9 o'clock main anchor. He objects to the suggestion that he could take the seat beside Sung-sook if she wins it instead, and likens her to a dried persimmon. Sung-sook seems more amused than anything else.
Hwa-shin stomps out, vowing to find a partner who matches him. Going to Hye-won in the announcers' department, he declares, "You and me. Let's do it," and leads her out.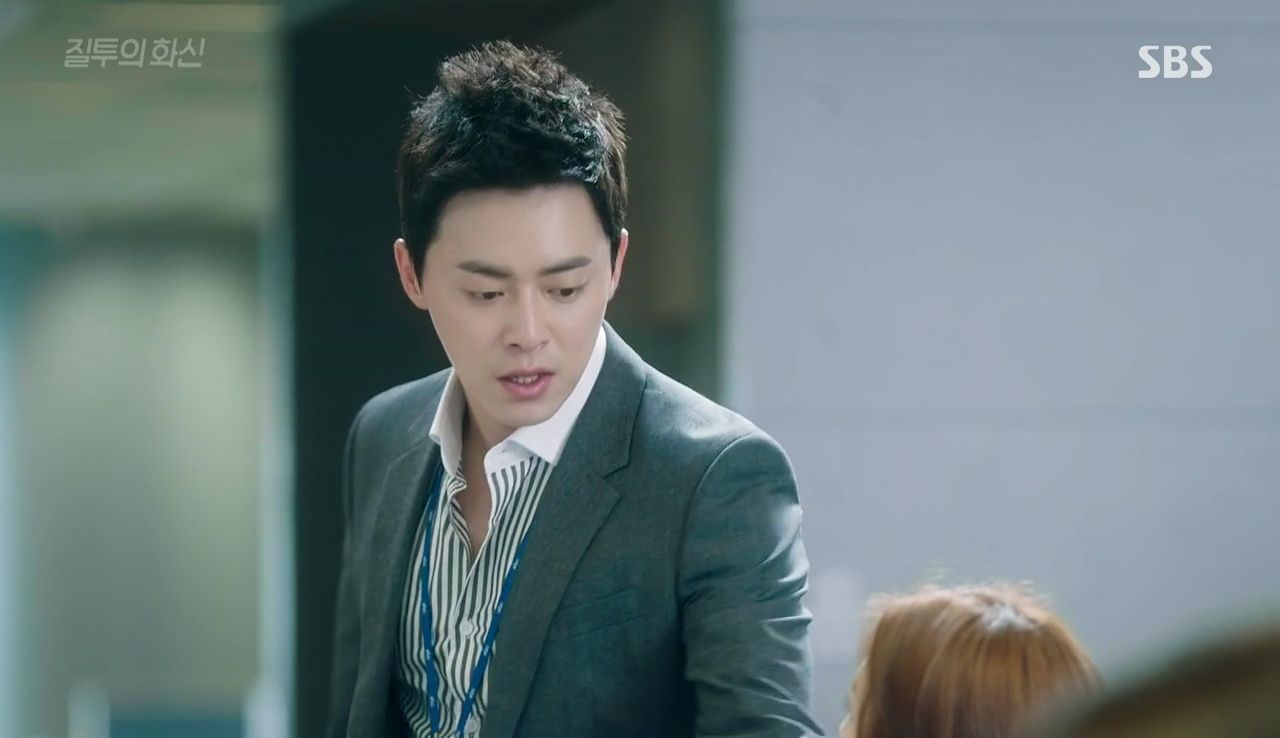 Hwa-shin's mom arrives at his new place with a ton of food. So you don't hate your son! She grumbles angrily about his slovenliness, and starts picking things up. In his rubbish, she finds a prescription for anti-breast cancer medicines with her son's name on it. In confusion, she wonders why he would take such a thing.
Hwa-shin clarifies to Hye-won that they're to be audition partners, and she replies that he can do it like that, but she'll do it like it's dating. She smiles to herself at his brusque treatment.
Picking an empty studio, Hwa-shin starts coaching her, and suddenly notices that Na-ri's also there. She smiles to see him, but he just tells her to get out. He tells Hye-won about matching feeling and expression to the news they're reporting, and gripes at her for her pretty smiles.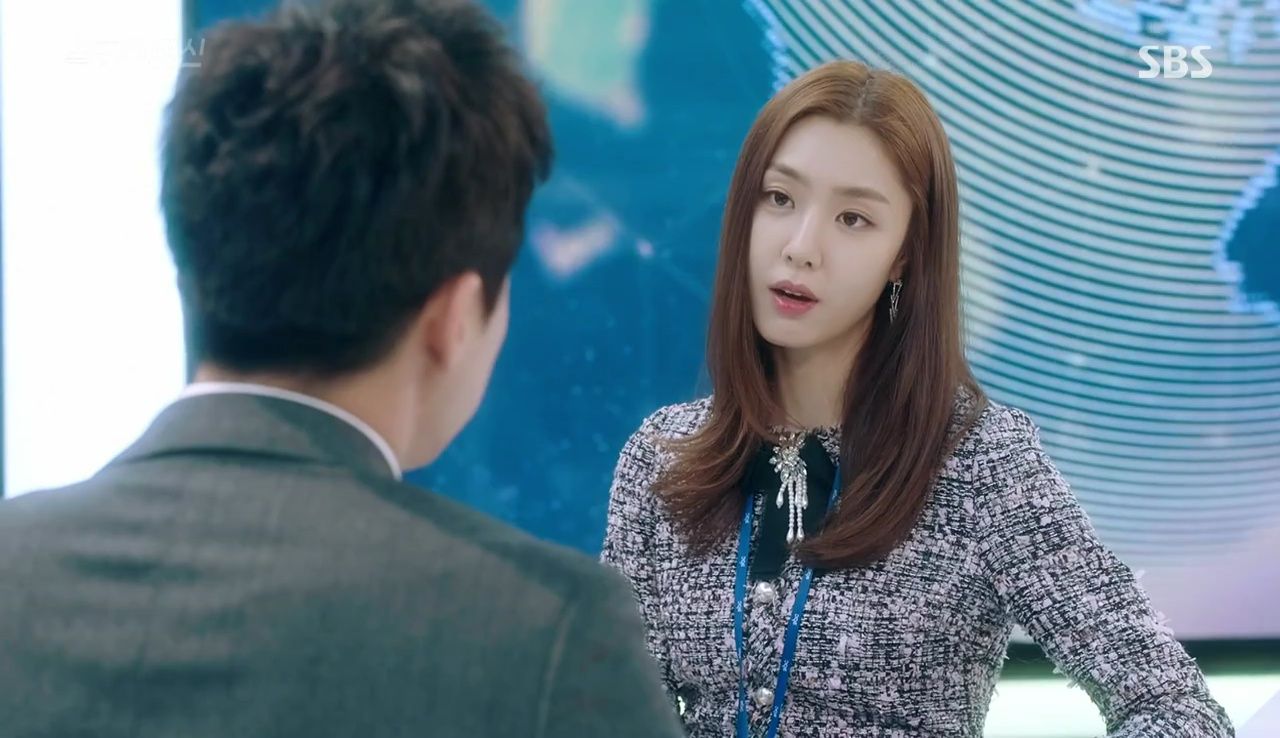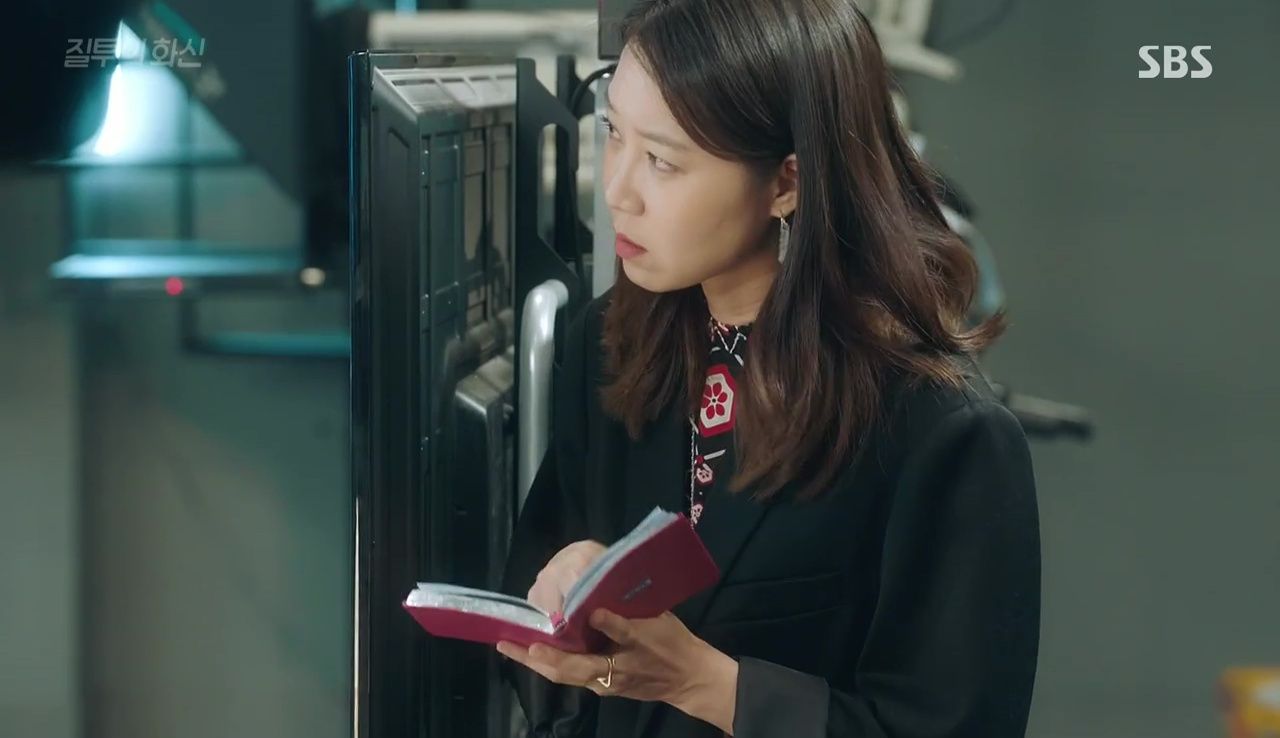 "But I am pretty," she says, unapologetic. Na-ri listens to them surreptitiously, and takes notes. She grins sheepishly when Hwa-shin catches sight of her, and says that she wants to learn. But he tells her that her sixty seconds of airtime are not even comparable to an anchor's sixty minutes, and shouts at her to get out. Ass.
He turns back to Hye-won, and advises her not to pay any attention to the weather, since it's not important: They close the news. Listening, Na-ri lingers a long moment at the door, before finally turning away.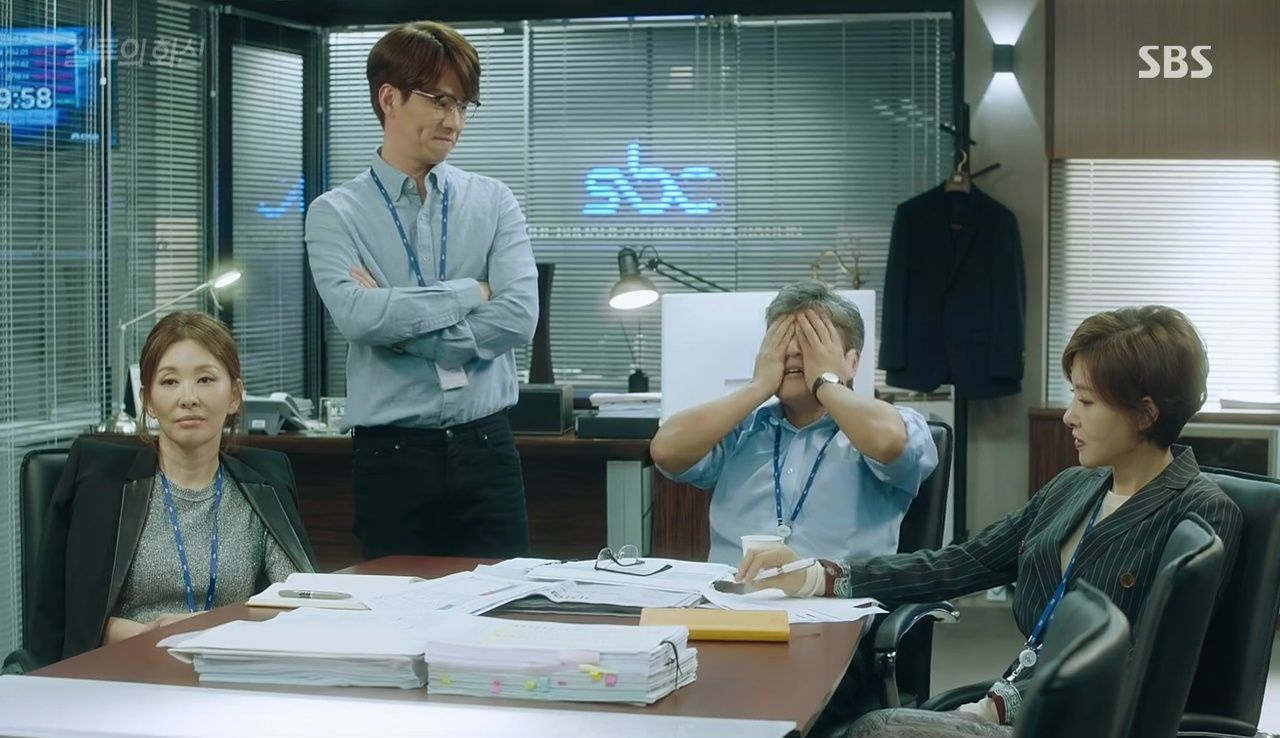 Dong-gi barrels into PD Oh's office with news of an unexpected applicant for the morning news announcer slot. Sung-sook and Ja-young are also there, and they watch a reel from Joo-hee, who calls on her past as Miss Korea to recommend her as an anchor.
She drivels on about intelligence and dignity (wouldn't it be nice if you had some) and is all-round dull, but PD Oh reckons all the male judges will pick her, because booty over brains. But there's one more, Dong-gi says, and they all wear identical expressions of shock to discover Na-ri also applied.
In the bathrooms, Joo-hee snipes at Na-ri for being sneaky and figures that they're rivals now. But Na-ri puts an encouraging arm around the younger woman and says, "Let's do well." Senior weathercaster, KAN MI-YOUNG (about time we named her), shoulders in and asks pointedly if either of them have tendered their resignations. She accuses them of making fools of the rest of the weathercasters.
Hwa-shin comes to Dong-gi seeking Hye-won's audition tapes, and Dong-gi tells him about Na-ri's announcer application. He runs the reel, filmed on Na-ri's own rooftop. Frank and unassuming, she talks about how she used to envy the announcers, but realized she had so much pride in her current position as a weathercaster that she couldn't bring herself to resign.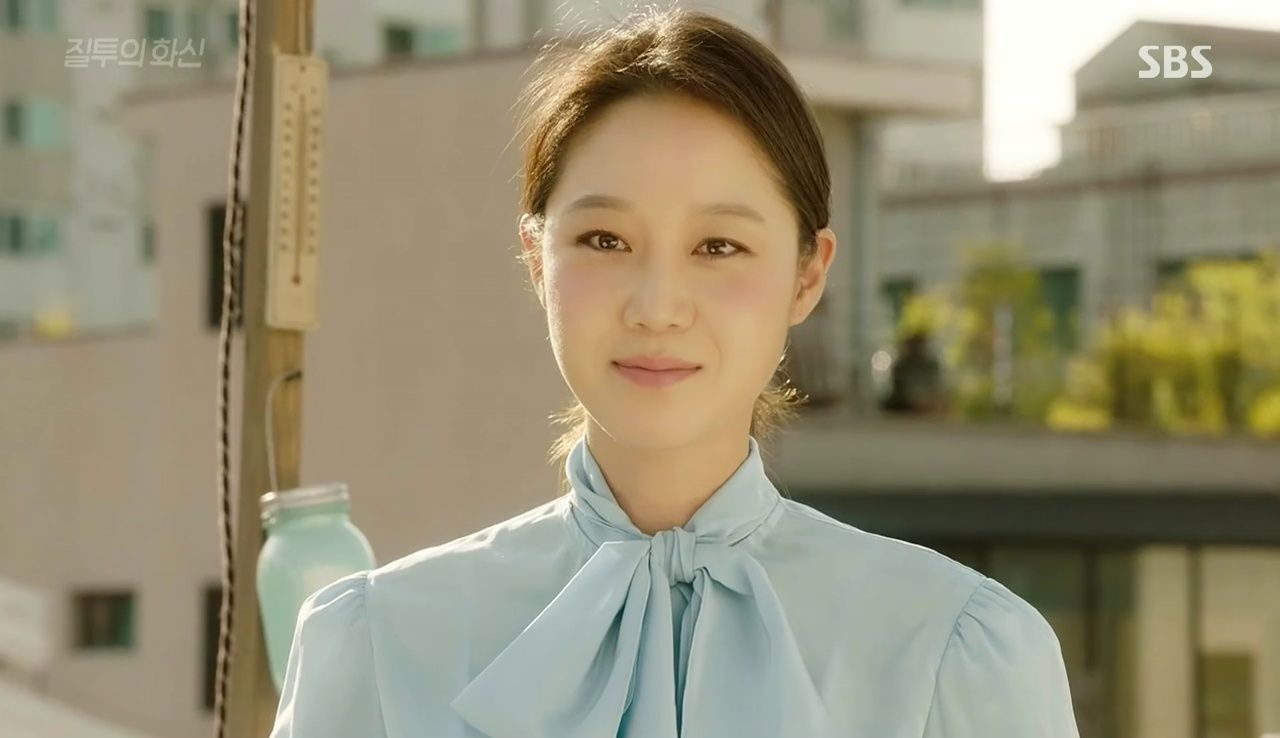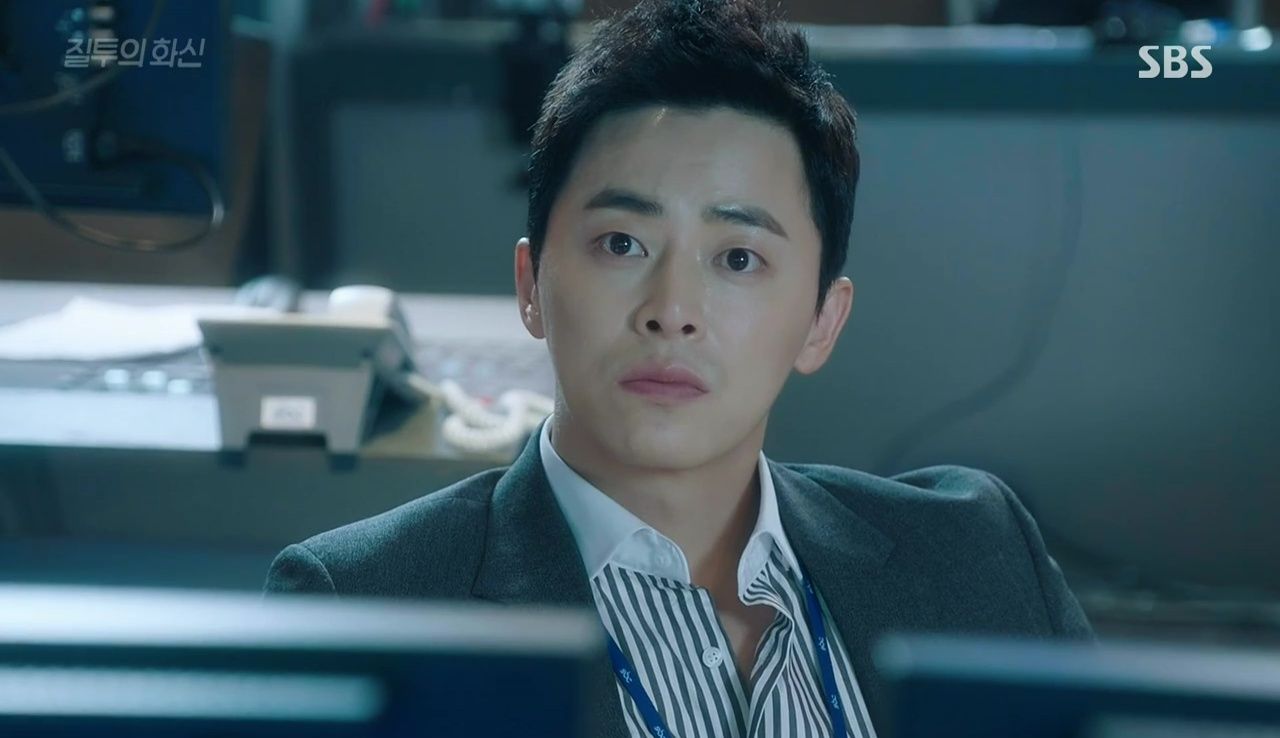 She says she took joy in making the weather enjoyable and clear for every viewer. She closes by asking the judges to give a sixty-seconder like her a chance at sixty minutes, promising to make her future work just as accessible.
Na-ri enters the weathercasters' lounge where her colleagues are gathered. Apologizing, she asks them not to hate her too much, and explains that this is her last shot at it. She tells them that only by failing one last time will she be able to give up the dream.
"Hey," Mi-young pipes up, "Since you've done this already, you absolutely mustn't fail." Looking Na-ri and Joo-hee in the eye, she says, "Show them clearly that we lack opportunity, not skill, okay?" Moved, Na-ri nods.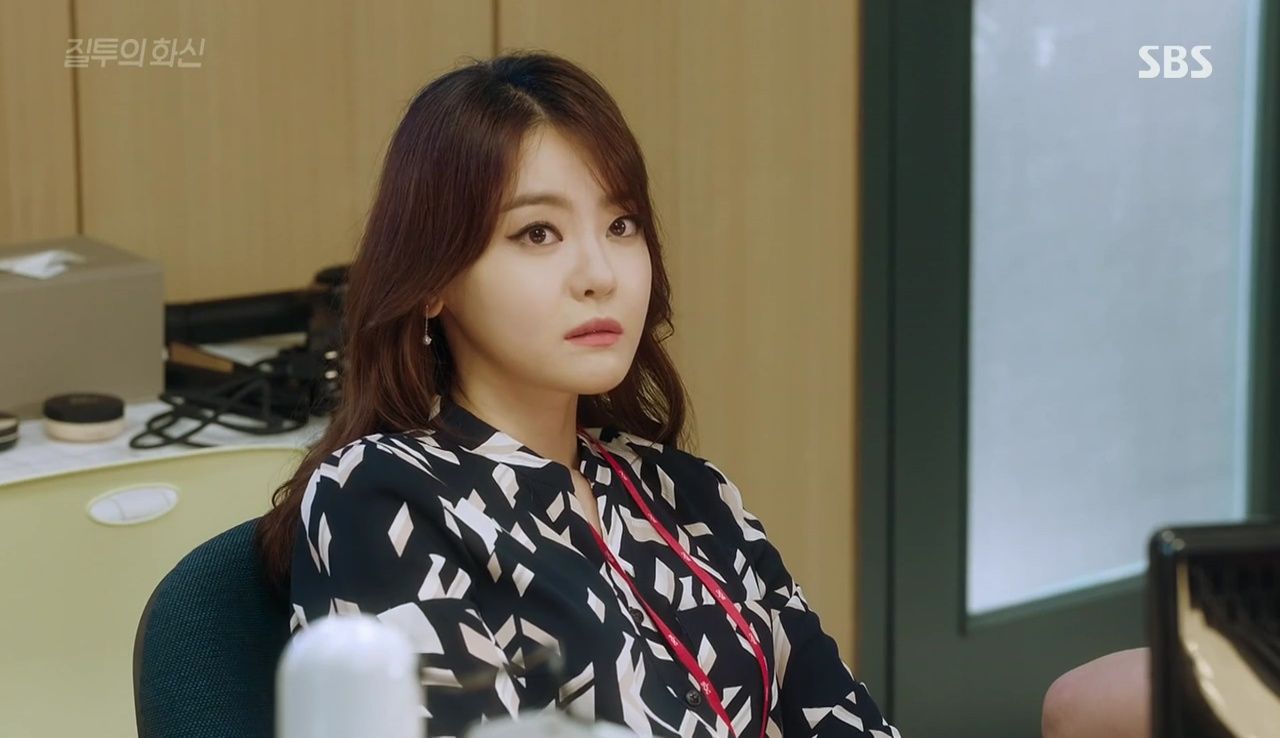 Hwa-shin finds himself having to get an elevator alone with Na-ri. As soon as the doors close, she brings him to task over what he said about ignoring the weather, and points out that no matter what else happens in the world, everyone's interested in the weather. She mutters that if he becomes anchor, no one will watch him—except maybe his friend Jung-won, but she'll make sure to change the channel if she's there. Hahaha.
Hwa-shin only says that it's Jung-won's birthday tomorrow, and gets off.
Jung-won wants to see Hwa-shin but can't bring himself to send a message. Even Secretary Cha wonders at Hwa-shin's recent absence: "Did you become enemies? Over a woman?" Lol.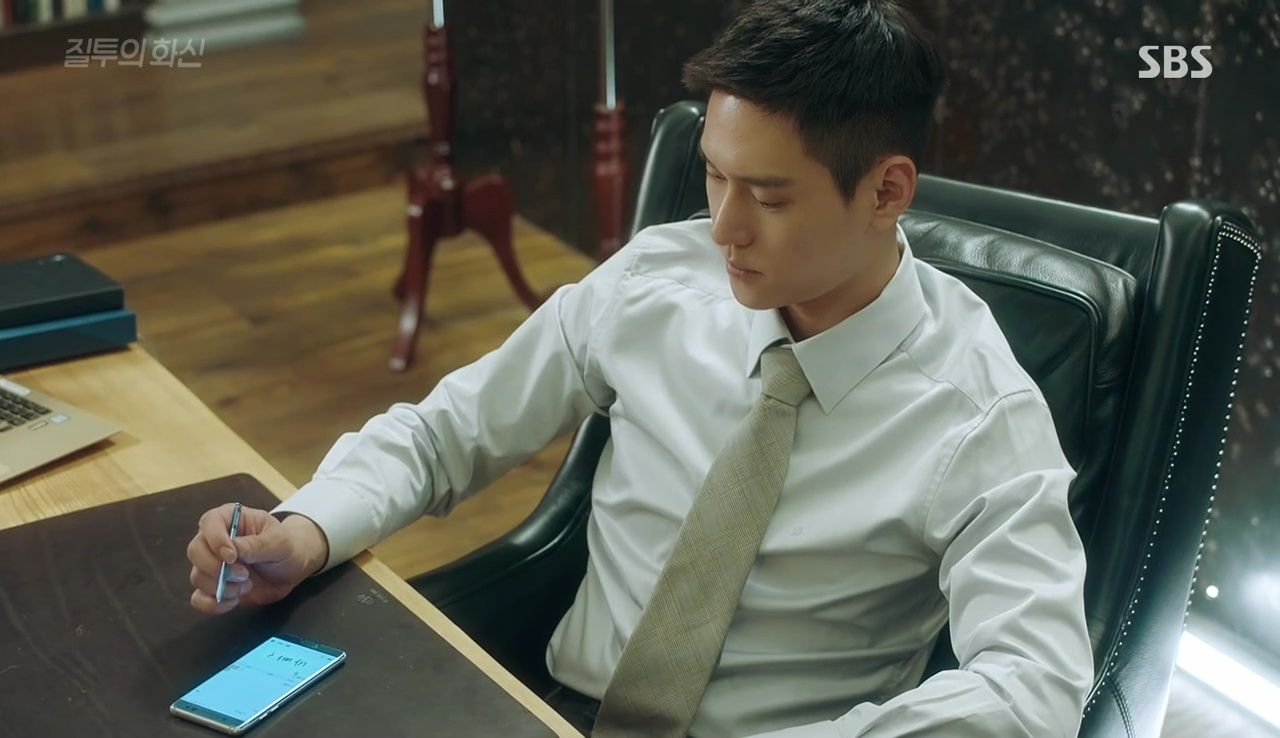 Na-ri bolts into Hwa-shin's car to cadge a lift home, but her real purpose turns out to be to grill him on what to do for Jung-won for his birthday. She settles on cooking him a birthday dinner and Hwa-shin easily answers a stream of questions about Jung-won's preferences.
She feels guilty when she learns he doesn't like jjajangmyun, since he had it with her all the time. Hwa-shin reassures her that anything he ate with her would have been delicious. With the way he's looking at her right now, he could be talking about himself as much as Jung-won. "It would be really nice to have your food," he says, with an almost-smile.
She continues to take notes as they drive. "There's not one thing you don't know about your friend!" she enthuses, and can't stop thanking him. She gets him to let her off for some shopping, but he turns down her invitation to join them, saying that he'd only be a third wheel.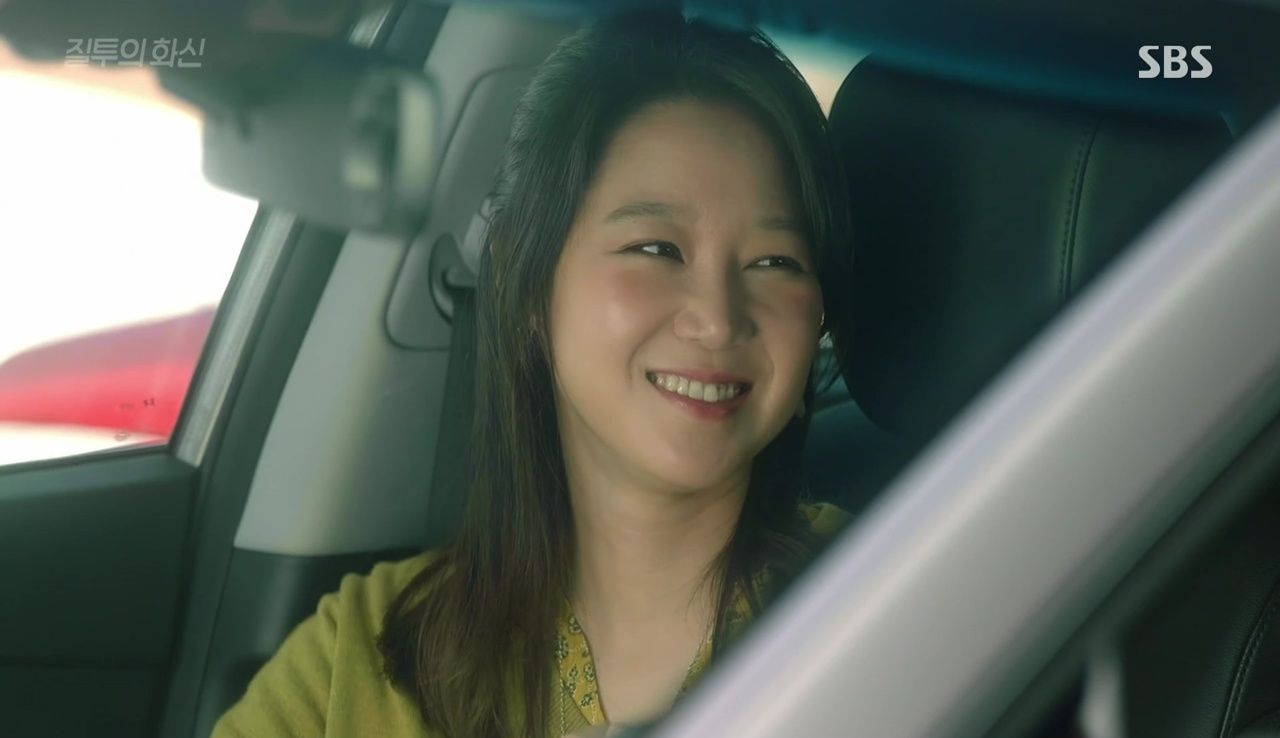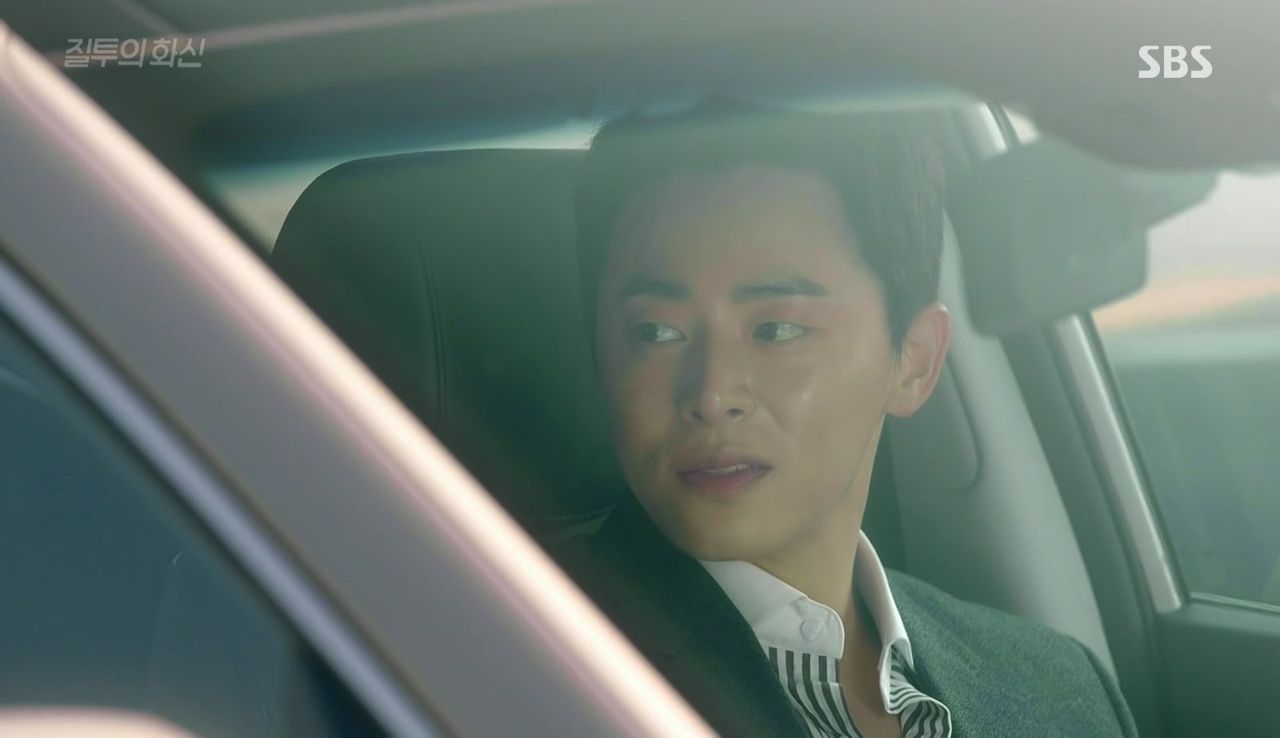 She asks him conspiratorially if he's dating Hye-won, and is surprised and pleased when he says he is. But he's done answering questions and orders her off. Laughing, she complies.
At Rak Pasta, Ja-young cooks up a meal for Chef. She's excited by his approval, and asks if he doesn't want to always eat together. He agrees. Later, Sung-sook goes to him in a form-fitting dress, bottle of wine in hand. They flirt and she asks why he doesn't ask to date her. "Is it okay if I do?" he asks.
Madam Kim demands Jung-won's whereabouts from Secretary Cha, who has no intel despite the cheek-pinching he suffers. She orders him to warn both Jung-won and Na-ri that she'll be on the judging panel for the anchor auditions.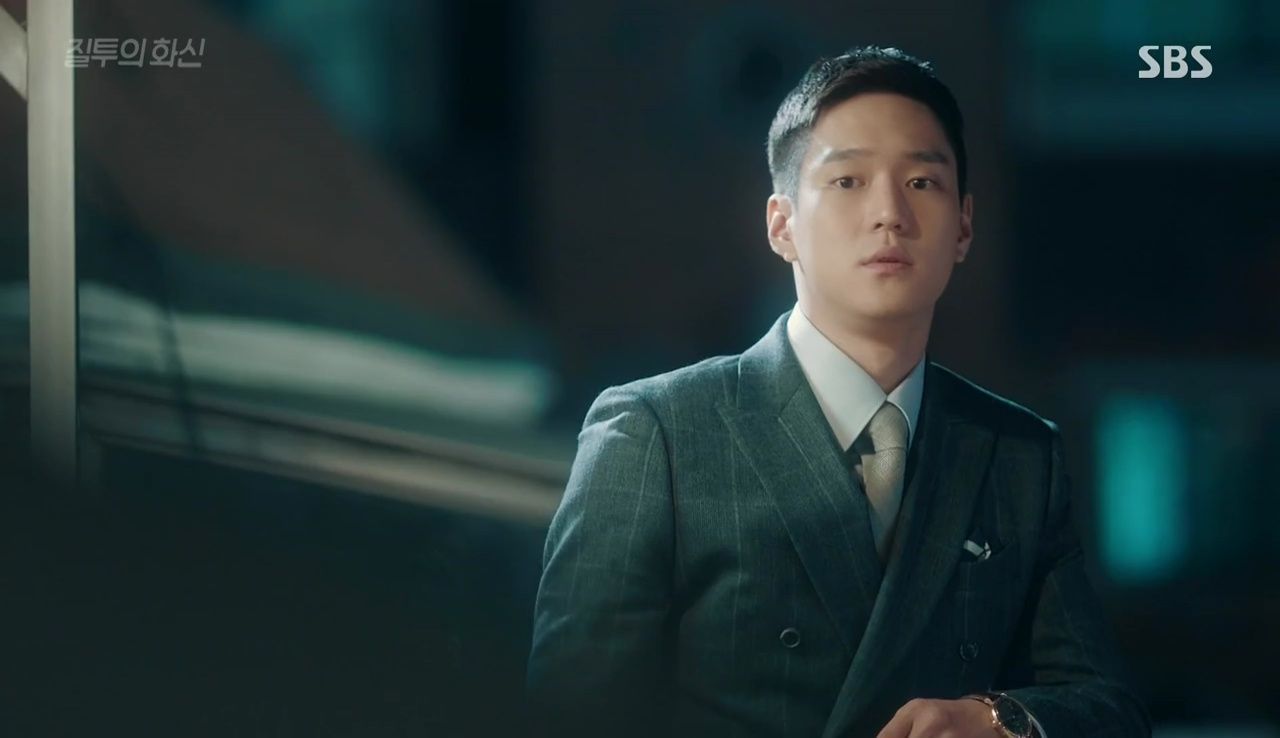 Hwa-shin arrives home to find Jung-won waiting at his door. Awkward, he tells him Na-ri will be back soon, but Jung-won says he came to see him. Hwa-shin agrees to go for a drink, and doesn't realize that he's left his front door unlocked.
In front of Stepmom's store, they empty bottle after bottle of soju and even Stepmom tells them it's too much. Jung-won scolds his friend for not even calling, and Hwa-shin points out that Jung-won should have called first, since he was the victor. Jung-won swears loudly that he was about to, so many times.
Jung-won scoots his chair up to Hwa-shin's. Arm around his friend, he plants a big kiss on his cheek, and Hwa-shin laughs at the resurgence of his drinking habit. Jung-won teases Hwa-shin for his habit of asking everyone to date him, and kissing anyone.
The boys perk up at when they see Sung-sook. Hwa-shin gives her a drunken peck on the cheek and promises one from Jung-won if she buys them snacks. But before Sung-sook gets her kiss, their attention is snagged by Ja-young, whom they sandwich between them with noisy kisses.
Annoyed, Sung-sook leaves. Before Ja-young follows, she sweetly tells Jung-won that he should find better friends—a comment both boys take exception to.
The boys sing along to the radio (Kim Hyun-shik's My Love By My Side, whose words play on Na-ri's name), and Hwa-shin calls out that an ugly girl is coming when he sees Na-ri approach. Objecting, Jung-won counters, "The prettiest girl in the neighborhood is coming!"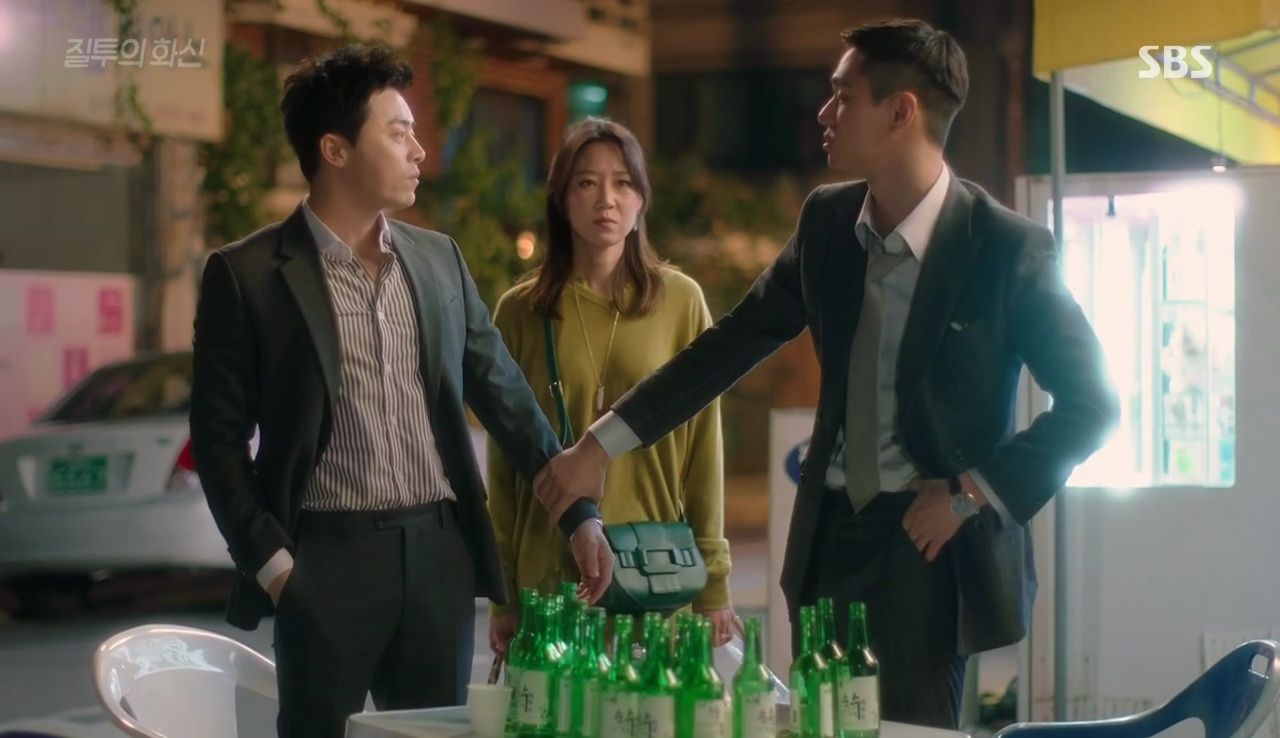 Na-ri is shocked at how much they've drunk, and Jung-won insists that Hwa-shin can outdrink him, while Hwa-shin insists Jung-won drank it all. Frustrated, she asks how Jung-won can know Hwa-shin so little when Hwa-shin knows him so well.
Jung-won complains that she's not paying attention to him, but Hwa-shin points out all Na-ri's shopping, which she did to make him a surprise birthday dinner. Growing morose, he makes to go, but Jung-won grabs onto his wrist to stop him.
To Na-ri's embarrassment, the boys follow behind her, arm in arm, chanting like hooligans: "Milky complexion, Pyo Na-ri! Swallowed air and pooped out clouds, Pyo Na-ri! Weather fairy, Pyo Na-ri!" She pleads with them to stop and they quiet down. But exchanging looks of perfect understanding, they start over again, louder than ever.
She hurriedly tries to tidy her rooftop, and sends them inside out of her way. Across on Hwa-shin's roof, she notices little Beom at his door, sketchpad in hand. She ends up going over there to collect him, but Beom escapes into Hwa-shin's house.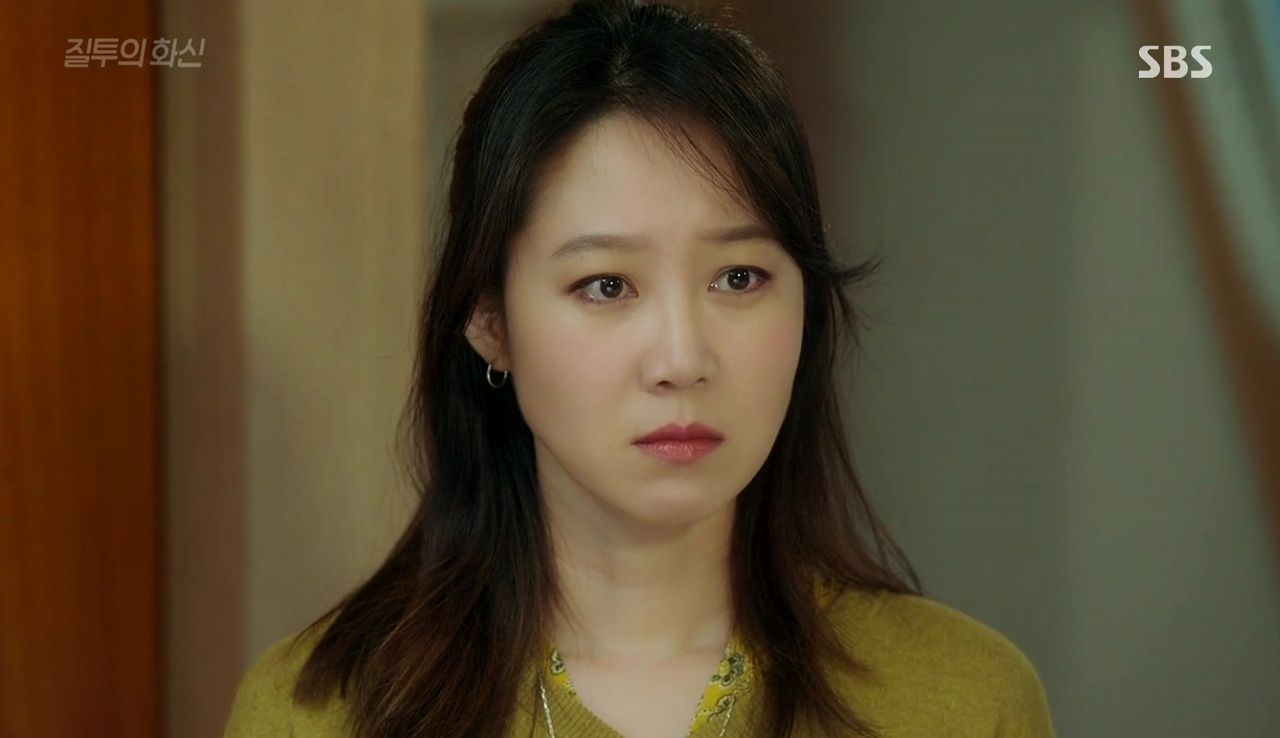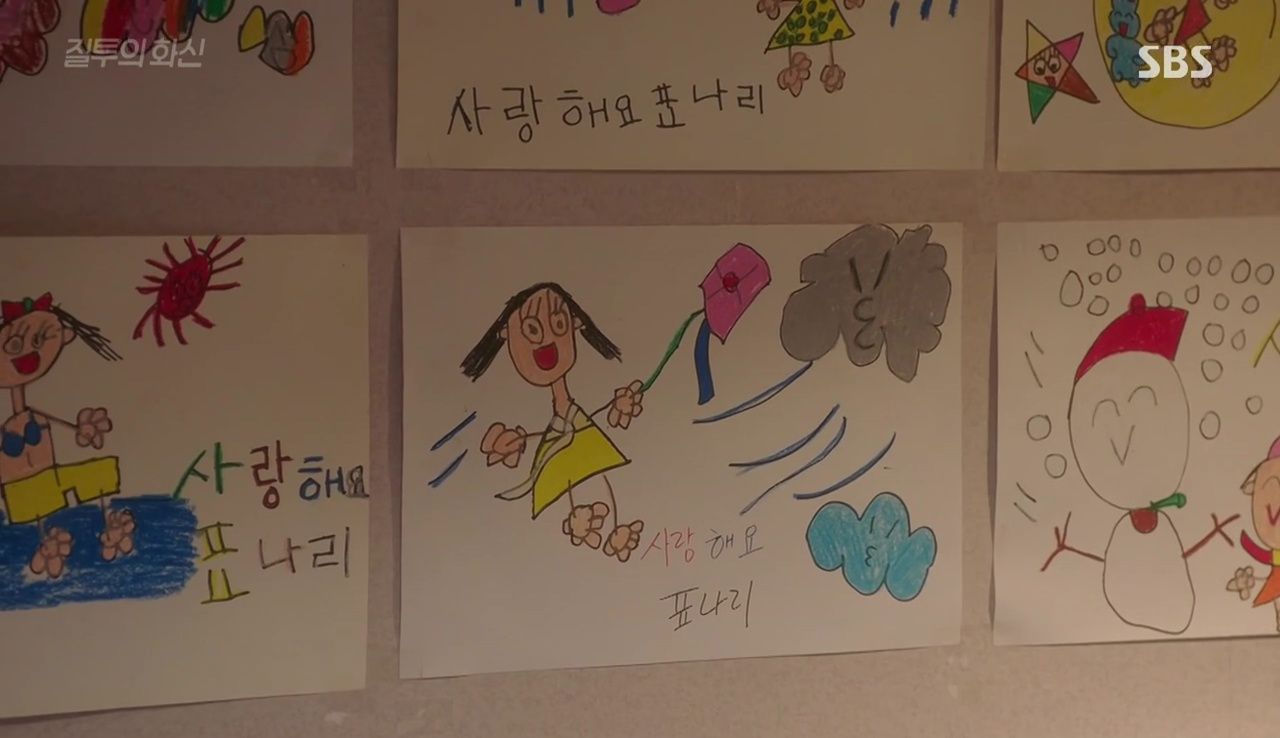 Fretting, she follows him inside…and stops short at the sight of Hwa-shin's bedroom wall, which is covered with Beom's drawings, each one bearing the same legend: "I love you, Pyo Na-ri." Her gaze fastens on one picture in particular, where the legend is in Hwa-shin's hand.
On the other roof, the boys pick up their duet again. In a flashback, Hwa-shin smiles over his latest acquisition. But noticing there's no writing on it, he picks up a pen and writes it himself: "I love you, Pyo Na-ri."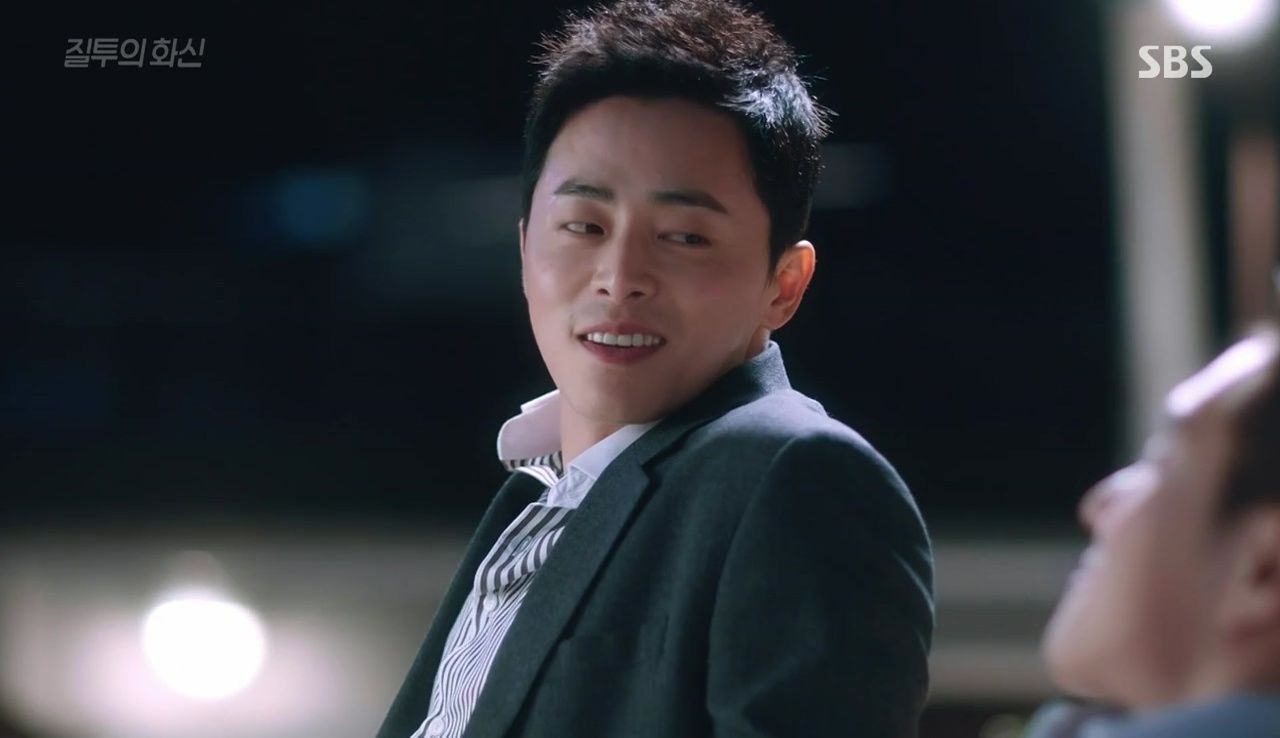 COMMENTS
Now there's a game-changer! Exciting! I'm curious to know if what Hye-won said is true: Does he really only have to crook his finger for Na-ri to go to him? I don't think Na-ri's flakey, but something about the lost cup-ramyun interpretation rings true. We're poised at a really interesting place and I can make a thousand guesses for which way it will go, but somehow, I feel sure that Na-ri will surprise me. She always has, and I love that about her. It's not that she's inconsistent (she's not), but she has an unexpected way of solving her problems. It's like you give her a choice of A and B, and she goes off and invents a third, more complex option that resists being trapped by convention and arbitrary limitations. And that makes her an intelligent heroine, worthy of respect. Although her naivety concerning Hwa-shin's feelings might have been overplayed a bit, I also think the show has been consistent in ascribing a level of romantic innocence to her, which allows her to be perceptive about people in specific ways while blind to them in others.
I finally realized that I'm only really rooting for Na-ri right now, and that's been my ship all along. As romantic as bad boys are, treating 'em mean is not a philosophy that belongs in any healthy relationship. The entire reason why I liked Jung-won with Na-ri was because I wanted her to be with a man who consistently treated her well. How alluring is that? I'm waiting for Hwa-shin to reach that point where his mouth isn't constantly at odds with his heart, and while I'm rooting for him to grow, I don't see him as ready for a relationship yet. I'll root for him wholeheartedly when he gets there.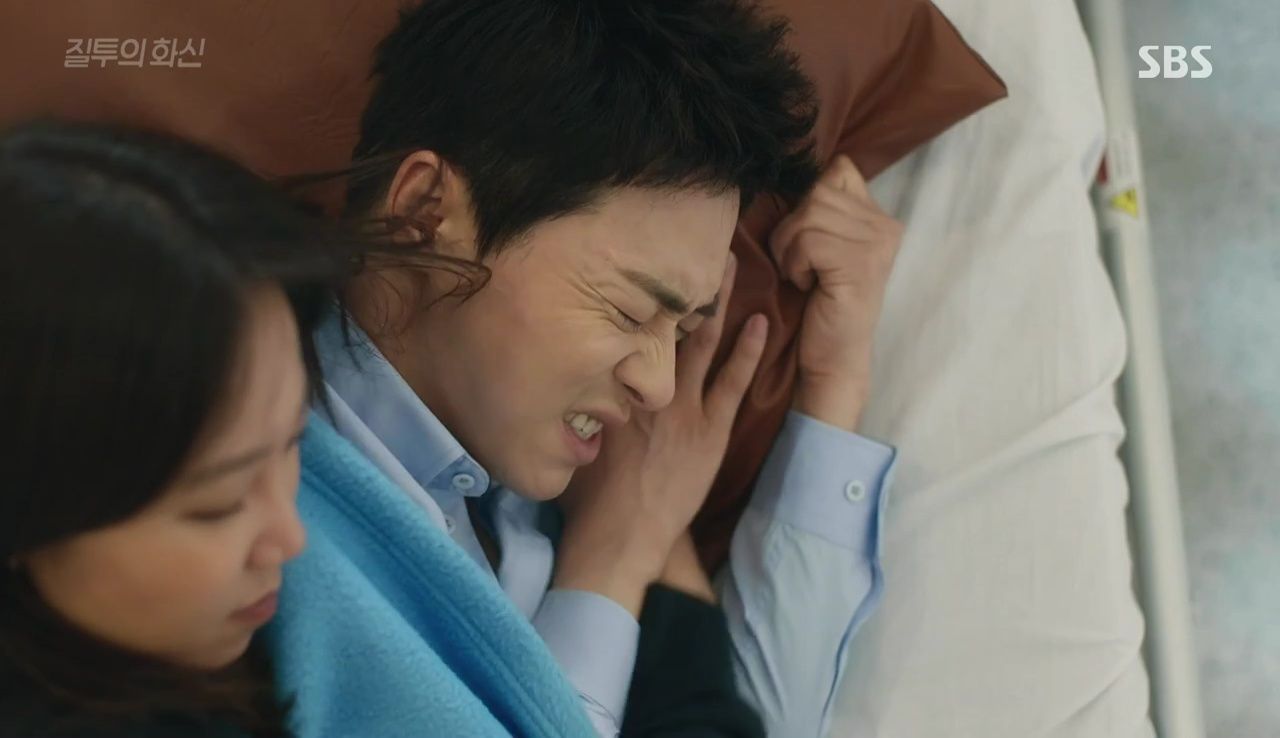 But I came close to writing off both men when they started arguing over Na-ri like a piece of meat. I guess it's past time for Jung-won to show his imperfections, and in this drama more than most, bursts of jealousy are just par for the course. You guys have been noting his cracks for weeks, but only this week did we see his anger and insecurity turned on Na-ri. But thanks to his self-disapprobation and immediate apologies, I think he earned himself his second chances. It feels like his maturity is warring with his inner 12-year-old, and you know, I can sympathize with that. Realistically, there's always a measure of distance between your principles and how you practise them, and Jung-won shows that particularly well, especially in how his struggle against himself is entrenched in his own self-awareness.
I understand his frustration about not being able to cross certain obstacles with Na-ri, like getting her to lower her speech, but intimacy takes time and he can't make it happen by sheer force of will. I reckon he's only slightly more experienced than her in the romance department, given how he treats Na-ri much like he treats Hwa-shin, except with kisses. Oh wait, even that, ha! The show's made a clear contrast all along between Na-ri's comfort with Hwa-shin, and her formality with Jung-won. I don't think that dynamic is damning in real-life terms, but in the context of the drama, I can see the ease that exists between Na-ri and Hwa-shin turning to trust, and paving the way for stronger feelings. I feel like their love would be a quiet, everyday kind, built on little things, which we've seen tantalizing glimmers of from time to time. Watching that grow is so exciting.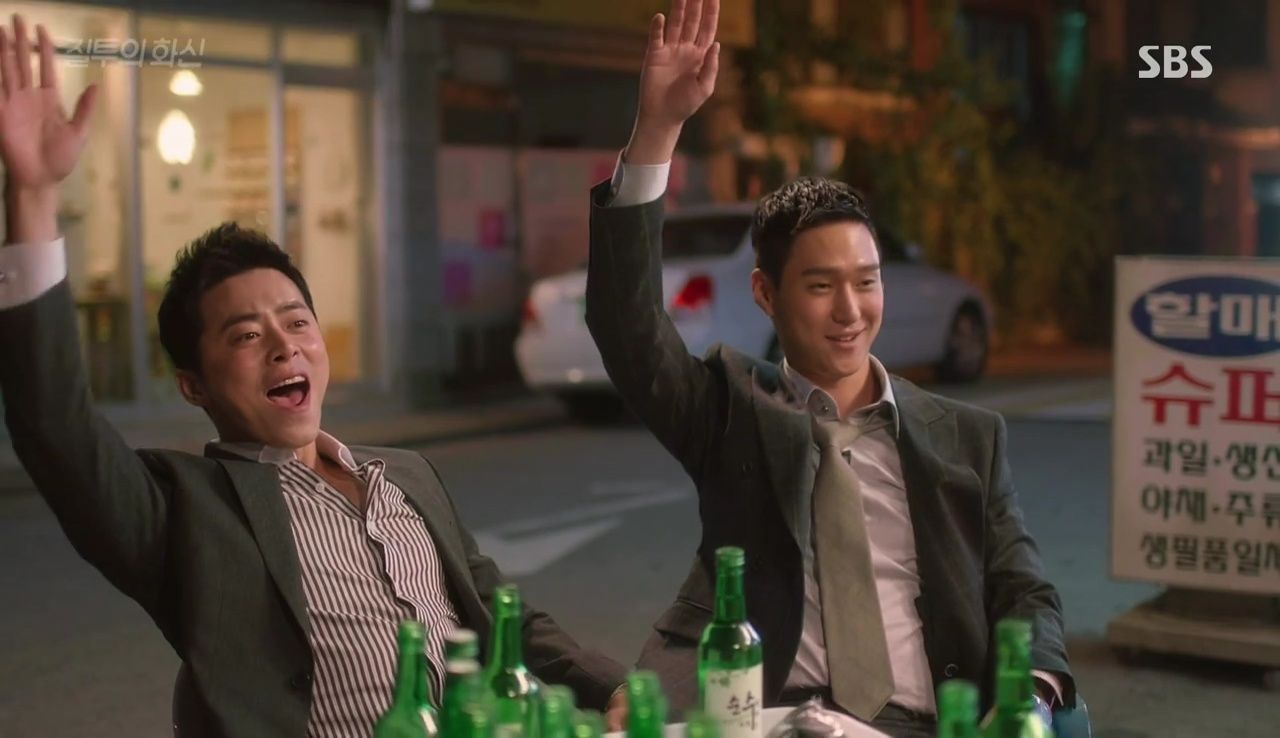 It's to Jealousy's credit that Hwa-shin and Jung-won's relationship is as central to this show as any romance. That mudfight is everything, and provides a climax for the first real challenge to their friendship. They have to work out their problem—which is about Na-ri, but it's also not about her at all—without actually involving her, and their reunion somehow achieves that. Although I'm sure it's far from over, I like the definite statement that none of this means their friendship is broken. But I think Hwa-shin needs to pick which side he's batting for, himself or his friend. He is seriously the most knuckle-headed idiot, sending her to Jung-won and pining for her and pushing her away and vowing to win her…pick, Hwa-shin! Either give her up or fight for her!
Lastly, how enjoyable is Sung-sook and Ja-young's evolution from hateful to oddly loveable? I want to play prophet and pick one of them for Chef, but I agree with his thinking: Marry 'em both! Sung-sook has almost mellowed, and these upcoming auditions get more exciting by the day. This episode really captured the impossible position of Na-ri and the weathercasters: blamed if they dare to have ambition, but held in general contempt if they don't. And yet, they take pride in doing their job well, if only for sixty seconds on screen. It basically sucks to be them, but it's so great that Mi-young, as the longest-serving weathercaster, shores Na-ri up instead of tearing her down. Unlike maknae Joo-hee, she knows that the only way they'll hold their own among wolves is by banding together. Their loyalty might spring from survival instinct rather than friendship, but it's no less strong. That's family right there.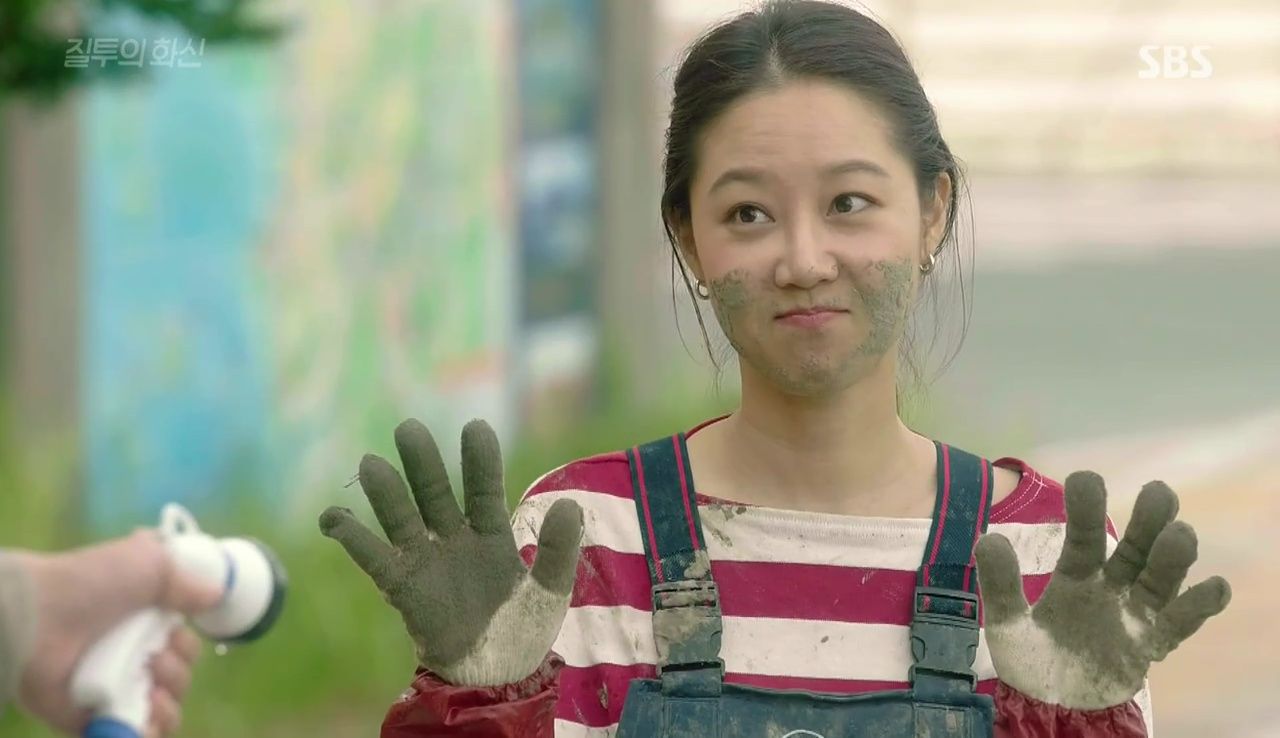 RELATED POSTS
Tags: featured, Go Kyung-pyo, Gong Hyo-jin, Jealousy Incarnate, Jo Jung-seok