[In Defense Of] Noble idiots

Misaeng
By Jig
There is something cathartic about calling fictional characters idiots. There has been more than one instance where I've earned myself an odd stare at the coffee shop for grumbling at my computer screen because of a wrong move a character made. Why is he running away from the one good thing in his life? Why should the second lead be any better than you?
These fools are dubbed "noble idiots" around here because they think they are doing an honorable deed in leaving, but really they are just being dumb. If I were them, I would already be in my love's arms with all the hand-holding and kisses I could ever want. Forget all the lame excuses people come up with. Life is too short not to be with the one you love.

Shut Up: Flower Boy Band
Yet, am I really any better than they are? I have made some dumb decisions in my life; I just don't have a hundred people scrutinizing my every move (at least, not out loud). I have left things unsaid and have run away from opportunities. Of course, I have had my own justifications for doing so: it's better in the long run, it's not worth putting effort into something that is bound to fail anyway, it's just going to end in pain no matter what. We have all experienced similar situations and similar failures. Those mistakes stem from our own character flaws, but it's much easier to find flaws in a character onscreen than in ourselves.
We cannot deny that noble idiocy happens in real life, but a K-drama can pass or fail in using noble idiocy as a plot device by how they characterize their leads from the very beginning. It is always frustrating to see people run away from the one person who will make them happy, but it can at least be understandable, if not relatable, if that decision comes from a character trait evident all along.

You're Beautiful
In Because This Life is Our First, we all gnashed our teeth at Ji-ho running away from a marriage that was finally starting to work. However, I couldn't help but understand her reasoning and the character flaw that lead to that conclusion. From the very beginning, Ji-ho is someone who acts with determination and bulldozes forward. Her friends call her the crazy one who ran away from home to become a screenwriter. When Ji-ho is sexually assaulted and the assault is glazed over, she does not contemplate charging the assaulter or looking for other people to work with; instead, she immediately declares she will never write again. In the same manner, she signs up for a fake marriage with her landlord, Se-hee, in order to ensure a place to sleep, never considering the consequences of such an arrangement.
Ji-ho is also very sensitive and can read more into a situation than is warranted. She mistakes her director's shameless flirting with genuine interest and misinterprets Se-hee's logical declarations and actions as swoony moments. She starts falling for Se-hee and pushes forward until he corrects her assumptions and clarifies his expectations for their relationship. By the time Se-hee appears to have romantic feelings towards Ji-ho, she already has the baggage of the initial rejection and the awareness that she does not know Se-hee as well as she had assumed.

Because This Life Is Our First
We often forget that the characters never know as much as the audience. Ji-ho does not see all the loving glances Se-hee throws her way or the conversations he has with his best friend. She may get the knowledge second-hand, but it is never the same as hearing it from the horse's mouth. Se-hee is a second too late in clarifying his feelings and Ji-ho acts as rashly as always by declaring her desire to end their contract.
The other quality that makes the noble idiocy trope pass or fail is how convincing the conflict is within the drama's world. In Just Between Lovers, Kang-doo's family secret is revealed to Moon-soo, and he immediately shuts himself down and runs away. We have seen this countless times and have been frustrated countless times; however, what makes this different is that in this world and for these characters that this show has so carefully built, there is no other way for him to react.

Just Between Lovers
Kang-doo is so utterly broken, body and soul. The system has failed him and his own body betrays him. His inner turmoil and the guilt he has carried for twelve years is palpable for us. He can only see the dark tunnel ahead and fears he will only drag Moon-soo down with him. As frustrating as it is to see him run, we already know that emotional and physical self-harm is the only way he knows how to react.
However, what also makes the use of noble idiocy so wonderful in this show is how awesome Moon-soo proves to be. She refuses to let him be an idiot, noble or otherwise. With the help of those around her, she knows exactly why he is acting this way and refuses to let him shut himself down. We can all be idiots sometimes, but we should always appreciate that one friend who will call us out on it and not let us run away.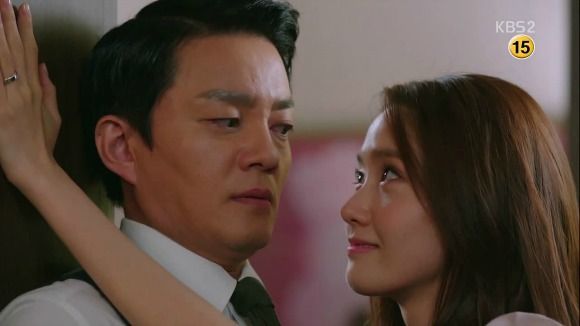 Prime Minister and I
I admit noble idiocy has earned its bad reputation for a reason. What truly aggravates me is when noble idiocy comes out of left field. Prime Minister and I set out to be a very sweet and fun contract marriage between Prime Minister Yul and tabloid reporter Da-jung. Yul's wife died a few years back, leaving him with three children he hardly knows. Da-jung becomes the bridge between Yul and his children as she falls in love with both.
However, the wife is not as dead as you would think. When she shows up, Da-jung just presumes Yul and the kids will want their wife and mother back, despite everyone, including Yul, telling her otherwise. She runs off anyway only to reunite with him a year later with a handshake. Da-jung was such a breath of fresh air in 2014 with her sassiness and refusal to back down, and Yul held strongly to his moral compass and was always straightforward. Yet, the turn of noble idiocy that literally came out of nowhere has left a bitter taste in my mouth ever since.
Ultimately, noble idiocy in and of itself is not a bad or unrealistic plot device. When done well, we can relate to the characters and understand the need for their separation. When done poorly, we are left with a bitter taste that makes us throw our computers across the room. Either way, here's to seeing noble idiocy only on our screens!

Healer

RELATED POSTS
Tags: Theme of the Month