Love & Marriage: Episode 5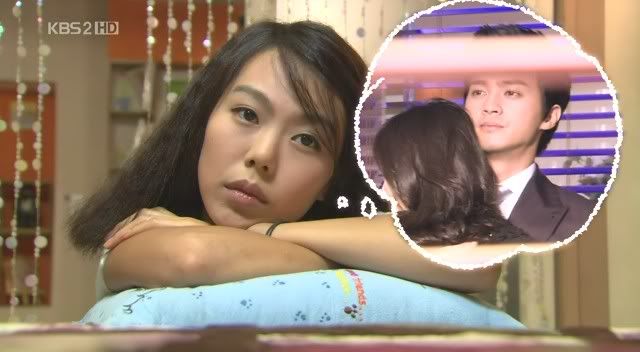 I'm liking Love & Marriage's quick pacing and brisk romance plotline — it's not so speedy that it feels rushed, but it isn't sluggish, either.
Because, lord knows some dramas take forever working up the romantic tension between its main couple, dragging out the developments gra…du…al…ly. While that's not always a bad thing — the slow build has its place — I'm happier when things bump along at a nice clip, just as long as the buildup is believable. After all, we know this couple is going to end up together. The outcome isn't in question, so I'd rather we spend our time on the entertaining courtship.
SONG OF THE DAY
Love & Marriage OST – "연애" (Love) by Maybee ft. Humming Urban Stereo
[ Download ]
Audio clip: Adobe Flash Player (version 9 or above) is required to play this audio clip. Download the latest version here. You also need to have JavaScript enabled in your browser.
EPISODE 5 RECAP
After entering Hyun-soo's office, Kang-hyun sees that she interrupted a moment and excuses herself, but not before Hwa-young looks at them with some awareness, wondering if there's something brewing between the couple.
Kang-hyun hurries out of the law firm, but her exit is seen by the other lawyers, who interpret it as more meaningful than it is. They gossip among themselves, noting that Hyun-soo is currently meeting with his fancy ex-wife. As they misinterpret the situation, thinking Kang-hyun rushed out feeling crushed and angry, Kyung-hwan listens to the rampant speculation with growing chagrin.
(I'm enjoying the silly lawyers and assistants in Hyun-soo's firm because they're like a nosy peanut gallery, and their gossiping is also often wrong. They're like an inaccurate Greek chorus.)
Kang-hyun presents the statements from their scamming couple, impressing Sung-ho with her resourcefulness. Not only has she gotten the money back for the firm (their refunds are invalidated), she got them to 'fess up to their scheme. He's so relieved that he's happy to give her credit for a job well done.
Kang-hyun wants to reveal to everybody that she's not really married, because pretending to be divorced keeps weighing on her conscience. Sang-ho tells her to forget about it; their clients won't respond well to a single couple manager, so she's gotta suck it up and keep up the pretense.
Hyun-soo and Kang-hyun meet on the rooftop to exchange their belongings (her pink bundle, his cell phone), and Kang-hyun apologizes for possibly giving his ex-wife a misunderstanding this morning. He assures her that the situation wasn't as bad as she fears, so it's not a big deal.
As Hyun-soo leaves, Kang-hyun attends to her shoes — since she stepped into the lake last night while they were fishing, her feet have swelled and the shoes are uncomfortable.
Although Kang-hyun assures him she's fine, she stays outside for a while, waiting for her shoes to dry out. A bit later, Hyun-soo comes back and unexpectedly presents her with a pair of slippers. Thrilled, she dances around in glee, exclaiming how comfortable they are, and slips in her excitement. (Kim Min-hee is adorable in this scene. Hyun-soo seems to think so too.)
Later, Kang-hyun sees Hyun-soo in the hallway talking to his former co-worker, the junior attorney who'd contacted her in episode 1 about the con artist. He feels guilty for letting Kang-hyun believe that Hyun-soo was the one who got her fired — while Hyun-soo was the one who talked to her face to face, the junior attorney was the one who reported the matter to the police and got her in trouble. He feels particularly bad because he remembers how angry and difficult Kang-hyun was with him, and assumes that she's continuing to give Hyun-soo crap about it.
Hyun-soo assures him that there's no need for such disclosures, and that things are fine now. He even defends her, telling his colleague, "She's not a weirdo. She must have had her reasons for acting that way." Around the corner, Kang-hyun realizes all the epithets she'd been calling Hyun-soo aren't applicable, since he didn't actually tattle on her and get her fired.
Kyung-hwan feels the need to caution Kang-hyun against Hyun-soo, because after this morning's events, he assumes that they have something romantic going. He warns her that the guy is untrustworthy and just playing with her.
I'm sure Kyung-hwan's concern would be cute if he weren't such a whiny brat (in a totally amusing sort of way). He's warning her since "it's because of me that you're in this position," then wonders, "Are you taking revenge on me to make me feel guilty?" Kang-hyun retorts that Hyun-soo is a good, sincere, and thoughtful man.
Kyung-hwan asks, "Do you like him?" She thinks about it, then concludes, "I don't know about that yet, but I respect him." As she leaves, she wonders to herself, "Have I come to like him?"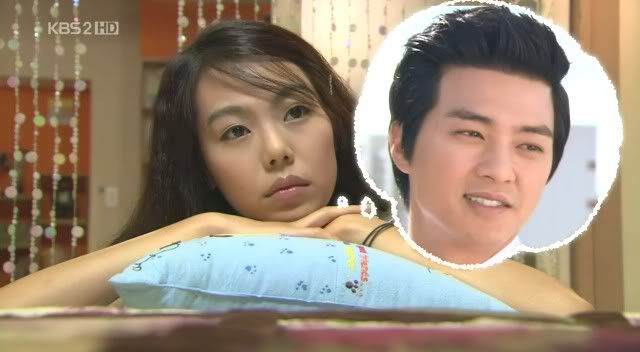 That night, she ponders the situation, thinking back to all she's heard about Hyun-soo. She cheers up when she rationalizes that he must like her back, since he lent her the slippers. Then she remembers his wife, which brings her down again. Thus Kang-hyun goes back and forth, trying to figure him out.
It's the little moments that make me laugh out loud, such as when Kang-hyun's friends assure her that they'll start chipping in with living expenses. (She's the only employed one, and with her recent debts, money is getting tight.) Hee-soong (on the left) sighs, "The electric bill will be high. Let's turn off the lights." And the three sit in the dark as they mope.
Hyun-soo has dinner with ex-wifey, during which she casually asks whether they should give it another go together. Hyun-soo changes the topic, asking about her mother's health instead, so Hwa-young accepts that he's not on the same page with her.
Noting that Kang-hyun and Hyun-soo seem to be friendly, Hwa-young asks what kind of person Kang-hyun is. His response: Kang-hyun is the kind of person who's always "120%" with everything she does — always talking, thinking, moving. But when he calls her "a cute woman," Hwa-young is actually relieved rather than threatened, since Hyun-soo's taste in women doesn't run toward the hot-tempered and cute.
Sung-ho and Kang-hyun go out to lunch and run into Hye-sun eating with Kyung-hwan. (Sung-ho is immediately jealous, thinking his ex-wife is dating a cute younger man, but is soon relieved when he hears this is merely the new employee.)
When asked what Kyung-hwan was like at college, Kang-hyun answers sweetly that Kyung-hwan was a ladykiller, particularly with the older noonas, always mooching off them. Kyung-hwan retorts back that Kang-hyun was the same with younger men, and while the older couple aren't looking, they kick each other under the table and stick out their tongues. They are so childish and annoyed with each other it's hilarious.
Kang-hyun gets a wedding invitation from her (scammer) couple, inviting her to come with Hyun-soo. Kang-hyun drops off the invitation at Hyun-soo's office, then spends the night trying on different outfits in anticipation of their wedding date.
What's cute is that Kang-hyun has realized she likes Hyun-soo, and she's honest with herself about her feelings. Plus, she plans her wedding attire not just to look good, but to look good with him. Her friends, not knowing that this wardrobe exercise is for Hyun-soo's benefit, look on like she's crazy.
At work the next day, Kang-hyun giggles to herself and looks forward to the wedding with giddy anticipation. However, when she drops by Hyun-soo's office, he's engrossed in work and won't be able to make it. On top of that, even if he weren't busy, he doesn't seem enthusiastic about the idea, asking, "Is there a particular reason I should go?" Deflating, Kang-hyun goes off alone. She struggles to lug her heavy wedding gift on the subway, having anticipated getting a car ride with Hyun-soo.
During the ceremony, she excuses herself to step outside and sit alone, bummed. So when Hyun-soo unexpectedly appears in front of her, she perks up and greets him enthusiastically. It turns out that his meeting was canceled, and hearing that he was going to be free unexpectedly, his drooling female co-workers had organized a company dinner, eager to claim his attention. With flirty females clinging to either arm, Hyun-soo had glanced at his wedding invite and cited a prior engagement. Thus here he is.
Kang-hyun presents the couple with their gift, which is a framed canvas bearing the calligraphied words "love marriage."
They protest that theirs was an arranged marriage, not a love marriage. (The terms refer more to the origin of the relationship, not the nature of the relationship itself, so an arranged marriage doesn't mean it was necessarily without love.) Kang-hyun answers that arranged matches can also be considered love matches, because "you two chose love over qualifications. So I think you've made a love marriage." She congratulates them and wishes them a happy future.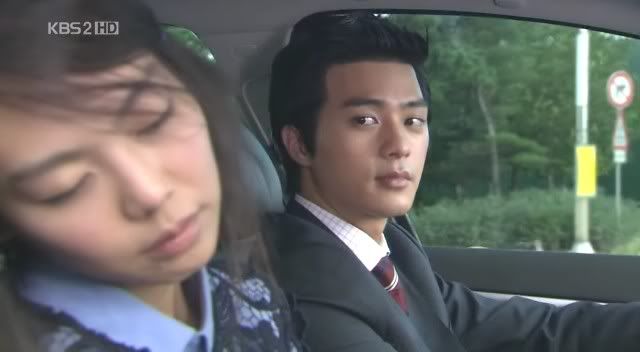 Having seen her in action, Hyun-soo comments that Kang-hyun is good at her job, but she tells him she has a long way to go: "Before being a good couple manager, I've got to be a good person first. A good colleague, a good friend, a good girlfriend, a good woman." Then she remembers "good daughter," and asks Hyun-soo to drop her off at the bus station so she can visit her parents.
But Kang-hyun falls asleep in the car, and Hyun-soo decides to drive her all the way to her parents' hometown, which is outside Seoul.
Kang-hyun's fastidious mother refuses to come along to the sauna room, so it's just father and daughter bonding time. It's clear Kang-hyun's parents have far from an ideal marriage, with Mom looking down on Dad, and Dad bearing the brunt of her snooty attitude. They've settled into a familiar pattern, both of them resigned to each other. (I think of them as dissatisfied, but not really miserable. More like apathetic.)
Kang-hyun's father assures her that she doesn't need to repay the 2 million won immediately, so she can concentrate on paying Kyung-hwan back first.
To this end, her friends come up with the plan to sell Kang-hyun's clothing, since she has so much of it and most of it is high-quality stuff she never wears. They intend to sell the clothes online, but Kang-hyun has a hard time parting with her beloved (though mostly unworn) wardrobe, and resists.
New plotline. Hyun-soo has a new client, a struggling actor who's filing for divorce from his wife. When Kang-hyun drops by Hyun-soo's office (determined to come clean to him about not really being divorced), she recognizes the man as a sunbae (senior schoolmate) from her college days.
Unfortunately, her excitement at meeting Wan-ho after all these years is cut short when she hears that he's divorcing. This was the first couple Kang-hyun paired together, and she can't believe such a well-matched couple is on the brink of divorce. She swoops into action, determined to get them back together.
In the seven years that they've been married, Wan-ho and his wife moved to the States, where the wife supported the family (they have a child) and worked. Wan-ho feels his wife is too selfish and demanding, while the wife feels that Wan-ho needs to grow up. The starving artist shtick was cute when they were younger, but no longer. Wan-ho had a hard time in the States — his career stalled, his English is bad — and finally couldn't take it, running back to Korea. They've been apart for the past three months.
Kang-hyun gets on the phone with the wife, making her calls in the dead of night to deal with the time difference. She's convinced that they need to hear both sides of the story before proceeding with the divorce.
Kang-hyun asks Hyun-soo to help convince the couple not to divorce, but Hyun-soo believes that the relationship is at an irreconcilable point. They argue — she believes he's too willing to divorce people, while he charges her with wanting to keep them together for selfish reasons, because they're a couple she brought together.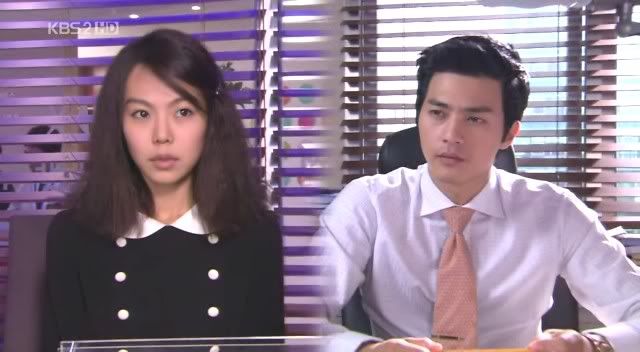 Him: "It's my job to bring happiness to two people who are unhappy together."
Her: "Has divorce made you happy? They're both sensitive people — if they divorce, they'll both be hurt badly… I won't just let you split them apart."

COMMENTS
I always love the moment when a person realizes they have feelings for the other, and in this episode, Kang-hyun was first to get to this point. Her reaction is straightforward and decisive, much like her personality, and as soon as she realizes how she feels, she acts on it. Not in an aggressive way, but in a forward-moving way, because Hyun-soo's not quite ready for the same realization. He's a step behind her and comes with more baggage, which he needs to figure out how to handle before embarking on another relationship.
But it doesn't look like he's going to be that much behind Kang-hyun, because he spent a lot of the time casting sideways glances at Kang-hyun in this episode, often when she wasn't aware of it. And although this latest divorce case throws a wrench into their budding romance, I'm pretty sure it's not going to be a huge obstacle.

RELATED POSTS
Tags: Kim Ji-hoon, Kim Min-hee, Love & Marriage