IRIS: Episode 3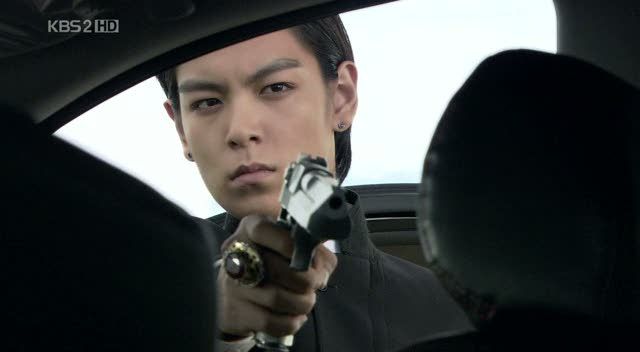 My fave bad guy
Hello everyone! I'm kaedejun – and I will be doing the recaps for IRIS starting with episode 3. I know that it was the biggest competition against the much beloved You're Beautiful – of which I am completely addicted to and love as much as Coffee Prince. However, I can't resist the appeal of Kim Seung Woo (he he he), and so even though I am a You're Beautiful supporter, I still want to watch IRIS.
Thanks a lot to Javabeans for letting me recap this series. I hope that it does not disappoint, and that there is something more to this drama than just the flash-bang-pizzazz that seems to draw in such high ratings each week!
Episode 3
We begin with Hyun Joon staring at the painting in the President's office. He begins to have flashbacks of when he was a young boy with his parents visiting the then-President of Korea. His parents were nuclear scientists, and they were murdered by an unknown assassin.
Hyun Joon is troubled by these flashbacks, but keeps his emotions under control. Just then the President arrives, and thanks them for saving his life. Sa Woo informs him that they are from the NSS, but the President is not aware of the existence of NSS.
An advisor later informs the President the history of NSS. Established in 1976, Korea's central intelligence had double agents working with the CIA. Since the former President was developing a nuclear weapons program, and wanted to keep it a secret from the US, he established NSS to oversee this nuclear program. Now, they not only safeguard the President but also protect the nation's secrets.
The President wonders whether the NSS is still necessary, and his advisor suggests that the organization may prove useful to him in the future.
Meanwhile, a brooding Hyun Joon goes to a bar – he replays his memories of his parents' accident, lost in thought, when suddenly Seung Hee arrives. She teases him about being nervous in front of the President (according to Sa Woo's stories), and he deflects by asking her out on a date.
They go to the orphanage where Hyun Joon was raised since he was 7 until high school. Seung Hee did not know he was raised in a religious orphanage, as she was not given his background information from before he joined Special Forces. He tells her he has no memory of his childhood before he was 7, and now he wants to find out.
He greets the Father, who calls him Michael. Hyun Joon asks the Father if he knew anything about his parents. The Father mentions that this is the first time he has ever been curious. Hyun Joon finds it strange himself that he never once wondered what happened to him.
The Father tells him that he was brought in by a city worker, and there was no information about him. Because he was so traumatized, Hyun Joon had not uttered a single word when he first arrived, and it took him a year to adjust to the life at the orphanage. It is strange that neither the orphanage nor the NSS have information on his background prior to his joining Special Forces.
Seung Hee asks the statue of the Virgin Mary if it is ok to love someone full of secrets. When Hyun Joon asks her what the Virgin Mary's response is, Seung Hee answers, "She said what difference does the past make?" It's a sweet way for her to show how she accepts and still loves Hyun Joon despite his past, and they walk down the center aisle out of the church like a married couple.
The Father calls up a mysterious person and informs him that Hyun Joon had visited asking about his past, that he did not seem to know anything. The next shot reveals that the Father was talking to (OMO!) Bureau Chief Baek San! (Obviously the all-knowing chief had to know something). Just then, Sang Hyun comes in and informs the chief that the President wants to see him.
The President confronts Baek San, and asks if he thinks the NSS is still necessary. Baek San says that he is not in a position to make such a decision; the NSS merely follows the orders of the President, even if it means putting their lives on the line. But they do not get involved with politics. The President then asks a final question: "How far did we get with the nuclear arms technology program? Is it true we did not get far?"
Baek San answers that he understands it to be true, that because of the change in administration and the desire to win the favor of the US, the weapons program was abandoned. However, the President (so ever sharp that he is), asks where the information for building nuclear weapons is, because even if the projects were not completed, the information could not have just disappeared.
Baek San says he does not know where the information is, as it was not under his area of expertise. However, based on his expression after the meeting, it is clear he does.
Sang Hyun informs Hyun Joon, Sa Woo, and Seung Hee that they have all been granted vacation for their work in saving the President. Sa Woo is excited, and Seung Hee and Hyun Joon exchange mischievous glances.
As they walk out of the building, Seung Hee passes Hyun Joon a piece of gum; the writing in the wrapper suggests a trip to Japan. As Sa Woo is distracted by a call from his mother, Seung Hee asks if it is ok; Hyun Joon makes a cute gesture and hand signals an "O.K."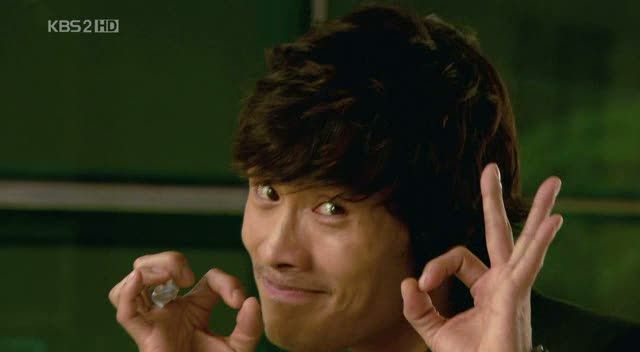 Seriously – how cute is that!?
Shanghai, China: Vic receives his next target: Kim Il joong. As Kim Il Joong tries to relax with a lady friend, one of his guards calls him and is shot dead as soon as Kim picks up. Kim's guards fan out, and see the elevator coming up. The four guards strike their coolest, most bad-ass poses, and as soon as the doors open, they shoot like mad…at the corpse of the first guard.
One by one, each guard gets picked off by Vic, and I have to say, that assassin has quite creative ways in killing his prey. One is dragged over a stairway railing and neck snapped; one is strangled by a string as Vic hangs over him in the air vent; another is karate-chopped to death; the last two, guarding Kim, are shot to death behind a sheer white curtain in front of Kim.
Kim calls his contact; they are going to have to put all of their hope in Hong Seung Ryong. TOP comes up behind Kim and says, "Give me the IRIS list you have."
Kim denies any knowledge of it. TOP shoots him in the back of the head, execution style. Finding nothing, he has no choice but to track down Hong Seung Ryong next. He sees the dress of the lady friend, discovers her hiding in the bathroom, and instead of killing her gives her the dress and leaves. (Aw. He has a heart – that is totally going to pay off sometime in a future episode, I bet.)
Baek San is given an urgent call in the middle of the night: Hong Seung Ryong, the head nuclear researcher from North Korea, is the new target. He has defected and is seeking political asylum, heading for Hungary first. Sang Hyun has the agents called back from vacation.
Akita, Japan: Seung Hee and Hyun Joon are enjoying a wintry vacation in Japan. They ask for directions from a school girl named Yuki to the nearest hot springs, and the girl is infatuated with Hyun Joon from his first smile.
At the hot springs, Hyun Joon and Seung Hee are expecting to be enjoying exclusive hot spring pools, so when they both come out of the locker room leading to the same hot spring, they are shocked to see each other clad in only a towel. (Come on, are we REALLY supposed to believe that the two of them have NOT seen the other with less than a towel on?)
They realize that the one pool is a co-ed one, and so they change into their yukatas, too shy in front of each other to take off their clothes and soak in the pool.
Seung Hee says she's going to soak in, sparking Hyun Joon's delight at the possibility of seeing Seung Hee naked. However, they are interrupted by the presence of Yuki, who appears to be working at that hot springs, and she delivers them sake.
Hyun Joon thanks the girl and strokes her cheek, which causes Yuki's heart to flutter with excitement. (Again, REALLY – Lee Byeong Hun – do you think that by doing that a girl would NOT fall in love with you?)
Back at headquarters, Sa Woo is surprised and wonders why Hyun Joon and Seung Hee aren't around. Sang Hyun tells Sa Woo to go to Hungary first and get his assignment there. Sa Woo becomes suspicious that it is both of them who are missing.
In a weird homage to Winter Sonata, the two lovebirds walk around in the snow and throw snowballs at each other. Seung Hee tackles Hyun Joon and while she's on top of him, she asks:
Seung Hee: Why did you kiss me so suddenly that day? Was it a challenge or was it love?
Hyun Joon: I think…it wasn't just a kiss, but because from those beautiful lips of yours, crude words were pouring out. I just wanted to shut it for a bit.
Seung Hee: Then…I will have to say lots of crude things from now on.
And she kisses him. The two of them are so cuddly it's amazing they're both tough NSS agents.
Balaton, Hungary: Sa Woo delivers room service to where Hong Seung Ryong is staying. He is stopped by a bunch of European bodyguards, who inspect the dishes. A strawberry topping on a cake whizzes out of its place and turns on – gas fills the room and knocks out the guards.
Sa Woo, protected by a gas mask, brings a spare to Hong and helps him escape. He kicks a few guards' butts, then shows off his motorcycle riding skills as he evades the guards. They reach a dock, and Sa Woo and a stunned Hong escape on a small boat far from the guards.
Back to the lovebirds.
Hyun Joon enters a store to purchase something, leading to Seung Hee to smile ridiculously and demand that he give her the contents of the bag during dinner. Hyun Joon doesn't understand what she wants – it turns out, he just bought some pairs of underwear!
Seung Hee is miffed that he did not get her anything – not even candy for White Day. She refuses to talk to Hyun Joon, prompting him to leave the restaurant. Seung Hee pouts, and expects him to come back, but he doesn't.
She waits outside the restaurant, wondering if he'll ever return for her, and soon enough, he comes around the corner, STILL empty-handed. Seung Hee is annoyed, but he grabs her face and kisses her. As he does, he puts a piece of chocolate in her mouth.
Back at the hotel, they sleep on their own sides of the large bed. Hyun Joon is itching to get it on with Seung Hee, but he has to act cool. First, he lays his arm under her chin, but she doesn't respond. He gets on top of her – she doesn't respond.
He leans in for a kiss – she opens her eyes, and he immediately rolls over to her other side and says that he would feel a lot more comfortable sleeping on her side of the bed. His tactics are obvious, and she gives in to him.
All I can say is, Lee Byeong Hun has one hell of a muscular body.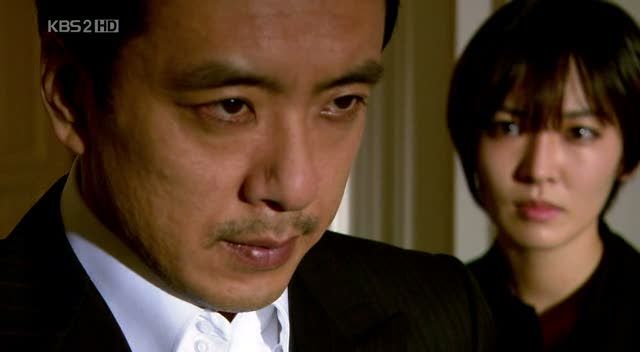 Park Chul Young and his right-hand-woman Kim Sun Hwa arrive at Hungary and see the dead bodyguards. They are not pleased.
While waiting, Sa Woo approaches Hyun Joon from behind and asks him where he went for vacation. Hyun Joon admits that he went to Japan with Seung Hee. He's gleeful, but he does not see Sa Woo's heartbroken face. Hyun Joon tells him that he plans to marry Seung Hee after the assignment is over, and get her to quit.
Baek San meets with the President and his advisors about granting asylum to a North Korean nuclear scientist, and advises the President to wait for their conclusions regarding Hong's intentions to defect North Korea.
Seung Hee questions Hong inside a chapel, forcing him to talk by showing him a picture of his family. She reports back the assessment to Baek San, and they await the President's decision.
Turns out, the President wants to grant asylum – despite the political fallout – because…he is interested in developing nuclear arms himself.
Back in Hungary, the three agents receive word and escort Hong to go back to South Korea. Suddenly they find the local police on their tail and after some swift maneuvering, Sa Woo gets them all safely to an airfield, where they transfer him over to other agents and then leave.
This Hungarian can't believe the mess the local police made on his street, so to solve this headache, he drinks his beer.
As the agents and Hong head over to another, more private airfield, the driver is immediately shot dead. Another agent steps out of the car and is immediately shot in the head by a sniper bullet far away – it's Vic.
Vic eliminates all the agents around Hong, and he goes over to the car. He asks for the list from Hong, but Hong does not understand his request and does not say anything.
Too late, TOP shoots Hong dead as Hyun Joon broods over the rosary Hong handed him in the chapel.
Comments:
Ok, I think I will comment first on the acting.
I have to give some credit to Kim Tae Hee because she did improve a bit from the last I saw her. However, she does always have a bemused expression when she says her lines, similar to how Hilary Duff would recite her lines – always with a twitch of a smile. It is not befitting for a serious NSS agent that she's supposed to be, but it does fit her character as someone constantly surprised and amused by Sa Woo and Hyun Joon.
The whole Japan escapade was a bit too long, as though it was just a montage to show how amazingly pretty Japan is in the winter time. I guess it was necessary to show how Hyun Joon and Seung Hee grew closer and closer, because there were a lot of moments that showed the other side to their characters as romantics or cuddly people. Lee Byeong Hun is funny in this part because you can totally tell he has one thing on his mind. He's cute when he collapses from traveling in the hotel, but perks up at the suggestion that the two of them wash up – he thinks they're going to do it together.
Lee Byeong Hun definitely looked like he was having fun – he has the funniest expressions that he makes Kim Tae Hee and Jung Joon Ho look wooden. Except Jung Joon Ho's face is so expressive…
But the most fun part of this entire episode was seeing TOP!!! He doesn't have much to act with – but my God he is cool. I have never heard him sing before, or seen him act before, so for me, this is a complete surprise. I loved the way he killed off the guards for Kim Il Joong (haha at the name…can a pun be any more obvious?), and how he just coolly shoots people down. If there ever was a believable assassin that exists in this series, it's TOP. He is like the killers that chase Bourne in all three movies – the silent, cold-blooded killer who is just good at what he does. They need to give the man more lines.
Kim Seung Woo and Kim So Yun – I hope these two have more prominent roles soon, because I can feel they are such delicious characters.
The only thing I don't like about the series is how everything seems to be episodic. So ok, TOP needs to get this "list" – but he kills everyone that knows about the list. So where the hell is he going to get it now? It basically allows for Vic to kill another target that NSS is somehow simultaneously searching for.
This drama is also trying too hard to balance the romantic drama with the action drama. I'm watching it for the action. I want to know more about what the hell IRIS is and why people are killing other people. I don't care for whether Lee Byeong Hun is going to get his girl or not (frankly, I love Jung Joon Ho more and this is a rare moment where I'm actually rooting for the second male lead to get the girl!)
There are a lot of loose threads that I feel can be easily tied up. For one, I think Baek San might have been involved in the death of Hyun Joon's parents and was actually the assassin that shot them dead. I also think that the IRIS list and the rosary that Hong gave to Hyun Joon are connected; I may be wrong, but just the way that the episode was cut made it seem like they are connected somehow. These two storylines can easily be done in two more episodes. I'm wondering if these threads can really last the entire series. I hope that the mysteries are going to be fully fleshed out and a lot more complicated than they seem to be right now.
Next episode brings us back to the present in Hungary, where Hyun Joon gets his assignment to kill the North Korean ambassador. FINALLY! Let's get to the present and move forward!
RELATED POSTS
Tags: IRIS, Jung Jun-ho, Kim Seung-woo, Kim So-yeon, Kim Tae-hee, Lee Byung-heon, TOP