My Princess undergoes a PD switch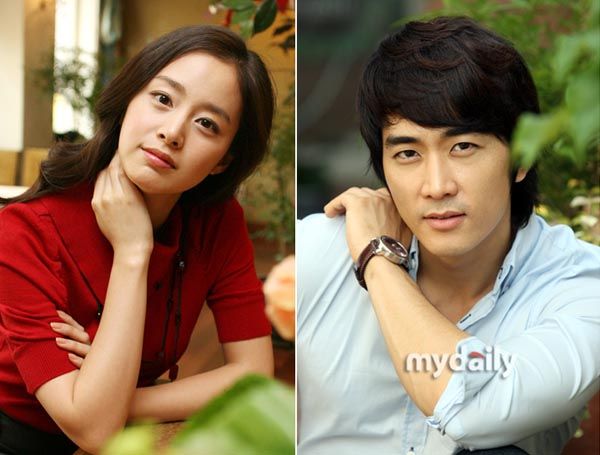 Kim Tae-hee and Song Seung-heon's new romantic-comedy series, My Princess, is about a month from entering its first shoots for its January 2011 premiere, and has undergone a recent director switch. Originally to be helmed by Hon and Fantasy Couple director Kim Sang-ho, now it'll be led by Kwon Seok-jang of Pasta and Radish Kimchi.
According to a source with the production, this switch comes as a result of PD Kim incurring an fracture to his left leg that will require 12 weeks to heal. PD Kwon apparently has another drama in the works that is aiming for an October 2011 broadcast, but he'll be putting that one on the back burner while he tackles My Princess first.
The MBC drama centers around the love of an "ordinary university student" (Kim Tae-hee) and a chaebol-turned-diplomat (Song Seung-heon). Excuse me while I get over my laughing fit at both of those descriptions. It's like they're taunting us, Go ahead and try to suspend your disbelief, I dare you. Her character is an older student (as in, she attends university later than the average student) who is described as "sly and thrifty," and turns into a princess overnight.
Due to the sudden replacement of the director, My Princess is currently undergoing some script revisions. (Eek to last-minute story changes!) It's being penned by Lovers in Paris and On Air writer Kim Eun-sook, along with new writer Jang Young-shil.
While I don't have strong opinions about either PD, I'll admit that I preferred Kim's work to Kwon's, and wasn't much impressed by the look or the pace of the latter's Pasta (cute drama was cute, but only thanks to the shining two stars and their chemistry). On the other hand, I'd been quite intrigued by the way Kim managed to create the perfect ambiance for his horror-thriller Hon (Soul). Oh well, what can ya do? Watch and laugh at the ridiculous shenanigans, I suppose.
RELATED POSTS
Tags: Kim Tae-hee, My Princess, Song Seung-heon