Romance Town: Episode 5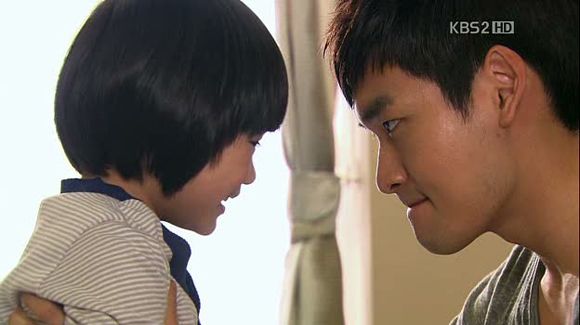 Ack! I can't believe how excited I was for this episode, and I was not disappointed at all! Plenty of revelations and plenty of fun, plus the return of Granny Choon Jak! My theory is, now that she's done being Scheduler's sunbae, she has time to become a normal human being again – even if it's just a maid.
SONG OF THE DAY
Alex – 웃으며 안녕 (Good Smile) from Romance Town OST [download]
Audio clip: Adobe Flash Player (version 9 or above) is required to play this audio clip. Download the latest version here. You also need to have JavaScript enabled in your browser.
We start off with Young Hee carrying Soon Geum out like a knight in shining armor. The other maids are nervous; they've never seen Young Hee so angry, and they're more embarrassed at having been overheard than being loud. Da Kyum is troubled – it is her man who's carrying another gal out of the house. Soo Jung pushes Gun Woo out with: "Aren't you the owner of that house?"
Young Hee carries Soon Geum to his car to go to the hospital. She struggles; she can get better with just some sleep! Young Hee tells her to be quiet and throws her over his shoulder. She then spots Gun Woo standing outside the front door. He gets riiiiiight up to Soon Geum's face and takes a good look at her.
He addresses Young Hee – isn't his hyung going overboard by taking care of his maid? Young Hee: "So YOU take care of her then…my back hurts." But that would mean Gun Woo has to take care of the maid he dislikes, so he says, "Well, you were about to do it anyways – so carry on." "But you're younger!" "But you're used to carrying women in your arms." "But I was working all day." "But I was playing all day – and that's harder than working!"
Tired of listening to them argue, Soon Geum knees Young Hee in the stomach and he drops her to the ground. She's annoyed that they're treating her like a burden and would rather they just not be interested in her. She brushes herself off and heads back home. Young Hee and Gun Woo notice at the same time that she's not wearing any shoes, and they both stride towards her.
Gun Woo wins. He sweeps her off her feet, and carries her princess-style. She's shocked to see HIM holding her. Young Hee tells her that she's not supposed to walk barefoot since she's a girl. Soon Geum: "A maid isn't a girl." Her mom had once said that maids aren't even humans. Though Gun Woo doesn't say anything, he seems to take her answers to heart.
Gun Woo: We'll switch (carrying her) every 10 meters.
Young Hee: Just carry her to the door. I'll carry her to the room.
Soon Geum: The other guy was more comfortable…
Gun Woo: What!?
Young Hee carries Soon Geum into her room. He asks about her mom's occupation, and she says, "A maid." Young Hee is silent, but he quickly smiles and says there's nothing wrong with that. But then Soon Geum adds that her grandmother was a maid, and Young Hee realizes that she's the third generation of a family of maids. But he doesn't look down on her for it.
His family was from the lower class too. His grandfather and father used to call him "son of a peasant," or "peasant bastard," alluding to their ancestry, but it could just be them berating the wayward third generation. Young Hee prepares her bedding and tells her to go to sleep. Soon Geum has never had anyone care about her in this way before, much less from a master. She contemplates being his maid instead.
The maids leave Da Kyum's house, taking in the cool evening air, and Soo Jung swats at Hyun Joo's sashaying butt. They start chasing and teasing each other. It's funny how the two oldest maids are the ones acting like kids.
Da Kyum takes out her frustration towards Young Hee by washing the copper pot he had thrown out of their room. It's completely dented now, and she scolds Young Hee for wasting money by not taking better care of his things. He grabs her face and clocks her forehead with a finger: "Are we using your money? No. We're using my money." GAH! I hate how he always hits her, and yet it's also funny how he teases her like she's his younger sister. And yet! It frustrates me that he sees her as a little kid and not a potential love interest. AND YET! I feel like this is their way of flirting…
Soon Geum goes to the living room to turn off the lights, thinking that Gun Woo is in his room already. All of a sudden a cellphone rings and Gun Woo pops up from lying down on the sofa. It's Joo Won, and he clears his throat a couple of times before answering. (He's nervous!?) Joo Won is looking at a photo of the two of them with Young Hee, but she covers Young Hee, setting her sights on Gun Woo. Ugh – I'm disliking her more and more.
Soon Geum listens in from afar. Joo Won wants to come over – will Gun Woo be alone tomorrow? Gun Woo says he will be, causing Soon Geum to mutter bitterly if she and San don't count as people. Gun Woo seems excited at the prospect of having a pretty girl coming over to his house, but then he whips around, checking to see if anyone overheard. No one is there, and he's visibly relieved.
Suddenly, he gets hit in the eye by a squirt of cold water. On the second floor overlooking the living room, San is shooting his water gun down at Gun Woo; "Bang bang!" AHH! Good job! Beat your older brother up!
Gun Woo yells at him to stop. At his age, he shouldn't be playing with guns, but if he must shoot someone, he should go shoot the dog or his friends. He wants San to come down immediately and apologize, but San just crouches down, hiding behind his water gun. Gun Woo's voice even cracks as he tells the boy to come down. If Gun Woo weren't so angry, I swear he'd be adorable with kids.
Da Kyum takes Soon Geum's heeled booties to the Kang Residence. She's so angry at Young Hee that she throws the boots at the dog for him to chew on. But then she thinks of Soon Geum, and places them in front of the door.
Back at home, Young Hee and Da Kyum share some ramen. He wonders what the ladies would do if they won the jackpot, since the winner of the $14 billion is from their neighborhood. He muses if any of the maids in particular could have been the winner.
He lets his imagination wander. If Zar Lin won… she would ask the driver (?) if he wanted to go back to Vietnam with her. If it was Hyun Joo or Soo Jung, they would be asking for plastic surgery to make themselves look 10-20 years younger.
If Soon Geum won, she would be dressed in a fine strapless pink dress, with Gun Woo cowering before her. She would fire him, and turn to Young Hee, whose back is being used as her seat! He would serve her tea and become her new manservant. Needless to say, Young Hee cracks himself up with these fantasies.
He turns to Da Kyum – what would she do if she won the jackpot? She says that she would totally show off her money to the mistresses, and then lie on a bed of money. Young Hee clocks her on the forehead; obviously Da Kyum would leave 1st Street (their neighborhood) if she won. But Da Kyum petulantly says that Young Hee is still here; even if she won a lot of money she would never leave his home. In Young Hee's opinion, there's no way any of the house maids won the money, because why would they continue being a maid?
Now let's go to the rich people, where they've all arrived at a fancy resort/spa for some R and R. Yoon Joo is having a facial with Soon Ok and Boon Ja, and she finds out that Jang Chi Gook is alone in the house with Hyun Joo. However, the wives aren't too worried about Hyun Joo; they see her as a shy, defensive woman, so hurt by her ex-husband that she would never meet a man's gaze again.
Yoon Joo scoffs; there's no way they're talking about the same Hyun Joo (who's currently at home giving herself a facial). When they were in high school together, Hyun Joo used to flirt with all the boys from the nearby all-boys' high school. Wait what?! Yoon Joo was classmates with Hyun Joo?! WHOOPS.
Little do they know, Jang Chi Gook is knocking at Hyun Joo's door, begging to see her. But Hyun Joo insists she's asleep, to prove that she's not an easy woman.
In the sauna room, Tae Won is joined by Hwang Yong, who sees the large carp tattoo on Tae Won's back. Tae Won admits that he's earned money every possible way except using his fists. Shady. They trade locker keys. Hwang Yong opens Tae Won's locker and finds a huge gold bar equivalent to about 50,000 Won. Tae Won had deposited 220 of those gold bars in Hwang Yong's account. In Hwang Yong's locker, Tae Won finds the lottery ticket.
That evening, Boon Ja can't sleep in peace. She wonders if the ring belongs to Hyun Joo. What if they're doing the hanky-panky RIGHT NOW!?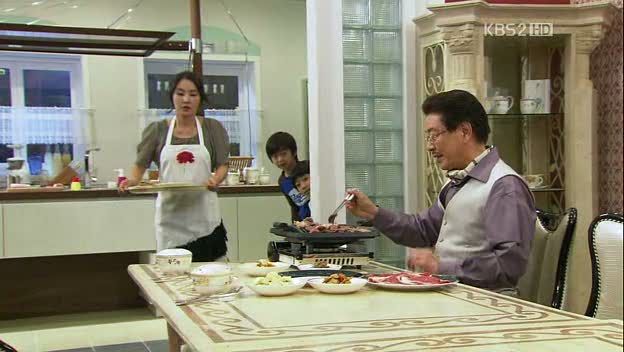 Jang Chi Gook is in the kitchen, and Hyun Joo frets that she'll be slayed if the mistresses find out. Guess what? Chi Gook is grilling some barbecued meat… for Hyun Joo's sons! Hyun Soo and Min Soo's stepmother didn't feed them, so they came over to Hyun Joo's home. Once the meat is done grilling, Chi Gook leaves; he wants the boys to eat comfortably with their mother.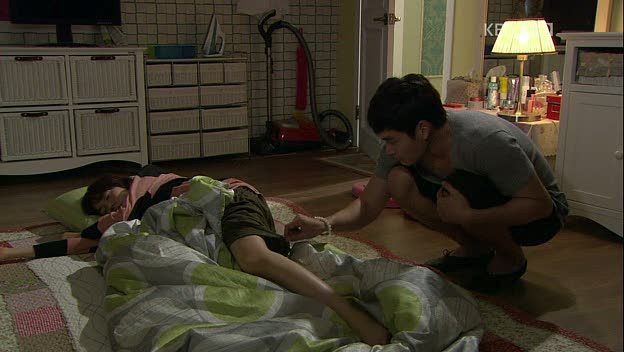 Gun Woo wakes in the middle of the night, curiosity getting the better of him. He tiptoes into Soon Geum's room to drop off the fever medication and to check her forehead. He notices her skirt has ridden up and tries to pull it down gingerly. Unfortunately, Soon Geum wakes up and slaps him right in the face. But that's not enough – she grabs her pillow and smacks him repeatedly. "I'm a woman too!" she yells. "Get out!"
Just because she's a maid doesn't give him the right to traipse around her room freely; he doesn't own her. She continues hitting him, "Just when I started to believe that we were a family! I mistakenly believed we were almost family!" Finally, Gun Woo can't take the abuse anymore and grabs her arms to stop her. He tells her it's not his fault her skirt was up past her knees. Once she's calmed down, he lets go, looking almost wounded.
Soon Geum kicks the door closed behind him amd locks her door for good measure. That's when she finds the fever medicine by her bed. Gun Woo collapses on his bed, thinking his kind gesture has gone unnoticed.
The next morning, Hwang Yong and Tae Won stroll around the golf park. Tae Won asks if Hwang Yong will ever remarry; it'd be good if Hwang Yong has a woman, even if he doesn't love her, because then it's a sign of success. That's how Tae Won views his wife.
Yoon Joo dives in the pool for a morning swim. As she finishes up, Hwang Yong comes to meet her, looking at her strangely. And then….
HE KISSES HER! *GAAAASP*
Yoon Joo slaps him across the face. She says that she's Kang Tae Won's wife, so what the hell is he doing? Hwang Yong said he kissed her to see if she really loved her husband. He verified it inappropriately, but it's also because ever since she arrived on 1st Street, he's been in love with her. OMO – confession?! Yoon Joo walks off without another word.
Unable to take it anymore, Boon Ja drags Soon Ok home to check on their hubby. Boon Ja bursts Hyun Joo's door open and she sees a male head peeking out of the covers next to Hyun Joo. She whips the blanket off, just as Soon Ok uncovers her sleeping husband. So Soon Ja found her husband sleeping alone…and Boon Ja found Hyun Joo sleeping with her son.
Hyun Joo quickly explains that it was her eldest son's birthday and she wanted to cook him food. She says she'll send them off quickly, but Boon Ja (perhaps relieved at not finding Jang Chi Gook there), says that it's fine – they can stay until after breakfast. She then mentions that Yoon Joo had said they went to school together.
Hyun Joo is shocked – she didn't realize that Trophy Wife = classmate Seo Yoon Joo, especially with all the plastic surgery the woman must have had.
Gun Woo gets an awesome wake up call – San spraying him with a water gun! Finally Gun Woo gets the hint; San just wants to play with someone! When San shoots again, Gun Woo pretends he dies on his bed. San cautiously approaches Gun Woo, and that's when Gun Woo picks him up and tickles him. AHHHH SO CUTE! Brotherly love.
Soon Geum is happy to hear San laughing as he rides down the stairs on his elder brother's shoulders. But this happy morning is interrupted by the presence of Joo Won. Gun Woo puts San down, slightly embarrassed, and Joo Won fixes his messed-up hair. He notices Soon Geum watching and fixes the hair himself.
Suddenly, San squirts water at Joo Won. (Yeah! You go boy!) While she's shocked by a little water, Gun Woo starts slapping San's butt for spraying at just anyone. He tries to confiscate the gun and San breaks down in tears.
Soon Geum quickly comforts the baby boy. Gun Woo yells at her for being overly indulgent, but she argues that the little boy just wants to be friends with others. He sees Soon Geum all day long, so clearly he'd like to play with a pretty ahjumma like Joo Won.
Joo Won is left forgotten, and she quietly makes her exit. (HA! Good.) Soon Geum is also not afraid to yell back at Gun Woo, which completely throws him off. He wants to speak to her privately, so Soon Geum sends San off to her room first, and then says she wants to cook first or else be blamed for neglecting her duties. But he says they can just order food, even though he has no money.
She even mentions that Gun Woo owes her money from the alcohol three years ago, plus interest. He knows she's seen the money in his desk, so she could have just taken it for herself. But Soon Geum thinks he'll rip her off – because she saw his wallet while doing the laundry, and it was completely empty.
Gun Woo actually teeters from shock – his secret is now out, his pride hurt. Sensing this, Soon Geum tries to cheer him up by saying that she'll buy jajjangmyun for him. But now Gun Woo gives in; she can just cook and save money. She claps him on the back – he should just be strong. And guess what – now they're both the same! (Well not really, more like their wealth has reversed, but Soon Geum's not telling him that!)
As Soon Geum gets the mail, she sees Young Hee driving out, and shyly thinks of when he carried her. Uh-oh – is she developing a crush on him? She thanks him, acting all coy. Young Hee gets the shivers, not wanting to see her acting so coquettishly. She wonders if she looks pathetic, as Gun Woo had called her. Young Hee tells her the truth: she doesn't even look worth $10. He can be an ass – even though he doesn't mean to hurt by telling the truth.
Soon Geum heads out to do grocery shopping, and Gun Woo pouts. He doesn't want to be left alone! With a kid who is armed with a water gun! Soon Geum tells him there's another one under the kitchen sink; they can play together! Meanwhile, Young Hee goes shopping for some kitchenware that are dent-proof.
He then heads over to the real estate office, where Soon Geum is looking over the contract. Young Hee is shocked to find that it's Soon Geum buying his apartment in CASH. The realtor even says that Soon Geum wants a discount if she can pay in cash. When Soon Geum looks over at him, Young Hee immediately covers his face with a kitchen bowl.
Intrigued as to how she could purchase a house in cash, he follows her to Shi Ah's home, where Soon Geum calls up to her friend. She doesn't yell out the fact that she bought a house, but tells her friend to not worry about the house deposit anymore. She also leaves behind a bag of meat for Shi Ah to cook.
In his office, Tae Won notices the number behind the lottery ticket. He gives it a call – and we get… Granny Choon Jak! (With dyed black hair, or she became younger in three years…) She's now working at a department store as a cleaning lady, and when she looks at her phone, she sees that her caller is "Gun Woo's Home." She hangs up.
At dinner at the Hwang Residence, Joo Won tells her father that San is not really Gun Woo's son. It's Tae Won's, and everyone in that house knows except for Yoon Joo. Uh-oh….
The next day, Gun Woo has to go to work like a normal person, taking the train and walking to work. He runs to the office, and makes it to the meeting room before everyone else. Yay – he's not late! To make the day even better, his stocks are going up.
The other four maids are all going on a trip to the convenience store to redeem their meager winnings. They want their winnings in $12.50 parts, so that they can split it evenly, but he can't be bothered with counting that all out and gives them one $50 bill (50,000 Won). They decide to either buy something nice and share it, or spend their share each with the $50.
Soon Geum heads to the department store to pick up some things for the mistress, and Driver Oh encourages her to play "Madame" for the day by sitting in the back, which is awfully cute. While parked, Driver Oh sees Choon Jak cleaning the glass doors. He immediately calls Gun Woo, who then races out of the office, borrows a coworker's car, and drives over to the department store.
Yay! Granny Choon Jak is found! Sadly, she lives quite a tough, and tiring, life.
Soon Geum has to wait 30 minutes for Yoon Joo's clothes to be ready. She wanders around and sees that the makeup department is doing a special makeover for VVIP members, and Soon Geum just happens to have Yoon Joo's coupon…
She gets the makeover of her life! Cat-eyes, lip gloss, hair extensions. She notices the other maids come in, but the makeup artist tells her not to move, so she can't call out to them.
She returns to the place where she's picking up the clothing, which is also where Choon Jak is sweeping the floor, which is also where Gun Woo is looking around for signs of Choon Jak. GAH! All these missed glances! Soon Geum decides to try on a dress for fun. It's incredibly expensive, but she remembers Young Hee's comment about her looking like $10 and tries it on anyway.
Gun Woo meets up with Driver Oh, who's now unsure as to whether he saw Choon Jak or not. However, Choon Jak spots him as she goes down the escalator, and she immediately hides from view. (She doesn't want to see him?!) Gun Woo hangs around for a bit and sees a woman cleaning next to a transformed Soon Geum. He approaches the cleaning lady, but is mistaken.
Soon Geum calls out to him, but Gun Woo is all, "Are you talking to me?" He doesn't recognize her at all! A saleslady approaches Soon Geum and says that the clothes she's picking up is ready. Also, the clothes she's wearing is $18,000; dang that lady is pushy. Soon Geum reels back in shock, and Gun Woo catches her before she falls. He's surprised to see a woman who looks rich be shocked at such a price. She decides to buy the clothes; when Gun Woo leaves, Soon Geum is amazed that money could give her such a transformation.
Next thing she knows, Gun Woo appears by her side again. He wonders if they've ever met, but she denies it. He asks her out for a drink – he has two coupons for free coffee, just like when she had given him a free coffee with her coupon three years ago. The sweet memory brings a smile to her face, and she agrees to a date!
He asks her what she does for a living. Soon Geum says she's a homemaker, but she's not married. So what is a homemaker doing wearing fine clothes in a mall in the middle of the day? Soon Geum's all, "Well why can't I?" Gun Woo: "Just wear the nice clothes when you meet me. And stop buying more clothes, because you're pretty (as is)."
AIEEEEEE!
They wait for the elevator, and when it opens, it's the four maids! They've bought something with their winnings that they can share, and are surprised to see Gun Woo. Soon Geum looks away, hoping they won't recognize her.
AWKWARD ELEVATOR RIDE.
Hyun Joo boldly asks if the girl is Gun Woo's girlfriend, and he replies, "I'd like her to be." (!!!!) Soo Jung checks Soon Geum out, while Da Kyum notices the shoes; they look like Soon Geum's booties. Gun Woo notes that all the maids are there except Soon Geum (bwahah!). Soo Jung: "Why, do you miss her?"
Hyun Joo says there's no way a man like him would be interested in maids like them. Soon Geum butts in: "Why not? Maids are women too." Zar Lin notes that the rich girl sounds just like Soon Geum. Gun Woo says that maids aren't like him – and rails about how troublesome Soon Geum is. That incenses the other maids, while Soon Geum's eyebrows knit in anger. The maids get off, and though they're perturbed by how similar the rich girl is to Soon Geum, they don't believe that Gun Woo would be with her anyways.
Once alone, she refutes every negative fact he had used to describe Soon Geum: "I'm not lazy, or unreasonably stubborn. I have a proper sense of humor. My fault with the child is caring too much. I do what is necessary and I'm not self-centered. I do a good job in housekeeping. What do you think of me then?"
She gives him a coy smile, and he nervously asks her name.
Soon Geum: "It's Shi Ah. Yoon Shi Ah."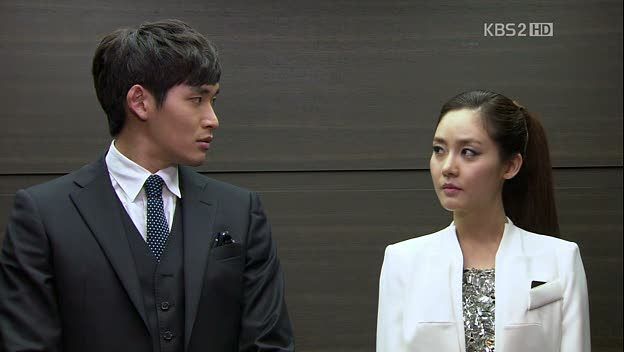 Comments:
AHHHHHHHHH! I love the ending – although I hope Gun Woo quickly realizes she's Soon Geum. He'd be a real idiot otherwise. Admittedly though, based on the official stills released a few days ago, I myself didn't know it was her! It'll be fun if they keep up this charade for a bit, but I'd love for him to be brought down and humbled when he finds out that it's really Soon Geum.
The lottery winner mystery is going to be unraveled more quickly (I hope) now that big-mouth Young Hee is on to her. Plus, there are plenty of close calls with the maids, and Da Kyum ain't stupid. (Min Hyo Rin is portraying her with the perfect amount of sassy-ness and perceptiveness.)
I also have to give kudos to Jung Gyu Woon – in this episode, he went through so much facial acrobatics that it was hilarious to watch him. I loved his scenes with San, and I am hoping for more when he starts caring for the boy more. For a moment I was really put off when he spanked San, but I hope he can redeem himself. After all, a cold arrogant heart being melted by a kid is a gimmick that will get me every time.
Every so often we get a glimpse of what the rich people are thinking as they look at their maids, and how the maids feel about this treatment. And then every so often we have someone who crosses the boundary between "upstairs" and "downstairs" – whether it's Young Hee or Soon Geum. I like this balance in the storytelling so far, because usually, there's always one side that you should hate – either they're the chaebol/rich-mother-in-law, or you should hate the greedy poor people. But here, we can see how the other half lives without hating one side more than the other. While we should dislike all rich people, Young Hee, Hwang Yong, and Gun Woo make us question that position. And while we should always side with the maids, I feel like sometimes the maids can be irritating in their own way as well, as they're money hungry and sometimes inconsiderate.
RELATED POSTS
Tags: featured, Jung Kyeo-woon, Kim Min-joon, Min Hyo-rin, Romance Town, Sung Yuri