Kwon Sang-woo to share the big screen with Jackie Chan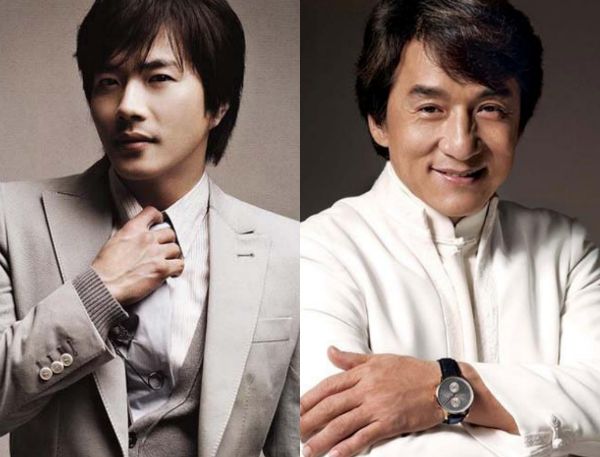 Actor Kwon Sang-woo (My Tutor Friend, Daemul, Cinderella Man) who started his career showing off his fab bod as a model in the early 90's and started the mom-zzang movement will be appearing on the big screen with Hong Kong star Jackie Chan. His career has been a bit of a roller coaster ride since his debut, and suffered a bit of a slump, but has had a recent revival with the box office hit Into the Gunfire and the success of his latest drama Daemul.
On June 6, Kwon Sang-woo started filming the movie 12 Chinese Zodiac Heads  in Paris. I'm intrigued by the pairing of Kwon Sang-woo and Jackie Chan together. My first impression of  Kwon Sang-woo from his first hit movie, My Tutor Friend, is one of a cocky bad boy itching for a fight at every turn… Pair that with the easygoing goofiness of Jackie Chan? Could this new team-up be better than Chris Tucker and Jackie Chan? Or will this new duo be standing on opposing sides trying to out-kick each other?
This movie is slated to be the first of an action-packed blockbuster trilogy starring Jackie Chan with an astounding estimated budget of 100 billion won. Even though it is a Chinese Epic Series, the anticipation for the series is high due to the popularity of Chan in the lead role. With the high budget of the film as well as the appeal of the lead actor, this could possibly be an opportunity for Kwon Sang-woo to expand his acting career to a wider audience in Asia. Will the bad boy be able to break the barrier with this movie?
With the filming of the movie well under way in Paris, the rest will be shot in other parts of the world including Thailand, Dubai, Taiwan and China. Mark your calendars — the first installment of the series, 12 Chinese Zodiac Heads, will be kicking its way to the theaters by the New Year!
Via TV Report
RELATED POSTS
Tags: Kwon Sang-woo