Interview with Answer Me 1997's Jung Eun-ji
This girl is adorable. I'm pretty sure it's 99.9% her character in Answer Me 1997 that makes me love Jung Eun-ji so much, but hey, that gruff swear-first-ask-questions-later attitude has to come from somewhere deep within, right? If she weren't an idol, I'd have put my money on gangster's daughter, 'cause she's a badass, and I love it. As of tomorrow it's curtains on her first project as an actress (WAIL), and in a photo spread and interview with First Look, the 19-year old rookie actress talks about the origin of her thick regional accent, the chemistry on set, and which brother she'd pick if she were Sung Shi-won.
Jung's greatest asset in the drama is certainly her original Busan accent, because it's 100% her natural speech, which she purposely never corrected even after moving to Seoul because her agency didn't strictly require it. She says:
My nickname as a child was 'elderly kid.' When I lived in Busan I would just sit next to the neighborhood grandmas as they talked about this and that, and I guess that way of speaking rubbed off on me… I didn't know it but I had adopted grandma-speak. It's not the accent normal kids have. Haha.
She says that Shi-won's drama parents (Sung Dong-il and Lee Il-hwa) were originally supposed to both be from Busan as well, but it was Sung Dong-il who tossed out the idea that Dad should be from Jeollado and Mom from Kyungsangdo, setting up their colorful little southern-province-Romeo-and-Juliet backstory. But after praising him she adds, "But the funny thing is, Sung Dong-il sunbaenim is a Seoul native!" Ha, as if it's a crime? She sounds just like Shi-won.
She describes the mood on set:
From the director, writer unni, to the cast — they were the best. It was my first drama so I didn't know. I thought all drama sets had great moods like this, but I heard that that's not always the case. I'm thankful for meeting a team like this one. It's because the director led us so well.
When asked whether she ever wanted to be more made-up in the drama, she says that she and Shi-won are similar in their tomboyish ways, and describes the reasoning behind the character:
The Shi-won that I think of doesn't know how to make herself up. No, it's that she doesn't know how lovable she is. If Shi-won thought herself pretty and purposely acted cute, she wouldn't have been lovable at all. The director said that — that there's nothing more lovable than a woman who doesn't know she's pretty. I didn't feel the need to be made up. I thought she should be the most natural and innocent and lovable. She was someone who had the love of two men.
That's just a surprising awareness from a 19-year old newbie. She's far from a skilled actress, but it's clear she thinks about character in a meaningful way. I'd say her weakness is lacking more range in her facial expressions, but man can she rattle off pages of dialogue like nobody's business. She always sounds conversational and natural, and never like she's reading or memorizing something.
When asked about Yoon-jae vs. Tae-woong and which brother is closest to her ideal type, she said:
I like Yoon-jae's type. He's the same age as me but then sometimes seems like an oppa. Sometimes we're really like two friends, but then we fight like siblings. As of now I think I prefer a person I'm more comfortable with.
About her very natural inclination to always swear at Yoon-jae, and whether she's similar to Shi-won:
No never! I'm not that aggressive. I mean I have to maintain my A-Pink concept. (Laughs)
The final episode of Answer Me 1997 airs tomorrow on tvN.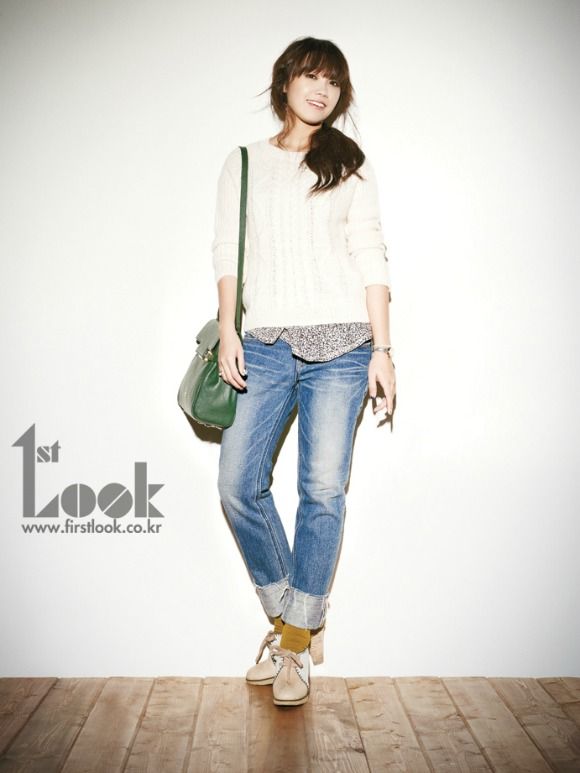 Via First Look
RELATED POSTS
Tags: interviews, Jung Eun-ji, photo shoots