School 2013: Episode 5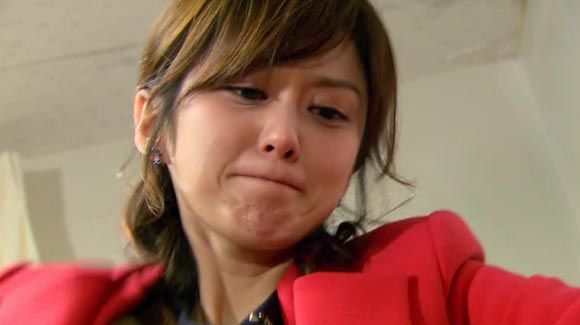 This show. Aie. Just so many feels. It's like I can hardly process it. That's partly because of that keen insight into the sense of being young and adrift and all alone in your uncertainty that cuts just a little extra-deep for its verisimilitude. It's also partly because of the matter-of-fact tone with which it's delivered—that it's not just what happens in a drama, but reflective of a reality at large, one we can identify with. These characters don't realize they're in a drama, so there's none of that heightened drama emoting; it's the daily little blows that can be so crushing.
Today marks the breaking point for one of our most stalwart characters, and watching In-jae come to this moment is a little unnerving, not just for us but for everyone else in her orbit—they haven't always obeyed or recognized her authority, but it's like they've come to rely on her steadfastness. And boom, like so many things in life, you don't know what a gift it was till it's gone.
SONG OF THE DAY
Peppertones – "계절의 끝에서" (At the end of the season) [ Download ]
Audio clip: Adobe Flash Player (version 9 or above) is required to play this audio clip. Download the latest version here. You also need to have JavaScript enabled in your browser.

EPISODE 5 RECAP
Nam-soon gets caught red-handed literally wailing on Jung-ho, and from everyone's shocked looks—Nam-soon's included—you can tell this wasn't exactly the configuration they were expecting. Not with him as the seeming aggressor, rather than the victim.
The arrival of the police means we soon relocate to the station, where the four errant schoolkids sit in front of the officer to explain what happened.
And just as I'm literally about to type that I'm really glad these boys have these two teachers here to handle this, Se-chan asks out the side of his mouth, "Who won jjang rights?" Ha. D'you want to take a seat as the fifth kid, Teach?
In-jae shoots him this glare and Se-chan is all, What? I was curious.
Jung-ho says that they'll all settle this amongst themselves—no need for legalities. But the cop needs to take the report anyway, and starts with Nam-soon. Name? ID number?
Ah, the ID request has both Nam-soon and Heung-soo looking ueasy—since Korean IDs begin with your birth year, this is a dead giveaway that Nam-soon is older. And as Heung-soo taunted the day before, it looks like nobody knows it. Sure enough, the other two guys immediately alert to the detail.
Se-chan excuses himself, since it was In-jae who appointed herself guardian and not him. She asks that he not make mention of this at school—why do I feel like asking Se-chan to be more indifferent isn't a problem?—since she wants a chance to work this out. Getting the school administration involved would only worsen things.
But it doesn't mean she can't use that as leverage, since she tells the foursome that she could alert the school, which would open up a case of school violence and drag in all their parents and administrators. Do they want that? Thought not. Therefore, as of today she's taken charge over them, and they'd better listen to her.
Awww, yeah. I love this. She orders them to follow and buys them dinner. They complain, but end up eating anyway.
Interestingly, the official report listed Jung-ho as the victim and Heung-soo as the attacker, with the other two as bystanders who got caught up in the mix. In-jae says she trusts that they've gotten their pecking order established and tells them not to get into this kind of trouble again: "Sorry to tell you this, but I won't give up on you. So you guys give up."
She dismisses them, and they disperse. Heung-soo knows without looking that Nam-soon is following him again, and asks how it feels to use his fists after "retiring" them, or pretending his past doesn't exist.
Nam-soon says, "Right now, this is who I am." Heung-soo returns, "Really? Then I don't know this guy." Augh, how can these guys pack so much meaning into such spare moments? I just feel so much for them, even though I don't even know what all the feelings are.
The next day, the other students see their battered faces and guess that the big fight went down. This is cause for relief, since it means the pecking order has been established and they can have some peace; status quo sure is more comfortable than constant jockeying for power. I wonder what they'd think if they know Jung-ho logged victim status, but they are certain Nam-soon didn't come out the jjang, given his extra-bruised face.
With midterms approaching, the teachers are told have their students participate in mandatory individual study halls. Both Se-chan and In-jae object—this seems more an opportunity for rebellion, considering Class 2's condition—but Principal Im tells them to monitor the study halls, warning them not to come in last place again for midterms. If they do, the students will have mandatory study halls every day, with Se-chan and In-jae in charge. She frames it as a "promise" but it sure sounds like a threat.
To escape the last-place stigma, the overall class average has to rise 4 points. Yikes. The kids seem to think this is no big deal and boast that they can do it, though it's likely a lot of this is motivated by the deal not to be stuck in extra study halls. Despite looking unconvinced, In-jae says they don't have to do it, but they'd better study hard to raise those scores.
Now Jung-ho's curious about Nam-soon's past (join the club, buddy) and points out that he was in the same class as Heung-soo, but not a part of the yearbook class photo. Did he not graduate?
Nam-soon is typically avoidant, but Jung-ho got a read on him now and tosses out a nickname that stops him short: "Tsunami." Well, that sure sounds… destructive. Jung-ho congratulates him on holding it in all this time: "Kyunggi-do's jjang—that's you, isn't it?" He wonders why Tsunami-san would be groveling to Heung-soo—what's the catch?
In-jae hands back essay evaluations to her class, singling out Kang-joo as the top scorer. This elicits a squeal of joy from her—and shifty looks from ex-president Min-ki and Ha-kyung. Urp. Please don't tell me this will shake your adorable friendship. But Ha-kyung doesn't seem like she'd be the type to take being the No. 2…
Ha-kyung takes it up with the teacher, saying she was given the wrong score. In-jae says no, everything's in order—there was nothing in her essay that spoke of her own thoughts. Ha-kyung says that she was taught that good essays aren't about the writer's own thoughts, but about answering the prompt well. "Who'd you learn that from?" In-jae asks. One guess who, and looky who just walked in the door.
Ha-kyung asks Se-chan for a re-score, but In-jae shuts her down: "This time, this is your grade." She won't get a high grade by just parroting back what's on the answer sheet.
But Ha-kyung retorts, "Then why IS there an answer sheet?" Damn. Good one.
In math class, Uhmforce notices that Heung-soo doesn't have any books and reminds him that they'd agreed not to mess with each other. That involves Heung-soo participating in classwork. Then Uhmforce moves on to Nam-soon, having him read the math problem on the board. Problem is, Nam-soon can't even read it properly (he stumbles through and can only describe the symbols), which gets him pitying/mocking looks from the others.
After class, Ha-kyung gives him her notes and tells him to study. He declines and wonders if she's afraid he'll drag down the class average. She says no, it's just embarrassing for class prez to be such a dummy, which is cute. Heung-soo walks by to witness the exchange; he betrays no reaction, but I'm nervous already.
The students stay behind at school to study now that it's exam season, and a few girls gossip about Min-ki being at the beck and call of his managing mother. She presents Min-ki with sample exam questions from the past five years at this school—yeesh, Mom—and piles on the instructions for how to handle exams.
He nods dutifully at all this, though he hesitates when she asks about his essay evaluation.
Nam-soon heads to the bookstore to pick up a stack of texts—literature, math, language. He's already got a set, so these must be for Heung-soo.
He heads over to a house where a young woman (noona?) hardens at the sight of him. She's outraged to hear they're in the same class, and figures this is why Heung-soo started talking about another transfer. She warns Nam-soon not to mess with Heung-soo, because they've vowed to get him to graduate from this school.
Nam-soon hands her the bag of books, and her voice breaks: "How could… You two were so close!"
Just then Heung-soo arrives, and noona warns Nam-soon not to "block Heung-soo's future again." Then she warns her little brother that if he doesn't graduate this time, she's just going to die. No pressure, dude.
Nam-soon offers, teary voice and all, "Heung-soo-ya… I'm sorry." Heung-soo tells him to shut up and closes the gate in his face. He doesn't take the books, having come home carrying a bag of them himself.
Min-ki's mother drops in to have a word about Min-ki's essay score. Sigh, I knew we weren't about to hear the last of this. Trust her to have taken the essay to "a specialist" for consultation, and says the prompt itself is the problem, and therefore the students' true skills cannot be measured by this test.
She "asks" how In-jae would feel about invalidating the score, or readministering the test. Oh, I'll tell you how I feel about it, lady. Arg, bulldozer moms, I swear. Also, helicopter moms. Hm, does that make her a bullcopter mom?
In-jae stands by her evaluation, just as Min-ki appears in the doorway unseen. His face falls to see Mom there, who snits that there's no point trying to talk to In-jae.
Teacher Yoo tells In-jae to buck up, saying that Min-ki's mother was always like this; it's how she sent his older brother to a top school. Teacher Yoo's learned to accept things like this, and In-jae asks, "Is this normal?" Teacher Yoo assures her that it's abnormal. And yet, that doesn't mean In-jae can do anything about it.
The teachers are to hand in their midterm questions to the school, but Se-chan tells In-jae she doesn't have to—he'll submit all the questions for their exams. It's Principal Im's particular request and I'll bet everything it's because Min-ki's mom complained about In-jae, although the reason given is that they want Se-chan's college-entrance-exam format. (Compared to In-jae's traditional methods where you teach the fundamentals, then use those skills to answer the questions.)
Principal Im isn't surprised that In-jae has objections, but she tells her that her efforts are better directed at handling the inevitable aftermath of the exams, and that the parents have a lot of faith in Se-chan. Parents plural, or just one really nosy, loud one?
She hands Se-chan some problems to work into his test questions, since she made sure to include it in her lessons. He scoffs at her choices, saying she's out of the loop on testing trends. She retorts that they're called basics, not trends. Ha. He tells her to bring him some "good" questions, saying there's a science to constructing them that his academy's got a separate team devoted to.
The days tick down as Midterm D-Day approaches. The school launches into test prep mode and stress mounts all around, although I'm not sure there's a whole lot of actual studying going on in Class 2.
In-jae loses even more ground with her class when they hear that she won't even be the one writing their exam. To them, that means there's even less reason to pay attention to her lessons, and some just ignore her to treat class like study hall anyway.
Despite her urgings, there are only two students in the after-school session—Nam-soon and Young-woo, which, aw. She teaches them what a dilemma is, using the example of needing to choose between killing somebody or letting someone else die. Although it doesn't seem to sink in with them, she adds that if they're ever in a dilemma, they'd better come to her with it.
It's strange to see Jung-ho in the position of the bullied, but there ya have it: He apparently owes money to a "hyungnim," and until he pays up the hyungnim gets to ride around his motorbike. Jung-ho can't argue back, but he does stop when the hyungnim asks if he'd like a part-time job.
His posse waits for Nam-soon after school that night and asks for Heung-soo's address. He warns them not to mess with Heung-soo, which goes over about as well as you'd expect.
At school, in a brief moment of distraction Teacher Yoo turns her back on her books and an opportunistic student swipes the USB flash drive from her laptop. She doesn't notice till he's gone and has to resubmit her exam prompts, but the idea of reporting this clearly freaks her out—it would blow up into a Thing and point to her incompetence—so she asks the other teachers to keep it quiet.
She wonders which class the culprit is in, though—could it be Class 2? In-jae points out that those kids aren't interested in studying. She has a point.
And yet, the text that circulates amongst the students includes comments like "Gotta raise the class average!" Post-its containing the answers are circulated.
Ha-kyung finds the lock on her locker broken and all her books soaking wet. In-jae confronts her class angrily, only to be told that this happens every test period. And then, Se-chan intercepts a Post-It pass, and the teachers immediately know what this is.
In-jae demands to know why the ethics exam answers are circulating. One red-handed student hangs his head and admits that it's only going around Class 2, which means one of them is the thief.
In-jae orders the culprit to confess. Naturally, she gets no response. It's just one outrage after another, and she exclaims, "Are you really going to behave like this? It's fine if you don't study and you can get into accidents. But drenching a locker to interfere with a student's studying, stealing an answer sheet, and passing it around? Are you really going to stoop this low?!"
A student says with annoyance that the teacher's just gonna make up a new answer, so they're useless anyway. In-jae: "So you're saying that the theft is meaningless?" How apropos, for an ethics test.
You can practically see the blinders fall from In-jae's eyes, and in a low shaking voice she orders the president to grab the broom and lock all doors. Uh… wow.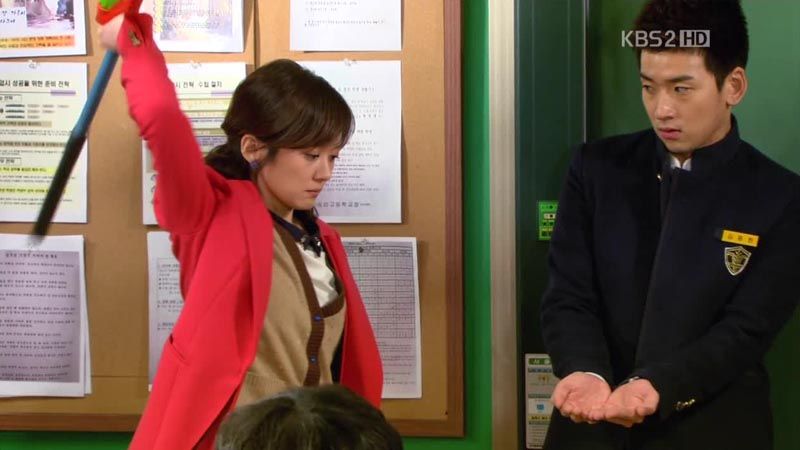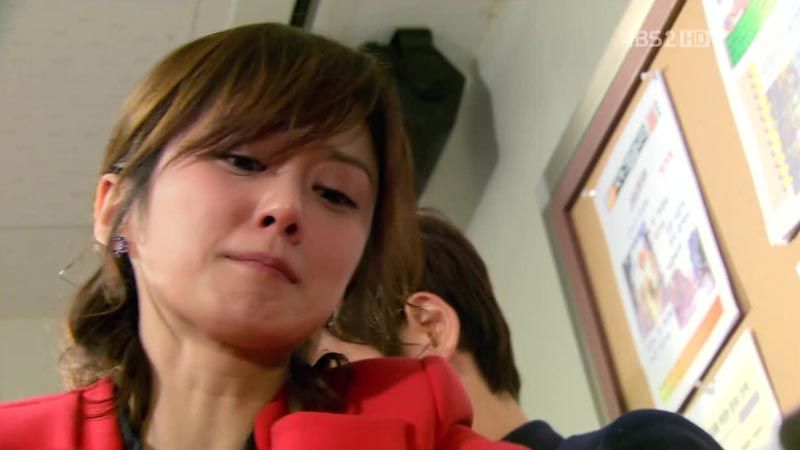 She slams the broom onto a desk and orders everybody forward and to hold out their hands. She holds the broom threateningly but drops it in the end, though she delivers the slaps anyway, hand to hand.
Quite tellingly she's the one most hurt by this, both physically (her hand is tiny! It must pain her more than the kids) and mentally (she's barely hanging on to her composure).
She's amassed an audience by this point, with other classes and teachers watching from outside, through the windows. Mostly they look sad, and her own students are somber in the way you get when you've pushed your parent over the edge and have to watch them fall apart. Finally, Se-chan steps forward to intercept her, at which point her hand is swollen and red, and he orders the class to stay quiet as he takes her out.
Principal Im comes rushing up, alarmed that they'd engage in corporal punishment. Se-chan holds up In-jae's red hand and says, "The teacher is the one who has been hit, Principal."
Se-chan pulls her to an empty corridor and calls her idiotic. In-jae counters, in tears, "What wrong have the kids committed? You and I have taught them that way, and their parents too, while the school lets them go because they can't do anything about it. What fault do they have?"
Se-chan heads back to the empty teachers' room with a sigh, and sees In-jae's notebook on her desk. Flipping through, he comes to her message to herself: "It's not yet time to let go of the kids' hands." It makes him smile and say, "You sure dream big."
And then, he picks up her exam. Ohhh, are you about to do what I think you're about to do? Yessssss.
Class 2 is subdued as they wonder what now. That snooty girl sniffs that it's the teacher who went overboard all on her own, and Nam-soon just shoots her this look. I wish I could send her the same. Well, I AM sending mine her way, but it's nice to know she can feel Nam-soon's.
Min-ki urges his classmates not to cause any more trouble, and offers to help cover the essentials. He's a good kid, though I'm thinking right now he's motivated more by guilt over his mother causing yet more problems.
Se-chan notes In-jae's absence the next morning, but Gym Teacher Jo assures him not to worry 'cause she'll show. It's sweet that Se-chan is worried, but even more than that I love that Teacher Jo can tell despite Se-chan protesting.
Min-ki offers Ha-kyung his notes, since hers are gone. Aw, it's cute. But even better: She finds a bag of books on her desk.
She figures it was Nam-soon, who says he didn't buy it for her. He asks how she knew it was him, and she points out that they're on Book 1 in math, not 2: "Who else wouldn't even know what we're learning?" Cute.
It's in gym period that the kids notice In-jae's arrival, and they perk up to tell her cheerily that they're definitely going to study today, and shout out, "We love you!" Oof, hold on, I have something in my eye.
Se-chan jumps up too, though he just as quickly sits back down and pretends he's totally not thrilled to see her. He starts in on the nagging, since that appears to be the safest way of denying actual concern, ha.
Se-chan finds his class in study session as promised, with Min-ki teaching. That's so cute. While he leads them out, In-jae sits with a smaller group (her remedials?) which include the bullies, Nam-soon, and Heung-soo, and Se-chan invites them all to join in.
That turns out to be a stress-relieving session of dodgeball in the gym. All but Heung-soo, who turns away refusing to join.
In walks Min-ki's mother, who says sarcastically that In-jae sure is working hard. He freezes up so much I feel a terrible pang for him, and as they leave he finally says something: "Mom, aren't you tired of living like this? I am."
Mom has this way of sounding so kind and thoughtful even as she's being completely domineering, and she urges her poor sweet boy just to hang in there till he gets into Seoul U. He cuts her off: "I wish we were born at twenty years old, since life doesn't matter before then."
Heung-soo still doesn't have books in math class, and Uhmforce says he's giving him his last chance. Nam-soon wonders at it, until Jung-ho shoots him a smirk—while flaunting a math book. Oh no, did he steal it?
Nam-soon tells him not to mess with Heung-soo, and Jung-ho said that's why he did it—to see whether Nam-soon would react. Jung-ho is thinking of kicking up a little school fighting, because as the victim on the police report, he'll come out of it fine. While the attacker, Heung-soo, ought to get expelled for it.
His blackmail: Nam-soon had better steal the answer sheet for the exam. He concludes, "So Park Heung-soo is your Achilles heel."
Ah. That's pretty smart for an almost-dropout, in an evil genius sort of way.
Nam-soon mulls this over, then heads to the teachers' room looking for In-jae. She's at the hospital for her hand, so it's Se-chan or nothin'. What he does next just makes me love him more: "If I do nothing somebody will get hurt. If I do something bad, nobody will get hurt." Aww, he was listening when she taught him about dilemmas!
Se-chan just assumes this is homework and he tells Nam-soon to study on his own. Damn. Nam-soon heads off with a heavy heart.
He finds Jung-ho to ask: "Do you know how to do it without getting caught?"
So that night, Nam-soon lurks in the hallway while Jung-ho & Co. cut the power so the security cameras will stop recording. He waits nervously.
A teacher is let into the carefully locked storeroom, but she and the custodian dash out when the lights go down. Nam-soon makes his move and heads for the door, left unlocked.
He's all nerves as he reaches for the knob. It opens.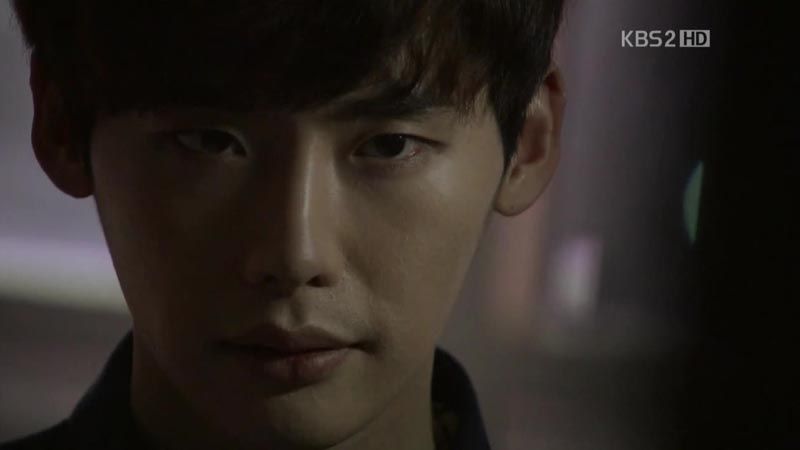 COMMENTS
Oh no! Nam-soon, don't slip down that path, not when you've been working so hard to stay out of trouble!
I felt so gratified when he went to Se-chan with his dilemma, not least because he started off on such the wrong foot with him, that makes his slip even more upsetting, because he's trying so hard. I can't even be upset with Se-chan for not reading between the lines, since he couldn't know what was up the way In-jae would have, but I'm hoping that he plays a key role in whatever happens next since we saw him in the office as the lights were cut. It would be the best way to bring around this arc after he left the police station early, disavowing responsibility in the incident. He has to step in, right? Because the alternative does not bear contemplating.
It's in cases like this that I feel the setup really works to the show's best benefit, with the two teachers with opposing views coming together to be better than either one individually. I worried initially whether this straight opposites-are-forced-together scenario would get too neat—you know, she's traditional, he's trendy, she's earnest, he's cynical. Perfect diametric opposites in every way. That would be helpful from a symbolism standpoint, but rather too pat for a show this nicely layered.
So I'm happy to see that what's emerging isn't quite so simple. The dynamic reminds me of parenting, actually (inasmuch as I know anything about parenting, which is to say very little)—both parties make mistakes and tread on each other's toes and bring opposing styles to the table, but when they step up to collaborate is when they're best.
As for Nam-soon's hidden past, the show sure is building up our curiosity, isn't it? I'm kind of dying to just OUT WITH IT already, but that's more for my curiosity than anything. I wondered how quickly the show would "reveal" Heung-soo's character once the big secret was out, but I like how mysterious they're keeping him. We're seeing him through Nam-soon's eyes, and our understanding of him mirror's Nam-soon's—gradual, questioning, loaded with pathos.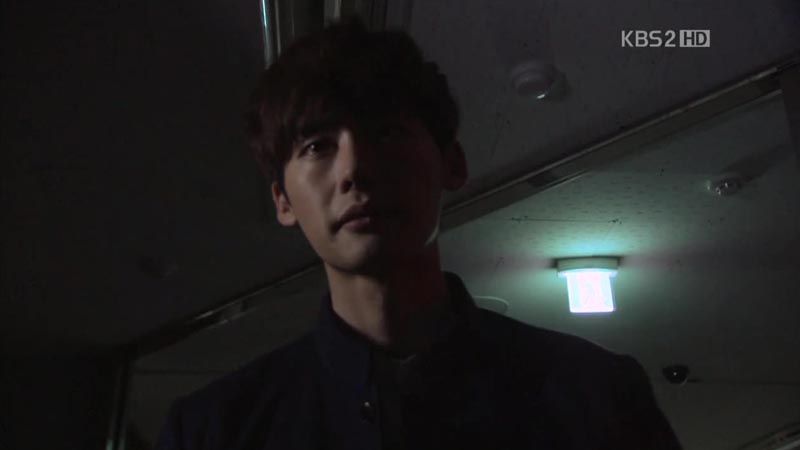 RELATED POSTS
Tags: Daniel Choi, featured, Jang Nara, Kim Woo-bin, Lee Jong-seok, Park Se-young, School 2013