1 Night 2 Days: Episode 439
EPISODE 439. Broadcast on May 19, 2013.
girlfriday: Hm, we begin with a teaser of separate interviews, with each of the boys talking about… each other? This oughtta be good.
javabeans: Notably they're all wearing matching jammies and saying (in highly edited, potentially misleading clips) that the trip will invite some reexaminations of friendships and some criticism of characters. Let's hope it's not just a big build-up to a fake-out. AHEM.
girlfriday: God, no kidding. But it does sound promising. The snippets we get are pretty juicy. Tae-hyun: "He pisses me off." Joo-won: "He's changed." Jong-min: "They'll probably swear at me." And then the trip starts as the boys arrive one by one in Busan.
javabeans: Jong-min and Tae-hyun find a thousand-won bill right there on the ground (about a dollar) and have this hilarious immediate reaction of glee mixed with self-consciousness: Can I take it? The cameras saw me. Is this okay? What am I supposed to do?
girlfriday: They decide it's a sign of good things to come, and join the other guys for the opening. All the guys mention happy memories they have of traveling to Busan, while Jong-min remembers suddenly hauling ass to army in the middle of shooting 1N2D here. Ha.
javabeans: Busan also brings to mind a more bustling image than they're used to on their nature-themed tours, and New PD, who totally doesn't merit a cool nickname anymore or yet, says that these days "city tours" are all the rage. Also, it's a 50th anniversary for the city. In any case, the guys tend to like the city trips, don't they? Less opportunity for roughing it outdoors?
girlfriday: And many more opportunities for snacks?
javabeans: Although Busan IS famous for being seaside, so I'm thinking a nice cold dunking is in order at some point.
girlfriday: New PD says they have a three-part team mission for lunch today, so they head out together toward the shore. The first mission at Haeundae calls for someone with "jumping skills." How much you wanna bet that's a jump into the ocean?
javabeans: The missions are marked by levels of difficulty, and the boys try to predict who takes what based on what might be in store. There's a lot of guesswork in this, and I bet it'll all end up a wash anyway, but they split up into teams based on athleticism. The first team of Jong-min, Tae-hyun, and Joo-won arrive at the beach and are shown to a big supply of inner tubes, which they have to stack twenty high. Is the "jumping" because they have to reach that high?
girlfriday: That's not jumping. That's insanity. They figure the only way to do it is for one of them to carry the other on his shoulders, which seems like it'll work. But Joo-won can only carry Jong-min long enough to stack one tube before he has to be put down. This could take a while. Hae-jin and Shi-kyung arrive at the second mission, which has an ominous set of stairs leading upward.
javabeans: The theme of today's trip is to build friendship, and Shi-kyung says that there's too much age difference for him and Hae-jin to be "friends" (in the sense that Hae-jin to him would always be a hyung or a sunbae). Hae-jin's all, Ah, we friends, and Shi-kyung says, "Hae-jin-ah!" Lol. Yeah, it totally doesn't work.
girlfriday: Nice try though. This mission is way harder than the other one. They have to piggyback each other up 175 stairs, and answer quiz questions at the top. If they're wrong, it's back down to the bottom to start all over.
javabeans: Ouuuch. Shi-kyung piggybacks Hae-jin pretty comfortably, but it's when they switch that the trouble kicks in.
girlfriday: Hahahaha. Over on the Haeundae Team, the boys stare up at their tower of tubes forlornly, and then Jong-min shouts, "Wait! We can DIG a hole!" It's like simultaneously genius and idiotic.
javabeans: They try digging for about a minute before they figure out they can't exactly dig a twenty-foot hole in the beach. Jong-min comes up with a good idea, though, and proposes making two stacks, then lifting one on top of the other one already stacked. The problem, of course, is transferring that tower without it falling over.
girlfriday: I think they have the right idea, but it's easier said than done. Shi-kyung and Hae-jin get to the top of the hill and find out their quiz questions will be about each other. Whoops, guess you should've used that piggybacking time to get to know each other better.
javabeans: Shi-kyung is asked what Hae-jin's favorite girl group is, and Hae-jin gapes: "How can he know what I don't know myself?" But then he has a thought and remembers (?) his favorite, and commences to try to telepathically eye-blink or gesture the answer to Shi-kyung. He leans in and says, "You know. My favorite girl group."
girlfriday: Dude, he's writing something on Shi-kyung's back, isn't he?
javabeans: PD suddenly shouts, "No touching!" Ha, that makes me think of Arrested Development.
girlfriday: Me too!
javabeans: Sigh I miss that show. (It's coming back though! Let's hope they don't ruin it.) So anyway, on the count of three they both shout, "2NE1!" and try to pretend that they were totally just talking about it in the car. I'm thinking Hae-jin just wrote 21 on his back real big.
girlfriday: Totally. But the PD outsmarts them anyway on the next question when they guess Tae-hyun's blood type correctly, and he asks them if they want a chance to swap answers at the last minute. Sneaky. They fall for it, so back down the hill they go.
javabeans: Never take the swap chance! It's always a fake out!
girlfriday: Right? The fact that he's asking is the clue that you're right!
javabeans: Think: If you got it wrong, would he really give you a chance to get it right and avoid the extra hike and pain? Also, are 70% of all Koreans seriously Type A? That is a nation full of uptight control freaks. Said one.
girlfriday: Yeah that's a lot of overachievy craziness multiplied. Su-geun and Tae-woong go to the market, and the first thing they do is taste some crab. I think they picked the best mission.
javabeans: The crab ajumma shows them her super-fast technique for pulling out the leg meat, and the boys are told they're going to race her. Dude. That is impossible. They'll both be working to get as much done in a minute, but she's speedy. They give it a try before the race begins, and end up just chopping a bunch of legs in half with no meat.
girlfriday: Omg my mouth is watering so badly. Why so delicious-looking? My only concern for this mission is, who gets to eat all those crab legs they cut open?
javabeans: The ajumma zips through her huge tray of crab legs, and the boys try to slow her down and distract her with questions. I don't think it works very well.
girlfriday: When we cut back to the other two missions, there's a whole lot of fighting going on. So far this friendship special isn't really going as planned.
javabeans: Hm, the show is continuing with the confessional format. This is new. Have they been watching Real World or something?
girlfriday: Hell, as long as there aren't guests, I'll take Real World confessionals any day.
javabeans: …you know what's coming, right?
girlfriday: Sigh, let's not speak of it until we have to. Anyway, the tube stacking mission just takes forever and it's raining, so the PD lets them go down to 16 tubes. They get close, but it tumbles again, and I'm pretty sure Tae-hyun's going to deck Jong-min at some point.
javabeans: Jong-min is rubbing everyone's nerves raw because he keeps yelling at important concentration moments, and it's just today's catchphrase, "We're all friends! We're all friends! 1 Night 2 Days!" tumble-crash-tumble. Tae-hyun finally tells him to just not say anything, and in confessional Jong-min admits that Tae-hyun gets scary sometimes. But Jong-min's shouting is seriously that one annoying thing that can make you blow up, because he won't stop. The boys manage to stack up almost all the tubes, then lift Joo-won up to add the last few since he has the longest limbs.
girlfriday: Okay, now that they're close, it's getting tense. I really don't want them to have to start all over.
javabeans: That might kill the friendship. It's worse because it's so tall that Joo-won is throwing the last tube on top, and every time it misses it shakes the already precarious tower. But thankfully they get their required height and then Tae-hyun tackle-hugs Jong-min, so I think all is well.
girlfriday: Yay, and not even one black eye!
javabeans: The crab team fails rather spectacularly at their race, but Su-geun and Tae-woong just start figuring out the knack of it after they finish. I suspect a rematch is in order.
girlfriday: It cracks me up how Su-geun turns everything into a sport, even crab-leg-cutting, but I guess that's why he wins at games.
javabeans: I really like the Hae-jin and Shi-kyung team. They're adorable together. I think Hae-jin brings out Shi-kyung's funnier side, which makes it a good pairing. Plus, they keep failing their matching quiz and every time they are given a choice of two things and don't match their answers they have to keep spinning in circles, so they're staggering around all dizzy.
girlfriday: Yeah they're cute, and Shi-kyung has fun ribbing Hae-jin, so they must get along rather well.
javabeans: They answer everything as opposites (mountain versus sea, IU versus SNSD), so maybe they get along 'cause they're so different.
girlfriday: I love the conversations as they're spinning. "I like mountains!" "I'm sorry!" *spin spin spin*
javabeans: They finally complete the mission by agreeing, but I feel like at this point they're answering what they think will win, not what they really think, which is probably also why it takes them so long. Ha. Then Shi-kyung mentions that he owes IU a meal (Hae-jin answered IU) as an invitation to include him, and Hae-jin's all, "I made a good friend."
girlfriday: The crab team fails again but they're getting better, and Su-geun finally asks where they keep taking all the crab away to. That's what I wanna know! The PDs actually agree to loosen up on the challenge, mostly because they're spending too much money on crab. Ha.
javabeans: The next round is half the time, and the boys are starting to get the knack of crab-leg-cracking, so they finally win and then pass out all the stacks of crab legs to the public. So now all the teams have succeeded at their tasks but the challenge isn't over yet because there's a time limit here: If they all make it back by noon they get a nice fancy seafood barbecue lunch. If they don't, well, there's a big ol' bucket of fish cake skewers awaiting them. Actually it's not even that big. Sadface.
girlfriday: The crab team goes to pick up the piggyback team, while the Haeundae crew walks. But no one seems all that sure where they're going… The Haeundae guys arrive first and send Joo-won out to meet the other boys, and they finally arrive for a mad dash down the pier, and everyone makes it on the yacht with two minutes to spare. Yay, big fancy lunch!
javabeans: While waiting in the yacht, Jong-min and Tae-hyun are sitting at the fancy spread just dying to eat lunch, and Jong-min—who previously was all, "We'll be great as long as nobody betrays anybody"—suggests that maybe only the winners should get to eat. It was a pretty close call though, and Joo-won looked pretty serious there. I think he might've gotten mad if they didn't make it.
girlfriday: There would've been tears, especially since they got there early and got to SEE the food they could've had.
javabeans: Shi-kyung grills, Joo-won serves, and the rest of the hyungs sit back and eat like kings. Then the yacht heads out for a sail, and they're told t expect a lot of turbulence. After lunch?
girlfriday: But they still lie out on the deck like it's bright and sunny, even though it's gray and rainy.
javabeans: Jong-min has to lie down from the seasickness, and Joo-won joins him soon thereafter. Jong-min really looks like he's suffering. At least Joo-won is able to laugh, "It's punishment time" and finds Jong-min saying, "Jagi-ya…" Tae-hyun is third in the bed of punishment.
girlfriday: Meanwhile, Hae-jin is outside, climbing the mast for fun. After lunch, the boys go on a double decker bus tour, and while waiting Shi-kyung strikes up a conversation with a few Australian tourists. His English is good.
javabeans: We've heard it a couple times before but this is the best he's been, I think. The other boys are just shouting out English words like "Korean!" and "Fantastic!" but he's carrying on a polite conversation and gets the woman interested enough to want a photo with them, haha. The boys pile onto a double-decker bus for the city tour.
girlfriday: After that, they head to a college campus that's on an island.
javabeans: In fact, the island IS the school. That's pretty cool. Or really small.
girlfriday: It's really pretty. It's a maritime policy academy, and everyone's in uniform. Dude, this school has an American football team??
javabeans: They call it rugby. I… don't know the difference. The boys are like, "You want us… to play against THEM?" Su-geun proposes, "We could play soccer against them playing football." Shi-kyung is enlisted to act as interpreter for one student from Fiji, and asks some basic questions the includes whether he recognizes any of the cast members. The guy points to Hae-jin, which is not the expected choice, and then explains, "I saw him on Running Man." Hahaha.
girlfriday: Haha. The even funnier part is, he thinks Hae-jin is Park Ji-sung. Lol. Su-geun picks out one of the freshmen and gets him to confess to the girl he likes onscreen, which is really really cute.
javabeans: It's so cute and also so embarrassing. Like he's gonna back out with his football mates yelling, "Be a MAN!" Although… is Psy's "Gentleman" dance really the best mode of love confession delivery?
girlfriday: Uh, not exactly a serenade. Anyway, the boys decide to play a game against the team for some chicken, but have to figure out what they can play that's a fair fight.
javabeans: The proposal is floated to chicken leg fight (for chicken, lol) and the cast members grumble that they can't beat youth. They ask one kid how old he is (20) and say that Hae-jin (40) could be his father. The kid counters, "My father's a man, and I'm a man, and we're all men aren't we?" You can't argue with that logic.
girlfriday: So then they pick seven guys to chicken-fight, with each team defending a king chicken.
javabeans: I think our boys are going to get their asses whooped. Those football boys are AMPED! UP!
girlfriday: Yeah they're like 18, jocks, AND future cops. There's no chance in hell.
javabeans: Some of them are even doing backflips and somersaults and stuff. So now Jong-min feels like he has to show off… and embarrasses himself by falling. I love how the football boys are strategizing too, and that one fierce looking kid is all, "I'll take Gaksital."
girlfriday: Haha, these boys are cracking me up.
javabeans: The entire football team chants this rally cry as they huddle, and it's pretty impressive and intimidating. Our cast team is all, "Let's just say whatever. Make noise" and their chant sounds like Mumblegargleblahblahwheeeboonomnom! The caption gives us the translation: "I'm scared… I wanna go home…"
girlfriday: It's hilarious. Also, they totally drain all their energy doing the stupid chant!
javabeans: To absolutely nobody's surprise, the 1N2D team goes down pretty quickly, while the footballers remain impressively on their feet. They're super aggressive too.
girlfriday: Joo-won's the only one who gets near the other team's king, but eventually he goes down too. How is Tae-hyun still alive? Soon Shi-kyung goes down and they lose.
javabeans: They're so mismatched that New PD offers a chance to swap out three of the footballers, but the cast just swaps out the biggest guy for the manager, lol. And then at the last minute they decide to do this one-on-one instead of in one team effort, and that leads to scary footballer chasing Jong-min around the field, ha. Back to team fight. OHHHH this is where Joo-won injures his nose. I totally forgot about that.
girlfriday: Oh noes! Do I need to watch with my eyes closed?
javabeans: It's not bad, but since I knew the news ahead of time I realized the situation was more serious than I would have thought watching it blind. The game is going strong and it's all fun and games, until he bangs his face against somebody's head while going after the other team's king, and he walks off holding his face. He's crouched in the fetal position for a bit, but then he gets up to sit on the sidelines.
girlfriday: Oh, he's not unconscious.
javabeans: I wonder if they cut that out or if it hasn't happened yet, because they resume the game pretty quickly and it's all laughs again. Tae-woong even walks off holding his crotch, admitting that he ripped his pants.
girlfriday: Hahaha. Way to take my mind off of Joo-won's nose.
javabeans: Soon they're all pointing and insisting, "Hey look at this" with faces shoved in his crotch. But the game must go on, so they call for replacement pants and in the meantime huddle around him to… protect his modesty?
girlfriday: Those smiley-face cover-up graphics always have the opposite effect on me. Like, they're intended for modesty, but only make my imagination run wilder.
javabeans: Right? Like what's hanging out? When I'm sure it's really just a tiny rip.
girlfriday: They get back to the game and the footballer's king finally goes down, which means the score is tied. But they're all so exhausted. Can they even play another round?
javabeans: The last round is king versus king, and surprisingly Tae-woong lasts long enough to take down the youngun. They cheer the victory, and I notice that Joo-won is no longer in the background (though he is in the preview for next week). I guess they are just gonna cut around it.
girlfriday: Boo. He's there to hug Tae-woong when he wins, but after that he's just inexplicably absent. What the hell, Show?
javabeans: This week wasn't too bad, but I can't shake the fear I have for the direction of the show.
girlfriday: Yeah New PD is managing to ruin a formula that's been handed to him, and it's killing me.
javabeans: You know, six years is a long time to do a show. Just putting that out there.
girlfriday: Sadface.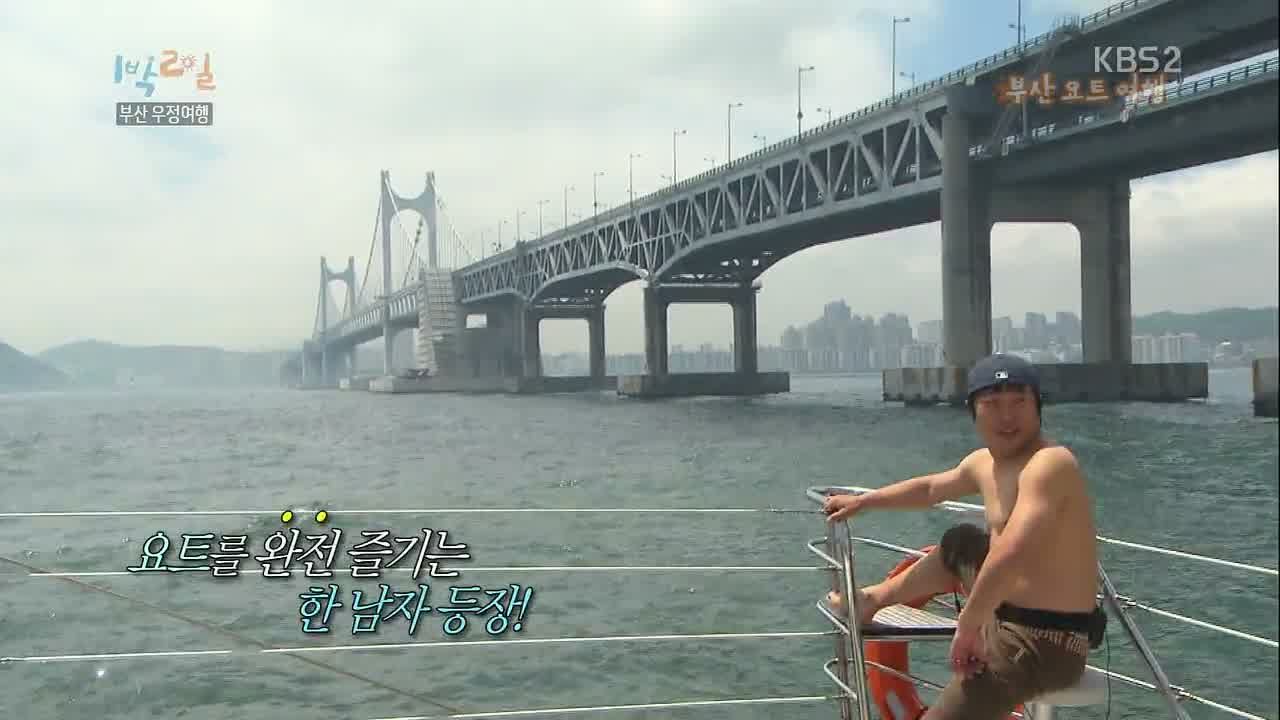 RELATED POSTS
Tags: 1N2D, Cha Tae-hyun, featured, Joo-won, Kim Jong-min, Lee Su-geun, Sung Shi-kyung, Uhm Tae-woong, Yoo Hae-jin