javabeans: Why is Dating Agency; Cyrano, they of the nonsensical semicolon, so reluctant to give us proper stills? I hate the tiny breadcrumbs they're handing us, because there's only so much gratification I can glean out of this set of stills.
girlfriday: Seriously, I don't get the trickle promo plan. But at least it's Hong Jong-hyun stills this time?
javabeans: And he's on a motorcycle, which is shorthand for badass. Which should be a change of pace from his adorably robotic roles in Jeon Woo-chi and Vampire Idol.
girlfriday: I luff that robo-genius character of his.
javabeans: Me too. But you know one thing I don't love? His permy mop hair.
girlfriday: Yunno, I don't HATE the hair. It's weird, but I think he looks cute.
javabeans: Is this your Kim Hyun-joong moment? Perfect robot boy gets mussed up and somehow you think a terrible hairdo is suddenly palatable? ('Cause it's a terrible hairdo.)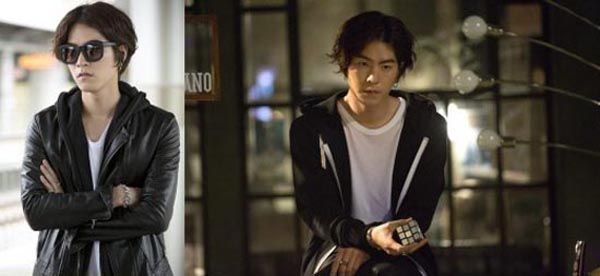 girlfriday: Dude, totally not the same.
javabeans: Because Kim Hyun-joong's perm was actually hot?
girlfriday: So that answers that question about whether or not you're still delusional.
javabeans: I sees what I sees.
girlfriday: Anyway, do I see him holding a Rubik's Cube as code for genius?
javabeans: Oh, that's hilarious—notice how it's all solved, too. And yes, because he's playing a "genius engineer," only I think actually neither of those words is going to be correctly applied.
girlfriday: Is he going to be their gadget person? I'm trying to remember how techie the movie got, but I don't remember anything fancier than wind machines and well-timed background music, and lots of extras. Well, that and Uhm Tae-woong being Cyrano of course.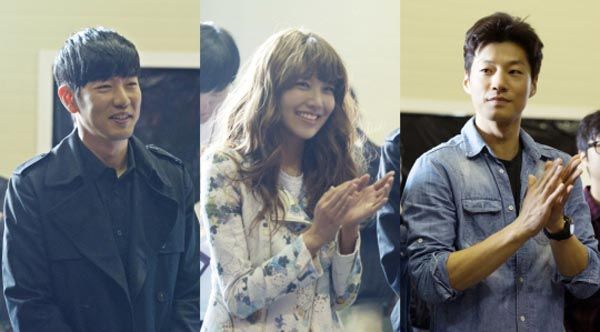 javabeans: Yes, he'll be supplying the team with all their little role-playing gadgets. I foresee lots of spy-like gear with agency boss Lee Jong-hyuk barking directions into earpieces from his god-like throne room somewhere. Or maybe a dingy van. One or the other. I suppose he could pull an Anthony and have both, ha.
girlfriday: Hahaha. The inside of the dingy van decked out like a throne room inside?
javabeans: Only half of it. The other half needs to be a dingy van, you know, for all the minions to work in. Now that would be worth watching.
girlfriday: The thing that makes me want to watch is that Lee Jong-hyuk is so perfect for the role, but I still have no idea what the story's going to be, other than this agency mucking around in people's love lives.
javabeans: That's pretty much all there is to it, I think. Times sixteen. And I'm not sold on the heroine either. So there's a whole lotta potential on the upside, but a whole lotta question marks on the execution side. I think I mixed that metaphor.
girlfriday: Well I'll be appeased if Hong Jong-hyun gets a girl. Or a boy. Just smoochies with somebody.
javabeans: I'll be appeased if this drama has a plot longer than a movie. I'm setting the bar low on expectations… but you know, it's not like Level 7 could clear that hurdle.
girlfriday: Level Who?
Via TV Report
RELATED POSTS
conversation post
,
Dating Agency Cyrano
,
Hong Jong-hyun