Sword and Flower: Episode 14
There's plenty going on this episode, the least of which includes questionable crushes, princess-saving, maniacal plotting, battles, and everything else not in that list being on fire. It's nice to have some action to spice things up, even if Choong keeps sticking his neck out to save a girl he can't even bring himself to have an honest conversation with. Nothing some life-or-death stakes can't solve, right?
Ratings-wise: Maybe it shouldn't be surprising anymore, but numbers dropped from last episode's 6.4% to 4.6% this hour. All your ratings are belong to Master's Sun, which brought in 16.8% in the same time slot.

EPISODE 14 RECAP
We jump back a bit to the moments leading up to the monument snafu, where Mu-young hopes her thoughts will reach her father. She asks if he can hear the people's hatred for General Yeon, whose war with Tang cost Goguryeo dearly.
"He erected a monument while disregarding the cries of the people," she thinks as she sneaks a look to her enemy. "My father and the former kings of Goguryeo will weep tears of blood for this. The sword must protect the flower. All you can do is cut it," she directs that to Yeon. "I, the princess of Goguryeo, shall punish you."
Then comes the unveiling of the corpse of the man who had it built, and hung around his neck is the proclamation that Jang finishes reading aloud: "Yeon Gaesomun is not a hero, but a man who killed the king, and one who will bring about Goguryeo's demise."
The monument is toppled, and Choong goes into crisis management mode as he stands to protect the platform. Nam-saeng runs through the throng toward his father as Mu-young shoots Yeon a cautious gaze, her hand on a dagger in her cloak. No way, girlfriend. Now is not the time.
She gives up on the plot when Nam-saeng arrives, since her chances of success are a startling 0%. Boo-chi emerges from his hiding place to shoot an arrow at Nam-saeng, though it misses by zooming past his shoulder.
The other Geumhwadan members start to drag Boo-chi away to safety as Mo-seol and Choong pursue him. Mo-seol's attempt to use one of her hairpins as a flying dagger is subverted by Mu-young "accidentally" blocking it with her spear. Nice.
Jang berates everyone during the next council meeting, and pays special homage to the failure of the intelligence agency as he addresses General Yeon: "Two of your sons were there. How were they not able to protect their father's honor?"
General Yeon seems to have checked out mentally, leaving the other councilmen to squabble over who's responsible. Jang knows it's Mu-young's doing, since he can already see her isolation plan in motion: Yeon's supporters are divided, and with any luck, his political stronghold will diminish.
When General Yeon finally does speak, it's to impose strict authoritarian rules on how to deal with the fallout—they'll restrict large groups from gathering, arrest anyone who spreads rumors, and eliminate all signs of rebellion with extreme prejudice to remind the people who's boss.
The councilmen fret over how much power this will now give General Yeon and the intelligence agency under his control, with General Yang noting that things'll get bloody from here on out. No kidding.
General Yeon asks his sons who they think is responsible, and Nam-saeng is quickly put into place when his father mentions how he ignored Choong's suspicions.
The rest of the conversation takes place between Yeon and Choong, leaving Nam-saeng looking angrier and angrier. Choong's plan turns out to be exactly like his father's (the apple doesn't fall far), and he's the one to earn Daddy's favor in the end.
But Daddy is understandably not happy: "Who dares to insult the Dae Mangniji?"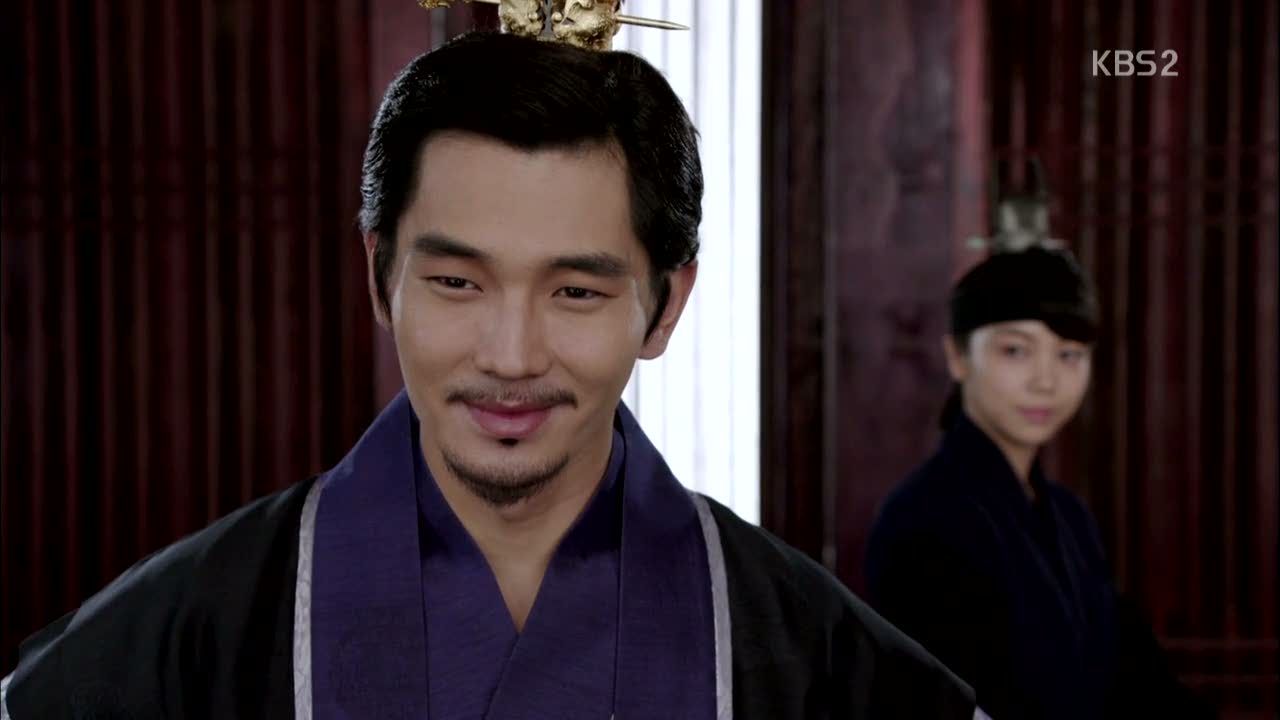 Cut to Jang addressing Mu-young: "I knew it was you!" Ha. Apparently Mu-young was quite the prankster when they were young, so Jang had no trouble figuring it out. "You're still very good at it. That was fun."
Jang speaks to Mu-young like nothing ever happened, which oddly makes me feel a little bad for him. I'm sure he'd actually like things to return to the way they were, but Mu-young is all business as she refuses to celebrate this small victory: "It's only the beginning."
Remember Choong's old friend Jin-gu? The show finally did too. He does exactly what General Yeon didn't want by spreading rumors about what happened at the monument, though at least he's still loyal to Choong even though word has spread of his mercilessness in arresting and torturing people.
At the intelligence agency, Nam-saeng wonders about who's responsible. It was either someone who hates his father, or someone who wanted his father's power… and while he says this, he sends a pointed look in Choong's direction. (Oh no he di'n't.)
It's when Choong mentions revenge as a possible reason behind the snafu that Nam-saeng thinks aloud until he reaches his conclusion: That the only person who could be leading the rebels is the princess.
Even though the princess is thought to be dead, Nam-saeng asks if anyone confirmed the body. That's when one of the members pipes up to say that they only confirmed her remains, not a literal body.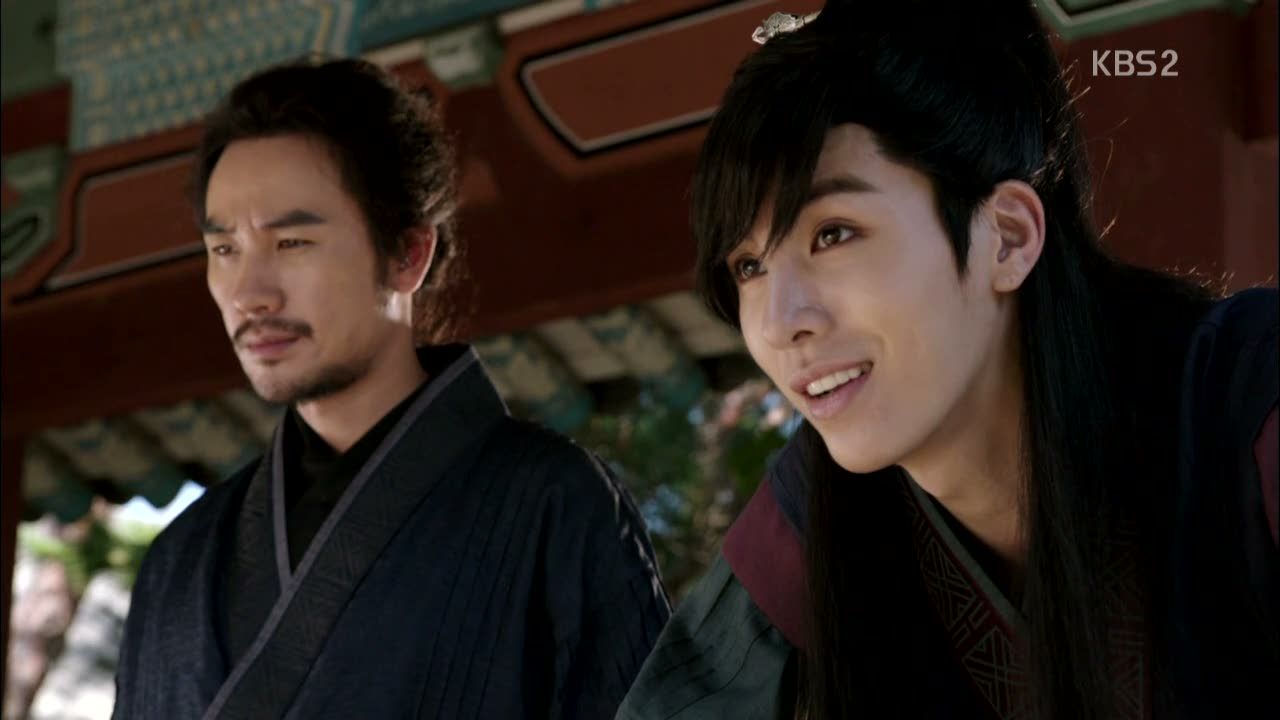 That's proof to Nam-saeng that she's alive, so he orders a search for her to be performed in secret. Choong remembers cradling her clothes at her grave and insists that the princess is dead. Nam-saeng dismisses him because he heard about his little affair with the princess, and knows that his brother's opinion is a biased one.
Mission: Find the Princess is on, so Nam-saeng calls on his favorite person ever, Mu-young, to accompany him on a kill-anyone-suspicious spree.
I love that Nam-saeng thinks he's helping Mu-young to get over her first murder hurdle by telling her that she'll be the one to behead Leader So, comforting her with things like "It's only hard the first time. Then it becomes as easy as using your chopsticks!" Okay, psycho.
Granted, Choong asked her to do the same thing, so his brief interjection on her behalf doesn't count for much. (Though I'd argue that Choong wasn't expecting her to actually shoot Leader So back then.)
Nam-saeng hands her the sword to behead Leader So in his cell, which is a bit curious—wouldn't you want to publicly execute a traitor? Either way, he provides moral support from the doorway, all, It's more merciful if you end it with one blow!
Face to face with Leader So, Mu-young is left without options. She prepares to strike…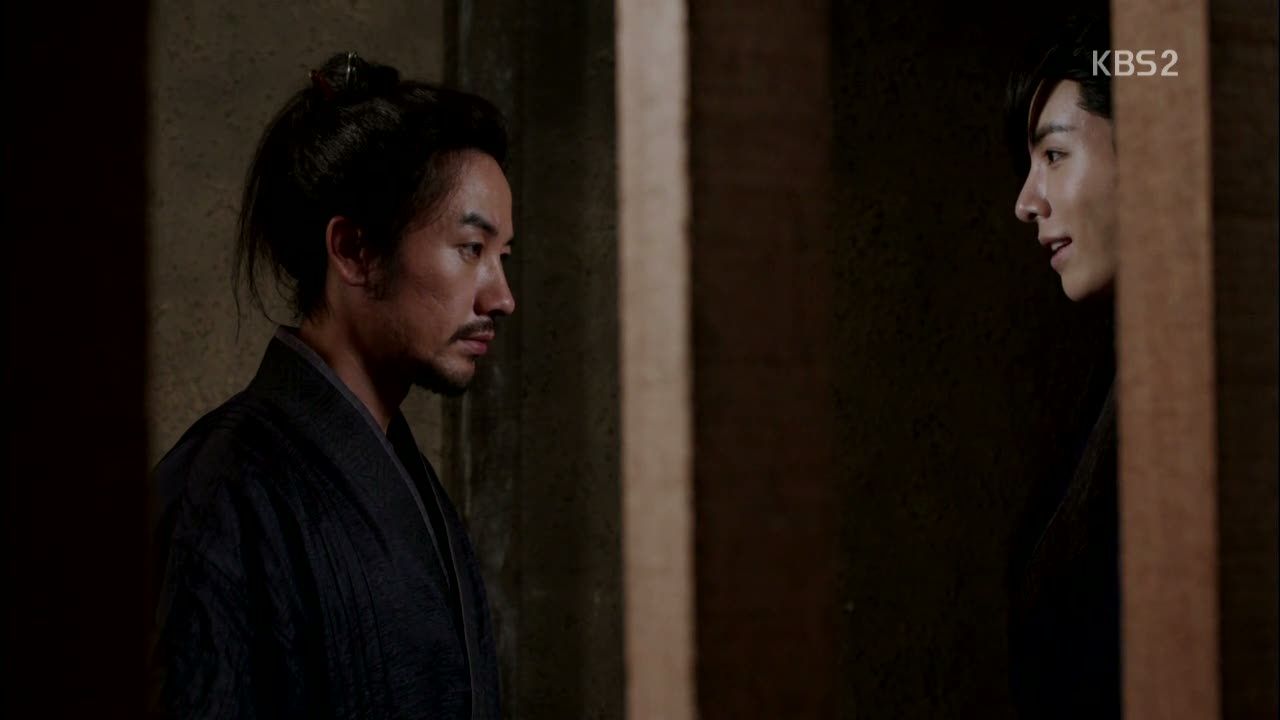 But Choong's interjection saves him at the last minute as he claims that Leader So is the man he chose to be on his side. In this case, could Choong be considered more merciful than Mu-young? Was she going to go through with it?
Nam-saeng pets a bit of his hyung's clothing as he coos that he's not even sure where Choong's heart lies. "Are you really on Father's side, or are you just pretending to be?"
And as they leave the prison, Nam-saeng angrily murmurs, "Things won't work out the way you want, Hyung-nim."
Gisaeng Dal-ki lures some information out of the soldiers who have been arresting and beating people at random all day—they have no idea who the rebels are or where they are. Obviously, this is good news for Geumhwadan.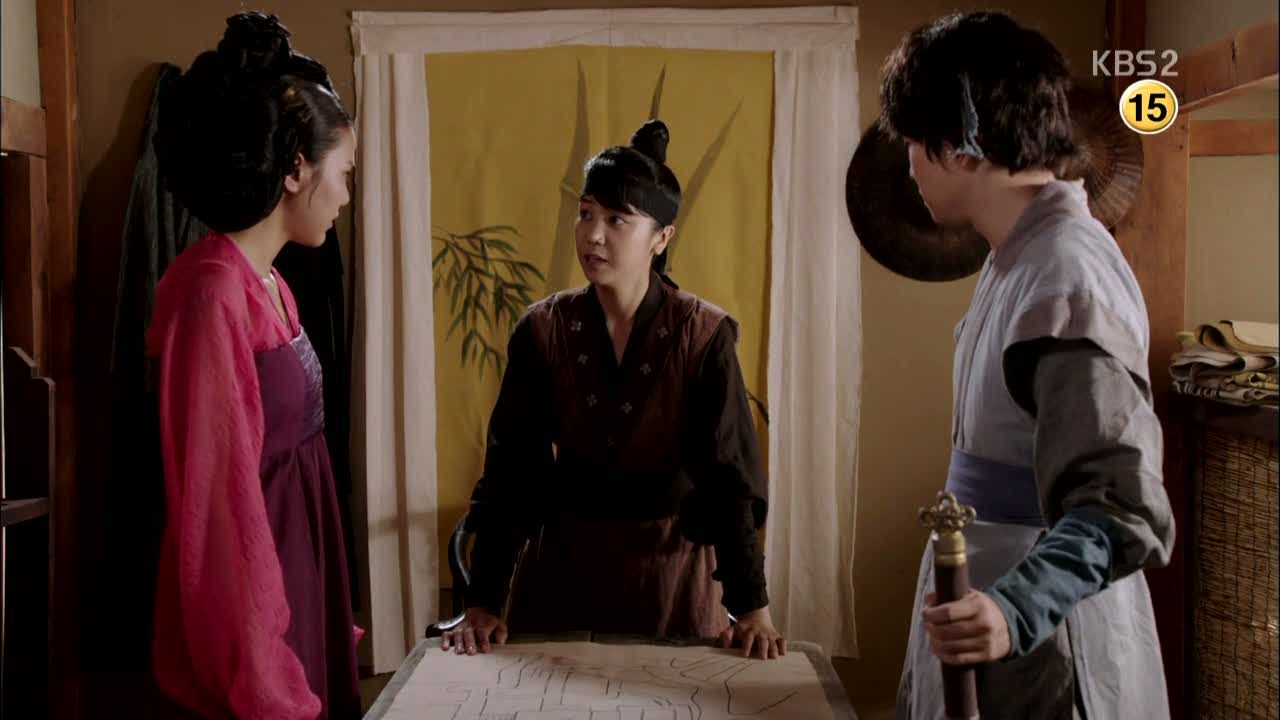 Mu-young heads to the gibang in secret—which has become Geumhwadan's interim meeting place—and unfurls a rudimentary map of the palace so they can plan to spring Leader So from prison.
This goes against their initial plan, which was to let Leader So gain Choong's trust, but Mu-young worries for his safety now that Nam-saeng is after him. Since security is lax due to the soldiers going out into the town to beat innocent citizens, Mu-young thinks it'll be a walk in the park.
Dal-ki worries that Choong will recognize Mu-young if she stays much longer, but Mu-young isn't worried: "I don't think he's aware yet. I need to stay there as long as I can." Phew. Well, as long as she thinks she's safe, she must be. That's how it works.
Mu-young uses the age-old emergency bathroom break excuse to distract the guards while Geumhwadan sneaks into the palace later that night.
Meanwhile, Choong hears back from another spy he sent to check on Mu-young's background, who found everyone she officially listed save for a friend who doesn't seem to exist. Choong: "You can fake the past, but you cannot make fake friends." He must've had an easy life till now.
This hopefully serves as all the proof he needs that Mu-young isn't who she says she is, but knowing this show… Naaah.
A masked intruder pours gasoline through the prison while Nam-saeng broods by candlelight. Then a big deal is made of his inability to blow out the candle for three tries, because fourth time's the charm? (I'm sure this scene could mean something, but in the words of Roger Ebert, "If you have to ask what it symbolizes, it didn't.")
Choong finds Mu-young pacing nervously outside, her only excuse being that she's on night patrol. He's onto her true identity and asks: "Do you have someone that you want to protect?" She shakes her head that she has no one, then asks him the same.
"She is dead," he says, referring to her and almost begging her to react. "I killed her."
The masked man who poured the gasoline now sets it ablaze, but is cut down by someone not in Geumhwadan. While the fire distracts the guards, Boo-chi uses the secret passageway to get to Leader So's cell and break the lock.
Now free, Leader So refuses to leave without saving some of his fellow prisoners. Choong and Mu-young's tense moment is broken when fire lights the sky, and both of them go rushing off to the prison.
Choong spots Geumhwadan trying to make a run for it, and as he and Boo-chi fight amongst the flames, Leader So continues to free prisoners. In order to buy time for their escape, a masked Dal-ki throws a hairpin to stab Choong in the shoulder.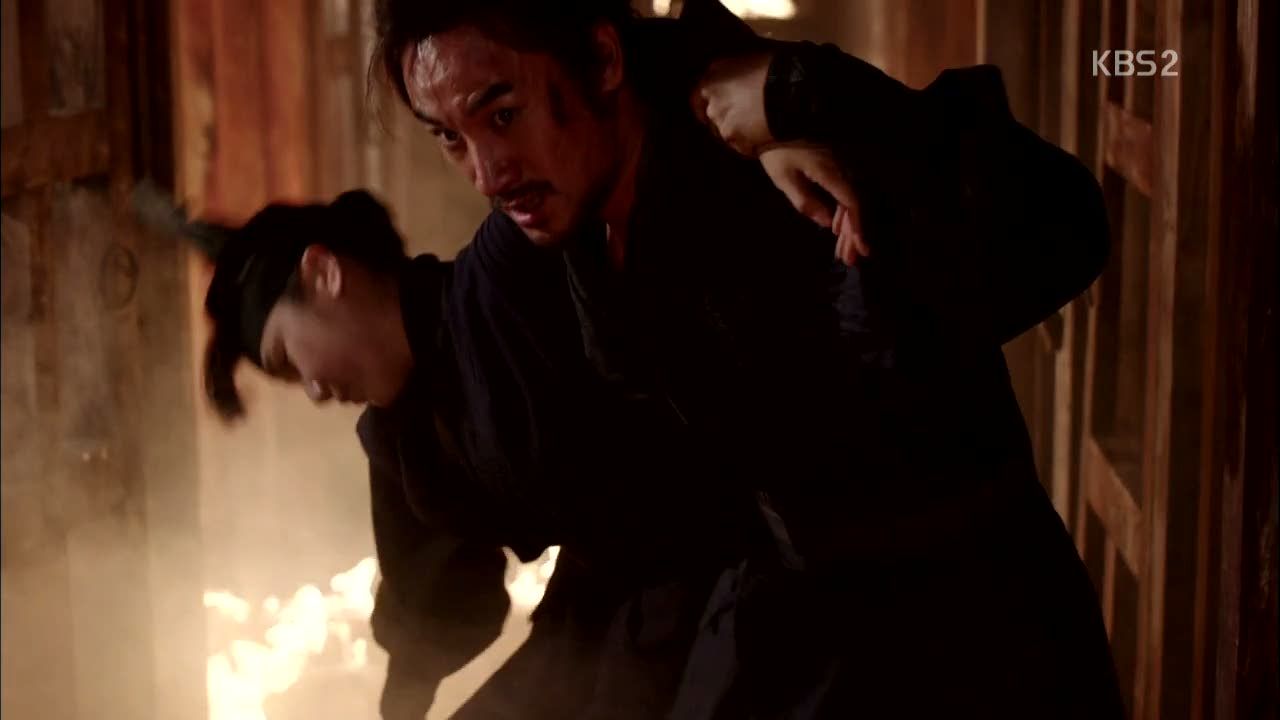 He's about to give chase, but a falling beam knocks both him and Mu-young to the floor, causing her to fall unconscious. (This might be debatable, but it looked like she was the one to pull him back before he could really get hurt.) Choong throws her onto his back to carry her to safety, something Nam-saeng watches unhappily.
Nam-saeng follows them, and when Choong lies her on the ground Nam-saeng comes running up, "Mu-young-ah! Mu-young-ah!" all genuinely concerned. He holds her in his arms and sends his brother a dark look, as if blaming him for her current state.
Mu-young's eyes flutter open, and Choong takes that as his cue to leave. Nam-saeng is the one who gets her tucked into her own bed, though he's not happy she refuses to see a doctor. For obvious reasons this would be bad news for her, so she pretends to be fine.
Nam-saeng's concern is evident, but as he reaches a hand out to smooth her hair, Mu-young abruptly turns over. Aww, his feelings are hurt.
Mo-seol worries excessively over Choong's stab wound, but he's not interested. She knows that Mu-young was hurt trying to protect him—ah, so she did pull him back, I think—and is now rethinking her initial suspicions that Mu-young is a double agent.
She mentions how Mu-young blocked her shot at the opening ceremony, and I really can't tell if she's trying to be malicious by telling him or not. She looks like she might be trying to get Mu-young in trouble, though.
Leader So is taken to the Geumhwadan Cave, where the umbrella maker meets him with open arms. Leader So is thankful that he led Geumhwadan while he was away, but there's no time to dawdle when there's work to do.
They head into a forest to find a group of armed men on their side… led by Shi-woo. SHI-WOO! You're back! You're back you're back you're back!
Father and son greet each other for the first time in three years, with Leader So glad to see that his son wasn't dead. Well, he doesn't look that glad if that's what he thought all this time…
But yes, this is apparently the only explanation we'll get for Shi-woo's absence—he apparently couldn't bother telling anyone that he was going to travel the country to gather allies in the form of Geumhwadan members around Goguryeo. Somehow it was better for everyone to think he was dead even though no one mentioned so much as his name… but you know what, it doesn't matter. He's back!
So it turns out the group of men are messengers from their separate Geumhwadan leaders, gathered by Shi-woo to pledge their leaders' loyalty and men to the cause. Apparently Geumhwadan is a nation-wide organization with branches in every major town now.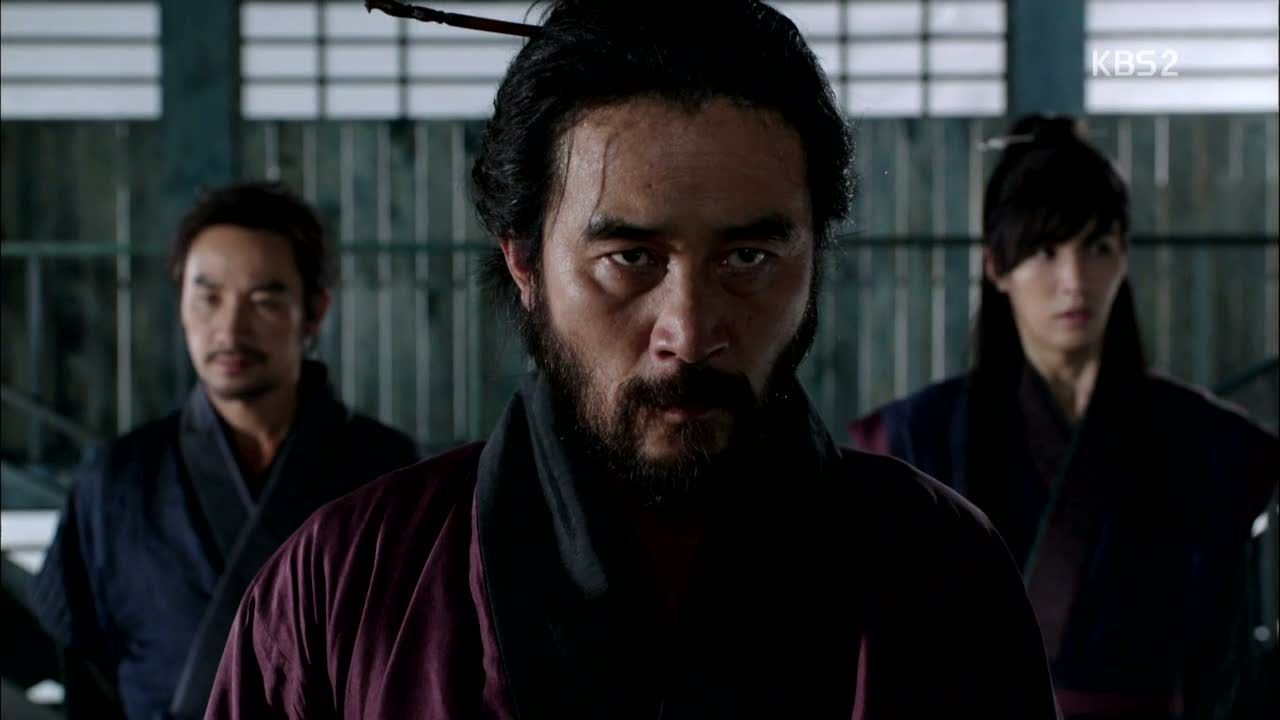 General Yeon convenes with his two sons to find out more about the fire, and Nam-saeng is the first one to point fingers at Choong for letting Leader So live, and for the fire happening at all—the prison is/was under Choong's jurisdiction.
However, Nam-saeng is sure the source of the unrest are people still loyal to the former king, and declares that he's sent agents to confirm the princess' death. Choong finds this a waste of time, and claims that keeping an eye on any military leaders formerly close to the king would be more useful than chasing after a ghost.
General Yeon tells them both to do what they have to, but whichever son brings those responsible to him and kills them in front of him will win his favor—whether it's the princess or her even her father's ghost.
Jang is clearly enjoying General Yeon's unease as he sarcastically teases him about sending him herbs to help him sleep—after all, Yeon had once sent him those same herbs when he had spies reporting Jang's every move, even down to his sleeping habits.
Now Jang knows Yeon hasn't been sleeping well, but not because he has spies planted. He simply claims that even the walls have ears so it's easy to hear when he does nothing all day, which raises Yeon's suspicions enough for him to say, "I don't care what you are planning, but I advise that you stop."
Jang scoffs that he's merely a puppet, and puppets can't make plans: "But I can stand by and watch." Technically he's not lying. He's just letting things happen.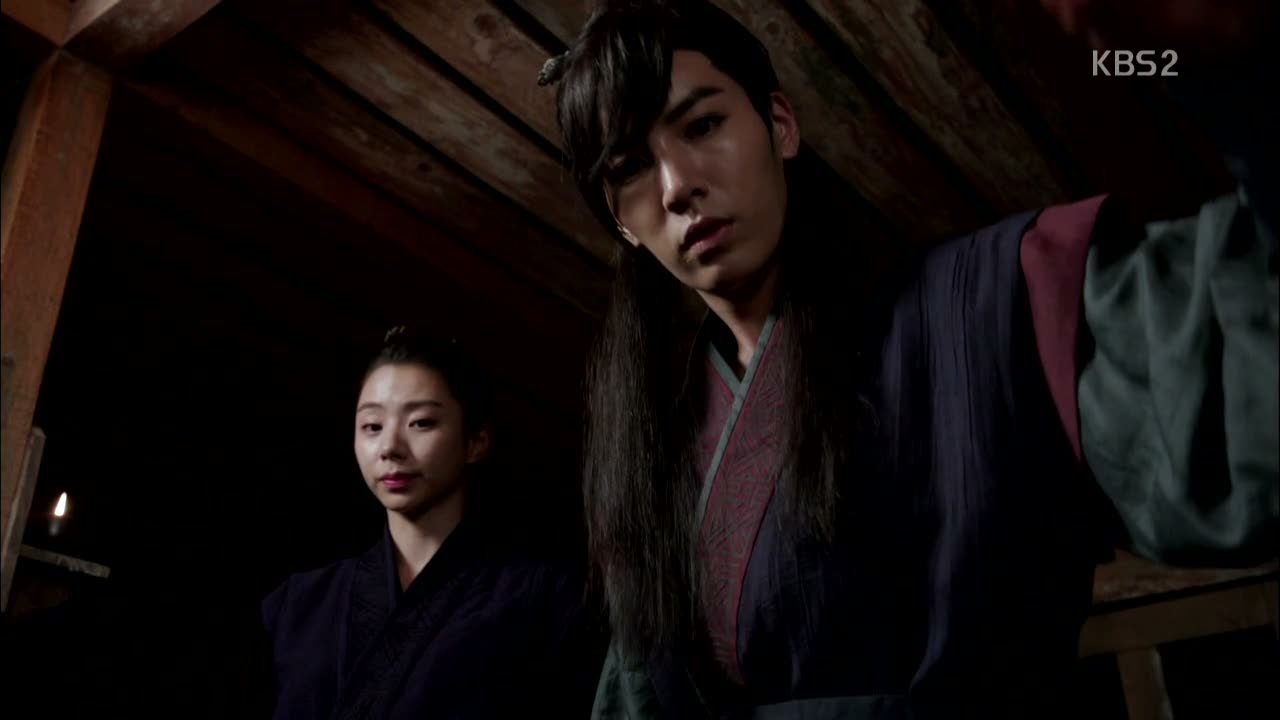 Nam-saeng thinks aloud to Mo-seol that the late king's followers must have a base close to the capital, and she suggests he take a look at the weapons smuggler who supposedly died under torture.
He does, and notes the sword and flower emblem tattooed on his chest for the first time before remembering that the smuggler gave away the location of a weapons cache right outside the city wall. If the smuggler was working for the rebels, then that hideout will give them a clue.
Mo-seol looks maliciously gleeful as she calls out after Nam-saeng leaves that he hasn't even heard the whole story yet. Look, Mo-seol, I appreciate the effort but this show has already got ninety-nine problems.
When Mu-young sees her fellow agents readying for an attack on the hideout, she thinks to herself: "I've got them." The only snag is that Choong won't be going with them.
The reason behind her reaction is explained when we cut to Geumhwadan wondering if the agency will fall for their trap. Ah, so even the hideout reveal by the smuggler was carefully planned—though you kind of wonder why the agency never investigated the place sooner.
Shi-woo reports that the agents are on the move to the hideout, which sets their plan in motion.
The plan is a good old-fashioned ambush, with Geumhwadan members hiding amongst the thick grass lining the long winding path to the hideout, aka the only suspicious building for miles. The umbrella maker warns everyone to be extra careful not to hurt the princess, who's bound to be among them.
Choong finds the agency empty save for Mo-seol, who apparently thinks it's fun to just give him information in pieces as she (kind of) explains the situation, in that Nam-saeng took charge in order to take all the credit.
As it is, he wants to pin the prison break on Choong, so if he were to find the rebel stronghold alone, he'd win their father's favor and knock his brother down a peg in the process. But she does tell Choong about the smuggler, and how he died from a terminal illness and not torture.
So that means that their enemies used a dying man on purpose so he would reveal only what they wanted him to, which raises Choong's suspicions that his brother has just led all the agents into a trap. Now he has to go save them.
The agents dismount from their horses to head to the hideout on foot, and Nam-saeng can't help but notice Mu-young looking around anxiously. He walks up behind her so he can whisper next to her ear: "Are you looking for me?"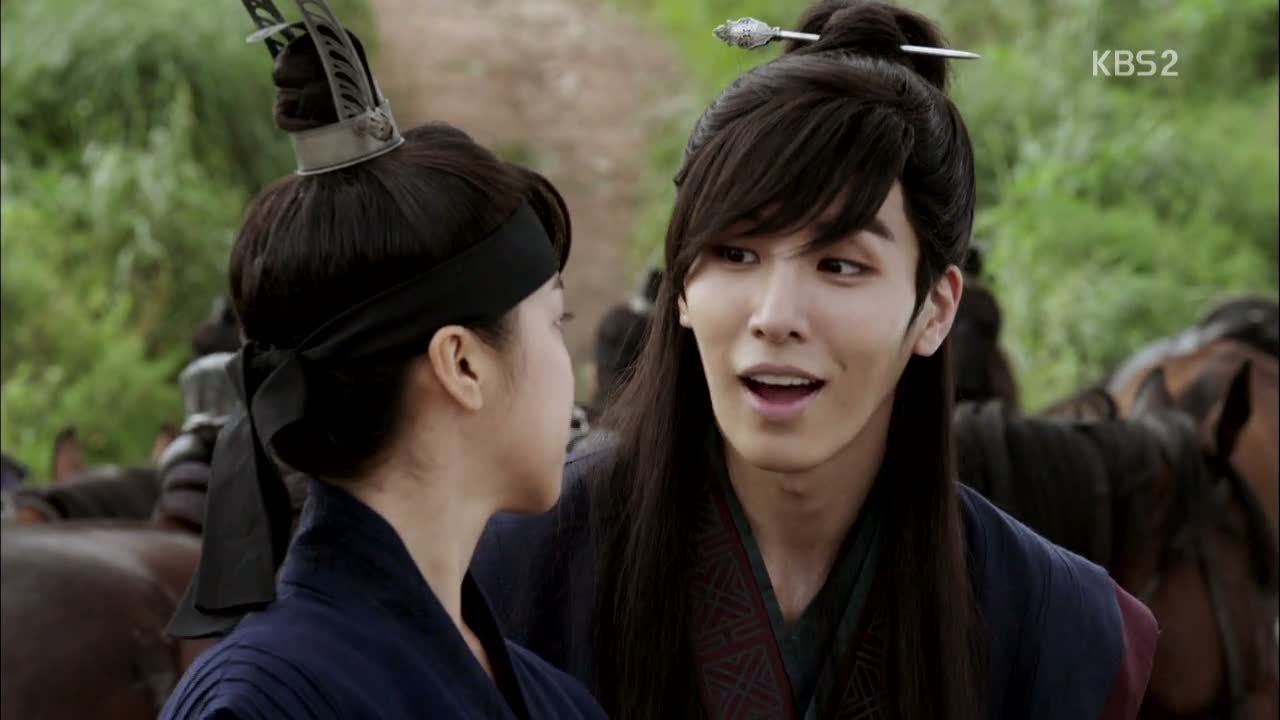 He's trying to tease her, but you can tell he just wishes it were true. Mu-young has to cover her tracks and claims she was looking for Choong, causing Nam-saeng to pout that of course he's not coming—this is HIS day.
And then he's all happy that he'll get to show off for Mu-young. (I can't help but feel just a little bit bad for him, even though he's crazy.)
The umbrella maker makes himself known in order to draw some of the agents away, which goes exactly as planned—Mu-young leads the chase, which gets her away from the kill zone.
Choong rushes toward the hideout on horseback right as Nam-saeng finds nothing but a corpse and the Geumhwadan emblem inside. This is Geumhwadan's cue to start raining flaming arrows down on the agents, and Nam-saeng figures out a little too late that it's a trap.
Most of the agents are already dead by the time Nam-saeng makes it outside, and Choong rushes to his side to simultaneously chide him for being reckless and order that they retreat.
"Retreat?" Nam-saeng repeats the foreign word while his eyes look distant and glazed. "We must kill them all!"
Choong puts his brother's safety in the care of other agents and draws his sword to do battle with the Geumhwadan members now within range. He ends up directly fighting Boo-chi, Dal-ki, and Chi-woon. A bit unfair. (For them, I mean.)
Mu-young circles back around and starts running toward Choong and the gang. He fights his way through them so that he can join Mu-young on her side, but she approaches with her sword raised as if to stab him…
But he merely tells her to retreat, which means a really awkward moment where she tries to figure out what to do—attack and kill Choong, or save him.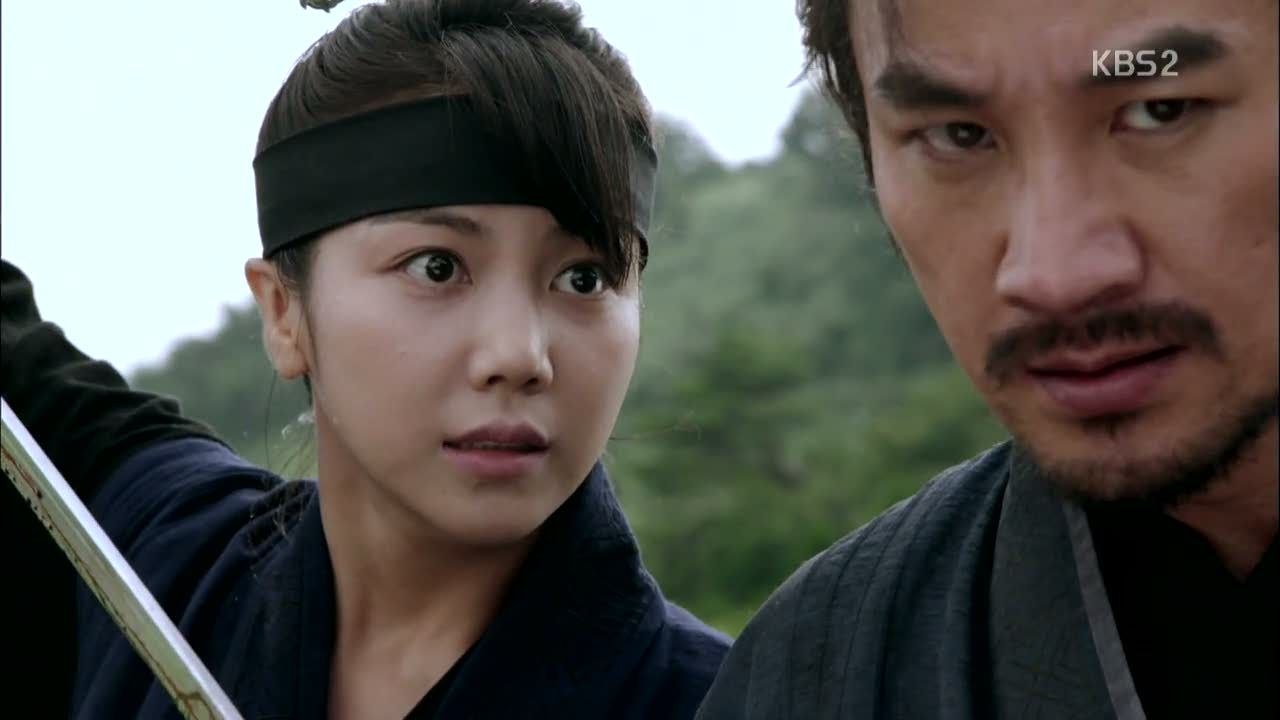 She eventually lowers her sword. She can't stab him now.
Two Geumhwadan members didn't get the memo not to kill the princess, so they fire arrows straight at the both of them. Choong protects her by cutting the first volley straight out of the air.
When Mu-young's shock passes, she steps in front of Choong to fight off the next volley… and is shot with an arrow straight through the chest, near or through the heart.
Choong catches her as she falls, their gazes locking for the briefest of moments before her eyes close.

COMMENTS
Huzzah, an eventful episode! This doesn't erase the last episode or the general downward tick in quality and story logic overall, but it wins some points for upping the ante. I guess there was nowhere to go but up, right?
Mu-young had some potentially pivotal moments in this episode that weren't all that pivotal because it was insanely hard to tell what was going on with her, which I really wish wasn't the case. When Mo-seol said that Mu-young got hurt protecting Choong during the fire, I had to actually rewind to that point to see if that's what happened. And yes, it did seem possible that Mu-young could have pulled Choong back at the last moment in order to save him, which would imply all sorts of interesting things. So if that were the case, you'd think the show would make that moment clearer, or stress its importance just a bit more. Nope.
Confusing Mu-young Moment #2 came when Mu-young kept asking if Choong would be part of the group heading into the trap. I honestly couldn't tell whether she was asking out of concern (because she didn't want him to get hurt) or whether she was asking because she hoped he'd be there with a target strapped to his back. So I decided to think that she had saved him from the fire, and that she didn't want him to be part of the ambush, because that's a nicer thought than the alternative.
Confusing Mu-young Moment #3 came when Mu-young rushed up to Choong with her sword raised, only to have that very awkward moment where she had no idea what to do with it. The idea seems to have been that Mu-young meant to kill Choong, only she couldn't bring herself to do it. The problem is that there shouldn't be so much guesswork with important character beats like this—I'm not advocating that motivations be written out on a chalkboard or explained through an exposition fairy, but if this important internal struggle was going on with Mu-young, that's something that should come across above all else, so that that moment could mean as much as it should/could have. Instead, it feels like something got lost down the production's game of telephone—or worse, that the show is being deliberately vague.
Which leads us to Confusing Mu-young Moment #4, with her taking an arrow for Choong. It's possible to connect the dots like so: Mu-young couldn't kill Choong > Mu-young realized Choong was protecting her > Mu-young decided to protect him, except I'm not really sure what she meant to do. And I suppose that matters less than what she did do, but understanding the why is the whole point of following a character's journey, isn't it? Instead of saying "She did this and then she did that," I'd take the story that tells me "She did this because of that" any day.
Say stepping in front of Choong wasn't an accident. If we were reaching a moment where Mu-young decided to forgo revenge because she still loves Choong after she's spent years thinking he betrayed her, wronged her, and never cared for her—then I want to see that moment in all its complexity. I want to see it mean something, darn it. And if it just means that we get to hold onto the cross-dressing cliche staple of the hero finding out the heroine's gender by having to undress her after an injury, this show and I are going to have some words.

RELATED POSTS
Tags: featured, Kim Ok-bin, Sword and Flower, Uhm Tae-woong