Liar Game: Episode 5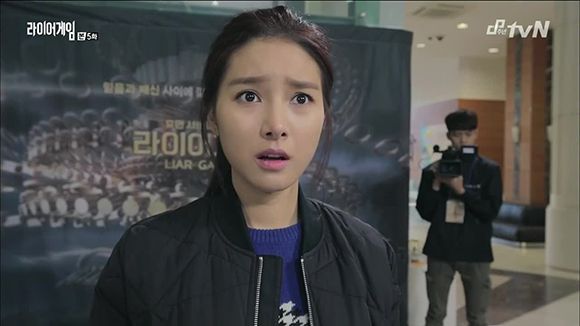 It's our heroine's first round fending for herself, and she's got a thing or two to learn about when to cut people off. While she takes a pummeling this hour, our hero finds himself on the brink of a major discovery that could change everything. He's not just a conspiracy theorist with a tin foil hat anymore—whatever he's about to find out is real, and the possibilities are as endless as they are frightening.
SONG OF THE DAY
TVXQ – "Humanoids" [ Download ]
Audio clip: Adobe Flash Player (version 9 or above) is required to play this audio clip. Download the latest version here. You also need to have JavaScript enabled in your browser.

EPISODE 5: "Layoff Game I"
The moment Dal-goo steps out of Da-jung's house with her stolen prize money, he gets a call from Woo-jin. He's a nervous mess over the phone, especially since Woo-jin continues to ask questions that make him uncomfortable.
So while he tries to pass his nervousness off in order to get off the phone as quickly as possible, Woo-jin knows exactly what went down. That's why Dal-goo finds him waiting outside his apartment door before he gets home.
Caught red-handed, Dal-goo has no choice but to try and defend his actions—in his mind, Da-jung is better off being indebted to the show than his boss. Woo-jin disagrees, and Dal-goo switches to blaming him for being the reason Da-jung is still playing the game in the first place.
He tries to throw a punch, but all Woo-jin has to do is move aside for him to miss. Now chastened, Dal-goo is more willing to listen when Woo-jin tells him that it was Do-young who sicced the creditors on Teacher Hyun—what does he think would happen to Da-jung if she became indebted to the show? What if she loses?
Dal-goo's eyes go wide as he asks Woo-jin to help Da-jung if things are that bad. "This is a game of survival," Woo-jin replies coldly. "Nam Da-jung and I have to survive on our own."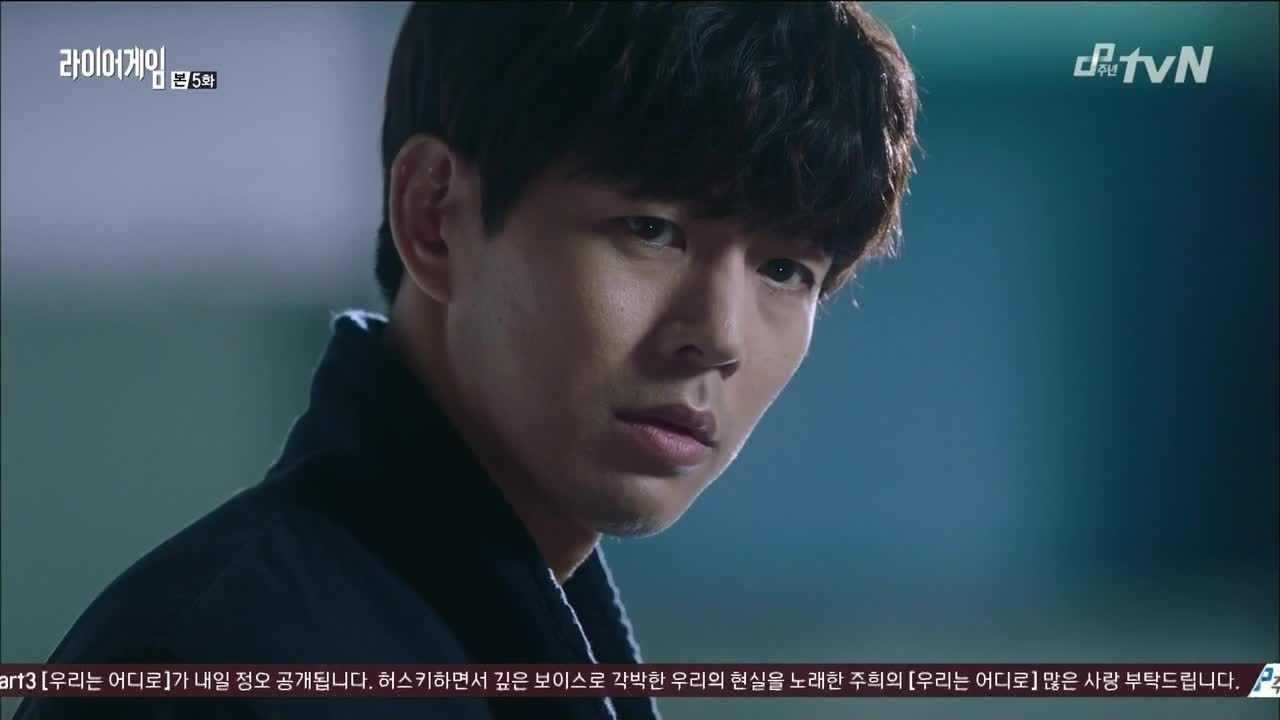 Talking to himself more than anything, Dal-goo curses Da-jung's father for investing all his money into "L Company," since he bought stocks with borrowed money and got swindled out of everything in the process. The name of the company gives Woo-jin pause—he recognizes that name, doesn't he?
He asks Dal-goo to explain, even though he already knows the story: Da-jung's dad got an insider tip that L Company's stocks would go up, bought in, and lost it all when the tip turned out to be false. Woo-jin doesn't need Dal-goo to repeat the company name because he already knows it. Innnteresting. I wonder if his mother was scammed by the same company.
Da-jung wakes up the next morning and panics to find her briefcase gone… only to turn around and find it chained with something much stronger than her previous bike chain with a note from Dal-goo telling her he secured it better since he almost ran away with it. Awww.
Needless to say, Da-jung's morning only gets weirder when she receives a call from Do-young asking if she's free today. She barely gets to say she has to go to work before he hangs up—and moments later, her boss texts her to say he understands she can't come in today.
Do-young calls again to ask her how much time she needs to get ready. Da-jung hurriedly runs to the window to find Do-young standing outside her house. She looks very confused, as she should be.
Once in the car, Do-young tells her they're on the way to a magazine cover shoot because they had a sudden cancellation. (I somehow doubt it was an unplanned accident.) When Da-jung protests, Do-young says simply that she's a star his station invested money in, and it's time for her to start giving back.
Da-jung gets all dolled up for her shoot while Do-young approves outfits, and after it's done he tells her it's time for her next appointment. Since she's still in her photoshoot clothes, Da-jung offers to change first. "There's no need," Do-young says suavely. "Those clothes look good on you." Ooo.
But Da-jung draws the line when the next place Do-young takes her is his house, since that definitely can't be in the contract. "Am I your slave?" she asks. "Or since I have to survive now without Woo-jin, should I try to appease you to get a hint? I'm sorry, but I'll do it on my own."
Her tune changes when Do-young tells her he invited Woo-jin as well—after all, the two of them have done wonders for their program. He just wants to show them his gratitude.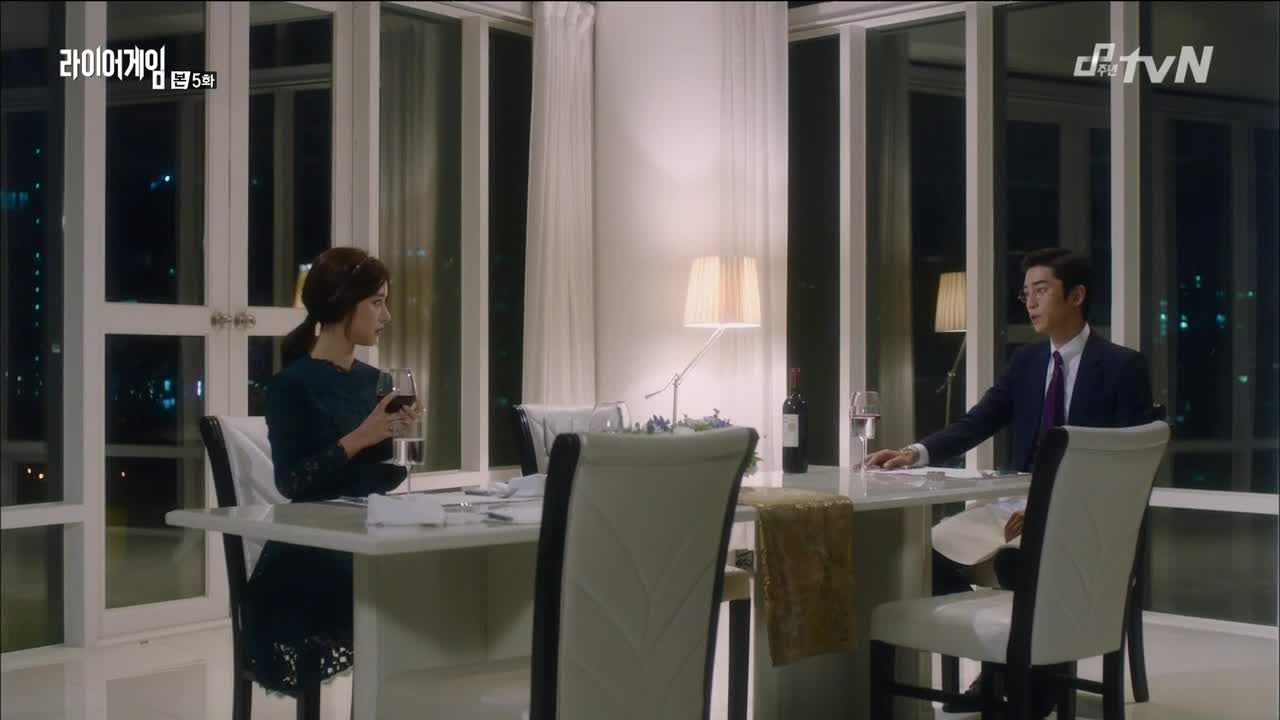 It's only Do-young and Da-jung at the table at first, and it's very clear from their surroundings (and okay, maybe the personal butler) that Do-young is incredibly wealthy. That wine Da-jung is drinking? Fifteen thousand dollars a bottle. Yeah.
Do-young tells her to give Woo-jin a call since he hasn't shown for dinner yet, and we soon see why: He's meeting with Reporter Gu on their secret rooftop to talk about L Company. That was the company he brought down out of revenge, but in so doing, Da-jung's father lost everything he had.
Reporter Gu tries to take the blame off him by saying Da-jung's father was in the wrong for using borrowed money to buy stocks, but Woo-jin doesn't seem to register it. "What if it wasn't a coincidence that Nam Da-jung and I joined Liar Game?"
If it wasn't, Reporter Gu claims to have her own theories, most of them revolving around Do-young. Part of her wonders if he's so rich that he invented a sadistic game for his own amusement, but the other part of her can't figure out what he is. A man? A god?
"He asked me if I thought the revenge I took a year ago was a success," Woo-jin answers. "And that I would find out the truth if I joined the game and won." But he finally gets that call from Da-jung, and seems shocked to hear where she is. Something tells me he never got a dinner invite.
Do-young apologizes to her for that, and claims he didn't ask because he didn't think Woo-jin would accept an invitation from him—that's why he had her call. "Aren't you curious about why Ha Woo-jin helped you?" he asks.
"I thought I knew before but I don't anymore," Da-jung admits. Do-young takes it upon himself to explain, and tells her about her striking similarities with Woo-jin's mother. The biggest similarity they share is empathy, and the fact that they'd both go into debt if it meant helping others.
It's then that Do-young tells her that Woo-jin's mother committed suicide after being scammed, and the reason he went to jail was because he took down the company who scammed her and tried to murder the CEO. How terrible Woo-jin must have felt, Do-young says, to not have been able to read his mother when he has a gift for reading everyone else.
"Woo-jin might see his mother in you," Do-young adds. "Seeing you ruined would be no different for him than going through that same pain twice." Icwutudidthar, Do-young.
Woo-jin is looking extra surly when he shows up for dinner, and most of his ire seems directed at Da-jung for being there in the first place. But he sees a painting on Do-young' mantle that gives him pause. What is it?
After answering Woo-jin's question about how the candidates were selected, Do-young seems a bit reticent when Woo-jin asks if there's any connection between the participants. Do-young knows he's talking about Teacher Hyun and Da-jung, and sticks to his story that it's something they only found out during the broadcast. It was just a coincidence.
"If you must find a connection, it's that everyone needs money," Do-young adds. "The more desperate they are, the more entertaining the show will be."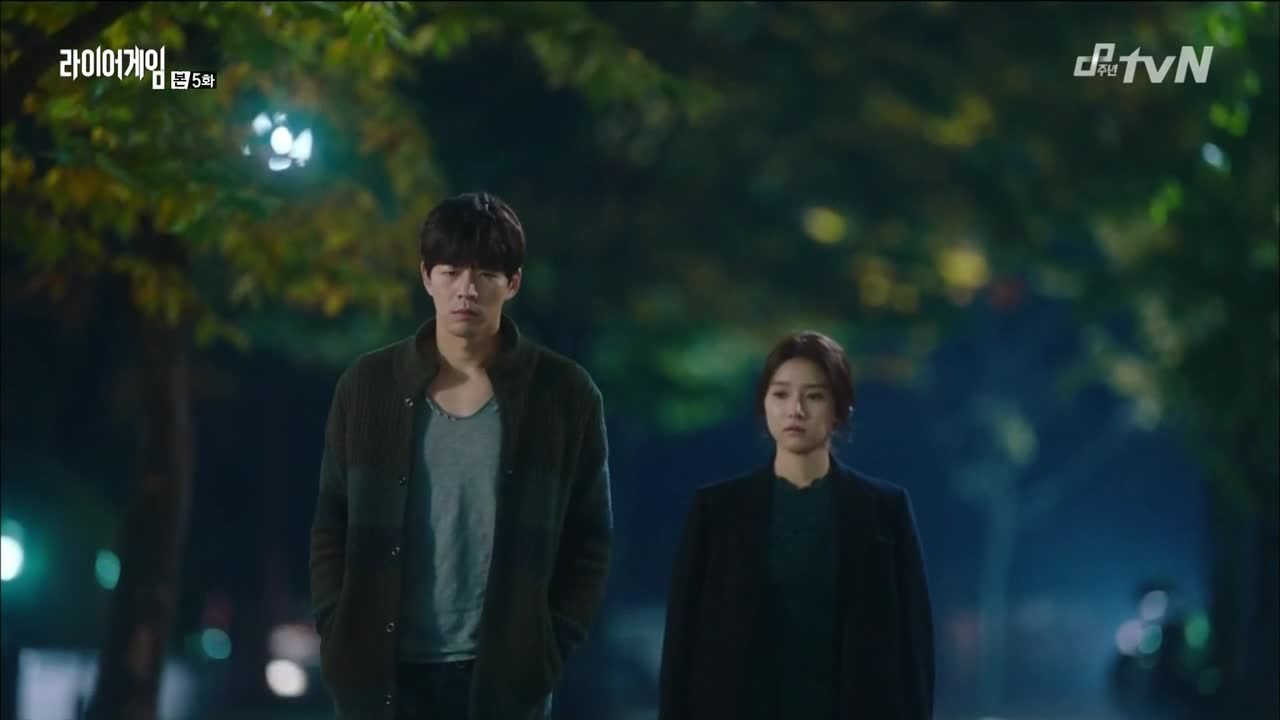 Da-jung can't stop thinking about what Do-young said about Woo-jin's mother as she and her guardian angel walk home, while Woo-jin can't stop thinking about what he might've done to Da-jung's father.
He even stops to ask her how she'd feel if she found out someone was behind her father running away because of debt. Da-jung says she'd hate that person. "Is that all?" he asks hopefully(?). Da-jung: "I think I'd want revenge, because it would be hard to forgive them."
Dal-goo gets a taste of the ever-growing fan fervor for "Goddess" Da-jung while waiting for the broadcast, and makes it in time to see Do-young introduce the nine contestants for the next round. Jaime gets booed while Da-jung gets a standing ovation.
Woo-jin isn't with them since he gave his winnings to Sung-joon, but he and Reporter Gu are on the hunt for the contestants eliminated in the last round. He wants to know if there's a connection they all share, considering his newfound connection with Da-jung.
It turns out that Dal-goo attended the broadcast just so he could report the game parameters to Woo-jin, which he does in the men's bathroom. He doesn't know exactly where the next round will take place other than that it's a shopping mall, that the contestants were told they could bring anything they wanted, and that only one of them will be eliminated.
Do-young then tells the contestants that this game has to do with layoffs that can happen to any employee. So in this game, they'll be evaluating each other on job performance and productivity, and whoever gets the lowest score will be laid off/eliminated.
When a few contestants murmur that it'll be nothing more than a popularity contest, Do-young proves it won't be so simple by laying out the rules: They'll have ten rounds to evaluate their fellow contestants using a phone app. They'll have three stars to give out to contestants other than themselves each round, and whoever has the least amount of stars by the end loses.
But, in true Liar Game fashion, they can also make deals using virtual money they've been given through the app—each of them gets three hundred million won (three hundred thousand dollars). If they survive the game, that virtual money will turn into real money.
Since they were told to bring anything they wanted, they can sell those items to other players if they choose, and can purchase anything they'd like in the mall using the virtual money. Any trades, purchases, or contracts made with the other players through the app will be uploaded to the staff, and if any of the terms are violated, all the player's prize money from this round or any previous rounds will be confiscated.
Dal-goo reports all this to Woo-jin dutifully, while the contestants (minus Jaime) share a meal. Sung-joon cutely calls Da-jung "noona" as he urges her to eat up more, and that he defends his noona when she suggests that they all make an agreement to split the final round prize money amongst themselves and Woo-jin if one of them were to win. That way, each of them would be guaranteed to get one billion won/one million dollars.
They agree, but they want to start next round. Da-jung wanted them to start this round, though they don't think they have to when they already plan to eliminate Jaime.
Reporter Gu leads Woo-jin to the rundown home where the female contestant who was in the final four in the Minority Game, Lee Min-jin, lives. Reporter Gu hasn't been able to reach her for days, and when they see the trash piled outside her door… well, things aren't looking good.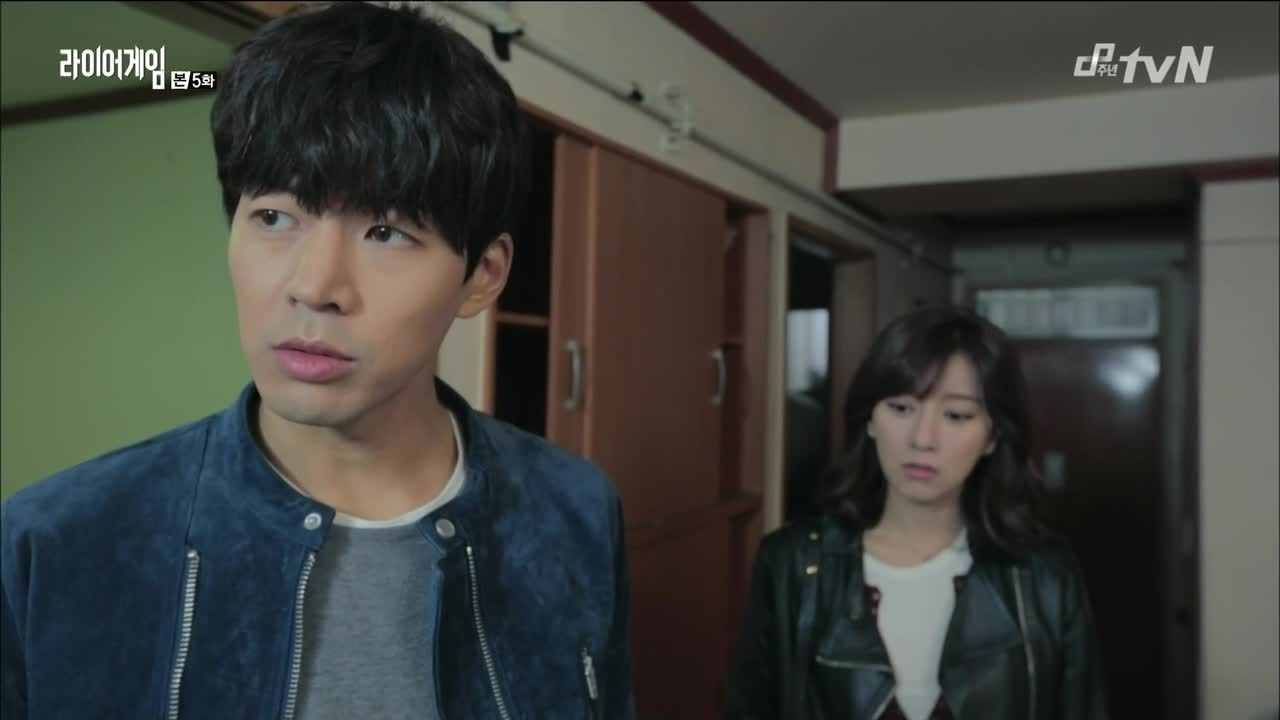 When she doesn't come to the door, Woo-jin picks the lock. The apartment looks ransacked, like she left in a hurry—but the fact that her dog was left behind proves that she didn't leave on her own accord.
Woo-jin asks the apartment security guard to take a look at the surveillance camera footage, only to be told that the cameras are just for show. But Woo-jin is able to quickly pick up on the fact that the guard is lying, and guesses that he was paid off by whoever kidnapped Lee Min-jin. Woo-jin has to only intimidate him to get the license plate of the car used for the crime.
Woo-jin sends Reporter Gu to tell his buddy at the station, Detective Cha, about the case so he can pull information on the license plate they have. After reading Dal-goo's text update, he texts back to tell him where the game is taking place.
Though Reporter Gu thinks the outcome of the round will be as simple as the rest of the contestants seem to think—that Jaime will be eliminated easily—Woo-jin disagrees. "Jaime might have the greatest advantage of them all." What how why?
Jaime manages to cause a tiny rift in Da-jung's group by pointing out that they may all be friends now, but they'll go back to being enemies in the next round. Suddenly Da-jung's suggestion that they remain a team and split the winnings in the end doesn't seem like it matters so much to her teammates.
But they follow Jaime's suggestion to get to know each other better by giving short introductions with subsequent explanations on how they got in a position where they desperately need money. Jaime interrupts their session to talk about herself, though somehow her "I wasn't always a bitch" story doesn't really clear her of that status now.
Da-jung prepares to say her few words, but Jaime swiftly takes over: "What's your relationship with Ha Woo-jin? You two seem to have a special relationship." Caught off guard, Da-jung just says that he was helping her.
Jaime accepts that for the first round, but how about the second? Why did they work as a team? And how does she even have her creditor helping her? Slowly but surely, it becomes clear that Jaime is insinuating that Da-jung is sleeping around for favors.
Sung-joon won't stand to hear such accusations against his noona (I want one of him), while the others also stand up for her and call Jaime the easy one. Jaime doesn't deny that she's been around the block a few times, but claims that's what makes her able to spot another of her ilk.
And to prove it, she tosses pictures of Da-jung's makeover session with Do-young for all to see. PD Lee thinks it's Director Jang's doing, but she looks disbelievingly at Do-young when he's so flippant about the reveal—the game would've been too obvious otherwise. He planned this from the beginning, didn't he?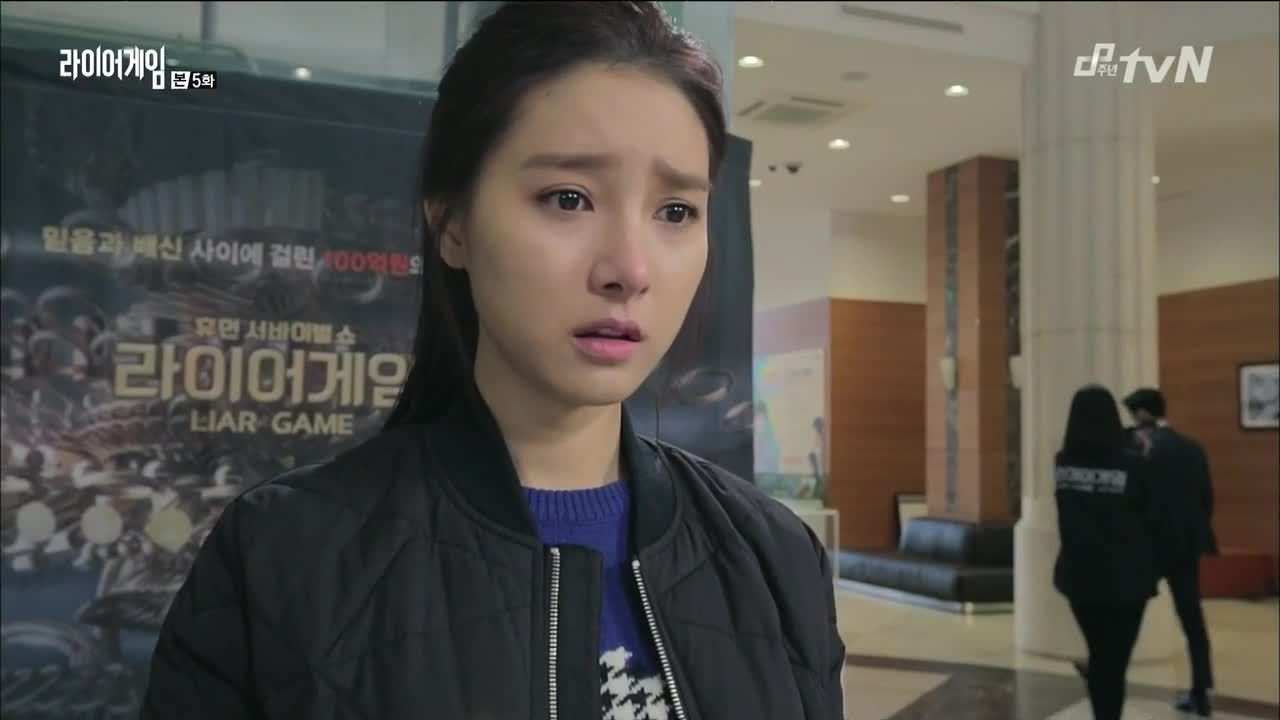 Now everyone thinks Da-jung slept with Do-young to get more attention, which isn't helped by Jaime throwing all sorts of wild accusations her way. Da-jung is left with nothing and no one when her teammates turn away from her in disgust and disappointment. Even Sung-joon leaves her.
Meanwhile, Woo-jin follows up on the address linked to the license plate and finds an empty, dilapidated space filled with shredded papers and the shredder itself. When he goes to investigate the machine, he finds the remnants of papers bearing the L Company logo…
…Before a man comes up from behind him and bludgeons him with a baseball bat. Woo-jin drops to the ground, unconscious.
Jaime is the only one who stays behind to talk to Da-jung, and much to the naive girl's surprise, Jaime admits she lied about Da-jung being a loose woman—she knows Da-jung can't manipulate anyone to save her life, much less men.
And while she doesn't say where she got the pictures from, Jaime explains that she showed them to everyone because she had to survive. "But how could you lie like that?" Da-jung then sighs, because she knows the answer: "This is Liar Game."
"They changed their minds so fast," Jaime says of the others. "That's why you can't trust people." Contrary to Da-jung's belief, she's not there to rub it in, but because she's figured out a way for both of them to survive the game.
If the two of them team up and give each other all three stars every round, they'll end up with thirty stars and undoubtedly make it to the next round. Even if someone else figured out what they were doing toward the end, they wouldn't be able to catch up anyway.
Da-jung says thank you, which seems to make Jaime slightly uncomfortable as she brushes it off—she's not being kind, she's just trying to survive.
Naturally, PD Lee and Do-young watch their conversation. PD Lee questions whether Do-young knew about the pictures beforehand, since the cameras were already poised to capture them at the correct angle… Man, I love how sharp she is.
Do-young laughs that he can't ever fool her, and admits he gave the photos to Jaime. PD Lee can't figure out why he'd do such a thing to Da-jung, but Do-young simply replies, "It's fun." Besides, he wasn't going to let Director Jang have all the fun by using Jaime as a card—now he gets to use her too.
A sudden phone call sends Do-young outside, and PD Lee keeps a close eye on him via the security cameras. She can't hear the conversation, but seeing Do-young's cheshire grin after hanging up definitely unnerves her.
It's time for the first evaluation, and like Da-jung promised, she gives all three of her stars to Jaime. The results start coming in: Jaime is in first place with six stars, all the other contestants have three, and Da-jung… has none.
Poor Da-jung looks at Jamie disbelievingly, but Jamie just smirks. She's not at all sorry for deceiving Da-jung—it's called Liar Game, after all.
No sooner does Reporter Gu hear the full story regarding the murder of the CEO who scammed Woo-jin's mother that Woo-jin finds himself in the exact same predicament he'd once put the CEO in—he wakes up tied to a chair hanging precariously over the roof of a building.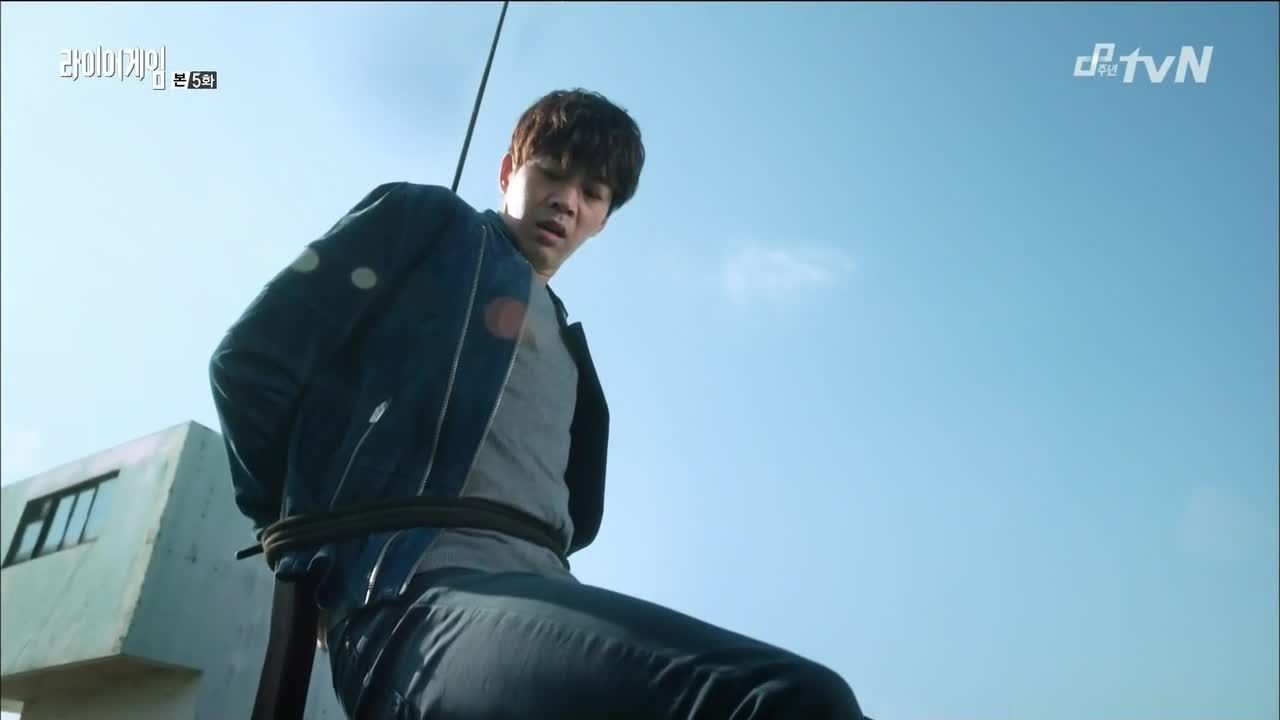 Meanwhile, the third evaluation round comes and goes, and Da-jung begins to panic: she's still the only one without a single star. Rounds four, five, and six go the exact same way.
Woo-jin struggles to free himself, but in so doing, weakens the rope that's keeping him from dying to nothing more than a thread.
The kindly unemployed man called Director Jung is the only one to approach Da-jung, since he feels sorry for the way she's been treated. But he couldn't even help her if he wanted to, and explains why: Jaime approached the group as they were strategizing on how to split their stars in order to prove that one of them would surely lose if she and Da-jung stuck to their agreement.
Buuuut, since the rules said they could buy and sell anything, Jaime offered to sell them victory by betraying Da-jung. Instead of giving Da-jung her stars, she'll give them to the group, and they could all ensure Da-jung would be eliminated by giving her zero stars.
So each of them bought Jaime's betrayal with fifty million won/fifty thousand dollars of their virtual money and signed an unbreakable contract, Director Jung explains to Da-jung.
Jaime arrives to rub her impending win in Da-jung's face, effectively turning public sentiment back in Da-jung's favor since everyone feels bad for her. Dal-goo knows she's in trouble and calls Woo-jin for help, unaware that Woo-jin's in a much more dangerous position currently.
Woo-jin takes the bull by the horns and throws his weight into using the chair like a pendulum, which could either end in the rope snapping while he's over the edge or when he's over the roof. Thankfully it's the latter, and Woo-jin lands with a safe thump.
He picks up the phone in time to hear Dal-goo panic, but doesn't stay on the line long enough to hear about Da-jung's predicament. He calls Reporter Gu first to tell her that whoever kidnapped Lee Min-jin knows him, since they used the same strategy he once did on the CEO. And they did it to tell him to back off.
A shopping-weary Jaime pays Da-jung another visit and proposes a bet. If Da-jung wins, Jaime will give her all her stars up to this round (since the rules said deals and trades could be made). If Jaime wins, Da-jung has to give her half of the game money she received.
The game is simple: They'll randomly choose one of two cards—either a joker or a misprint of two card backs—out of a bag. Much like flipping a coin, they have to call which card they think they have before flipping it over. If Da-jung gets the joker card, she wins. Whoever wins ten rounds first wins it all.
Da-jung agrees since the chances are equal, and they make the contract official. But something about Jaime's look makes me think the chances aren't so fair. Does Da-jung still not suspect her? After everything?
Each time Da-jung pulls the joker card, she gets a point. Each time she pulls the misprint, Jaime gets a point. Soon the score is 6:9 in Jaime's favor, which means Da-jung only has to pull the misprint one more time for Jaime to win it all.
So she pulls one card, takes a deep breath, and peeks at the underside… but it's the misprint. Oh no.
Outside, Dal-goo meets Woo-jin when he finally arrives and panics that huge bouncers are guarding every possible entrance into the mall.
Woo-jin isn't even fazed. They're going to find a way inside, no matter what.

COMMENTS
And then what? And then what?! Da-jung has zero stars and half the money she started out with—if Woo-jin isn't an active participant in this game and can't bargain, buy, or sell on her behalf, how is he supposed to be able to help her? Arghhhhh. I can't begrudge a show for having such a good cliffhanger without an easy solution in sight, but I can still be frustrated and itching for the next episode all the same. Which I guess is the point of a well-done cliffhanger, so I'll bear the frustration with gratitude.
Even if we ignored all the betrayals Da-jung's endured before and only focused on the ones that caught her off guard this episode, it'd be enough to make a normal person tear their hair out and lose all faith in humanity. But this isn't Da-jung's first rodeo, and while we know she has an instinctive willingness to trust people at face value, it's a different story when she keeps trusting people who've betrayed her more than once.
You know why there's not even a third option in the saying "fool me once, shame on you; fool me twice, shame on me?" Because being fooled twice is usually enough to get the point across. I admire Da-jung's spirit and her willingness to only see the good in people, but it's actually becoming detrimental to her well-being at this point and is more of a character flaw than a character quirk at this point. Which is fine, because I know it's intentional—no one's phoning this script in, so while the choices Da-jung makes may sometimes be lamentable, they're always true to who she is. Even if she can sometimes be a bit of an idiot. (We still love you, Da-jung.)
This wasn't the sort of game that allowed for a big twist, which is why it was a smart idea to follow both Da-jung and Woo-jin's stories since they couldn't be together. And while I'm definitely worried for Da-jung since she really can't play this game without Woo-jin's help, Woo-jin's backstory is growing more interesting by the second. Having a hero who doesn't have all the answers is a little frightening as a viewer, because as fascinating as it is to watch him slowly piece together clues leading toward a possibly massive conspiracy, it also leaves him vulnerable to the person who does have all the cards. Whoever that is.
I wonder if the reveal that Woo-jin might've inadvertently caused Da-jung's father's financial downfall isn't all that it seems, since it's not like Woo-jin needed another reason to care about Da-jung. Whatever he's on the cusp of discovering seems large and far-reaching, especially if all the contestants are somehow connected by their ties to the once great L Company—the company that Woo-jin brought down with his own hands, but one which Do-young claims was only a front. If so, why? How is Do-young involved in all this? How will our hero outsmart him? Now accepting theories; spoilers need not apply.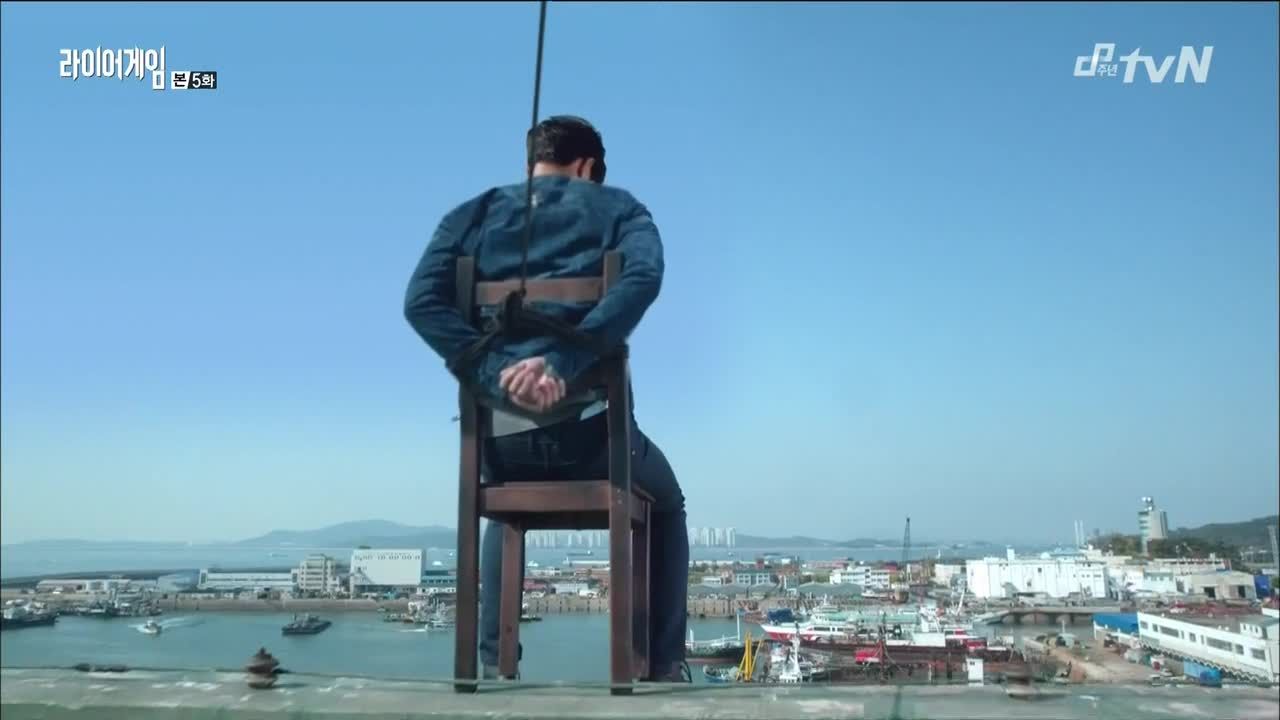 RELATED POSTS
Tags: featured, Kim So-eun, Lee Sang-yoon, Liar Game, Shin Sung-rok