Namgoong Min makes directorial debut with short film
Namgoong Min (Girl Who Sees Smells, My Secret Hotel) is, interestingly, taking a stab at writing and directing and has begun shooting his directorial debut, a short film called Light My Fire that's described as a mystery crime thriller.
Namgoong Min wrote the script himself, and said that he's been preparing it for a while, asking for his fans' support even if his first outing isn't perfect. I was a little surprised to hear the news because I hadn't heard of him pursuing these interests before, but I'm curious to see how the finished product turns out.
The plot gets going when half a corpse is discovered, and it seems all is not what it seems. The case that would have been declared a mysterious murder instead leads one detective to ferret out the secrets of the crime. With Girl Who Sees Smells still fresh on my mind, [SPOILER ALERT?] I'm just picturing Namgoong Min as this story's psycho killer (which was a really great turn for him, all intense and creepy), but I'll have to remind myself that he's not the murderer this time. (OR IS HE.)
The good thing about being an actor with a number of projects under your belt is that you amass a number of actor colleagues willing to put in appearances for a friend: Light My Fire features Oh Jung-se (The Lover, Plus Nine Boys), Yang Joo-ho (God's Gift—14 Days), Lee Dong-hwi (Joseon Gunman, Divorce Lawyer in Love), musical actress and comedian Park Jin-joo (Girl Who Sees Smells, Modern Farmer), and perennial cop/dad Jung In-ki (Girl Who Sees Smells, Pinocchio, Gap-dong).
Filming is now underway, as we can see from photos he uploaded online showing himself with his crew.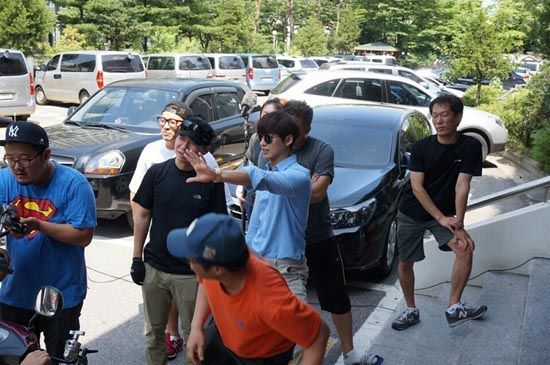 RELATED POSTS
Tags: Namgoong Min