Twenty Again: Episode 11
You know, I've never been so happy with a show that has such slow plot advancement. But it's because Twenty Again delivers so much emotional gain and character growth that it makes me want to dwell even longer in every beat on our heroine's journey, not missing a single look or feeling under the surface. I want to stay in this land forever, where the laughs are plenty, the warmth genuine, and the heroine so wonderfully strong and vulnerable at the same time.

SONG OF THE DAY
Urbanspace – "사랑이 찾아온 줄 몰랐죠" (I Didn't Know Love Had Found Me) [ Download ]
Audio clip: Adobe Flash Player (version 9 or above) is required to play this audio clip. Download the latest version here. You also need to have JavaScript enabled in your browser.

EPISODE 11 RECAP
Nora presents her husband with their divorce papers and declares that they should go process them right now. Woo-chul is gobsmacked and asks what changed her mind—she was the one who asked for more time, after all.
Nora remembers his question to her, about why she never asked about his mistress and if she wasn't curious about her. She answers now: "I'm not curious." She finally tells him that she was the one who saw him at the theater that night, but she never saw the woman's face and didn't really care to.
She says that she's come to understand his reasons for wanting a divorce—they came as a shock to her, but it didn't make her angry, and she didn't care who that other woman was: "It simply made me think that my life was sad."
Woo-chul gapes at her the whole time and asks if she memorized a script or something. Nora just continues, "It was already over for me too… with you." She says that she must've needed time to accept a life alone.
Now Woo-chul is the one to get defensive about going to court right this minute, but Nora uses his own words back at him, about how they've already been living as a divorced couple—as strangers. She says calmly, "Let's go our separate ways now."
He asks what about Min-soo, and she flashes back to the previous night, when she had sat down to have a heart-to-heart with him. Min-soo asks tearfully if she's really going to get divorced.
And instead of answering, Nora asks in turn how long Min-soo needs Mom and Dad together, and asks for his permission to go through with the divorce. Great, I'm already crying? She tells him that she's never had the chance to live as a real adult, and thinks it's time to do so.
Min-soo tells her that her dancing was awesome (awww), and she sighs that too much time has passed. She takes his hand and asks him to think only of his own life and happiness, and not live with regrets like Mom.
Back in the coffee shop, Woo-chul says that Min-soo will need more time, but now Nora is the one who tells him not to use their son as an excuse. She points out that he's the one who asked for a divorce while Min-soo was still in high school, and now they no longer need each other, so it's time to split up.
Woo-chul finally agrees, but says he can't go today because he has an appointment. Booooo, why do I feel like you're lying? They agree to go to court tomorrow, and Nora heads off to meet Yoon-young on campus.
Hyun-seok happens to be driving by and thinks that Nora's relationship must be going well if she's stopping to have lunch with her husband. But he sees her coming out to the street to hail a cab, and stops to offer a ride.
Woo-chul is in such shock that he keeps trying to get into the wrong car, and when he spots Nora with Hyun-seok, he wonders suspiciously if Hyun-seok has been waiting here the whole time. Hyun-seok says that married life must be nice, and Nora just tells him to get married if he's envious. He smiles and tells her to live happily, so that he'll really be envious and want to get married too.
Yoon-young is surprised when they arrive together (looking like they're wearing matching couple tees, hee). She notes that Hyun-seok seems to appearing quite often in Nora's life, and he jokes that he's only got a minor role. Don't say things like that!
Yoon-young sits Nora down to ask why she pushed for the divorce, and Nora tells her about crying onstage the night after her performance. A lot of thoughts went through her head that night, about how her dream had passed her by and she's 38 now.
She admits that when she thought she was dying, she didn't tell Woo-chul because she was scared that he wouldn't care, that he'd ask for a divorce anyway and not cry for her, and even be relieved that she was dying. She says that she should've told him, if she thought of him as a husband.
Yoon-young didn't know it was that bad, and Nora sighs that she must've lived very stupidly. But Yoon-young says that was then; she knew Nora had changed and would start to live differently, back when she chose to continue going to school to fulfill her dying wishes.
Nora remembers now that she learned about "well-dying" from Hyun-seok's radio appearance, and then recalls that Hyun-seok is also the one who pushed her to go up on stage with Bounce. Yoon-young calls him her lifeline, and wonders what would've happened if she hadn't met him at school, and Nora smiles as she realizes how much Hyun-seok has done for her.
Yoon-young asks about her plans after divorce, and Nora figures that Min-soo will live with her until graduation or army, and Woo-chul can go to the other woman. Yoon-young is dying to know who this woman is, but Nora says it doesn't matter.
Min-soo accidentally bumps into a flower delivery guy on the way out of class, knocking the card out of the bouquet he's carrying. They get delivered to Yi-jin without the apology card from Woo-chul, and ha—she assumes that the mystery flowers are from Hyun-seok.
Woo-chul paces in his office parsing Nora's words, still in disbelief about her not needing him and not caring about the other woman. He can't wrap his head around it at all, and decides that something sneaky is going on between Hyun-seok and Nora when he realizes that they must've gone to the theater together that night when he was caught cheating.
Sang-ye asks Hyun-seok to give Nora her pay since she'd feel awkward doing it herself, so he takes the envelope to the bank to ask all the bills to be traded out for new ones.
Nora sits at the bus stop contemplating her bucket list, and circles all the things she's been able to complete, like making up with Min-soo, going to college, and dancing. She writes down a new one: "Live and die like the real Ha Nora."
Yi-jin heads towards Hyun-seok's office to ask him why he sent her flowers, and sees him riding his bike on the way. She stops to call out to him, only he calls out to Nora first, when he sees her at the corner market. Yi-jin watches curiously as they converse very comfortably in banmal, acting like old friends. She remembers them using jondae on their overnight trip, which just confuses her more. She puts a few things together, like the fact that Nora and Hyun-seok could've gone to the same high school.
But that triggers a new thought, as she recalls Hyun-seok saying that his ideal woman is a friend from high school, but she's married to Woo-chul now. Yi-jin shakes the crazy thought out of her head, but the doubt lingers.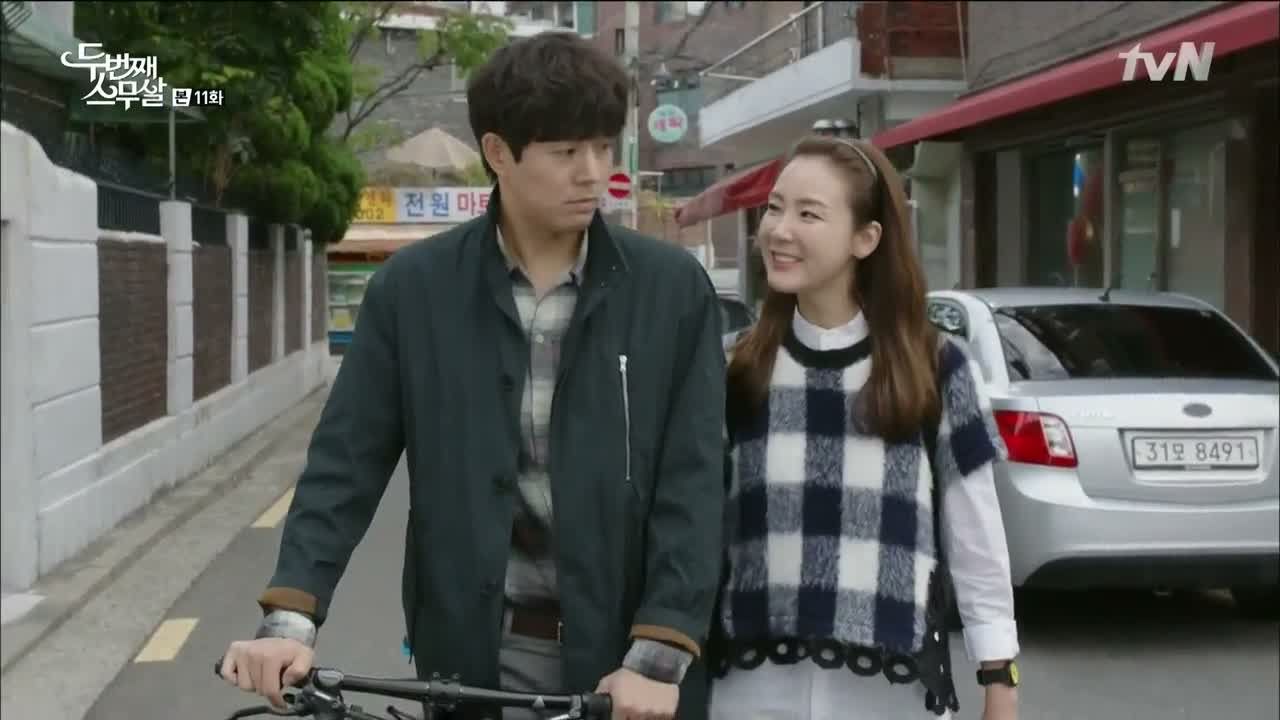 Hyun-seok takes Nora's grocery bag and gets off his bike to walk with her, and asks why she bought apples. She says they're apology apples (sagwa is a homonym for "apple" and "apology"), and he scoffs at her childish pun.
She reminds him that they used to do stuff like that all the time, and wonders why she becomes so childish when she's around him. She points out that he does too, which he can't really argue with.
She asks why he studied abroad in Russia when he had no plans to do so before, and he just answers vaguely that he wanted to leave Korea. She grabs onto his arm to ask for the real answer, and he pulls away and says gruffly not to go digging into his past.
Nora pouts that he's always asking her stuff, and refuses to answer any of his questions too. He gets on his bike to ride away… when they're ten feet from the office. Was it worth it for the petty statement, really?
Nora gives Sang-ye the apology apples for borrowing her jacket, which is ironic given that Sang-ye is the one who feels terrible about sending her to the overnight meeting in the first place. After the fact, she had overheard Hyun-seok's outburst at Woo-chul about his affair with Yi-jin, and felt horrible for the mistake.
Hyun-seok sends Nora home early that night along with her pay for her work so far. It makes her feel weird to accept a paycheck from a friend, but she happily takes it and offers to take Hyun-seok out to dinner.
But he says that this isn't money from a friend—it's her wages, and he doesn't let his employees use their money on him. He means well, but Nora leaves feeling a little rejected because he's suddenly making such a clear divide between work and personal life.
He watches her walk away from the window upstairs, and it seriously kills me a little when she turns around and he backs up because he doesn't want to be caught staring at her so longingly.
Woo-chul is waiting with arms crossed when Nora gets home, and declares that they won't be getting divorced tomorrow because he's worried about her making rash decisions. He shows her the contract they signed for the rest of their term, but Nora rips it up and tells him not to make excuses.
It's clear that he's losing, so Woo-chul scrambles for another excuse and says that he can't file for divorce until the university confirms his family status, putting up the argument that it would be detrimental to Min-soo too. Nora finally relents and says she'll wait until July for Min-soo's sake. Aaaaagh. Noooooo.
Nora makes a monthly budget and takes out her pay from Hyun-seok, and smiles to see crisp new bills and shiny new coins. She can see that he put a lot of care into it, and happily gives Min-soo spending money, insisting on it because it's the first time she can give him allowance from money she earned.
Yi-jin's curiosity gets the better of her, and she gets her hands on a copy of Woo-chul's family registry. Her jaw drops to read Nora's name printed right there. She calls Woo-chul over and presents him with the paper, and he knows he's trapped. He confirms that this Nora is the one she knows.
She can't believe that he didn't tell her that his wife was going to their school, but Woo-chul argues that he didn't know either. He says that Nora is so hung up on him that she did all of this in secret.
He says that he couldn't tell Yi-jin because he was worried about her, and that he backed out of Hyun-seok's project and pitched his own all so that he could protect Yi-jin from this. He swears that Nora knows nothing about her, and that he's been trying and trying to get her to drop out of school.
Yi-jin starts to actually see his point, and is surprised to learn that he sent the flowers. He rushes off to his next class, and is actually shocked at his own ability to think on his feet: "Do I have a split personality?" He must not be totally without a conscience though, because he stops to wonder what the heck he's doing right now. Yi-jin remembers Hyun-seok referring to Nora as his ideal type, and starts to wonder what kind of woman she is.
Hye-mi leaves the library to go out and enjoy the weather, and she's surprised when Min-soo joins her. He says that he needs to take breaks too, clearly taking Mom's advice to heart.
He stops when he sees Nora on a computer nearby, struggling with a cover page for a report. He leans over her shoulder to show her what to do, and Nora smiles up at him gratefully. She calls him "student" and thanks him, then throws him a little wink. She's so cute.
Min-soo and Hye-mi have some afternoon beers in the park, which he says makes him feel like a real adult. She says that he is one, but Min-soo wonders if that's true. He flashes back to a recent conversation with Dad, where he was still angry and didn't want to talk to him about the divorce.
Dad says that this is an adult matter, and Min-soo argues that it shouldn't be Mom's sole responsibility for becoming a mother at such a young age.
Dad argues that he did take responsibility, and tells Min-soo that he'll understand in a few years when he's an adult. Min-soo argues that he's an adult now, but Dad says that he's still being taken care of by his parents, which isn't the same.
Back in the present, Min-soo wonders if he's a real adult, and says it's frustrating that he can't stand on his own two feet yet. Hye-mi says that they're just in the process of becoming adults, and she likes being twenty. Min-soo decides that he likes being twenty too, because he met her at this age.
Woo-chul runs into Nora on campus and picks up some papers that she drops, and she hardly even notices him there. Yi-jin sees them together and notes curiously that Nora is the one who seems indifferent, while Woo-chul is the one lingering.
Yi-jin follows her like a stalker, and does such a terrible job of being stealthy that Nora spots her and wonders what's going on. Yi-jin follows her to the bathroom and tries to strike up a conversation, but they're interrupted by a call from her "cousin" and Yi-jin hurries away.
Sang-ye calls Nora to the office to ask for some help organizing new materials, and rushes off to her next meeting. Nora gets into a cleaning mood and organizes everything, then decides to wash some of the dirty couch cushions. She starts picking up other things to be washed, and the trail of laundry leads her all the way up to Hyun-seok's bedroom.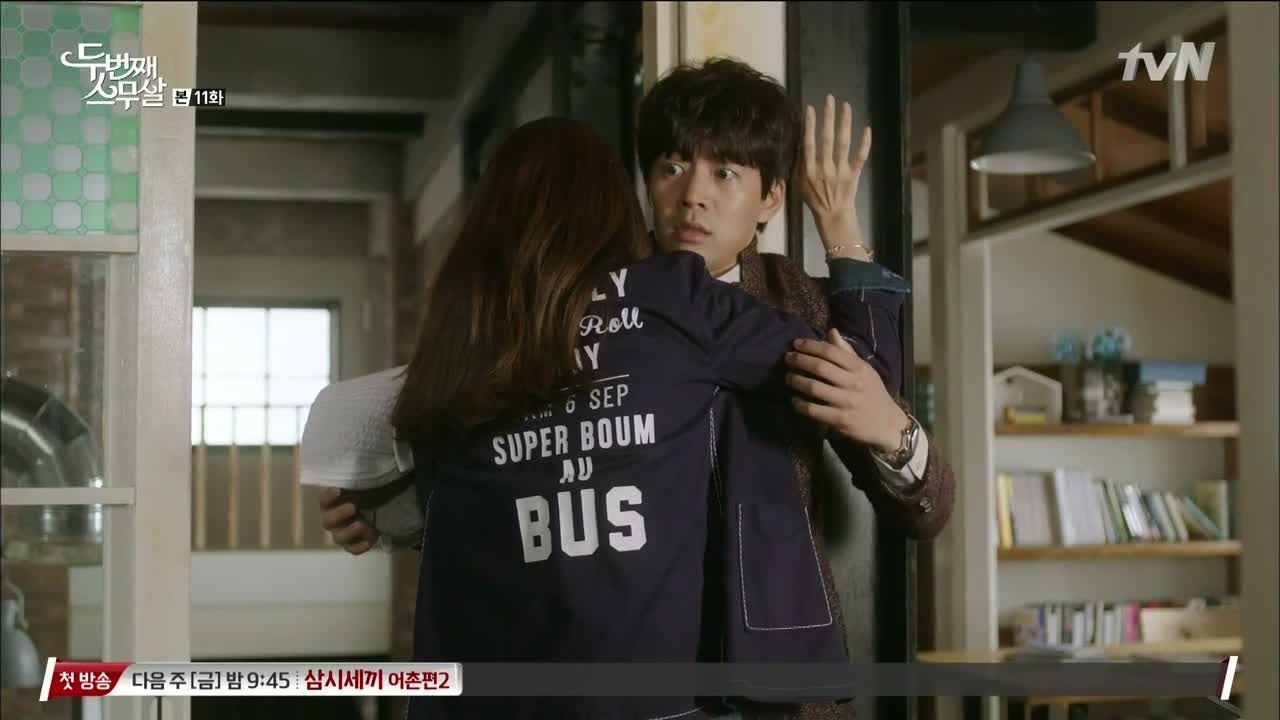 She smiles as she takes in the room, and picks up another towel to add to the pile. Downstairs, Hyun-seok arrives and thinks that Sang-ye straightened up before leaving, and heads up to his room.
His heart nearly stops when he collides with Nora on her way out of his room, and the force actually sends her tumbling backward. Hyun-seok reaches out to grab her and pulls her toward him so hard that she's then got him slammed up against the wall. Ha, I love the reversal.
Everything slows to a crawl and their hearts are racing so fast that they just stay frozen like that. Nora looks just as affected, while Hyun-seok actually stops breathing, I'm pretty sure.
After a delay, Nora disengages awkwardly and apologizes, while Hyun-seok puts his hand over his chest, where she was just touching him. He finally remembers to breathe and then reverts to his usual grumpy self, yelling at her for doing laundry and coming into his room when he didn't hire her to be a maid.
He sends her downstairs, and they each retreat to their separate corners with hands over hearts, trying to calm down. Eeeee, she feels something toooooo! *happy dance*
Hyun-seok comes back down and Nora says that laundry is no big deal to her, but he grouses that he doesn't let "just anyone" into his room. She's a little hurt by those words, and he continues to act grumpy about a missing post-it until he basically kicks her out. She leaves feeling slighted again, and pouts that he's scary when he's working.
Nora gets a call from her classmate Seung-hyun on the way out, and rushes over to her apartment. Seung-hyun rents a tiny basement room and shows Nora her window, where the security bars have been pried open. She's scared that someone came to rob her, and was too scared to do it alone.
Nora grabs a few sticks from the trash pile nearby and braces herself before leading the way. They creep inside ready to face the big bad thief, but thankfully there's no one inside and nothing's missing.
They just have to fix the bars, and Seung-hyun suggests calling Hyun-seok because he told her last time to call if she needs anything. Nora decides to call Soon-nam instead, and he comes with a tool kit. Yay, I love it when these three are together.
Soon-nam finds that the bars are broken and can't be hammered back into place, and says they'll have to get it repaired in the morning. Seung-hyun is too scared to stay here overnight alone, but Soon-nam shares a room with his little brother and Nora can't take her home either. Seung-hyun says that she has a place to go.
Nora texts Min-soo to let him know that she's staying at a friend's house, and he calls her loyal for staying with a friend in need. Aw. Meanwhile, Woo-chul plans his own project without Hyun-seok or Sumsang Group, and puts in a call to Germany. He's surprised to realize how late it is and that Nora isn't home, and paces outside waiting for her.
He scares a student thinking it's Nora, and when she doesn't answer her phone, he imagines her staying late at Hyun-seok's office and drinking wine by candlelight. Imaginary Hyun-seok tells Nora that she made the right choice, and touches her face as he tells her that she's too beautiful and shines too brightly to live with Woo-chul. Dude, Imaginary Hyun-seok speaks the truth.
Nora says it's a good thing that she has him, and Hyun-seok says, "Ha Nora, from now on, you're my woman." They clink glasses, and then he leans in for a kiss. They inch closer… and closer… and closer…
And Woo-chul's voice cuts in: "Hey Cha Hyun-seok!" Show, you big tease. Woo-chul is livid (because of his own imagination, mind you) and races over to Hyun-seok's place and pounds on the door, convinced that something suspicious is going on.
But Hyun-seok is alone, and when he learns that Nora is missing, he freaks out more than Woo-chul and starts calling Yoon-young right away. He asks if Woo-chul is worried about Nora, and is at least pleased to see him worrying about his wife.
Woo-chul leaves relieved that he didn't find her there, but finds it annoying that Hyun-seok acted more worried about her. That's because he IS!
Hyun-seok calls Nora over and over, but her phone just rings in a locker somewhere. Hyun-seok sighs that she has terrible timing, thinking that she'd be happy to know that Woo-chul is worried about her, and worries that she might be getting drunk somewhere.
But no, Nora is happily downing a jug of rice punch at a jjimjilbang with Seung-hyun and Soon-nam, heh. They look so adorable. Nora asks if Soon-nam has really given up on dancing, and he sighs that if he weren't the eldest son in his family, he'd love to just say screw it all and pursue his dream.
Seung-hyun is jealous that he even has a dream, because she still doesn't know what she wants to do with her life. Nora knows that she likes to read, and Seung-hyun says that she read it somewhere that if you read a thousand books your life will change. So she's working her way up to a thousand.
They're impressed at how she makes time for it while working so many jobs and going to school. Seung-hyun says that they're all jealous of Nora because she doesn't have to worry about what to do with her future, but Nora says that being older doesn't mean that her future is all laid out either.
She has to figure out what to do with her life too, and Soon-nam asks again what he's dying to know—why she came to school in the first place. But Nora avoids answering again. Just as Seung-hyun steps away, she gets a call from Hyun-seok.
Woo-chul drives home wondering where Nora would be, and why she's becoming more and more mysterious lately. He decides it doesn't matter, as long as she's not with Hyun-seok.
Seung-hyun asks Nora what Hyun-seok was like back in high school, because she's a fan. She asks if he was good-looking and popular back then too, and Nora scrunches up her face and says she doesn't remember.
Suddenly Hyun-seok's voice booms, "Are you senile now?" Hahahaha, he's joining the jjimjilbang party! He gives the really lame excuse that he told Nora to email him a list and came to ask why he never received it.
Nora asks why Seung-hyun didn't say he was coming, and Hyun-seok cracks an egg on her head and says he told Seung-hyun to keep it quiet so Nora wouldn't run away. Nora insists that she sent the file, but he keeps telling her to go home and send it again.
Hyun-seok knows that Soon-nam has to be at work at the crack of dawn, and says he'll stay instead. Soon-nam is relieved because he didn't have the heart to leave the girls on their own (he's so cuuuuute).
When they have a moment alone, Hyun-seok waves aside the email excuse and asks if she let her husband know she isn't coming home. Nora's breezy attitude about it surprises him, and he tells her to go home and he'll stay here with Seung-hyun.
Nora: "And trust you? Alone with that young pretty girl?" LOL. He gasps and says that Seung-hyun is his student, and Nora counters that he's a man too. He doesn't know what to make of her, and when Seung-hyun returns, Nora just plops down to go to sleep for the night.
When Woo-chul gets back home, Min-soo thinks it's Mom and asks sleepily why she came home when she said she was staying at a friend's house. Dad asks why no one told him, and Min-soo asks if he's ever once been curious about Mom before.
Hyun-seok sits there like a watchdog as the girls sleep, and finally gives up trying to send Nora home. He joins them and lies down for the night, but can't help himself and just watches Nora as she sleeps, finding it cute when she starts to snore softly.
In the middle of the night, Seung-hyun gets up to go to the bathroom, and Nora scootches closer looking for the pillow, ending up right next to Hyun-seok. She stirs awake as she reaches for the covers, and her eyes widen as she sees Hyun-seok's face right in front of hers… and her heart starts to pound.

COMMENTS
She feels it too! This is even better than I thought. I expected Nora to be more oblivious to Hyun-seok as a romantic partner, at least for a while longer. She's been more than a little preoccupied trying to wrap her head around the divorce, but something seemed to click into place for her when she made her decision at the top of the episode. She comes to realize that hanging onto the marriage wasn't about Woo-chul at all, but about her fear of striking out on her own, and the second she decides to leap off that cliff, it's like she sheds the last few remnants of her past self and fully transforms into the real Ha Nora.
Watching her lead that conversation with Woo-chul was a sight—she overpowered him without once raising her voice or losing her calm, and I was applauding her, not just for making the decision, but for being so bold and honest. And the best part was her talk with Min-soo, when she was finally able to be honest with him. There's just something so touching about that reversal, having a mom ask for the chance to grow up and live her life, and a son giving his blessing like he's the one sending her out into the world. It's beautiful to see her choose to be less guarded with everyone, even with Woo-chul.
Of course, I'm also terribly annoyed that they aren't divorced yet. That's already twice now that my hopes have been raised and dashed on that front, so I'm frustrated that Woo-chul is dragging his feet on this. I will admit that the role reversal in their relationship is awfully satisfying, just to stick it to him a little, but Woo-chul is so full of himself that the inverted relationship is lost on him anyway. I mean, he still thinks that Nora is crazy about him when he's the one obsessing over her more and more. I suppose that's also his appeal (as a character, to us) since his lack of self-awareness is what keeps him in comedic territory. But while the comeuppance is definitely enjoyable, my need for Nora to be single again totally outweighs my schadenfreude. By a lot.
But at least we're not letting the romantic development with Hyun-seok stagnate. Don't get me wrong—his one-sided sad puppy love is the cutest thing and I love it—but I totally needed them to take a step forward by this episode. We might not have gotten the divorce we were promised (grumble, grumble), but I was so happy to see that Nora's feelings have been ignited. They resorted to some pretty old-school tropes to get those feelings out of her (a collision hug and a jjimjilbang sleepover, how quaint), but I loved it anyway because I love these two characters so much and their reactions to each other made me giddy. We're used to Hyun-seok's moony eyes, but Nora's awakening over the course of this episode made me so excited for the romance to come.
I think what really sells it for me is that it comes after she realizes how Hyun-seok has been the one to nudge her forward in every way that has mattered to her in the last few months—he was the one who inspired her to live her remaining days without regret, to reassess her life, to dance again. He couldn't help but remind her of the Ha Nora she used to be, because he's the only person who never stopped seeing her that way. To Hyun-seok, she'll forever be the spunky teenager who stole his heart, and bit by bit, she's transformed back into that person just by being around him. She even recognizes that they both revert to teenagers around each other, and while she's talking about their maturity level, it's also true in a more important way that being around him makes her most like her true self because he already believes that she's smart and brave and wonderful. Maybe this time, she'll even chase him! How great would that be?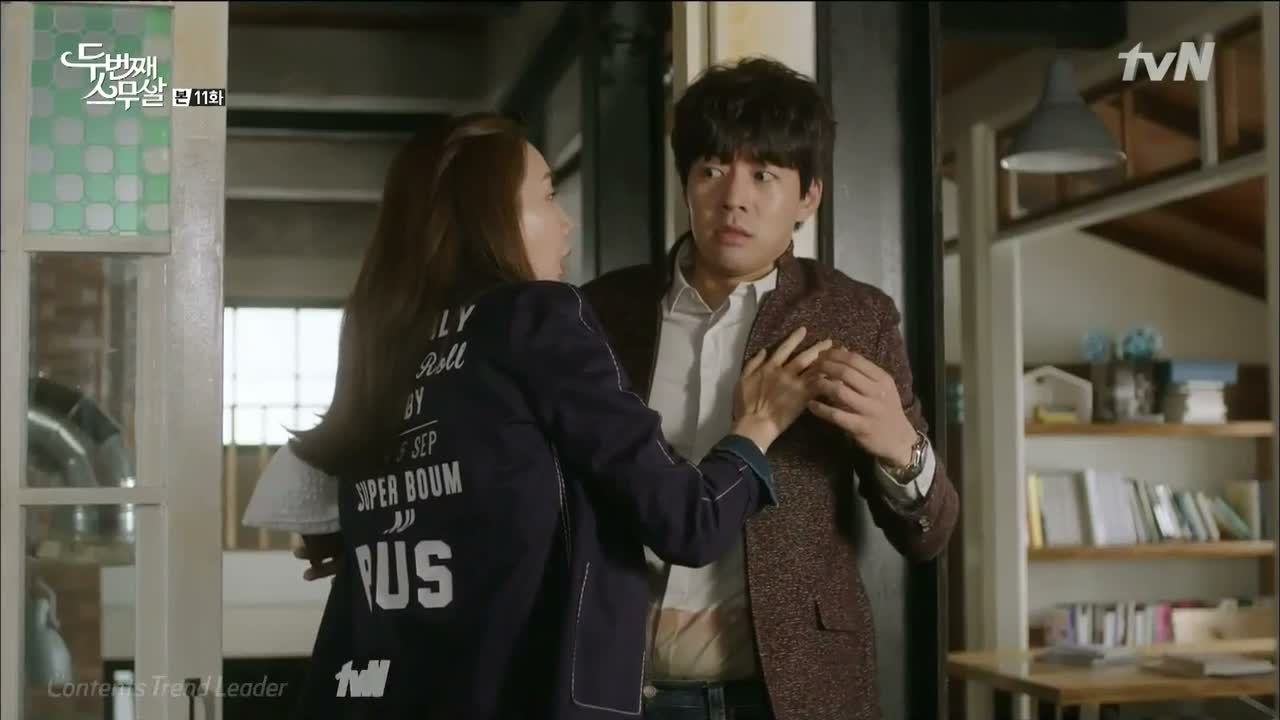 RELATED POSTS
Tags: Choi Ji-woo, Choi Won-young, featured, Kim Min-jae, Lee Sang-yoon, Twenty Again