Bring It On, Ghost: Episode 13
The closer we get to solving one mystery, the more new questions pop up, making me wonder if we'll ever find out the true story of Bong-pal's past and Hye-sung's obsession. Add romance into the mix and things get even more complicated, with misunderstandings and attempts at noble idiocy causing distractions that our favorite ghost-fighters can't afford. Things will be coming to a head soon, and they'll need to be sharp if they can hope to win against the evil lurking right on their doorstep.

EPISODE 13 RECAP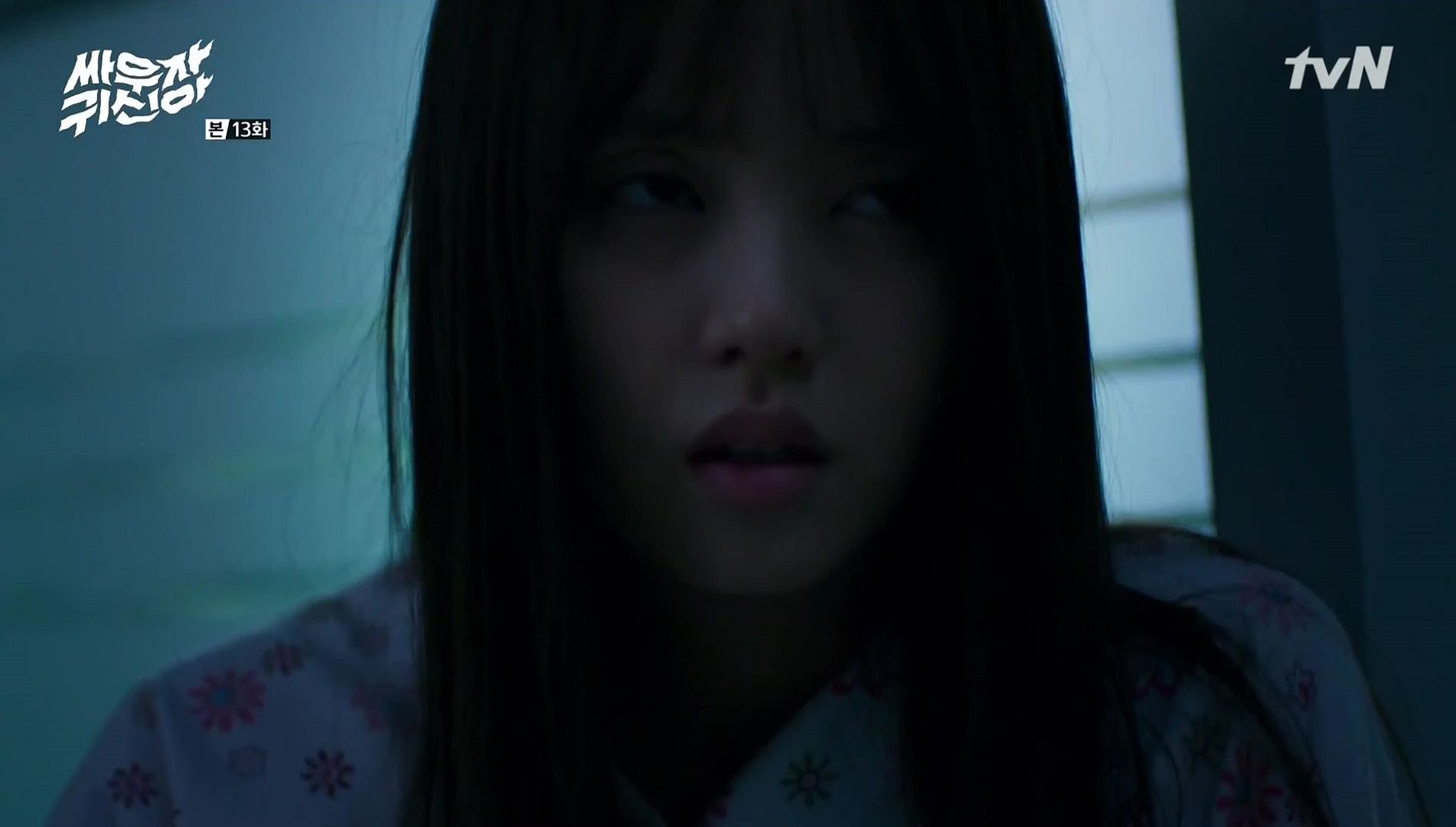 Hyun-ji finds herself alone in the hospital hallway, being chased by the angry ghost of the murderous doctor. He lunges at her and she screams, and Bong-pal hears her from the stairwell and starts running. He arrives just before the ghost touches Hyun-ji, and sweeps the ghost off of her. Ohthankgoodness, his abilities are intact.
The bloody ghost leaps up and attacks Bong-pal, and the two grapple while Hyun-ji fights a sudden dizzy spell. Luckily this ghost's weak spot is simple to spot, and a hard jab to his sliced throat from Bong-pal dispels him. Bong-pal finds Hyun-ji barely conscious, and he frantically calls for help.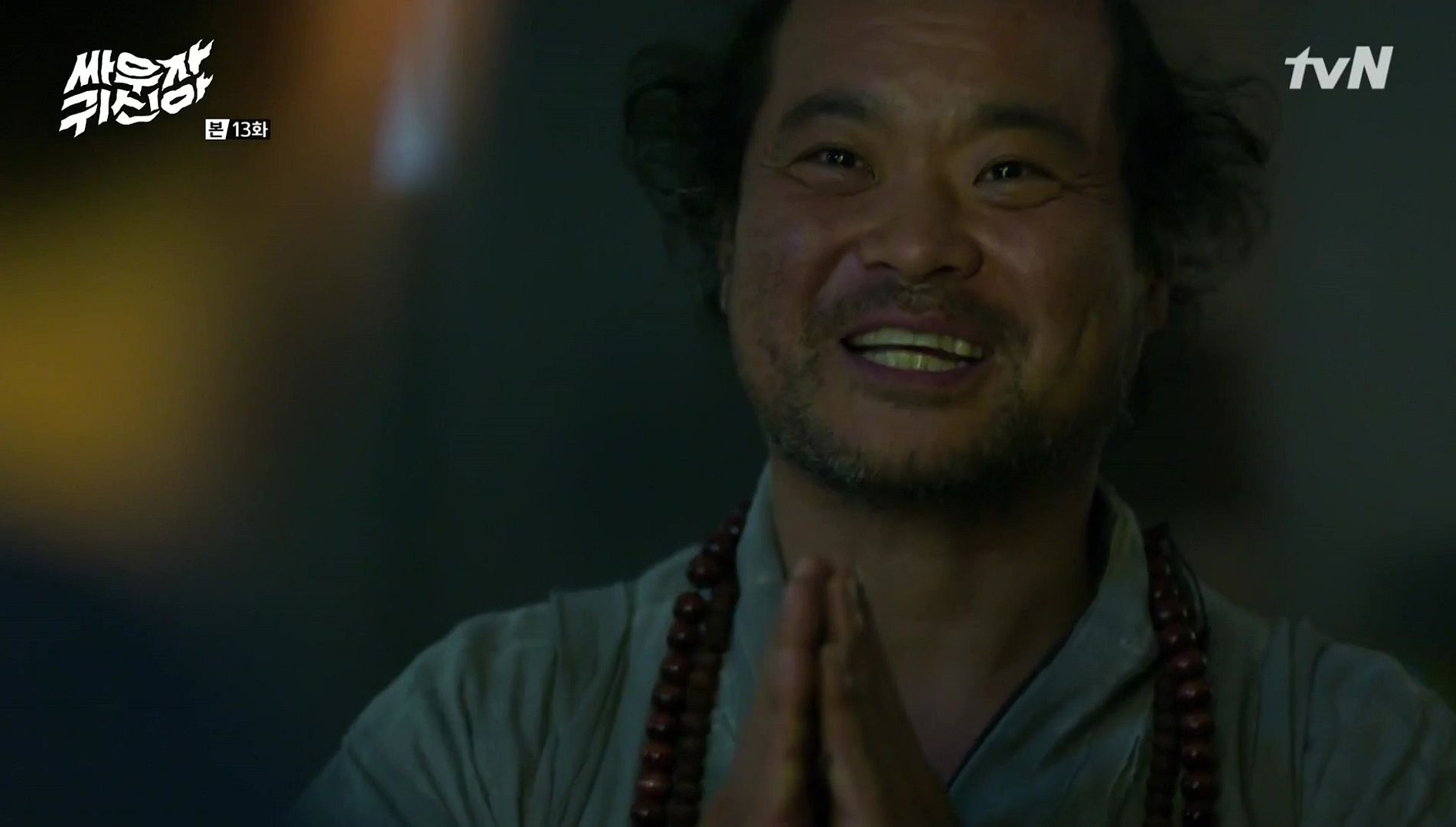 Meanwhile Monk Myung-chul digs around in Hye-sung's office, and finds Hyun-ji's old school ID card in the desk drawer. Hye-sung catches Myung-chul and the two face off, each finally recognizing the other. Myung-chul seems particularly delighted, and grins widely at Hye-sung.
Hye-sung asks if Myung-chul came to visit, and Myung-chul says that he did, to ask if Bong-pal was doing well in school. Hye-sung scoffs at the lie but plays along, and says that Bong-pal is doing well.
He tells Myung-chul that he went to rescue a cat a few days ago, and found the cat stuck in a ventilator shaft. He says that the cat went in out of curiosity, but it went too deep and got stuck. Even when it was in pain, it kept going deeper, and it suffocated and died. The relish with which Hye-sung tells this story is chilling.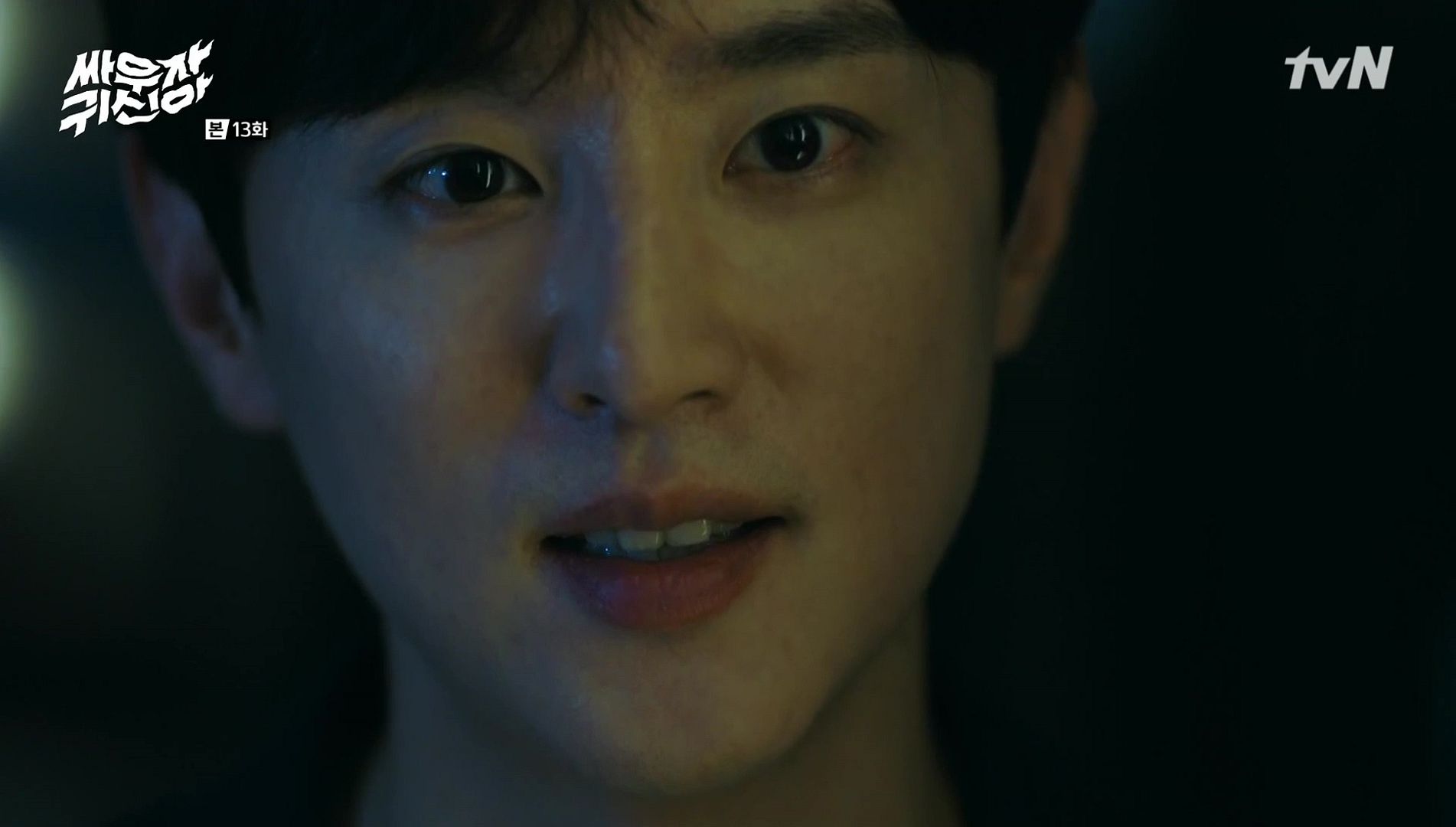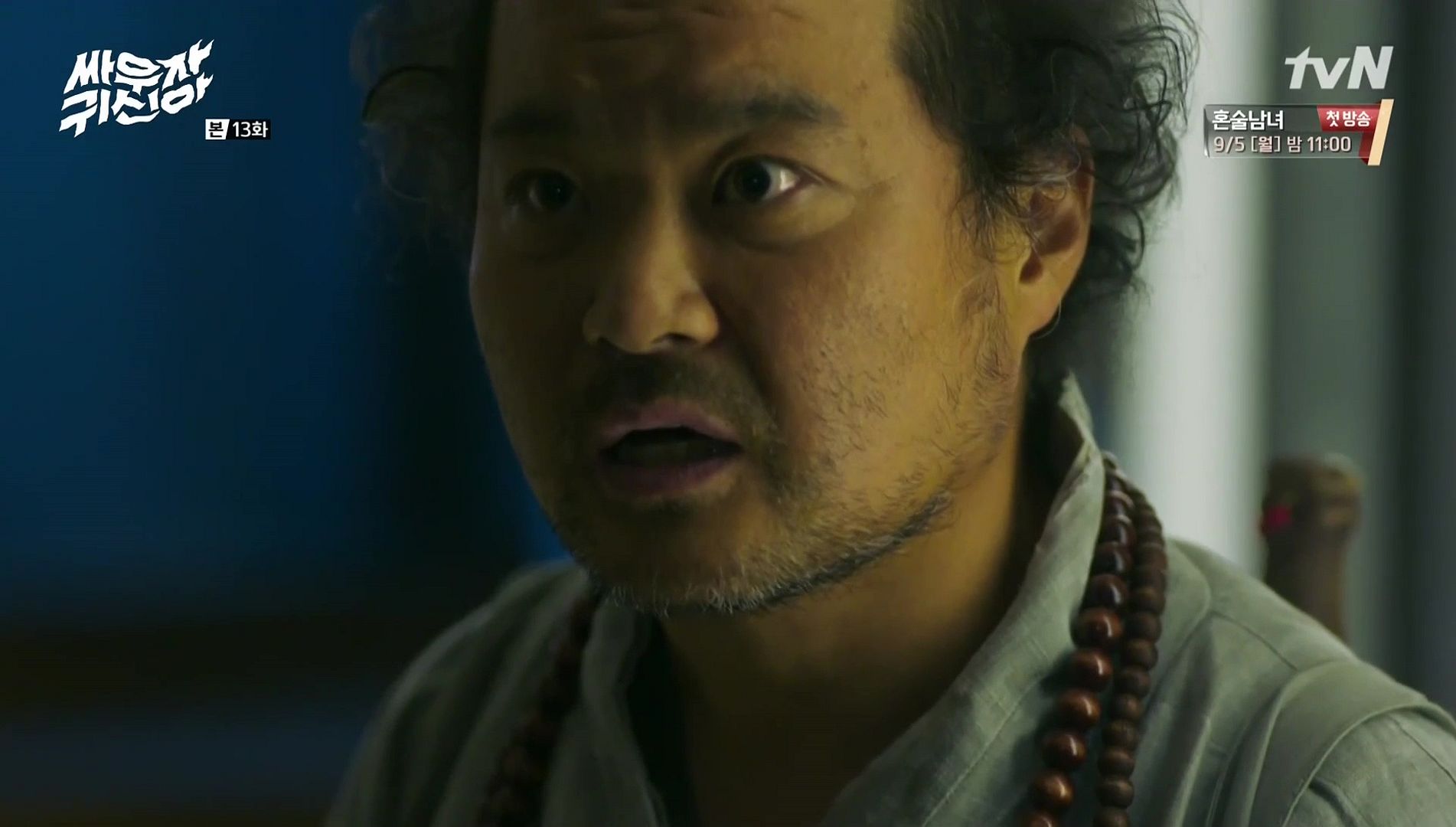 Myung-chul isn't at all intimidated by Hye-sung's implied threat, and says that it's a boring story. He says that he has a lesson to teach to Hye-sung, and quotes, "One who enjoys doing evil deeds will not be able to free oneself from the rope of hatred and enmity stemmed from it. If you have a heart filled with anger, karma will make you pay for the sins you have done." He adds that it's a good lesson for all, be they human, animal, or ghost. Gauntlet thrown.
Hye-sung's eyes grow glassy and cold, and he slowly approaches Myung-chul. But his nurse's voice calling him upstairs stops him from doing whatever he had planned, and he just leaves Myung-chul with a sarcastic thanks for the advice.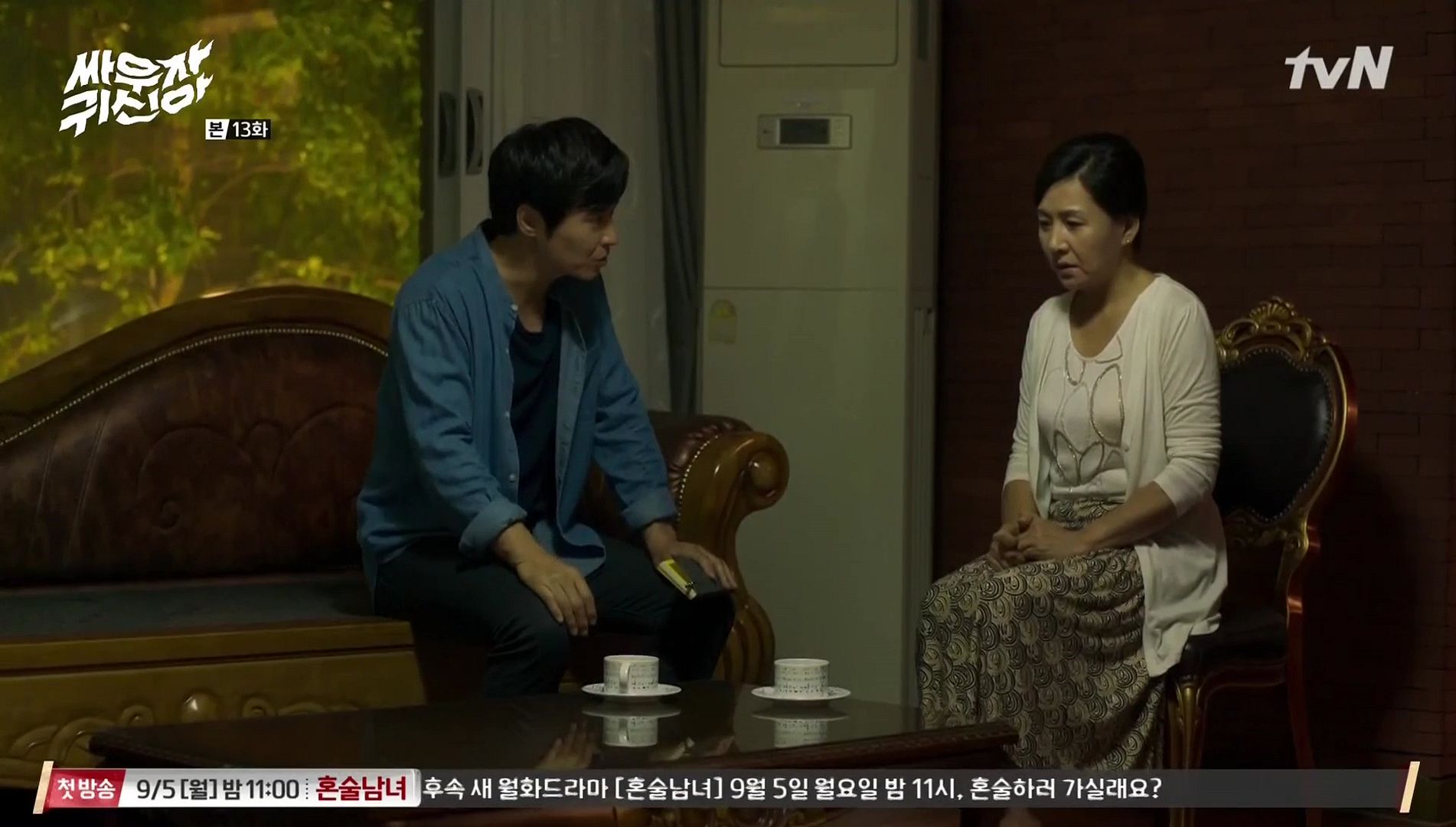 Detective Yang visits Hye-sung's mother late that night, looking for clarification on her husband's death. She's not eager to discuss it, but she answers that she was home when her husband fell, and that she simply thought he'd gone outside. Detective Yang says that he visited the old apartment, and he found it unlikely that her husband could have fallen due to his height, and the height of the railing.
He says that he believes her husband may have been pushed. Hye-sung's mother grows silent, and when Yang asks her to confirm that her son was home at the time, she asks him to leave. He wants to ask one more question, but it's clear that he won't get any more answers out of her tonight, so he goes.
Hyun-ji's doctor checks her over after her ordeal and pronounces her shocked, but fine. Her mother asks Bong-pal to leave, seeming to still be suspicious of him, and he gives her Hyun-ji's phone before going.
Myung-chul has some soju, and wonders why Hye-sung would have Hyun-ji's school ID card.
When Detective Yang gets back to the station, he finds Chun-sang and In-rang begging Detective Kim, desperate to discover who hit Hyun-ji and put her in the coma. These sweet boys, I can't even. Yang recognizes them from their internet stalker case, and agrees to listen to their story.
In-rang tells him about their "beautiful friend" who was in a hit-and-run accident five years ago. She's been in a coma but recently woke up, and she can't remember anything about her accident. Detective Kim has already found the reports on the accident, but there were no eyewitnesses so the case was closed.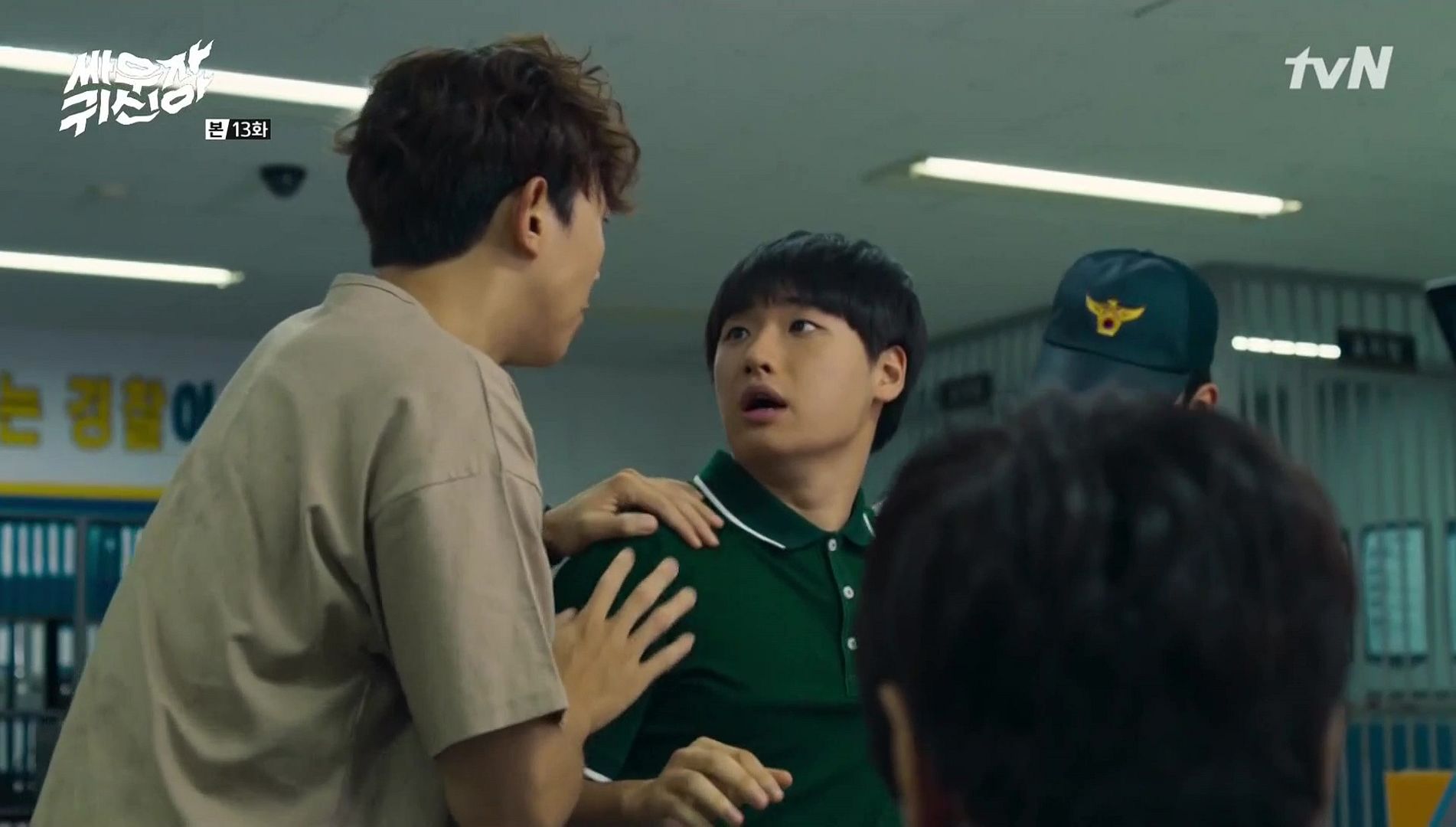 The detectives tell the boys to leave, but In-rang refuses to go without a promise that the case will be looked into again. Detective Kim says it's not that simple without a witness, and In-rang grows so upset that he has to be escorted out. But Detective Yang has other things to worry about — the chief wants to talk to him tomorrow about his unauthorized investigation of Hye-sung.
Myung-chul shows up at Bong-pal's door late that night, oddly cheerful and drunk as a lord. He tries to kiss Bong-pal, which is adorable, and Bong-pal leads him to the couch. Myung-chul is fast asleep by the time Bong-pal fetches him some water, muttering over and over, "I'm sorry Bong-pal. I'm sorry."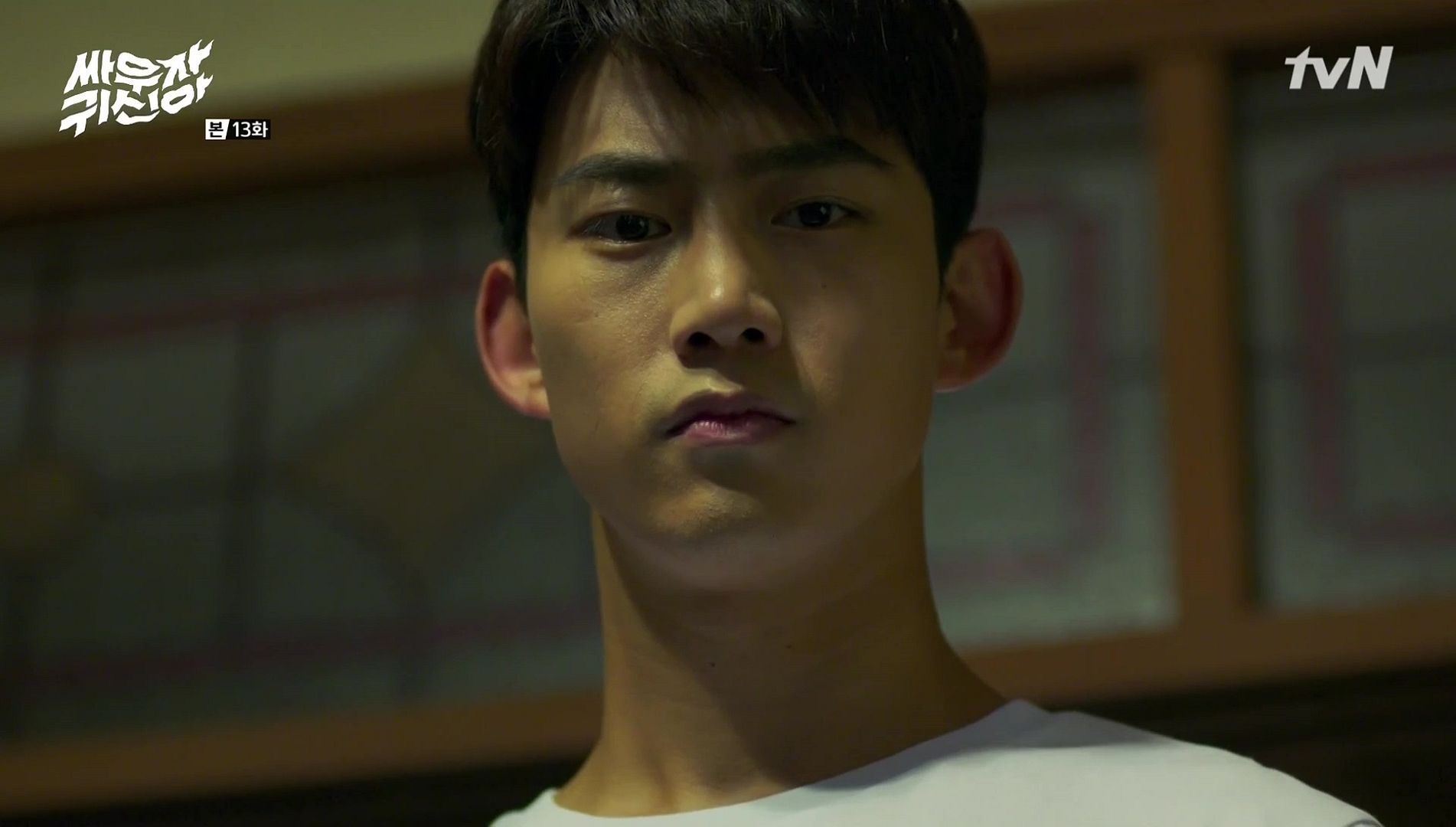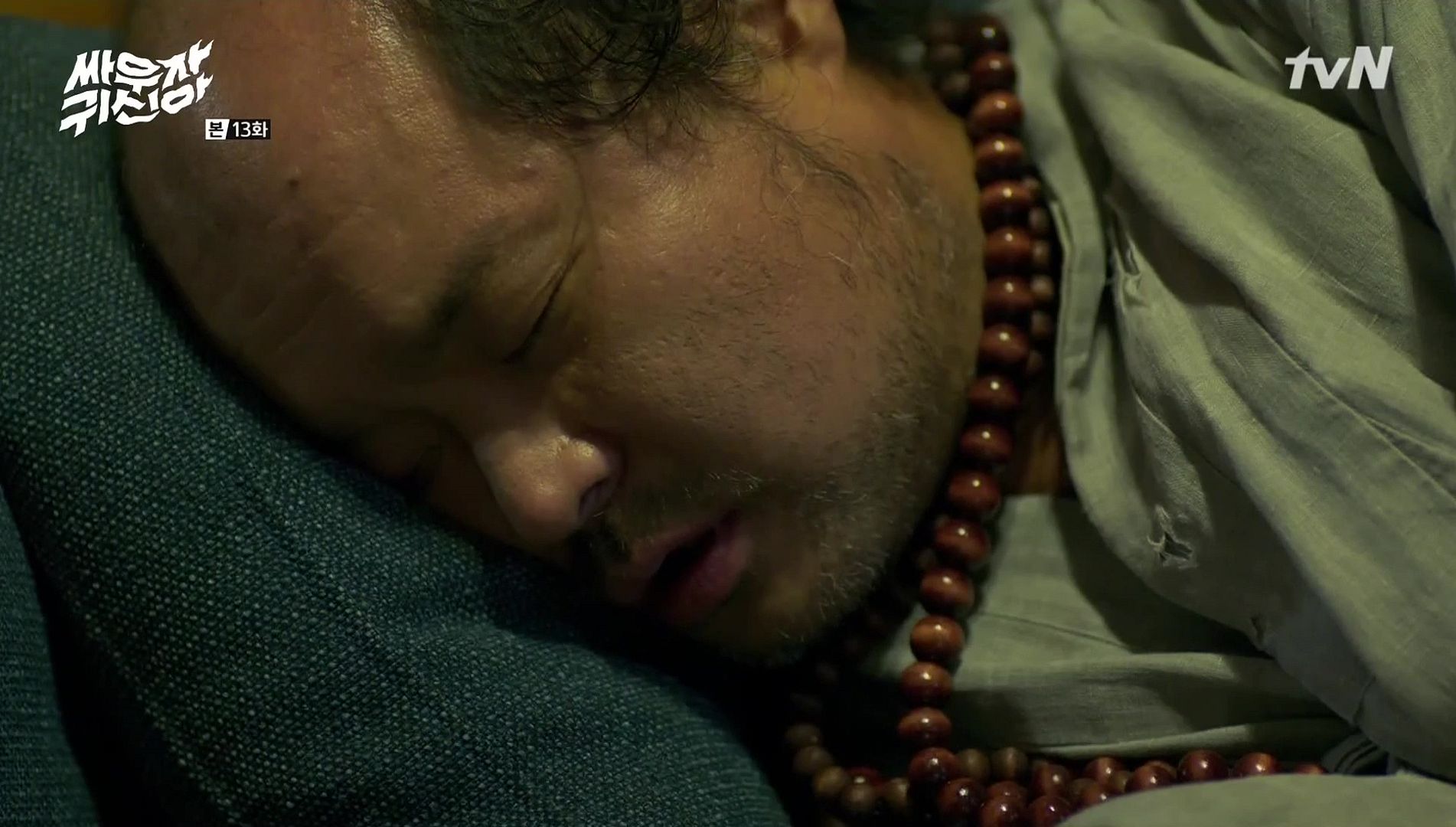 Hyun-ji wakes, tired but okay, and she tells her mother that she saw something frightening which must have shocked her. She seems upset that Bong-pal left already, and defends him when her mother asks how she knows that he's a good person. She tells her mother to be nice to him, that he didn't do anything to cause her fainting spell — in fact, he helped her.
Once she's alone, Hyun-ji wonders exactly what it was that she saw last night, and why she instinctively called out for Bong-pal. For the first time, she wonders if she really does know him, as he says.
Bong-pal stays up late researching amnesia, and he takes a moment to text Hyun-ji to ask if she's okay. Hee, he's changed his name in her phone back to "My Love Bong-bong." Hyun-ji grins and leaves it, and answers that she feels a lot better now.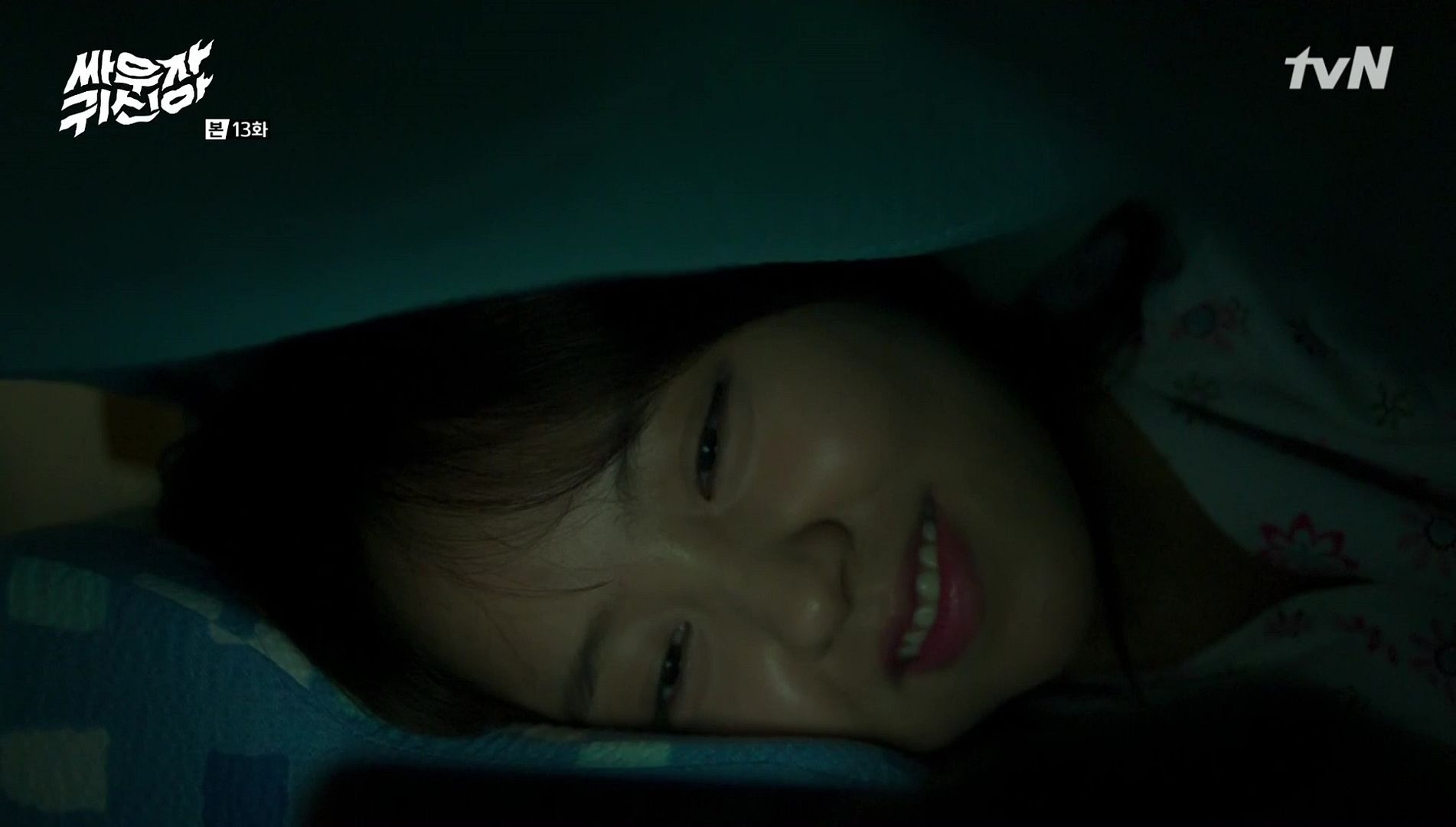 She thanks Bong-pal for saving her and asks if he was hurt, and what that thing that she saw was, anyway. Bong-pal responds that he'll tell her some other time. Hyun-ji lets him know that she's going home the next day and invites him to drop by, and Bong-pal promises to visit her.
They sign off with mutual goodnights, and Hyun-ji goes to bed before her mother can confiscate her phone. But Hyun-ji and Bong-pal both lie awake, and eventually Hyun-ji texts Bong-pal again (from under the covers, like a little kid, so cute), asking if he's asleep. They chat a bit longer about absolutely nothing, and both fall asleep clutching their phones.
Bong-pal is all smiles in the morning, and he makes breakfast for Myung-chul before heading out the door to see Hyun-ji home from the hospital. Myung-chul sends his congratulations to Hyun-ji, though after Bong-pal is gone Myung-chul wonders of those two should keep seeing each other.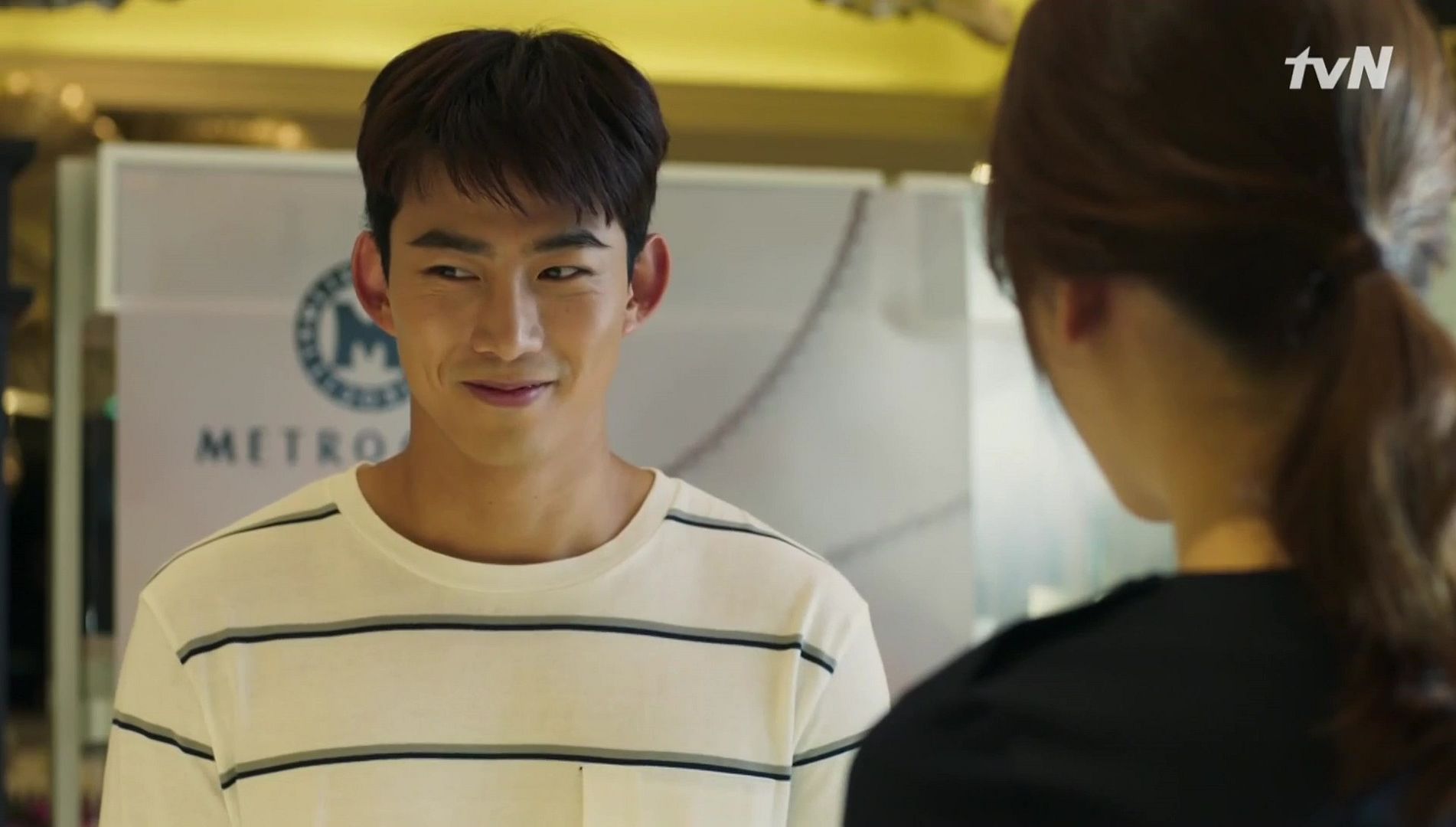 An advertisement at the bus stop gives Bong-pal ideas, and he heads into a jewelry shop to buy Hyun-ji a gift. The salesgirl (cameo by Seo Hyun-jin) asks if he's shopping for his girlfriend, and Bong-pal's shy but huge grin is so cute. She explains that the design of the necklace symbolizes two people who are meant to be together, and Bong-pal buys it.
He runs into Hyun-ji's mother in the hospital lobby, and she notices the jewelry store bag in his hand and doesn't look exactly pleased to see him. She asks him to leave, saying that his presence makes her uncomfortable. She says that Hyun-ji only just woke up after five years in a coma, and that she fainted when she was with him, and her mother doesn't want anything like that happening again.
Hyun-ji's doctor explains up her fainting spell as a normal reaction to having been in bed for five years, and she's given the all-clear to go home. Hye-sung arrives with flowers for Hyun-ji, and is introduced as her new counselor — but isn't he a veterinarian?? Hyun-ji's mother delights at his attention to her daughter, and he even offers to help with her things.
Out in the hallway, Bong-pal peers sadly at the scene through the door, but he doesn't go inside. Hyun-ji pouts when Bong-pal doesn't come to see her off as he promised, unaware that he's been watching her from a distance.
Bong-pal is subdued when he gets back home, and he's still carrying the gift he bought for Hyun-ji. He tells Myung-chul that her memories still haven't returned, and that she doesn't remember anything from her time as a ghost. Myung-chul sighs that it might be best if she never remembers, because her time as a ghost must have been very frightening.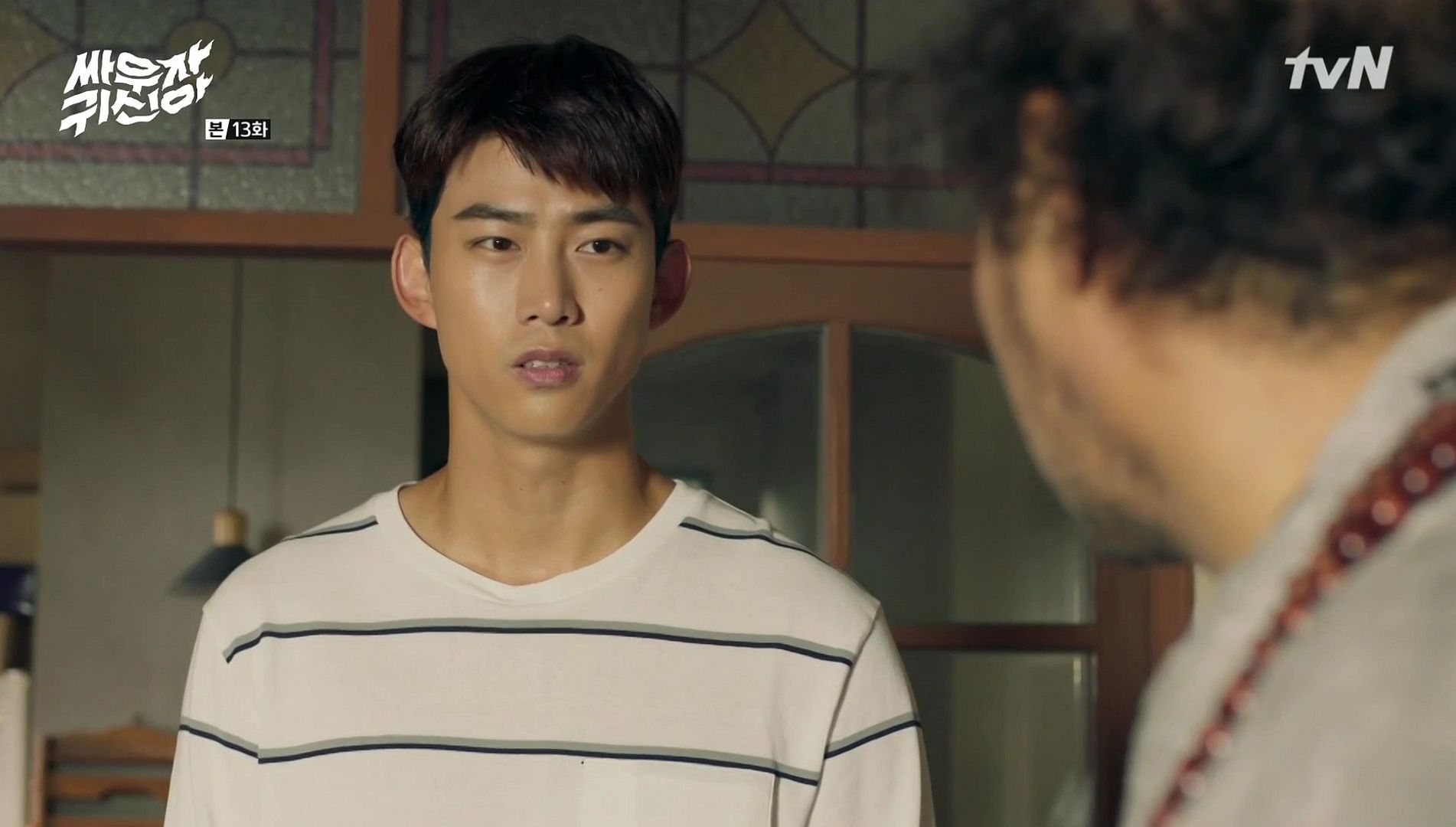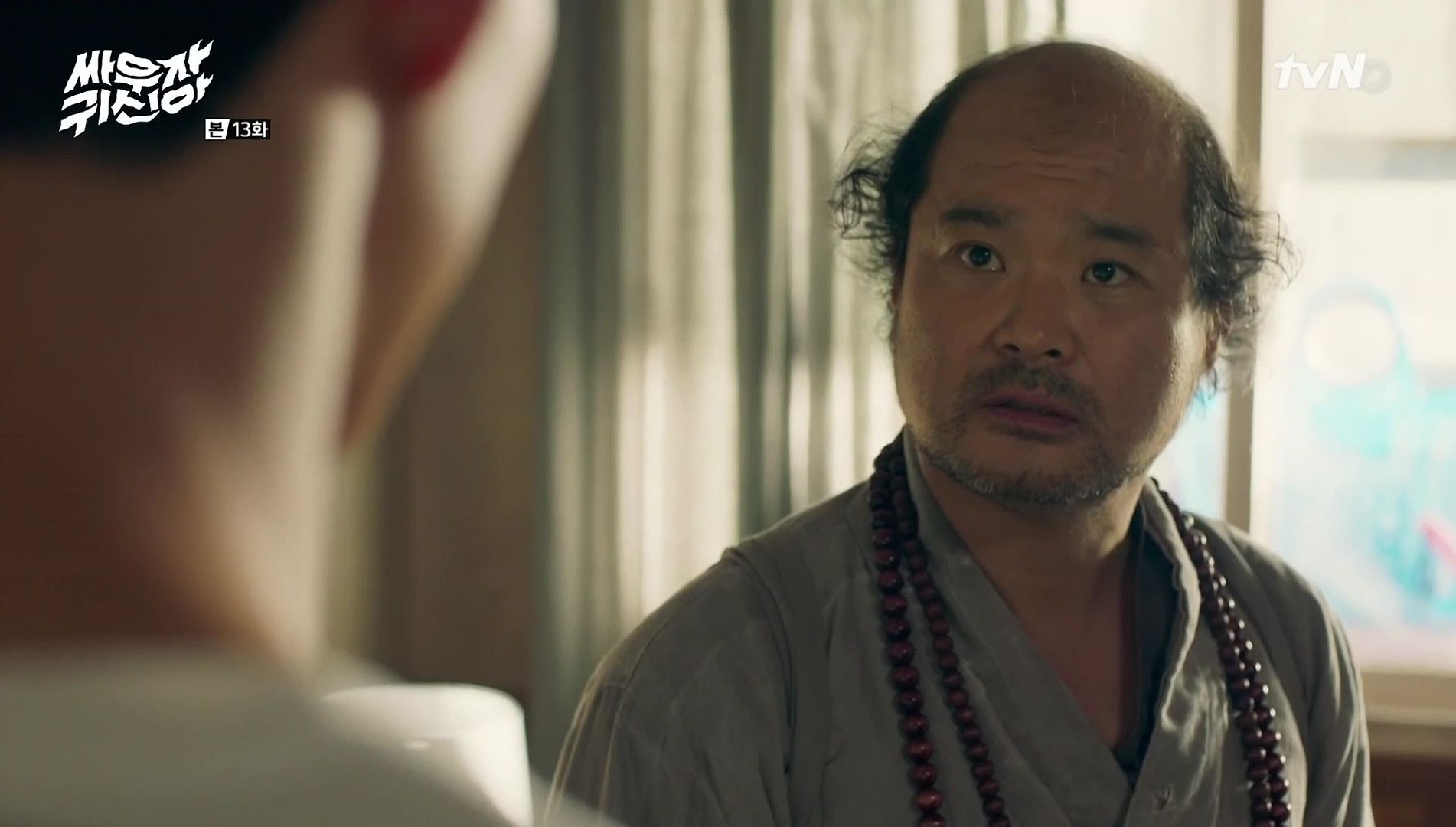 He tells Bong-pal that it might be hard for him, but he should help her start over fresh. "You should let her go first, so that she can live a normal life."
Hye-sung gives Hyun-ji and her mother a ride home from the hospital, and on the way he asks if Hyun-ji has recovered any memories of her accident. She says that she hasn't, and her mother adds that she shouldn't have been in that place anyway, but she was asked to do someone a favor.
But her mother doesn't know who asked for the favor or what it was, and Hyun-ji still doesn't recall. Mom grumbles that whoever it was ruined her daughter's life, but she blames the hit-and-run driver most of all, and she wishes they would be caught and punished. In the front seat, Hye-sung listens silently.
He drops the two women off, promising to call Hyun-ji later about their counselling schedule, and both Hyun-ji and her mother sigh at what a good catch he is. Mom explains that this place is just where Hyun-ji's parents have been staying while Hyun-ji was ill, and that they'll be going back to their real home now that she's recovering.
But she did set up a room for Hyun-ji, who squeals at the new clothing and things in the room, all birthday gifts that her parents bought for her while she was in the coma. Hyun-ji's mother leaves her to organize her room to her liking, and it's clear that Hyun-ji's love of clothes is pervasive, whether she's a ghost or a girl.
She rushes out to backhug her mother, and thank her for her years of support. She promises that she'll go to college and get a good job, and be a good dutiful daughter from now on. Mom says that all she wants is for her to be healthy.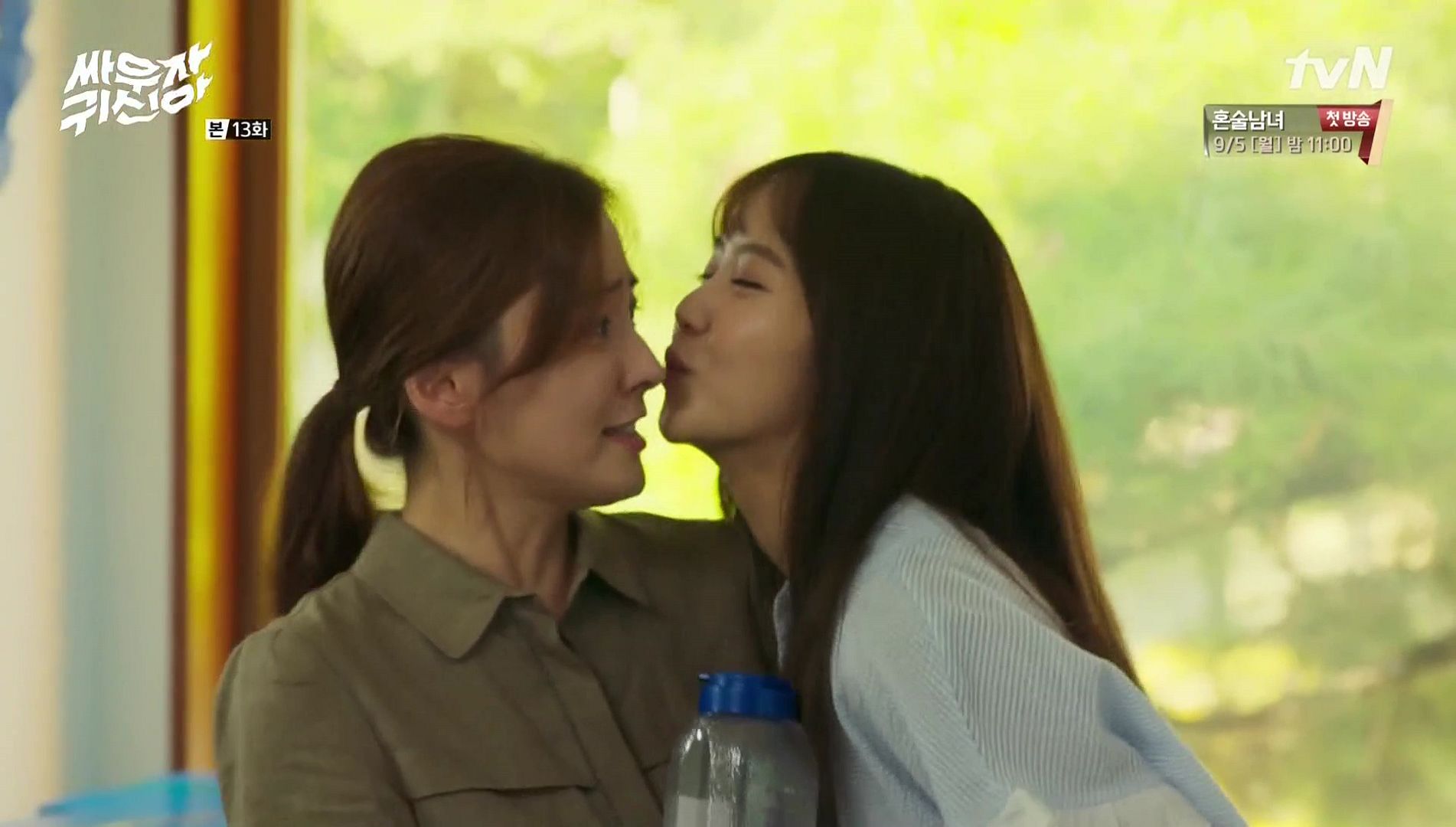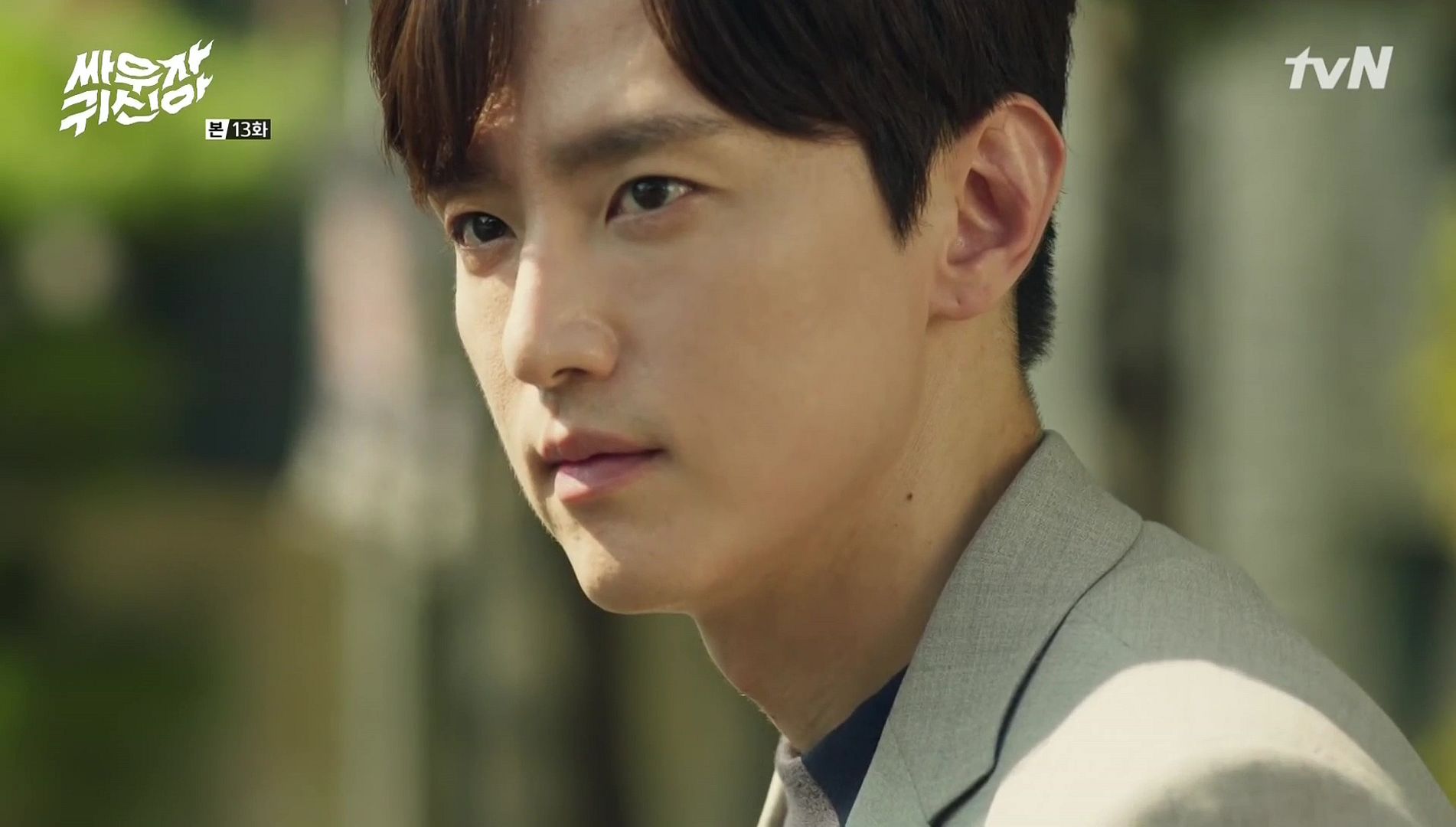 They're so happy, but from outside the house, Hye-sung frowns at them and mutters that it was Hyun-ji who had "it" all along. We see Hye-sung in flashback, visiting the Buddhist temple and walking right past Hyun-ji in her school uniform, as she looks through her backpack.
Detectives Yang and Kim approach the police chief about reopening Hyun-ji's hit-and-run case, but he yells at them to pay attention to their current cases if they have that much time. But Yang has no intention of halting his investigation of Hye-sung, despite the chief's anger.
Hyun-ji texts Bong-pal that night, but he takes Myung-chul's advice and decides not to answer her. She goes to bed confused, not understanding why he would suddenly stop contacting her.
In-rang does his own research into Hyun-ji's hit-and-run, even though Chun-sang thinks he'd be better served to use his time studying. In-rang says that at least he's trying to help Bong-pal and Hyun-ji, and Chun-sang says that he's got a plan of his own.
A timely package delivery reveals Chun-sang's big plan — several large banners to put up near her accident site, asking anyone who may have witnessed anything to contact them. Okay, for once, Chun-sang actually came up with a pretty great plan, and it earns him a great big bro-hug from In-rang.
They find Bong-pal on his way to class to show him the banners, and they don't seem to notice Bong-pal's subdued response. But Hyun-ji herself arrives on campus, wearing new clothing and looking quite beautiful, and In-rang nearly has a heart attack.
Hyun-ji goes right up to Bong-pal to ask why he didn't answer her texts, and he says that he didn't see them. She's here to audit Hye-sung's class so Bong-pal offers to show her to the classroom.
It's clear that she doesn't recognize Chun-sang or In-rang at all, and Bong-pal simply tells her that they're his friends. She does say that they seem familiar, at least. Bong-pal asks Hyun-ji how she knows Hye-sung, and she tells him that he's her counselor.
Hye-sung notes the two of them entering class together and asks if they know each other, and Hyun-ji quickly jumps to say they're not that close. Ouch. That stings, and Bong-pal heads to his seat alone. It does look as though Hyun-ji intends to sit with him, but Seo-yeon plunks herself down first and Bong-pal introduces Hyun-ji as just an auditor, so Hyun-ji sits alone across the aisle.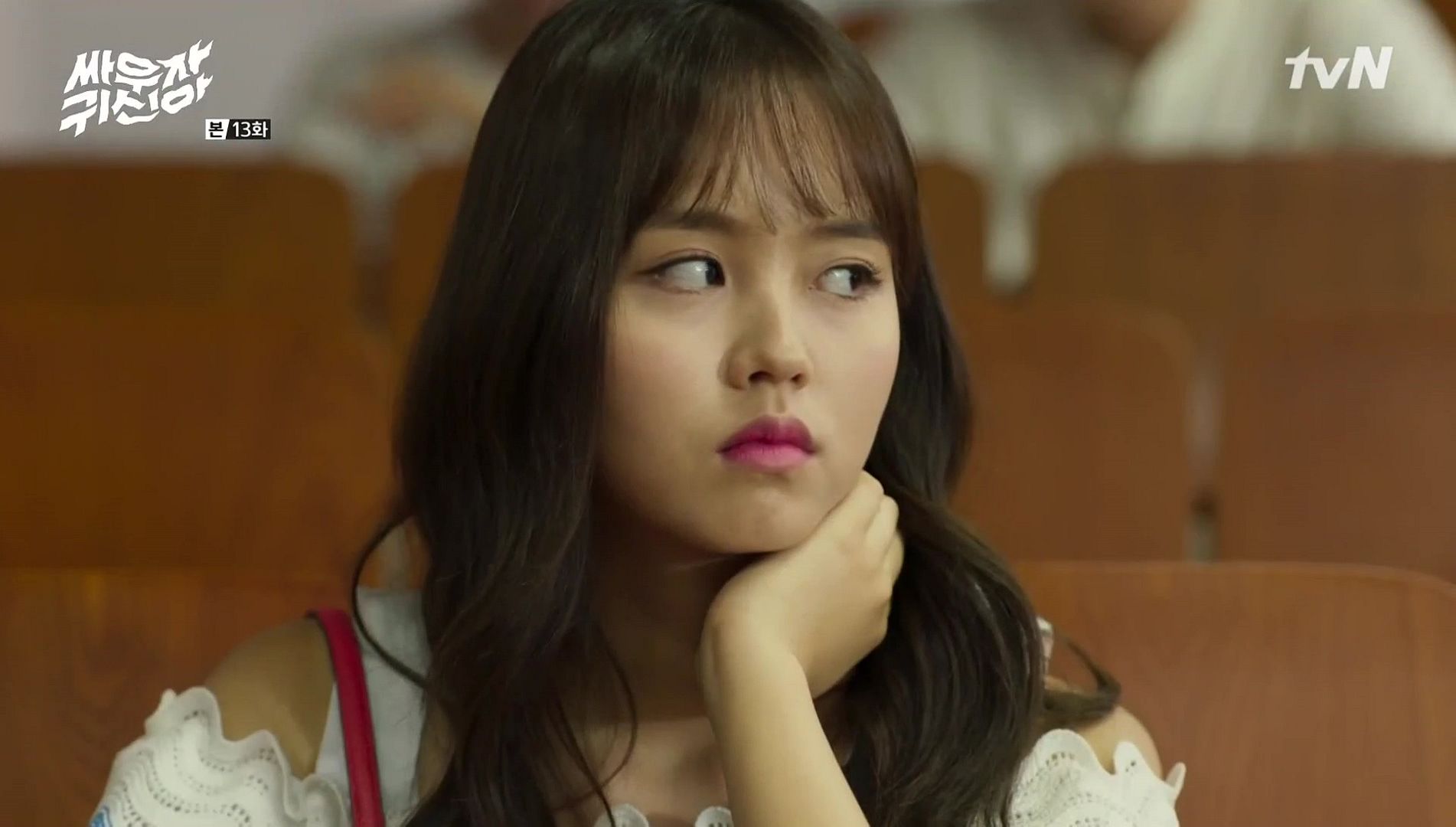 She can't even concentrate on Hye-sung's lecture, too preoccupied with watching Seo-yeon and Bong-pal during the class. Bong-pal also can't help but notice when Hye-sung gives Hyun-ji a tiny smile, which she returns, and it only makes him grouchier.
HAHA, Chun-sang and In-rang practically wallpaper the street near Hyun-ji's accident with banners, causing a neighborhood ajumma to protest loudly. It's a bit much.
Detective Yang sees Myung-chul at the station, and the two recognize each other from when Bong-pal was briefly jailed. They realize that they both hold suspicions regarding Hye-sung.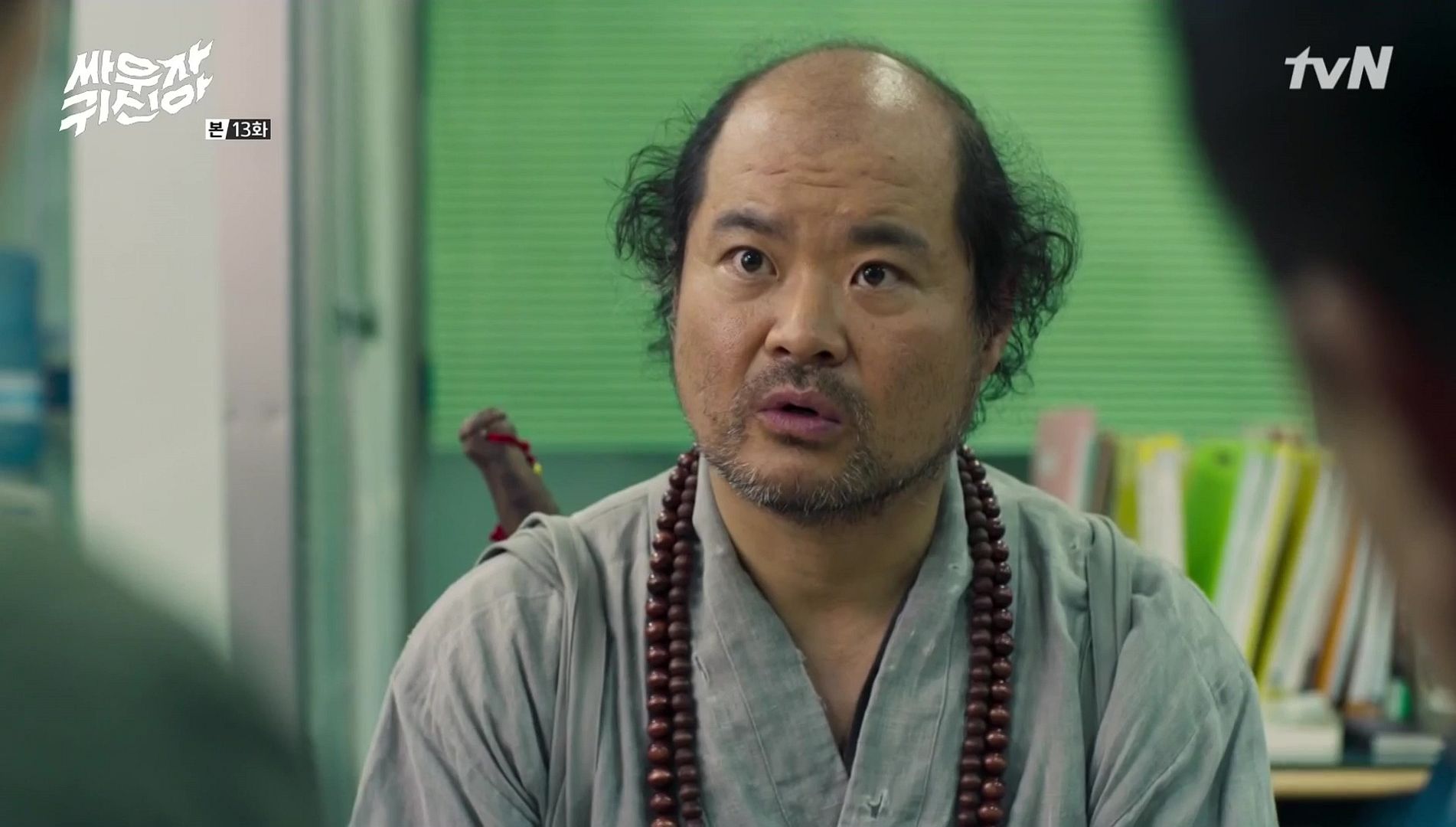 Myung-chul tells the detectives what he knows, including that Hye-sung has Hyun-ji's school ID card. It's always been odd that Hyun-ji was found with no belongings, and now they realize that Hye-sung must have taken them. But they can't investigate based on circumstantial evidence, so they promise to contact Myung-chul when they have something.
Just then, Chun-sang and In-rang are brought in for their illegal banners, and they and Myung-chul recognize each other. The detectives let everyone go, and decide to look into Hyun-ji's case after all.
Myung-chul stops the boys outside the station to ask them if they know Hye-sung from school. In-rang knows who he is, so Myung-chul asks for a favor, though we don't hear what it is.
Bong-pal watches jealously as Hye-sung checks in with Hyun-ji after class. He gets up to leave just as Hye-sung invites Hyun-ji to lunch, and she's so anxious to follow Bong-pal that she declines.
Seo-yeon waits to speak with Hye-sung, and tells him that it's her last semester before she graduates. She confesses that she likes him but Hye-sung immediately turns her down, and he even returns the pen she gave to him before he goes.
Hyun-ji follows Bong-pal out to a park bench and asks why he left without her. She asks if he's angry with her and he says he's not, and suddenly Hyun-ji remembers sitting on this very bench, while Bong-pal plucks a cherry blossom from her hair. She asks him if she's been here before, and Bong-pal matter-of-factly reminds her that she used to follow him around a lot.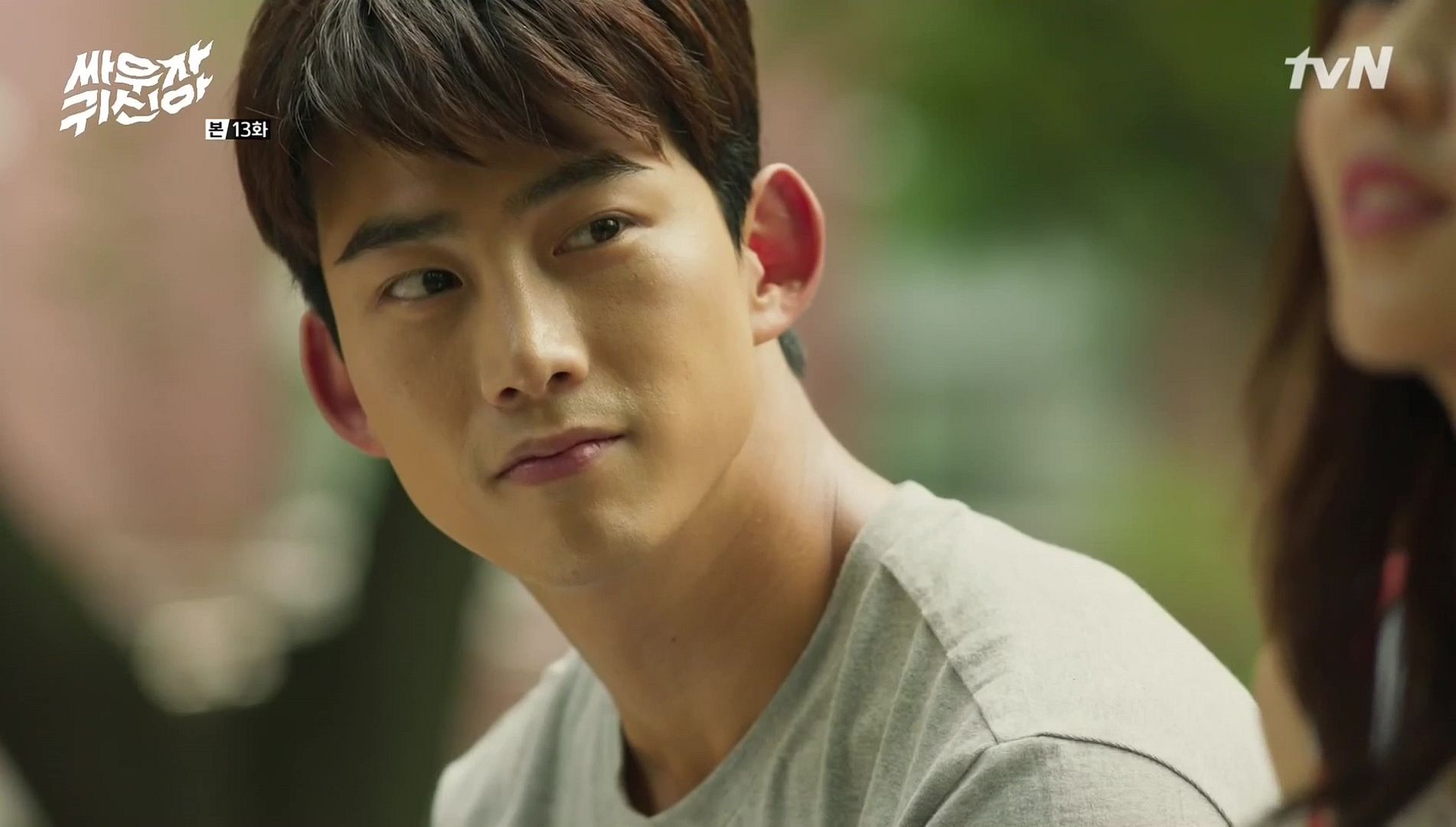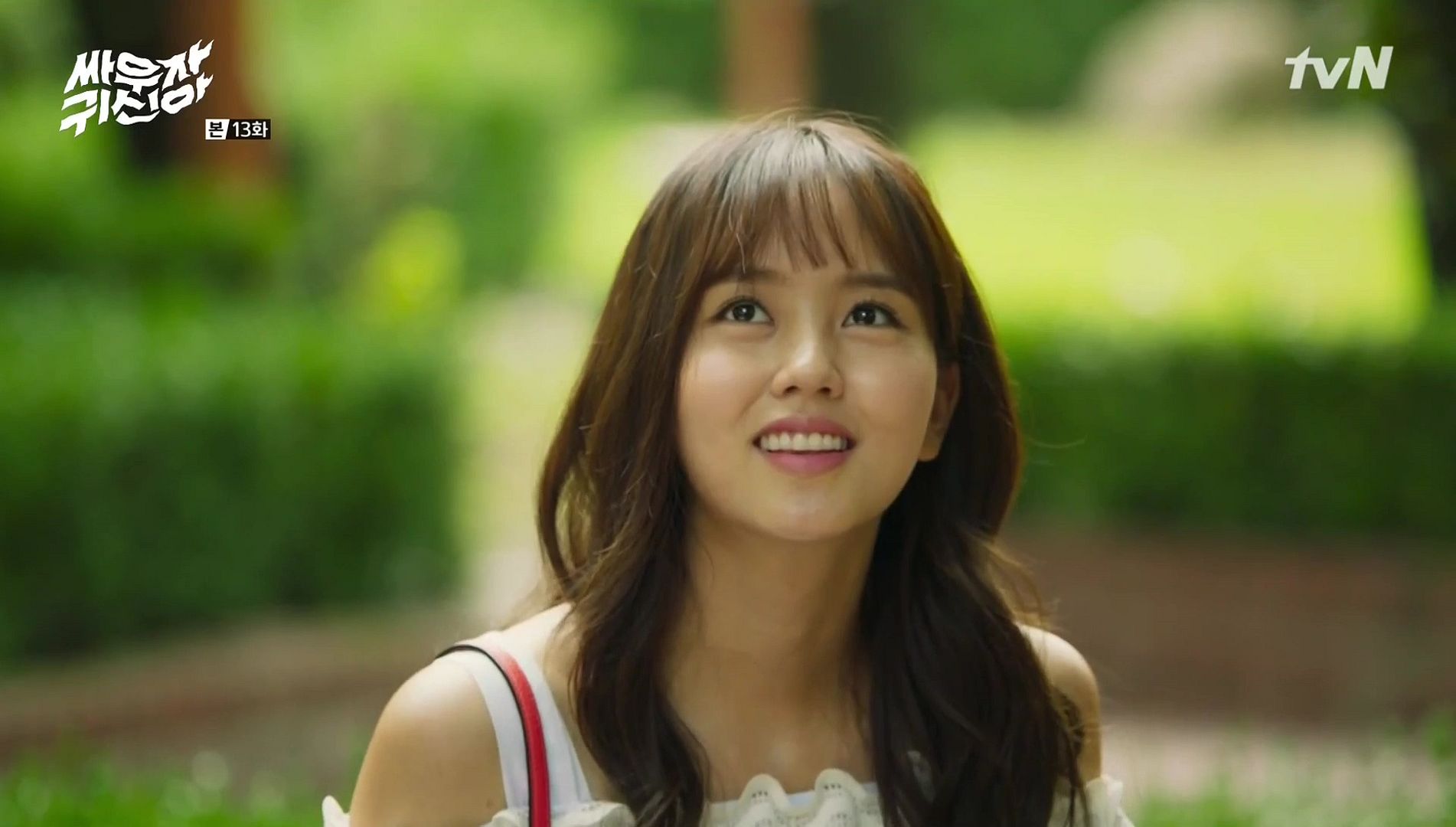 But the place does feel familiar, and Hyun-ji leans back to enjoy the feeling. Bong-pal watches her, until she says that she has to go meet some friends. He seems jealous when she says that they're helping her study for her high school equivalency exam, but he tells her to take her time.
Hyun-ji counters that she's five years behind everyone her age, and she wants to get her life back. Her friend calls and she leaves, saying that she'll text Bong-pal soon. He's left behind, but he remembers Myung-chul's words that he needs to let her go so that she can live a normal life.
Bong-pal walks to the bus stop and runs into Seo-yeon, who's still moping at the pen Hye-sung returned to her. They go for a drink, but Seo-yeon has a few too many and Bong-pal tries to cut her off. Her drink spills on his leg, and he goes to the restroom to clean up.
Hyun-ji has a nice afternoon with her old friends, then heads home alone. She sees a woman staggering down the street, and seems to think she looks strange. But she shakes it off and keeps going, then stops at a drugstore for some medicine. She calls Bong-pal, but a very drunk Seo-yeon answers his phone.
Bong-pal comes back to the table and takes Seo-yeon's arm, offering to take her home. But a hand yanks him away from Seo-yeon — it's Hyun-ji, and she informs Seo-yeon that there's a taxi waiting outside for her. Hyun-ji pulls Bong-pal away to talk, in a classic wrist-grab reversal, ha.
Outside, Hyun-ji finally gets angry, asking Bong-pal why he's acting this way when he said he was her boyfriend. Bong-pal asks if she's really that mad at him, and Hyun-ji says that it makes her furious to see him with another girl. Bong-pal finally smiles at that.
Hyun-ji isn't nearly finished raking him across the coals, and she lets Bong-pal know exactly how she feels about his recent behavior. She says that even if she doesn't remember, he should keep pushing until she does. Bong-pal doesn't say a word, but just swoops in for a kiss.
It's pretty swoony, but Hyun-ji kicks him in the shin, calls him a pervert, and tells him never to call her again. HAHA. She starts to storm off, then turns back to hurl the medicine she bought at him, then she storms off again.
Bong-pal, smart man that he is, does as he's told and follows Hyun-ji. She calms down enough to put the medicine on his injured arm, all the while grumbling that he doesn't deserve her gentle treatment, while whapping his injury repeatedly. I love her.
Bong-pal sees his chance, and gives Hyun-ji the necklace he bought for her. She lets him put it on her, which brings their faces very close, and she gives Bong-pal the happy smile he's been hoping to see.
On the walk home Bong-pal asks Hyun-ji if they're dating now, like a big old dork. She says that she'll see, and he promises to be good and not look at another girl ever again. He sees her to her door, but she pokes her head right back out to wave again. So freaking cute.
Hyun-ji gets in just as her mother is going out to see Hyun-ji's uncle. Hyun-ji sees the strange woman from the street standing outside the patio door, but she doesn't think anything of it. Her mom, on the other hand, doesn't see the woman in front of her on the sidewalk, and walks right through her.
Detective Yang discovers that five years ago, Hye-sung owned a white car very like the description of the car that hit Hyun-ji. Then two days after her accident, he scrapped it. Interesting.
Meanwhile Hye-sung burns Hyun-ji's school ID, to get rid of any lingering evidence.
The ghost woman is now in the house, and scares the daylights out of Hyun-ji when she sees her lurking right over her shoulder. Hyun-ji runs outside and calls Bong-pal, unaware that Hye-sung is watching her from one house away.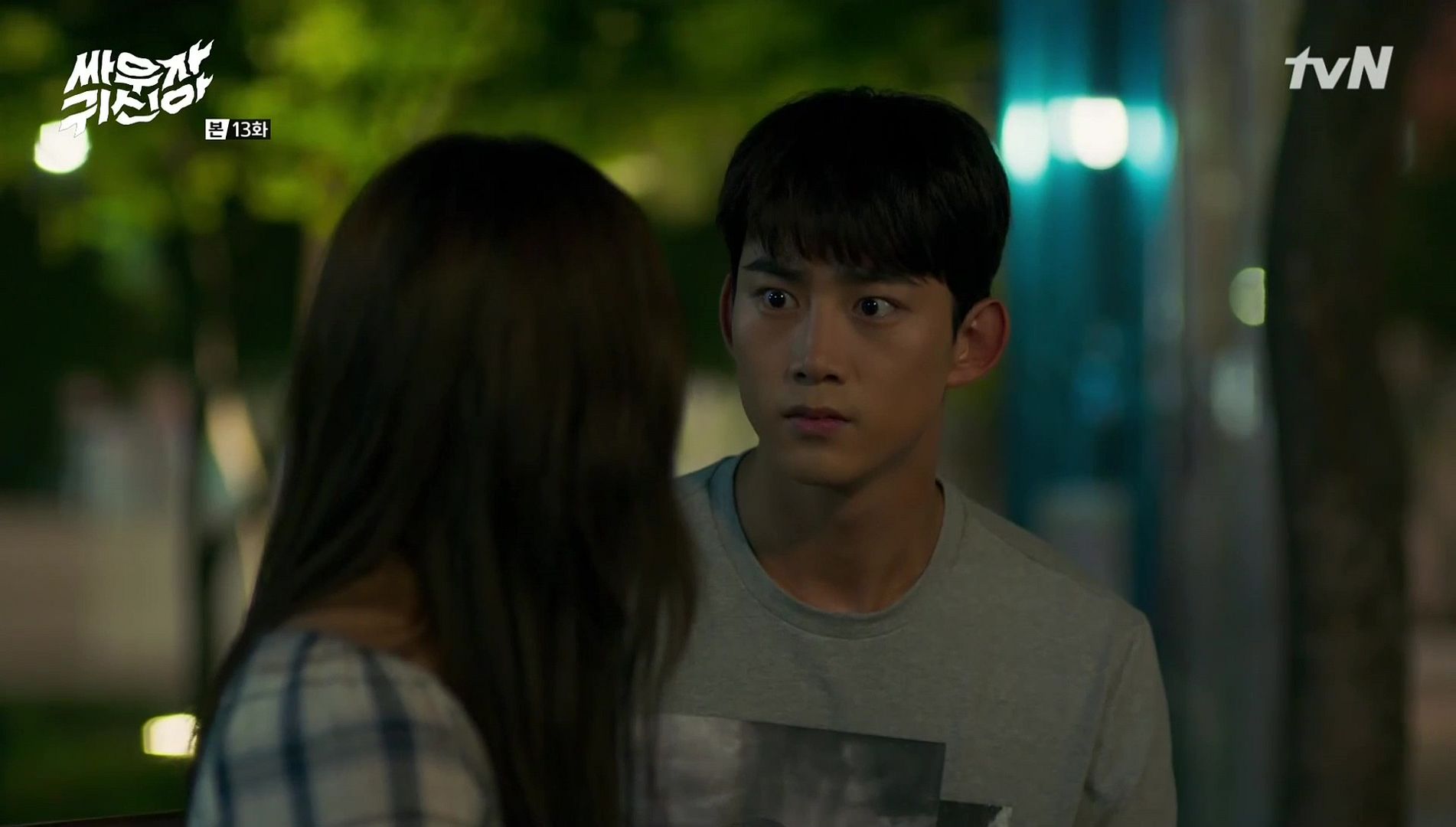 Bong-pal rushes back to find Hyun-ji waiting outside for him, in tears and seeming to be in shock. She turns large, scared eyes to him and asks, "Bong-pal-ah, what do I do? What I saw at the hospital wasn't a coincidence. I can see ghosts."
She looks over his shoulder, and Bong-pal turns to see the ghost woman sitting on top of the bus stop shelter. He remembers Myung-chul's warning, that her memories of her afterlife could affect her current life. Hyun-ji starts to cry again, and Bong-pal holds her close, telling her not to worry. He says that no matter what happens, he'll protect her.
Bong-pal holds Hyun-ji while she cries, while across the street, Hye-sung looks on.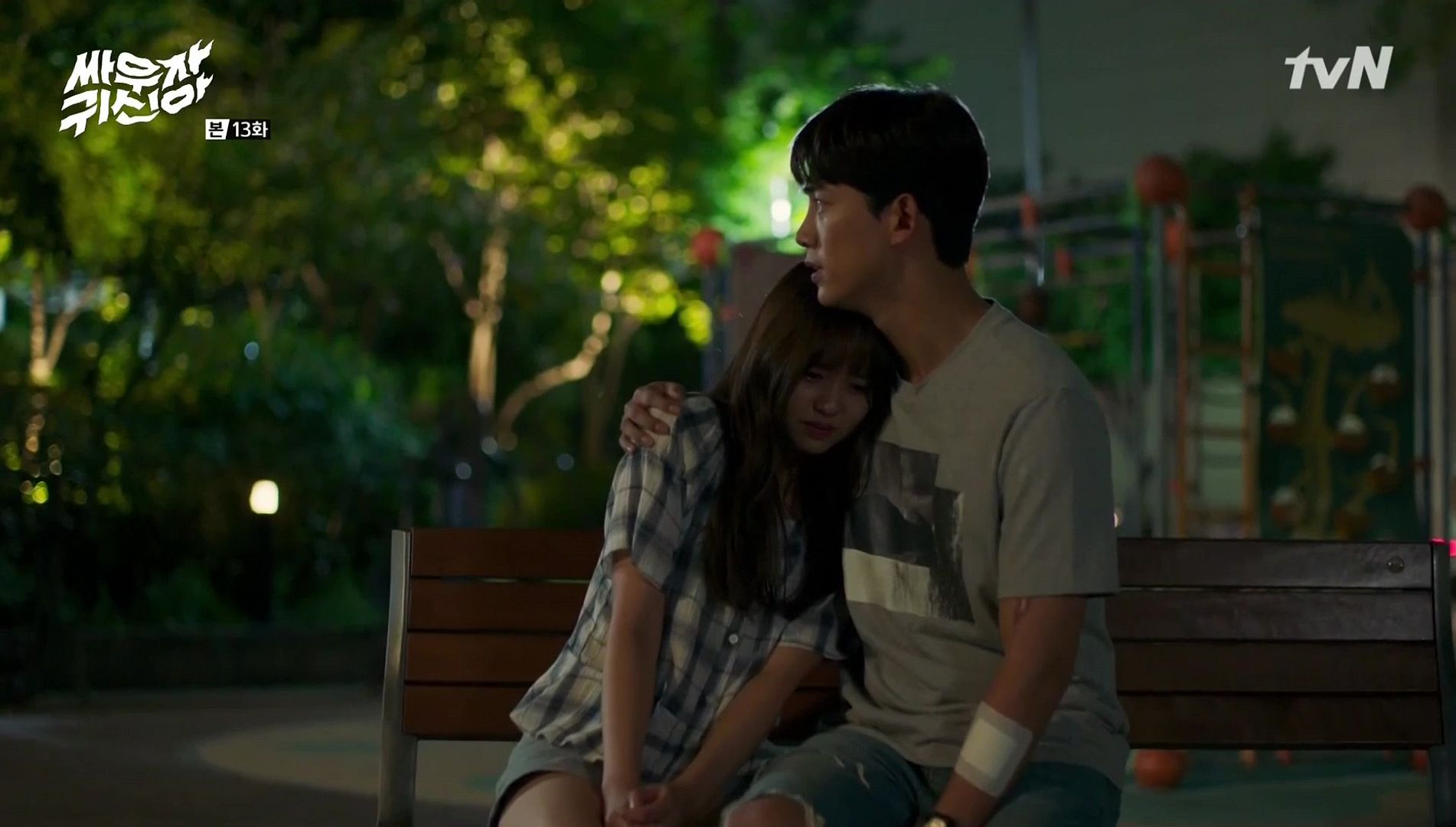 COMMENTS
I never thought I'd say it, but I think I love Real Girl Hyun-ji even better than I loved Ghost Girl Hyun-ji. Ghost Hyun-ji could be so perky and pesky, and she came across very young and immature at times, but real Hyun-ji seems to be more mature and well, real. She's got a temper and she speaks her mind, and she's not afraid to tell Bong-pal when he's being an ass. And Bong-pal, let's face it, really needs someone to tell him when he's being an ass.
I don't really understand Hyun-ji's mother's dislike of Bong-pal. He hasn't done anything but be present when Hyun-ji fainted, and he actually helped her then. It was good that he was there! It would make sense that she's just being overly protective in general, if it weren't for her turning to mush every time Hye-sung shows up to give Hyun-ji attention. And you would think that a mother would be happy that her daughter, having woken up after five years in a coma, had someone around to do things with, someone her own age who doesn't mind that she's recovering from a serious accident. Hyun-ji is plenty old enough to date (she was nineteen when she was in the accident, and she's twenty-four years old now), and Bong-pal is age-appropriate, cute, attentive and polite. You would think that he'd be any mother's dream.
On the other hand, I do think I get where monk Myung-chul is coming from when he advises Bong-pal to let Hyun-ji go. On the surface everything seems perfect — she's not dead, she's awake and healthy, and seems to be starting to return Bong-pal's feelings. So why shouldn't they be together? But Myung-chul knows that Bong-pal is in danger from Hye-sung, and that Hyun-ji is, or was, somehow tangled up with the demonic thing. If Bong-pal stays away from Hyun-ji, it could help keep her safe from harm if (or as Myung-chul most likely believes, when) they are forced to confront Hye-sung again. Myung-chul knows that the demon is after Bong-pal for some reason, so his advice to break things off with Hyun-ji really is for her own safety.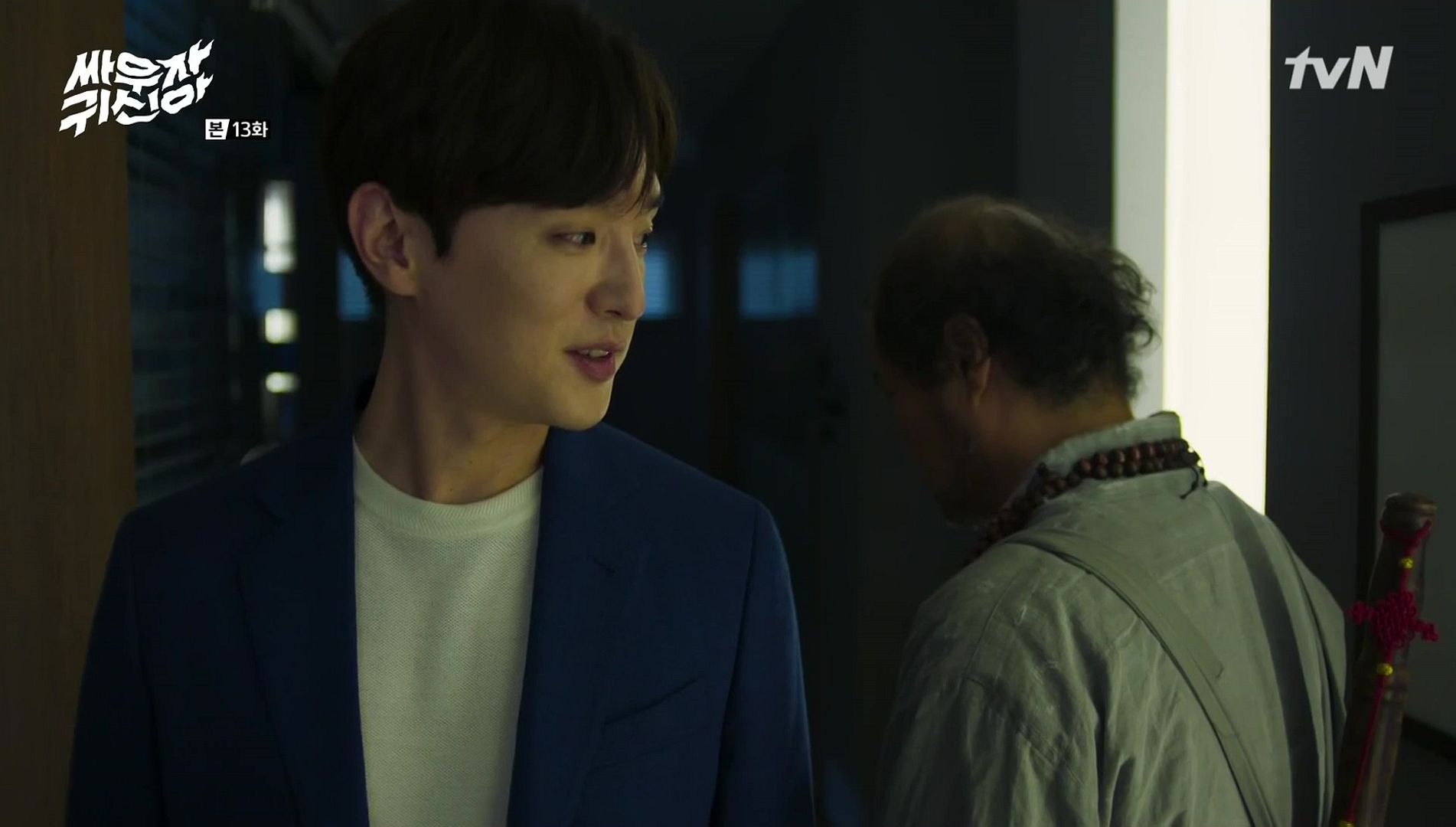 But watching Bong-pal and Hyun-ji begin to have a normal human relationship is just so adorable and satisfying, and I didn't even know how much I wanted to see that. Neither of them has really had that much of a regular teenage experience, and they're both inexperienced in different ways. I love seeing Bong-pal pursue Hyun-ji like any boy would pursue any girl he likes, with nothing odd or unusual about their relationship as it stands now. And Hyun-ji is finally letting him in, and realizing that it's possible that she does know him already. After seeing them grow to care for one another under insane circumstances, there's just something so heart-warming about watching them get to know each other like any other young people would.
The sheer normalcy of their friendship as it is now, is the very thing that makes it so magical. Even the misunderstandings keeping them apart — Hyun-ji's jealousy over Seo-yeon and Bong-pal's fallback to grumpiness at thinking that she might be better off without him — are just so normal. I do miss their adorable camaraderie when they were a powerhouse human/ghost exorcism team, but I can't help but remember Hyun-ji's deep longing to be alive. So although their relationship has taken a few steps backwards and they will need to learn to navigate their way back to each other all over again, I'm just so happy for Hyun-ji that she's getting to experience romance and dating like any other young woman.
That's not to say that I'm not eager, and also worried, for the time when she gets her memories back. Remembering her time as a ghost, and why she was in that area when her accident happened, is going to open a whole can of worms and bring things to a head with Hye-sung. Now that he knows who had his "whatever" last, he's not going to leave Hyun-ji alone until he gets it. And that would be bad enough if she wasn't trying to come to grips with her new ability to see ghosts. So for Hyun-ji's sake I hope Bong-pal doesn't take Myung-chul's advice, and that he tells her that he can see ghosts, too. Because Hyun-ji living a normal life is a ship that's already sailed, and what she needs now is someone who truly understands what she's going through.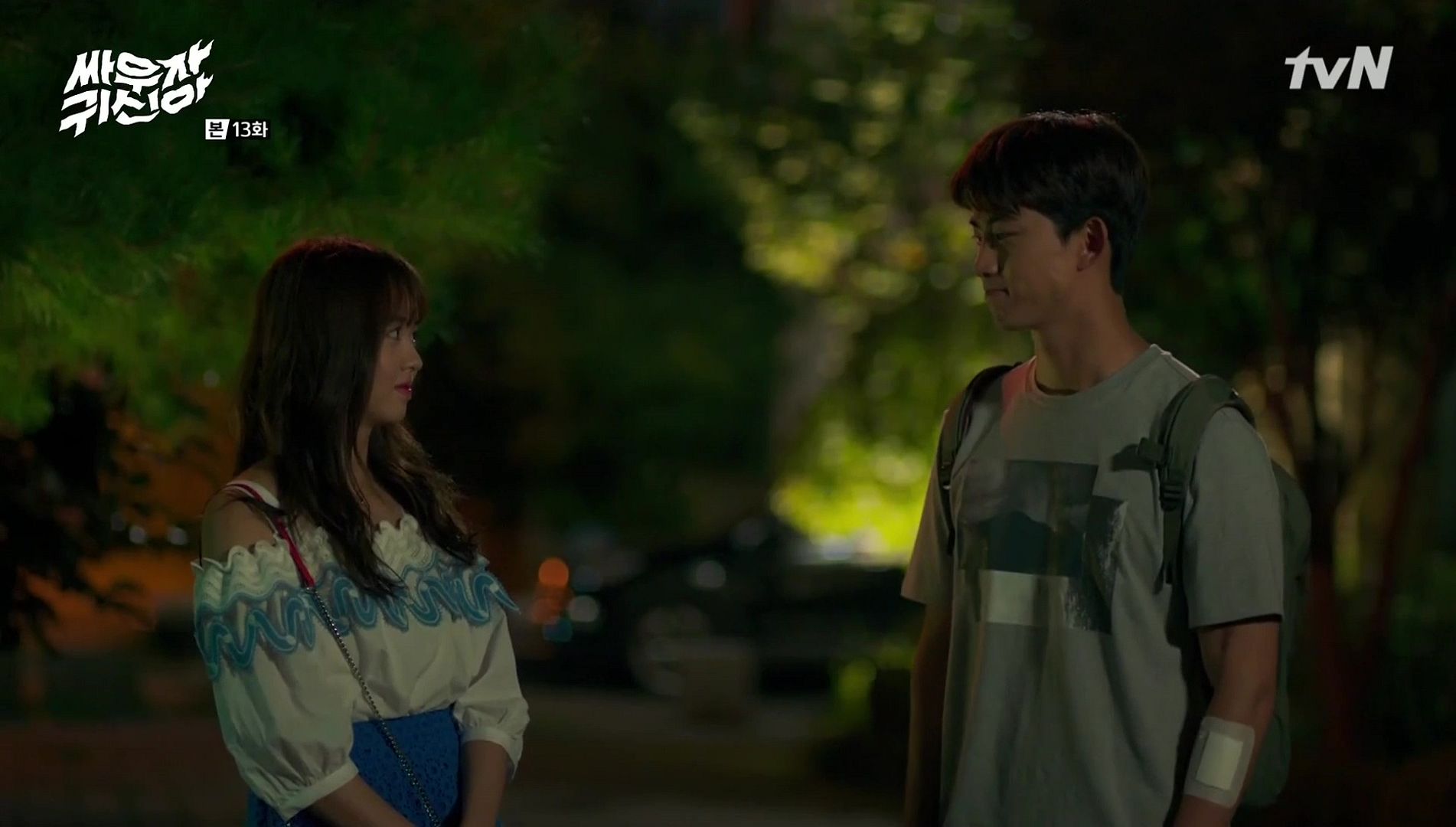 RELATED POSTS
Tags: Bring It On Ghost, featured, Kim So-hyun, Kwon Yul, Taecyeon