The Unstoppable High Kick
I'm bored. Bored, bored, bored.
Not only bored, but restless. The only drama that holds my interest these days is Legend, and that's just barely. It's not hard to tell that my taste veers to trendy dramas — the fluffier, the better — and I feel the current lack keenly. As I was saying to a friend recently, I can find meaning in the most superficial of trendy dramas — just give me the sugariest cotton-candy drama and I'll mine the hell out of it looking for depth and thematic resonance. Of course, I do have some standards — I won't watch just any trendy drama, if it's just a boring rehash of familiar stuff. But let's say that if trendy dramas are the television equivalent of chick lit, I'm looking for Bridget Jones, not Shopaholic or Lipstick Jungle or whatever else comes with cheesy pink covers and pictures of high heels and handbags and jewelry. (I am not my accessories closet! … and if only I actually had an accessories closet!)
What does that have to do with The Unstoppable High Kick? Nothing really, except explain just how bored I am and in need of something light and fun, even if it doesn't aspire to be meaningful. I missed the boat on High Kick when it first aired — daily sitcoms usually air over a hundred episodes, and that's just too much of a commitment. It finished its run earlier this summer, but AZN has been showing it (unsubtitled), and I've let the episodes accumulate on my Tivo, watching them whenever I remember to. I'm somewhere up in the nineties now (there are 167 episodes), although I skipped a bunch in the beginning.
SONG OF THE DAY
Heritage – "Grateful" [ zShare download ]
Audio clip: Adobe Flash Player (version 9 or above) is required to play this audio clip. Download the latest version here. You also need to have JavaScript enabled in your browser.

For being a sitcom, High Kick isn't really terribly funny. It's mildly amusing, but it's not laugh-out-loud or joke-laden. In fact, I find a lot of Korean sitcoms are really just excuses for family drama content to be compressed into a shorter, lighter, more plot-meandering series. I find a lot of the hour-long comedic "dramas" are much, much funnier than a sitcom (i.e., Samsoon, My Girl). But that's the current format, and I'm sure Korea will find a way to make the structure work once they break out of the mindset of replicating early American family sitcoms with the bad laugh tracks and cheesy (non-)humor.
Once I let go of the expectation for the sitcom to be funny, though, thinking of it as a short-form family drama instead, High Kick was a lot more entertaining.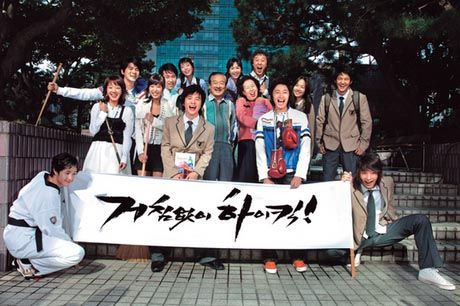 Part of why I was noncommittal about High Kick for a long while (whereas college-campus sitcom Nonstop 5 won me over almost immediately) was because half its cast hugely annoys me — the entire adult half. Since this is a family sitcom revolving around the central Lee family, it's a pretty big hindrance when you find yourself disliking every single adult character (to varying degrees). It makes big chunks of episodes much less interesting to watch — but easier to fast-forward, so there is that.
The grandparents and parents usually just act as foils for the younger generation, and are a mix of cranky (grandpa, grandma), nosy (mom), and meddling (grandma, mom). In the middle generation, the love triangle revolving around Minyong gives me the impression that I'm supposed to root for the Minyong-Minjung coupling, but I find the guy supremely irritating (he's cranky, bad-tempered, surly, and cold), which ruins the whole thing, really. He's like an old ajusshi stuck inside a slightly-less-old ajusshi's body.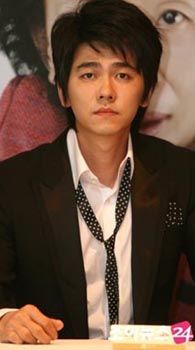 Both women (Minjung, left; Shinji, right) are a mix of cute and annoying, depending on the situation, although they're usually tolerable when not in the company of Mr. Crankypants.
That just leaves us with the youngest generation, but thankfully, they make up for the lack of appeal in the rest of the cast. It's definitely the kids, by far, who make High Kick fun, starting with brothers Minho (actor Kim Hye Sung) and Yunho (Jung Il Woo), and extending to their friends Kang Yumi (Park Min Young) and Kim Bum (whose character shares his real name).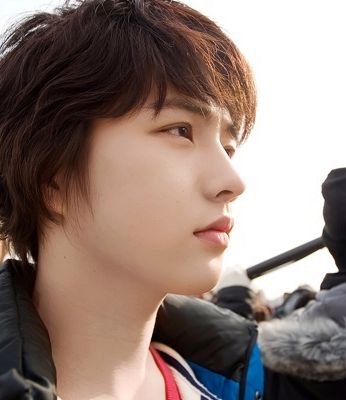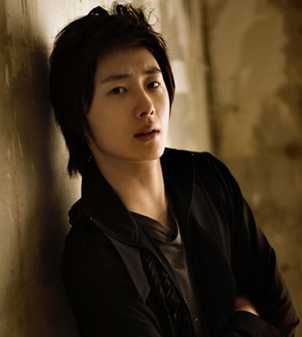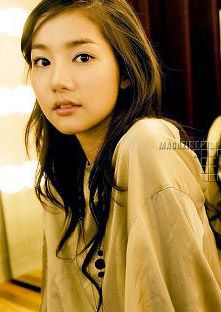 But of course, the undeniable breakout is Jung Il Woo, who plays the youngest son, the broody, often-misunderstood, rebel-with-a-cause Yunho. He's cool precisely because he doesn't care about being cool — or at least not by mere silly high school standards. He's also adorable, and although I feel like a pervy almost-ajumma (clinging to late-stage noona-ness as long as I can) for finding him so damn cute, I have to say, I *totally* get it. I can understand his widespread popularity and see why he broke out of the High Kick pack as its undisputed star.
Although Yunho is someone I'd probably find frustrating in real life (he does whatever he wants; in contrast, his older brother Minho is good-natured, smart, and easygoing), his character is by far the most complex and layered in the High Kick cast — you might even say he's the only one with any layers. He can be immature and mischievous, but occasionally exhibits flashes of old-soul wisdom (despite being not-quite-book-smart). He's rebellious but loyal at the core, brooding and removed but completely boyish the minute he breaks into a smile. It's a good thing I didn't know any guys that charismatic back in my high school days.
I saw some interview with Jung Il Woo where he explained that he'd gotten the role of Yunho when he'd messed up a line in his audition. He'd smiled unexpectedly in embarrassment/fun, and producers found his smile surprisingly winning — which then went on to be widely known as his special brand of "killer smile."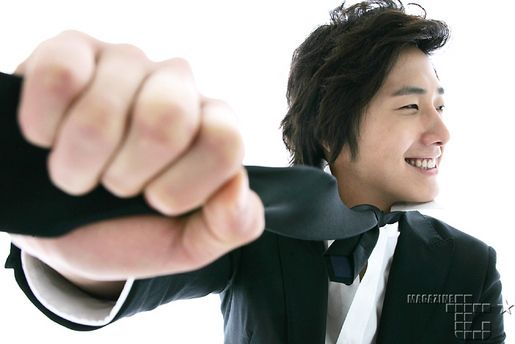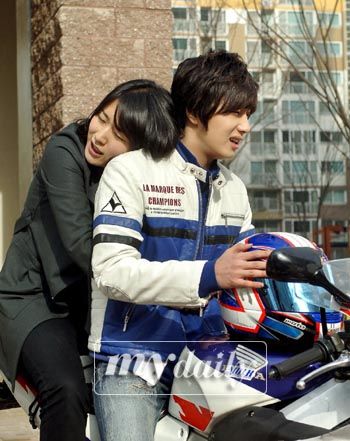 In fact, I suspect that the episode where Minjung's high school classmate shows up and falls right for the teenage Yunho was made seeing the audience's response to Jung Il Woo. The woman gushes over Yunho's looks, his cool demeanor, his tough-guy image — and then bemoans their ten-year age gap, since he's only seventeen. (Jung Il Woo is twenty; that goes a little distance, but not much, in making me feel less pervy thinking he's adorable.)
The one storyline that has me coming back — and I suspect it's the same for most viewers — is the one between Yunho and his teacher, the naive-sweet-klutzy Minjung (who happens to date his uncle). It's compelling because of the paradox it presents — we all want a happy ending for Yunho and his crush (although his feelings seem more serious than a crush), but the setup is just not going to happen on a family sitcom — she's his teacher, she's ten years older, he's still a minor. It's seeing how they dance around this restriction that makes High Kick fun (even if I've got to fast-forward most of the other adult storylines). Minjung considers them purely as friendly teacher and student — and although the show is family-friendly and uncontroversial (no Mary Kay Letourneau exposés here!), the show frequently flirts around their relationship in what basically amounts to a huge saucy wink at the audience.
The episode with the older woman crushing on Yunho also teases us into thinking maybe, just maybe, there's hope for Yunho and his teacher (we know it's not likely, but we can hope): after Minjung asks Yunho to be nice to her clingy, annoying friend and humor her attraction to him, she apologizes for requesting such a distasteful favor. She hadn't thought how awful it must've been for him, having to deal with a woman liking him who's ten years older. Yunho responds brusquely (before heading off into the twilight on his motorcycle): "I merely didn't like that particular woman. Age is no issue."
(And of course, we all fall for the line. And the guy.)
Tags: Jung Il-woo, Kim Bum, Kim Hye-sung, Park Min-young, Seo Min-jung, Shinji, Unstoppable High Kick