"Boys Before Flowers," aka the Korean Hana Yori Dango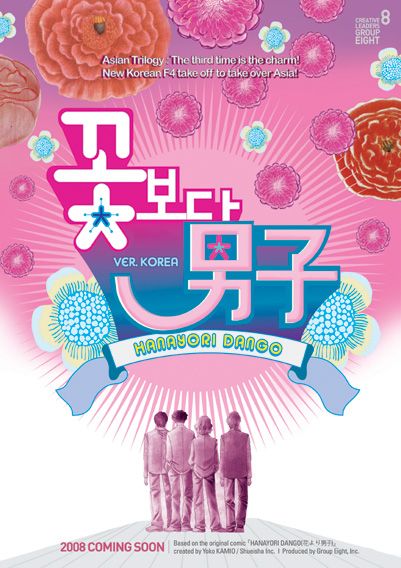 I'm a little late to this info, but this news gets me excited. And apprehensive. But excited!
So the Japanese manga Hana Yori Dango has been made into an anime series, a Taiwanese drama (Meteor Garden), and a Japanese dorama. The Japanese versions are already popular in Korea, but now a kdrama adaptation of the drama has been announced, with the tagline that "Third time's the charm!" But really, when every version has enjoyed immense popularity throughout Asia (and the world), the tagline is a bit misapplied, methinks.
The production team behind the series is none other than Group Eight, who did Fantasy Couple and Goong S, and says they were selected by the copyright holder Kamio Yoko (the original manga writer) and Japanese publishing house Shueisha based on the strength of those prior drama series.
I could go into a whole long post about why I really dug Hana Yori Dango, but OH LOOKY HERE you mean I already did? I just love when I do my own work for myself. (Btw, that link doesn't have any substantial spoilers, but there are screencaps and I mention, in a vague way, some of the larger plot elements.)
So the immediate question on everyone's mind becomes the casting, particularly the fearsome foursome "F4" who rule the school as quasi-celebrities, and the Doumyouji character in particular, its hard-hearted (and -headed) leader. A Group Eight rep explains, "Rather than casting based on popularity alone, we're going for actors in the Korean F4 who fit the original characters best," and intends to scour talent from already famous stars to unknowns in search of the most suitable F4 candidates.
I actually think going with unknowns can be a good move, because a super-popular series casting super-popular actors can overshadow what's already a compelling, time-tested story. (But, might I suggest: Choi Shiwon would make a great Doumyouji, wouldn't he? He's got the right mix of popularity and freshness, and if he can manage the character's mix of brutish assholery and thick-headed charm, he might just be perfect.)
Still, I think the big concern ought to be how to make the Korean version a series in its own, and yet remain true enough to the original story to please its existing (sizable) fan base. Also, how do you top the excellence of the Japanese version, made so recently? The dorama version was superlative in its adaptation, its casting, its music, its lighting, its production. Every aspect of the series was handled with great care, and it was rewarded with large success. Furthermore, the current Wikipedia news (so take with a grain of salt, obvs) indicates the Japanese series is planning to wrap things up with Hana Yori Dango: The Movie, to be released in the summer of 2008. Group Eight is certainly no stranger to expensive, gorgeous-looking sets with Goong S, but they've got their work cut out for them.
The series is set for a 24-episode run and, for now, aims for an airdate in the latter half of 2008. Dude. I am so there.
(And now all this Hanadan talk makes me want to rewatch the drama. Weekend marathon!)
Via My Daily
SONG OF THE DAY
Anamu & Maki – "ひとつだけ" (hitotsu dake / only one). Neither the song nor the group have anything to do with Hana Yori Dango; merely an excuse to post a Japanese song. [ zShare download ]
Audio clip: Adobe Flash Player (version 9 or above) is required to play this audio clip. Download the latest version here. You also need to have JavaScript enabled in your browser.
RELATED POSTS
Tags: adaptations, Boys Before Flowers, Hana Yori Dango, j-doramas, remakes