News bites: June 14, 2008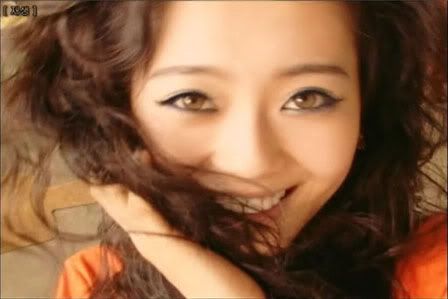 Ara and Jang Geun Seok are dolling up and gettin' down in an online teaser ad for a cosmetics brand, showing off what is being dubbed their "techtonic" Tecktonik dance. Touted as sexy and cute, I'd use any another term — dorky-cute, disco-lite, uber-goofball? — instead.
21-year-old Moon Geun Young opens up in an interview about her feelings about how her fame has affected her younger sister, who has explained that it's hard being the little sis of Korea's Little Sis — she's always being compared or treated with awkward curiosity. Now a high school student, younger sis lives abroad and studies in Australia, where Moon Geun Young explains that she can hopefully "stand on her own without being in my shadow."
According to the director of Rain's company JTunes, Rain hasn't mentioned any interest in a woman in the past seven years. (What about guys?)
Fashion designer Andre Kim (who's had a long career but hasn't seemed to have a new idea in years) tells The Star Show that of all the numerous celebrities he's worked with, sob queen Choi Jiwoo is the star with the perfect body. (He lists Lee Byung Heon as the most charismatic male actor.)
Yoo Seung Ho (that young cutie who played young Yonsama in Legend) has been cast in the music video for "Don't Go, Don't Go," R&B duo Brown Eyes' comeback single. (Starring opposite is new Japanese actress Ishizaka Yuri.) His role entails "emotional" and "heartbroken" acting; looks like he's trying his best to shed the child-star image.
With only a week till his new drama airs, Lee Dong Gun is lining up the CF offers, promoting pre-harvest rice sales and fielding more proposals from beverage, clothing, and construction companies. While it's common for a new drama to bring the CF offers, it's cited as being unusual for the offers to come in before the drama has even begun. Maybe they're just happy to see him back onscreen after his recent rough patch.
Some of JYP's teen-sex-kitten proteges the Wonder Girls had a few words to share about their Svengali-master on MBC's Brain Battle (isn't that shooting a little high?). Apparently JYP gets "sensitive" when he's hungry (unlike the rest of us robots); Yoo Bin explained that while recording their album, he'd gotten so hungry once that he'd scolded her. After a snack, she saw him being affectionate with another member and felt sad. (Maybe he was upset with, I don't know, her work? I've seen her performing.)
Singer JOO cites an occasion prior to her debut when JYP had commented on her weight, saying, "What's with this [flab]? It's like tofu." Because teenage girls don't already have enough issues about their looks — thanks, Mr. Monkey-man.

SONG OF THE DAY
Alex – "깍지껴요" (hold hands), from his recent first solo album "My Vintage Romance." Overall, the album sounds a lot more mainstream than his previous work, going more into ballad and pop territory. He does have the voice for it, even though I prefer the more innovative music of Clazziquai. [ Download ]
Audio clip: Adobe Flash Player (version 9 or above) is required to play this audio clip. Download the latest version here. You also need to have JavaScript enabled in your browser.
RELATED POSTS
Tags: Choi Ji-woo, Go Ara, Jang Geun-seok, Lee Byung-heon, Lee Dong-gun, Moon Geun-young, news bites, Rain, Wonder Girls, Yoo Seung-ho