O'live's inaugural Style Icon Awards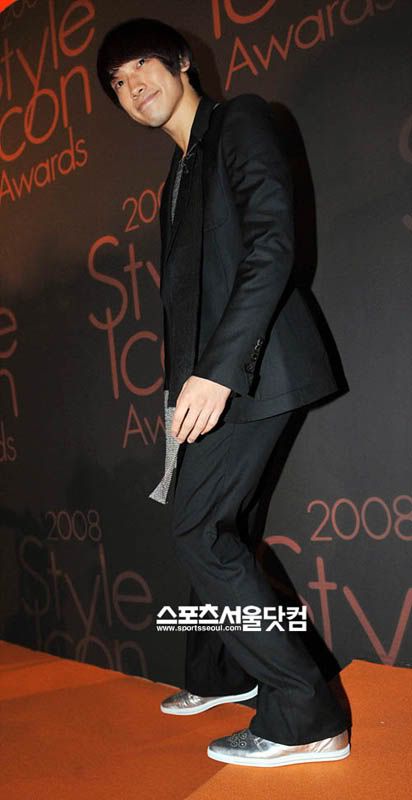 Cable channel O'live TV hosted its first Style Icon Awards on the night of October 30, and a parade of stars turned out on the "orange carpet" for the event. Held at Club Answer in the upscale Seoul neighborhood of Cheongdamdong, the event awarded select members from not only entertainment sphere to honor as icons, but also some from society and the arts.
Actor Jung Jun-ho (The Last Scandal of My Life) acted as host, and awards were handed out to stars like Rain, above (Style Icon of the Year), Jung Ryeo-won, Park Tae-hwan, Sohn Ye-jin, and more.

SONG OF THE DAY
Rain – "사랑이라는 건" (The thing called love), from his recent 5th album, "Rainism." I don't love or hate the album — the third was really my favorite, and I was not impressed with anything after that — but it has a few nice tracks, like this one (I tend to prefer the songs Rain doesn't release as singles.)
[ Download ]
Audio clip: Adobe Flash Player (version 9 or above) is required to play this audio clip. Download the latest version here. You also need to have JavaScript enabled in your browser.
WINNERS LIST
Actor: Lee Jung-jae
Actress: Sohn Ye-jin
Male Singer(s): Big Bang
Female Singer: Seo In-young
Culture and Arts: Violist Richard Yongjae O'Neill; photographer Kim Yong-ho
Politics: Member of Parliament Na Kyung-won
Sports : Martial artist Chu Seong-hoon
Model: Jang Yoon-ju
TV: actress Kim Hee-ae
There was also a "Special Awards" section, which I take to mean "Where we include really idiotic categories aping something you'd see at an Mnet awards show":
SPECIAL AWARDS
"Beautiful Sharing": Sean and Jung Hye-young
"Fun Fearless Female": Sohn Ye-jin
New Icon: Shinee
Special Award: deceased model Lee Eon
Fashionista: Jung Ryeo-won
World Icon: Olympic gold-medalist swimmer Park Tae-hwan
Style Icon of the Year: Rain, Jang Mi-hee
Singer-actor-"World Star" Rain (I'm A Cyborg But It's Okay) was named Style Icon of the Year. Bowl cut aside, I actually like how he looks. He comes across comfortable and confident in the first photo, which is how I think he (or anyone) looks best. Rain, please take a hint and stay in Korea so I can listen to your music while you're in your element and refrain from mocking your attempts at world domination. That hurts me more than it hurts you. Oh wait, no it doesn't. Still, I'd rather fangirl than fanwank!
Fashionista winner Jung Ryeo-won (What Star Are You From) rocks an edgy look that's becoming typical of her. I just wish she didn't look so joyless. You know what brings people joy, Ryeo-won? FOOD.
I can't snark on my beloved Lee Jung-jae (Il Mare, Air City)! I mean, yes, he's got weird permy hair and a bad cut and random facial stubble, and his blue tie meant to match his lapel trim — LAPEL TRIM — is a little off the color mark. And maybe he did win the Style Icon award in the male actor category, so who knows, he could have woken up that day with the attitude of those guys on Survivor or Project Runway who have immunity and just phone it in because hey, they've already won that day. But… oh hey, lookit that, ragging on Lee Jung-jae wasn't so hard after all. Phew.
Park Tae-hwan, Olympic gold-medalist swimmer, looks nicely pulled-together and dapper, even if his super-stiff bow-tie does look like a big dead butterfly pinned to his throat. Or one of those pointy pinwheels that whirl around on a stick. Wee~!
Model-actor Choi Ji-ho (Antique) poses with Model Style Icon winner and one of Korea's top fashion models Jang Yoon-ju (I Am a Model). Damn she is thin. And damn his jaw is square. (Which explains why they're famous models, I suppose?)
Martial artist Chu Seong-hoon won as Sports Style Icon, and it's not hard to see why — the guy oozes pizzazz and somehow makes a lavender pashmina and white suit look manly:
Jung Jun-ho (Last Scandal of My Life) hosted the event. He's a little too safe in navy blue, but classic.
Kim Hee-ae (My Man's Woman, Snowflake) won for TV Syle Icon. Boy, you could grate cheese on her collarbones.
This couple is ridiculously sweet and warm-fuzzy sappiness. Singer Sean and wifey Jung Hye-young (The Return of Iljimae) always look so happy to be together, even after four years and two kids. They're super-happy and they're not even annoying. How do they do that?
Jewelry's Seo In-young, winner of the Female Singer Style Icon award, is often known for her rather vulgar stage displays (case in point, although not so much recently). But I must admit she looks sweet and cute — two adjectives not usually used with her — in this little black number.
Sohn Ye-jin (Alone In Love) wins the style icon award in the actress category. It's hard to say something negative about her, isn't it?
I like this dress on female Style Icon of the Year Jang Mi-hee (Angry Mom/Mom Grew Horns), but someone put a moratorium on that inexplicably popular (but fakey-fake) hand-on-hip pose, please!
Okay. I totally get the Marlene Dietrich-y, sexy dominatrix look that singer Hwang Bo is going for. For the most part, she really works it — she looks pretty hot despite the crazy eyes she's sporting (third pic in particular) — but then she had to go and ruin it by slinging a bear rug over one shoulder. A BROWN bear rug over a chic, fitted black suit. I don't get it. Then again, I didn't win the style icon award. (Oh wait, neither did Hwang Bo.)
Oy, Jin Bora! I have tremendous respect for musicians, and Jin Bora is a talented jazz pianist (remember her from the Anyband project with Tablo, Boa, and Xiah Junsu?). But she looks like that traditional ghost-story evil spirit — you know, the pure, innocent girl who was wrongly murdered and comes back to wreak vengeance upon her worldly tormentors, a la The Ring? Except she ran out of funereal white shifts and grabbed a candy-colored hanbok instead, so now she looks like The Ring meets Scary Movie.
There's a little too much black on this orange carpet, but TV announcer Jung Ji-young positively glows. I can almost overlook the dead bird she killed and pinned to her torso.
I do not understand velour formalwear. Still, R&B/pop singer Bobby Kim is groovy and laid-back, thanks to his too-cool-for-school attitude more than his clothing:
Comedienne Kim Hyun-sook (Rude Miss Young-ae) is way uncomfortable — the shoulders around ear level are a dead giveaway — but I think the dress is fantastic on her. Flattering to her figure and a great eggplant color. Want.
Aw. How adorable when grown men look like little boys, as Ryu Deok-hwan (My Son, Our Town) does here in his overlong jacket. On the other hand, I don't think that's the effect a 21-year-old rising actor is necessarily going for on the red carpet.
I'm not a huge fan of electronica-pop singer Sheean's hard look, but she's got a strong image and she works it. Violist Richard Yongjae O'Neill wins the Culture and Arts Style Icon award and opts for a simple, classic suit.
Variety show performer Amy (Happy Sunday) looks pretty in white, designer Ha Sang-baek goes glam-caszh, and soccer player Kim Young-kwang strikes a model pose.
Via O'live TV
Tags: awards, Big Bang, cable programs, Choi Ji-ho, Hwang Bo, Jang Yoon-ju, Jung Hye-young, Jung Jun-ho, Jung Ryeo-won, Lee Eon, Lee Jung-jae, Park Tae-hwan, Rain, Seo In-young, Sohn Ye-jin