Hana Yori Dango creator cheers on Boys Before Flowers
Kamio Yoko, the manga-ka (manga writer-artist) who started it all in 1992 with the incredibly popular manga series Hana Yori Dango, has recently come to Korea to meet with the cast and production crew behind the latest adaptation, KBS kdrama series Boys Before Flowers.
She was actually an unannounced attendee at the recent production press conference on the 22nd, but the news is just being released now; they'd kept it quiet (perhaps to keep expectations from shooting even higher than they already are? If so, somebody needs to revisit the meaning of the word "quiet").
Kamio drew a sketch of the current cast (Gu Hye-sun, Lee Min-ho, Kim Hyun-joong, Kim Bum, and Kim Joon) on the spot and even told SS501 singer Kim Hyun-joong (in the Rui role) that she'd seen him when he was promoting his singing career in Japan. She also marveled at how closely the Korean cast resembled the characters she'd created.
She said, "It's an honor to have Hana Yori Dango produced as a Korean drama too.. I hope Korean viewers will enjoy it."
Boys Before Flowers premieres next Monday. I'm trying very hard to keep expectations low(er), because I hate being disappointed.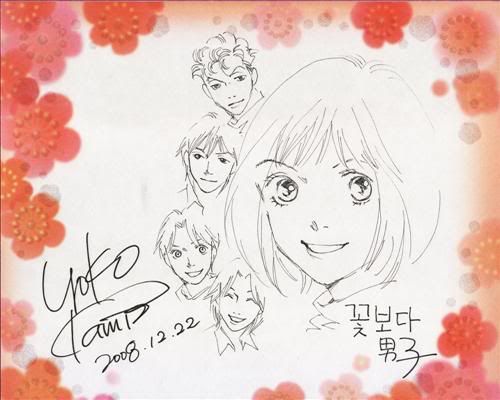 Via Yonhap News
RELATED POSTS