Iris gets a drama and a movie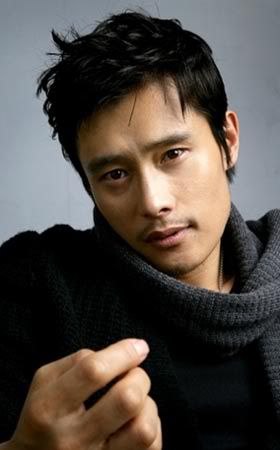 Kim Tae-hee, Lee Byung-heon
Who else thinks this is a bad — or very odd — idea?
Lee Byung-heon and Kim Tae-hee's much-anticipated match-up in the upcoming action-spy drama, Iris, will also be producing — simultaneously — a film version.
Producers from Taewon Productions say, "The movie will be produced alongside with the drama, and be shown in theaters after the drama's end, with a separate story." The drama won't merely be re-edited in film form, but rather, a different version will be made entirely — a first time for a project of this kind.



Directors Kim Kyu-tae (drama) and Yang Yoon-ho (film)
The two projects will be undertaken by different directors. The drama will be shot by PD Kim Kyu-tae, who worked on KBS dramas A Love to Kill and Loveholic; the film will fall to Yang Yoon-ho of films Holiday and Libera, ME.
According to one rep, "The work of scriptwriting will be divided between them and on the filming location, the drama and film teams will operate separately."
I have NO idea how they will accomplish this. Directors are king on set; how can you shoot something at the same time with the same cast, with two different directors, and NOT predict disaster? Or if not disaster, then massive chaos?
On the other hand, if they pull it off, major props.
The cast for the drama (and film) also includes Jung Jun-ho (The Last Scandal of My Life), Kim Seung-soo (Why Did You Come to Our House), and Big Bang's TOP. The 20-episode drama will shoot overseas in Japan, Russia, and Turkey to a tune of a 20 billion won production budget.

Jung Jun-ho, Big Bang's TOP
One thing I love about Korean entertainment is that they tend to experiment more and attempt formats that we don't see much of elsewhere. For instance, branded entertainment that turns commercials into pop culture phenoms (i.e., Anycall). Or actors and big-name producers collaborating on a commercial/song/music video (i.e., Black 'N Jean). Or A-list celebs recording refrigerator jingles that are later released as digital singles (i.e., the Salad Song).
The project most similar to Iris is the joint Korea-Japan "telecinema" production featuring a stable of Japan's top screenwriters with Korean directors and producers, to be shown in theaters and on television in both countries. The difference is that the telecinema is more like an omnibus film, with separate parts written and filmed by a different team, featuring separate actors. (One being Hero Jaejoong and Han Hyo-joo's Heaven's Postman.)
It's risky to put all your eggs into one basket like this — what if the drama flops? It's a bad enough loss these days with drama production budgets so high. Add huge stars like Kim Tae-hee and Lee Byung-heon coming back to TV after years doing film, and you're talking a LOT of money at stake.
Then again, now I'm interested in Iris, when I previously had no desire to watch it. Mission accomplished, I guess.
Iris is scheduled to air on KBS in September.
Via Newsen
RELATED POSTS
Tags: drama production, IRIS, Jung Jun-ho, Kim Tae-hee, Lee Byung-heon, TOP