Extension pending for Queen of Housewives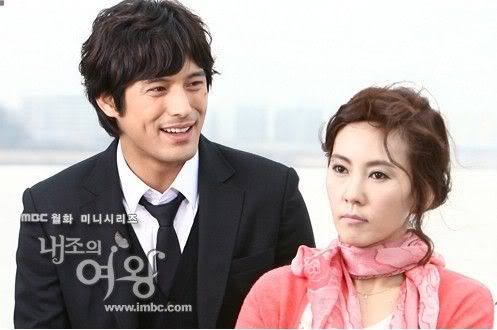 Oh Ji-ho, Kim Nam-joo
After Boys Before Flowers left the air, MBC's Monday-Tuesday drama Queen of Housewives [내조의 여왕] shot up in the ratings, where it currently resides in the 22%-25% range. Not about to let a popular and well-received show go easily, MBC is looking to extend the drama.
One rep from the production team said, "Based on the viewers' positive response, we decided to extend the broadcast run. At first, we considered a two-episode extension, but now we're looking into adding another week for a four-episode extension."
The final result is to be decided between the production company and MBC, and the two parties will enter meetings this week to hammer out the details.
No complaints from the stars, who are all enjoying a rise in visibility. Naturally the lead stars Kim Nam-joo and Oh Ji-ho are getting lots of attention, as well as Lee Hye-young playing the sly corporate wife and Choi Chul-ho as her stern husband. But the upswing has been most dramatic for Yoon Sang-hyun, the playboy-ish curly-haired CEO, and Sunwoo Sun, who plays his neglected wife (who also recently came out about her real age), who were the least-known at the drama's outset. Yoon had small roles in lesser-watched dramas (Three Dads One Mom, Fireworks) while Sunwoo is still a rookie.
I'm behind in watching this drama but still onboard, as long as it remains funny and lively. An extension works for a pleasant, engaging show like this, so there probably won't be many difficulties in making it happen.
Via Sports Seoul
RELATED POSTS
Tags: Choi Chul-ho, Kim Nam-joo, Lee Hye-young, Oh Ji-ho, Queen of Housewives, Sunwoo Sun, Yoon Sang-hyun