Just Looking at That Fool
Just Looking [그저 바라보다가] is the new name for the drama formerly called Six Months, and while I think the title change — especially so late in the game — was unnecessary, the new title has the added bonus of being shortened to "그바보," which means "That Fool." And, judging from these new promo posters, that's no coincidence.
What looks promising is not only Hwang Jung-min as that fool — he has a great range of goofy comic expressions — but that Kim Ah-joong is a pretty good comic actress as well, and it's my hope that she plays her movie-star character with a fun, quirky vibe — rather than, say, Choi Ji-woo's glamour queen in A Star's Lover, which was appropriate for Choi there, but not all that funny. And this drama is obviously going for the funny.
The drama is written by sitcom writer Jung Jin-young and Kim Eui-chan and directed by Goodbye Solo's PD Kim Min-soo. KBS will premiere the new drama next Wednesday, April 29, which will also see the premiere of SBS's City Hall.
With MBC's just-aired Cinderella Man boring me and City Hall never quite doing it for me in the first place, I have the most hopes that Just Looking will pull out a winner.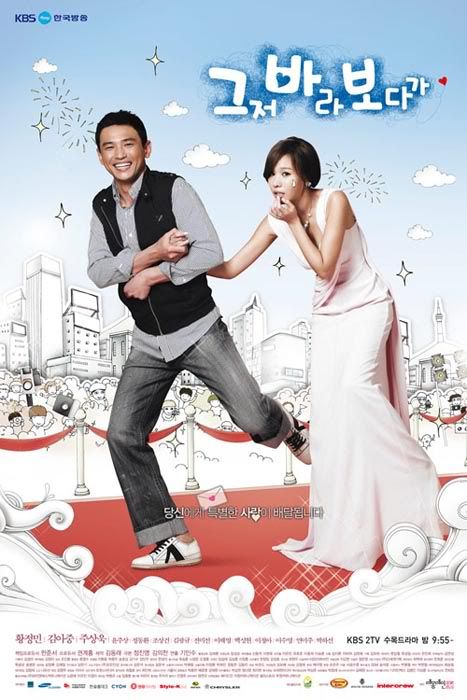 Via Chosun.com
RELATED POSTS
Tags: Accidental Couple, Hwang Jung-min, Just Looking, Kim Ah-joong, Six Months