Queen Seon-deok's first script reading

Lee Yo-won, Go Hyun-jung
Now for another upcoming drama: with a month till its premiere, MBC's daeha sageuk series Queen Seon-deok got things going earlier this week by calling in its cast for the first script reading. The drama has been highly anticipated not just for its cast, but also for going head-to-head against SBS's sageuk series Ja Myung Go, starring Jung Ryeo-won.
(With two long-running historical series settling in for the long haul on Mondays and Tuesdays — 50 episodes apiece! — it looks like I'll be turning my attention to Wednesdays and Thursdays instead…)
Lee Yo-won takes the titular role of Seon-deok, which pits her against Go Hyun-jung's Mi-shil character, described as a strong "Silla-era femme fatale" who checks the queen's royal authority and seduces men of power.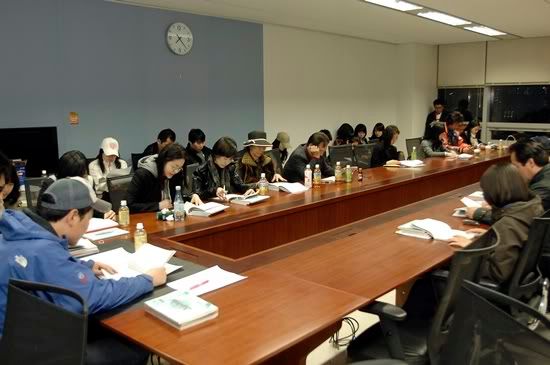 As has been speculated, there's a good chance that despite its title, Mi-shil will emerge more prominent than Seon-deok; Go Hyun-jung is getting top billing in all reports. Lee Yo-won had no lines that day and was therefore not expressly required to attend (I'm guessing that, as with most sageuks, the story starts off in the royal figure's childhood), while Go Hyun-jung had the largest role in the script.
The cast also features East of Eden's resident baddie Jo Min-ki as King Jin-pyeong (who's back to his normal black hair from the silver-blond he sported for Eden), and veteran actor Lee Soon-jae in a special cameo in Episode 1 as King Jin-heung. Jung Woong-in (Last Scandal of My Life) plays Mi-shil's younger brother, who read his lines in a comic way, while rising teenage actor Yoo Seung-ho (Legend), like Lee Yo-won, had no lines to read but was present anyway.
Writers are Kim Young-hyun (HIT, Dae Jang Geum) and Park Sang-yeon (HIT, Strongest Chil Woo). Directors are Park Hong-kyun (New Heart) and Kim Geun-hong (Jumong).
Via My Daily
RELATED POSTS
Tags: Go Hyun-jung, Jo Min-ki, Lee Yo-won, Queen Seon-deok, Yoo Seung-ho