Partner production press conference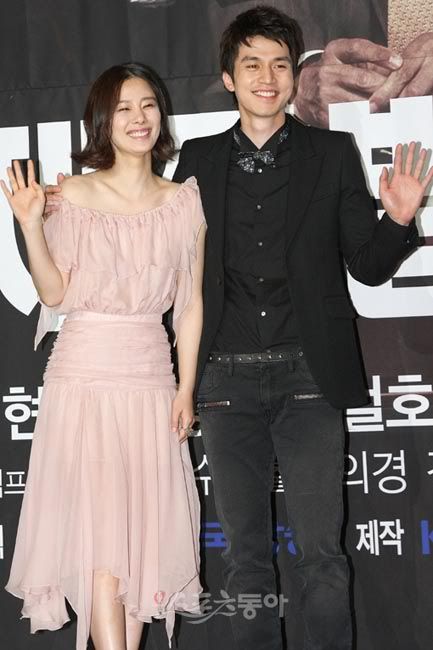 With less than a week left till the premiere of new legal drama Partner [파트너], the cast was on hand at the series production press conference on June 19. The drama is KBS's new Wednesday-Thursday offering and stars Kim Hyun-joo (Insoon is Pretty) and Lee Dong-wook (La Dolce Vita).
Partner is described as showing a realistic look at the Korean legal system, although the preview stills make it seem as though there's a strong comic bent. (I suppose we'll have to wait and see what the tone ends up being, but with the first episode ready to go on June 24, we won't have long to wait.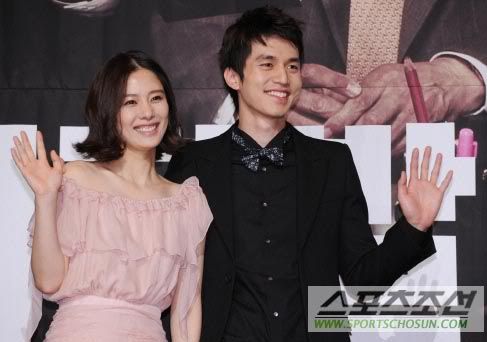 Partner promises to rid itself of many of the clichés of previous kdramas that centered around the legal field. Instead of styling itself along the lines of Western legal dramas, it aims to establish its own format showing the Korean justice system at work.
The setup is familiar — idealistic and passionate woman clashes with and falls for cool-headed playboy — so it's really the pairing of Kim Hyun-joo and Lee Dong-wook that's the big draw for me. Both are gorgeous, which never hurts, but they're also both very charismatic in their own (and very different) ways.
Plus, the matchup of Choi Chul-ho (who flexed his comic muscles in Queen of Housewives) and chic Honey Lee has me hoping for some fun repartee. It doesn't seem like Choi will be doing overt comedy here, as he explains that his portrayal will be more serious, but hopefully he'll have his moments to shine as well.
Kim Hyun-joo said of acting with Lee Dong-wook for the first time: "It didn't take long for us to become friendly after working on this project together." She added, "Lee Dong-wook is the type who usually keeps his character mostly hidden so I did worry, but after spending time on the set with the actors, we were able to adapt ourselves right away. In particular, I had a strong image of Choi Chul-ho from his movie Summertime which stuck in my head, so my first impression of him was that he was extremely scary. It turns out that he's really a cool, handsome guy."

I love Kim Hyun-joo's dress and how confident and happy she looks:

Seriously, Lee Dong-wook makes even the bowtie look cool:

Choi Chul-ho looks like a mischievous little boy in this first pic… It makes you wonder what sort of prank he's up to, before you decide, "I think I'd rather not know…"

Honey Lee always shines:

Kim Dong-wook has grown up a little since his Coffee Prince days, but he still has his bright smile:

Shin-yi is back on television after a number of years away:
RELATED POSTS
Tags: Choi Chul-ho, Honey Lee, Kim Dong-wook, Kim Hyun-joo, Lee Dong-wook, Partner, press conferences, Shin-yi