City Hall: Episode 11
(written by Samsooki, editing, layout, design and "You Can't Fight City Hall" by 0timelost, cleown, and mead33)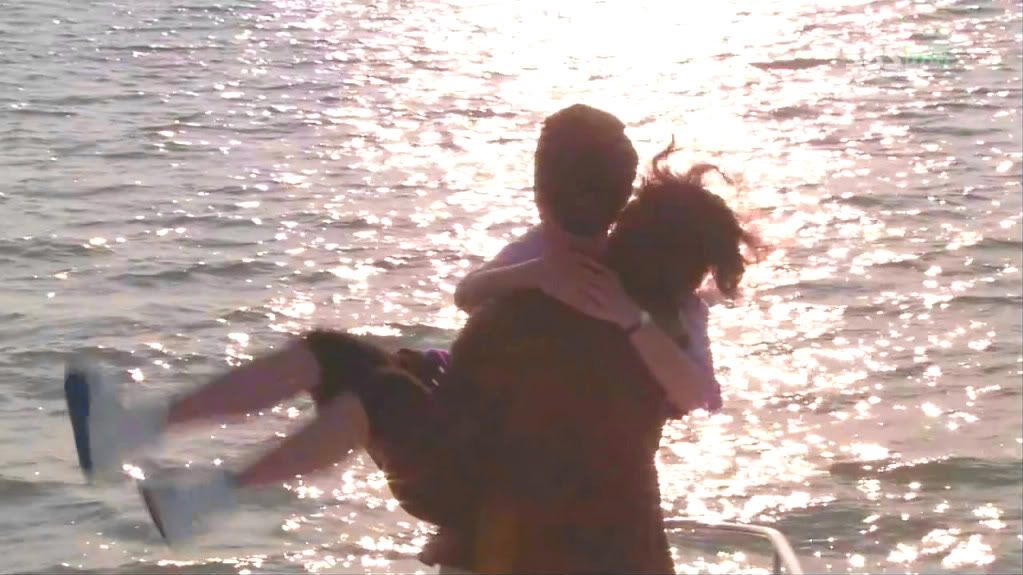 Episode 11 – "You Had Me At An-Nyung (안녕)."
Jo Gook has come back and found that his hamster that he saved from tomato-throwing goons is being cared for by another. Jung Do again?? Doesn't this guy already have a wife? (hmm, don't you already have a fiancée? *ooh, busted by Samsooki*) Predictably, Jo Gook is upset; he petulantly tosses the clothes that he has bought for Mi Rae onto the couch and turns to leave.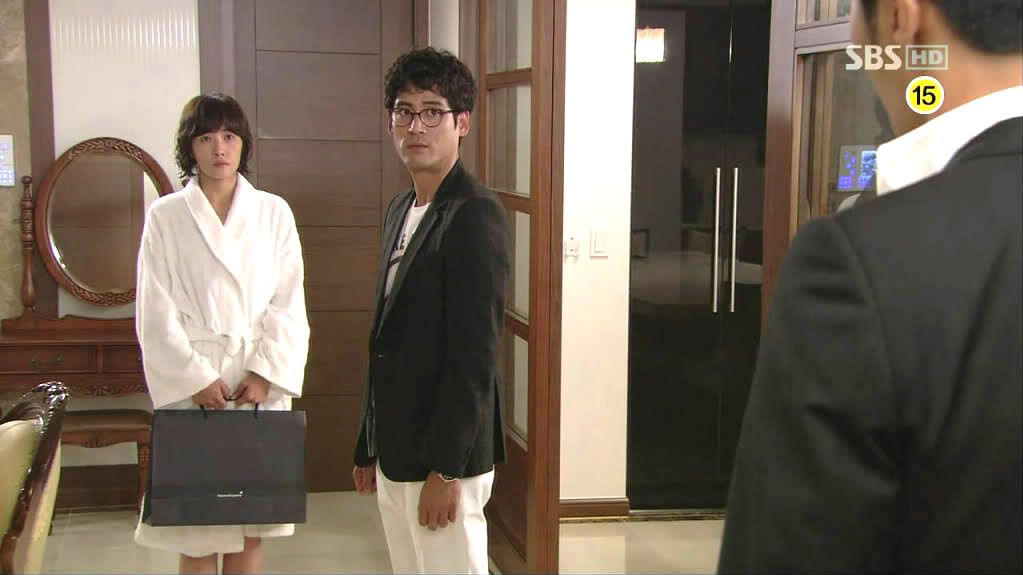 Mi Rae stops Jo Gook and without thinking, asks whether she can make changes to the campaign speech in order to gain her desired 15% (whoops!).  Jung Do flips out, and Mi Rae tries to salvage the situation but the cows have already left the barn.
Extremely disappointed that Mi Rae has such low expectations and really no intention of trying to win, Jung Do storms out of the hotel room with righteous footsteps. Jung Do should get no kudos for holding himself out with such high priniciples – way to abandon a friend.  Mi Rae tries to run after Jung Do, but Jo Gook grabs her and gives her really good advice:
Jo Gook: From now on, listen very carefully to what I say. Your election will not be lost by not having one advisor. After all the pain you've experienced, you still don't know what is going on? Eggs, tomatoes, potatoes, corn…do you need to be hit by everything before you understand what is going on?
It is a harsh lesson, but one that Mi Rae really needs to understand. She has been floating through the mayoral election campaign on her own merits, but those merits may not be enough.  Jo Gook is trying to get Mi Rae to understand that she has created enemies and those enemies will not play fair or admire her for her being a good person.
The next morning, Mi Rae stands in front of a gathered crowd to give her first campaign speech.  She starts reading from her typewritten pages, but it is a half-hearted effort.  Mi Rae's words lack energy, passion, and conviction.  The gathered crowd is clearly not swayed.  It is evident to everyone that Mi Rae is struggling to find her words.  Mi Rae stops for a moment, and switches gears.  She starts talking about her own life as a secretary and comparing politics to coffee. 
Jo Gook and Soo In are aghast at the sudden change and try to signal Mi Rae to just stop talking. The crowd is also a little bit surprised, not really understanding what Mi Rae is trying to convey. Where are the campaign promises and the little sound bites that they can cheer for?
Afterwords, Jo Gook is absolutely livid. Nothing he has tried to teach Mi Rae since he met her has apparently made its way past the liberty bell haircut that surrounds and protects Mi Rae's brain.
Jo Gook: What the heck was that? Who in their right mind would vote for you after listening to that kindergarten speech? What are you planning on doing if you cannot even follow what I tell you to do? Don't you want to be elected?
Mi Rae: I didn't do that because I was trying to pull in votes. I did the only things that I am capable of doing.
Jo Gook loses his cool and starts lecturing Mi Rae on the difference between winning and losing a campaign.  But if we know anything about Mi Rae, it is that she is not one to be patronized by anyone.  Her own anger fueled by Jo Gook's words, she answers right back.
Mi Rae: You said to me that not having an advisor will not cause a campaign to fail, right? Well, you are fired! I said I am firing you!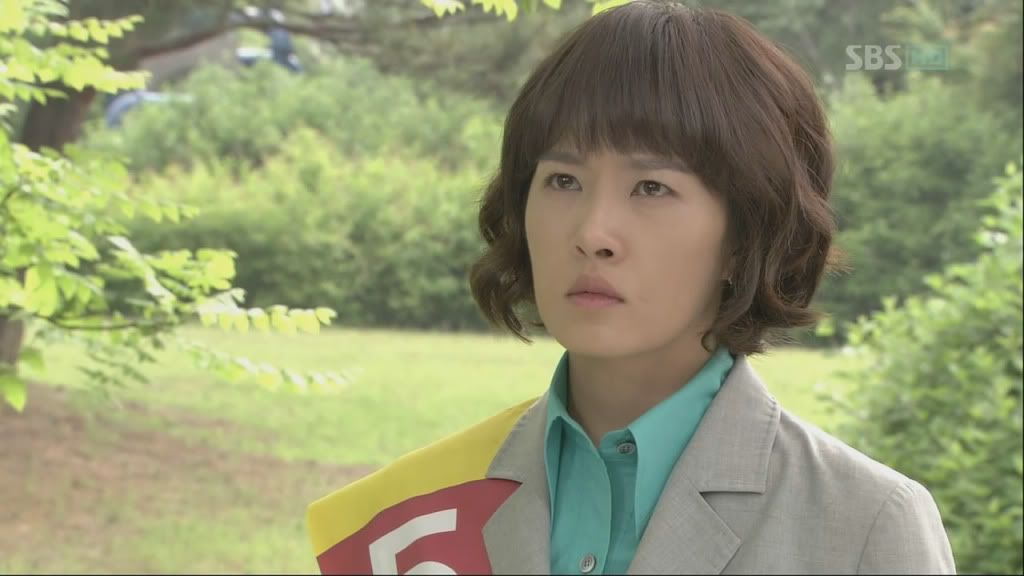 There is a fundamental disconnect here between Mi Rae and Jo Gook, and something that neither can understand about the other. Jo Gook cannot understand why Mi Rae cannot do what is necessary to win elections, and Mi Rae cannot understand why Jo Gook doesn't understand why she cannot. Mi Rae has now lost both Jo Gook and Jung Do. She is alone in a campaign she doesn't have the experience nor the brains to win, and one she did not even want to participate in the first place.
Meanwhile, Jung Do is moping around at home, making traitor kim-bap for Joo Hwa's dad's campaign. Correctly surmising that her husband has quit Mi Rae's campaign, Joo Hwa excitedly talks about about the colossal strategic error that Mi Rae made in her speech that day.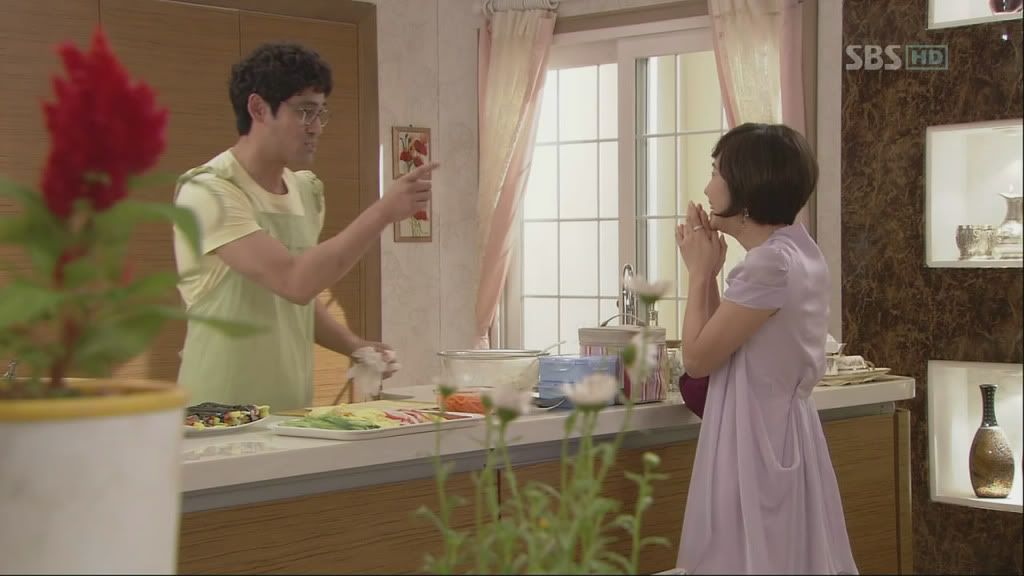 Jung Do realizes that Mi Rae has stuck to her own principles! Jung Do flips sides again like a burger on a grill, abandons his traitor kim-bap and rushes out to rejoin Mi Rae, leaving his wife confused and disappointed at home, alone again. (I am really not happy with Jung Do right now. What gives him the right to quit whenever he feels like it, switches sides, and then switches sides again?)
Although Jung Do has now rejoined the campaign, Mi Rae is still feeling lost, and Jung Do senses it. The campaign needs Jo Gook, and Mi Rae seems to need him too. Jung Do urges Mi Rae to bring him back, and Mi Rae calls Soo In to locate his boss. Jo Gook is at the horse racing track.
Soo In: You can go in and see him. At least he won't hit you. But if he does, just scream really loudly. Then I will rush in…. and take the punch for you.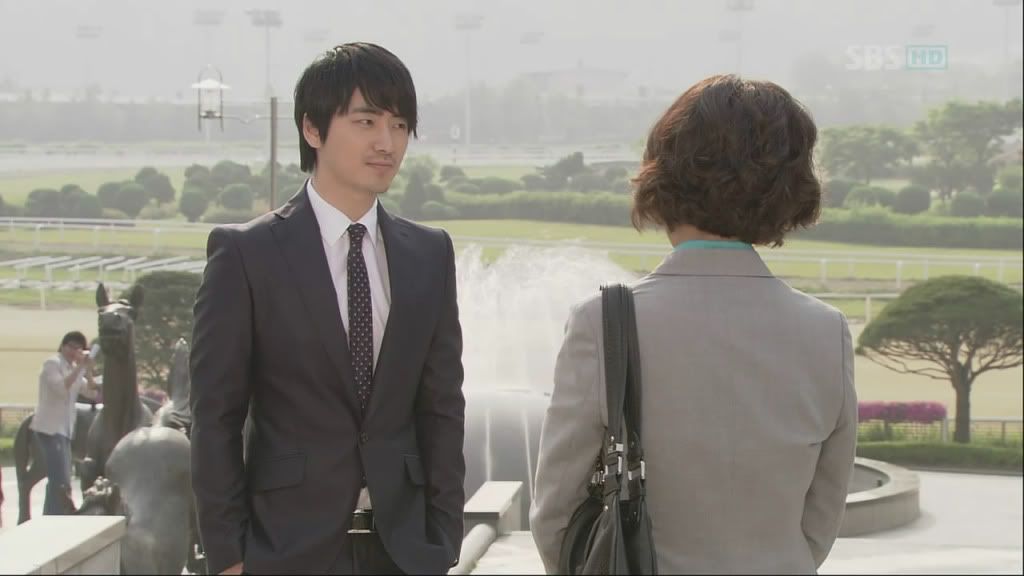 Soo In is such a cutie, and right now if I were Mi Rae, and if I had a choice between Jo Gook, Soo In, and Jung Do, I might choose Soo In.  Mi Rae walks over to Jo Gook, who does not greet her.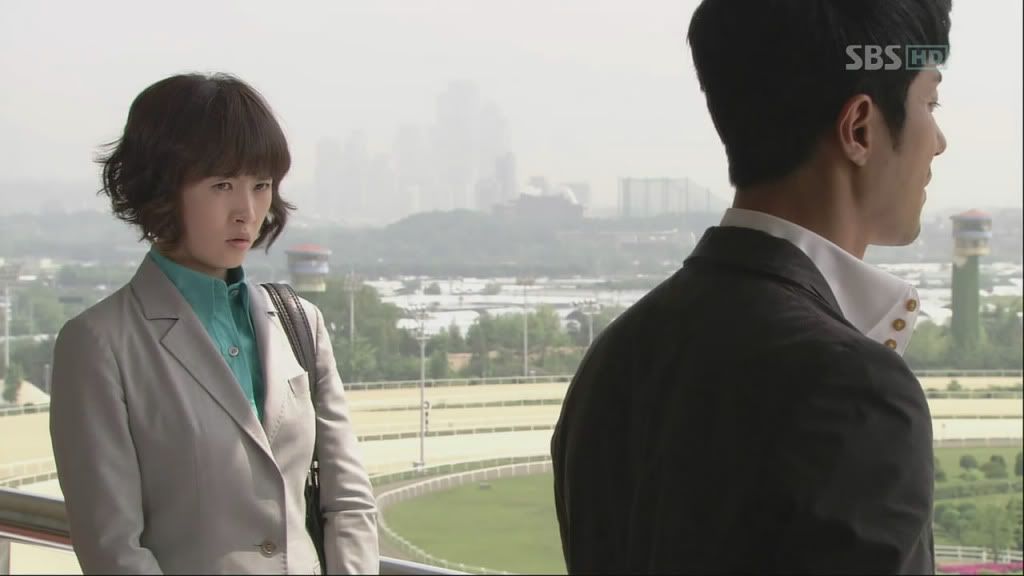 Undeterred by Jo Gook's aloof attitude, Mi Rae makes her plea to Jo Gook to have him return. He is not in the mood for listening, but Mi Rae says the magic words which starts to melt him like a tall, well dressed stick of butter on a hot summer day.
Mi Rae: I want you to be by my side.
Mi Rae explains that she was scared and so that's why she acted the way she did. An incredulous Jo Gook asks, who was the courageous person who withstood the gang throwing eggs at her, and who was the unabashed person who persistently pursued him and who flashed her body in a swimsuit to get what she wanted?
Mi Rae: It is because I can't see the dream! Give me a dream that I can have rather than empty campaign pledges, give me a realistic dream that I can accomplish over the remaining two years of the mayoral term.

Jo Gook: Are you just going to live for the next two years?! Can't you believe that you will have four years after the next two, and then another four years after that? You should think bigger, look further, have grander dreams. Can't you do that?
You cannot help but blink away a few tears here, as Mi Rae starts to see beyond herself. She is growing right before our eyes. Jo Gook tells Mi Rae to leave first, but Mi Rae wants to go together. But Jo Gook cannot leave just yet, he has bet on a horse, and his horse has just come in first. Which horse did he bet on?  Mi Rae wants to know.
Of course, Jo Gook bet on the #5 horse! Mi Rae's face shines with understanding, and Jo Gook is totally forgiven for walking out.
With that, the team is back together, and not a moment too soon, as the political race starts getting ugly, with most of it directed towards Mi Rae. Mi Rae is shocked and dismayed by the sheer awfulness of slander being told about her by the other mayoral candidates. Again, she wants to back out.
Jo Gook tried to snap her out of it. Mi Rae is again fading into the woodwork and Jo Gook needs to bring back her fire that is being quenched by all the mud-slinging.
Jo Gook: Even if all of the citizens start to curse you and belittle you, if there is just one person who supports you, then you have to fight to the very end, because you will be that single person's candidate!  Because that person has put his hopes on you!
It is the exact thing that Mi Rae needs – a reason to fight, and not just for herself.  Jo Gook knows that Mi Rae might lose hope and her fire if she doesn't see the reason to battle against the lies and the slander.  Where would Mi Rae be at this moment, without someone like Jo Gook? Jo Gook is her wisdom, her intelligence, and her strength right now.
And while Mi Rae is touched and strengthened by Jo Gook's flowery rhetoric, the pragmatic part of Mi Rae forces her to ask another important question. This is the same pragmatic part of Mi Rae who made her ask Jo Gook the tough question of how he felt about her back during the camping trip. 
Mi Rae: The reason you are pushing me… the reason I cannot just stop… the reason I must fight to the very end… All of this is not because you are trying to pave the way for your next step, isn't that right? I want to believe that all of this is not just for that reason.
Mi Rae does not turn around to face Jo Gook as she says this, and may be it is a good thing that she doesn't. Jo Gook's face reveals very mixed emotions about what Mi Rae just said.
Putting his mixed emotions aside, Jo Gook makes arrangements to meet with Professor Ahn Ji Sung, Candidate #2. He has the counter-attack that Mi Rae needs to keep her campaign afloat.
At the meeting, slick Jo Gook "convinces" Candidate Ahn to withdraw from the race and throw his support behind Mi Rae. Persuasion here happens to be the knowledge that Candidate Ahn plagiarized another's academic work and then took government research grants for it. Revelation of that secret would put the erstwhile professor in serious jeopardy of prison and most certainly would disgrace him for the rest of his life. Candidate Ahn resigns from the campaign and apologizes to Mi Rae in his prepared speech.
That leaves just two other candidates: Joo Hwa's dad, as the Victory Party's candidate, and the other candidate guy. It is time for the first and only televised debate between the three remaining candidates.
The two male candidates spar over meaningless slogans and clearly haven't prepared beyond attacking Mi Rae on her marital status, lack of education and wealth. Mi Rae responds by showing that how her her life experience has made her the kind of person who actually understands the problems that the people of Inju City face. Mi Rae then opens up about her own love life, and reveals how men in her life have always ended up abandoning her.  But why does politics have to be like a person's love life? If she is elected Mayor, Mi Rae announces that she will not treat others like she has been treated. She will never abandon her people. It is a fantastic speech, and one that resonates in everyone. Even Jo Gook is impressed.
Mi Rae gets a standing ovation for her closing remarks, and a sea of change can be felt, not just by her supporters but by everyone in the room.
As the candidates are leaving the TV station, Candidates #1 and #3 bicker bitterly over their slogans and stealing each other's empty promises. Each blames the other for his poor showing during the debate. Reporters' cameras snap away as the two candidates start pushing and shoving each other.
As they pass by the melee, Mi Rae triumphantly holds out her hands high in the air, and Jung Do and Jo Gook give her high fives. The Shin Mi Rae campaign is officially on a roll!
(Audience participation! High-fives all around! Whoever is next to you, high-five that person!)
Election day has finally arrived, and the polls are open. It looks like a good turnout for voting, as some familiar faces turn up to cast their ballots.
At the first and second pollings of the night, the count looks like it is heading towards the Victory Party, and the Victory Party's supporters celebrate early. Things are looking bad for Mi Rae's supporters.
But at the third polling of the night, the poorer central districts and the farming districts are reporting in and Mi Rae's votes are sky-rocketing! Joo Hwa's dad's lead over Mi Rae is now down from over 9 thousand votes to less than 3 thousand!
As the last remaining votes are being counted, Mi Rae has finally overtaken Joo Hwa's dad by less than 200 votes!
Finally, it is over!! Shin Mi Rae has won the election! Mi Rae cannot believe what has happened.
It is time for some celebration!! Way to go, girl, you deserve it!!!
After so many ups and downs, it is time for a little breather and for a little fun in the sun!
To give her a little time away from the pressure of being in Inju City and to give her a little romantic surprise, Jo Gook takes Mi Rae on his boat for a spin around the Inju City's harbor. (Omo!! Jo Gook has a boat?? That looks like at least a 35 foot boat! Didn't I say that I liked Jo Gook the best?!  Boo Mi who???)
Mi Rae deserves every moment of happiness, and kudos to Jo Gook for taking her out on this seriously awesome piece of hardware. Is there a toy that Jo Gook does not have? A nice house with a yard and a picket fence. An assistant who drives him around in a bad-ass sports car AND a 35-foot boat?
That is one seriously awesome boat. The boat's name is Taga, which could be romanized English for 다가, or "Go All The Way."
"Come on baby!" Mi Rae coyly motions for Jo Gook to join her at the boat front to reenact the famous Titanic scene. A purposeful Jo Gook strides towards Mi Rae. He picks her up in one swoop and pretends to throw her off the boat. Mi Rae is not afraid. Even if she were to fall off the boat, Jo Gook would rescue her.
Jo Gook: You… trust me?

Mi Rae: Is okay for me to trust you?
It looks like it is about time for some conversation that has been a long time in the coming. Jo Gook understands the question and all its implications. Jo Gook turns serious.
Jo Gook responds that he would like to be a member of the National Assembly, and like all Assembly members, he has but one dream – to become Korea's President. And to do that, he will likely have to step on and hurt a lot of people.
Jo Gook: It is likely that the people who are closest to me will be the ones who will be hurt the most. And so… (takes out a crystal-encrusted baendaengi brooch)

Mi Rae: (looking on cautiously)

Jo Gook (as he pins the brooch on Mi Rae): …you need to protect yourself from me. You. Your trust. Your citizens. You must protect everyone as Mayor. I am telling you this honestly, just for today.
It is a bittersweet moment. Mi Rae watches as Jo Gook's eyes say one thing and something else completely different comes out of Jo Gook's mouth. Should she trust his words or his eyes?
The following day, it is the day of Mi Rae's inauguration.
At the auditorium where Mi Rae is about to give her oath, every important person in Inju City has shown up to bear witness to history. They rise to their feet in sincere applause and cheer for the new Mayor. It is a moment for everyone to savor. Mi Rae swears to defend her people and to keep her responsibilities as Mayor.
And with that, Mi Rae addresses her citizens.
Mayor Shin: Greetings to everyone. I am everyone's mayor, Shin Mi Rae.
The audience rises to their feet in applause. But Jo Gook is not clapping. As far as Mi Rae has come, and as many challenges and obstacles that she has beaten, Jo Gook knows that this is really only the beginning. Far greater challenges and far stronger opponents are coming to Inju City. Jo Gook's face betrays none of the happiness for the one he loves, only the worry and concern for a person who has absolutely no clue for what is coming down the road. And coming soon.
Comments –
What a totally amazing journey this has been so far, and this is a journey that has only just begun.  There is so much going on in these episodes now, and every single scene has meaning, going forward and going backward in time. 
And I love how Mi Rae is changing, growing wiser and stronger.   Mi Rae begins to realize in this episode that even with her own strength and courage, she cannot win every battle by herself. Some fights require more than one kind of strategy and more than one kind of strength. Jo Gook is the opposite of Mi Rae in so many ways, but that doesn't mean that it is a bad thing. And when Mi Rae realizes that, she is realizing that she can benefit from the things that Jo Gook has been trying to teach her.
Every step taken so far as been a struggle for Mi Rae, and each victory she has won so far has pushed her ever higher, making her previous steps seem small in comparison to the struggles she must face that lie ahead.  And while we can sense that big questions and conflicts lie just over the horizon, maybe just for today, for this episode, I feel content just to cheer Mi Rae on and to be happy. Come to think of it, given the emotional roller coaster we have all been on, I think everyone should just take a break and be happy, even if it is just for a little while.
The dialogue to watch for in this Episode: Jo Gook's urging Mi Rae on, at the Race Track
This is the turning point in the episode, when Mi Rae realizes that Jo Gook isn't the problem- Mi Rae's own fears and inability to think beyond herself have been holding her back. Mi Rae evolves right before our eyes, from a simple country girl limited in her abilities to a dreamer to whom everything is now possible. There is no battle that cannot be won for Mi Rae, so long as she can dream big enough. And when Jo Gook's #5 horse wins the race, not only is Mi Rae encouraged, but the pieces of her heart that had been frayed at the edges are suddenly being mended together again.  It is like Jo Gook is saying, "I never lost faith in you."
The only thing missing from this Race Track scene was Jo Gook saying, "You had me at hello." Or, since they are in Korea, "You had me at 안녕 (an-nyung)!" 
On To Episode 12!
RELATED POSTS
Tags: Cha Seung-won, City Hall, Kim Sun-ah