Return of Iljimae: Episode 23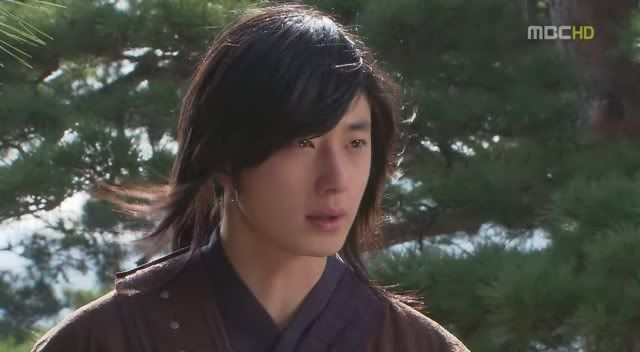 What a packed episode — so much happens!
Iljimae has gone through a lot in his relatively short life thus far, and it seems like his life will never be calm. When it feels like his work will never be over, will he be able to ever be happy and content, as he once promised Wol-hee? I'm very curious to know how this drama will wrap up with only one more episode to go…
SONG OF THE DAY
Biuret – "Diamond" [ Download ]
Audio clip: Adobe Flash Player (version 9 or above) is required to play this audio clip. Download the latest version here. You also need to have JavaScript enabled in your browser.

EPISODE 23: "Wind blowing on the mountain ridge"
Iljimae's nervous anticipation for this long-awaited meeting would be touching if we weren't so worried that he will arrive too late, that Baek-mae has poisoned herself and will die before he makes it to her side. Iljimae enters the house and finds her sleeping, holding onto his golden plum blossom. He kneels before her and calls out gently, and thankfully, Baek-mae opens her eyes.
Puzzled, she asks why he is here. Iljimae takes out the poem she'd composed when he was a baby, and recites it to her. At the sound of those familiar words, Baek-mae looks up at him, the realization starting to hit her…
She asks for help sitting up, feeling weak, as he tells her, "Mother, I am Iljimae."
Still half in disbelief, Baek-mae says that she'd heard Iljimae had been captured and killed. He explains that Gu Ja-myung had saved him and sent him here: "I am without a doubt your son, Mother."
She finally believes him and, weeping, they embrace.
But Baek-mae falls out of the hug, slumping over. Concerned, Iljimae asks if she is ill. With effort, Baek-mae sighs, "How can this be? If only I had known that you lived…"
Iljimae's fear grows at her words and her ice-cold hands. Looking around the room, he sees the envelope with powder, horror dawning on his face. Baek-mae explains, "I was going to follow you."
He protests — no, she can't die! — but mixed in with Baek-mae's sadness is a sense of relief. Or perhaps she's trying to leave her son with a semblance of peace in the wake of tragic circumstances. She admits that it's been such a burden just to keep going all these years: "Now your mother will cast off her burdens and rest. Let's sigh in relief."
Iljimae pleads with her to hang on, desperate to cling to their last moments together. His mother loses consciousness as she gasps her last words, "My son…"
He sobs, "How can this happen? I can't say goodbye like this. When we've only just met…"
(I'm sorry, I need a moment to pick myself up from off the floor. *sob*)
A little while later, Iljimae starts to head back to Hanyang, only to be greeted by the reappearance of Yang-po. Despite the fact that Yang-po drugged Iljimae and took him hostage, he says he's on Iljimae's side, and actually seems to believe it. There's an interesting air about Yang-po, because his actions are in direct challenge to Iljimae's wishes, but he operates on his own code of honor and seems a respectable sort.
Yang-po points out that Iljimae has nothing left for him here but potential execution. He may as well come back to his former home in Yodong (Liaodong) and marry Moran. Iljimae has no such intention, and tells Yang-po to return without him. Yang-po warns him that he is not safe in Joseon, and tells him where to find him if he changes his mind.
Feeling frustrated with his limited options, Iljimae confers with Yeol-gong, coming to the conclusion, "I have no other way. I will have to meet the king, holding Kim Ja-jeom's head." The monk's response is dryly funny: "Are you planning to make the king die of surprise?" No, Yeol-gong is firmly against killing. He doesn't have a solution, but suggests that Lord Choi may have a way out with his powerful connections.
Lord Choi asks how Iljimae feels about going to (Qing) China. War is now imminent, and they must prepare for its eventuality. Iljimae asks if this means all is lost for the Joseon state, and Choi answers, "We cannot win, but we can keep from losing." There are people working secretly to find out the Qing forces' strategies. Some are in China, and Iljimae could be of great help to the cause.
Put like that, it's difficult to refuse…
However, he hesitates, feeling torn. Lord Choi believes he can do good in China, but Iljimae wonders if it will make a difference. He tells Yeol-gong, "Everyone who cared for me in this country is gone. Dal-yi, master, Gu Ja-myung, and my mother. I'm someone who couldn't save the lives of anyone close to me. What good would I be? Wouldn't it be better off if I stayed by Wol-hee's side and made her happy?"
Yeol-gong presses him to think of the greater good, but Iljimae feels that at least he knows he's capable of making Wol-hee happy.
Yeol-gong: "If we speak in terms of mountains, whether you like it or not, you're a mountain ridge. Your fate is to feel the rain and wind first. Wol-hee is one tree stump. But if you plant a tree on the ridge of a mountain, it will not grow. And the rainstorms won't lull you to sleep."
This is difficult for Iljimae to hear… but it does convince him.
Keol-chi's reaction to Iljimae's decision is angry disapproval. He scolds him for his callous treatment of Wol-hee: "You shouldn't do this. I didn't save you so you could be like this. Aren't you my child, when I fetched you out of that water and held you to me? You're the son heaven gave to me. That's how I've raised you, but this is not how people should treat others."
The words hurt, but Iljimae remains convinced of his duty. Keol-chi unhappily relates his conversation to Wol-hee, who is immediately set on seeing Iljimae. She's still weak, however, and has difficulty even rising from her bed.
One thing Iljimae doesn't have to worry about is finding passage to China, since that is already covered: Yang-po hadn't really expected Iljimae to change his mind, but is relieved to hear it. He agrees readily to Iljimae's wishes to leave immediately, and shuts down Wang Hweng-bo's worries that Iljimae may be tricking them to turn on them later. As I said, Yang-po is honorable in his own way, and he recognizes that Iljimae is, too.
Their departure is interrupted by the appearance of Wol-hee, who comes riding on horseback, too weak to walk. Wang Hweng-bo frets that a last-ditch appeal from a lover may sway Iljimae's mind, but Yang-po wisely suggests they wait it out.
Wol-hee falls to the ground, but Iljimae doesn't move to help her. Wol-hee pleads, "Take me too. All you have to do is take me, whether it's to China or the ends of the world, or even the world beyond."
I find Wol-hee's pleas all the more moving and pathetic because she doesn't whine childishly; she speaks with dignity, even when Iljimae tells her to turn back. She answers, "Never. If I was going to turn around, I would not have followed you from the start. I'll go too."
Iljimae doesn't allow emotion to change his mind, and answers evenly, unsentimentally, "I'm finished with all I can do in this country. Don't act senselessly, and turn back." His brush-off is so cool that even Yang-po and Wang Hweng-bo feel sorry for Wol-hee.
The three men make the trip to Yodong/Liaodong, separating after their arrival. Iljimae's first destination takes him to his adoptive mother's funeral altar. It's here that his ex-fiancee, Moran, finds him as he pays his respects to his adoptive Chinese parents.
Iljimae tells Moran that he's committed a grave sin against them; he doesn't even know what happened to them or how his mother died. Moran fills him in on what she knows: His mother passed away from illness a year after he left for Joseon. His father became deeply involved with Catholicism, and one day he just up and left, cutting off all contact. Nobody knows what became of him.
Moran is relieved that Iljimae is finally back; she knows all about him, because Yang-po had sent regular reports. Even Iljimae's recent burn scar (from the explosion) has been reported. As he starts to speak, Moran senses from Iljimae's withdrawn demeanor that he's about to disappoint her hopes and interrupts, saying, "You don't have to say a thing. It's enough that you're back." She grasps his arm and vows, "I won't let you leave anymore."
But that kind of promise does no good when Iljimae's heart is not engaged. Moran turns to Yang-po to beg him to stop Iljimae from leaving, but the warrior declines — his work here is done. The narration notes: "Moran did not realize to the last that love means being caught in love's net."
Unbeknownst to Iljimae, two additional people have followed him to China: the shady monk Dok-bo and a vengeful Soo-ryun.
IS (Infinite of Spring) makes another appearance! I last saw this triplet trio of fusion musicians — who meld traditional instruments with a mild pop sensibility — in Story of Hyang Dan, for which they provided much of the soundtrack.
IS – "Asian Flower" [ Download ]
Audio clip: Adobe Flash Player (version 9 or above) is required to play this audio clip. Download the latest version here. You also need to have JavaScript enabled in your browser.
The three IS sisters make up a trio named Jin, Sun, and Mi who perform in a tearoom. Iljimae sits at a table alone and takes out his fan, which acts as a signal to the musicians.
One sister approaches and says a cryptic line, and he responds in kind — likely a coded way of identifying the two sides to each other. With this exchange completed, the trio leads Iljimae back to a private room, where he is introduced to their leader, a man named Yi-myung who is his contact in China.
Yi-myung and the trio have been secretly working to find out the Qing army's strategy for invading Joseon. The plans are written down, and they know where to they are housed — but the problem is that they cannot get to them, as they are in the custody of the Qing emperor.
Back in Hanyang, Wol-hee's health languishes, her condition worsened by heartbreak. Thus Yeol-gong takes it upon himself to show her something Iljimae had left in his care. She had once gone to buy wedding clothes shortly after she and Iljimae decided to marry (Episode 12), but they hadn't ended up buying them. It had bothered Iljimae, so he went back and bought those clothes.
Yeol-gong explains, "He didn't mean for me to give it to you now, but to keep it for him until he returned. But seeing you like this, I couldn't not give this to you." Iljimae hadn't wanted to give them to Wol-hee directly, in case he couldn't return (which would have made her a grieving almost-widow).
It greatly relieves not only Wol-hee but everyone else to hear that Iljimae intends to come back. They hadn't liked feeling upset with him, and urge Wol-hee to cheer up now that she knows how Iljimae really feels. (This does the trick, and Wol-hee recovers quickly after that. She even gives the clothing back to Yeol-gong's keeping, trusting that Iljimae will return.)
Now that he's home, Wang Hweng-bo intends to jump right back into his former life, but he cannot reconnect with his former leader. When he goes to his old headquarters, he finds it is no longer there. Dok-bo takes advantage of this timing to offer him a position — how would he like to work for the emperor? And what does he know about Iljimae?
Thus Wang is back following Iljimae around town, and reports that Iljimae has been lurking around the palace. He must be up to something.
Meanwhile, the Jin-Sun-Mi trio meet with a Qing official. Although they are working with Yi-myung for Joseon, now they offer a tip that Iljimae is hanging around the palace and may attempt to breach it.
That night, Iljimae makes his way inside the palace, slipping past Wang Hweng-bo, who lurks outside waiting for Iljimae to show. Therefore, when the Qing official orders his men to apprehend the lurker, they capture Wang Hweng-bo instead, believing him to be Iljimae.
Ijlimae moves unseen through a crawlspace and uses tools to cut a hole through the ceiling of the emperor's chambers. He lowers himself into the room, relying on Yi-myung's detailed schedule of the court ladies and the emperor to avoid being seen. As instructed, Iljimae finds the invasion plans in a drawer near the display of an imperial sword. He must read the documents and memorize the contents, but not remove them — if they are missing, the Qing invaders will alter their plan.
After examining the documents, Iljimae takes a look at the emperor's sword, which has been passed down through generations from emperor to emperor.
When the emperor returns to his room, he sees to his shock that his sword is missing. In its place is a single golden plum blossom stalk. The narrator tells us that this is Iljimae issuing the same warning he had given to Kim Ja-jeom when he stuck a dagger in that man's pillow. (In other words: I could have killed you, so back off.)
Wang Hweng-bo, captured by palace guards, is assumed to be Iljimae per the tip-off. They don't believe his claims that they have the wrong person, and torture him for information.
Iljimae relays the Qing army's plan to Yi-mung: they intend to attack first with a decoy from the north, while the rest of the army attacks Hanyang directly. It would only take them ten days to reach Hanyang from the border, which is much faster than Joseon's estimate of three months.
This is vital information, and Yi-myung writes down the enemy's plan in a secret document. Iljimae is to deliver it to the Joseon army in time to prepare a defense.
As he readies to make the trip back home, Iljimae has a visitor in his boardinghouse room: Soo-ryun. He smiles, thinking her a friendly face, but her expression is grim. Without warning, she stabs him through the gut (omo!) with her sword, and accuses him of killing Gu Ja-myung.
Clutching his stomach, Ijimae falls to the floor in pain. He gasps that Soo-ryun misunderstands — he would never have killed Gu. But he has no time to defend himself or explain the details; the most pressing concern is to hand over the secret document. He holds it out to her, and then — OH MY GOD — Iljimae collapses, his body going slack.
Soo-ryun doesn't understand what the document is but takes it, just as she is attacked by intruders. She fights them off, rushes out of the boardinghouse, and manages to lose them in the streets.
Just as she thinks she's safe, she's cornered by someone else: Yi-myung.
Dok-bo arrives at Iljimae's room to survey the damage — he'd sent the men after Iljimae, and several of them have been felled by Soo-ryun. But where Iljimae had fallen, now there is only a pool of blood on the floor. (Thank jeeves!)
Iljimae still clings to life, nursed by the triplets, but Yi-myung blasts Soo-ryun for her foolishness. He sets her straight about Gu's death; Iljimae had told him that Gu had exchanged his life to save Iljimae's. She's still in denial, so he tells her to read the secret document, and as she does, she starts to grasp the enormity of her actions.
Yi-myung rebukes her harshly: "Because of your worthless need for revenge, the nation's fate has been thrown into dire circumstances. You have made Officer Gu's death all for nothing. He taught Iljimae the way to help other people, but how could you profane the deep meaning of that?"
The Jin-Sun-Mi women offer to convey the document instead of Iljimae, but Yi-myung vetoes this. The roads have already been blockaded, and the mission is too difficult for them. So Soo-ryun offers herself, in penance for her misguided anger, vowing to do whatever she must do to get the letter into the right hands.
The road is indeed difficult, even for a fighter as skilled as Soo-ryun. She encounters a roadblock near the border, and fights off the guards and makes a run for it. Soo-ryun manages to keep a step ahead of her pursuers, but there are many more of them than there are of her, and the chase remains close.
When she is shot in the arm by an arrow, she grits her teeth and continues onward, yanking the arrow out. With the soldiers almost upon her, Soo-ryun looks down at the water below, and mutters, "I must deliver this letter."
She jumps off the cliff into the river, and the soldiers shoot a barrage of arrows into the water.
A while later, Soo-ryun washes ashore on the other side of the riverbank, several arrows in her back. She's alive, but just barely, and crawls with all her determination focused on the letter. But she can't continue much longer, and dies.
But perhaps she has traveled far enough and made it across the border, because the next we see of the document, it is being carried by a (Joseon) soldier to a senior officer in an army camp. The officer opens the document and reads it, then races out to act upon the information.
But…
A short while later, the document has been delivered to another officer, who is presumably in charge of handling the matter. That high-ranking officer scans the information…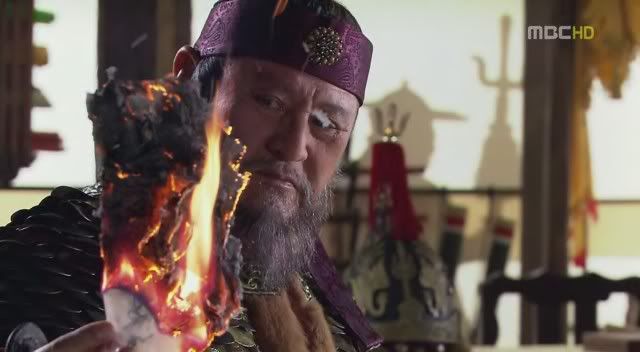 What fresh hell is this?
It's Kim Ja-jeom, who burns the letter.

COMMENTS
I didn't realize until after the previous recap posted that I had barely commented on Gu Ja-myung's death. I think he (and actor Kim Min-jong) have certainly earned a proper elegy, and what better place to mourn his passing than along with Baek-mae's?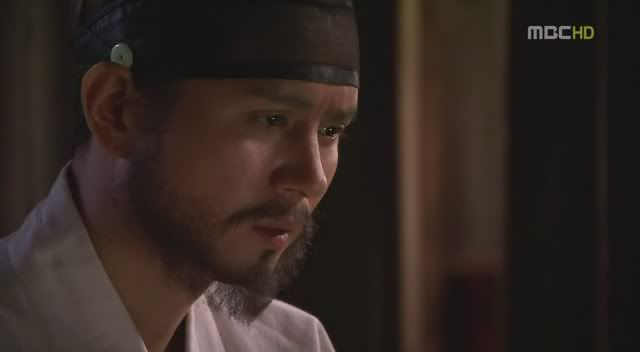 Gu Ja-myung's suicide took me by surprise, but I suppose it's a good sort of surprise in a narrative sense, because after it happened, I understood why it had to be that way. He's a man with a rigid sense of honor, who has perhaps denied himself a lifetime of happiness because while he realized that the rigidity of the law is not always right, he had not challenged it. Back when he was a young rising policeman and Baek-mae was a wronged gisaeng, he had wanted to help her but hesitated too long, afraid of making a definitive move and therefore losing his chance. That's why he is so eager to help Iljimae years later — not only because he is Baek-mae's son, but also as a way of making up for his failure to help Baek-mae in the past.
Gu's reluctance to deviate from the rules interfered with his desire to be with Baek-mae even as he pined for her for twenty years. So it is telling that when Iljimae comes back on the scene, he starts to bend the rules. For the most part, he's still operating within the law, but he tries his best to find loopholes to help Iljimae. And when he cannot, he's faced with his dilemma in an almost-literal sense: He can (1) obey the rules, break Baek-mae's heart and lose Iljimae, and therefore also himself, or (2) break the rules, but preserve his personal sense of honor and save the ones he loves.
Seen that way, his death isn't as tragic as it is noble.
Speaking of Baek-mae, oh good heavenly lord that scene just killed me. I was bawling through it, and I mean the full sniffly-nosed, puffy-eyed, vision-blurring kind of bawling. Great writing, and great acting.
I really thought they were going to kill her before Iljimae got to meet her, because it was so beautifully tragic and, like I mentioned, Shakespearean. Yet if they had, I don't know if my love for this drama would have survived, because I would have been incredibly bitter. I was naturally hoping she would survive, but her death in and of itself is understandable; it's the prospect of her not meeting Iljimae before her passing that would have been too cruel.
I had hoped for a happy ending for Gu and Baek-mae, but in the event that one of them could not survive, I suppose it's fitting that both should go at the same time. Her death further shapes Iljimae's path and sets him up for the next phase of his life, so at least it also serves a (plot) purpose.
As for Soo-ryun, I wanted to hate her but couldn't quite; if she had died not realizing she was wrong about Iljimae, I would have, but seeing her guilt is enough for me. Soo-ryun's loyalty to Gu has been well-established and it makes sense that the one time she would veer from the law is spurred by his loss. Then again, I suppose her trying to kill Iljimae means that while it's too bad for our heroes that she dies, I don't mourn her. (I do love how the pieces are falling into place — minor characters springing to the fore in logical ways — as we approach the end, bringing an overall cohesion to the drama.)
As with Baek-mae, I did fear for a second that Iljimae was really dead when she stabs him so unexpectedly, and then when he collapses. I know this is his drama, but it was so startling that I was afraid they'd done the unexpected, and with only one more episode left! Thank goodness he's still got some spare lives left — he's used up at least a half-dozen so far. He's like a cat. In fact, if I ever get a cat, I'm naming it Iljimae.

RELATED POSTS
Tags: Jung Hye-young, Jung Il-woo, Return of Iljimae, Yoon Jin-seo