Opening red carpet at the 14th Pusan International Film Festival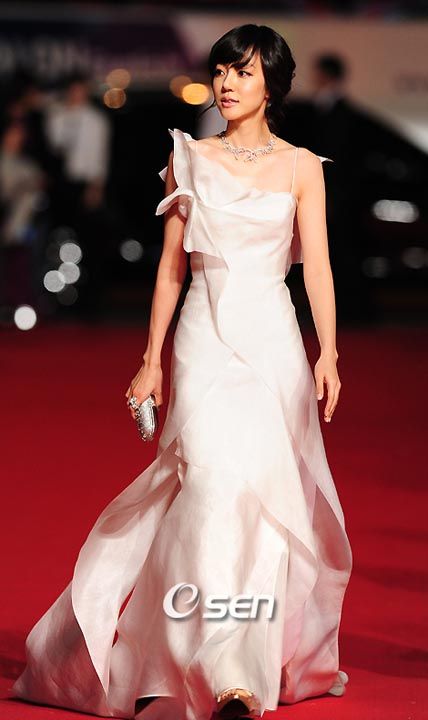 On October 8, the 14th Pusan International Film Festival, or PIFF, opened in Busan. (Yes, the city takes a different official spelling than the film festival. Blame inconsistent Romanization.)
As the largest film festival in Korea, it drew a large list of attendees, as you can see from the long list of red-carpet walkers. It was definitely a star-studded opening night, and even included one familiar Hollywood face (Josh Hartnett).
This year's PIFF features its largest lineup to date, screening 355 films from 70 countries, and closes on the 16th.
Ha Ji-won (Haeundae) is a goddess, as usual:
Jeon Do-yeon (Secret Sunshine)
Jang Dong-gun and Han Chae-young play love interests in Good Morning, President
Josh Hartnett poses with his I Came With the Rain co-star, Lee Byung-heon:
Im Soo-jung (Happiness) hasn't been in the public eye lately, but it's nice to see her again:
Jang Hyuk and Sung Yuri came together to promote their new film Rabbit and Lizard. Sung Yuri is luminous, although I don't love her dress — but WTF with the hair, Jang Hyuk? He looks like a lion (and not in a good way).
Siiiiiigh, Kang Ji-hwan (Rough Cut):
So Ji-sub (Rough Cut) was recently voted (along with Choi Ji-woo) as having "prettiest hands," which fans have been saying for years.
Kim Haneul (Level 7 Civil Servant):
Rawr, Kim Kang-woo (Story of a Man):
Su Ae (Like Fireworks, Like Butterflies) comes on the arm of Kim Nam-gil (Queen Seon-deok):
I don't love the color (or the cutout on the chest) on Kim So-yeon's (IRIS) dress, but she's lovely.
It seems that Eom Ji-won (Like You Know It All), top row, and Go Jun-hee (General Hospital 2), bottom, were going for the same look. I think I have to give the edge to Go Jun-hee for a crisper silhouette and more sophisticated cut of the dress.
Kim Yun-jin (Lost)
Yeh Ji-won (Daytime Drinking)
Yoon Kye-sang and Jo Jae-hyun of Executioners:
Han Ji-hye (East of Eden) arrives with Im Joo-hwan (Tamra the Island)
I have definitely seen this dress on the red carpet before (I remember loving it then, but it loses its impact on the second go-round), but Han Ye-seul (Tazza) always looks fantastic on red carpets.
Park Joong-hoon and his Haeundae co-star Uhm Jung-hwa, who appears to be wearing a sparkly muumuu. And she's Korea's sexiest pop queen?
Han Eun-jung (Lawyers of Korea)
What a difference a year makes: Min Hyo-rin (Triple) hardly registered a blip last year. Her drama wasn't successful, but I think she proved she has acting ability, and I'd like to see more of her in the future.
Add Jung Ryeo-won (Ja Myung Go) to the list of people who look awkward
Seo Woo (Tamra the Island) comes with her Paju co-star Lee Seon-kyun:
My favorite badass Park Hee-soon (A Million):
Choi Jung-won (Kingdom of the Wind) is very pretty, but if this were Project Runway, someone would be telling her she looked like she put on a garbage bag:
Lee Hana (Triple) has this habit of showing up to awards shows looking uncomfortable in dresses that fit strangely.
Oh, Lee Min-ho (Boys Before Flowers). I miss your Gu Jun-pyo hair. And your Gu Jun-pyo flair.
Gu Hye-sun (Boys Before Flowers) came as a director for her short film:
Han Hye-jin (Terroir)
I think the hot pink clashes harshly with the red carpet, and it hurts my eyes to look at, but the dress looks cute on Choi Kang-hee (Aeja).
Jang Seo-hee (Wife's Temptation)
Byun Jung-soo (Last Scandal of My Life)
Viva Las Vegas, Sunwoo Sun (Queen of Housewives):
Yoo Ah-in (The Man Who Can't Get Married). He's so cute.
Jeon Hye-bin (2009 Hometown of Legends)
Yoo Hana (Sons of Sol Pharmacy) looks adorable… but her co-star Yoo Sun looks like she stepped out of an '80s nighttime soap. And by that I mean Dynasty.
Last but not least, Wang Seok-hyun (Speed Scandal)! His mom must LOVE dressing him.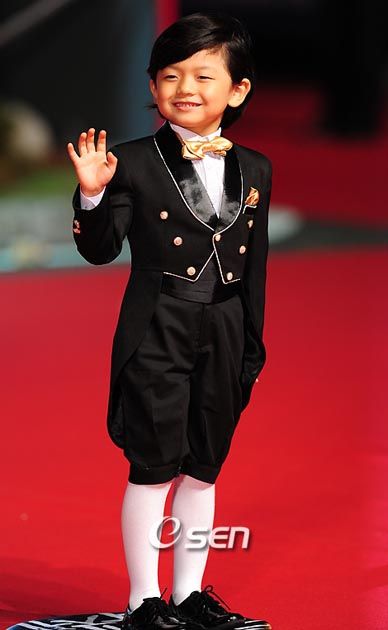 RELATED POSTS
Tags: Byun Jung-soo, Choi Jung-won, Eom Ji-won, film festivals, Go Eun-ah, Go Jun-hee, Ha Ji-won, Han Chae-young, Han Eun-jung, Han Hye-jin, Han Ji-hye, Han Ye-seul, Im Joo-hwan, Im Soo-jung, Jang Dong-gun, Jang Hyuk, Jeon Do-yeon, Jeon Hye-bin, Jo Jae-hyun, Jung Ryeo-won, Kang Ji-hwan, Kim Haneul, Kim Kang-woo, Kim Nam-gil, Kim So-yeon, Kim Yun-jin, Lee Byung-heon, Lee Seon-kyun, Min Hyo-rin, Park Hee-soon, Seo Woo, So Ji-sub, Su Ae, Sung Yuri, Sunwoo Sun, Uhm Jung-hwa, Wang Seok-hyun, Yeh Ji-won, Yoo Hana, Yoo Sun, Yoon Kye-sang