Smile: Episode 3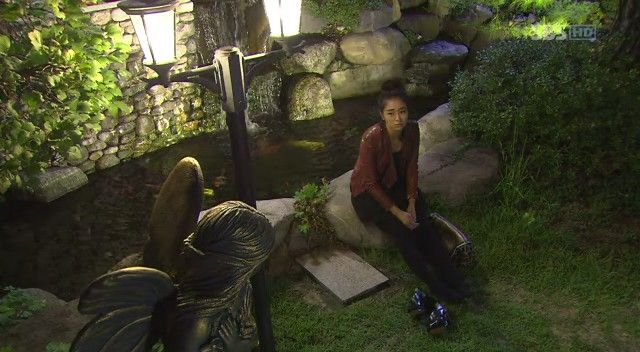 Hello all! To help alleviate some of javabean's lovely recap work, 3 guest bloggers (including yours truly, dw4p) will be taking over the Smile (Smile, You) series. This is my first time doing recaps of this nature, so I may have some growing pains… bear with me!
Just a quick synopsis: Smile stars Lee Min Jung (Boys over Flowers) as Seo Jung-in, a rich and bratty girl who is about to marry to a rich and bratty boy, Lee Han-se (Lee Kyu Han of My Name is Kim Sam Soon and Que Sera, Sera.) When Han-se's family finds out that Jung-in's family is bankrupt, they decide to annul the marriage. (He literally leaves her on the highway on route to their honeymoon.)
Kang Hyun-soo (Jung Kyung Ho of Ja Myung Go) is a professor, just back from studying abroad, who runs into Jung-in in her torn wedding dress. We also find out that Hyun-soo's grandfather was the Seo family's loyal driver. (Eventually, the Seo's will move into the Kang's family, but that's to come later.)
The star of the series is really Lee Min Jung and she shines. Her character is abrasive and harsh, but she does a great job of making Jung-in likable. We also see a bit of her vulnerable side come out in this episode which I find endearing. (See screencap above.)
Episode 3 Recap
We resume with the Kang family, kneeling in front of the patriarch, asking for forgiveness for trying to make the extra room into Hyun-soo's room. Grandpa Man-bok orders them to clean up the room to rent out.
The mom, Geum-ja tries to cry her way out of it, but the grandfather will have none of that. He tells them to get out if they don't like his ways. He then tell them to save electricity, and promptly turns the light off.
Jung-in wakes up in the morning and remembers the events of last night. She's completely devastated and some light cursing ensues.
She comes down from her room and gives her farewell to her parents: "Mom, dad, thank you for raising me well. I'm going to go and die, so don't look for me and live well." Her sentence moves from the honorific to ban-mal (familiar), Jung-in's trademark. First honorific while giving a big bow and then to the familiar as she glares at her dad. (I find it funny that she announces her death but has her luggage and is wearing an awesome jacket and harem pants.)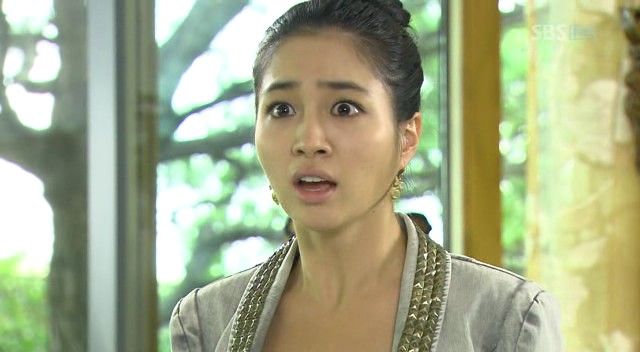 Because of the company bankruptcy, her father tells them they need to pull together a million won ($800K) in order to keep their house. Jung-in is desperate to figure out a way because she can't stand to be more humiliated than she is now.
Jung-in sets up a time to meet up with a friend, all the while hating the fact that she needs to ask for money. But she realizes that she's in dire straits, and gets ready to do whatever is necessary. Just then, her mom comes running in, showing her the presents that were returned from Han-sae's family. Jung-in demands that they return their presents as well and realizes that her engagement ring is missing.
We now see the Kang family having breakfast. (I love their plates and matching outfits.) Hyun-soo receives a phone call from Global Korea looking for him to sell his product to them for a million won. But he's already decided to work at the school rather than take the money, to the dismay of his mother.
Downstairs, Hyun-soo falls back into his delusion about his love, Jung-kyung. He psyches himself out, going over the conversation in front of the mirror. "Jung-kyung, I understand you're jealous but I don't have any relations with that woman. If you're that nervous, then just hold onto me." He then subsequently hits his chest so hard that he hurts himself.
He hears a noise upstairs and comes up pant-less to find Jung-in looking around for her engagement ring. Hyun-soo takes this opportunity to try and take Jung-in to explain himself to Jung-kyung. But Jung-in won't hear any of it and is only interested in finding her ring.
After remembering that she took her ring off at the po-jang-ma-cha (outdoor bar), she drags Hyun-soo to look for the ring. Hyun-soo's mom sees Jung-in grabbing her son and is unhappy that they seem close. We actually see quite a bit of physical contact between the two, mostly initiated by Jung-in. (More on this later.)
While waiting for the owner of the bar, they get into an argument. Jung-in brings up Hyun-soo's 8 year love and he brings up her explosive personality, almost mentioning the broken marriage (pa-won in Korean). Jung-in gets livid hearing "pa" from him. They get into a cute interlude wiith Hyun-soo denying that he was going to say "pa-won", saying that there are lots of other words that start with "pa".
The bar owner comes back but the trip was for naught as the ring wasn't there. In order to force Hyun-soo to look for the ring, Jung-in threatens to tell his mom about the 8 years of unrequited love.
The 2 run into each other at the next location and comment about each others clothing. Hyun-soo asks Jung-in if wearing less is the trend. And Jung-in accuses him of sharing clothes with his grandfather, to which he replies, "Do you think I'm the same size with my grandfather?" (Ha! You got her good!)
Jung-in meets with an oppa, evidently to ask for money. And Hyun-soo is there to meet with the director from Global Korea, who happens to be Han-sae. Even though Han-sae does all he can to humiliate Jung-in, she doesn't back down and gives it all back, before walking out. Hyun-soo also walks out on Han-sae, saying that he wants to work with people who care about others rather than money.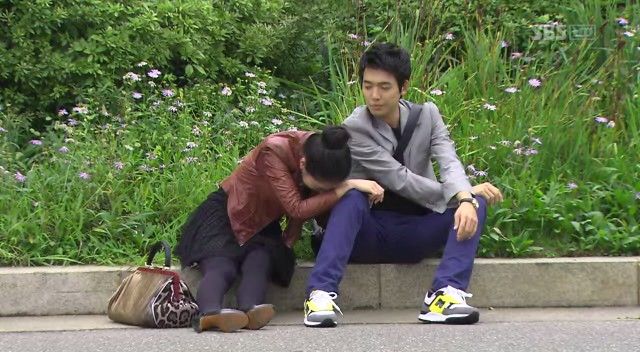 Hyun-soo finds Jung-in crying in the middle of the road and goes to comfort her. Han-sae, who still has feelings for Jung-in, drives by the road and is shocked to see the two together. I really like this scene of Hyun-soo and Jung-in. Even though it was for just a moment, we see Jung-in leaning on someone else, instead of trying to resolve everything on her own.
Hyun-soo tells Jung-in to forget about him and let him go, since she loved him at one point. Jung-in, as she would, tell him to stop writing a poem and says that she loathes Han-sae for what he's done. And here's we see the difference between the 2. Hyun-soo is truly a romantic, so much so that he still believes in his love after 8 years. Jung-in is much more pragmatic, not because he hates Han-sae, but because she knows that her love is over.
Jung-in's dad, Jung-kil is in a bar with Hyun-soo's dad, Sang-hoon. Jung-kil has brought Sang-hoon to a bar to convince Sang-hoon to "invest" in him, thinking that Sang-hoon owns the Kang family land. He bring in girls, drinks, and provides entertainment, include a performance of "I don't care." But when Jung-kil finds out that the land is in grandpa Man-bok's name, he takes off, leaving the bill for Sang-hoon.
Jung-in comes home, weary from the day, and turns to her deceased grandfather for comfort. She regrets her way of life, "Grandpa, I'm being punished because I used to say that a woman doesn't need to study hard, just marry well. Since you used to listen to me when you were alive, please help me." It's both refreshing and heartbreaking to see Jung-in show a vulnerable side.
Jung-Kyung and her older doctor boyfriend are together at a bar and Jung-Kyung is hoping for some clarification of their relationship. She receives a call from Hyun-soo, who's trying to clarify the misunderstanding of the previous evening. But Jung-Kyung is not interested and hangs up on him.
Hyun-soo continues to live in his dream world and is convinced that Jung-Kyung hung up because she's upset about the other day. He blames Jung-in for the misunderstanding.
Hyun-soo's mom has found Jung-in's diamond ring, and Hyun-soo tells his mom that he will return it to Jung-in.
Sang-hoon, who's been left with the bar bill, calls home to get some money from Hyun-soo. He at first hangs up a couple of times because grandpa Man-bok picks up the phone. He tries to get Hyun-soo to bring him the money in secret, but he's quickly found out when grandpa Man-bok turns on the speaker phone.
Hyun-soo's mom in her fury over her husband, pushes Hyun-soo into grandpa Man-bok, who in turn hurts his back. She wants grandpa Man-bok to pick a side when Sang-hoon returns home. She doesn't want her husband to get away with anything and needs grandpa Man-bok's help because he's the clear head of this family. Meanwhile, Sang-hoon is sleeping in a gazebo using newspapers as his blanket, and cursing Jung-kil.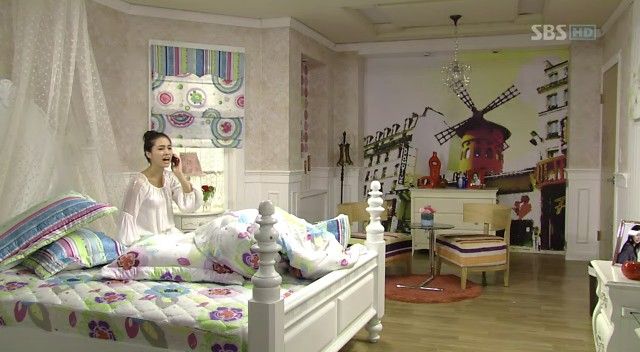 Jung-in receives a call from an "oppa" and bellows out that she knows too many oppas and needs a name. Upon hearing "Hyun-soo oppa", she replies "the slapper's boyfriend?" But her tone changes when she hears that he has the ring.
They meet for the ring exchange. Even without a hello, she immediately demands for the ring but Hyun-soo has other plans. He wants Jung-in to explain that nothing happened the other night to Jung-kyung, or there will be no ring. She says OK but wants to see the ring first. When she sees the ring, she grabs it and runs away with it.
Hyun-soo chases her and wants her to keep her promise. But she thinks it's crazy that she should apologize and suck up to a woman she doesn't know. When Hyun-soo grabs for the ring, they get into a little tug-of-war match before Jung-in headbutts Hyun-soo and walks away. (The tug-of-war reminded me of Jun Jin and Lee Si Young's wresting match in "We Got Married." It's pretty clear where this relationship is headed…)
As she's leaves, Hyun-soo yells, "You'd better be careful walking around the street. Because if I see you, you're dead!" And she retorts, "I only ride in cars, so I won't be seeing you!" LOL!!!
When Hyun-soo sees Jung-Kyung, he tells her that he won't give up on her even though it's been 8 years. And she finally agrees to a dinner date. As she's driving away, Jung-in sees Hyun-soo and Jung-Kyung together and is shocked to find out that her older sister is his 8-year love.
Hyun-soo is, of course, ecstatic to finally earn a date. Let's all say it together: Yahoo!
However, he finds Jung-in patiently waiting for him when he comes out of the hospital. He doesn't want anything to do with her, but she calls him oppa, says she's sorry, and pushes him into the car, offering him a ride.
He gets dragged into the car, but nothing will break his spirits and he happily whistles along as they drive off. They quibble in the car with their usual cute exchange. (Look at Hyun-soo with his feet!)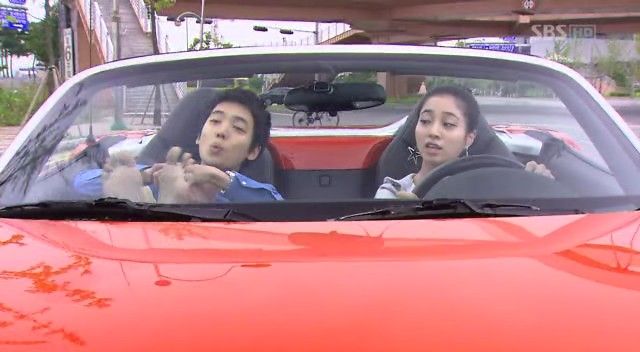 JI: Seeing your good mood, it looks like you have a date.
HS: How did you know? Are people already talking about our relationship?
JI (thinking): Seo Jung Kyung, you acted so high and mighty, and it's because of this maniac?
HS: What?
JI: Congratulations. Hope you and the slapper get along well.
HS: Don't call her slapper. As oppa said, her name is Beatrice, Odette, Hippocrates, mermaid.
JI: It'll take all day to say all her names. That's why it took 8 years to get a date.
HS: Either way, I succeded.
JI: OK, OK. Congrats, congrats. Anyway, why did she all of a sudden say yes after 8 years?
HS: It's probably because she finally saw my sincerity.
JI: So, are you gonna get married?
HS: Why are you bring up marriage on our first date. Don't go too fast. (but liking where it's going.)
JI (thinking): He's crazy.
HS: Where should I take her?
JI: What's there to think about. Just take her to a hotel.
HS: Hotel? We don't have that type of relationship.
JI: What are you thinking? Don't act like you don't have money, think luxury. Woman like men who set the mood. And mood comes when you spend money. Don't think about where to go, but how much you should spend.
HS: What's wrong with you?
JI: What!
HS: Forget it. I'm the crazy one for asking you. That's why…
[Jung-in steps on the breaks.]
HS: How can you stop the car like that?
JI: You're asking because you don't know? You want to tell me not to talk since my marriage was called off.
HS: I didn't bring that up.
JI: I pick up on this stuff really fast, don't pretend you didn't think it. Now that you finally have a date, you think you're all that? It took you 8 years to get just 1 date.
HS: I want you to listen to me without feeling bad. Oppa's saying this because I worry about you. That incident must have been shocking. You should go get some professional help.
JI: Get out. Get out. [She pushes him out of the car.] You've made a big mistake. Do you do can do well with the slapper without me?
[She speeds off, leaving Hyun-soo behind.]
Sang-hoon goes to see Jung-in's mom, Joo-hee to tell her about going to the bar with Jung-kil. And wants her to give him money for the bill. He's embarrassed but doesn't see any other alternative. She quips, "This is not the Sang-hoon I know. Are you that scare of your wife?" But she gives him the money. He stands up for his wife, but wishes that Joo-hee won't remember him this way.
Jung-kil gets a call from his wife to stay away from home because there are weird people at his house, maybe the police. He tries to run away, but is caught and dragged away, blind folded. They end up being loan sharks who scare him with fake blood. He promises to pay them back the loan within a day.
Sang-hoon comes back home to talk to his wife, who won't listen to a word he has to say. She throws a bowl at him, which is avoids. But when she tries to throw flour at him, she misses her husband and it lands on grandpa Man-bok's face.
Comments
It's very easy to see the kindergarten playground attraction between Hyun-soo and Jung-in. It's always nice to see a romantic comedy with good chemistry between the leads. It makes the relationship so much more enjoyable and believable.
I also love that Jung-in is the forceful one in the relationship. Hyun-soo tries to take control, referring to himself as "oppa" (older brother), but it's pretty clear who's in charge. It's fairly uncommon in a kdrama to have a likeable female character be touch feely with a man, but we see Jung-in pull, push, and tug Hyun-soo like he's a toy. I'm enjoying the dynamic.
Relationship aside, I'm loving Jung-in. I really liked that this episode brought in a softer side to her character. I especially love the scene where she realizes that life is different than how she's lived in the past. I'm hoping that she'll make changes to herself because she sees herself in a new light, rather than because she meets a man.
I also LOVE all of her crazy facial expression. I think it brings a charm to her insolent ways. (It's hard to capture good screencaps, because her face is constantly moving. Her face muscles must be working overtime) Did I mention that I love her yet?

RELATED POSTS
Tags: Jung Kyung-ho, Lee Min-jung, Smile