Pasta: Episode 3
This was a cute episode, if a little low-key, which I suppose is Pasta's appeal — the light vibe and its realistic, amusing depiction of relationships.
Gong Hyo-jin is really what makes this drama work for me. Lee Seon-kyun is, of course, very entertaining as the boss from hell, and it wouldn't work so well without him. But it's Gong's natural, empathetic reading of her character that has me tuning in for more.
SONG OF THE DAY
Peppertones – "Victory" [ Download ]
Audio clip: Adobe Flash Player (version 9 or above) is required to play this audio clip. Download the latest version here. You also need to have JavaScript enabled in your browser.

EPISODE 3 RECAP
After Yoo-kyung loses the lunch challenge, San and Se-young see Hyun-wook firing her and feel pity at her crushed reaction. But when San starts to head toward her, Se-young holds him back, advising that it's best to leave her alone.
At La Sfera, the staff anxiously awaits the results, but they don't get any hints from Hyun-wook; he storms into his office, agitated over seeing Se-young so unexpectedly. Yoo-kyung hesitantly enters to tell him that she'll leave after dinner service is over, but he yells at her to leave immediately.
No use arguing, so she cleans out her locker. A sympathetic Nemo (the host-waiter who looks after Yoo-kyung) commiserates with her as she tells him in a defeated voice that she lost and that her pasta wasn't good. However, he says that after all she did to get here, she can't just leave like this, and reminds her of the first day they met at La Sfera.
The flashback takes us three years ago, when Yoo-kyung had come to eat at the restaurant with a group of her cooking school friends. They had eaten and drunk their fill, and at the end of the night, Yoo-kyung had been settling the bill while her friends waited outside. When the total came to more than a whopping 2 million won ($1,800), she had said with wide eyes, "But I don't have any money."
The workers had gaped at her — how could she eat with no money? — but as her friends waited outside, they indicated that this was part of the plan. Yoo-kyung had even gone to culinary school with her sights set on working at La Sfera. And sure enough, when Yoo-kyung bounded out of the front door, she'd been grinning widely — she got the job! Happily, she had erased the sign seeking a kitchen assistant, because this was her way of making sure they would take her. Smart! (And ballsy.)
What's clever of this scene is that we then see it in another perspective, from a slightly different angle (literally). San broods in his office, thinking of Yoo-kyung's defeat and feeling sorry for her. In his memory, we see the same flashback as before, only the camera pulls back this time to reveal that San had been there at the restaurant that night. He had seen her confessing to having no money, and then celebrating getting the job with her friends.
At the time, he had smiled in appreciation of her pluck. Now, however, he feels guilty: "She worked so hard, and got fired because of me." He also has trouble understanding Hyun-wook's thought process — if San were the chef, he'd fire all the guys and keep the girls.
Nemo's reminder does the trick, because Yoo-kyung decides it's too early to give up. It is with utter bafflement that Hyun-wook goes to work the next day, ready to start cooking — and Yoo-kyung walks in, just pretty as you please, ready to take care of her chores as usual.
The other cooks seem to admire Yoo-kyung's nerve, and it has Hyun-wook so off-guard that he doesn't react immediately. As though too tired to deal with this now, he proceeds with the first order of the day, but makes a pointed comment that the kitchen assistant position will be vacated tomorrow.
At the end of the day, one of the Team Italy cooks, Ji-hoon (who is giving me serious Lee Junki vibes), passes around beers. The mood is jovial and he gives them to everyone in the kitchen, Team Korea and Team Italy alike. Yoo-kyung finishes her work trying to pretend she doesn't care if she's included or not.
Ji-hoon turns to the boss last to hand him a beer, but fakes him out. He moves to toss him a can a second time, but at the last moment, he tosses it to the side instead, toward Yoo-kyung. Hyun-wook reacts instinctively, as though grabbing it for himself, and ends up losing his balance…
The others gawk, trying to hide their amusement. Hyun-wook and Yoo-kyung straighten from this embarrassing clinch and try to act normally, and when Hyun-wook offers the beer, she declines it. However, she does make an embarrassing mistake by assuming he's going to keep pressing it on her when in fact he's about to drink it.
He asks, "Do you have any last words?" She retorts, "It wasn't enough to take my job but you've taken my beer — does that make you happy? Is it refreshing?" He take a sip and loudly replies, "Ah~! It's refreshing."
No. 2 cook Seok-ho meets with President Seol (I'd prevoiusly referred to him as restaurant manager) to discuss Hyun-wook's reign of terror. When he heard Chef Totti was being let go, Seok-ho had thought he would be promoted, and he's unhappy with the way the new chef is running the kitchen. The way he acts, he'll wreck the restaurant. Seok-ho offers to help the president, and it seems they're on their way to reaching some sort of understanding.
As Yoo-kyung wraps up her work, she recalls a few memories of Hyun-wook that show that she may be feeling a growing attraction to him, such as their initial encounter when he helped her with the goldfish. Still, anger is still the prevailing emotion, so when she stops by a pojangmacha and sees Hyun-wook sitting there, she recoils. She is looking forward to spending some time alone with her misery, and her roommates are currently home so she can't go there, so after a moment of deliberation, she makes up her mind. She sits with her back to him and orders.
Hyun-wook looks over and notices her sitting there, and casually suggests that she might find a knife in her back, so she may as well face him.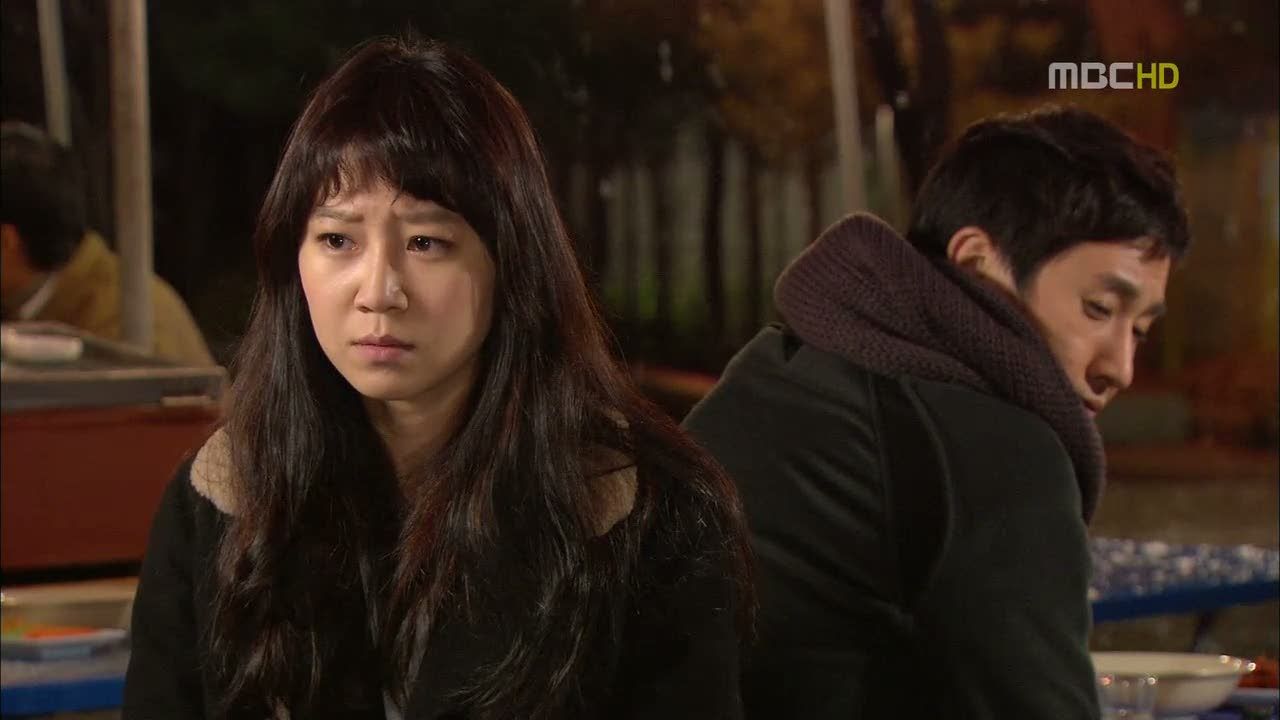 She remains stubbornly seated with her back to him as she admits that yes, she lost their battle. She adds that if you think about it, it makes no sense that she'd win when she's just an assistant and he's the chef. Indignantly, she asks, "Why do I have to be fired over something that's expected? If I were a man, would you have fired me like this today?" She theorizes that he must have a complex about women.
Getting worked up, Yoo-kyung stands up suddenly, walks over and faces him. Does he think she worked as assistant for three years to get fired like this? Then, surprisingly: "Is there a woman you like?"
She clarifies, has he ever liked a woman before? Hyun-wook answers yes, he has. In fact, he saw that woman today. A bit confused now, Yoo-kyung wonders, "Then why has someone who's experienced love act like that with us?"
Hyun-wook explains he dislikes women COOKS — he's not saying he hates women in general. With that he gets up to leave, and hilariously, she shoves him back down and starts talking, "When I was a senior in high school…"
He does not want to hear it, but she continues with her story anyway.
When she was in high school, her mother once ran away. She'd been gone for three days when Yoo-kyung had finally met with her; it had been in the La Sfera neighborhood, and her mother had suggested eating there. Yoo-kyung had protested — they had no business spending such money on fancy food — but her mother reasoned, when else will she eat in a place like this? It's okay, they could just order the cheapest thing.
Exasperated, Yoo-kyung had dragged her mother off, but later found out that her mother had just found out that she was in the last stages of cancer. With three months left to live, she'd been overcome with worries, afraid that her hospital bills would make it impossible for Yoo-kyung to go to university, and hence she'd run away.
After her mother died, Yoo-kyung had gone back to the restaurant alone, where she ordered the cheapest thing on the menu. Looking around at all the other happy mothers and daughters dining together, Yoo-kyung had eaten her pasta — it was delicious, and she cried eating it.
Yoo-kyung asks Hyun-wook, "If my mother had eaten that delicious food, would she have wanted to live longer? I wondered if she would have lived longer." The pasta she'd ordered that day was the dish she made today, the one that had embarrassed her.
Grabbing the soju away from him, she drinks: "This is for the beer you stole from me earlier. I'm going to get back the job that was taken from me too, and I'll make sure the day comes that you acknowledge my pasta. Those are my last words."
She gets up and walks away, leaving him sitting at the table.
Hyun-wook finishes working out at his apartment complex's gym when, to his surprise, he comes face to face with Se-young. Staring in disbelief, he guesses, "I'm sure this isn't a coincidence."
Se-young's voice is pleasant and calm as she greets him, "It's been a while. It's good to see you." Hyun-wook returns sarcastically, "Good to see me? We saw each other yesterday." She compliments his pasta dish, and jokes that they should compete — doesn't he want to try her cooking? Coolly, he turns her down and leaves. Undeterred by his reaction, Se-young smiles, saying, "You'll eat it soon, in your kitchen."
We don't know what's up with Se-young yet, but we do know that Hyun-wook was hired on the basis of her recommendation, which is a fact she asks President Seol to keep a secret from Hyun-wook.
Now that the four roommates are unemployed, the three cooks fume over their firing. Hee-joo (on the left) is the most bloodthirsty for revenge, and tells the other two to get busy thinking of possible ideas.
As Yoo-kyung lies on the couch at home, she thinks of all the chores she'd normally be doing at the restaurant. Deciding to try her hand at cooking, she heads to the kitchen and starts preparing pasta dishes. Unfortunately, they're no good and she discards each of her failed attempts.
She's called out of the house by her brother, who is headed over to La Sfera with their father. Panicking, Yoo-kyung races to intercept them (hiding from Hyun-wook when he passes by), and dissuades them. As a mere cook, it's clear her father never had much faith in her ability (her brother's a medical student) or respect for her goals. Therefore, when notices her street clothes, he immediately guesses that she must have been fired.
Afterward, Yoo-kyung sits in a convenience store with a bowl of cup ramen, which is where San runs into her. She's still annoyed with him (for being a pest in general) and keeps her distance, even when San tries to be friendly and engage her in conversation. Spying something in her wallet, he pulls it out to inspect a photo of a flower, which she grabs back in annoyance. (It's one of the photos that had been posted in her work locker, whose significance hasn't been explained to us.)
Meanwhile, Se-young meets with Kim Kang, who is San's older sister (played by Byun Jung-soo). Kang wonders when Se-young and her brother will get married, not quite buying the answer that they're just friends. They both do think that San's acting funny these days, and wonder about it.
Back at home, Yoo-kyung gets back to the kitchen and resumes cooking. She whips up batch after batch of pasta but remains dissatisfied with each attempt, dumping them in frustration.
Therefore, she goes back to the source: She heads to La Sfera, but as a customer this time. She orders the dish she has been trying to make, and with the first bite she knows this is the elusive flavor she has been trying to re-create.
Calling Nemo over, she asks for the chef, acting like a patron who merely wants to thank the cook for a nice meal. Nemo informs Hyun-wook that a diner was so happy with the dish that they asked to speak with him, but instead of heading out himself, Hyun-wook orders Philip (the pretty boy with long hair) to take care of it.
When Philip sees who the diner is, he smiles and winks at her, then heads back inside to tell Hyun-wook that the diner really wants to speak with him. It's nice to see that all the other cooks are all on Yoo-kyung's side, even Team Italy.
When he realizes who has called for him, Hyun-wook faces Yoo-kyung with impatience and amusement. She gives him a thumbs-up on the dish, then asks a question, "as a customer": "Why can't I produce this taste?"
Hyun-wook asks if she is tasting her dish. She answers yes, so he asks pointedly, "When?" She doesn't get what he means by that, but he's too busy and his patience is gone. He dismisses her.
As the loser of the challenge, Yoo-kyung wants to understand why she lost and she doesn't give up trying to figure it out. She even pesters Hyun-wook at home, showing up at his apartment door with a plate of pasta and shoving the dish at him. She waits outside the door, and when he opens it again, he returns the dish saying, "It was inedible."
At the morning staff meeting, President Seol asks Hyun-wook how he plans to hire the new kitchen assistant — there are some people in the serving ranks who'd like the shot at auditioning for the spot. Hyun-wook is ready to shoot him down — most of the servers are women, right? — but several of his cooks from Team Korea speak up to back up the idea. After all, it's not like there's some invisible divide between servers and cooks — they should be able to try.
Though it wasn't his preference, Hyun-wook revises his plan. Fine, he'll perform a blind audition. Then the winner will be based on skill alone, so it's open to anyone who wants to try.
Since the four women roommates have all lost their jobs, they are now vacating the apartment, and a realtor drops by with a prospective new tenant. It's Se-young.
Se-young takes a look around and, noticing the cooking supplies in the kitchen, apologizes for their last encounter. Yoo-kyung notices her looking into the sink, where piles of failed pasta dishes have been dumped, and explains that she's been practicing. Se-young says, "So you're not a good cook, then." But she says it with a smile, and Yoo-kyung doesn't take offense. It's true enough.
After they leave, Yoo-kyung looks at the mess in the sink with frustration, then picks up a few strands of pasta to taste it. And this time, something clicks in her mind — she has a moment of discovery.
At the same time, back in the La Sfera kitchen, Ji-hoon is making the same mistake that she had made. When his dish comes back to the kitchen, Hyun-wook makes him taste it, and points out his error. With sweet or salty food, the food tastes different hot than it does after cooling: "Guests leave the table remembering the last taste. Make sure their last spoonful is delicious."
Now Yoo-kyung understands what he meant when he'd asked her when in the process she tasted her food.
The next morning, the elevator ride is an exercise in awkwardness when Hyun-wook joins the fired women, who all glare at him. Hilariously, the sisters Chan-hee and Mi-hee prod Hee-joo and urge her to act with furtive gestures. Hee-joo timidly takes the cue and starts to say something to Hyun-wook…. and then chickens out.
After he leaves, they complain that she had been ranting about getting even with Hyun-wook — what happened to her bravado? Hee-joo answers defensively that they haven't come up with a good idea yet.
The roomies also hear about La Sfera's blind cooking audition, but they're still so angry with Hyun-wook that sneer at the opportunity. No way they're going back for more abuse.
Yoo-kyung feels torn, but ultimately decides to go out on more job interviews with other restaurants. She has a discouraging morning when she's turned away by several chefs, but at last one of them looks at her resume and gives her a job. She's startled — doesn't he want to test her out or audition her? The chef answers that it doesn't matter; there's such high traffic here that all the dishes are pretty much the same. Although she would be able to cook at this restaurant, she's not happy with this explanation, which is so different from the exacting standards at La Sfera.
This niggles at her, and finally she makes up her mind. She rushes to the restaurant in time to join the prospective cooks for their test.
The task is to cook a pasta dish using only the materials in particular ingredient box. This has some of the other cooks wilting in dismay, because they had practiced dishes that require elements that are not in the box. On the other hand, Yoo-kyung smiles — this is right up her alley.
The cooks are given a pan and a time limit, and afterward, they line up in the kitchen with their dishes. Hyun-wook is seated with a blindfold and awaits the tasting.
He waits for a long, tense moment before signaling the first dish. (The others wonder why he waits so long, but it's to ensure that there is cooling time, to test whether these cooks are aware of how to season appropriately to account for the temperature change.)
He eats one bite of the first dish, then moves on to the next. And the next. He goes through them methodically, though one dish he pushes away without even eating — he can tell that the consistency is all wrong. The next one he spits out.
His dissatisfaction intensifies the anxiety in the room, and finally, Yoo-kyung places her dish in front of him. He only takes one bite and shows no reaction, but for the first time, he speaks: "Who are you? From tomorrow, you'll work the frying pan. You start tomorrow."
Success!
Yoo-kyung is so excited that in a fit, she pulls off his blindfold, and Hyun-wook looks up at the winner.

COMMENTS
I'm still a little unsure about Pasta — it's entertaining and enjoyable, and I really I like the vibe. It's laid-back, but not so uneventful (like Triple) that it gets frustrating, and it gives its characters room to breathe without meandering too long without a plot. I think we're going to see each of the supporting cast members get their moments, and the kitchen staff has its quirky appeal. Ji-hoon in particular (of Team Italy) is very, very cute — like I said, he reminds me of a younger Lee Junki — and Philip won me over when he winked at Yoo-kyung, showing her that he supported her tenaciousness. The Team Italy guys also try to suggest to Hyun-wook that he's wrong about women, which is another point in their favor.
(I wonder about the salting issue — it didn't bother me, but it seems kind of basic. Wouldn't Ji-hoon have known this, having worked with Hyun-wook before? Even Yoo-kyung went to culinary school… Any cooks in the house want to weigh in on this? I do recall a recent Top Chef contestant having a salting problem when she had to use unfamiliar rock salt, and hadn't properly calculated for the time it took to melt in the dish. While she was cooking it wasn't bad, but by the time it was served, the rock salt had fully melted and everything was too salty. She was a highly respected classically trained cook, so I suppose it could be one of those issues.)
Gong Hyo-jin and Lee Seon-kyung continue to be endearing, but I wonder if they will be enough to carry the story for me. Their chemistry is adorable, but can't sustain another 12 episodes alone. Once she joins the kitchen, the conflict will probably shift to outside sources — i.e., I can see that we're shaping up for more Se-young action. However, although I think Alex and Honey Lee are both acting well in their roles, I don't like either of their characters. Se-young annoys me and is that exasperating type of person who smirks while jerking people around, so I usually find myself wishing her scenes end early — even though I love looking at Honey Lee. She is so gorgeous; too bad she got a dull role. San is more likable, but ain't no way he's going to be a satisfying challenger for Yoo-kyung's affections, so he's practically a nonentity at this point.
I enjoy breezy dramas with small stories, but I'm sorta in the mood for more meaty plots at the moment. I'll have to see how the next episode goes…
RELATED POSTS
Tags: Alex, Gong Hyo-jin, Honey Lee, Lee Seon-kyun, Pasta