Wish Upon a Star: Episodes 1-2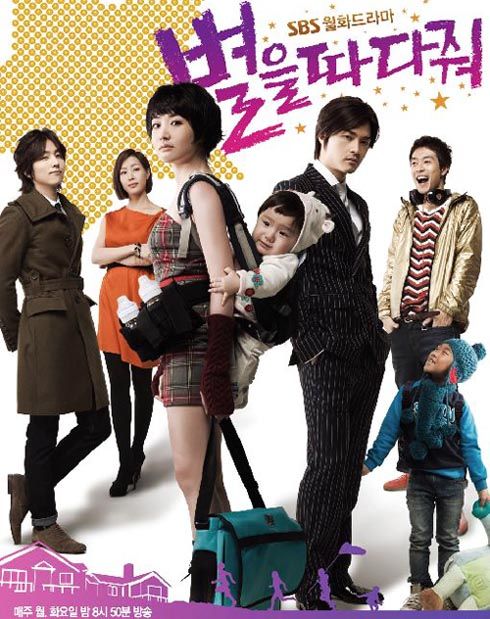 When writing up my first impressions of the new dramas, I had thought Wish Upon a Star would probably be put to the back burner quickly. I liked it, but it seemed pretty ordinary. But Episode 2 was a lot more interesting than Episode 1 and I find that the premise grows more entertaining (and complicated) than it first seemed, so I'm drawn along a little while longer. I still don't think this is going to be a stunning groundbreaker, but it's got a good heart, some funny setups, and is very easy to watch.
SONG OF THE DAY
Taru – "Slow Star" [ Download ]
Audio clip: Adobe Flash Player (version 9 or above) is required to play this audio clip. Download the latest version here. You also need to have JavaScript enabled in your browser.

CHARACTERS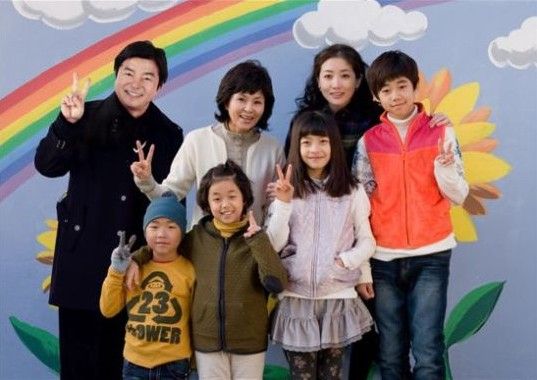 I wrote a general description of the characters in the first impressions post, so you can also refer to that.
JIN PAL-GANG (Choi Jung-won) is the eldest daughter to a loving, large-hearted couple. Her father (who is, as we later learn, her stepfather) runs a hospital that mostly helps the poor, and with his wife, they have adopted four (and a half) children. (I say "half" because the last isn't officially theirs yet; they're waiting to adopt the baby, who isn't pictured above.) Pal-gang is Mom's only biological child, and the joke is that she can't be adopted because why would they have chosen such an irresponsible, flighty thing like her? Despite the ribbing, the Jin household is clearly warm and loving, aside from the typical bickering that comes from a close family.
Pal-gang is 25 but her maturity level may as well be in the teens. She works at an insurance company, spends too much money on clothes and has gotten herself into credit card debt. While that's not too unusual for someone her age, she goes about things immaturely; rather than cutting her spending, she borrows money from friends and continues her spendthrift ways.
However, she justifies it because she believes that she can land her dream guy within the next month — she has been dangling after him for a while, but now she's going to go after him in earnest and seal the deal. So this is really an investment into getting him, right?
The man of her dreams is WON KANG-HA, the insurance company's lawyer. He's far from the perfect guy — he's cold, he's rude, he's snobby — but Pal-gang has built him up in her mind to be perfect. She dreams of him as an idealization more than as a person, so she isn't fazed when he dismisses her attempts to ingratiate herself to him. In fact, her bold behavior would be embarrassing if she had any shame, but she doesn't.

EPISODES 1-2
Pal-gang is a standard rank and file employee at JK Life Insurance, but harbors no great ambition about the work. Her closest co-worker friend is JIN-JU, a timid 39-year-old spinster who's the sensible one of the two, but is often a pushover for Pal-gang's more assertive personality. Jin-ju still lives with her parents and has been warned by her mother not to be friends with Pal-gang anymore, as Pal-gang has a habit of borrowing money from Jin-ju since her credit card was frozen. Without a feasible way of repaying her card debt, Pal-gang runs from the debt collector and strengthens her dream to land her lawyer prince.
She has a habit of loitering around Kang-ha and his younger brother, WON JUN-HA (Shin Dong-wook), the latter of whom also works at JK as a mid-level manager. Both brothers know that Pal-gang's efforts are in vain but they tend to ignore her; Kang-ha is cold, Jun-ha a little more friendly. Kang-ha's work requires him to defend the insurance company against claims by its policy holders, such as when a woman's husband dies, but he keeps his answers clinical and professional — he's just doing his job so emotions have nothing to do with it.
When Pal-gang overhears them discussing the need to hire a housekeeper, she jumps at the chance. She begs Jun-ha to let her take the job, which he is reluctant to do, not least because she's a fellow employee. That would be awkward. But Pal-gang assures him that she would be fantastic at the job, and he agrees with some misgivings.
Of course, this is really just her way of pursuing Kang-ha, since this would give her ample opportunity to be near him. In order to prepare for her first day that weekend, she heads over to the hair salon — breaking into her younger brother's piggy bank to pay for it.
Meanwhile, Pal-gang's father has a discussion with JUNG GOOK (Lee Soon-jae), who has taken the younger man under his wing. They've known each other for thirty years, and the old man is actually the chairman of JK. He's a common fixture around the Jin household, but they know him as a friendly grandpa rather than as the rich businessman he really is.
Chairman Jung is a man with a good heart, and he has been impressed with the doctor's dedication to his work, when he could have pursued a more lucrative career. (In fact, he seems to be a natural mentor figure, since he tries to talk to Kang-ha about going into public service as a prosecutor rather than a private company lawyer. Kang-ha answers that a man who isn't morally upright, such as himself, cannot pursue an upright career.)
The chairman reveals that he's been watching the doctor for years, and he has finally passed his "test." He wants to build a free hospital and put him in charge of it, using up all of his wealth to do so. When Pal-gang's father takes his wife out on a day vacation, he shows her the land and tells her about the chairman's wishes. But she is unnerved — because it sounds like she knows this man. In fact, his older son, now deceased, was Pal-gang's father. Dun dun dun! The plot thickens. (Pal-gang's father had promised to come back for her mother, but never did. When she sought him out, she heard he died in an accident. This means that Grandpa Jung doesn't know Pal-gang is his granddaughter.)
Now for the JK company cast. The man on the left is Chairman Jung's younger son (JUNG IN-GU), who has toiled his whole life for his father under the specter of his better, now-dead older brother. He's timid and nervous, but he can't take it anymore when his father reveals his plans for the hospital. How can Dad give away his inheritance to some stranger who isn't even related to them? How can he bypass his hardworking son who slaved for him his whole life? In an emotional confrontation, both men get worked up, and the chairman suffers a heart attack that lands him in the hospital, unconscious.
In-gu feels guilty and afraid, but his wife MIN-KYUNG is a formidable woman. She's calculating and frightening in a Lady Macbeth sort of way, and coolly counters all of her husband's conflicted wishes to do the right thing. She considers the chairman's collapse a good thing — it nullifies his hospital plans. She even tries to get their lawyer, Kang-ha, to reveal the chairman's will to her, but he refuses.
The Jins hear about the chairman's collapse and head to the hospital. Their presence endangers In-gu and Min-kyung's place in the family (and the inheritance), and puts them on edge. So it's a curious thing that when the two drive home from the hospital, they are tailed by a large truck, and then forcibly driven off the road. The car crashes into a ravine, and explodes.
With their parents suddenly dead, the children are left to fend for themselves. The younger siblings don't quite understand what's going on and cry for their parents to return, while the second-oldest, JU-HWANG (Park Ji-bin, another rising child actor) reacts by harshly telling his siblings that they're not coming back, they're dead. D-E-A-D!
Pal-gang is hit hard by the disaster, all trace of her former bubbly self gone. She sits in dazed shock throughout the funeral and remains unresponsive. It's such a huge blow that she cannot pull herself together; it's all too much to take in. She mumbles that she was a horrible daughter, that she was actually getting her hair done while her parents were dying, like a fool, because she wanted to look pretty for the lawyer. She's so hard on herself that her friends worry for her.
Things get worse when they come home from the funeral to find that they are being evicted from home. They don't understand how this can happen, but the man has an official notice showing that the home is going to be demolished. Their belongings are thrown out on the street and they have nowhere to go. (What they don't realize is that this is the work of Lady Macbeth — Min-kyung — who tells her husband that he shouldn't feel sorry for the family that was going to steal his inheritance.)
Even worse, it turns out that her parents' life insurance policy won't pay them a penny. Her mother had cashed out her policy early to help a poor woman get surgery, and now her generosity has shortchanged her own children. Pal-gang feels betrayed by her mother, then grits her teeth and vows that this makes them even for her being a thoughtless daughter. "I won't feel sorry anymore," she says, as she tries to pick up the pieces and figure out what to do.
Pal-gang's friend Jin-ju can't put them up because there's chaos in her own household. Pal-gang then tries to take her family from motel to motel, but they're kicked out when the baby, Nam (or Nami), keeps crying. She sells a few of her handbags and with less than $50 in her pocket, she takes them to a sauna, where at least they can spend the night.
But the situation is bad, and only growing worse with their meager funds dwindling. As a last resort, Pal-gang heads to a foster home, where she promises to only leave the baby for a few days. Without the baby, at least they'll be able to find a place to stay. It'll only be a few days, she promises.
But Ju-hwang is appalled and angry. How could she get rid of Nami like that? He accuses her of being selfish and wanting to get rid of them all. Is she going to leave them behind, too? Fine, he gets it — they're only her adopted siblings, it's not like they're blood related. He says fiercely, "Even if you abandon us, I won't abandon them." He orders his sobbing siblings to follow him to the foster home.
I think she does see them as "real" siblings (without that qualifier of "adopted") and she's busting her ass to try to keep them fed, so his words sting — but they probably also have a hint of truth, and she cries back defiantly that yeah, she's selfish! Yeah, she'd like to get rid of them all! But is this how their parents raised them? To rebel against her and turn her into the bad guy? Taking the baby back, she says that she can't see them disgrace their parents like this, "So I'm going to take you and make people out of you."
She takes everyone back to the sauna for one last night, and makes her decision, chopping off her hair in a symbolic gesture.
Back to the Won brothers for a moment. Kang-ha and Jun-ha live in a large house, with their 22-year-old nephew TAE-KYU (Lee Kyun). Tae-kyu is irresponsible and immature, and when he throws a party and gets caught, the brothers have enough of his antics. They're kicking him out. Tae-kyu protests and begs, offering to be their maid so they don't have to hire outside help, but they're not inclined to give him yet another chance.
Meanwhile, JUNG JAE-YOUNG arrives in Korea to mix things up with the love rectangle. She is the granddaughter to Chairman Jung and has grown up alongside the Wons, and has always had a crush on Kang-ha. The feelings aren't reciprocated, but she does have the affections of Jun-ha — which she doesn't reciprocate.
Pal-gang remembers her promise to be the new maid, and although she missed her first day, she asks Jun-ha for the position again. He first treats her coldly, but when she explains that she couldn't make it because of her parents' funeral, he softens and relents.
And so, Pal-gang decides that this is their last shot. She will have to sneak her brothers and sisters into the household to ensure a roof over their heads, and they must remain absolutely silent so they're not discovered. She manages to sneak in three of them in boxes, but the baby can't come until late at night after he's fallen asleep, so she leaves second-eldest Ju-hwang in charge. They'll sneak him in at night.
She gets them indoors fine, which is aided by the fact that Tae-kyu is the only one home. However, he haaaaaates the sight of Pal-gang, because her very presence endangers his in this house. He thinks that if he can get rid of her, he can stay. Until then, however, he is forced to give up his old room.
Pal-gang is puzzled at his antagonism, but she quickly asserts herself and handles him just fine. It helps that he's not the most quick-witted, and also, his credit ain't so good with the brothers right now so they ignore his complaints about the new housekeeper, figuring he's just being a brat.
Kang-ha is NOT pleased to see her, and orders her out immediately. Jun-ha had made the decision without letting him know who he was hiring, moved by pity. Jun-ha prods his brother to give her a shot, and gives Pal-gang tips on how to satisfy Kang-ha's super-picky demands. They come to a semi-compromise: the moment he is dissatisfied with her, she's out.
At least for the moment, the kids are fed and housed. It'll be a challenge, but as she meets Ju-hwang outside that night (bringing a sleeping Nami back), she tells him, "If we're kicked out of this house, it's all over for us."

COMMENTS
Episode 2 was a lot better than Episode 1, which was really just an extended setup. The second episode is really the one that sets the tone for the rest of the series, as Pal-gang enters the household and gets her wild last-ditch scheme going.
I was skeptical to see how the feel-good drama could kill off her parents and recover its upbeat tone right away, but I think they did a decent job of it. They had that moment showing Pal-gang deciding to stop feeling sorry (for herself) and deciding to get on with it, which helped a little. She recognizes that she was a silly fool and admits that she'd lived a pretty carefree, irresponsible life. But I like that she doesn't wallow in self-recriminations for too long; she's got five mouths to feed. Six including herself.
That's part of the fun; we get to watch her try to make her way in the world, and there's enough sadness to be touching, but it's not drowning in misery. For instance, after they're kicked out of the house, a neighborhood ajumma wants to help but she can't give them money, so she gives Pal-gang two tins of powdered infant formula. At the sauna, a careless man kicks over the tin and scatters a good amount of the formula, and Pal-gang rushes to gather up the precious powder. But an ajumma worker chides her — you can't feed the baby dirty formula — and throws it away, while Pal-gang looks after it desperately. The emotion is there and it's this kind of hardship that turns the viewer around from disdaining Pal-gang into feeling for her and hoping she'll succeed.
I know the symbolic hair-cutting scene is a pretty familiar one so it doesn't get points for originality, but it is still a nice way to show her turning point. With money running out and no other options, she decides to put the kids first, and the hair-cutting is a nice way of tying in the earlier scene when she stole her sibling's allowance money to get her hair done. Her days of vanity are over, and as Pal-gang cuts her own hair, she tells herself resolutely, "You're not a woman anymore. You're just… a mother."
When she enters the Won brothers' house, she guesses that Kang-ha's opposition is because she had been fawning over him so much. She assures him that if he suspects her of having ulterior motives, he can rest easy. She is here only to be his housekeeper, and has no other thoughts. I wonder if her crush will be renewed upon their proximity in the house, but I'm actually hoping not. It would be really interesting — and more compelling, in my opinion — if she keeps her head down and shows no interest in him, and HE'S the one left dealing with growing romantic attraction.
As for the premise of her sneaking the kids to live at the house? It's insane, and ridiculous, and therefore I kinda love it. If she were merely bringing herself to the house, I'd gripe that we've seen this all before (like with Last Scandal), but with the added burden of five hidden kids? It's like Bad Family meets Anne Frank meets Full House and how can you not dig that, right? Plus, Lee Kyun is hilarious as the displaced nephew — and can I just say, it's great seeing him back from the army! (He did his service a little earlier than most entertainers, and I last saw him in Dasepo Naughty Girls and vampire sitcom Hello Franceska.) Funny that he's only a year younger than Kim Ji-hoon and the same age as Shin Dong-wook, but his feckless character is 11 and 8 years younger than their characters, respectively.
I'm pretty certain I won't be continuing recaps with this drama, and the reason is that this seems like one of those shows that is a lot of fun if you watch with your finger on the fast-forward button. If I recap, I have to watch every moment closely, and if I did that with Wish Upon A Star I think I'd be likely to grow tired of it and drop it. I do want to continue seeing how things progress, and if I watch casually, I'll have a better chance at making it through the end.

RELATED POSTS
Tags: Choi Jung-won, first episodes, Kim Ji-hoon, Lee Kyun, Shin Dong-wook, Wish Upon a Star