Wish Upon a Star: Episodes 3-4
I know, I know. When I recapped Episodes 1 & 2, I said that I was done recapping Wish Upon a Star. My reason was that while the drama was fun, it's a light watch that might be better enjoyed with the freedom to fast-forward and skip at points. However, a little unexpectedly, Episodes 3 & 4 were so winning that I felt compelled to share. I still don't think I'll continue recaps, but consider this a few more reasons why you might want to check out the drama.
Also: Shin Dong-wook is so likable. It's mostly because he lucked out with a great (too-perfect) character (and it'll suck that he's the second lead who probably won't get his girl), but he's totally got the nice-guy charm going in his favor.
SONG OF THE DAY
Wheesung – "눈물 쏟고 또 쏟고" (Shedding tears and more tears). A song about constant crying that sounds upbeat and happy? Yep, seemed appropriate. [ Download ]
Audio clip: Adobe Flash Player (version 9 or above) is required to play this audio clip. Download the latest version here. You also need to have JavaScript enabled in your browser.

EPISODES 3-4
With the entire Jin brood secretly living in the basement room at the Won brothers' house, the first problem they encounter is keeping baby Nam quiet. Naturally he's going to cry, so Pal-gang has to think fast to cover their butts. Going outside, she complains that it's difficult to sleep with that noise — does their neighborhood have a lot of stray cats? The guys furrow their brows — there aren't a lot of stray cats around — but then the sound stops, so they let it slide.
Breakfast is a different matter. Despite her best efforts, Pal-gang wakes too late to make a proper breakfast. Thinking fast, she dumps out the entire container of uncooked rice and hides it; she then tells Kang-ha apologetically that she was fully intending to cook breakfast, but they had no rice. Will cereal suffice?
Lucky for her, an easy scapegoat is at hand: Jun-ha immediately assumes that irresponsible nephew Tae-kyu used the rice money he'd been given to buy alcohol instead. Tae-kyu protests — he swears he bought rice last week! — but it doesn't help that he's currently hungover.
Pal-gang leaves the kids at home with instructions to cook themselves breakfast when Tae-kyu leaves (whom everyone including the Won brothers calls "ddorai," which means "crazy" or "wacko"). Unfortunately, Tae-kyu doesn't leave — he spends all morning playing video games, which means the kids can't leave the room to eat or to go to the bathroom.
Eldest Ju-hwang has to use the bathroom, and takes advantage of Tae-kyu's distraction when the doorbell rings, slipping out to run to the toilet. Too bad Tae-kyu returns before he's done and tries to use the bathroom himself — but the door is locked. Thankfully, Tae-kyu's not too bright and he assumes the lock is being temperamental. (The house has two bathrooms, but the one upstairs is strictly for Kang-ha, no exceptions.)
Middle child Cho-rok thinks fast. She grabs her shoes and goes to the front door, where she calls out for Tae-kyu's attention, pretending to be a neighborhood girl whose toy is stuck on the roof. She drags him away from the bathroom door and outside, allowing her brother the chance to escape from the bathroom.
However, this means that Cho-rok is now locked out of the house, and it's freezing cold. She huddles outside, shivering, hoping her siblings will be able to let her in soon. Finally, she can't take it and calls Pal-gang from a pay phone, but she doesn't want to worry her sister. So she just says she came outside because the house was stifling. Cho-rok says it's nothing to worry about, all while choking back her sobs. But afterward, she cries to herself, begging her sister to hurry up and make money so they can move into their own house where they won't have to hide.
Keeping baby Nam at home is too risky with Tae-kyu hanging around, so Pal-gang has taken him to work with her. Her two friends, Jin-ju and the cleaning lady Eun-mal help her by taking turns watching the baby in the bathroom.
On one hand, at least Pal-gang can take Nam along when she is sent out on assignments to sign up prospective members for insurance plans. But on the other hand, Nam can be a distraction and she's already struggling to do her job properly.
When Pal-gang gets home that night, her siblings are starving — Tae-kyu never left, so they couldn't leave the room to eat. This fills her with guilt, particularly when Ju-hwang tells the kids to sleep early in order to forget about their hunger pangs. She goes out to make a batch of food for them.
A slight hiccup arises that night when second-youngest brother Pa-rang starts sleepwalking, and ambles right past Tae-kyu. Pal-gang neutralizes the situation by knocking him out with a swift blow to the head, and tells the Won brothers that wacko's passed out and acting funny. Again, it's a lucky thing for the Jin family that Tae-kyu immediately jumps to the conclusion that he's seeing ghosts. Naturally, Kang-ha and Jun-ha think he's just drunk. Again.
The siblings take a moment to reinforce Tae-kyu's fear that night: they dress No-rang up in a sheet and smear ketchup on her face. She wanders into Tae-kyu's room and wakes him up from his drunken sleep. This convinces Tae-kyu that he must be going crazy.
The next morning, Pal-gang is determined to make breakfast properly and therefore goes to the kitchen at 3am… but falls asleep. When Jun-ha wakes her up, it's already past 7am and again too late to begin cooking breakfast. She freaks out, fretting that she'd been so determined not to mess up today, that Jun-ha starts to take pity on her.
When she makes the excuse to Kang-ha that she tried to make breakfast but found that the gas wasn't working, Jun-ha covers for her; he chimes in and berates Tae-kyu for not paying the bill. I'm not sure that Kang-ha believes this, but at least he lets it go.
Poor Tae-kyu — not only is he being unfairly blamed for mistakes he didn't make, he thinks he's going crazy and hallucinating. Miserable, he decides to get a mental evaluation at the hospital. Since this is largely her doing, Pal-gang tells him he'll be fine — he probably just needs to get out of the house more. If he gets fresh air, he'll probably be able to contain his hallucinations.
Tae-kyu is so relieved to hear a kind word that he looks at her in a new light. Grabbing her hand, he goes from calling her "noona" to calling her "jagi" — a term of endearment one might call a girlfriend. He had a feeling she might be his fateful match!
Today, Ju-hwang convinces Pal-gang to leave the baby at home; it's too risky taking him to work all the time. With Tae-kyu out of the house, at least they'll be better off than they were yesterday.
Unfortunately, they have a new, more pressing problem: they're out of baby formula. Nam cries and cries, and the girls try to substitute real milk, but are unsuccessful. Pal-gang is aware of the formula shortage but is out of money, and asks her friends if they have any cash. They don't (Jin-ju's mother confiscated her credit cards), so she's left to wrestle with the problem. At the last moment, Jin-ju comes through with a solution: she was able to steal some formula from her sister-in-law. Pal-gang thanks her profusely and heads home.
However, Ju-hwang has felt the burden of being the eldest hyung and has resorted to desperate measures. He heads out to steal some formula at a local convenience store — and gets caught.
Worse yet, he's caught by the store owner and another customer, who turns out to be Jun-ha. The store owner is not inclined to let him off easy and demands to know who he is.
This is when Pal-gang comes by and recognizes her brother, rushing to defend him. She belatedly realizes that the other person is Jun-ha, and finds herself conflicted about how to answer his question — who is the boy and what is their relationship?
Head bowed, Pal-gang admits, "He's… my brother." Ju-hwang looks at her in dismay, understanding that this means the gig is up, and they're likely doomed.
Brother and sister expect Jun-ha to rail angrily and kick them out immediately, so they're surprised at how nice he is. Hearing that she was forced to sneak her sibling in after her parents died, he sees that she really was telling the truth when she said she wasn't taking the maid position to get close to Kang-ha. (He had assumed she'd been lying.)
He buys them hamburgers, guessing that the reason Ju-hwang was stealing was because he was so hungry. Pal-gang begs Jun-ha to keep this from Kang-ha — it'll only be for a short while, until she can get them to their own place.
This good luck does not hold, however, because No-rang is caught by Kang-ha himself. She had whipped up a batch of porridge to take to the baby, and had come face to face with Kang-ha. She drops the hot pot on her foot just as the others arrive home.
Now two siblings have been discovered. Jun-ha accepts this with grace, while Kang-ha glares. Tae-kyu, on the other hand, is happy — the hospital deemed him to be sane, and now the kids' presence explains the nighttime "ghosts." Plus, he's nursing a crush on Pal-gang, so he eagerly jumps to her defense.
As with Cho-rok earlier, what's heartbreaking about No-rang's reaction is that she's worried more for her siblings than herself. They treat the mild burn on her foot and ask her if she's hurting — it's obvious she must be in pain — but No-rang insists it doesn't hurt and begs for them not to kick her out.
Moved by sympathy, Jun-ha wants to let this go, but Kang-ha is furious. The three men talk amongst themselves, with Jun-ha and Tae-kyu trying to persuade a cold Kang-ha to let them stay. Jun-ha argues, "How desperate must she have been to hide them in our house?"
Despite Kang-ha's opposition, Jun-ha is able to convince him to agree to let them stay — but they must take care to keep the kids out of Kang-ha's sight, so that he doesn't even know that they're living there.
Despite being caught, the family is relieved that the younger three children were able to remain hidden. Pa-rang had wanted to show himself while the luck was running in their favor, but older Cho-rok had insisted that they remain hidden: two smuggled kids is nowhere near as bad as five.
The next morning, Pal-gang makes breakfast as promised, with rice and side dishes. The cooking itself, however, leaves a lot to be desired. In a really cute moment, Tae-kyu voluntarily takes the blame to divert Kang-ha's dissatisfaction away from Pal-gang, earning him a thankful smile. Even when Jun-ha shows his dissatisfaction with the subpar meal, he still defends Pal-gang to Kang-ha, making excuses for her.
The kids realize that the idea of their sister being an effective housekeeper is ludicrous — she can't cook or clean or do any of the necessary chores — and decide to pitch in. They clean, cook, and do the ironing… which soon gets out of their control. Cho-rok accidentally cuts herself while chopping vegetables, and No-rang forgets the iron and burns Kang-ha's shirt. Young Pa-rang is left with the baby, who hits his head and gets a cut.
Kang-ha pitches a fit when he discovers that someone's been using his computer. It was Pal-gang, who used it to look up a few recipes while cleaning in his room. He rebukes her harshly for daring to touch his belongings.
Making matters worse, that night Pa-rang sleepwalks again, and this time, Kang-ha sees him. Oops. He rounds up the family, fuming at discovering yet one more hidden sibling.
He's so sharp that he catches on to the pattern of their names — from oldest to youngest, they are Red, Orange, Yellow, and Blue. Pointing to the youngest (Pa-rang), he asks, "Going in order, shouldn't his name be Cho-rok (Green)?" Pal-gang thinks up an explanation that might make sense: "Uh, about that. He's a boy, so they must have felt it was a little odd to name him Cho-rok."
Kang-ha counters, "No. Ju-hwang (Orange) is just as unsuited for being a boy's name, isn't it?" He heads toward the basement room to check if they're hiding another kid, and Pal-gang rushes to block him. Realizing the game is up, she hangs her head and admits, "I'm sorry. There is a Cho-rok."
Kang-ha orders them to leave within a week.
Again, Jun-ha and Tae-kyu plead with Kang-ha to show some mercy, to give her some extra time to find a place. Jun-ha: "Telling them to leave in a week is like telling them to freeze and die."
But Kang-ha remains unmoved, and sticks to his dictate.
As Pal-gang continues with her cleaning chores, she worries aloud, addressing her mother:
Pal-gang: "You hit me every day for not knowing how to do anything. You should have hit me harder, so I would come to my senses, so I would know how to do something. You made a mistake too, so please help me somehow. Help me make him think, 'Ah, at least it's better to have her around than not.'"
From outside the room, Jun-ha hears her crying to herself, and I think Shin Dong-wook has earned his hero shot, hasn't he?
Jin-ju and Eun-mal brainstorm ways to help Pal-gang, while she sits in a defeated, listless state, wondering how much money she could get for a kidney. The two women protest violently — harming herself is the quickest way to condemn those kids to a miserable life, because she needs to be healthy to care for them.
Pal-gang asks, "Then what else could I sell?" Her smile freaks her friends out, who would rather she cried. She replies, "I'm so scared I can't even cry."
Both brothers are pretty smart, so it's not long before they put the clues together and realize that there's one more kid being hidden — the baby Nam (which means Navy). When Jun-ha confronts her, she says that there's relief in being found out — at least now when he cries, they don't have to block his mouth.
That means they can stop hiding around the house, too. When the brothers arrive home at night, the kids are all helping Pal-gang with her chores. Kang-ha glares, and Jun-ha chides her — she should be careful and keep the kids out of sight where they won't pique Kang-ha's temper. Who knows, if he's kept in a good mood, he might change his mind.
But Pal-gang is resigned, since she knows he's not the type to change his mind. She chased after him for five years, but even though she'd introduced herself every time they met, he still didn't know her name.
Pal-gang: "No, from the start there wasn't even a 1% chance for me. When I brought the children and came to live in this house, I got rid of all the feelings I had carried for him. And after spending a few days like this, I regretted it, thinking, 'Why did I waste five years acting so stupid?'"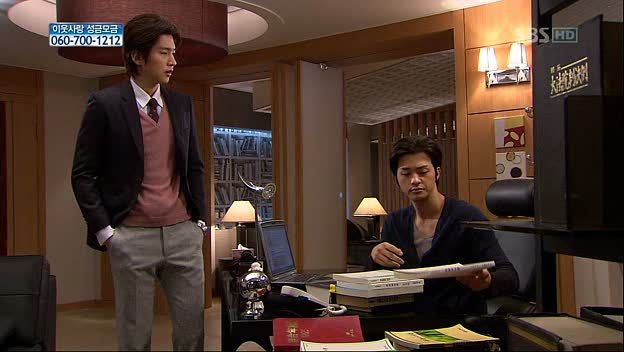 This gets Jun-ha even angrier with his brother — Pal-gang liked him for five years, so shouldn't the courtesy be to give her at least five months? "Even if just out of gratitude for liking a frozen man like you!"
Kang-ha answers, "That's all the more reason not to. Don't let her dream false dreams, because that's the worst thing for her."
Tae-kyu is, adorably, crushed to learn that Pal-gang had liked Kang-ha. It's sweet (in a twisted way?) that he likes her enough to tell her to go after Kang-ha — if she throws herself at him and seduces him, she can demand that he "take responsibility" for her.
She won't do that, though. When he asks if she has anywhere to go, she answers calmly, "The street."
Kang-ha isn't a complete lost cause, however. The next day, he and Jae-young (the chaebol granddaughter who likes him) are heading out to lunch when they see a commotion in the lobby. Pal-gang had brought Nam to work because she wanted to take him to the hospital later (for his head bruise), and the cleaning lady Eun-mal had gotten caught babysitting him in the bathroom. The manager fires her, at which point Pal-gang jumps in to take the blame — it's her brother.
Jae-young is greatly offended at one of her employees daring to be so disrespectful, and orders Pal-gang fired. Kang-ha doesn't interfere, but he doesn't seem happy about this situation, and even snaps at Jae-young.
With only six days until they're kicked onto the streets, Pal-gang looks for another job, and heads out that night to a part-time gig cleaning saunas. She assures her siblings that she'll be fine working late; they have to make as much money as possible to pay for motel fees.
But when she gets to the job, it's not at a sauna — it's at a bar. Pal-gang introduces herself as the new bar girl, Mimi.

OTHER PLOTLINES
The main reason I'm resisting jumping fully onboard with Wish Upon a Star is that everybody in the rich chaebol family bores me to tears. Pal-gang and her siblings are lovable and heartwarming (as well as heartbreaking at times), but I can't keep my interest engaged whenever the story shifts to the Jung family. So here's the stuff in a nutshell:
Jae-young loves Kang-ha, who is not interested. He is so uninterested that he speaks to her coldly to push her away, going so far as to call a romance between them "incestuous" because that's how he sees her. On the other hand, Jun-ha suffers from being the other guy, the one who loves Jae-young but isn't loved back.
Jae-young's mother, Lady Macbethian Min-kyung, is opposed to her daughter's insistence on marrying Kang-ha. She foresees an unhappy future if she marries with such a cold man who may not even love her back.
The brothers have a generally good relationship, inasmuch as Kang-ha puts up with Jun-ha more than he does with anyone else. The only time Jun-ha's bitterness comes out is when Jae-young is concerned. When Kang-ha suggests that Jun-ha date Jae-young instead, Jun-ha scoffs that he's never taken anything from his brother. (Kang-ha agrees, saying to himself, "Yeah, I was always the one stealing things from you.")
There's the suggestion that Kang-ha has some unresolved relationship issues, because he sees a woman in the street, and from the back, he thinks he recognizes her. He rushes to catch up with her, and is dismayed when it's not the person he was expecting.
Lastly, a flashback scene shows Grandpa/Chairman Jung asking Kang-ha to help him with his dream, which Kang-ha had flatly declined. The scenes between these two are the only indication that Kang-ha has more going on below the surface, and even his refusal here isn't because he's selfish, but because he believes that a person like him wouldn't do the old man's dreams any good. Kang-ha seems to believe he's a bad person, and doesn't want to sully the life of someone he respects.
And then, Grandpa wakes up, but his memory is weird — he asks for his son (Pal-gang's father), who is dead. Amnesia?

COMMENTS
I don't really love stories where two brothers fall for the same girl — it's too much mixing family and romance — but so far, Shin Dong-wook is definitely the guy to root for. He's probably going to turn out to be that guy who is always nice to the girl but who gets trampled on, and if I were holding this drama to higher standards, I'd probably complain that he's too perfect.
I feel like it's My Love Patzzi all over again when I'm rooting for the wrong guy, but I'm fully prepared to accept Kang-ha's turnaround when it comes later. It's just that for now, Jun-ha's where it's at, yo! And come on — how sexy is he as the hurting, bitter drunk?
I love Pal-gang's turnaround from the flighty, selfish thing she was in Episode 1, because we get to see her grow, stumbling her way into being an adult. She fumbles through her new responsibilities, and it's amusing to see what clever ways she'll come up with to get out of sticky situations.
Her relationship with Tae-kyu takes an unexpected turn when he turns from antagonist to admirer, but it's hilarious. He's mostly used for comic relief and his crush on Pal-gang happens rather suddenly, but I don't mind that because Lee Kyun is adorable. The swiftness of his crush also adds to the comic effect, and I enjoy the fact that she has both younger men in the house on her side — so it's really eight against one. Kang-ha is so outnumbered.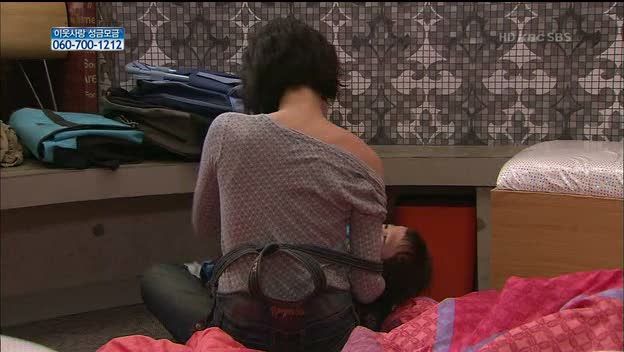 However, by and large, the heart of this drama is in the sibling relationships. Cho-rok's crying out in the cold is particularly heart-tugging, as is No-rang's breakdown when she's caught, because these kids are shouldering burdens way too big for their little shoulders. They should be carefree kids, not worrying about where to get their next meal or what to do when they're kicked out onto the streets.
And you have to give Pal-gang credit for trying. She's not skilled and she doesn't have a lot of options, but she's trying her damnedest. Take, for instance, the above screencap: the kids say that Nam cries because he's used to suckling when he goes to sleep, so she lets him suckle. There's also the scene when she has to sit through a company dinner, and the co-workers urge her to help herself to the meat (which she usually loves). Today, she has difficulty eating, knowing that her siblings are hungry at home. This situation is not her fault, but she definitely feels guilty at not being able to provide for her family. Although we know that the Won brothers (probably) won't kick Pal-gang and her siblings out into the cold, we still feel their desperation, and their acts of sacrifice carry a lot of poignance.
This family bonding extends to her friends, who have fully embraced this as "our" problem, not just Pal-gang's. They try to think up ways to scrape together cash, and I gave Jin-ju serious points for stealing formula from her sister-in-law. This kind of banding together in crisis gives the drama its heartwarming charm.
On a story level, I like that secrets are rarely secrets for long, because it keeps the plot moving quickly. Now that the kids have all been discovered, where will the story go?

RELATED POSTS
Tags: Choi Jung-won, Kim Ji-hoon, Lee Kyun, Shin Dong-wook, Wish Upon a Star