Choi Jin-shil's brother Choi Jin-young commits suicide
OH NO.
Only a year and a half after his older sister committed suicide, now actor-singer Choi Jin-young has been discovered dead after taking his own life on the morning of March 29.
Choi Jin-young's body is currently in the funeral hall of a Kangnam hospital in Seoul. A rep from his side said on the afternoon of the 29th, "We heard the sudden sad news from his family. We heard that he has passed away, but we were not told the details. We are stricken with grief."
Much-beloved actress Choi Jin-shil's death rocked the industry when she committed suicide after battling depression in October 2008. Her mental anguish was aggravated by the constant malicious harassment of a netizen who accused Choi of contributing to the suicide of her friend, fellow actor Ahn Jae-hwan, just a month prior. Those two deaths were the first in a series of celebrity suicides that followed (many of those celebrities were said to be battling depression as well).
After her death, an ugly custody battle unfolded between her family (Jin-young and their mother) and her ex-husband, former baseball player (and deadbeat dad and abusive husband) Jo Sung-min, who eventually relinquished his claim after massive public outcry. Her two children were being raised by Jin-young and their grandmother, and Jin-young had taken on a fatherly role to them. He was even planning on making an acting comeback — he announced plans to return to television just earlier this month. He had announced, "I've got to earn a living and start acting again for the sake of my niece and nephew. I'll have to show them in person what kind of work their uncle does."
Choi Jin-young battled depression of his own, and sank into a prolonged spell following his sister's death. It is believed that he died by hanging; his mother discovered his body at home and police were called on Monday afternoon. Choi was 39.
Below, he is pictured with his sister's two children.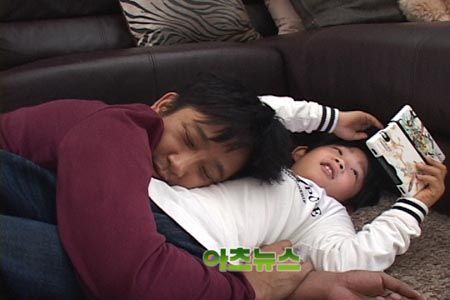 Via DongA, Star News, Asia Economy
RELATED POSTS
Tags: Choi Jin-shil, Choi Jin-young, deaths