Jack-of-all-trades Gu Hye-sun's secret: "I'm a workaholic"
Gu Hye-sun hasn't been acting for the past year, and is currently wrapping up work on her first feature film. (She made her directorial debut with a short film last year.) Here's a recent interview where she talks about her myriad artistic interests and how these different pursuits culminate with her film.
Jack of all trades Gu Hye-sun's secret: "I'm a workaholic. If I don't work, I feel uneasy"

The entertainment industry's "Renaissance girl," director-actor-songwriter-writer… Gu Hye-sun

"Gu-onardo Da Vinci."

He was a "Renaissance man" specializing in many diverse fields, from medicine to science, art, and architecture. Leonardo da Vinci is the name Gu Hye-sun alludes to. Attached in front of her name are many modifiers. Actor, film director, writer, songwriter — she covers many genres in popular culture.
She played the part of Geum Jan-di in the 2009 drama Boys Before Flowers, published the novel Tango, released an album with Japanese New Age musician Asao Sasaki. The short film she directed in 2008, The Madonna, has been invited to various international film festivals, and she recently went to Japan's Yubari International Fantastic Film Festival as a director. I met with this multi-talented "Renaissance girl," Gu Hye-sun.

Wearing a yellow sweater that felt of spring, she is busy these days in the latter stages of production for her first feature film as director, Magic [요술].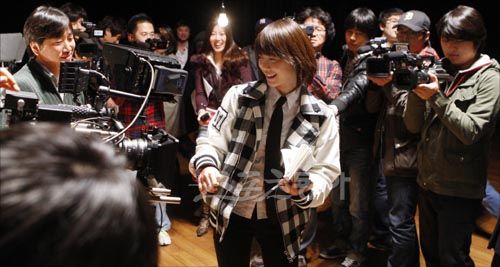 "I draw with ballpoint pen, which doesn't allow corrections… even if you make a mistake, I consider it a new style"
"There are a lot of things you do. What do you want to be called?"

[Thinking for a moment] "Someone who lives diligently? I don't know either what I should be called. I'm careful about it. I've just got a lot of interests."

What kind of reviews would make you feel good?

"I like hearing 'She works hard.' I also like hearing 'When does she find time to sleep?' I think I'm a workaholic. If I'm not doing anything, I can't stay still because I feel uneasy and think, 'Am I a useless person?' At home I help with the housework, and I train the five dogs I'm raising."


Actually, it isn't that Gu Hye-sun has belatedly revealed her hidden talents recently. It's probably that she was born like this. When she was young, she liked drawing pictures and writing, and liked to show other people. She made her own children's songs and sang them. To borrow her words, "While drawing, music would come to me, and when I was working on music, pictures would come to me." In her first year of high school in 1997, she won first place in a national drawing contest.


You like to draw with ballpoint pen, which is unusual.

"Paints are expensive, and I've gotten used to drawing with ballpoint pen since I was young. If I drew with pencil I kept erasing, so I used pen so I couldn't fix it. Even if it didn't come out like I wanted it initially, I kept drawing thinking it was a new style."

You sought out SM Entertainment wanting to be a singer.

"At the time, it wasn't that I had a clear picture of what life I wanted. It was a vague desire. And I liked not going to school. Rather than studying in school, I liked learning through experiencing things first. I liked practicing rather than cramming."

Did you hate school that much?

"I think I lost the excitement for school in the first year of high school. I thought, 'Where will I use all this math?' and couldn't get excited about studying. Plus I was young, so I had that dislike of school."


Gu Hye-sun says that the time she studied hardest was in her first semester of her first year at Seoul Women's University's broadcast and entertainment department. At the time, she thought of her parents' opposition to entering the arts department, so she decided not to give them the burden of tuition and received a scholarship. In the department she made first place, but starting in the second semester she dropped out to appear in the MBC sitcom Nonstop 5.


But don't you still need education?

"If I were born to a rich family and could do anything I wanted, I would have gotten locked up in my thoughts. While creating things freely on my own, I think that's possible. I would definitely have been antagonistic toward those who received established education. When I first directed a movie, the words I heard most were 'You can't do that.'

"But I often responded, 'Why can't I? I can just do it.' So the staff of The Madonna laughed a lot to see how I did things. In the end some things came out strangely, but now the staff thinks, 'You can just do it.'"
What gave you the opportunity to direct?

"When I was appearing in MBC's Nonstop 5, I thought it would help me in my acting so I decided to try it. In the process of finding a character that suited me, I ended up writing the script. Then I'd rehearse that script. Through that process, directing came naturally."

You're 27 now. Aren't you young to be directing?

"I went to Japan for the Yubari International Film Festival at the end of February, and someone three years younger than me won a prize. The staff of this film, Magic, are mostly younger than me."

Last year's Boys Before Flowers was a big deal.

"I deliberated a lot after receiving the offer. Because I had a bright image, I deliberately picked a sageuk. [King and I] I'd finally made a serious image for myself, so I worried a lot about going back to playing a bright young girl. I decided to do it because the director really wanted me to."

You received some reviews that your sageuk acting was awkward.

"At the time, I wanted to try an older role, like a young child wanting to imitate an adult."

You got your start as an uljjang, and there were prejudices regarding that.

"In any case, I think being an uljjang had a lot of advantages. I entered the industry relatively easily. I worried at first that it would be an obstacle in my career, but it helped."

Are you going to continue working in different areas?

"The conclusion to all these various things is this movie. Looking back, all these things — music, novel, drawing — were for the benefit of the film. A film is a composite artwork, isn't it? But I consider the most important aspects in a movie the music and the art. I put everything in the hands of mise en scene."

Who is Gu Hye-sun?

She was born on November 9, 1984. While preparing to be a singer, she shifted to acting at the advice of YG Entertainment's director Yang Hyun-seok in 2003. Debuted with Kim Yoon-seok in the 2004 KBS Drama City program Anagram (2004), which was directed by IRIS's Kim Kyu-tae. Success came with MBC sitcom Nonstop 5. Appeared in subsequent dramas Pure 19, King and I, and Strongest Chil-woo. Rose to stardom in 2009's Boys Before Flowers. Aside from acting, she debuted as a director in the 2008 short film The Madonna, and released an album and novel in 2009.
Via DongA
RELATED POSTS
Tags: directors, Gu Hye-sun, interviews