Lee Min-ho holds birthday fanmeeting
Lee Min-ho turns 23 on June 22, and to celebrate the event, the rising star held a fanmeeting on the 20th. The event was also in conjunction with the second anniversary of his fan club "Minoz"; titled A Special Day With Min-ho, the gathering was open to 4,500 of his fans.
The fanmeeting was attended by a contingent of overseas fans who flew in from Japan, Taiwan, Thailand, and China. A number of Lee Min-ho's star friends and co-stars also appeared, such as Jung Il-woo, Kim Bum, and Younha, and the day was hosted by comedian Yoon Hyung-bin.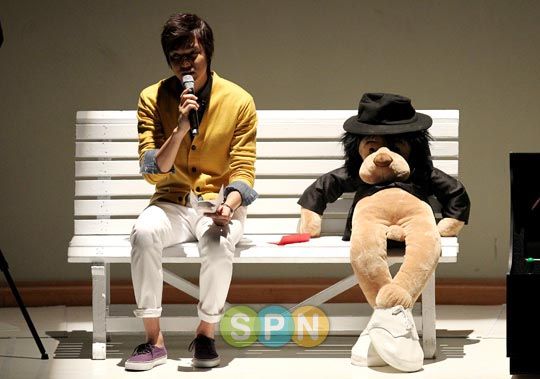 First off, can I just say that I love that he has a near-life-size version of his Jin-ho doll? The stuffed animal from his last drama Personal Taste didn't take off like the pig-rabbit or the Samsoon pig dolls, but it was a cute part of the drama (Sohn Ye-jin often used him as a punching bag for airing out her grievances with his character).
Asked what his most-wanted birthday present was, he answered, "a girlfriend." He added, "I'd like a person I can travel with on quiet trips." (Talk about a fanservicey answer, huh? Then again, considering he's in the presence of nearly five thousand rabid fangirls, it's also probably the wisest answer.)
He sang two songs for his fans, who asked if he has any desire to make a singing debut. he answered, "I have the desire, but not the skill." (As you may recall, he recorded a song for the Boys Before Flowers "F4 Special" called "My Everything." Here's a live performance of the song, which is surprisingly good.)
Lee Min-ho has now had two leading roles in drama series, Boys Before Flowers in 2009 and Personal Taste this year. The former was a pan-Asian hit; the latter was less successful, but when's all said and done I'd contend that Lee still benefited from the role, and he drew a lot of praise for it. You could also reasonably argue that the drama would have been a (bigger) flop without him. (Sohn Ye-jin was wonderful in it, but her career didn't hinge on the drama the way his did.) He expressed his wish to act in a movie as well, saying, "If the role is grounded in logic and shows an appealing character, I'm ready to do it anytime."
My own affection for Lee Min-ho is rooted in his mix of bashfulness and charm — and how his personal dorkiness is a stark contrast to the characters he has played, who have been cool, commanding, and haughty. The minute he drops character, he's this kinda-bumbling boy, and it's adorable. (I mean, just look! He's wearing a bowtie like his mother dressed him thinking he's still ten! If he weren't so good-looking, he'd never be cool, lol. But that's why I like him.) It also further highlights his skill in jumping into character, and while I think he's got tons of growth ahead of him as an actor, I also think he's got a lot of talent that exceeds his as-yet-limited experience.
Lee Min-ho's close friend Jung Il-woo and previous co-star Kim Bum were special guests, as were his Personal Taste co-stars Jung Sung-hwa (who played Sang-jun) and 2AM's Im Seul-ong. In addition, singer Younha sang her song from the Personal Taste OST.
Via Sports Khan
RELATED POSTS
Tags: fanmeetings, Lee Min-ho