Daemul claims top ratings spot over Runaway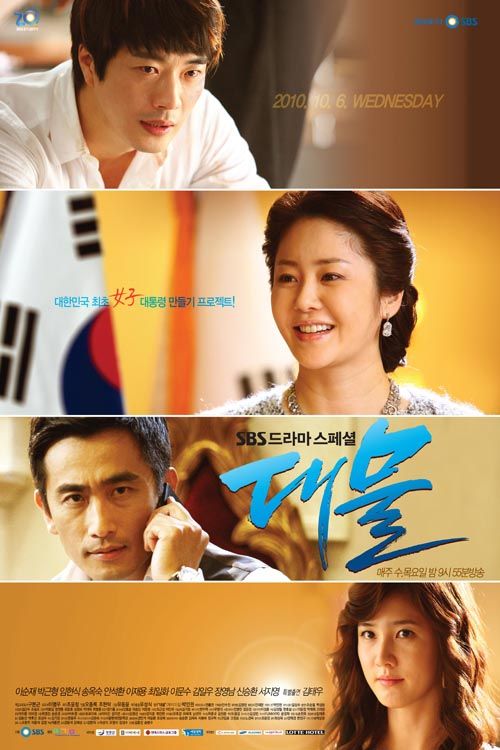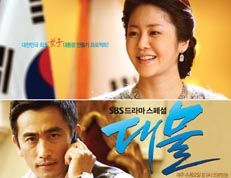 SBS's Daemul premiered strong this Wednesday, and has shot to first place in the ratings race in its first week. KBS's Runaway Plan B dropped a few percentage points and had to settle for second place.
Wednesday's episode drew identical numbers for both dramas: 18.0%. (Those are AGB numbers; TNS puts Daemul ahead with an 18% to Runaway's 15%. However, for consistency's sake I use AGB unless otherwise indicated.) But Thursday's episode had a clear winner, with Daemul pulling ahead to 21.5%. Runaway brought in a 16.2%.
Prior to the premiere of either drama, there was a lot of interest in seeing which A-list star would triumph: Rain or Go Hyun-jung? It looks like Go's pull remains strong from her last role playing the utterly devious Mi-shil in last year's hit sageuk Queen Seon-deok.
I guess people are in the mood to see a female president kicking some political ass, although I have to admit I pretty much hated the first episode. It played West Wing scenarios with all the subtlety of a Saved By the Bell episode, and the political posturing was at times uncomfortably cringe-inducing. (I can see the appeal in having Go Hyun-jung's president character handling international crises with cool competence, but in making her look strong, the drama reduced the very complex issue of foreign politics to cartoonish depictions. Her conversations with foreign heads of state made me groan in embarrassment — she stands up to international bullies, gets her way, and saves the day, all in a day's work. It's wishful thinking mixed with narrative ethnocentrism. I did not enjoy.)
There was also the matter of the sudden tonal switches from serious to slapstick to heartfelt. I didn't get any emotion out of it, though they sure wanted us to. Oh well, that's just one drama I don't have to worry about in a crowded season! I'm sure Daemul will continue to be a hit, but I'm just not onboard.
Meanwhile, MBC's Playful Kiss remained in third place with a 5.6% on Wednesday and a 5.7% on Thursday.
RELATED POSTS
Tags: Daemul, drama ratings, Runaway Plan B