Psychic's Go Soo likes his clean-cut image
The newest project for Go Soo and Kang Dong-won, the action-thriller movie Psychic, opened in theaters today, and in conjunction with all the promo activities for the film, we've had interviews and photo shoots galore with the two lead actors. Such as the following interview with Go Soo (which is actually a collection of several separate interviews).
In case you're unfamiliar with the film, Psychic stars Kang Dong-won as a man with the supernatural power to control people with his gaze. This is a burden more than benefit, and his character just wants to live normally. Then he meets Go Soo, who is, curiously, the only person who remains immune to his powers. Thus begins the showdown. (Watch the trailer here.)
Since being discharged from military service in 2008, Go Soo has been busy with a few acting projects in varying media: a stage play, a film (dark thriller Baekyahaeng: Into the White Night), and a drama (melodrama series Will It Snow For Christmas?).
The latter project shot him back into the media spotlight and won viewers' hearts with his melo acting (and his tortured eyes), and also earned him nicknames like "Go-vid" (as in, Michaelangelo's David) and "Go-neu-nim" (a play on the word for God). Speaking of which, it's too bad nobody thought to call him God-Soo.
Of taking this film role, he said:
"I fell in love with the screenplay the first time I read it. I laughed a lot, and it made me think that if it were film just as is, it would turn out very entertaining. After that, I met the director, and he was someone who piqued my curiosity. [Kang] Dong-won had already been decided, and I thought it would be great to work together."
Filming, which spanned five months, involved a good amount of physicality for Go Soo's Kyu-nam role. He has to face off against Kang Dong-won, who possesses tremendous mental power, which requires mental strength of his own. The film therefore sapped a lot more energy than other projects.
Go Soo explained how the production shot at relatively familiar, ordinary places, but because of the context of the story, they took on added meaning: "They were imaginary characters and unrealistic situations, but in the end we seemed realistic, and these ordinary places felt like simulated reality."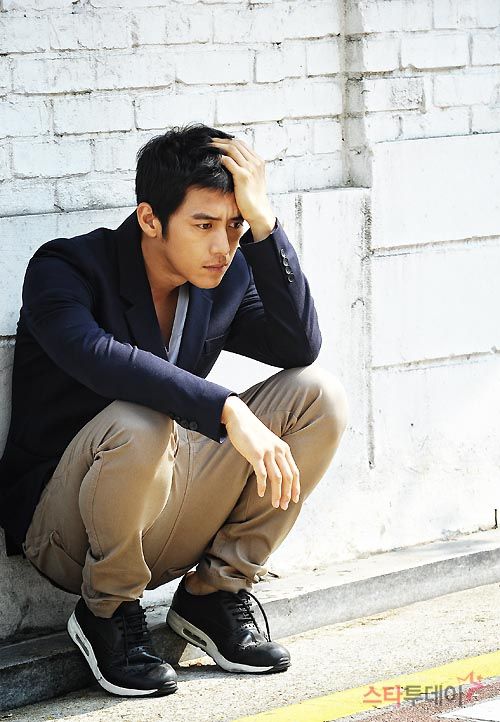 With his sober, good-guy image, the interviewer suggested that fans may get the idea that the actor is a bit staid and even boring. To which Go Soo replied jokingly, "I'm actually a pretty interesting person. You might call me the type to sit there quietly but hope to be recognized." He also said, "I like experiencing new situations."
Variety programs are these days most often visited by B-list stars, pop stars trying to broaden their audiences by appearing in the public eye, and up-and-comers. Which is to say that they don't frequently attract the big-name A-list stars or the serious actors. Go Soo explained that he's not against the idea, "But if I went on them, I'd have nothing to say."
Regarding his clean-cut image, he said, "People probably think that of me because they don't see me in my everyday life. It's not that I don't think of changing that image. It's not a bad thing. I don't even have need to say, 'But that's not true of me.' I accept it naturally and thankfully."
He explained liking to go through things alone, and wants to take a trip around the world, or try a desert trip or road movie. "I haven't gone to the Pusan International Film Festival yet. Why don't they have those every month?"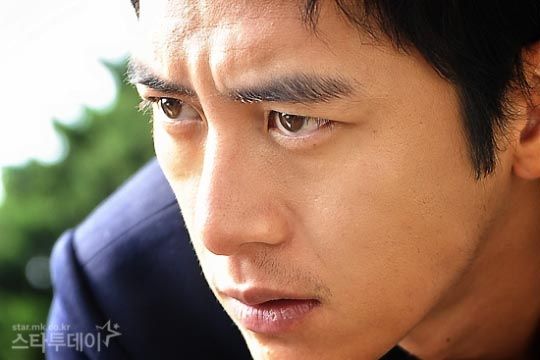 He spoke modestly about his path as an actor; despite a career spanning a dozen years, he called it the beginning stages: "Now is the start. It feels like I'm heading out to work in the morning. I'm holding my briefcase and leaving the house and when I arrive at the office, it feels like it's time to start doing something."
He tempered that by saying, "I think I've come along at a good pace, not too slow and not too fast. I want to keep things like now, without getting more greedy."
Go Soo has already begun working on his next project, a movie with Shin Ha-kyun called Before the Hills, which sounds like an intense ride. Set in the days of the Korean War, he and Shin are taken as prisoners of war by the North.
The film is currently shooting, and since it's a war film, most of the actors are men, as are the crew. The interview prodded by saying that that must be boring (as in, no pretty actresses to flirt with!), but Go Soo answered that he enjoys hanging out with the guys, and after filming is over for the day, he sits in the street with the staff and drinks convenience store beer with them.
"I've done three movies, and now it's less awkward than in the past. At first I would see my pores and dry, peeling skin on that huge screen, but now I want to see it with a cooler head and with a rational perspective."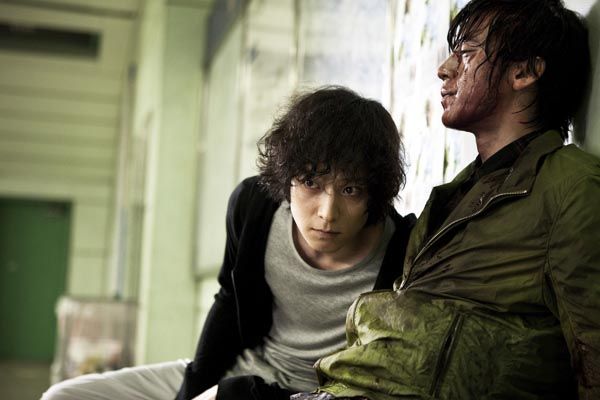 Kang Dong-won and Go Soo in Psychic
At 32, Go Soo is two years older than his co-star (who is about to head off for his own army obligations), and shook his head at the question of whether there was any actual mind-playing or rivalry between them on set: "A lot of people think that, but there wasn't any of that. I don't think I have that competitive spirit. And a character like [my] Kyu-nam is the simple and honest type."
He said, "Dong-won is the only person who could have played the psychic in Psychic," praising his co-star for how well he suited the role of Cho-in in character, mood, and even appearance. (He remains doubtful whether he could have pulled off Kang's permed hairstyle. I remain grateful he didn't try.)
He described their working relationship: "Filming with Dong-won was comfortable. We had that rapport that men have where even if you don't say anything, you know what the other is thinking. For instance, if I can't make it to a get-together, Dong-won will step in and take care of it. On the set, it's comfortable even when I'm changing my clothes around him." [And thus launched a thousand fanfics…]
"Aside from that, if one of us says, 'Let's grab a beer,' we can go right out without feeling reservations. I enjoy going out late at night for a beer, but I can't really do that with actresses. And when we're talking, we have a lot in common with each other."
(That does it! Who else has a new OTP now?)
"If I were psychic, what kind of thoughts could I hear? I've had some interest in the topic for a while now. I wonder if people are different from me. We're busy living, but I'm interested in things like telekinesis or psychics, and other surreal things. If psychics really exist, I get curious about what would happen, and how the world might change."
Go Soo admits that while he understands now that his public image can differ from his projects, depending on the roles he takes, "I've worried about it a lot in the past. As a person, I don't want to change my image. But I do want to express a variety of characters through my projects."
Interestingly, Go Soo has never had a "scandal," whether the romantic or less-savory other kinds, which is pretty rare in the entertainment business.
Half-jokingly, half-seriously, Go Soo said, "I want to stick around a long while." He added, "If we're speaking in terms of color, I'm close to colorless. That's why I want to wear lots of different colors, and in order to do that, I'm preparing in the meantime. You have to always be prepared and ready. I want to be an actor who's remembered for being serious and steady."
One interviewer chose a light question to wrap up the interview, asking what Go Soo would choose to sing at a noraebang for his 18th song. The answer: "Do you really want to know? Should I really tell you?" With a joking expression, he hesitated a few beats, then said, "It's an old song… It's 'Like Now, Like This.'" (The song was a 1970s hit by Korean group Fevers; you can listen here..)
It's okay if you're kind of a fuddy-duddy, Go Soo. We still love you.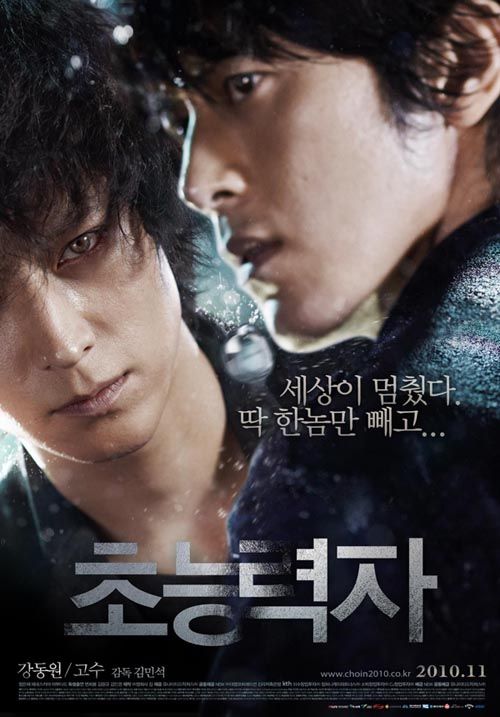 RELATED POSTS
Tags: Go Soo, interviews