Moon Chae-won interview: Becoming daddy's girl
As I'd mentioned before, I'm finding the new SBS drama It's Okay, Daddy's Girl watchable and interesting despite a number of flaws that do, admittedly, hold it back from being as good as it could be. But I like the setup and responded strongly to the family relationships — and it doesn't hurt that the drama's lead actress, Moon Chae-won, is finally getting a chance to show what she can do.
She hasn't totally proven herself yet, but she's off to a decent start, especially in comparison to her previous roles. She's had some memorable parts in the past but only as side characters, some of whom were relegated to one-dimensional plot movers. But Moon has been steadily accruing more screentime and experience, through dramas like Painter of the Wind (she played a beautiful gisaeng who falls for Moon Geun-young, who passes herself of as a man), Brilliant Legacy (where she was an antagonist to the Cinderella-like lead, Han Hyo-joo), and My Fair Lady (where she was bright and energetic, but wasted in lame plots).
In It's Okay, Daddy's Girl, Moon Chae-won plays someone very different from those previous characters; Moon can seem mature for her age (she's 25), but her character Chae-ryung is completely immature. (At least, at the start of the drama.) Chae-ryung is the type of girl who has her daddy wrapped around her little finger, and who's not above whining and pouting because she wants a designer handbag, like a young child.
So what drew Moon to the role? Aside from getting her first opportunity to be the leading actress, she found herself drawn to the drama that is rooted in father-daughter love: "I was very moved by it. Four months ago, I first received the synopsis for this drama, and reading it conveyed a very touching sense of family love. You might just say that I'm suitable for a trendy drama by looking at my acting experience, but I wanted to do a drama that had a deeper value. And in the end, I came to meet Eun Chae-ryung."
She added, "I had a lot of worries about getting fully in character as Chae-ryung. I would have to completely depart from my previous roles, where I played relatively mature characters, and play the kind of innocent young girl who could burst into tears at the smallest thing. I'm currently trying to live as Chae-ryung in my everyday life as well. You know, trying to laugh nonsensically, then suddenly turning sullen. [Laughs]"
One thing that could have been a cause for concern is that the drama has collected a number of young, fresh faces in its cast, many of whom were from the pop music world. In fact, in its early days some referred to Daddy's Girl as a "pop singer drama": You have Lee Hee-jin from late'-90s girl group Baby VOX as the eldest sister; Kang Sung cast as a spendthrift rich boy; Super Junior's Donghae as the lead's younger brother, who works multiple jobs to keep his family afloat; and CN Blue's Kang Min-hyuk, who plays a delivery boy and drummer in a band.
This could have provided fodder for criticism if the idols hadn't performed well, but thankfully nobody's bombed. Lee Hee-jin in particular is attracting praise, and she deserves it: As Chae-ryung's older sister Ae-ryung, she exudes warmth and heartfelt emotion. Moon said of Lee Hee-jin, "I'd remembered her as one of the original idol stars, but as I came to work with her, I was really shocked. On the set, she's always exchanging lines and practicing dialogue, always deliberating over her acting. She's a promising actor."
Lee is definitely the strongest performer of the idol set, but Kang Sung is also acquitting himself pretty well as the frivolous Jin-gu. He hasn't had as much emoting to do, but he carries off the character's silliness and arrogance. And while Donghae is obviously very green and his line deliveries aren't quite natural, he's been holding up. He'll probably get to stretch himself more than, say, Min-hyuk — who has barely had anything to do so far — because it looks like his earnest character will provide opportunity for a lot of dramatic acting.
In response to the idol issue, Moon Chae-won said, "Because we're all learning about acting, I think it gives the drama a strong energy. It's my first leading role and they [the idols] are starting on a new path, so we have reasons for needing to succeed through this drama. The shooting atmosphere is passionate."
Since they're mostly peers, there's also a strong sense of friendship among the actors. Birthday parties are common when actors are shooting dramas on their birthdays, but Moon explained that she was so touched by the cast and crew throwing her a birthday party on November 13 that she cried. Her co-star Choi Jin-hyuk wasn't shooting that day, but he came bearing flowers.
Moon debuted in 2007's drama Run, Mackerel; prior to that, she was a student at Chugye University for the Arts, majoring in fine arts. "I studied art since I was a child. About the time I entered university, I realized that the profession I really wanted to pursue was acting, but it wasn't easy to shed my original dream so I entered school in the fine arts program. But with my personality, I couldn't focus on two things at once, so in the end I decided to choose the path of actor and left school."
She also writes, whenever she has time. In the past year during breaks from work, she's written numerous essays, and dreams of publishing a book sometime off in the future.
"When I'm in the process of acting is when I feel the greatest happiness. I want to be an actress who is respected by all, like my great sunbae Sohn Ye-jin. In choosing this career path, I've gotten to meet many outstanding directors, writers, and other valuable people. I'm really happy, aren't it? [Laughs]"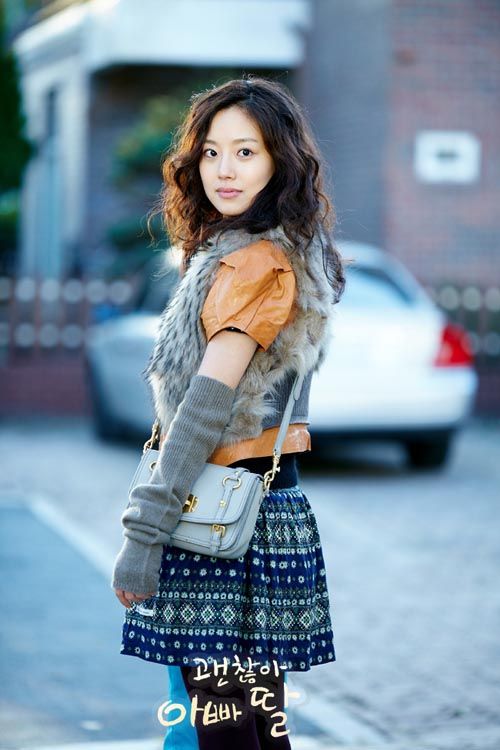 Via TV Report
RELATED POSTS