Dream High: Episode 6
This show KILLS ME. Why so awesome? For starters, it looks like 2011's gonna be another year of bromance. Yee-haw. I'd encourage everyone to get on the bandwagon, but I'm fairly certain you need no prodding. Just hazarding a guess. Dear javabeans: Get your moneypurse ready to be emptied. The showdown is ON, and I'm gettin' mighty thirsty…

EPISODE 6 RECAP
We go back in time a little to see Sam-dong change the evil mural of Hye-mi into a nice one, as he says in voiceover that he's sorry and that he'll protect her for sure next time. We catch up to the present, where he knocks her out of the path of the flowerpot of doom, which lands on him instead.
He collapses, unconscious. The ambulance hauls him away, and Jin-gook comes down to survey the damage, and notices a button—one from a school uniform. Gonna go CSI on her ass? Let's go. Are there any fibers to be tested? There's always fibers. Meanwhile, Baek-hee, sans button, shakes as she faces her own reflection.
At the hospital, Oh-hyuk tries to contact Sam-dong's mom, who happens to be out of town. Hye-mi sits in the hallway, shaking as she stares transfixed on her bloodied hands. Jin-gook comes and silently takes her hands and wipes them clean. (Aw, why am I such a sucker for this kid and his white knight bit? Gah.)
She asks, her voice shaking, "He's not…going to die, is he?" Jin-gook smiles and reassures her that Sam-dong is stupidly strong. Hye-mi starts to cry, as she says it's all her fault—if she hadn't taken out the trash…no, if she hadn't brought Sam-dong up to Seoul…no, if she hadn't come to Kirin…none of this would have happened. It breaks my heart when people do this very universal thing in the wake of tragedy.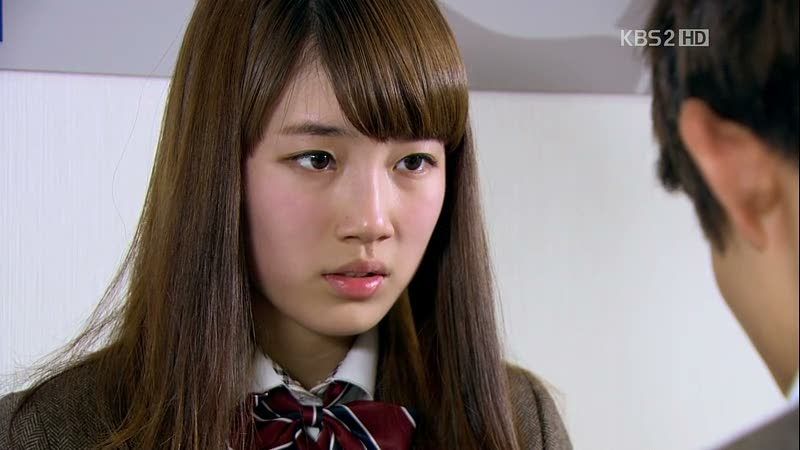 Jin-gook sits down next to her and says that if she keeps going backwards in what-ifs, then none of them should ever have been born. Well that's just the saddest thing you've said, Daddy Complex Boy. Eeesh.
They get word that Sam-dong is fine…except he's still unconscious. Hye-mi watches over his bedside, holding his hand through the night. In his sleep, Sam-dong remembers the day Hye-mi left for Seoul, and his mother's request that he sing her a song.
He sang for her, tears falling, his voice faltering, but his mother heard his angelic voice for the first time that day. She had cried, and asked if he wanted to become a singer like his father. He had said no; he was going to Seoul for a different reason. Mom knew right away that this was about Hye-mi: "Does that girl like you?" Sam-dong: "Yeah, I think she does." Aw, it breaks my heart that he really thought so.
He wakes up, startled to see Hye-mi asleep right next to his pillow. He smiles without realizing the situation, and then it slowly dawns on him that he's in the hospital because of the flowerpot incident. He says to himself, "Thank goodness…that you're okay."
Hye-mi opens her eyes to find that SHE's in the hospital bed, while Sam-dong sits and watches over her. Ha. She runs over and asks if he's okay, asking what her name is and how many fingers she's holding up. Sam-dong laughs, but when he answers all her questions, she grabs him in a hug, crying.
He breaks into a huge grin, as he pats her on the back and tells her that it's okay. I love that he's the one who nearly died, but he's comforting her. So. Cute. Jin-gook sees them from the doorway, and walks away, head down.
At school, Pil-sook gets the call that Sam-dong is on the mend, and Jason comes up to ask her if it's good news. He gets all up in her personal space to do so, knocking her backwards in shock from the close contact with The Pretty.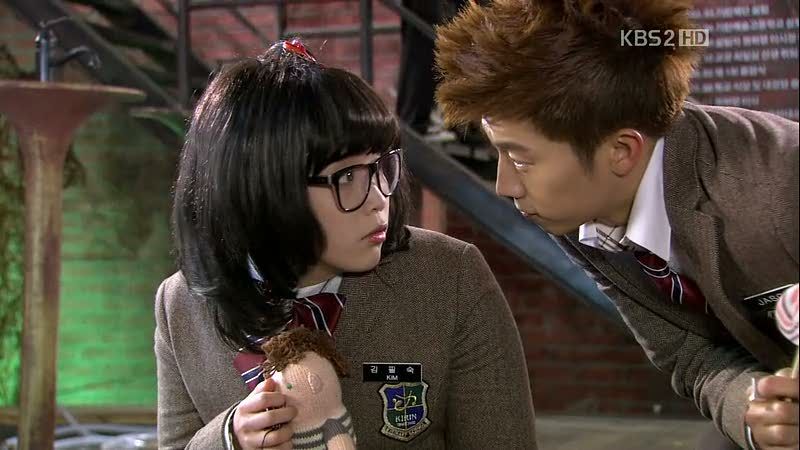 He oh-so-gallantly offers a hand to help her stand up, and she swoons in joy, jumping up and down….until she turns around to see him walking away arm-in-arm with Ria. Oh, man. I'm totally having flashbacks to that one boy in high school that every girl loved, and feeling EXACTLY like this. Why is there always a boy like this in high school? Is it like, some law of the jungle or something? Raaaarrrgggh. Don't! Mess! With her Heart!
At a staff meeting, Principal Shi glosses right over Sam-dong's accident, calling it a mere safety issue, and Oh-hyuk counters by declaring it an act of terrorism. He's alone in trumpeting the cause though, and gets shut down by the principal, who doesn't want a formal investigation to create any more negative press about Kirin.
At the hospital, Hye-mi declares that she'll find the culprit and make them pay. But Sam-dong tells her not to do anything, since that person is already in a hell of her own making. So wise, country boy.
Baek-hee is doing exactly that, as she cleans off the graffiti in Hye-mi's locker to assuage her guilt. Jin-gook walks up to her and shows her the button that he recovered at the crime scene. He asks to see her sleeves, but she hides them, saying it wasn't her.
He pulls her arms up, but the button's already been replaced, and he wavers as Baek-hee starts to cry. Dude, you are never going to be a good detective if you're this weak to tears. Better stick to the dancing.
She asks if he can't just trust her. Even if everyone else thinks it was her, even if no one is on her side, can't he believe in her? It's sad how much truth is mixed in with her lies. She's the classic defense-trigger-hair-poofing-cat, lashing out because she doesn't believe anyone could ever love her for being her. Jin-gook tells her okay, and to stop crying.
At home, Jin-gook and Sam-dong fight over his stuff being everywhere, and Jin-gook smiles, reassured that he seems fine and back to normal. Minus the giant bandage from his head wound, but normal. Jin-gook tosses Sam-dong's coat aside, and makes a joke that it must be special if he's so protective of it—did "Rude-o" buy it for him? Sam-dong gets defensive: "Why is Hye-mi Rude-o? She's not rude!" Jin-gook: "I never said it was Hye-mi. You must think she's rude." Ha.
Sam-dong takes it back, saying that Hye-mi is sweet and that she smiles and laughs all the time. Jin-gook's antennae go up…she smiles?…all the time?…in front of you? Hehe. Sam-dong is mighty pleased to have a leg up on Jin-gook, and says with pride that he thinks she really likes him.
Not to be outdone, Jin-gook says that she doesn't smile in front of him…because she's always crying when she's with him. Ha. Sam-dong's eyes get huge: "Wha…she cries? In front of you? Why does she cry in front of you?" It's Jin-gook's turn to gloat: "Dunno. She must be…comfortable with me." These two crack me up.
Sam-dong (shouting by now): "Do you like her?!" Jin-gook feigns disinterest, and Sam-dong reminds him that he can't change his mind later, as if they're claiming the last piece of pizza or something.
Sam-dong goes to change, and as he unzips his pants, Jin-gook looks over and sees that he's wearing…something curious…. Jin-gook: "Is that…MY UNDERWEAR?!"
Pffft! Sam-dong: "Since when is there a your underwear vs. my underwear?"
OH. MY. GOD.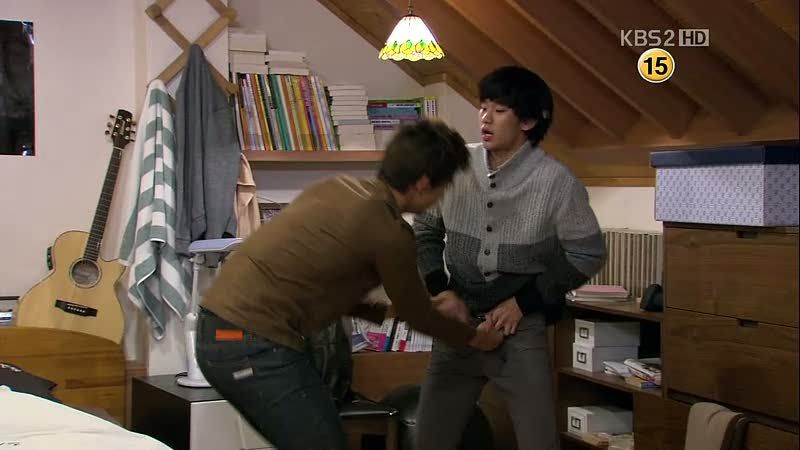 Jin-gook jumps out of bed and tells him to take them off this instant, as he literally chases him around the room to take off his pants. I really, really am Not. Making. This. Up. I know what you're thinking, but I swear, I'm not having a lucid dream. It's like Show loves me or something.
He finally gets Sam-dong pinned on the bed and starts to pull his pants off…
AHAHAHA….dying….
Forget Hye-mi. Can these two just end up together, fighting over underwear and bickering off into the sunset?
They get interrupted by Oh-hyuk with some bad news: Sam-dong's mom found out about his accident and fainted (as all proper kdrama mothers are wont to do). He rushes home to reassure her that he's fine, and tells her that she was misinformed; he lies that the teacher called to invite her to the showcase, and that nothing happened to him.
She breathes a sigh of relief, and gushes over her son's transformation into a city boy. She asks if everything's going well with Hye-mi, and he lies again that Hye-mi is totally smitten with him. Aw.
But when he arrives back in Seoul, Hye-mi is standing at the bus depot, waiting for him. Startled, he asks if she's here…because she's worried about him. She pretends not to be, but betrays her worry over Mom and his health. She tells him not to run around anymore, and to stick close by, at home. He trails after her with a smile, promising to stick realclose from now on. Heh.
They have coffee (where Sam-dong does a hilarious impression of Jin-man singing his Park Jin-young song), and Hye-mi's debt collector happens by. He stops in to congratulate her on winning first place on her monthly exams, and moves to pat her on the head. Sam-dong intervenes, asking who the hell he is, but Hye-mi makes an excuse that he's a friend of her father's, and drags him away.
Outside, she tells Sam-dong to stop interfering in her affairs. Hye-mi: "If someone goes to pat my head, let them. If a flowerpot is headed at me, just let it. I'll take the hit myself. Don't get involved anymore."
Sam-dong doesn't understand why, as he just blindly adores her and wants to protect her. Hye-mi tells him that she already owes him so much…she doesn't want to owe him anymore. He starts to tell her that she doesn't owe him anything, but she cuts him off, saying that it's a burden for her.
Ouch. She's saying it to protect him, of course, but it's not unwarranted either, because she's not in love with him (yet), and just keeps feeling sorry for putting him in harm's way. He stands there dumbfounded, watching her walk away. Aw, poor puppy! Also, is it wrong that I'm totally smitten right now?
At school, the Misfit Mafia gets excited for the upcoming showcase, and Oh-hyuk eagerly asks them how many tickets they want for their family members. Pil-sook wants two for her parents, Sam-dong one for his mom, but both Hye-mi and Jin-gook say zero.
Over the loudspeaker, Professor Maeng announces that this year's showcase, which has the purpose of showing off the new crop of talent to scouts from various agencies, (gah, as if high school isn't enough pressure) has been decided on different criteria. Rather than going strictly by the midterm exam scores, they've calculated "other" factors, making the freshman group of five Jason, Ria, Baek-hee, and two others from their class.
The Misfits scoff at the rampant favoritism and rigging to kick them out of the showcase, and Oh-hyuk fumes. Way to knock the wind out of someone sails, when he was just five minutes ago gushing at the first-ever showcase by the university prep class.
They're not the only ones left in the dust either. Baek-hee's rival Ah-jung, angry to be passed up yet again, decides needle her with some guilt. She sees Baek-hee go into a changing stall in the girls' locker room, and she fakes a phone call with a friend, saying loudly that everyone's talking smack about Baek-hee throwing the flowerpot and not deserving a spot in the showcase.
But it turns out that someone else is in earshot too, as Hye-mi comes out of a stall, calling Ah-jung out for her cheap and obvious tactics. She says loudly that Baek-hee may be lacking, but she's not capable of dropping the flowerpot.
She opens Baek-hee's curtain to say it directly to her face: "Because the kind of person who would do that…is a monster." Oooooh, burn. Baek-hee washes her face, trying to shake off Hye-mi's comment. She steels herself and decides that Hye-mi's the one who made her into a monster.
Kyung-jin announces that Jason and Ria will have a separate performance just the two of them. She's giddy, while he sighs. Could it be…you don't want to sing duets with anyone other than Pil-sook? Okay, clearly I'm getting ahead of myself.
Speaking of duets, Sam-dong sings a song he wrote in the basement studio, and in walks Hye-mi, singing the other half. How freaking adorable are you? He's positively glowing as she sings that she's in love with him…
…only when the song ends, he looks at her, and she turns into Oh-hyuk. Ha. Sam-dong literally shudders. Oh-hyuk marvels at the song, wondering if Sam-dong wrote it himself, while Sam-dong turns away to get his head on straight. He says with heavy sigh, "My dream keeps running away from me. It keeps running away…it's becoming hard to see. What do I do?"
He broods at the dinner table, and Noona wonders why he's so out of sorts. They explain that it's because his mom is coming up to Seoul just to see him perform in the showcase, which is…not so much with the happening anymore.
Hye-mi's little sister chimes in, wondering why he's so glum, when all he has to do is put on a fake showcase for his mother's benefit. They're all like, whaaa? Oh-hyuk thinks it's a brilliant idea, saying that they should turn Sam-dong into Cinderella for a day. Jin-gook balks that there are no mice, no pumpkin carriage, no fairy godmother. You sure do know a lot about what's required to turn someone into a Cinderella. Just sayin'.
Hye-mi asks what they need to do first. Sam-dong looks at her agape. Aw. They sit down to ask him just exactly how much he lied to his mother. Sam-dong: "I just embellished…a little…."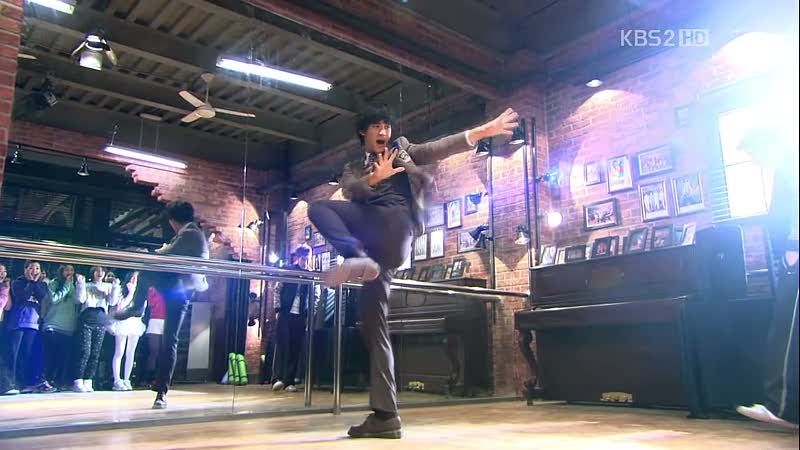 First off, he's supposed to be the best singer-dancer in the whole school. We watch as Fantasy Sam-dong dances, making all the girls literally fall over, and Jason to come sliding in on his knees, begging to be taught how to be like him. Keh.
Next, he's the most popular boy in school…. Cue "Almost Paaaaaaradise," (LOL) as Jin-gook and Fantasy Sam-dong enter the school with god-like backlighting, a la F5. To top it off, Sam-dong adds in voiceover that Jin-gook is his toady, as Fantasy Jin-gook offers to carry his bag and swoons after him. Ha.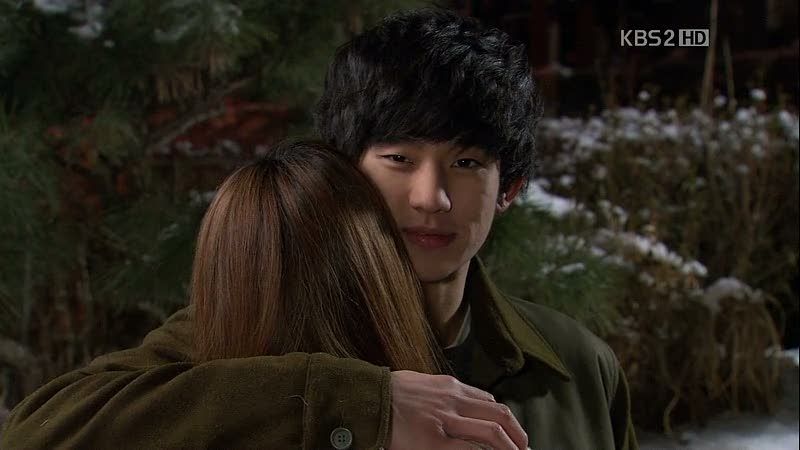 Finally, he admits that Hye-mi is supposed to be madly in love with him. Yesung's "It Had to Be You" swells, as Fantasy Sam-dong gestures at Hye-mi to come closer. Fantasy Hye-mi says in voiceover: "Hye-mi-ya…is what he called me," as she walks over to him and he hugs her. HAHAHAHA.
Seriously, this show's meta is pitch-perfect. I die.
The entire household reels at the severity of his lies. Oh-hyuk: "If you didn't have a head wound, you'd have gotten hit right about now." Hehe. To everyone's surprise, Hye-mi still offers to help, prompting an "Omo, are you two dating?" from Noona. But Sam-dong jumps in to explain that she's just doing it to repay her debt to him.
Jin-gook sighs and then joins in to help, eliciting a smile from Hye-mi. Aw, Misfits Activate!
Pil-sook arrives at school the next day, trembling as she holds a piece of paper in her hand. Jason opens the door for her, and she stops to ask him if his opening the door for her all the time is just his (good) manners. He nods yes as her face falls, and she thanks him meekly. Aw.
She heads to the teachers' office, where she leaves a notice of withdrawal from Kirin with Professor Maeng. She says that she doesn't think that she's going to lose any more weight, or get a chance to perform, so she's going to look for a new means of living.
Jin-man overhears and yells up a storm at Professor Maeng, blaming her for kicking the loser class out of the showcase, and stomping all over a girl's dream.
Pil-sook heads outside to clean out her locker (the contents of which includes a pot, HA) and Jason watches her. He takes the lollipop off his locker and walks over to ask if she's really leaving. He tells her nonchalantly that it's too bad. "I really wanted to sing a duet with you someday."
Errrr! You can literally hear the tires screeching in her brain. Stuttering, she asks why. Jason: "Because I like your songs. That day when you sang your audition in that Sushi costume…I was taken with your voice." Oh swoon.
She actually runs off, practically in the middle of his sentence, to tear up her withdrawal papers. She declares that she's going to try really, really hard and lose a bunch of weight, and be totally awesome. Aw, how cute is she?
Oh-hyuk calls Jin-man in to help with the fake showcase, which he tells him will take place on the one day that the school will be totally empty—the day of the real one. Gah, I freakin' love the idea of a Rebel Showcase.
He asks Jin-man to plan the performances, and Jin-man gets swept up in the excitement, only to realize that he swore he wouldn't help them anymore. But the kids enter and Sam-dong thanks him over and over for helping them. You're stuck now.
Sam-dong starts bobbing his head around, as he tells Jin-man that he really wants to dance in the showcase. Jin-man: "What…what is that….what are you doing?" Sam-dong: "A wave." He shakes his head, and then ends up teaching them all how to do a proper wave.
Oh-hyuk gets the debt collector to come and rent out the auditorium for the showcase posing as an agency rep, and then convinces his sister (a reporter) to come and be the press. She refuses, until he shows her footage of Jin-gook taking off his shirt, at which she caves, with a side of drool. Pfft.
Jin-man takes them through dance rehearsals, where Jin-gook gets paired with Hye-mi. Robot Girl doesn't get it, so Jin-man has to show her, landing all cuddly in Jin-gook's arms. When they finally do get it right, Sam-dong breaks them up, dissatisfied with all the skinship.
Next it's his turn to go with Pil-sook, and she worries that he won't be able to lift her. He assures her that it'll be fine… *crash*.
At home, Hye-mi, Sam-dong, and Jin-gook mull over stage decorations, and Hye-mi shoots down the boys' outlandish and costly ideas. They decide on paper confetti and large fans, which she remembers seeing outside of the debt collector's club.
They sneak in to see if they can nab the fans, only to come across Oh-hyuk discussing payment for renting the auditorium. He says to just add it, with interest, to his existing debt (the house as collateral). Hye-mi confronts Oh-hyuk, demanding to know what he's talking about.
She finds out that Oh-hyuk took care of her original debt by putting up the deed to his house. She reels, not understanding why he'd do such a thing. She says with tears in her eyes that this isn't right…he's the bad guy… She runs off, and Jin-gook follows after her.
Sam-dong looks over at Oh-hyuk, shocked that it wasn't free to rent the school auditorium. Why is he going into debt for a fake showcase? Can't they just not do it and be done with it? But Oh-hyuk assures him that this isn't for him; he just really wanted to see the kids perform, and simply paid for a really expensive seat to the show. Aw.
He repeats Sam-dong's worry that his dream keeps running away from him, and says that it's time to take a good look, so they can chase after it. Sam-dong is moved to tears.
Jin-gook chases after Hye-mi, catching up to her in the middle of a crosswalk just in time before she gets pancaked by traffic. Oy, kdramas and the Zombie Traffic Walk. She looks up at him, a tear streaming down her face, as she repeats that Oh-hyuk is supposed to be the bad guy.
Hye-mi: "He's my dad's worst enemy. But every time he acts like this, I begin to question my dad." Jin-gook just silently holds her as she cries. So pretty, this drama.
At the bus stop, she tells him about her mother running out on them to live with Oh-hyuk, and how confusing it is for her when he's kind to her. She expects him not to understand, but Jin-gooks says he gets it—it's a feeling he's familiar with.
He wonders if they'll ever get to debut, and he tells her that if there ever comes a day, he wants to stand up on that stage with her. She smiles and says that they'll debut, and she'll stand up there with him.
They arrive in front of the house, just as Jin-gook's father gets out of his car. He tells her to go inside without him, and walks up. He asks Dad what brings him here, and Dad crumples the Kirin showcase announcement in his hand. He slaps Jin-gook in the face without a word.
Hye-mi gasps, and Jin-gook puts his hand to his stinging face, and then stands upright, steeling himself for a showdown with Dad.

COMMENTS
Not quite as awesome as the last episode (what could beat the awesome that was the Misfit Mafia doing SNSD?) but this drama is totally rockin' my boat, with the crazy hilarious moments of drama meta (parodies actually done right) and the real-life meta. (Who knew you were so funny, Park Jin-young?) Seriously, I just about died when he was showing Jin-gook how to dance. Taecyeon's face totally broke character, but it was so funny that I didn't care.
I'm so digging this little drama that could, because although it's flawed and sometimes the acting leaves a lot to be desired…it has so much heart, and it's not too cool for school. I love the spirit of the misfit class struggling to make their dreams come true, and I find myself literally shouting at the screen, "YES!" or "NO!" like a fool.
What can I say? High school is serious stuff.
RELATED POSTS
Tags: Dream High, featured, Ham Eun-jung, IU, Jang Woo-young, Kim Soo-hyun, Suzy, Taecyeon