Kim Soo-hyun cleans up for Dream High
In the little we've seen of Kim Soo-hyun in the new youth drama Dream High, all we've seen is his rural bumpkin character dressed up curiously like a homeless man — one lit up by Kim's boyish charm, but a homeless man nonetheless. But thanks be, we'll get to see him sporting a more kempt appearance soon, according to these new stills.
Below is how we've seen him thus far, sporting his homemade burlap-sack hoodie: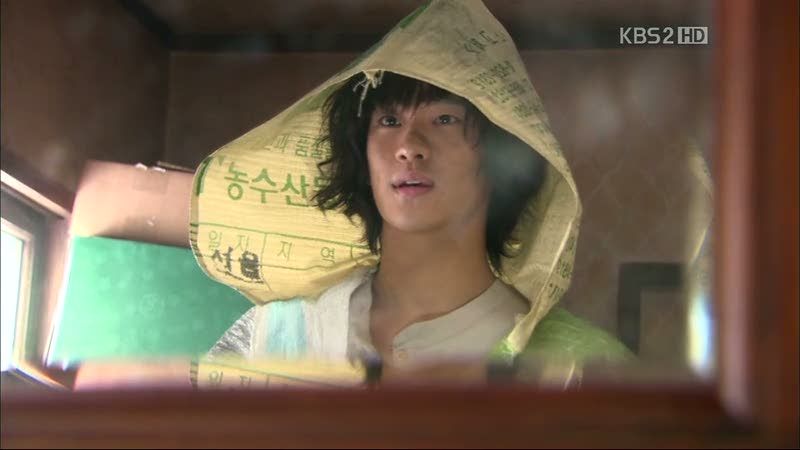 His character will soon leave his teeny hometown for the glitzier environs of Kirin Art School, and "starts to take off as a kkot-minam [pretty boy]." Korea does love their ugly-duckling stories; we'll see another transformation occur with IU's character, who was introduced as a cute, plump ragamuffin with the voice of a diva, and will eventually emerge from her cocoon looking more like the real IU.
Kim Soo-hyun's new appearance can be seen in the drama's 3rd episode, which airs next Monday, the 10th. His character falls for bratty Hye-mi (Suzy) and therefore needs no prodding to follow her back to Seoul to join up with the other new students at Kirin. However, Hye-mi isn't quite as eager to receive his affection as he is to dole it out, and the first place she takes him to is the hair salon. After his makeover, even she's stunned to see the hotness hidden underneath his shaggy hair and shabby clothes. (But we saw your value, Kim Soo-hyun! Your noonas had faith!)
I have no idea what happens after that, but man, I'd just LOVE to see Hye-mi stewing after she's shown her disdain, only to have him become way more popular than she does (she's entering the school handicapped by her horrid audition, which everyone witnessed firsthand). Sure, she'll probably come around and soften up as the drama progresses — there's nowhere for her to go but up, really — but just for a moment, it'll be nice to savor the self-absorbed brat getting a taste of karma.
Via Joy News
RELATED POSTS
Tags: Dream High, Kim Soo-hyun